I am happy to share with you great news! We have upgraded Adsterra API to v3. But before I talk about new functionalities, first, I want to give a brief understanding of what API is, and how it can help you increase your performance.
You probably know that API stands for Application Programming Interface, which allows your own applications to access performance statistics of your campaigns, sites, landing pages (and more) through a secure interface in your Adsterra account.
You need to use API if you have your own software to control all of your campaigns from different networks. In other words, you receive full data about all of your landing pages, domains, placements, ad formats etc. in one place, which makes it easier to track changes and react accordingly.
What is important for working with API?
Data should load fast, and there should be different kinds of groupings in order for you to work effectively with your information and be able to receive prompt support from your manager if needed.
Taking into account the factors mentioned above, we have improved Adsterra API!
Take a look at the Adsterra API v3 performance: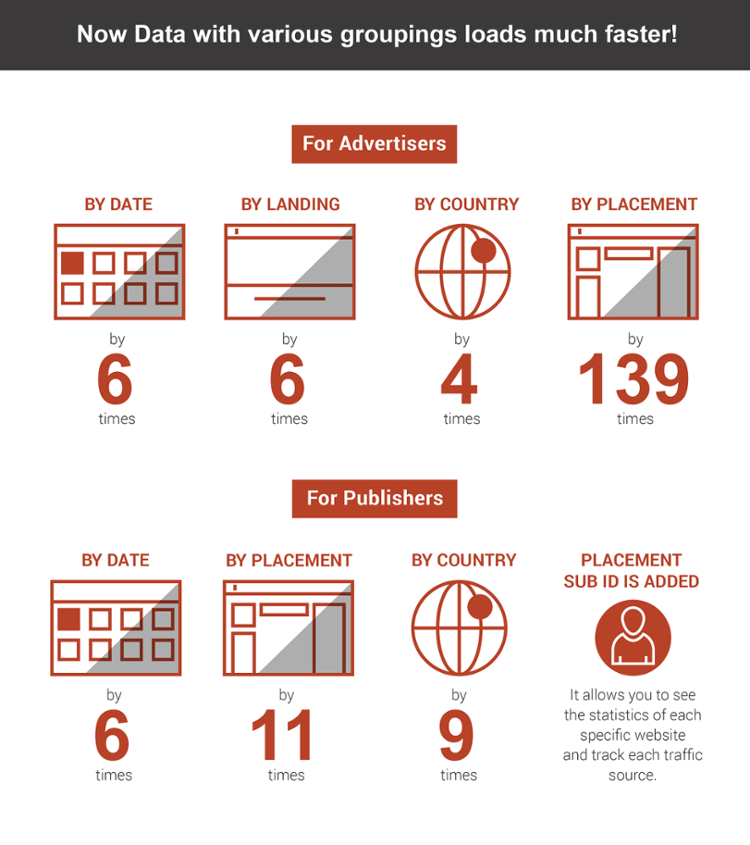 So now you can receive your necessary data in just a few seconds! That is why you should not forget to change Adsterra API versions!
How to switch to v3?
Change the domain from

adsterratools.com

to

api3.adsterratools.com

(both http and https are supported, https usage is advised);
Change the parameter name that is responsible for grouping from

group_by

to

group_by[]

(as from now on we support multiple groupings)
IMPORTANT: We don't delete Adsterra API v2, it will keep working at the following address: api.adsterratools.com
CHANGELOG:
group_by

changed to

group_by[]

Simultaneous grouping

by various parameters is added.
For instance, by campaign and banner: &group_by[]=campaign&group_by[]=banner or by placement and country: &group_by[]=placement&group_by[]=country
Grouping by placement_sub_id is added
Adsterra API v3 documentation for Advertisers
Adsterra API v3 documentation for Publishers
I really encourage you to switch to Adsterra API v3. Our technical department works hard to make your experience with Adsterra as great as possible!
If you have any questions, please, contact your Personal Manager, who could help you set up and answer all of your questions.