We are excited to announce the Traffic Estimator release!
Estimator eases campaign setup, enables you to set up your campaigns as precisely as possible and predict the result.
How it works:
Estimator makes a forecast on how much traffic you will get for the campaign based on your settings, bids and current competition within the market. Estimator works for all ad units, for both CPM and CPC campaigns.
Adsterra system provides two types of traffic estimation:
The first one is located in the "Campaign Settings" tab right under the GEO choice.
It estimates how much traffic you will get for the exact chosen geo in terms of current campaign settings. Сhoose country, place a bid and see how many impressions you might get per day for this geo: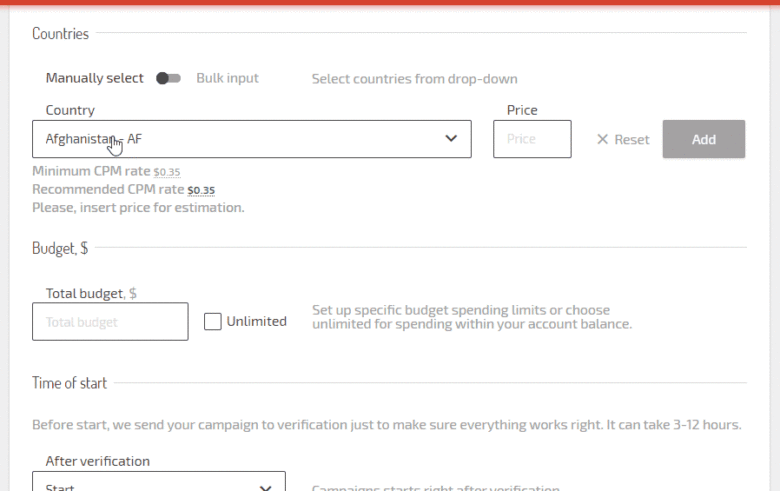 The second one is located in the upper right corner on the "Create Campaign" page, and it shows how much traffic you will get for the whole campaign with all chosen geos.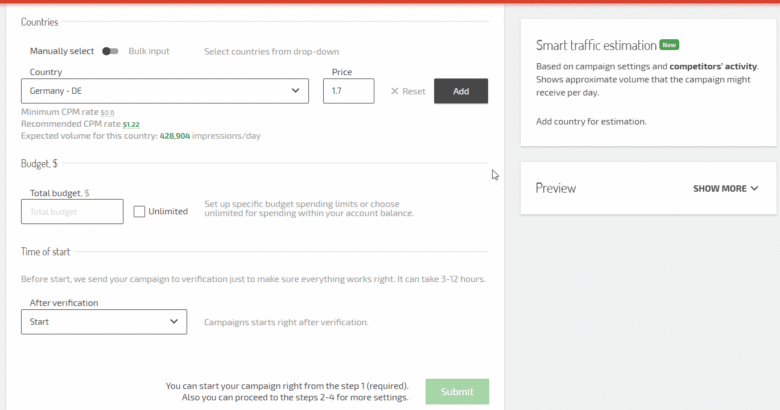 The estimator also helps you predict the effect a bid change will have on your campaign. It calculates impressions (for CPM campaigns) and clicks (for CPC campaigns) those bids might bring. If you see that a bid gives the traffic volumes you're looking for, you are ready for launch.
😎 What's so cool about Adsterra Estimator?
Adsterra estimator is much smarter than the competitors'. We provide the information about traffic volumes not for the network in general (which is quite useless as you don't know the competition), but how much traffic YOU will get based on campaign settings and competitors' activity.
You can set up different bids for different countries within one campaign, and the estimator will count it all.
📌 Small tips on campaign optimization
To get more clicks and impressions, try adjusting your strategy: expand your targeting options, raise your bid, or expand frequency cappings.
We suggest relying on the recommended bid as it is calculated based on the competitors' activity and increases your chance to get more high-quality traffic. You will get plenty of traffic and enough data for optimization and won't waste your funds.
We do not recommend setting minimum bids, as you will not be getting enough traffic at this cost. We do not advise setting bids much higher than the recommended either, as it won't bring you exponential growth and might simply waste your funds.
Keep in mind that effective bid depends a lot on the geo. Luckily, at Adsterra you can set up different bids for each geo.
Success in digital advertising requires a creative approach, so keep on thinking outside the box, and the gods of advertising will bless your efforts.
How do you like the new feature? What other improvements would you like to see at Adsterra? Let us know:

[email protected]