Our anniversary marathon has come to an end. 10K+ Publishers, Advertisers and Affiliates have joined the Giveaway and accepted the challenge to make money / run ads for at least 15 days non-stop. Before we announce the winners, let's unpack our amazing prizes!
We planned 10 prizes. But we changed our mind 😉
With so many zealous and persistent profit-makers on board, we couldn't let ourselves give away only 10 prizes. So…. We will name 31 winners!
And the gifts are:
GRAND PRIZE — iPhone 14 Pro
10 GIFT BOXES with Adsterra merch (signed, sealed and will soon be delivered)
20 GIFT COUPONS of $50 each (we will add $50 you your Adsterra balance)
Raise your hands to greet the Winners!
GRAND PRIZE — iPhone 14 Pro
GIFT BOXES (boxes with Adsterra merch)
WINNERS:
ravikumarhari91**
zepston**
Amansurab**
Arifulda**
endensukandi19**
ivanchofl**
nesnan**
Pkn268**
AlifRh**
adncod**
GIFT COUPONS of $50 each (we will add $50 you your Adsterra balance)
WINNERS:
rajabati**
maonevancoba**
hari**
Wisdom0**
reviewh**
iikihenriq**
ketohealt**
Zaqi**
Baby**
faizaanre**
ikramuddin**
Arooj33**
gilvancrodrigu**
khanhkuti20**
more9**
Faisalaz**
yovag**
Ankit96**
RichardD**
geour**
We're thankful for your warmest wishes!
We're sending our warmest hugs to all who spared a moment to share their wishes. Over a decade, we've been striving to remain your preferred ad network that cares about your profits and independence.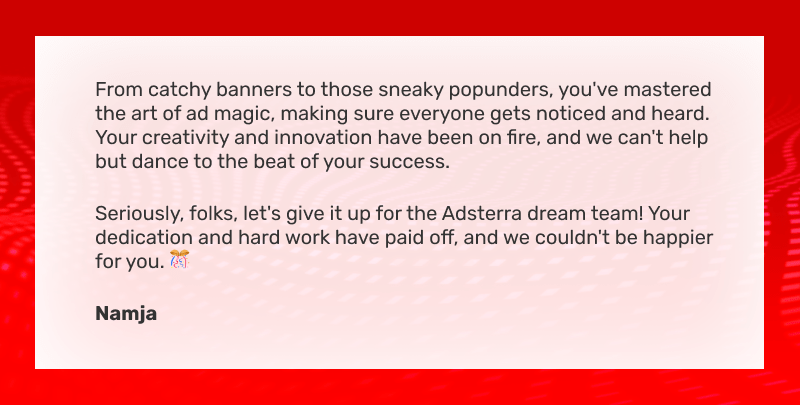 Adsterra is your growth area since 2013
Over the past ten years, many startups have flourished into successful businesses due to the exposure and revenue they received from our network. Adsterra Self-Serve platforms and tools have also helped publishers and affiliates reach new heights of achievement.

Adsterra is fortunate to collaborate with countless publishers, affiliates, and advertisers who demonstrate exceptional skill and dedication, resulting in revenue generation and conversions. We're happy to be the primary platform for 28K publishers earning $65M annually and 13K advertisers making 1.34B conversions yearly. But it's not just about the numbers.

Adsterra partners are more than just clients/customers/users. We feel privileged to be their companions in a journey toward the growth of profits. We have established strong bonds with our partners through unique Partner Care Standards and a mutual strive for development.

We celebrate our 10th birthday with one central idea in mind: we want to give you a bit more than our traffic and offers.
---
How successful are you in making traffic convert? Which strategy is leading you to higher gains? What's your superpower? Find out right now with our special Instagram AR effect. Turn on the selfie mode and see the results!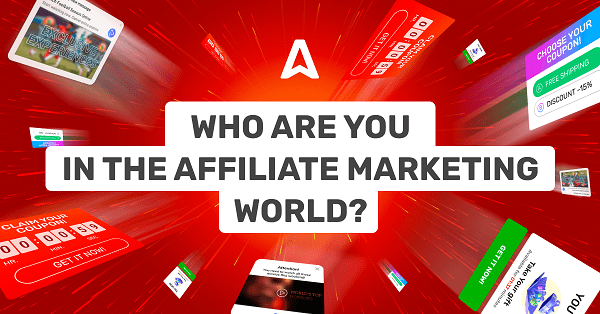 ---