Imagine you found a perfect online platform to run ad campaigns or monetize traffic, but you need help translating its interface. We at Adsterra believe that language barriers mustn't block ways to higher profits. Today you will unlock the 12 best translation extensions for Chrome, or addons / plugins, as they're also called. You can try several other powerful tools besides the Google Translate extension. And may nothing stop you from gaining more!
---

DISCLAIMER

This guide only provides a set of online interface translators. We don't urge you to use any of them. You may not be able to read every interface element because many utilities can't identify web interface items as text.

When you install an app, plugin, or addon, ensure it's safe. Viruses, fishing software, and other types of malicious code can be distributed via extensions. We strongly recommend installing utilities only from trusted sources. Ensure your provider is a legit platform that cares about privacy and data security, and read product reviews before installing.
---
12 best translation extensions for Chrome
For those who prefer combatting obstacles on their way to profitability, we share a list of online text translators available inside web interfaces. You will learn about their ratings, advantages & disadvantages, check pricing options or try free versions, and get a brief overview of what is under the hood.

And before we start: If you're an affiliate marketer or blogger, join Adsterra today and make yourself familiar with its interface, which is super-friendly even without translation.
To Contents ↑
DeepL Translator
One of the most advanced in terms of natural language understanding, the Deepl Translator extension is also one of the most used (over 2M users). You can easily add it to your Chrome browser and switch it on/off whenever needed.


After you install the addon, its icon will appear in the Extensions folder in the upper part of your browser, near the search bar.
When you need to translate a phrase, select the text, and the Deepl icon will pop. Click the icon and check the translation. You can switch to another language in real-time.

Here is how you can create highly effective ad campaigns translating the interface texts in real time.

Pros of DeepL Translator:
You can easily install it on Chrome
It offers a fast and accurate online translation that outcompetes many rival plugins
The nativity of the extension makes it handy for solving your everyday tasks: you can switch the content you are browsing to your preferred language while retaining its original context.
Cons of DeepL Translator:
DeepL supports 27 languages. However, more might be needed for some users
You can't translate every line in the account at once, only the selected word or area when using a free version
Deepl Translator has disclosed it can collect and use your data: personal communication, location, web history, user activity, website content
Pricing:
Free version with limited functionality
Pro version with enhanced data security and functionality
To Contents ↑
ImTranslator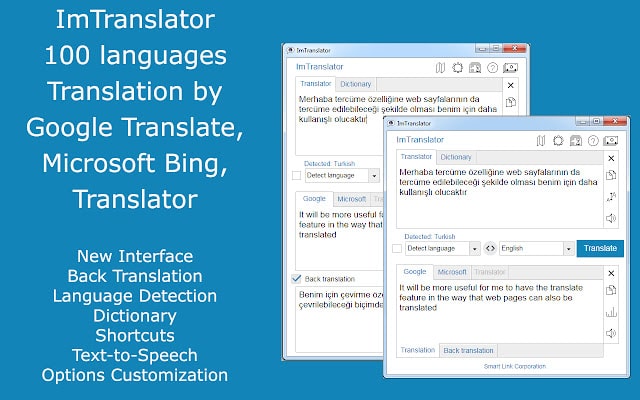 The ImTranslator extension is the next challenger to become your favorite translator into a foreign language. It's installed by over 1M users worldwide. What's interesting about this tool is that it offers several official browser-friendly versions: Chrome, Mozilla, Opera, MS Edge, and others.

You can install the addon to your browser from the official ImTranslator website or from the Chrome Web Store. The icon will appear in the Extensions pack.

One of the coolest features is a flawless translation between 100 languages delivered by market-leading software providers: Google, Microsoft, Bing, and Yandex.

The extension's support team provides user manuals, how-to guides, and FAQ sections while offering the Feedback option for all users.

We checked out how online entrepreneurs can use this utility to monetize traffic without language barriers.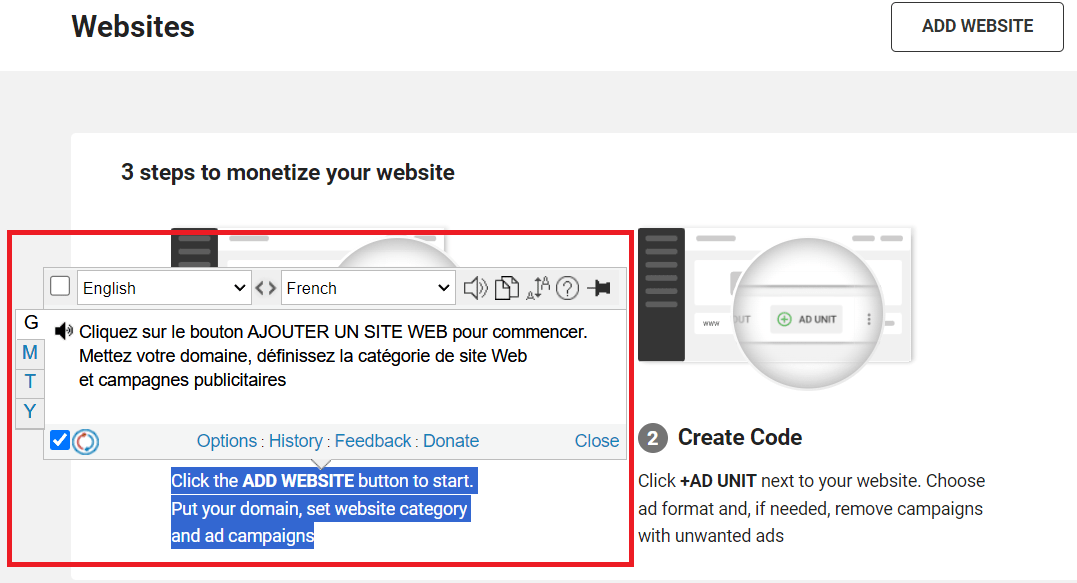 Pros of ImTranslator:
Rich dictionary: ImTranslator supports 100+ languages
You can choose between the translation providers
In-built text-to-speech translation
The tool and all its features is free
Cons of ImTranslator:
The Text-to-speech feature limits you to 200 characters
You can't translate the full page of a user's account in the same tab—the selected area of copy
Some users claim they have to reinstall the addon several times as it turns off after the update
While the Inline Translator is limited to converting words and phrases, you can also use the Webpage Translation option to enjoy a blog article in your language.
Pricing:
The ImTranslator's provider offers a free version.
To Contents ↑
Lingvanex Translator and Dictionary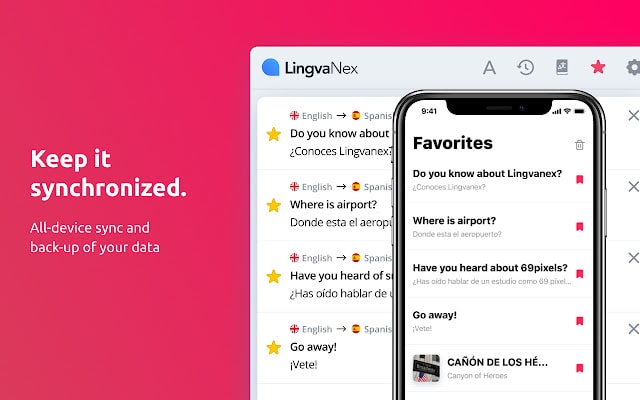 Another powerful Chrome extension is Lingvanex Translator. Its impressive dictionary supports 108 languages. It's suitable for reading, understanding, and learning foreign words and phrases, whichever platform you use.

The tool is based on natural language processing and also allows for text-to-speech translation on the go. The built-in dictionary can help with the word's meaning and pronunciation, find synonyms, and more.

Just like the previous addon, Lingvanex serves multiple versions of its software compatible with Opera, Chrome, Firefox, and Edge.

We asked the utility to help us get a grasp of the Adsterra Referral Program, which helps publishers earn more.

Pros of Lingvanex:
A wide range of languages to translate between
Context-related translation helps learning faster
In-built feature for image recognition
You can turn on the speech mode and listen to how the words and phrases sound
You can access your translation history and check words saved across platforms if you're logged in.
Cons of Lingvanex:
Although Lingvanex offers the entire page translation, you can't use these options in the web interfaces
The number of users is estimated to be tens of thousands, but it can't be taken as a drawback
This addon may collect personal data like name, address, email address, age, and website content (images, links)
Pricing:
Lingvanex provides a free extension for users. Corporations can buy its pack of tools and get access to API and translation SDK.
To Contents ↑
Mate Translate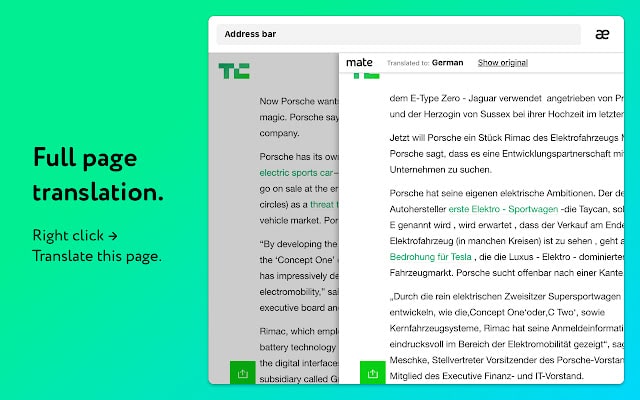 The Mate Translate Chrome extension can rival the above-listed addons by offering full-page translation to its users. The tool is trusted by over 500K users, serving accurate translation into 103 languages.

The Mate Translate extension lets you quickly understand words, phrases, and paragraphs. New terms or words can be saved in a Mate Phrasebook (also available offline.)

The installation is super-easy; you get the addon installed by clicking the Add to Chrome icon. Select a phrase with the cursor and click the extension icon to translate it. If you want to convert the entire page of your account, right-click with your mouse and choose Open Full Page Translation.
Pros of Mate Translate:
You can command the extension to translate a page or tab of the interface.
Customization: you can set up a double-click translation of any word.
A free version can translate, offer one synonym from the dictionary, and pronounce the text you highlighted
You can add any word to a Phrasebook
Cons of Mate Translate:
Only Pro users can save the choice "always translate in X language." Others will have to select this option manually
You will need to pay for Pro functionality per browser
Pricing:
Mate Translate offers a free plan
Paid version will cost $9,99 per month
To Contents ↑
Readlang Web Reader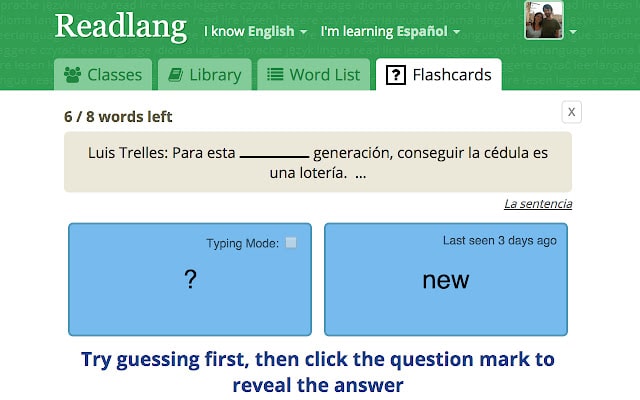 Our next extension is Readlang Web Reader. This Chrome translator addon is loved by 100K+ users worldwide. It can supercharge language learning. We can't recommend it as an all-in-one tool for interface translation. However, if you've already added Readlang, you can easily invoke it and translate words and short phrases.

We asked Readlang to help us make familiar with the interface of the highest-paying CPA Network.

Pros of Readlang:
The extension is easy to install on your Chrome browser
It can open a dictionary in a new window allowing one to dive deeper into a word's semantics
The Readlang team offers support services with product onboarding tours and tutorials
Cons of Readlang:
You can only translate phrases up to 6 words under the Free license. 12-word phrases come with a Premium license
You are limited to 10 free phrases per day
Even a Premium license will restrict you to only
This extension can collect and disclose your data: personal information and website content
Pricing:
The free version is available for Chrome users
The premium version costs $5/month
To Contents ↑
Rememberry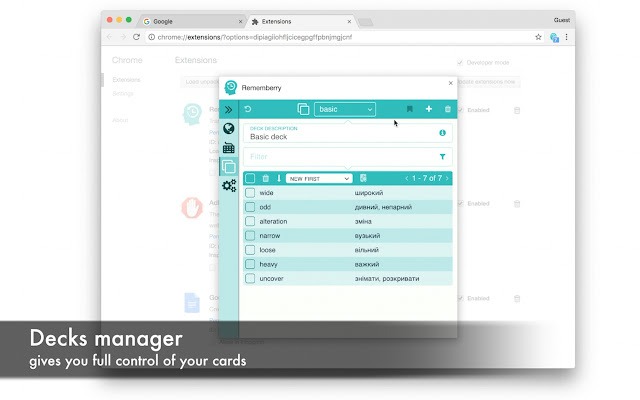 The Rememberry extension is primarily used for learning and memorizing foreign words and phrases. But its functionality reveals some favorable options for marketers and entrepreneurs as well.

You can easily translate any text on a web page by selecting it, using the context menu, or customizable hotkeys. A popup window in the browser menu bar also allows you to translate custom text. The tool also provides word pronunciation, transcription, synonyms, antonyms, definitions, and usage examples.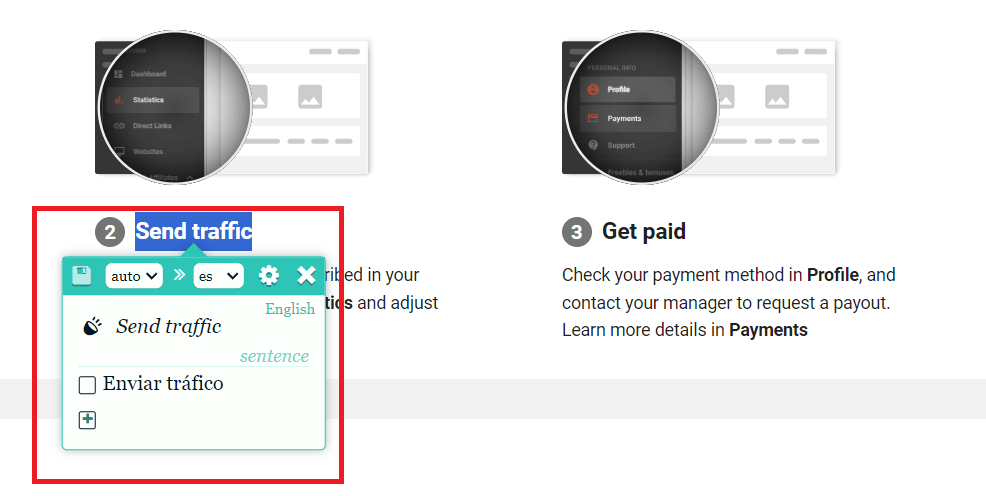 Pros of Rememberry:
The extension's free plan includes essential features, so you may not need the paid version
Over 100 languages are supported
Rememberry can synchronize settings between your Google Chrome browsers.
Cons of Rememberry:
The extension offers rich functionality for language learners, but all these may be unnecessary if you're using the tool for interface translation.
You may have problems while installing the addon to the Edge browser.
Pricing:
The basic free version includes most of the features
There are paid functions and in-app purchases, as well
To Contents ↑
Reverso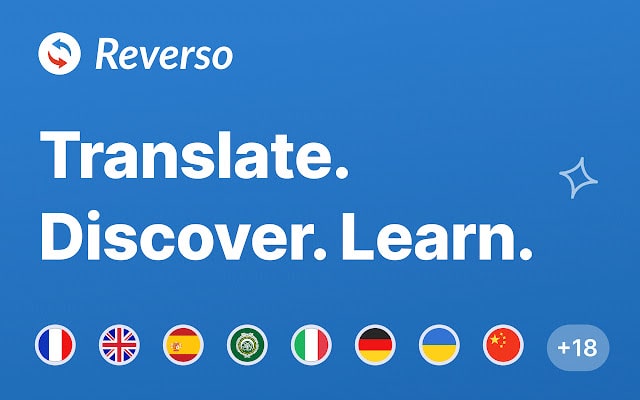 The Reverso chrome extension is one of the best-known on the market. Users prefer this addon because of its ability to consider the context. Reverso implements big data and machine learning algorithms, which makes translation accuracy soar.
Pros of Reverso:
AI-powered translation into 26 languages
Fast translation of phrases, which is enough for interfaces
Translation history synchronization across devices (available after registration)
One-click access to a detailed translation that comprises the context (opens up in a new browser tab.)

Cons of Reverso:
With lots of spoken phrases, you can get confused with all meanings. But it relates to the Reverso Context feature only.
Pricing:
Reverso is provided as freeware.
To Contents ↑
Google Translate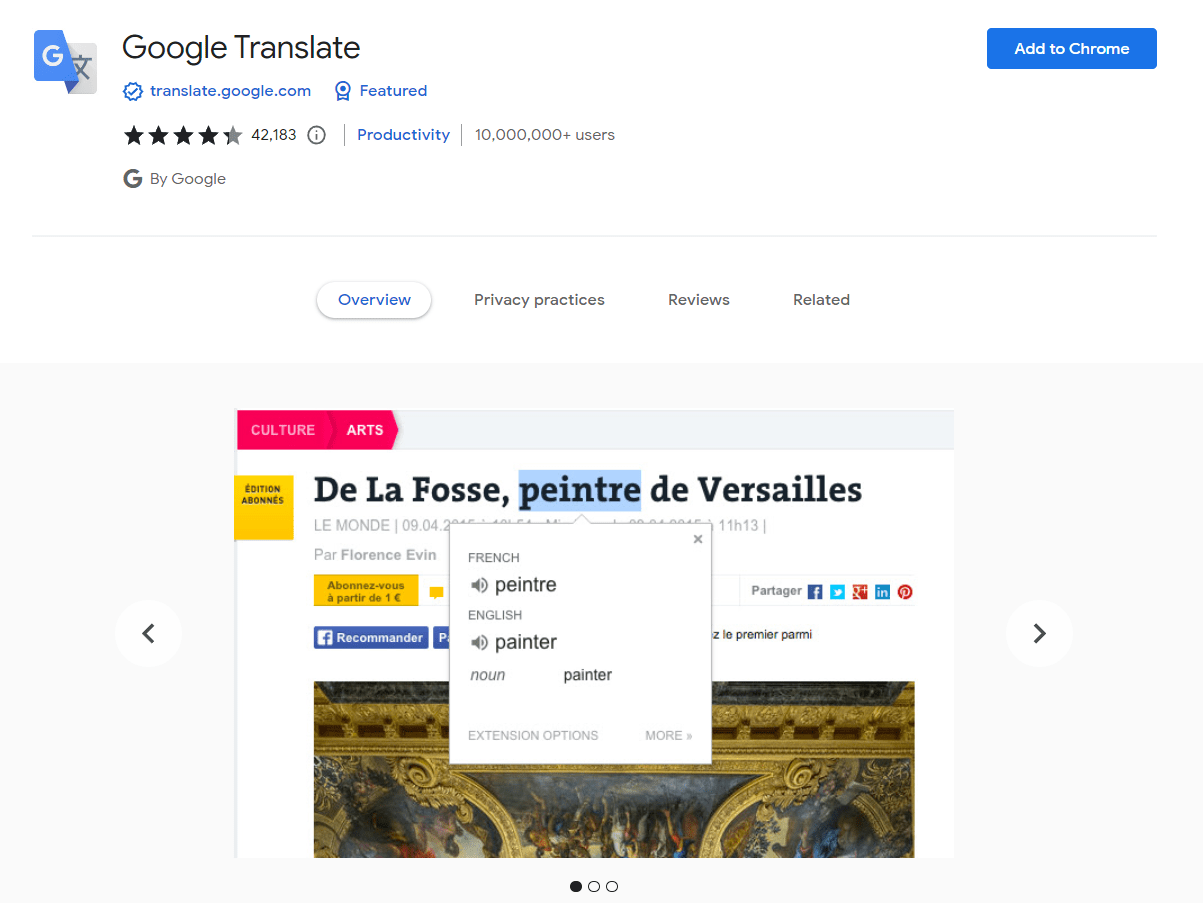 Mainly known for its web translator, Google Translate provides a Chrome extension. The latter comprises all necessary functionality like word / phrase / entire page translation. To see words and phrases in your native language, simply highlight the area with your mouse. You manage the addon's behavior by choosing between 3 states of the translation popup.
Pros of Google Translate:
One of the top-rated plugins for Chrome with over 10M users worldwide.
This extension is more than enough for business apps and web interface translation, as well as for long reads.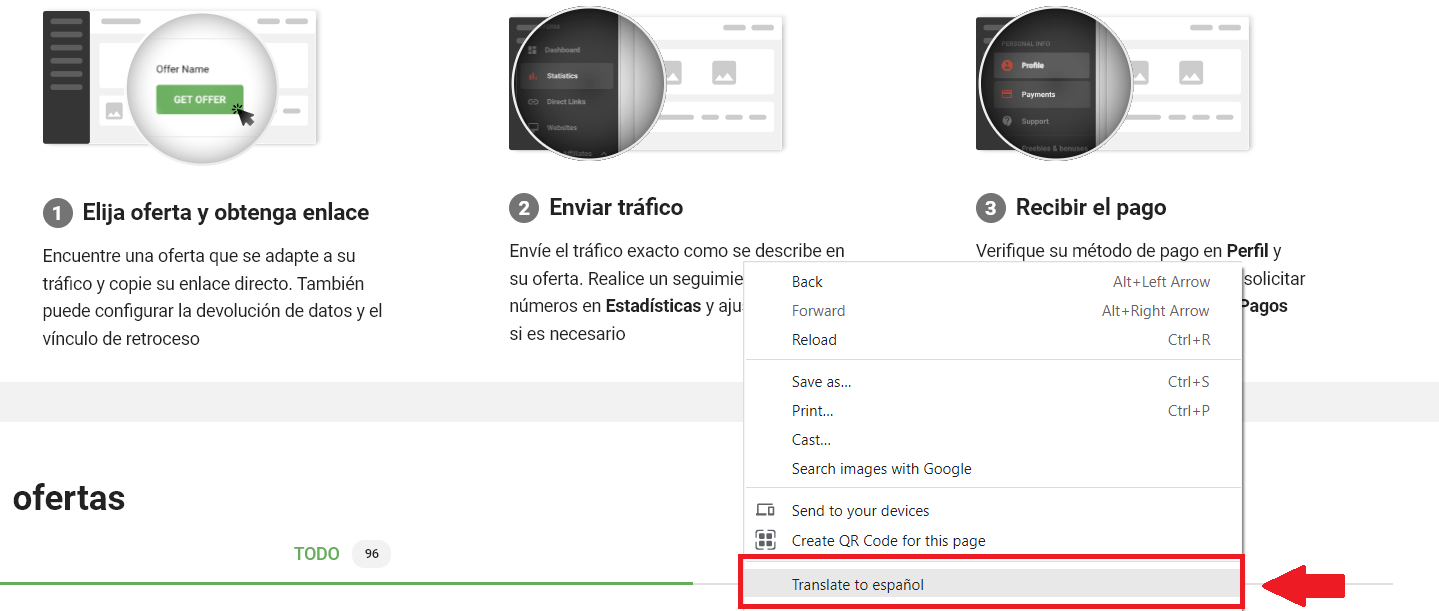 Cons of Google Translate:
Though the extension is reliable in many ways, it can wrongly detect languages sometimes (you can fix it on your own.)
The extension can collect and use the following user data: location, user activity, website content.
Some users complain about getting annoyed by the popup. However, you can switch it off by managing the addon's settings.
NOTE
Our team couldn't invoke the extension for immediate translation in a web interface (logged-in area). Then, we tested the extension on random texts picked from the search. In that case, the popup appears correctly, but with a 5-10 seconds delay. Since the test was only conducted on Windows-based devices, we can't call it representative.
Pricing:
The extension is absolutely free.
To Contents ↑
TransOver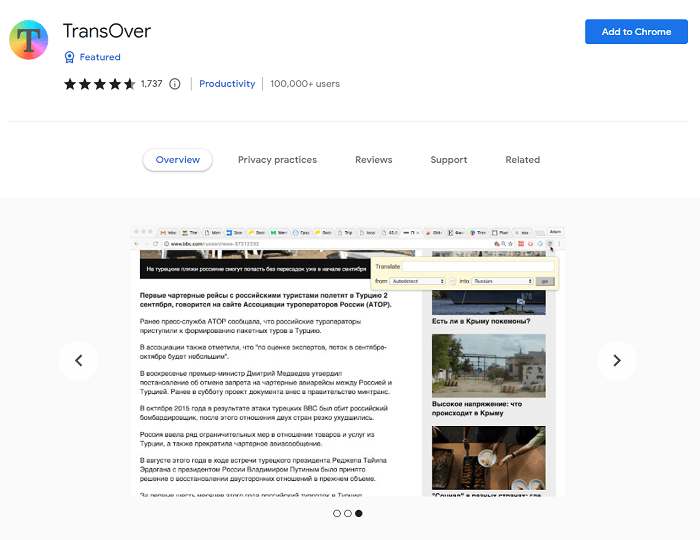 The TransOver Chrome extension acts exactly the same way as all previous tools in this list. Its feature set offers word / phrase translation and text-to-speech conversion at hover, click, or mouse selection.

Flexible settings allow you to configure the extension way you like:
show translation on click or point at a word;
reverse translation for faster learning;
delay translation;
set up the font size;
and many more.
The addon can boast of a decent "fan zone" of 100K+ users.
Pros of the TransOver Extension:
Quick text-to-text and text-to-speech translation
Flexible configuration with the possibility to set up the hotkeys
Support of Chrome, Firefox, Opera, and Edge versions
Cons of the TransOver Extension:
Though it's rather a question of UX, we found the translation "bubble" too large for a desktop interface
No options for the entire page translation
More extended phrase translation appears with a short delay (as of our tests)
Pricing:
You can use TransOver free of charge.
To Contents ↑
XTranslate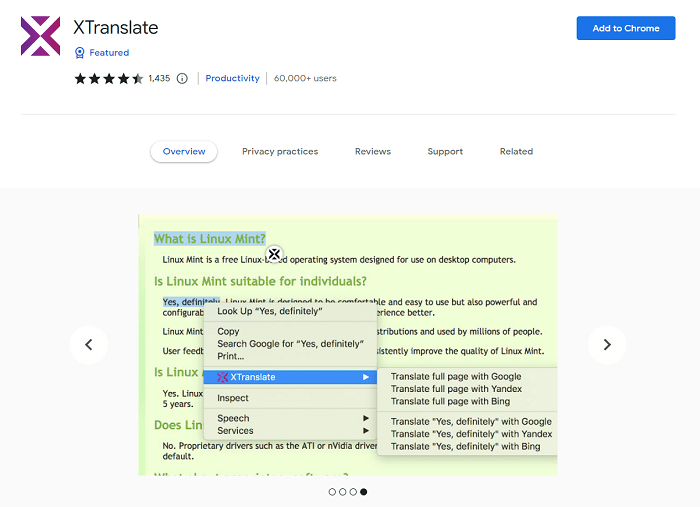 The following powerful tool we will outline is the XTranslate Chrome extension. This intelligent tool provides critical features for both online entrepreneurs and language learners.

You can click the translate icon, use hotkeys, or enable the single-click feature. If you input a word or text into the XTranslate text box, it will provide translations and links to learn more about the terms.
Pros of XTranslate:
Multiple settings to configure the extension so it fits your screen and device
Several translation algorithms to choose from: Google, Yandex, Bing, DeepL (available after the auth-key setup)
Almost immediate translation into one of 100+ languages.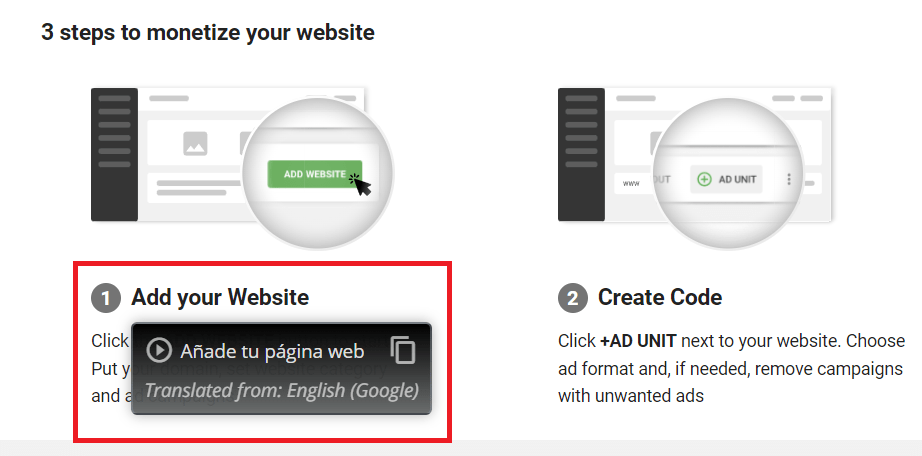 Cons of XTranslate:
No options for full-page translation provided.
Pricing:
You can use the utility free of charge.
To Contents ↑
Lingocloud extension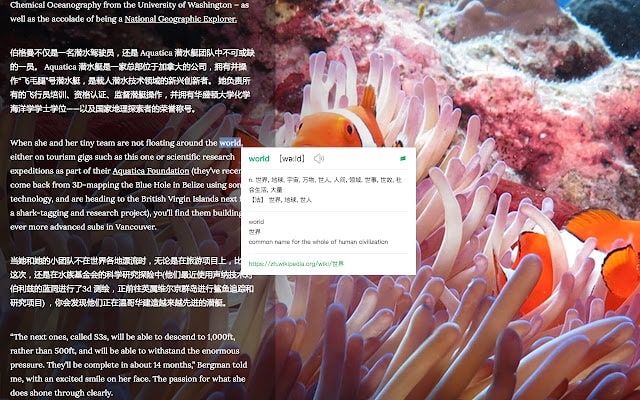 Lingocloud is highly rated among bilingual English-Chinese translators. Yet, the tool offers a broader choice of languages, for example, Spanish, Korean, Japanese, French, and Russian.
Pros of Lingocloud:
Accurate language understanding that is enough for primary business purposes
PDF/PPT/DOCX/EXCEL documents translations
One-click translations for entire pages.
Cons of Lingocloud:
The addon's services are provided under subscription, and you will have to submit your phone number.
The standard plan will limit you to 10 times/day web translations only
Fewer languages are available compared to other plugins and addons we observed today
Our tester couldn't figure out if there's a feature to translate web interfaces
The addon can collect and use personal data: web history, user activity, website content.
Pricing:
A free trial is available
VIP/SVIP plans will cost ¥12 and ¥35 (monthly renewal)
To Contents ↑
GlotDojo extension
The GlotDojo Chrome extension is crafted to help managers and language learners. Though its user base is smaller compared to the nearest rivals (only 20K), the addon is highly rated on Google App Store. Above all, it's a fast and accurate translator in 70 languages, with Japanese and Chinese among those.

Diligently designed, the addon offers one of the friendliest user interfaces. Among the upcoming features, we found a GlotCapture, the screen capture translation in real-time.
Pros of GlotDojo:
High-level of customization: versatile settings of both translation and user interface options
An opportunity to create translation presets
Stable performance in Chrome and fast translation speed
Saving preferable language pairs for frequent use cases
Text-to-speech translation served in a logged-in area
Video subtitles translation
Pros of GlotDojo:
High-level of customization: versatile settings of both translation and user interface options
An opportunity to create translation presets
Stable performance in Chrome and fast translation speed
Saving preferable language pairs for frequent use cases
Text-to-speech translation served in a logged-in area
Video subtitles translation
GlotDojo cons:
The extension can't translate entire pages or user tabs
Pricing:
GlotDojo is absolutely free
To Contents ↑
Chrome translation extensions — FAQs
Can I use Google Translate instead of other Chrome extensions?
Actually, you can. If you're translating a web page, you may not need extra tools except for the Chrome browser. You can even translate web interfaces (not each of them, you will have to test this option.) Right-click anywhere on the page and select "Translate to _____" from the popup menu.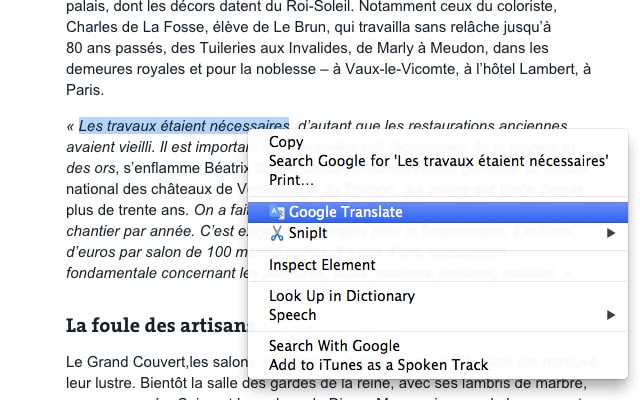 The Google Translate window will display tabs for the current language and your Chrome language. To switch languages, click on the appropriate tab. If you want to translate the page into a different language, click on the three vertical dots and choose "Choose Another Language" from the menu. A drop-down menu will appear, allowing you to select the language you want to use.
How do I translate an entire webpage?
While most free extensions limit you to word-only or phrase-only translation, some provide an option to convert the entire page into your language. One of them is Mate Translate. The addon can operate inside a web account, which makes it especially helpful for advertisers, CPA affiliate marketers, and publishers.
What is the best translator extension?
Your best translator extension is a matter of choice and purpose. Some users will not require a fully-fledged addon packed with all possible languages and dictionaries. Some will enjoy the multitude of features. We advise using the following factors in choosing a translation tool:
>> positive detailed reviews regarding the addon's translation accuracy;
>> date of the last update;
>> a feature for full-page translation
>> affordable pricing or free license
>> high level of security and privacy
Our intro to the best online Chrome translation extensions is complete! The job was to observe several fast and helpful tools advertisers, affiliate marketers, and publishers can apply to read web interfaces in their native language easily. Most of those listed will facilitate your daily switching between tabs and browser windows.

It looks like nothing can stop you from achieving more impressive results! Stay tuned with Adsterra blog posts, and join our ad network to enjoy high-quality traffic and ad feed.