We are delighted to announce that Adsterra Self-Service Platform (SSP) now enables you to launch Native Banner campaigns via the Cost Per Click (CPC) model.
[su_button url="https://partners.adsterra.com/campaign/request" target="blank" style="flat" background="#B84228″ size="6″ center="yes" radius="5″]LAUNCH YOUR NATIVE CAMPAIGN[/su_button]
What is Native Banner ads?
Native Banner is a classic ad format with an engaging image and headline, perfectly blending in with the website content. Normally Native Banners are placed in the most visible parts of a page, so this ad type delivers higher viewability and interaction rates in comparison to standard ads.
Reasons why you need Native Ads:
Adding Native Banners to your advertising strategy will give you access to a whole world of new publishers, which means broader exposure and greater traffic volume.
 

This ad format is relevant to user interests, which means that only engaged people will click on your ads. It leads to CTR boost, higher conversions and ROI increase.

You can launch your campaign with up to 15 creatives in rotation for a test and find the highest-converting one.
Native Banners is a giant traffic source: the volume of traffic for Native Banner campaigns at Adsterra is currently estimated at 1+ BILLION per week!
CPC (Cost Per Click) is a pricing model where you pay only for individual clicks on your ad.
CPC is transparent, fair and beneficial since you pay only for motivated clicks of users who are already interested in your product. Pro tip: using high-quality creatives boosts your CR and ROI.
CPC is a perfect payment model to test your creatives: you can rotate up to 15 creatives in one campaign, pick the most clickable one, and then scale your campaign with the top creatives.
For this announcement, we have lowered Native CPC min bids so you can try out this format to the max! Now starting from $0.001
Now you can master your Native Banner CPC campaigns on Self-Service Platform (SSP). No need to wait for your manager, you can instantly launch Native campaigns yourself. It is fast, transparent and profitable.
According to our research, Native Banners + CPC model work best for these verticals: Gaming, Dating, Gambling, Finance and Push Subscriptions
How to launch your campaign:
Go to your personal dashboard → "Create Campaign" → "General"
Set Pricing type to "CPC"
Set AdUnit category to "Native banner"
Fill in all the other required fields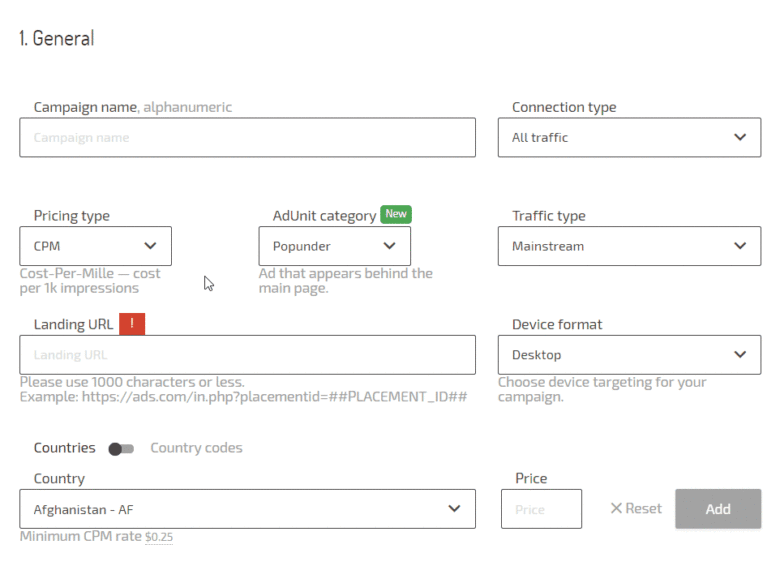 PRO TIP: based on our expertise, the more you test, the more exciting creatives and various titles you rotate in your campaign, the greater your revenue is. Be inventive, and it will pay back!
🚀 LAUNCH YOUR NATIVE BANNER CPC CAMPAIGN!
[su_button url="https://partners.adsterra.com/campaign/request" target="blank" style="flat" background="#B84228″ size="10″ center="yes" radius="5″]GO NATIVE![/su_button]