Barcelona will host one of the industry's landmark events soon. Affiliate World Europe starts on July 12th, and it's going to be a tremendous affiliate gathering. Adsterra's Head of the Programmatic Department, Daria, is all set to negotiate with publishers and advertisers who are interested in premium traffic reselling.
---
Dates: July 12–13, 2023
Venue: Fira de Barcelona
Location: Barcelona, Spain
---
Meet Adsterra expert at Affiliate World Europe 2023
Our delegate, Daria, is a seasoned pro in developing and implementing programmatic media buying strategies. Her investment in Adsterra's DSP and SSP platforms led to multiple win-win partnerships with world-renowned ad networks.
---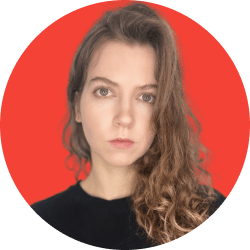 Daria Babiak,
Head of Programmatic
---
You can read Daria's guides to Best DSP Platforms to find out how to choose a media buying platform or refer to Adsterra RTB Guide to learn how to get paid highly for sending premium traffic to Adsterra.

If your job is to drive high-quality traffic or acquire ad impressions in significant volumes, be sure to book a meeting with Daria.
Affiliate World Europe 2023: Why You Should Attend
While beautiful Barcelona is a great reason to visit, there are even more compelling reasons to book your flight and pack your bags now.

At this two-day conference, you'll have the chance to learn from experts in affiliate and E-commerce marketing who will share new insights, data-driven strategies, and innovative ideas. With over 5,000 attendees from 110+ countries, you'll be part of a diverse marketplace offering countless opportunities to advance your career.

Let's take a closer look at the conference tracks to see what you can expect to learn at Affiliate World Europe.
Zooming in the AWE's specifics
Affiliate World Europe offers various major tracks covering topics such as AI in Advertising, TikTok, Native Ads, Meta Ads, and Affiliate Marketing's Hottest Topics.

Attendees choose which track matches their interests and goals. For instance, in the AI in Advertising track, you can discover how SEO experts are taking advantage of AI to automate tasks, integrate workflows, and ensure quality assurance in 2023. You will also learn about navigating the fake web traffic challenge, producing video ad scripts, conducting SEO and keyword research, creating dynamic ad creatives, and more.

Similarly, the TikTok track will teach you how to leverage one of the fastest-growing social platforms of 2023, explore untapped geolocations and verticals, and discover how E-commerce brands are increasing sales through TikTok shops and online stores before, during, and after live events. You will discover TikTok ads that achieved great success in the US and EU, resulting in a 4x increase in revenue.

The Affiliate Marketing's Hottest Topics track will equip you with proven strategies to go viral and generate billions of ad views. You will learn how to build high-value lead-generation assets that deliver six-figure revenues in evergreen verticals. Or, probably, you will prefer to master the art of retention, allowing you to catapult customers' LTV.
AWE's 2023 facts and figures
A marketplace with access to more than 210 advertisers, traffic sources, and networks.
Over 20 hours of expert-level content presented by industry leaders across two stages.
6+ niche-focused hour-long Mixers and various networking events and parties catering to all preferences.
The attendees can look forward to connecting with $1M+ per month advertisers, the fastest-growing social platforms of 2023, marketers who generate over $100k per month, and the fastest-growing stores.
Conclusion
To sum up, if you want to increase your knowledge, connect with industry experts, and discover countless opportunities, this summer, Affiliate World Europe 2023, is the perfect event for you.

This conference boasts exceptional content on stage, tailored tracks to meet your specific requirements, numerous networking possibilities, and additional benefits to enhance your experience. Join thousands of marketers, advertisers, and affiliates in Barcelona for two days of education, networking, and enjoyment.