Blogging can be a very consistent source of income, but not for those who have to start from the bottom because the platform they chose failed to meet their needs. We discussed popular website-building platforms like Blogpost, WordPress, Weebly, and Squarespace for bloggers and publishers in previous articles. In addition, we also gave you detailed instructions on how to start a successful blog. So in this article, we'll go over the pros and cons and criteria for picking any of the most popular blogging platforms.
Best blog sites and platforms to consider
1. Ghost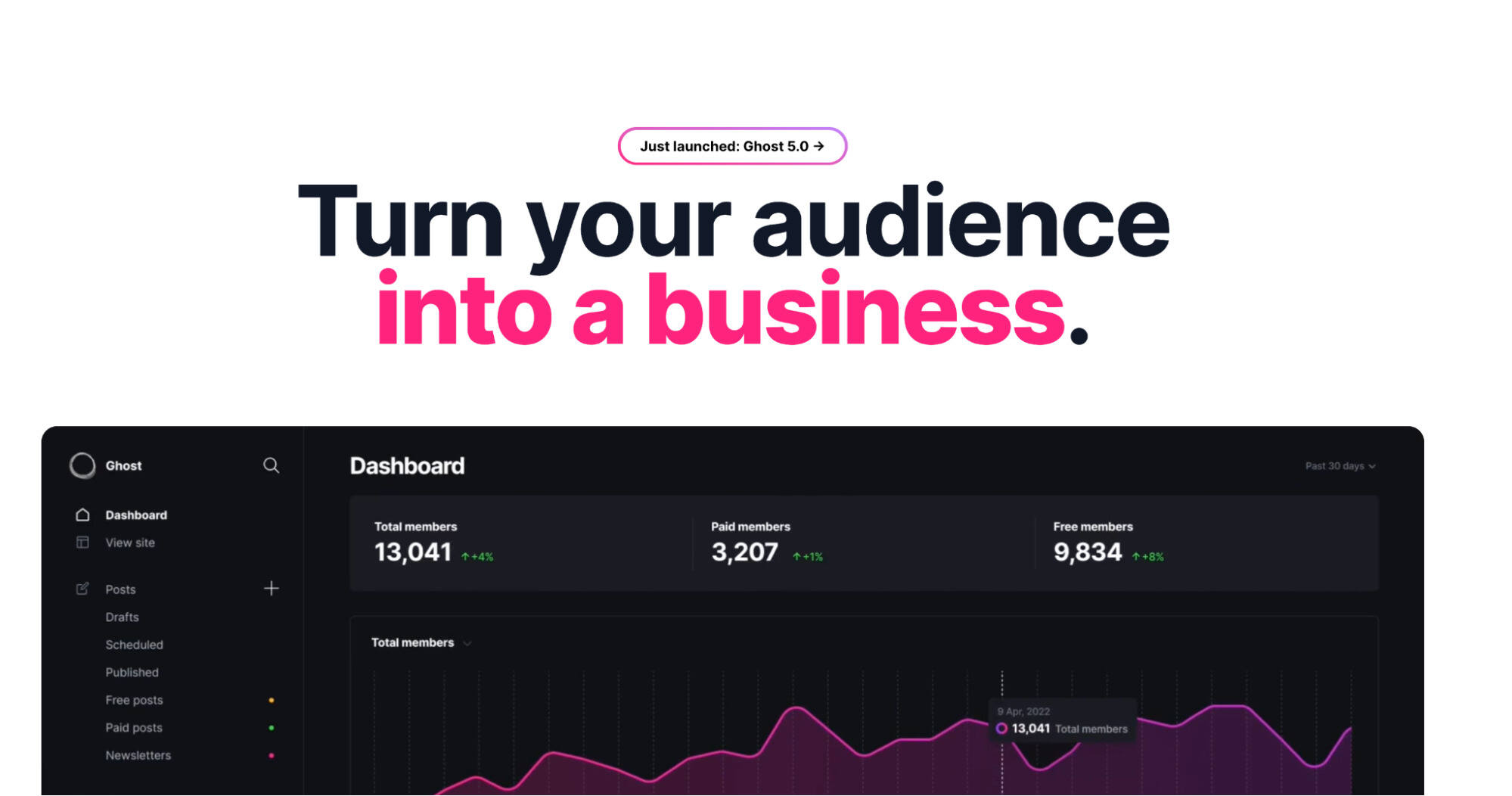 Ghost is the best platform for creating a blog if you want a self-hosted tool solely focused on blogging. Or if you like the idea of being able to monetize your blog with paid content and don't need the full flexibility of self-hosted WordPress.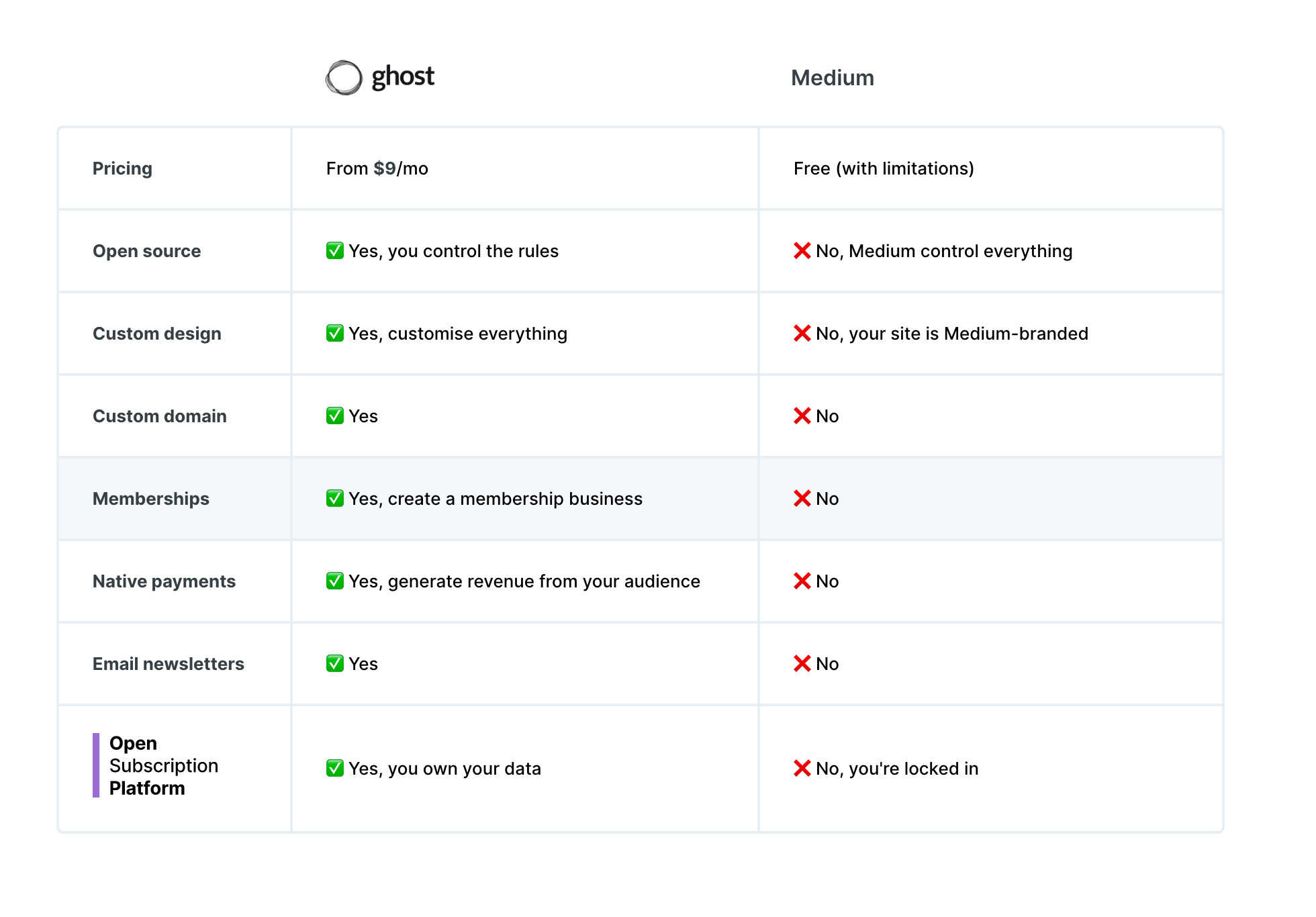 Ghost is similar to self-hosted WordPress, but it is primarily used for blogging, while WordPress is much more flexible and has a larger library of extensions. It is also more flexible than most other blogging platforms on this list, so it's a good compromise.
This platform is open-source software, and you can freely install it on your web hosting. It includes some of the essential features that bloggers need, primarily an integrated tool for monetizing your site with memberships and not only ads. You can allow free member registration or charge for content access on your blog.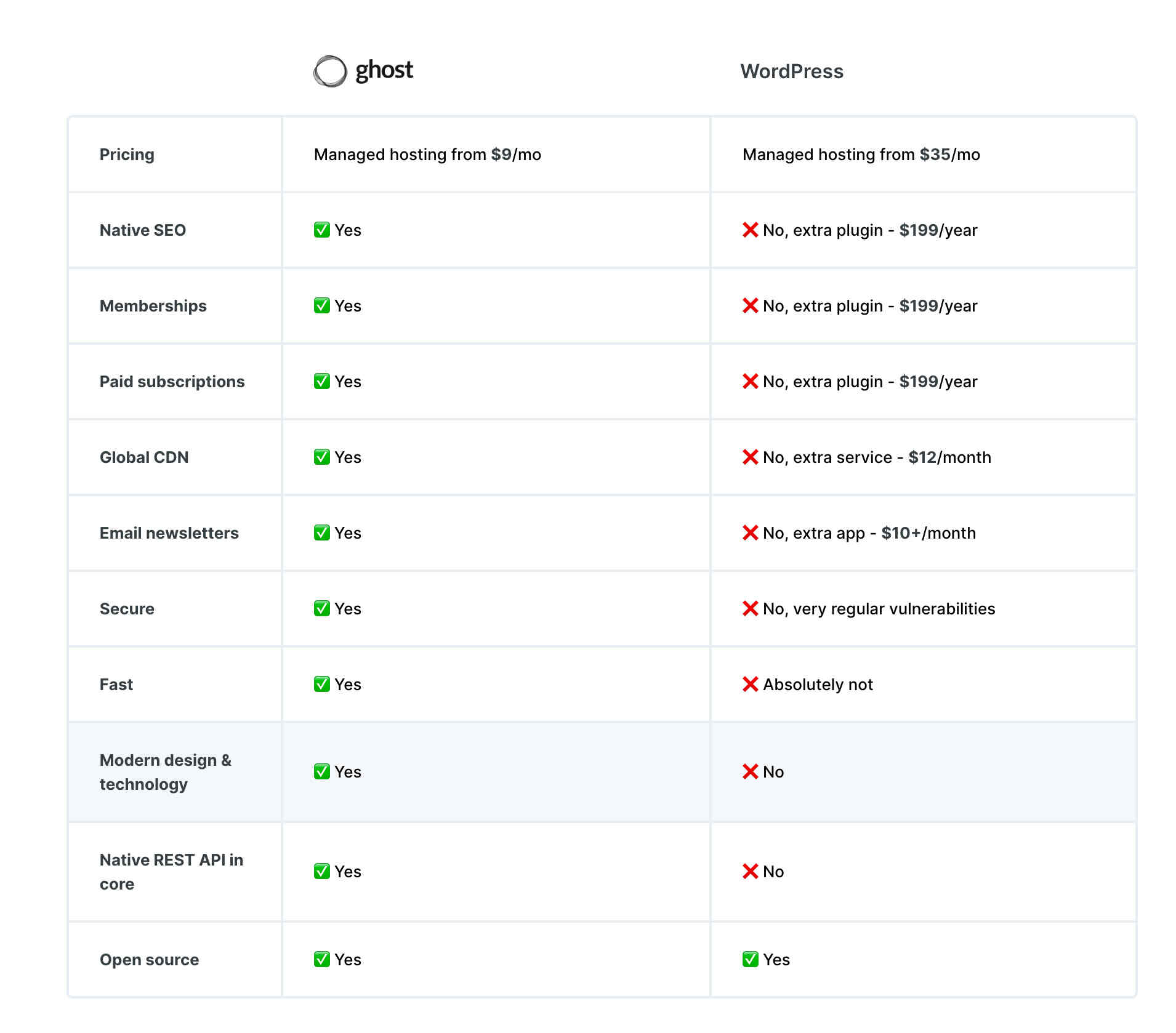 To Contents ↑
How to set up a blog with Ghost
There are two ways to get started with Ghost. The most direct method is to pay Ghost to host the software for you. Unlike WordPress.com, you retain full access to your underlying site/data, but the Ghost team handles all technical aspects for you. The paid plans begin at $29 per month.
If you prefer to do your own thing, you can download the software and install it on your web host. This makes the launch process a little more technical, but you'll save money. The procedure is similar to that of self-hosted WordPress:
Invest in web hosting.
Invest in a domain name.
Install the Ghost software (many hosts provide an auto-installer for Ghost, though it isn't as popular as WordPress).
To Contents ↑
Pros
Primarily for blogging and writing.
The user interface is simple, uncluttered, and easy to use.
It's written in JavaScript, so it's lightning-fast.
The hosted version requires no installation.
Cons
Apps are difficult to customize.
Options are severely limited because of the simplified user interface.
There aren't enough themes to change the blog's appearance.
Pricing
The self-hosted version requires a custom domain (approximately $14.99/year) and web hosting (starting at approximately $7.99/month).
The hosted version costs $29 per month for two staff users with a page view limit of 100,000. Your blog will be a Ghost subdomain ending in ghost.io unless you purchase a custom domain from a third-party domain registrar.
Speaking of making money from a blog, do you know that you can start earning from your blog as soon as you create it? At Adsterra, we work with both amateur and professional bloggers to monetize via user-friendly ad formats. Enjoy regular payouts, mild traffic requirements, and caring support.
To Contents ↑
2. Medium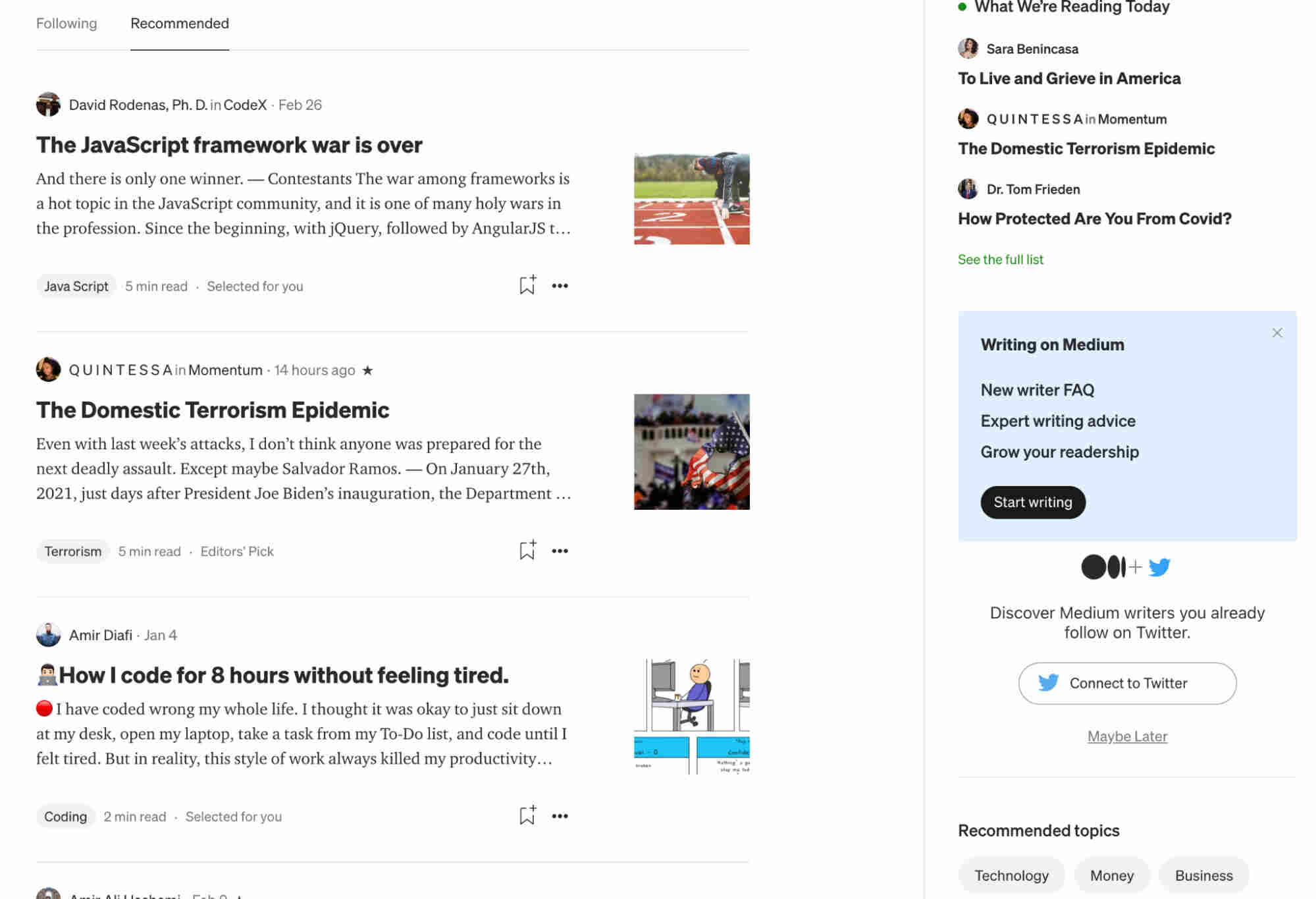 Medium is home to bloggers who specialize in creating niche content for readers. It's also where you'll find some of the most suggestive and exciting content.
Medium's built-in reader communities are what really set it apart for writers. People can search through a large library of publications and topics to find your blog and subscribe to it with a single click. They can even opt-in to receive your posts in their inbox every time you publish. Writers can publish pieces under their accounts, run their publications, or submit their work to bigger publications for a chance to reach an even larger audience.
Medium also allows you to be compensated for your writing through the Medium Partner Program. This allows publishers to be paid based on the amount of engagement their articles receive. However, Medium points out that only 7% earn more than $100 per year.
To Contents ↑
How to set up a blog on Medium
Click "Write a Story" to start writing a Medium article. The dashboard is similar to WordPress's Gutenberg editor, so it's fairly simple. When you're finished, add a few tags and click "publish," and your work becomes public.
Pros
Medium is simple to use, requiring no setup and no coding skills.
It helps you connect with an existing online community of people who share your interests.
Instead of designing a website, you can concentrate solely on writing.
Cons
Features are severely limited.
Medium owns your audience, so losing your blog means losing all of your followers.
You cannot use your own domain name. You'll get a profile page similar to Facebook, such as https://medium.com/@yourname.
You cannot make money by running display ads but you can try to earn with affiliate marketing.
Some users are unhappy with how the platform compensates them and boosts their content.
You compete with other articles and larger, more established publications for readers' attention.
Pricing
Medium is completely free to use. It is a major player in the blogging space: good for growing an audience if you work hard and consistently.
To Contents ↑
3. LinkedIn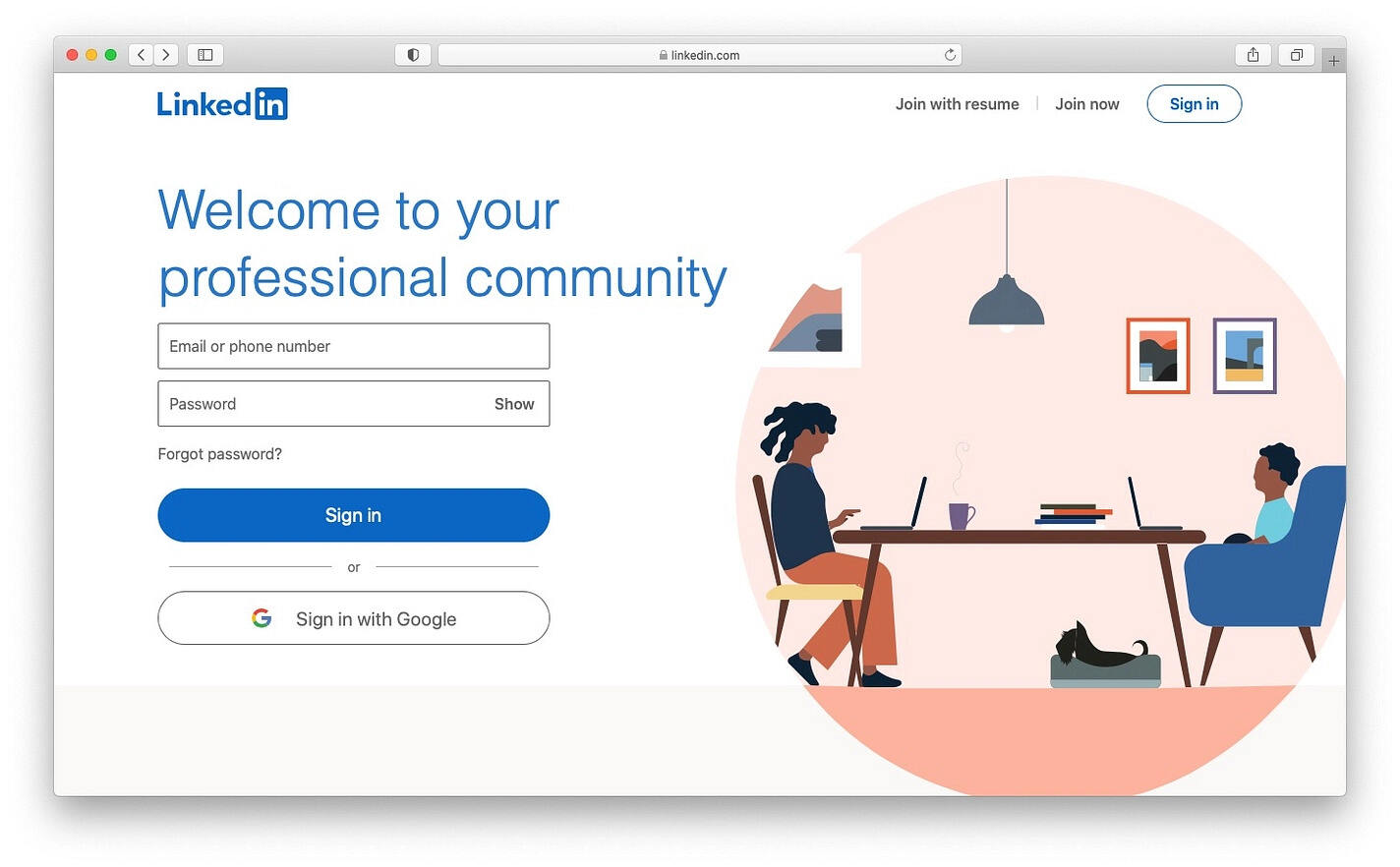 LinkedIn offers an audience of business professionals from HR, digital marketing, finance, technology, etc. Many of them are very active on LinkedIn, frequently sharing thought leadership and articles. So, if you want to establish yourself as an influencer or thought leader in your industry, the LinkedIn audience is your target.
The platform already has a culture and expectations that a business blogger would love to have on their website. The challenge here is to create compelling and shareable content to build a following.
Considering that it's a social network for industry professionals, it's a great way to connect with prospects and get quick feedback on your articles from peers. You can also convert your audience into partners and customers.
Few people realize that the platform can be highly profitable if you're in business. LinkedIn users are typically high-earners: C-level executives who want to innovate and build long-term partnerships. They're also willing to pay a lot for the right person to get them there.
To Contents ↑
How to blog on LinkedIn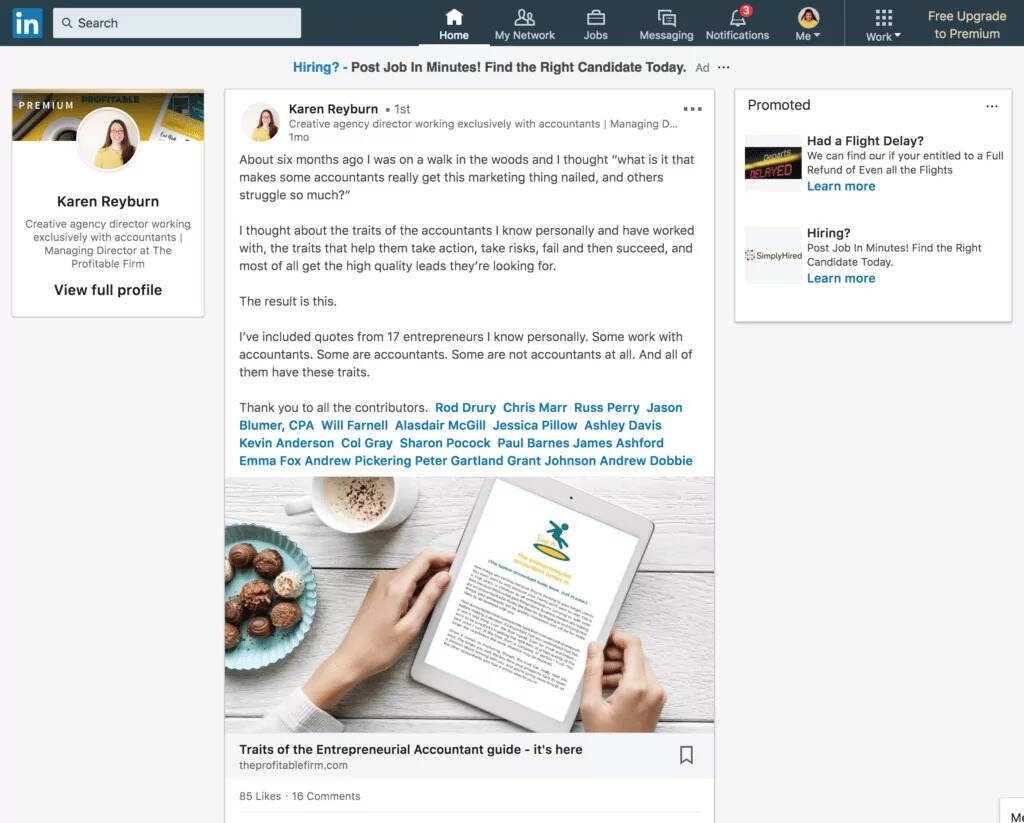 A LinkedIn profile is all you need to start a blog. It's as simple as clicking a Facebook status button and writing an article from there. LinkedIn, like Medium, uses a Gutenberg-style editor that is also simple. It's also worth noting the distinctions between a LinkedIn post and an article.
A post is a brief update that you would share with your feed and connections. Consider providing a quick anecdote or pro tip. They are limited to 1,300 characters or approximately five lines.
Articles are longer and more in-depth. They're something that the larger LinkedIn audience would enjoy reading. Maybe your post will be picked up by one of LinkedIn's marketing or sales blogs.
Anyone who reads your article can also follow you from there, and they will be notified when your next article is published. Any articles you write will appear in your LinkedIn profile's Articles section.
Pros
Increases your exposure (on LinkedIn).
Increases your visibility (beyond LinkedIn).
Helps you get ranked in Google quickly.
Increases traffic to your blog, eBook, or online store.
Has built-in analytics.
Cons
You can't directly monetize it, and your reach and engagement are entirely dependent on the algorithm.
There is no easy way for people to access an archive of your previous articles, as there is in Medium or a standard Wix, Squarespace, or WordPress blog. Instead, the article appears in your Activity feed, which requires them to navigate to your profile, then to your Activity Feed, and finally to your article. That's a lot of work just to find one article.
To Contents ↑
4. Blogger
Blogger is one of the oldest free blogging platforms, though its popularity has slightly declined.
It's a good option for personal blogs, but it's not ideal for professional use. It functions similarly to other hosted platforms in that you must first create an account before using it. After you've created it (which is simple), choose one of the default themes and begin publishing your articles. This platform's interface resembles a Google+ profile, and the editor is similar to a Word document.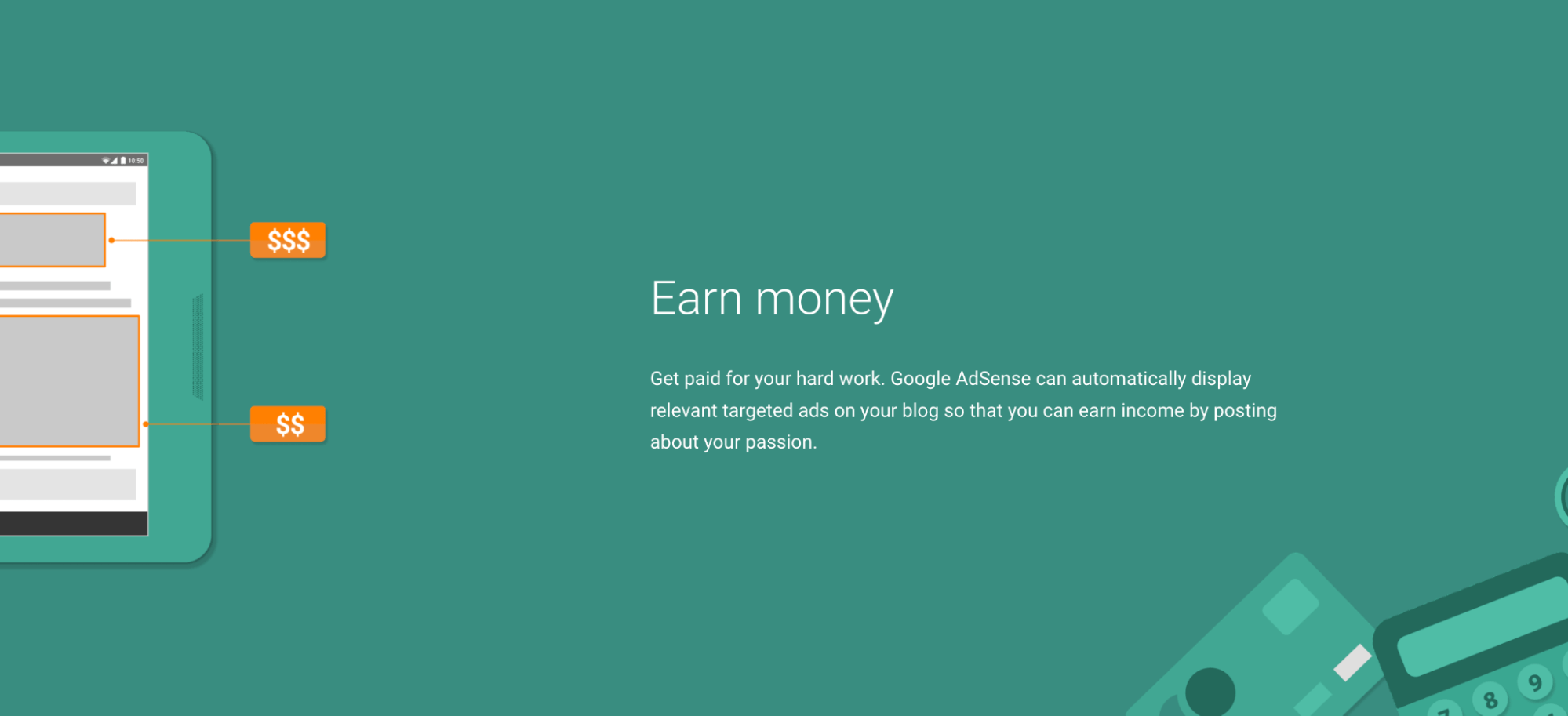 Blogger provides many themes, each with unique skins, advanced color filtering, and various minimalist gadgets (widgets). But nothing too fancy or advanced in terms of design customization. Blogger has simple appearance options, which keeps the focus on the writing. This platform allows you to earn on your content by placing ads in it.
Pros
Blogger is completely free.
It is simple to use and manage without any technical knowledge.
It offers the added benefit of Google's secure platform and reliability.
Cons
Design options are limited, and third-party Blogger templates are not versatile.
You can only use basic blogging tools and cannot add new features as your blog grows.
Blogger does not often have updates or new features.
Google can suspend or terminate your blog at any time. (They have a history of abruptly abandoning projects, such as Feedburner.)
Some users begin with Blogger because it is free, but as their blog grows, they switch to WordPress to gain more features and control over their website.
Pricing
A Blogger subdomain, such as https://example.blogspot.com, is free.
To Contents ↑
5. Tumblr
Tumblr is one of the first free blogging platforms on the internet. It's a little 'milder' than the others on the list. Unlike other platforms designed for publishing, it focuses on multimedia or social media-like content. Tumblr's interface is more playful and simple to use — you simply sign up, and then you can begin posting.
It offers multiple post formats for various types of content, but it is purely for personal use and would not be a good solution if you want to run a business.
Even though it's not designed for business, you can display ads on your page, use affiliate links, and connect your blog to Google Analytics.
Pros
Tumblr is free if you use a Tumblr subdomain, such as https://example.tumblr.com.
It is effortless to set up and use.
It includes a social media component.
Tumblr makes it simple to quickly blog videos, GIFs, images, and audio files.
Cons
Tumblr has limited features that cannot be expanded as your blog grows.
Many Tumblr themes are available, but they cannot provide additional features.
You can't back up your Tumblr blog easily or import it to other platforms.
Pricing
Tumblr is completely free to use. You can use a custom domain (purchased separately) for your Tumblr blog and buy third-party themes and apps.
To Contents ↑
BONUS: HubSpot CMS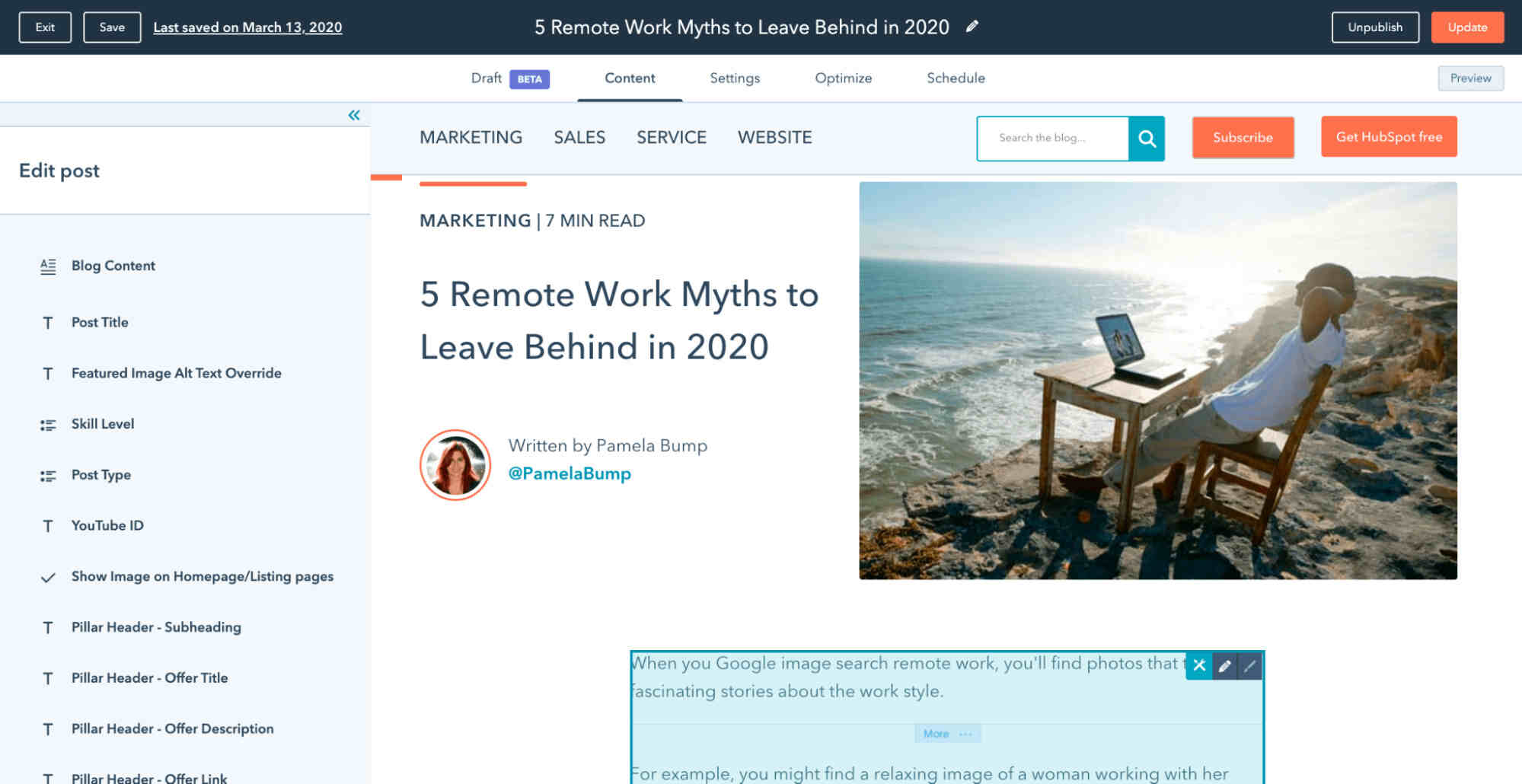 HubSpot CMS Hub is a comprehensive blogging platform for any business-oriented website. It's built on top of HubSpot's marketing and CRM tools, allowing you to create a blog, get subscribers, send newsletters, and more from a single platform.
Their website builder allows you to customize the layout of your website easily, and you can even display content based on the reader's behavior.
Pros
No coding skills are required to use this simple drag-and-drop website builder.
Because HubSpot will host your website, you can get started quickly.
Completely SEO and conversion-optimized.
There is a free SSL certificate included.
Cons
While the HubSpot CRM includes free tools (such as contact management, email marketing, and forms), there is no free version of the CMS.
As you move up the tiers, pricing may become more expensive.
Depending on your previous provider, the migration process from another blogging platform may take time.
Pricing
HubSpot CMS plans start at $25 per month and include all of the essential features for running a safe, well-designed blog and the marketing tools you'll need to grow it. Upgrade to the higher tiers if you want custom SEO recommendations and advanced features.
To Contents ↑
Choosing the best blogging platform
There's no one-size-fits-all blogging approach: Medium bloggers are different from WordPress bloggers. Your needs will determine the best platform. But choosing the right blogging platform involves a few universal factors.
Niche-friendly customization
Make sure your blog's appearance can be customized to your niche. This builds your blog's and brand's identity and your audience's relationship. Install a plugin or widget if you can't do something from the platform's dashboard. There are various blogging "styles," Some may be better suited to one platform than another. If you want to post short notes with mostly media (images, GIFs, videos, and so on), Tumblr might be a good fit for you. If you want to post longer, more thoughtful pieces, you might be better off using Medium or your own platform.
While most blogging platforms have some topic restrictions, you'll probably want to use a self-hosted platform if you're blogging about some sensitive topics (e.g., alcohol, adult topics, and so on).
To Contents ↑
Audience-building tools
Good blogging platforms offer audience-building tools. This could be SEO tools (to help your posts rank higher) or connecting you with new readers on their platform.
Medium is a great blogging platform for going viral and reaching a large audience. Even then, success isn't guaranteed because you depend on its algorithm. LinkedIn's tools are lacking. They can be part of a growth strategy by helping you connect with industry influencers and change-makers. These connections can help your blog further.
Profitability
You want to monetize your blog. And we recommend it. Choosing a blog platform will affect how much and how you make money. LinkedIn is the least profitable because the platform doesn't allow on-page advertising. But you can make money by promoting webinars, ebooks, and online courses.
Medium's Partner Program pays writers for "member engagement": they'll pay you if others read, comment, and like your story. You won't make money from ads there.
However, you can still make money on these sites through affiliate marketing, coaching, and freelance work. You'll depend on their traffic algorithm, and one algorithm change can make or break your business.
To Contents ↑
Content ownership
A hosted blog has drawbacks in data ownership because you do not have complete control over your content. It also offers less flexibility than a self-hosted blog.
With a self-hosted blog, you must install the blogging software on your web hosting. While this may sound intimidating, most web hosts make the process very simple — and you don't need any technical knowledge to do so.
One of the most significant advantages of self-hosted blogs is that you have complete control over your content. You can also monetize your site in any way you see fit.
To Contents ↑
Budget
If you want the freedom and flexibility of a self-hosted blog, you'll need to pay for web hosting at the very least to run your blog software. This does not have to be expensive; it is entirely possible to run a blog for less than $10 per month. However, you cannot run a self-hosted blog for free.
Conclusion
Medium offers the simplest way to start a blog. You simply create an account and start writing. There is no complex setup process, no theme to select, and no coding required. Sign up and start publishing. You can even publish your first post a few hours after joining the platform.
However, the cost of simplicity is that you can only write and publish. You can't add extra features like a custom contact form. It's impossible to expand your email newsletter list via Medium. On the other hand, self-hosted WordPress helps you take your blog in any direction and become a successful entrepreneur — but only when you put profitable ads on your website 😉