How to monetize WordPress websites and blogs in 2023? If you grow a business online, this question comes first. And it seems like Adsterra publishers know the answer. Today, you are going to learn how to put profitable ads on your WP-based site so that you could make money with no extra effort.
In this guide, we'll go through the steps of adding Adsterra Popunder, Social Bar, Native, and Display Banners' ad codes. In the end, we will answer the most asked questions about improving gains with WP blog or site. Let's ride!
Before you start WordPress monetization: tech aspects to consider
WP is the friendliest CMS as it offers loads of instruments for beginners and pros: text formatting, adding images and videos, adding tracking systems, and email subscription forms. On the other hand, this provokes confusion when you need to get a clear flow of HOW TO add an ad code to your page. Themes vary, access rights vary, and interface layouts vary. You may also be using several plugins for adding HTML and JS codes. For this guide, we have chosen the most common user flow.
STEP#1. Getting Adsterra codes from your Publisher's account
Now let's go step by step and find out how to get Adsterra ads for free, put them on your web pages and start earning money.

Before placing an ad script / code, you will need to generate it on the Adsterra platform. It's easy and takes less than 5 minutes. So please sign up or log in as a Publisher. If you picked SIGN UP, your next step is to fill out these fields and then, check your email to pass the second step of authorization.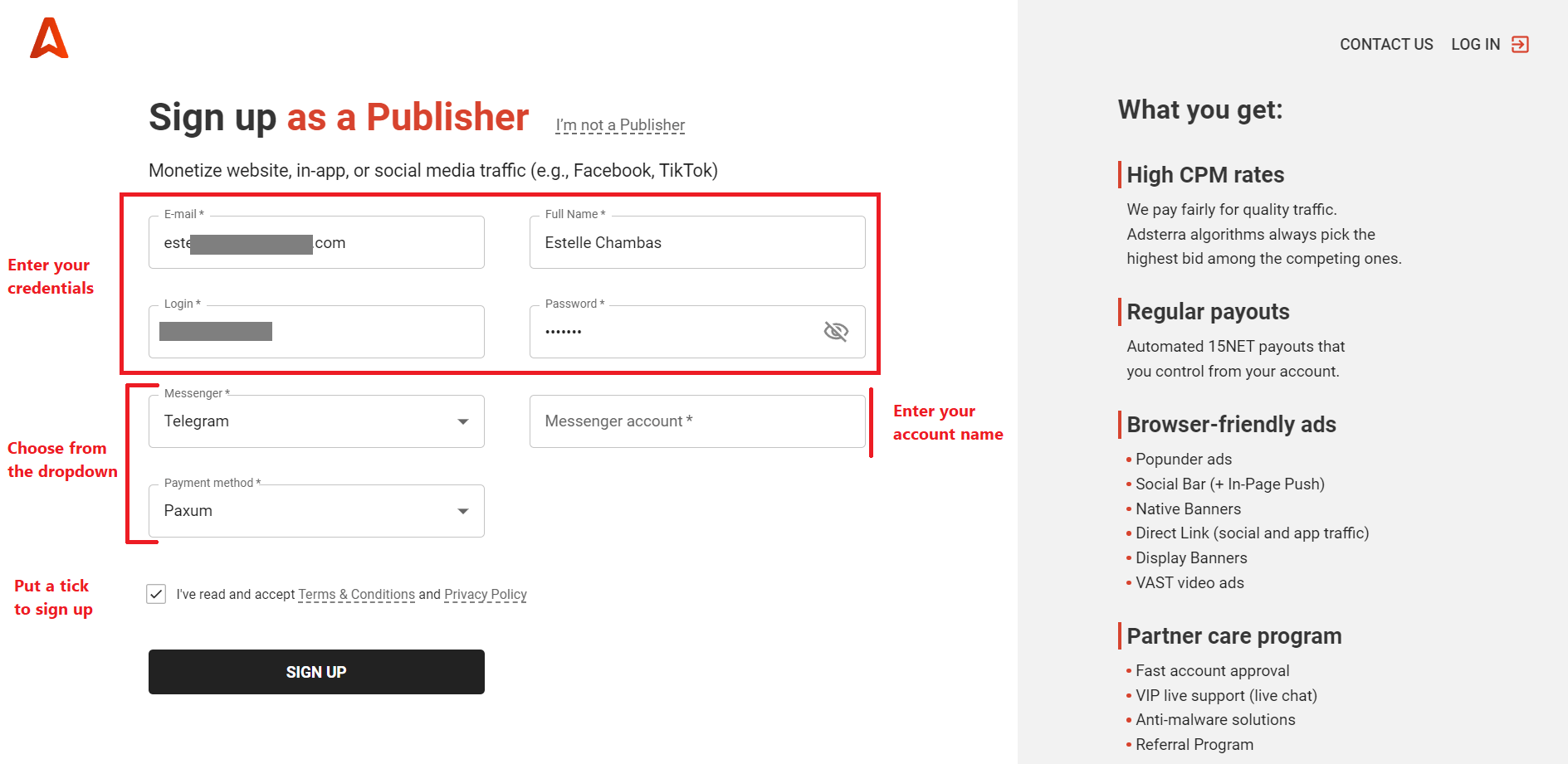 After you verified your email, you can log in as a Publisher. Welcome to Adsterra! You're on the Websires page, where you need to add a website to our platform. Please hit the ADD WEBSITE button (any of them).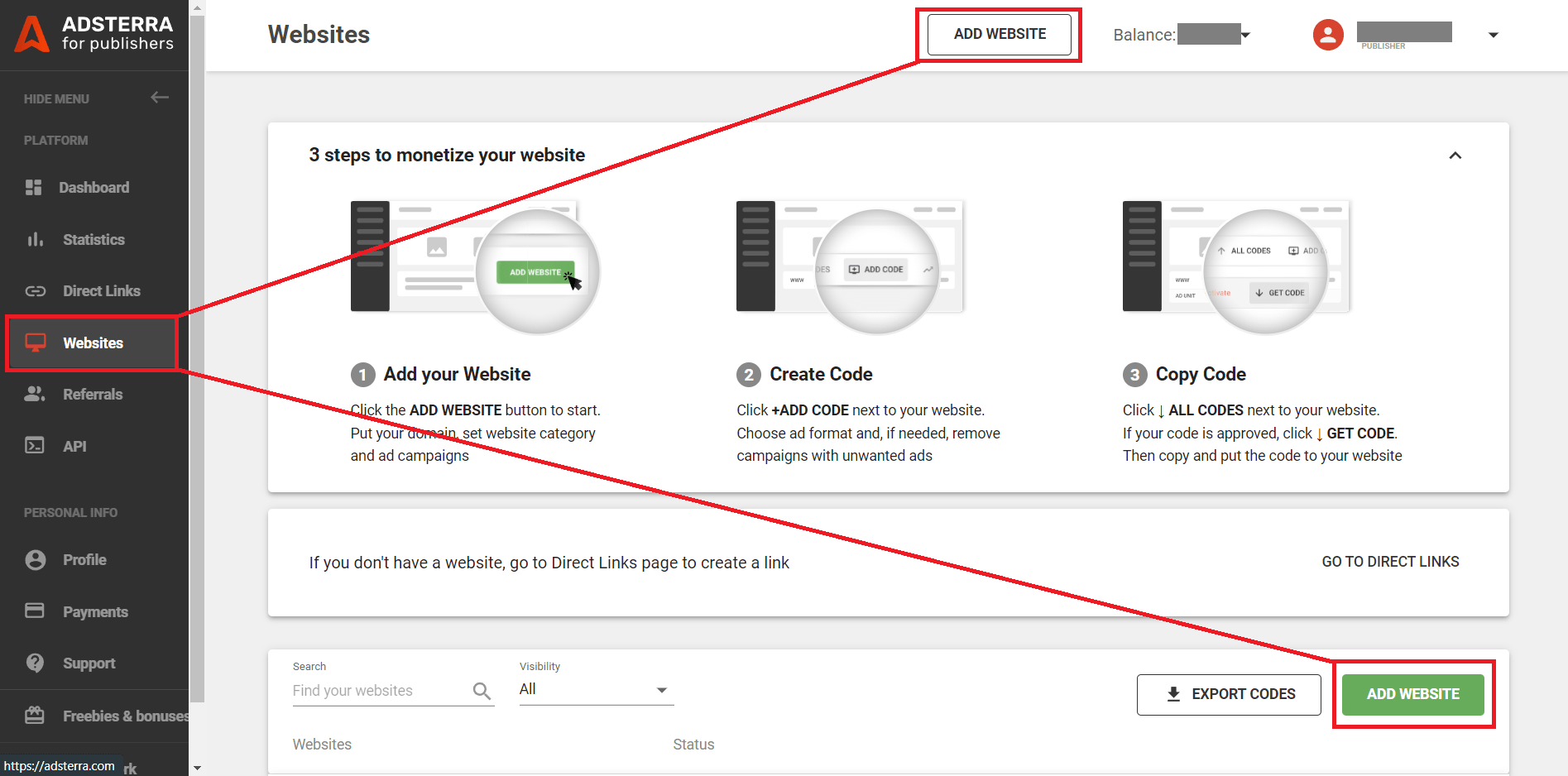 Once you clicked ADD WEBSITE, a new window pops up. Please examine all the filelds attentively and fill them out one by one:
Add your website URL.
Choose your Website category from the list. The category is the niche of your site or its main purpose. If nothing suits, please pick Other.
Available ad units are types of ad codes you want to appear on web pages. Select one ad unit (each time you can add just one code: Popunder, Social Bar, Native Banner, or Banner, etc.). Let's choose Popunder or Social Bar this time as we'll need it for the next step.
You can also put filters to remove ads that you don't want to run (like those with sound).
Click the big ADD button.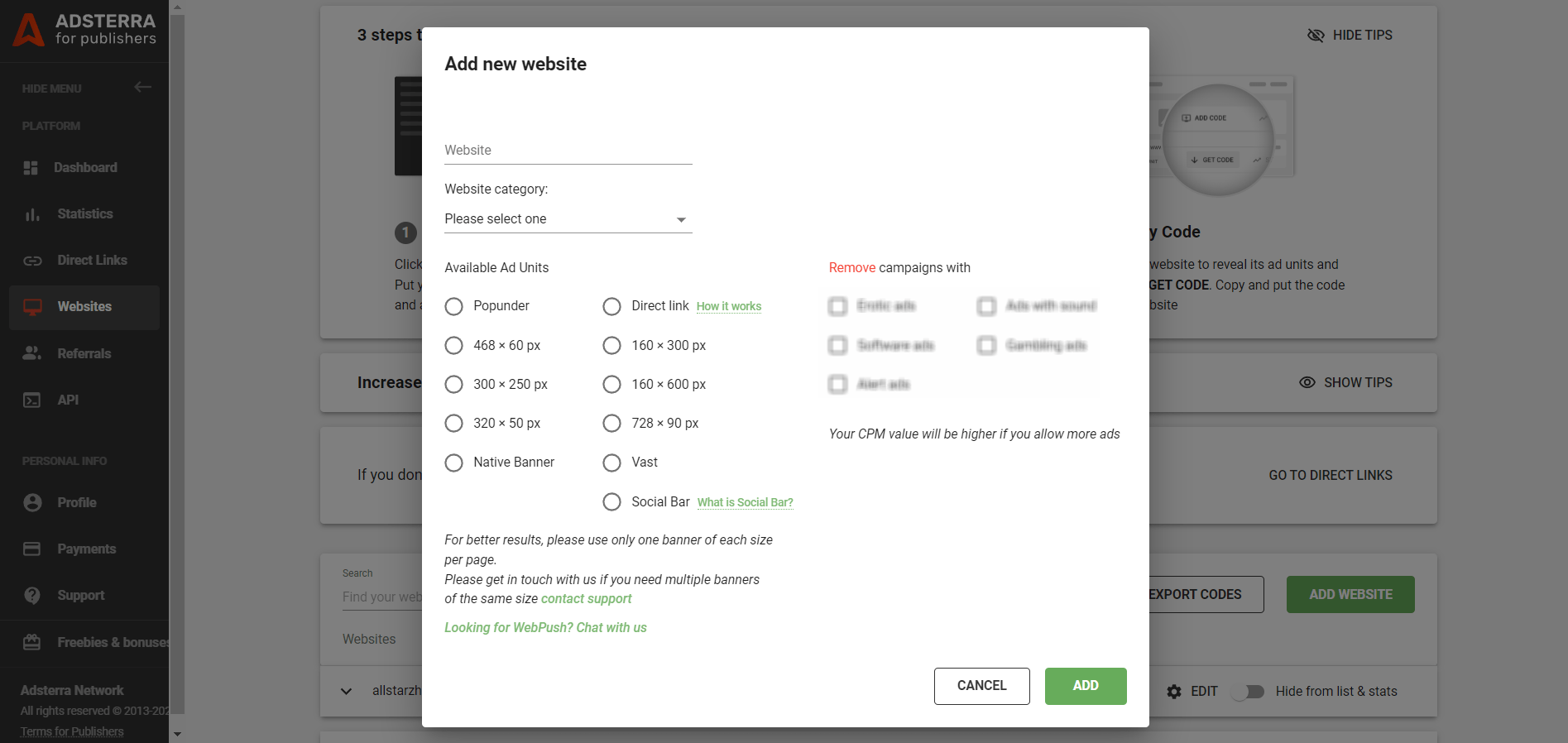 Now you can pick the ad code
After you add a website, you'll see its status. It'll be Pending status for a couple of minutes. Approved sites are green. Wait until Pending status changes to Approved.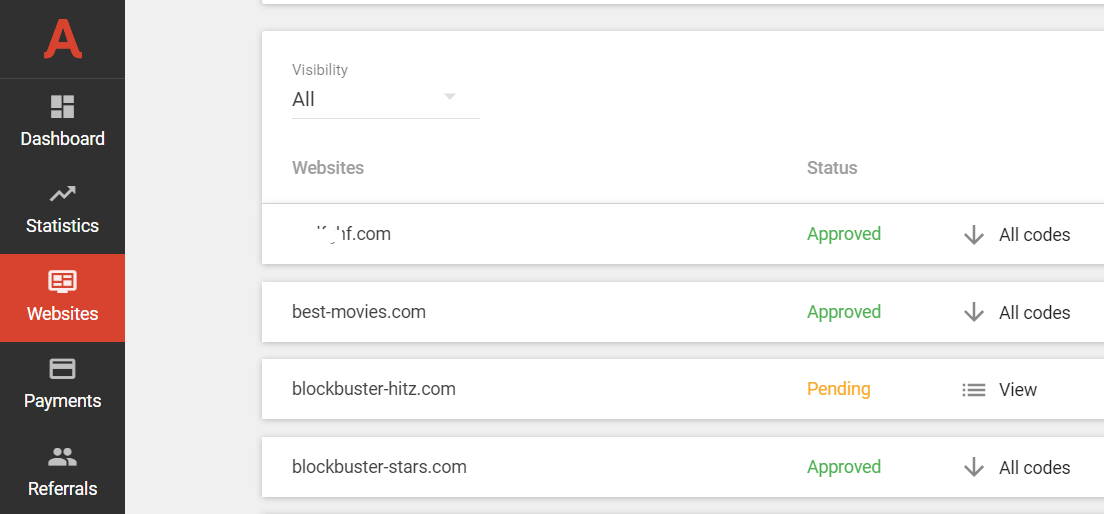 Once you see the site's status change to Approved, click All codes > Get code. Depending on the ad unit / ad format you picked previousely, Adsterra will generate a unique script for your website. Mind reading the instructions, as they help you place the code correctly. Here below is the example of a Popunder code.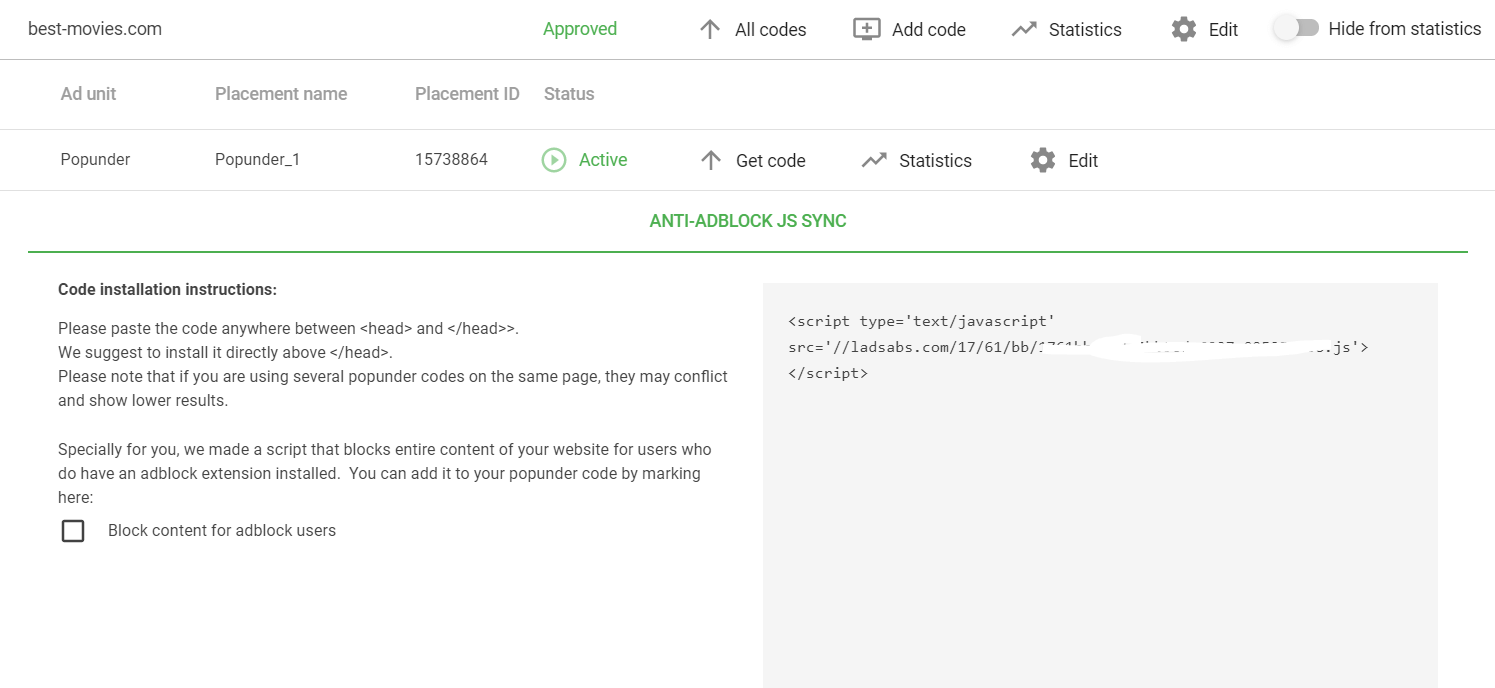 To Contents ↑
STEP #2. How to put ads and monetize a WordPress website
Ok, you have successfully generated your ad code / ad script. Let's see how and where you can place it on your WordPress website to monetize from ads. We'll go step by step to make each action clearer.
1. Put ads to all pages (best for Popunder and Social Bar)
We decided to break all formats into two groups. Popunders and Social Bar are too special to mix them with classic units. These two don't consume any space on a web page's layout; it means, you don't have to reserve a fixed block for them.
There are two ways you can place Pops or Social Bar scripts. Let's move on to observing each of them.
CASE 1. Use WordPress Theme Editor to place Popunder or Social Bar
Log in to your WordPress admin panel. Usually, it looks like this: https://[yoursite.com]/wp-admin.
Find the Appearance section (generally, it's on the left) and click on it. Choose Editor or Theme Editor.
Find the theme's header.php file.
Copy your Adsterra code (see STEP#1).
For Popunder: paste the code before the closing "</head>" tag. For Social Bar: paste the code before the closing "</body>" tag.
Click Update file or Save. That depends on your WP version.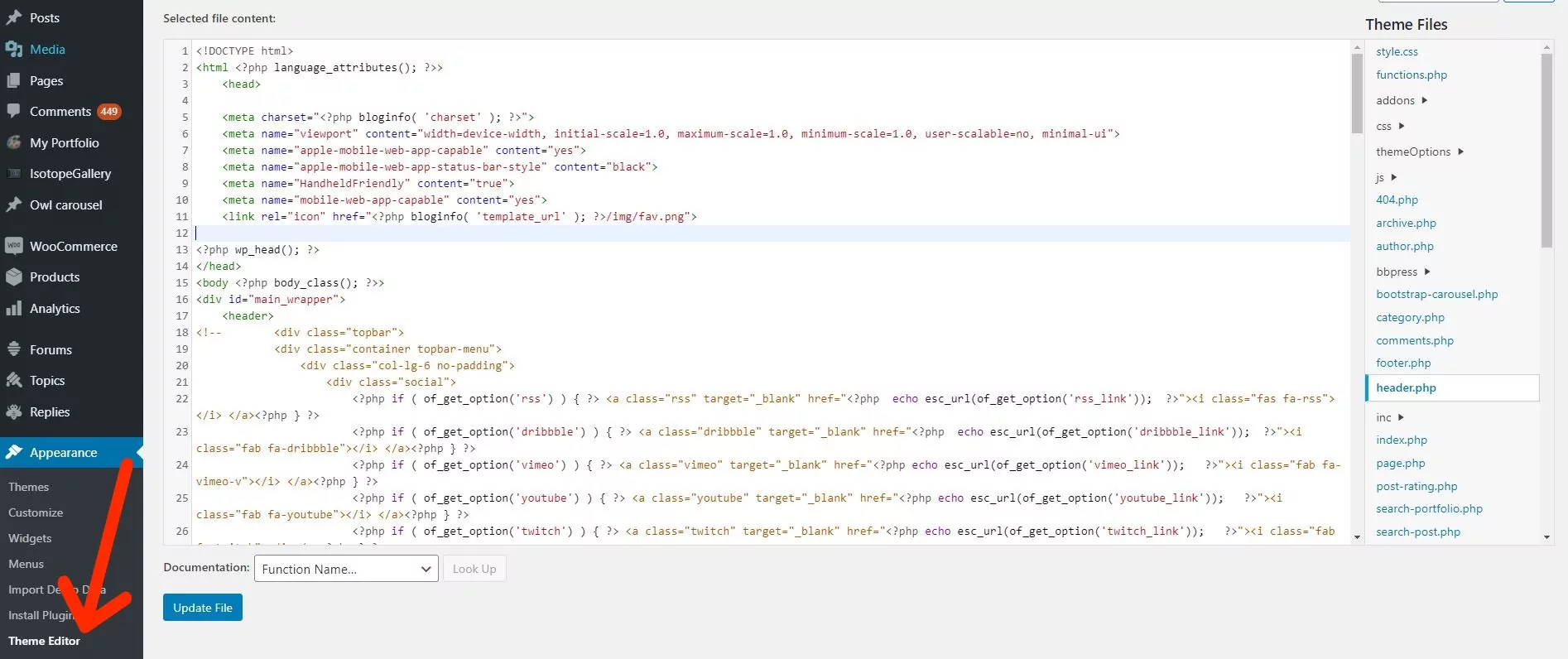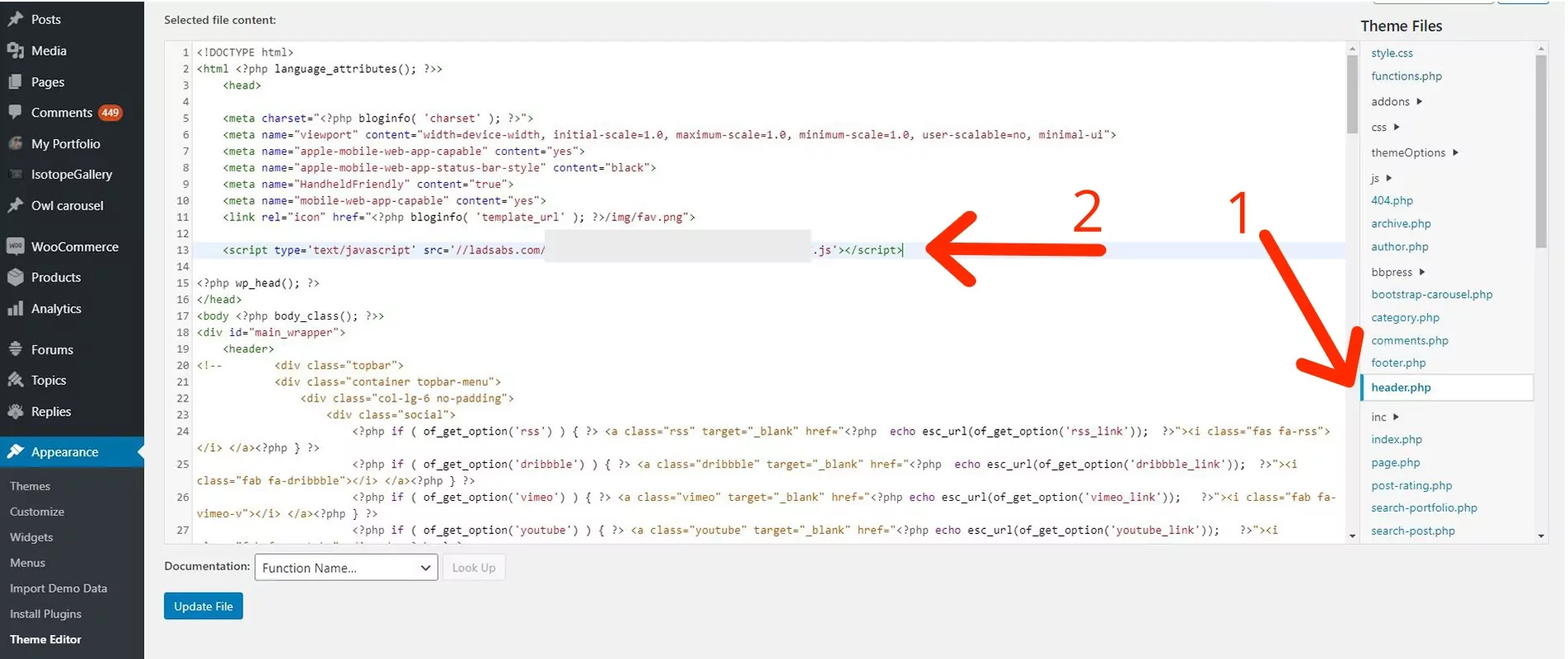 To Contents ↑
CASE 2. Using the WordPress Widgets section to put an ad code
Choose this way when you can't change your WP theme.
Just like in the first case, log in to your WordPress admin panel.
Find the Appearance section and choose the Widgets tab.
Select Custom HTML from the list.
See how it works on the screenshot below.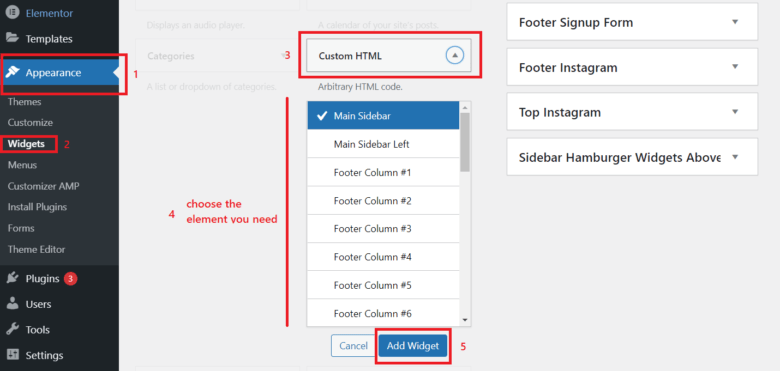 4. Check the theme element (we ticked Sidebar) and click Add Widget; the widget will open in the element section. Paste Adsterra Popunder or Social Bar code in the Content field. Make sure you have copied the whole piece of code. Otherwise, it won't work.
5. After you paste the code in the widget, click Save. You're ready to monetize your WordPress website with Popunder or Social Bar ads!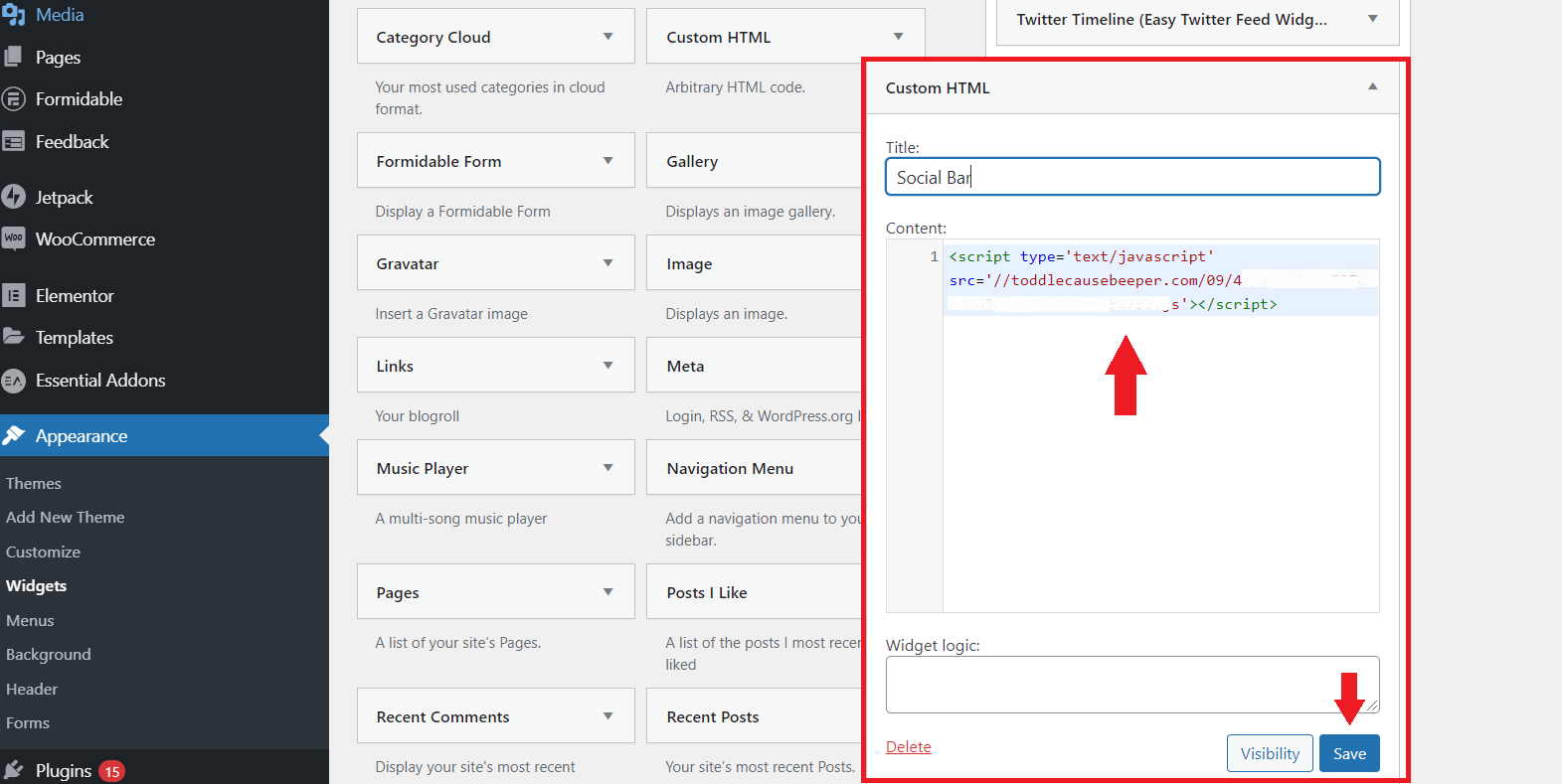 If you use more than one Popunder, they may conflict with each other and lower your CPM. It is better to ask your manager to increase the frequency of impressions on one specific ad format rather than multiply them.
To Contents ↑
2. Put ads to selected pages (Display or Native Banners)
On the Adsterra platform, take the same steps you did for getting a Popunder or Social Bar ad code.
On WordPress, place the codes exactly where you want the banners to appear on your page. Anywhere in the page body (but NOT between the "HEAD" tags)
You can place the ad codes with Custom HTML widgets as we did earlier. There are 2 ways to edit custom widgets.
Way 1.
Choose Appearance, then pick the Widgets tab, choose the Custom HTML element from the list and click Add Widget. Place the code in the Content field and click Save.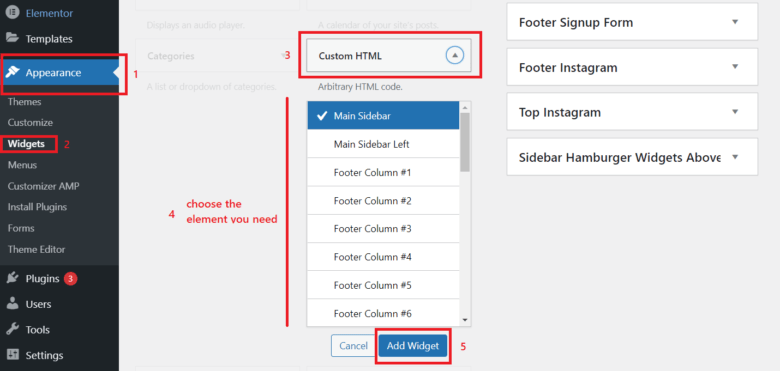 Way 2.
1. Click Appearance > Customize from the main toolbar.
2. Choose the Widgets tab.
3. You can now pick any Widget (they are named according to their placement: home sidebar, footer, etc). Click Add Widget.
5. Now it's time to choose the type of widget. You need the the Text Widget.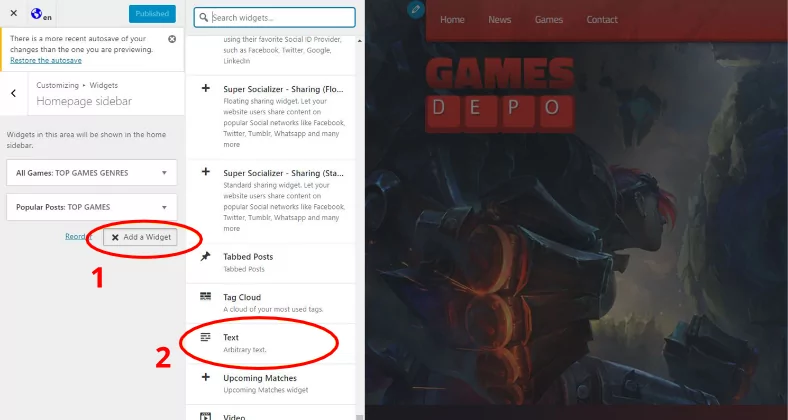 6. After you choose Text Widget, remember to switch to Text mode (see the picture below).
7. Copy and paste your Adsterra code in the blank field.
8. Click the Publish button.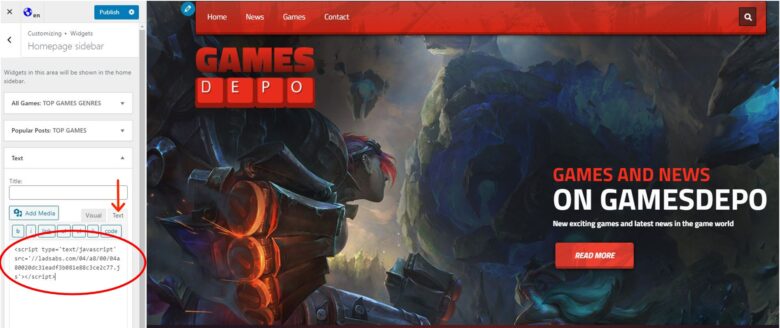 We strongly recommend you to use one banner of each size per page for better performance. If you need extra ad units of the same size, please contact our managers.
To Contents ↑
[BONUS] How to monetize WordPress websites wisely
Now that we have gone over the steps that a WordPress website owner needs to take to monetize their website, let's highlight some helpful tips.
Start with fewer ad formats; one or two will be enough. With fewer ads, it'll be easier to monitor how effective your ads are and how your audience reacts to them.
Place banners on the most visible spots. But make sure they don't overlap the content or navigation buttons.
Please copy and paste ad codes instead of typing them in. One typo and the code won't work.
One code is always one ad unit. To place two ad units (e.g., two 160×300 banners) on the same page, you'll need to generate two codes. Please don't put the same code twice. In this case, your statistics will be incorrect.
Some ad units have advanced settings available on request. For instance, you can ask your Adsterra manager to change the frequency, which means how many advertising offers one user will see within a given time. Learn how this setting might affect your CPM.
Please check twice all the settings that you have made.
Combine ad codes with different behavior. For example, Popunders will appear outside a website, so they don't consume your layout's space. You can combine this unit with, say, a Banner or Social Bar. Profit!
To Contents ↑
WordPress monetization FAQs
Why use WordPress to earn online?
When you choose a platform for capitalizing on your writing skills, WP comes first to mind. And the CMS is worth your attention. By 2023, it has taken 63% of the CMS market (as of W3Techs). More than 43% of all websites are built on WordPress. It offers lots of themes, template pages, as well as for SEO. On top of that, WP-based websites are leaders when it comes to optimizing for search engines. You can easily set up your own WordPress blog.
To Contents ↑
How much can I earn by placing advertising on a WordPress blog?
It mainly depends on 4 things (but not only on them):
which means you will use to generate revenues;
how valuable your website is for readers;
where your site is in SERP;
how many visitors you have.
We at Adsterra can provide examples of WordPress monetization from our publishers with different niches and traffic volumes.

Achile Anne has made about 1,200 per 2 months with her entertainment blog.
Onyejekwe Augustine has managed to gain $800 daily revenue driving Twitter traffic to a WordPress blog.

To Contents ↑
What are the best ways to monetize a WordPress blog?
You're right. This is not only by putting ads you can make money. You can read our guide on how to earn money from a blog. In short, you can place affiliate links inside your blog posts and get commissions when somebody buys a product or a service via this link.

Affiliate marketing has always been the surefire way to digital profits. However, it takes a lot of work regarding content creation. And keep in mind that you will be paid only when people buy goods via your links.

Another way to monetize WordPress websites is to collect donations. WP offers several plugins you can install and enjoy getting rewarded for your job. These are, for instance, GiveWP and Seamless Donations.

But still, these two ways above are more demanding compare to placing advertising codes =)
To Contents ↑
Can I monetize my free WordPress website?
Of course! That's why most bloggers do. You can place any of Adsterra's codes on your free WP website. You will not need to buy hosting and domain names to start a website. Nevertheless, we strongly advise you to plan your activities strategically. If you plan to grow your business online, you must host your blog on a robust platform and buy a credible domain mane.
Is Adsterra free for bloggers and publishers?
Sure thing! You don't need to pay a dime to start earning with Adsterra. It's absolutely free for every webmaster or blogger. It's Adsterra who will pay you for exposing advertising on your blog.
To conclude
We have examined the sequence of actions you'll need to make to monetize your WordPress website or blog with Adsterra ads for free. You can either choose classic formats like popunders or try a super-engaging Social Bar. By now, Social Bar has been on the peak of interest. It is easy to install and impressive in performance – even our first testers got up to $300 weekly profit on Tier 1. How to make more money with Social Bar? Find the answers in this guide.
To those searching for specific formats to monetize a WordPress blog, we recommend looking at Native Banners, as they are friendly to long-read articles and are not blocked by adblockers.
That's it. Now you are ready to make money with your WordPress website!