WordPress owns a 65% share of the content management systems (CMS) market. The platform powers about 42% of all websites and blogs. For Adsterra publishers, WP has also become one of the top-5 blogging platforms. Growing business online, they are naturally willing to monetize WordPress websites. And today, you are going to learn how to put profitable ads on your WP-based site so that you could make money with no extra efforts.
In this guide, we'll go through the steps of adding Adsterra Popunder, Social Bar, Native, and Display Banners' ad codes. If you want to monetize your WordPress blog with VAST pre-roll videos, save this special guide by our expert.
Before you start WordPress monetization: tech aspects to consider
As we mentioned before, WP is the friendliest CMS as it offers loads of instruments that facilitate your routine: text formatting, adding images and videos, adding tracking systems, and email subscription forms. On the other hand, this provokes confusion when you need to get a clear flow of HOW TO add an ad code to your page. Themes vary, access rights vary, interface layouts vary. You also might be using several plugins for adding HTML and JS codes. For this guide, we have chosen the most common user flow.
STEP#1. Getting Adsterra ad scripts from your Publisher's account
Before placing an ad script / code, you need to generate it on Adsterra platform. It'll take less than 5 minutes. 
 1. First, you need to log in (or sign up) as a Publisher on adsterra.com. 
2.  After you're in, on the left you'll see the control panel with all your tools and services. Choose the Websites tab. Click the green button Add new website. 
3. In the Add new website window, please fill out the fields:
Add your website URL.
Choose your website category from the list (if nothing suits you, choose Other).
Select one

Ad Unit

(each time you can add just one code for one unit: Popunder, Social Bar, Web Push, Banners, etc.). Let's choose Popunder or Social Bar this time as we'll need it for the next step.
You can also put filters to remove ads that you don't want to run (like those with sound).
Click the

Add

green button.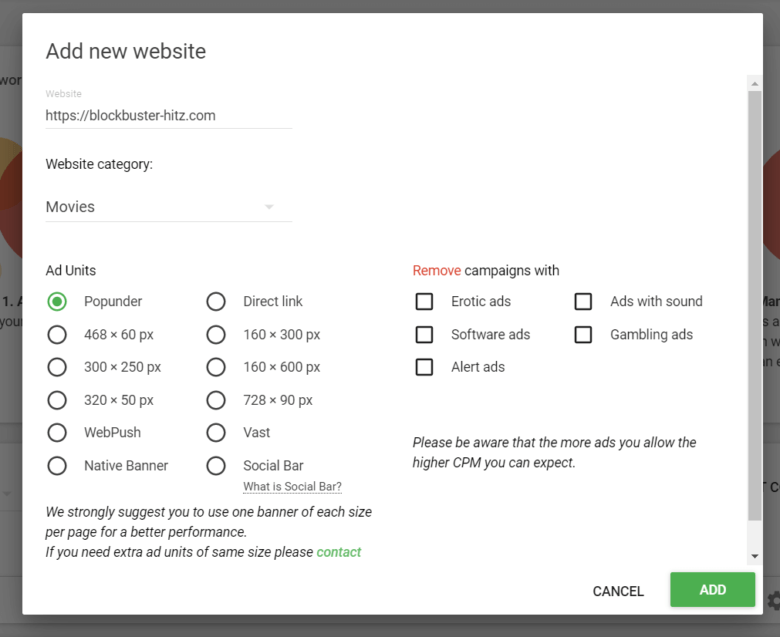 4. After you added a website, you'll see a notification that your website is waiting for approval (Pending status). Approved sites are green. Wait until Pending status changes to Approved.
5. Ok. You see the green Approved status. Click All codes – Get Code. Here you see a piece of code (on the right) and a short instruction where to put it (on the left).

Copy the code and keep t as we'll need it later.
STEP #2. How to put ads on a WordPress website
Ok, you have successfully generated your ad script. Let's see how and where you can place it on your WordPress website to monetize from ads. We'll go step by step to make each action clearer.
Put Adsterra ads to all pages

(best for Popunder and Social Bar)
We decided to break all formats into two groups. Popunders and Social Bar are too special to mix them with classic units. These two don't consume any space on a web page's layout; it means, you can show them throughout your whole website.

There are two ways you can place Pops or Social Bar scripts. Let's move on to observing each of them.
CASE 1. Use WordPress Theme Editor to place Popunder or Social Bar
Log in to your WordPress admin panel. Usually, it looks like this: https://[yoursite.com]/wp-admin.
Find the

Appearance

section (generally, it's on the left) and click on it. Choose

Editor

or Theme Editor.
 Find the theme's header.php file.
Copy your Adsterra code (see STEP#1).
For Popunder: paste the code before the closing "</head>" tag. For Social Bar: paste the code before the closing "</body>" tag.
Click on

'Update file'

or

'Save'

. That depends on your WordPress version.
CASE 2. Using the WordPress Widgets section to put an ad code
Choose this way when you can't change your WP theme.
Just like in the first case, log in to your WordPress admin panel.
Find the

Appearance

section and choose the Widgets tab.
Select Custom HTML from the list.
See how it works on the screenshot below.
4. Check the theme element (we ticked Sidebar) and click Add Widget; the widget will open in the element section. Paste Adsterra Popunder or Social Bar code in the Content field. Make sure you have copied the whole piece of code. Otherwise, it won't work.
5. After you paste the code in the widget, click Save. You're ready to monetize your WordPress website with Popunder or Social Bar ads!
If you use more than one Popunder, they may conflict with each other and lower your CPM. It is better to ask your manager to increase the frequency of impressions on one specific ad format rather than multiply them.
Put Adsterra ads to selected pages

(best for Display or Native Banners)
On the Adsterra platform, take the same steps you did for getting a Popunder or Social Bar ad code.
On WordPress, place the codes exactly where you want the banners to appear on your page. Anywhere in the page body (but NOT between the "HEAD" tags)  
You can place the ad codes with Custom HTML widgets as we did earlier. There are 2 ways to edit custom widgets.
Way 1. Choose Appearance, then pick the Widgets tab, choose the Custom HTML element from the list and click Add Widget. Place the code in the Content field and click Save.
Way 2.
1. Click Appearance – Customize from the main toolbar.
2. Choose the Widgets tab.
3. You can now pick any Widget  (they are named according to their placement: home sidebar, footer, etc). Click Add Widget.
5. Now it's time to choose the type of widget. You need the the Text Widget.
6. After you choose Text Widget, remember to switch to Text mode (see the picture below).
7. Copy and paste your Adsterra code in the blank field.
8. Click the Publish button.
We strongly recommend you to use one banner of each size per page for better performance. If you need extra ad units of the same size, please contact our managers.
Tips on how to work with ad codes and monetize WordPress websites wisely
Now that we have gone over the steps that a WordPress website owner needs to take to monetize their website, let's highlight some helpful tips.
Can WordPress websites be monetized? Now you know the answer
We have examined the sequence of actions you'll need to make to monetize your WordPress website or blog with Adsterra ads for free. You can either choose classic formats like popunders or try a super-engaging Social Bar. By now, Social Bar has been on the peak of interest. It is easy to install and impressive in performance – even our first testers got up to $300 weekly profit on Tier 1. How to make more money with Social Bar? Find the answers in this guide.
If you're looking for specific formats to monetize a WordPress blog, take a look at Native Banners, as they are friendly to long-read articles and are not blocked by adblockers.
That's it. Now you are ready to make money with your WordPress website!