What can be more pleasing than passive income? A doubled passive income! We're announcing an unprecedented contest that any Adsterra publisher can join. From May 11th till August 11th, 2022, enter the Referral Marathon and use the chance to get increased referral payouts! Adsterra will double the referral commission for all winners, forever!

Anyone can enter: it's a 5-minute deal if you're still not with Adsterra and even faster if you're already making money as a publisher. Sounds great? Then let's get to the show!
Rewards. Dates. Terms
The reward: 10% regular payouts from your referrals' revenues.
Dates: May 11th — August 11th, 2022
Entry terms:
– invite no fewer than 5 new publishers register with Adsterra via your referral link;
– all your referrals will need to make not less than $1 revenue each during the Marathon. See the full terms and winning categories below.
Results: Adsterra will announce the winners no later than 14 days after the Marathon in our official social media channels. Stay tuned!
To Contents ↑
How to win?
You have several opportunities to win increased referral payouts of 10% forever. Adsterra will name several winners in these categories. All you need is to outrun other challengers.
Your referrals will make the highest overall revenue till August 11th 2022

– 1 winner among active Adsterra publishers
– 1 winner among new Adsterra publishers

You will outnumber other contestants with referrals who made over $10 each.

– 1 winner among active Adsterra publishers
– 1 winner among new Adsterra publishers


You will outrun other contestants with one referral who got the highest revenue

– 1 winner

BONUS PRIZE: we will also carry out a raffle where THREE participants will get lucky prizes of $100.
* Oh, yes. Those who won't win in the Marathon will be getting 5% regular income from their referrals, as it has always been in Adsterra! WIN-WIN =)
To Contents ↑
How to enter the Referral Marathon?
STEP 1. GET YOUR UNIQUE LINK
Please register or log in as a Publisher.

1. If you've never monetized with referral links, click the GENERATE INVITE button from the Referrals page. You will get a unique URL that you can share with your peers.

2. If you already have the link, copy and share it with as many aspiring moneymakers as possible.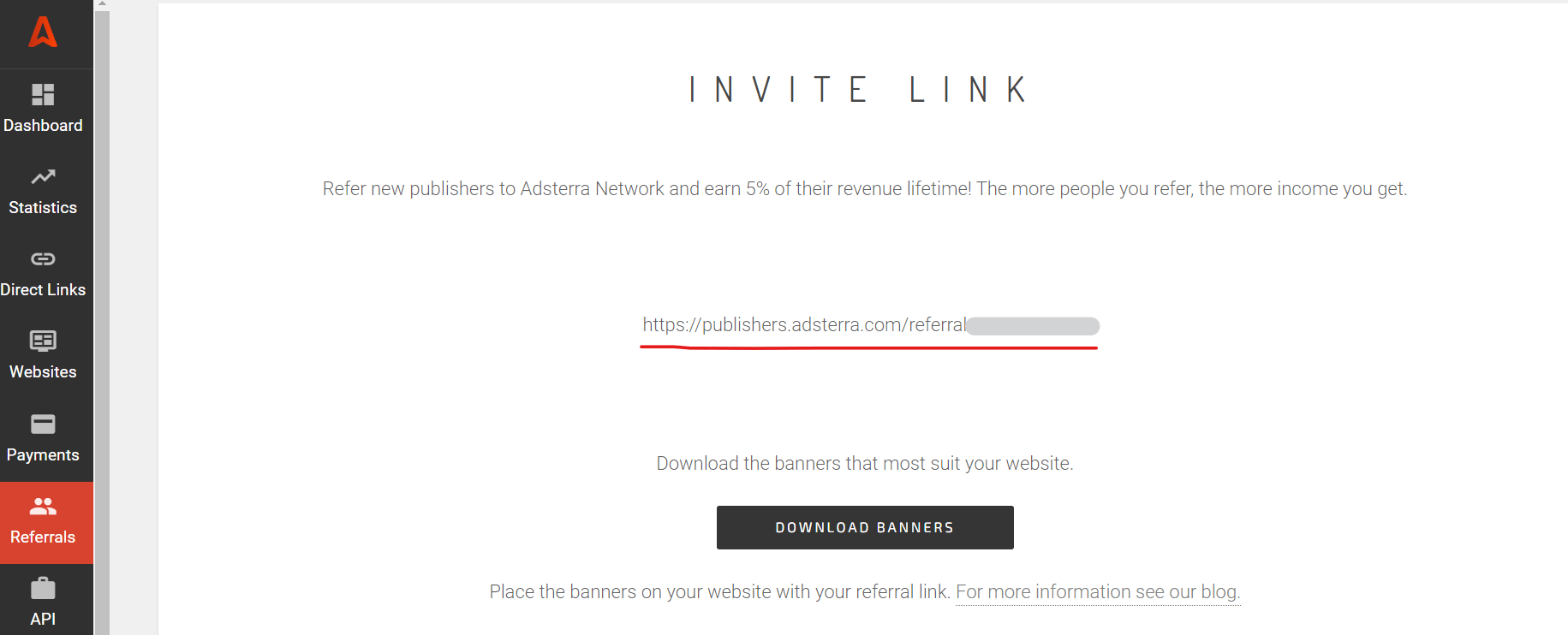 To Contents ↑
STEP 2. INVITE NEW PUBLISHERS TO JOIN ADSTERRA VIA YOUR LINK
Invite no fewer than 5 new publishers* to register with Adsterra using your link. They will need to start making money with Adsterra. We will count only those referrals who have over $1 revenue by the end of the Marathon.

To become a winner, outrun other rivals in one of the categories we listed above.
*New publishers are those who don't have a publisher's account in Adsterra for now.
How to boost your chances of winning increased referral payouts
1. Refer those who really want to make money
Spread the word among those who are eager to make a profit. Quantity of referrals matters, but we will also pay attention to how active they will be throughout the Marathon.

Help your new referrals start earning money. Share these definitive guides:
2. Be creative
Use non-standard methods of attracting referrals. For example, you can design a banner for your website and attach the referral link to it. Or, download one of those catchy banners provided by Adsterra (check them out in your account.) We will assist in translating banners into any language if needed.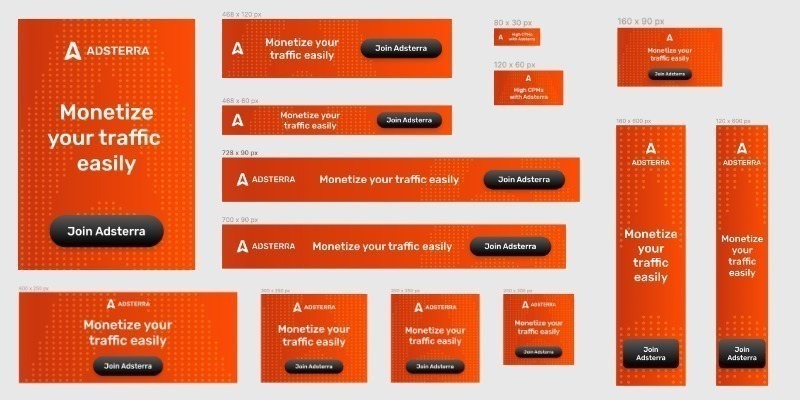 3. Use multiple channels
Reach as many potential referrals as possible by using multiple channels:
place the link on your website;
share the link on social media;
look for referrals on forums, in professional communities and discussions, or in any other places where webmasters share moneymaking hacks.
4. Write a review about Adsterra
The most inspiring thing is your expert advice. So share your experience with newbies adding some payment proofs. You can place several referral links in the review as well as CTA buttons.
5. Play fair
Compete roughly but play fair. Adsterra will immediately detect and ban those who try cheating with multiple accounting, spammy leads, or other techniques.
Adsterra will reward the most persistent and ambitious challengers. Inspire new publishers to join Adsterra and put ad codes on their websites. It's a complete win-win deal as your referrals will discover a proven income source while you will increase your extra profit! You, too, can jump to a higher level and double your passive referral income from 5% to 10%. F O R E V E R!