Some publishers and webmasters enjoy higher CPM rates and revenues only because they know which ad formats best match their sites. Adsterra partners grow ad earnings with Popunders, In-Page Push, Interstitials, Native Banners, and VAST Videos. Those who don't have a website use our instant-money Direct Link tool. With this boiled-down guide to profitable monetization ad formats by Adsterra, you learn all possible ways to increase passive income.
Time is money, so this will be a genuinely short guide providing links to several more complex tutorials. In only 7 minutes, you:
Get a complete list of the most usable ad formats;
Learn which units will fit your website the most;
Learn ways you can monetize website traffic;
See how you can get paid if you don't have a website.
No more intro words. Just let the good ads roll!
What are monetization ad formats for publishers?
A guide won't be a guide without some definitions. So what are ad formats for publishers?
An 'ad format' is a piece of code that publishers take from an advertising network to place on their websites, blogs, or landing pages. The code may take after various shapes and mechanics. For instance, when we describe something like "a rectangle image in the header of a web page," you will probably recognize a simple banner.
Advertisers (or merchants) must convince users to buy goods and services. They use lots of multimedia to pack their offers, not only banners. These may be banners, popunders, VAST videos, native ads, push notifications, etc.

Publishers or webmasters pull codes for any (or all) formats, place them on websites, and start getting money for showing advertising offers wrapped in these formats. Website owners can profit from a Native Banner code paired with Direct Link, or In-Page Push codes in tandem with Banners.

Ad networks serve two goals. They bring together those who need ad formats (advertisers) and those who place them on websites (publishers). They also say "buy traffic" and "sell traffic," which means advertising and monetizing. Earlier, we shared a guide to differences between advertisers and publishers.
To Contents ↑
Which are the most profitable Adsterra ad formats for publishers and webmasters?
With high-paid ad formats for publishers, Adsterra partners earn about $55M per year. And you will be surprised, but these are not banners only that bring such massive profits.

TikTok and Instagram reshaped how users react to content, and it impacts advertising, too. Advertisers now tend to choose more user-friendly and responsive units to wrap their offers.

Your goal as a publisher is to pick the ad format that will send you juicy payouts while matching your website. The only way is to get familiar with all of those formats and learn how to manage them. So let's list all ad units and see HOW you can monetize them.
Popunder (an evergreen format with tons of adverts)
Social Bar and In-Page Push (the closest rival to Popunder)
Interstitial
Native Banner
VAST Video Pre-Roll
Display Banner
Smart Direct Link (a tool to earn even without a website)
Adsterra monetization ad formats for publishers in 2023
To Contents ↑
POPUNDER (POP-UNDER, CLICKUNDER)
🤔 Adsterra Popunder is a full-page advertisement that does not occupy any space on your website. How's that? This ad format for publishers always appears in a new tab or browser window. You put the code on your website, and when a user clicks or hovers any area on the webpage, a new tab in their browser will appear.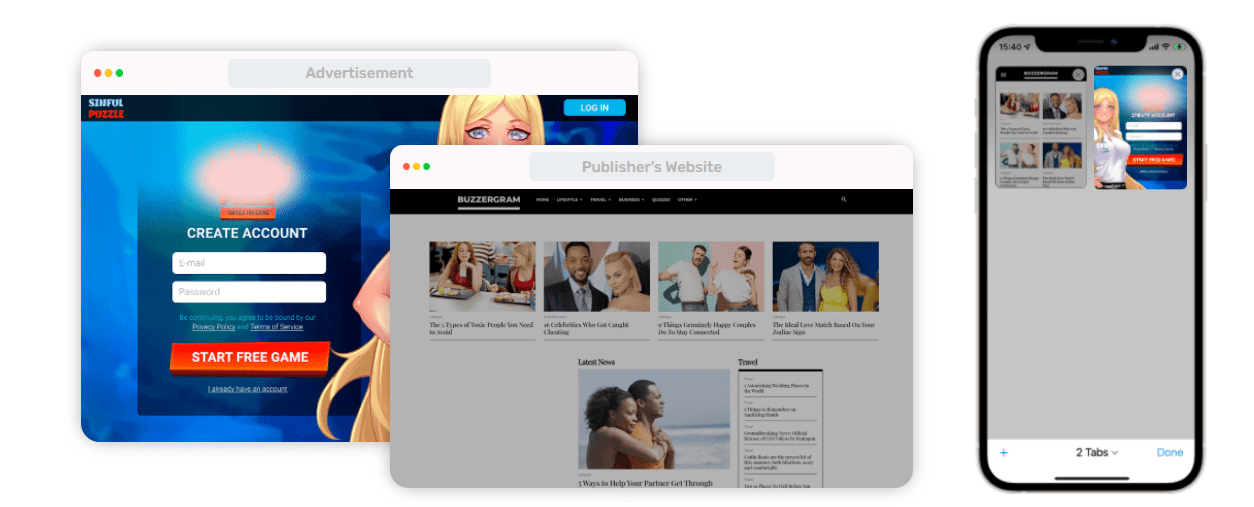 👍 Popunder advantages
it doesn't occupy the website's space, no need to think of where to put it
ads don't overlap your web content
advertisers launch loads of campaigns with Pops
popunders bring high and stable payouts
the format is user-friendly as it pops up in a new tab
pop ads perfectly match websites with multimedia content or those saturated with other visuals
⛔️ Points to consider: Popunders are mainly used for desktop traffic though they work on Android devices. But if you drive massive iOS traffic, this won't be your first choice. You should not place three or more Popunder codes per page, as they will flood users with ads revolting them from your website.
Become a master publisher running Popunder ads like those who earned ~$4,000 weekly. Read this guide.
To Contents ↑
SOCIAL BAR (IN-PAGE PUSH ADS)
🤔 Social Bar is the closest Popunder rival. By 2023, almost 75% of Adsterra publishers installed it to get passive ad income. Social Bar is an advanced In-Page Push format available only with Adsterra. It beats the traditional web push notifications because it allows for showing ads to all your users (100% of traffic) without subscriptions.
You take Social Bar as a single line of code, but it will show various OS-friendly ads in turns: icons, animated push notifications, chat heads, and others. Users will get only one ad at a time, and while navigating web pages, they will meet other visuals making them click again and again.
👍 Social Bar advantages
100% traffic monetization: Social Bar is ultra-friendly and runs on all OS
Ads look neat and catchy on mobiles, too, so you won't miss a single impression on Android and iOS devices
In-Page Push and other Social Bar subformats generate up to 30X more clicks, increasing your CPM
You attract high-paying advertisers from Tier 1 and Tier 2
Ads bypass AdBlockers being utterly browser-friendly
You can relocate ads by asking your manager
⛔️ Main precautions: we highly recommend not to put more than one Social Bar code on a separate web page. Users might get tired of seeing multiple interactive ads at a time.
Make sure you apply these best practices of selling Social Bar traffic and getting higher CPMs.
To Contents ↑
ADSTERRA INTERSTITIAL (comes with SOCIAL BAR)
🤔 The Interstitial ad format looks like a full-screen banner. Users either need to click on a "close" button to continue with your website content or follow the advertising link.

Website owners are rather cautious about placing Interstitials, but we can assure you that it is one of the most usable ad formats for publishers. Google uses its in-house Interstitial on thousands of websites. It only means that users react well and don't leave websites.
👍 Advantages of interstitial ads
More users click on ad links and complete conversions, so you will generate a higher revenue
Ads don't require a fixed space on the website
The format is on top of demand (Google uses the same ads, and they really rock)
⛔️ Main disadvantages
If you have a Streaming website or lots of real-time content (sports, fights, TV series), ads may interrupt users and annoy them
You should be careful and test Interstitials first so to make sure that sensitive audience likes them
If users seldom visit pages except for the homepage, you might not get high profits with interstitials
Interstitials come with the Social Bar unit, and you won't find them on your dashboard as a single unit. Please drop us a line in the live chat, and we will provide you with the code.
To Contents ↑
NATIVE BANNER
🤔 Native Banner ads usually appear as a block of images with catchy descriptions. Publishers love this format as it completely blends with site content and matches users' interests simultaneously.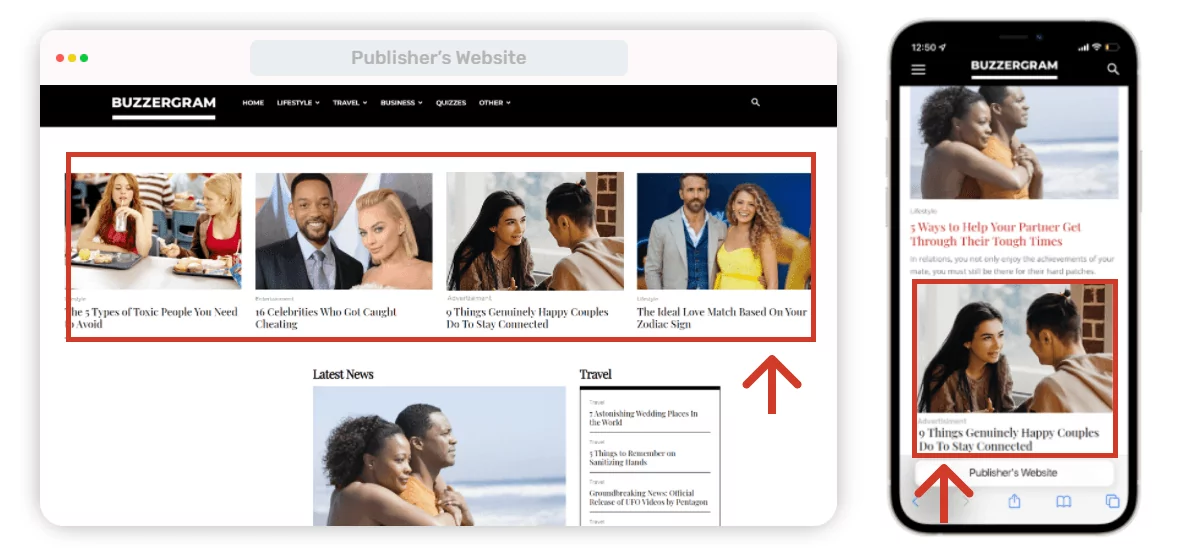 👍 Native Banners' advantages
They fit any website or blog
Native ads look credible, and people consume them as a part of editorial's content
They're pretty clickbait, as descriptions and headings are usually catchy and triggering
Adsterra algorithms select visuals that mostly match your visitors' interests
You can customize Native Banners according to your website design and structure
⛔️ Precautions
Nativity is key to lush payouts, so you try not using contrast fonts or colors that differ from your website layout
Placing native ads to the footer may return zero CPM users don't usually scroll that far
Overusing advertising is always a drawback, and native banners are not an exclusion; try not to add several ad sections to one page
Where to place Native Banners to collect all clicks and great revenues? See all expert tips in this expert guide.
To Contents ↑
DISPLAY BANNER
🤔 Display or static banners are images of various sizes that publishers can add to a header, a footer, a sidebar, or other inner parts of the web page. With Adsterra, you can request all banner sizes: 160×300, 160×600, 300×250, 320х50, 728×90, 468×60.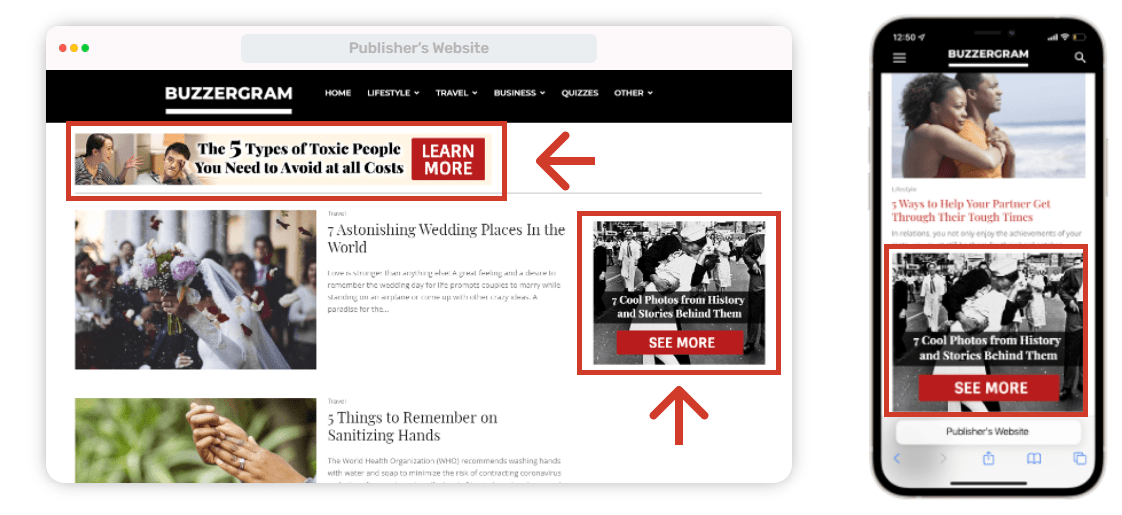 👍 Advantages of display banners
They show terrific results on websites with massive traffic
Banners return amazing CPMs if you don't limit ad types
Thanks to multiple sizes, any publisher can find a place for banner ads
Many advertisers from Gaming, Software, Ecommerce verticals still seek banner ads
⛔️ Possible pitfalls
Banners are too classic; you need to place them in a visible place so users would definitely notice them
The audience of some website categories like personal journalist's blogs and scientific magazines may react negatively
Like with native ads, when placed to the footer part, a banner may return low CPM if your audience doesn't reach this part of the page
Want to know all strengths and weaknesses of banners to make them stream you money? Dive into this guide guide to Banner Ad Format for publishers.
To Contents ↑
VIDEO ADS (SERVED WITH SOCIAL BAR)
🤔 VAST video ads are quite a challenging ad format to monetize with. You will need a super-fast website along with a powerful player to stream videos. We at Adsterra provide bloggers and publishers with an alternative. Social Bar Video ads have become an additional income source not so long ago. You can't pick them from your Publisher's account, but they can be delivered to your audience when advertisers run video campaigns.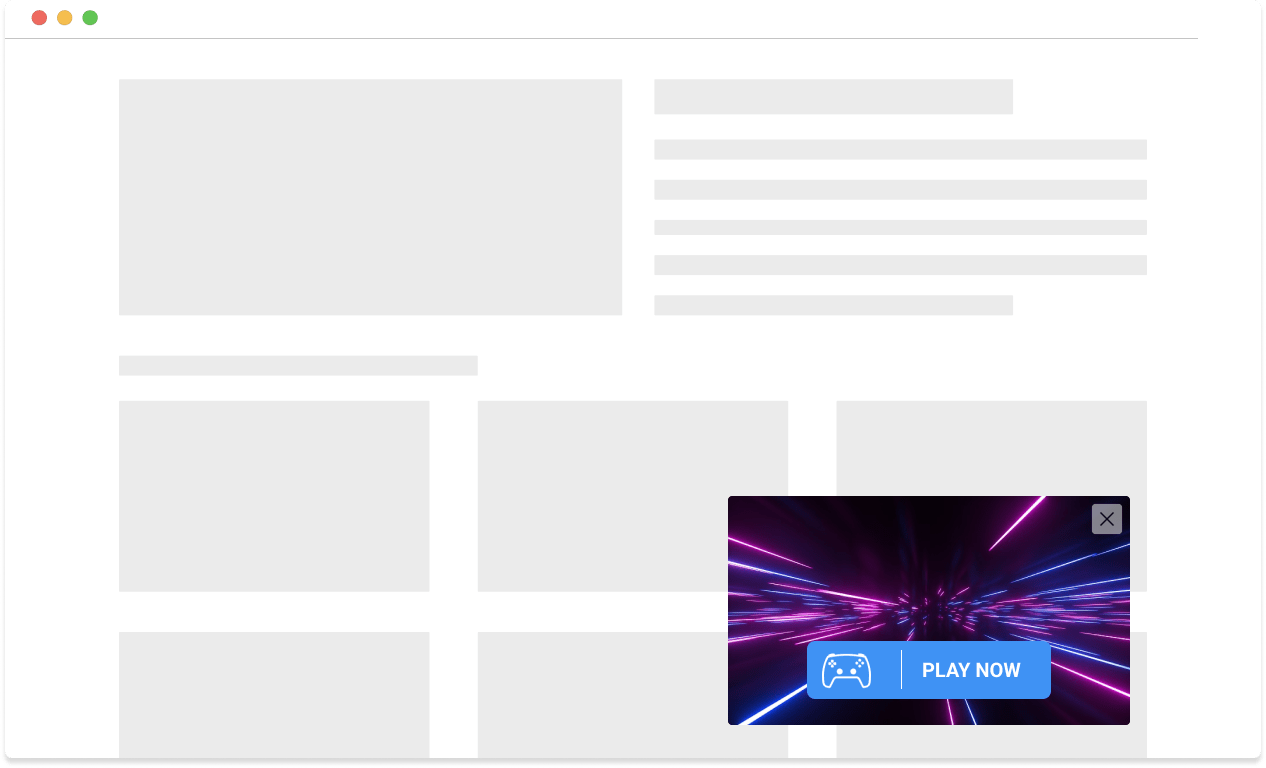 👍 Advantages of video ads
You don't need to set up any video player
Videos are among the most highly paid formats of a website monetization
This ad format for publishers will keep evolving, producing more options for monetization.
⛔️ Possible difficulties
You can't pick this ad format from your account for now, but if there are video ad campaigns targeted at your traffic, you will be monetizing from videos as well
Dynamic ads can be intrusive when served to content-sensitive audiences, however, you can apply for removing this type of content
To Contents ↑
🤔 Adsterra Smart Direct Link is the easiest-to-use ad format. It's an URL you get from Adsterra and place anywhere on your website (e.g., piece of text content or an image). When a user clicks on the Link, our algorithm gets their GEO, device, connection type, preferences…and shows the most relevant ad.
How about getting ad earnings without a website? The Link is still your No1 choice because you can place it inside a mobile app (APK file) or use it to lead traffic from social media accounts: Facebook, TikTok, YouTube, etc.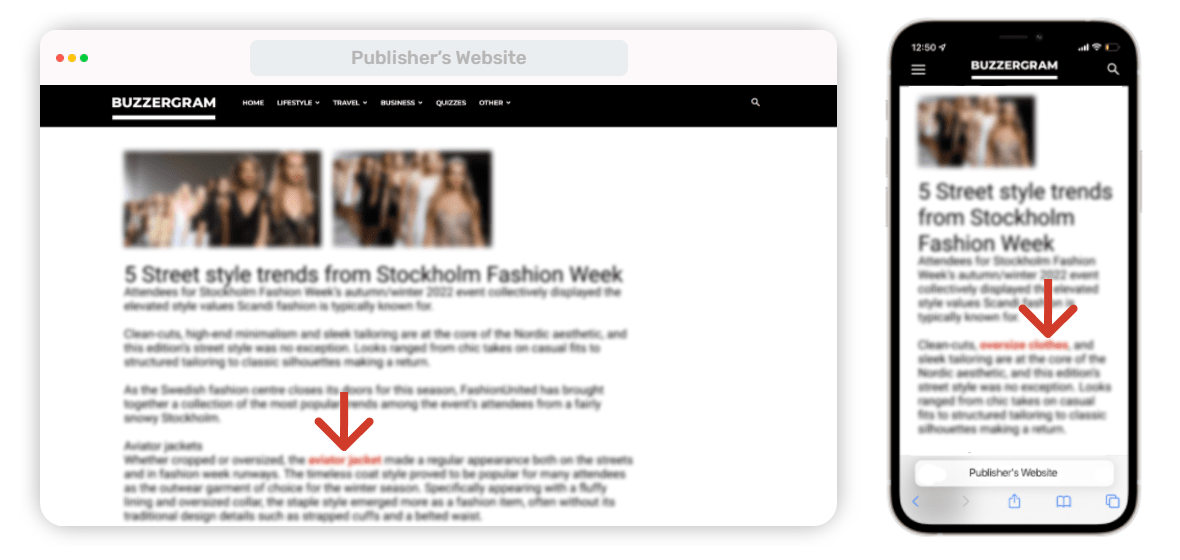 👍 Advantages of Direct Link
It suits any website, even those that don't have any space for ads
You simply attach the Link to any web page element and monetize from those users who click on it
You can earn with no website at all by putting the Link in your mobile app (APK file)
Direct Link is the best ad format for publishers that work with social traffic (Facebook, TikTok, Instagram, etc.)
⛔️ Main limitations
If you're running a blog that strictly covers one topic like parenthood, it'll be pretty hard to match your audience's preferences and send only relevant ads
Avoid placing Direct Link on navigation or "purchase confirmation" buttons as it may interrupt users from making the core action
Our Smart Direct Link Monetization 101 will put you on the fast track so you gould drive extra income with web, mobile, or social traffic.
To Contents ↑
Why choose Adsterra's monetization ad formats
This was a short guide, just like we promised. Your next step is to practice a little. Try placing the most suitable ad format on your website. If you feel uncertain about what to do, just sign up and reach out to our support team; we're here for you 24/7 (see the live chat icon in the lower corner of the screen). The Adsterra support team is one of our key advantages that makes us a reliable partner for over 21K publishers worldwide.
Enjoy both one-minute website approval and real-time revenue control options, which make Adsterra one of the best AdSense alternatives for those who want to capitalize on traffic.
Adsterra cares about publishers' businesses regardless of theit size and traffic volume. So, you can be sure to get:
15NET payouts starting from $5 (for Paxum and WebMoney).
+5% extra income with the Referral Program.
Near-100% fill rate with offers.
High-paying advertisers.
Clean feed and anti-malware protection.
Caring and expert managers always ready to help 🤗
Exclusive bonuses and promo codes from Adsterra partners
Become a part of a community of passionate pros who grow their business with a safe and reliable advertising network!