Link building involves encouraging other websites to link to your content and link-building tools can help you boost your domain authority: one of the most important signals that search engines consider when ranking your webpages in their SERPs. If you're wondering why link building matters to you as a publisher, here's the fact: the more backlinks you have, the higher you rank. This leads to more organic traffic and you'll make lots of money from your website via ad placements, or other monetization methods.
While hundreds of tools are available to SEO specialists, the most effective ones help you streamline the process and save you money. We'll be looking at the top 11 link-building tools in particular.
Before you dive into reading, a gentle reminder: you don't need to be a SEO guru to start getting paid for web traffic. Adsterra ad codes on your website will return you passive income regularly 🙂
1. Ahrefs' Broken Link Checker

Ahrefs' crawler is the second most active after Google crawler, with over 3 trillion live backlinks in their backlink index. This makes it the best tool for backlink research for any serious link builder. With Ahrefs, you can do keyword research, rank tracking, backlink building, and more. However, we'll only look at their Broken Link Checker in this post. It's free to use and can help you build high-quality links to your website.
To Contents ↑
How does this tool work?
You can quickly check for broken inbound links on your website using Ahrefs' Broken Backlink Checker. Fix all the found broken links, so visitors don't end up on a 404 page.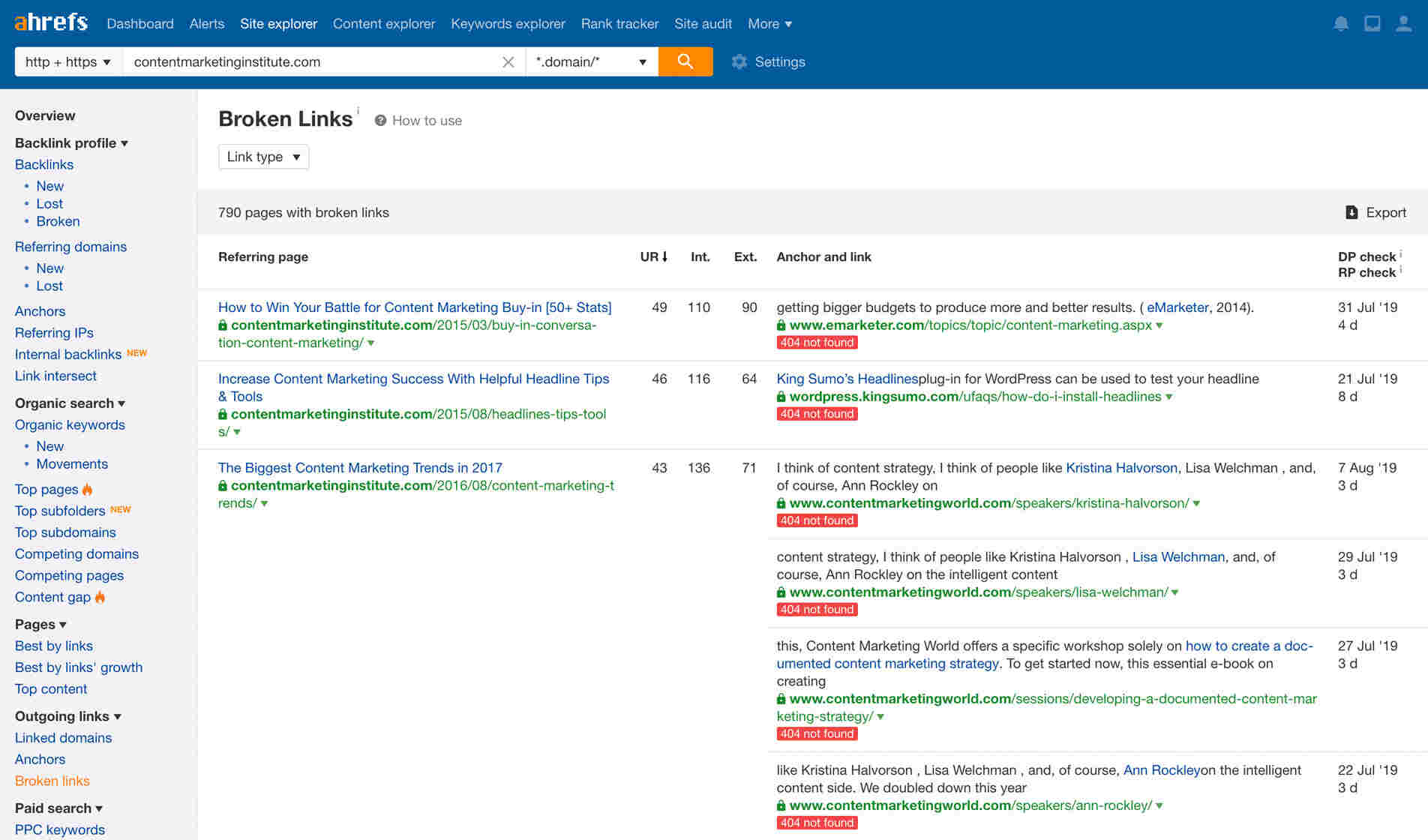 The Broken Backlink Checker from Ahrefs doesn't just find broken links on your website. You can also look for broken outbound links on websites in your field. Type a URL into the tool, and it will display a list of broken links.
If a website is pointing to an outdated resource, you can create something similar and ask them to replace the outdated URL with your page instead.
To help in your broken link-building strategy, Ahrefs' Broken Link Checker allows you to run daily, weekly or monthly crawls. After that, you can export the data to a CSV file and start planning an outreach campaign.
To Contents ↑
Ahrefs pricing
Only a portion of broken backlinks is visible in Ahrefs' link-building tool. To see all of the link data, you'll need to subscribe to one of their premium plans. The good news is that you'll get access to all of their other resources.
Here's a quick breakdown of Ahrefs' pricing: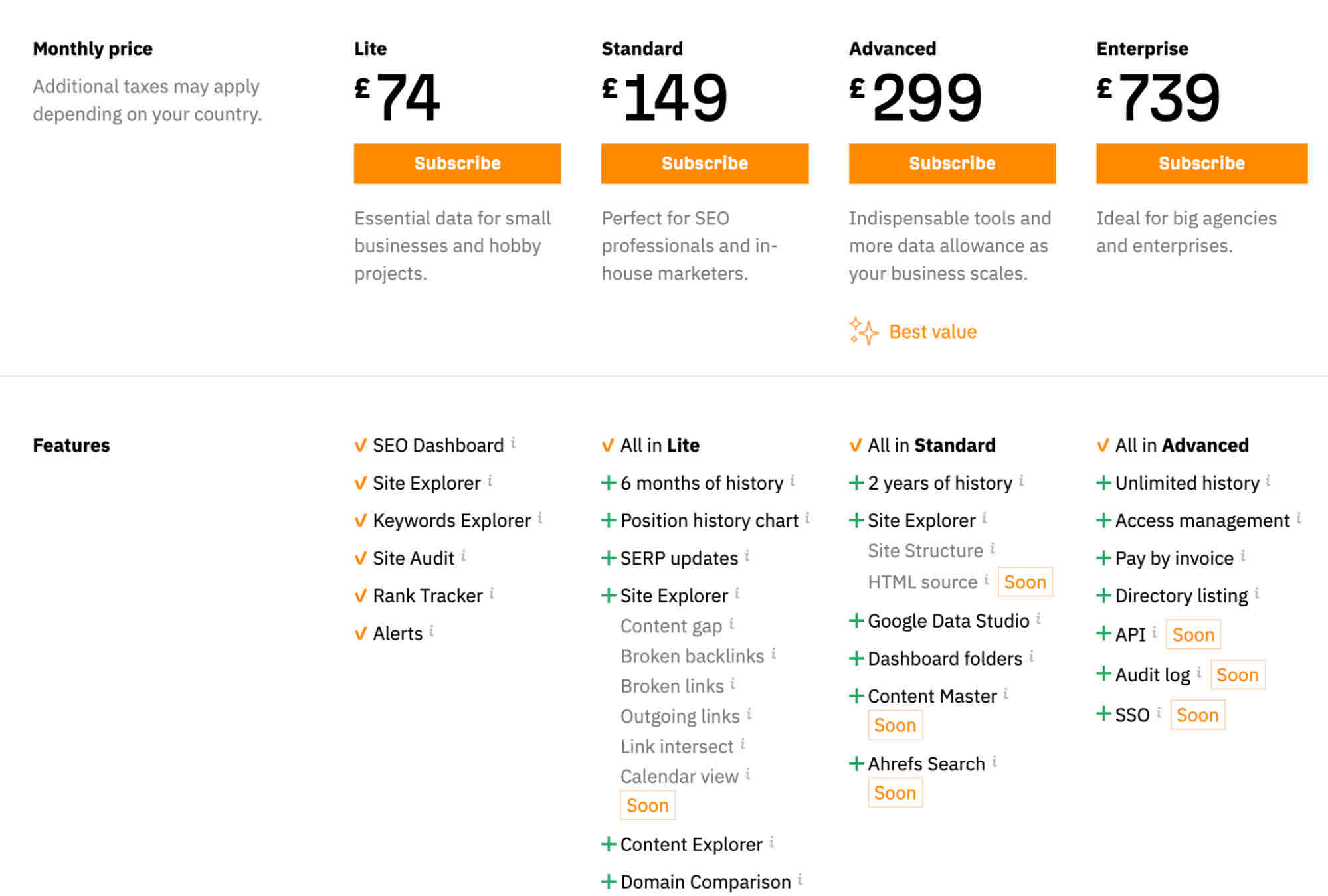 To Contents ↑

Running a backlink gap analysis for any link-building campaign is a great way to identify opportunities based on sites that openly link out to competitors. Compare your own link profile to your competitors with SEMrush's Backlink Gap Tool to find untapped link-building opportunities.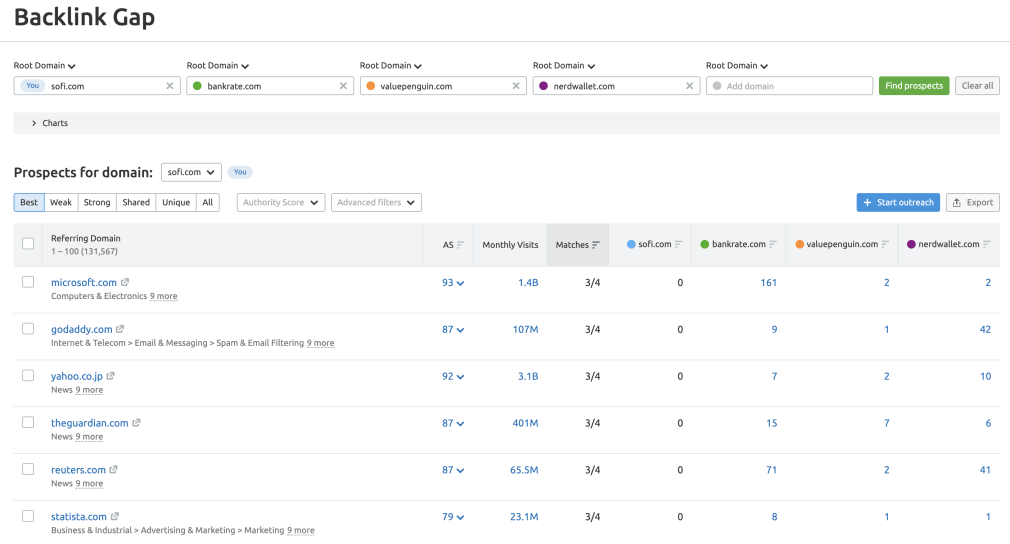 When you enter your domain and up to four competitors and click 'find prospects,' you'll see opportunities based on domains that link to other sites but not your own.
If your competitors' link profiles are stronger than yours, one of the most effective things you can do is work to close the "gap" by shifting your strategy to acquire links that they don't have. You can, however, see what backlinks they have in common so you can find targets to focus on.
The results from the 'Best' tab, which are domains that point to all of the competitors you entered but not to you, will be displayed by default.
To Contents ↑
Semrush pricing

To Contents ↑
3. Google
Google is the world's largest source of link prospects. Most people don't consider Google a link-building tool, but it's one of the most effective ways to find potential link partners. It has the world's largest index of web pages and the best search algorithm. You can find thousands of relevant link-building prospects for free if you know how to use them effectively.
Using search operators
Search operators are commands that allow you to refine and filter the results of a search engine. Some are exclusive to Google, but not all of them: you can use the same or similar ones in Bing or Ahrefs Content Explorer. Even those that aren't unique to Google appear to be particularly powerful.
To find relevant resource pages to offer your link, you can use the intitle:, inurl:, and OR – operators.
You can also combine the intitle:, inurl:, and the "–" operator to find pages for popular guest bloggers in your industry and possibly write for them yourself.
Here are a few examples:
To Contents ↑
Find guest post opportunities:
Keyword 1 intitle:"write for us" inurl:"write-for-us"
Search a page's title or URL for a keyword or query. In this case, we're looking for pages with 'write for us' in the title tag and URL.
The returned results will show you web pages relevant to your keyword that contain either of these two elements.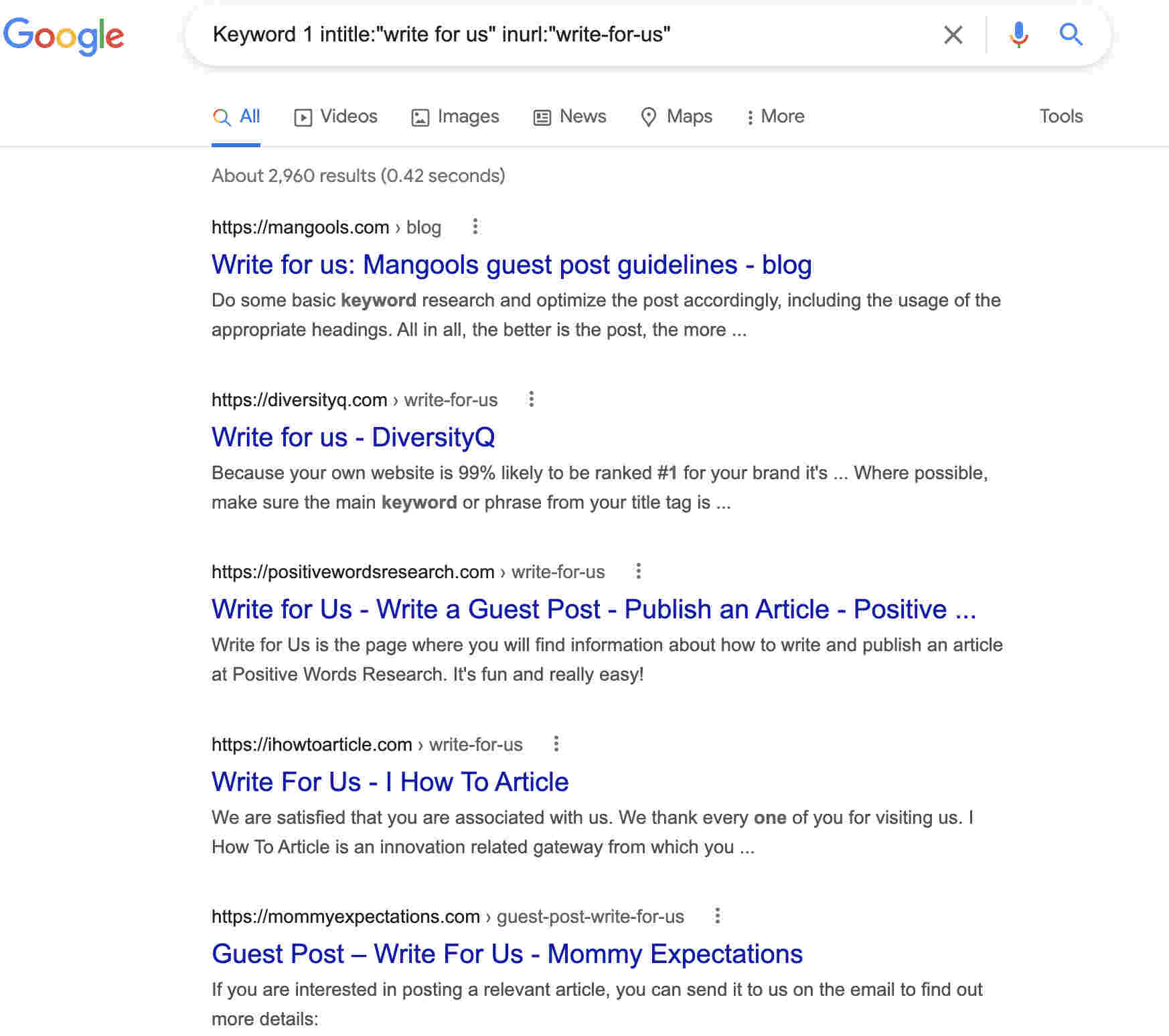 To Contents ↑
Find resource page opportunities:
Keyword 1(intitle:"resource" | intitle:"resources" | inurl:"resources")
Similar to the previous example, we're looking for pages with "resource" or "resources" in the page title or URL that are related to our target keyword. Here's how it looks in practice: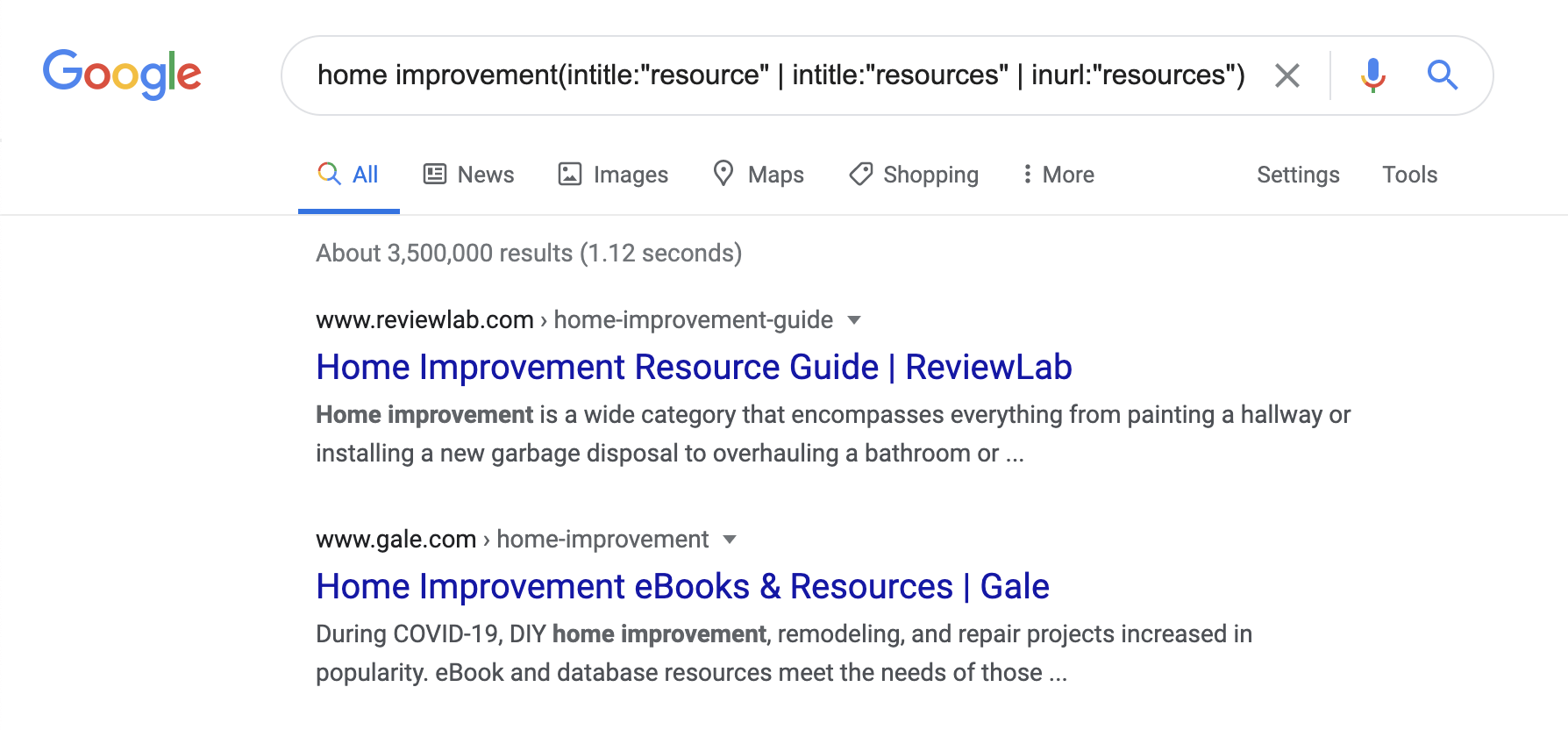 What's particularly nice about Google is that you get its services for free.
To Contents ↑
4. Hunter.io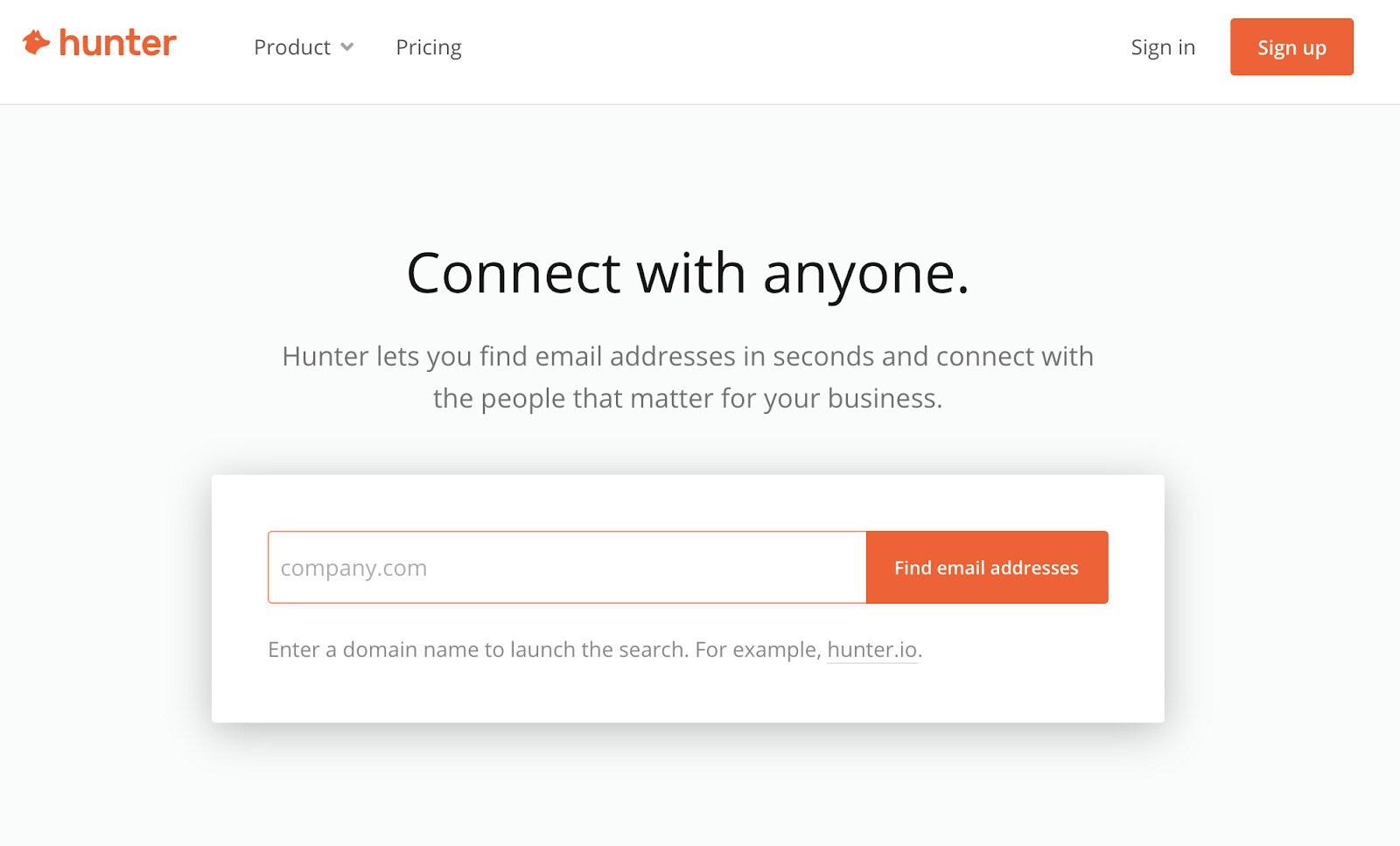 Hunter.io is a fantastic tool for finding email addresses. One essential aspect of link building and public relations is outreach. The procedure entails contacting web admins and requesting an inbound link to your website. However, one of the most common problems with an outreach email campaign is finding the correct contact information.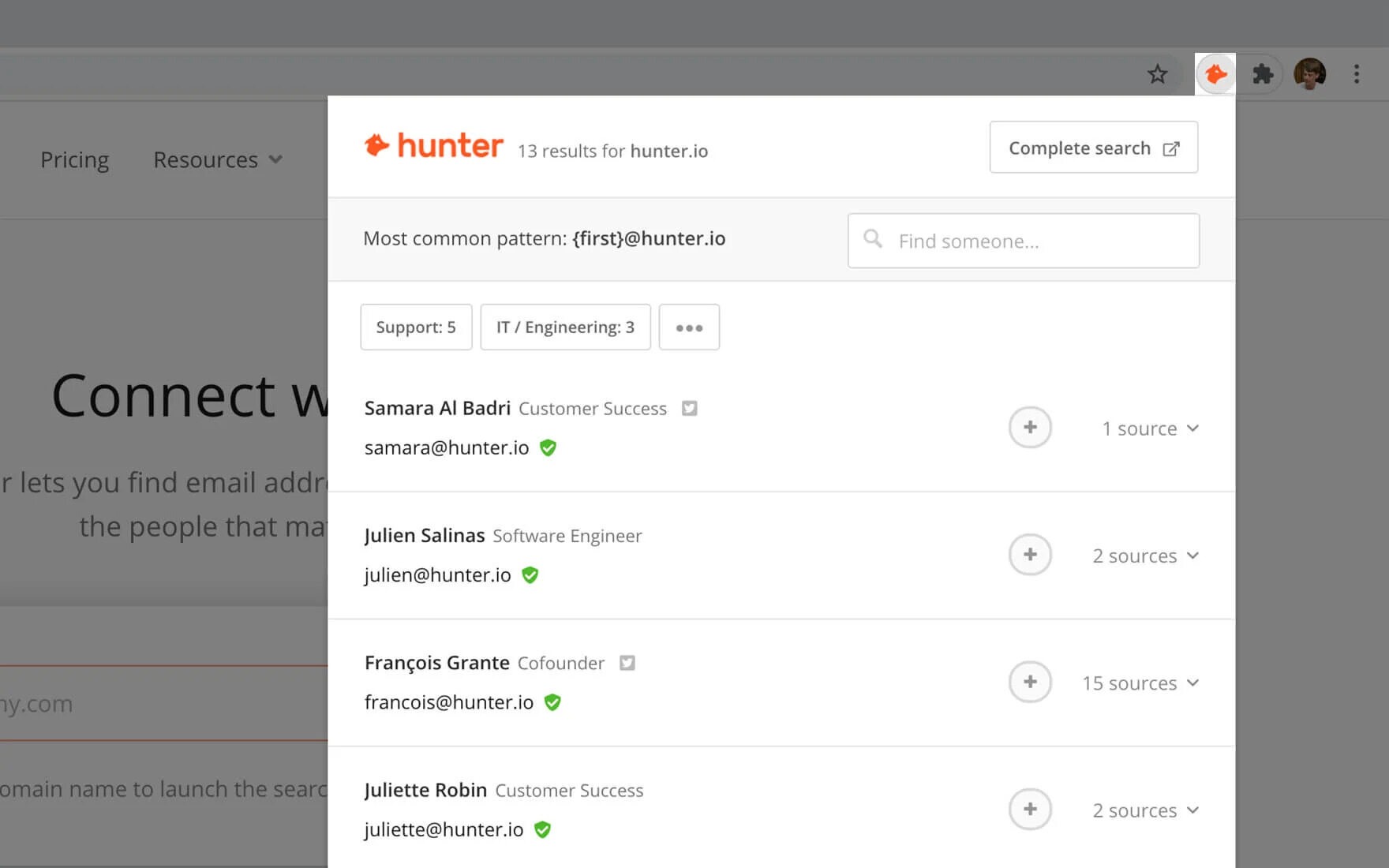 Your email will most likely go unread if you don't reach the right person. Companies that don't always list their employees' email addresses further complicate matters.
To Contents ↑
How does it work?
Hunter.io allows you to find email addresses for any website quickly. To begin your search, type in the company's URL.
You'll need to create an account to see the full results and use other features like search filters and CSV downloads.
Email verification is another helpful feature provided by Hunter.io (as seen by the green checkmarks in the image above). This indicates that an email is currently active and in use.
You get 50 free searches per month with a free account, but you can always upgrade to a premium plan as your outreach strategy expands.
Hunter.io pricing
Hunter.io has a variety of plans to suit your needs. The free plan is ideal for those just getting started with outreach for link building. Here's a rundown of the various plans Hunter.io offers with its email finder tool.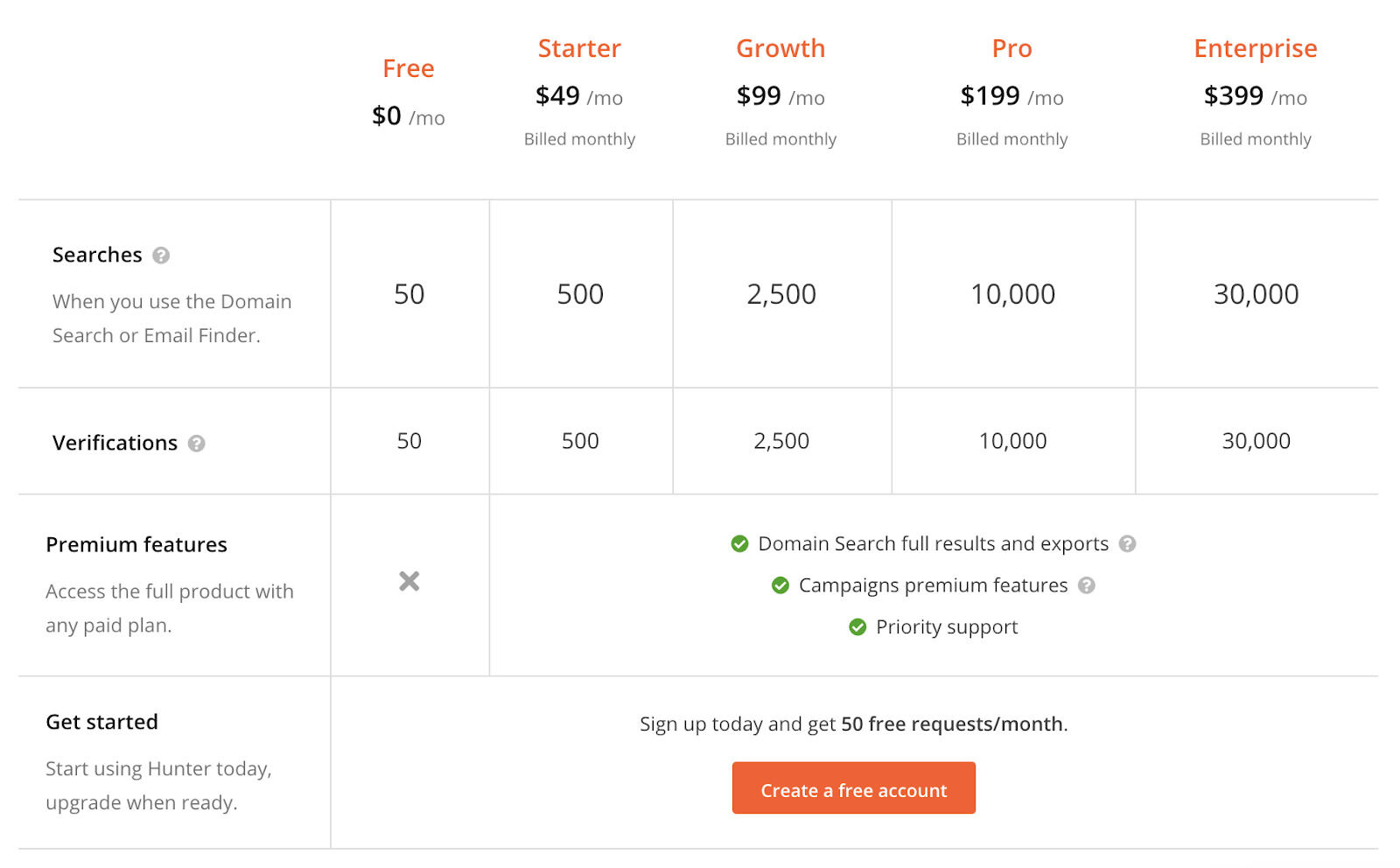 Signing up for a yearly plan will save you 30%.
To Contents ↑
5. Majestic SEO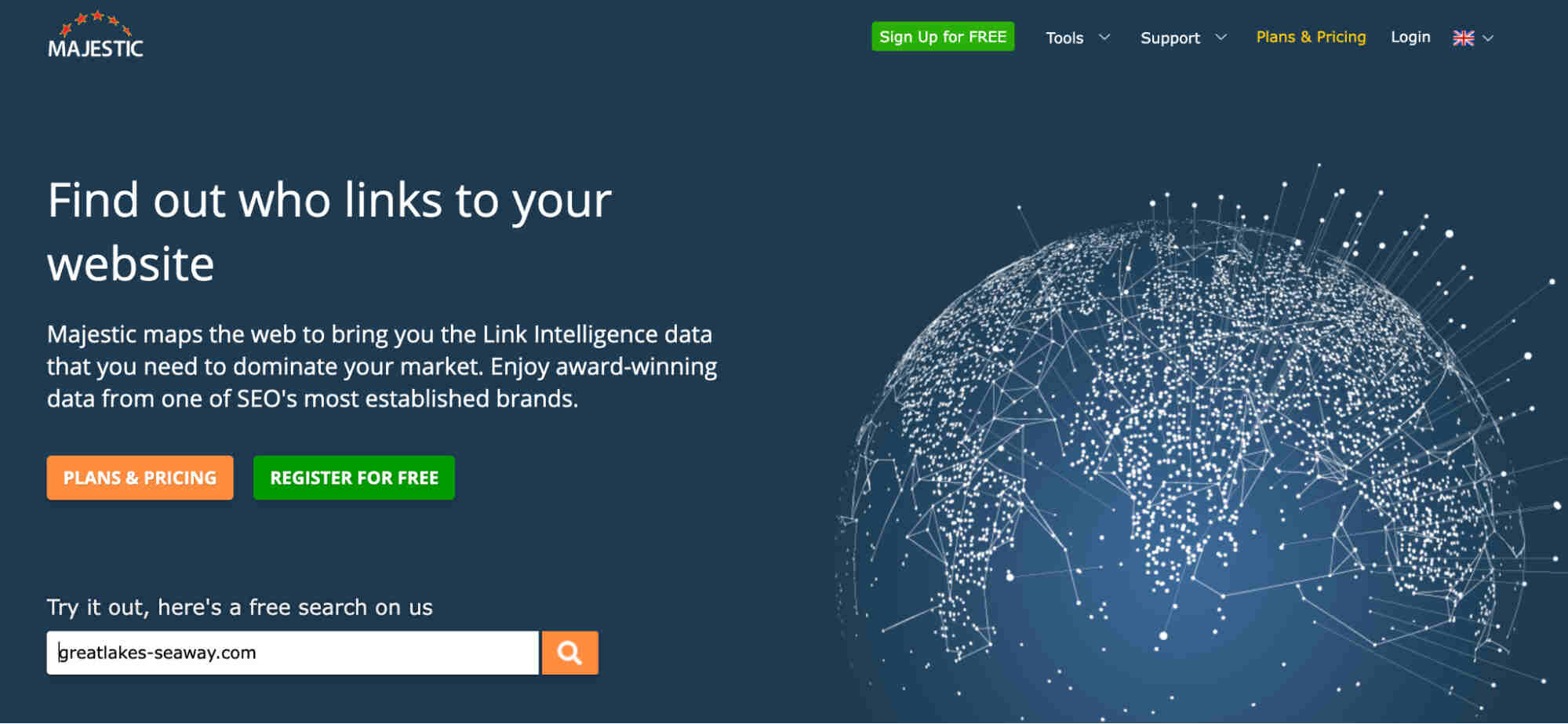 Majestic SEO crawls the web and stores backlink data in two indexes: Fresh and Historic.
The Fresh Index keeps track of pages and links that have been discovered in the last 120 days. It also includes any links you may have lost during that time frame. This helps figure out how link-building campaigns affect your current rankings. The Historic Index is a massive database with trillions of unique URLs that spans the last five years. This allows you to track the backlink performance of your website over time.
You will have limited access to some of the features if you sign up for a free plan. Though important metrics such as external backlinks, referring domains, and more are still available. On the UI, Citation Flow shows the number of links pointing to a site, while Trust Flow represents the quality of links pointing to a URL. Both of these features are included in the free plan.
To Contents ↑
Majestic SEO pricing
You can upgrade to a paid plan if you want more features and metrics than what's available in the free plan. The Lite plan costs $49.99 per month, and the API plan costs $399.99 which is ideal for developers and agencies. You can also save money if you sign up for an annual plan.
6. Sitechecker Backlinks Generator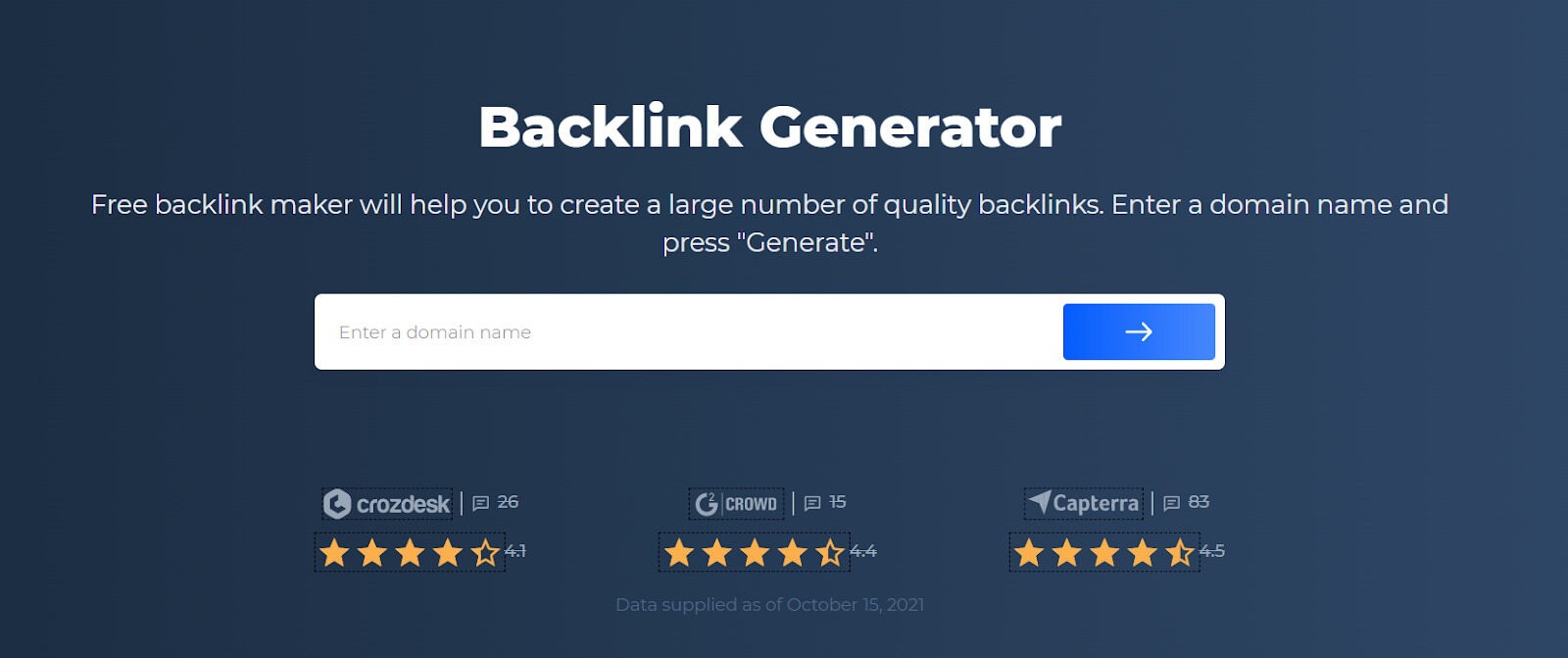 Sitechecker's Backlinks Generator and Backlink Analysis are useful SEO tools that greatly simplify external website promotion. They help you track the number and quality of backlinks on your project's and competitors' websites and generate free landing page links.
How does it work?
Backlinks Generator helps you get free links to your website. Enter the page's URL in the search bar: you can enter your site's or your competitor's URL. Then click on the arrow button and start analyzing.
After the scan is complete, you'll get a detailed report on the backlinks showing both dofollow and nofollow links and the total backlinks and referring domains. Use this information and get rid of low-quality backlinks.
Backlink Analysis allows you to look at all of your backlinks over time. It also includes looking at your competitors' link strategies to see how you can improve your own. This tool gathers data from various sources to provide the most objective information on link profiles.
You can discover the most important URLs for a website while studying traffic dynamics and link growth. You can also analyze a various periods, from one to twelve months, to create your own link-building strategy using data from the previous year.
To Contents ↑
Sitechecker pricing
Sitechecker's product line which includes Backlink Analysis and Backlinks Generator is available in three pricing plans. The most basic features are available for $29 per month, with the most advanced features starting at $99 per month.
Here's a rundown of Sitechecker's various plans: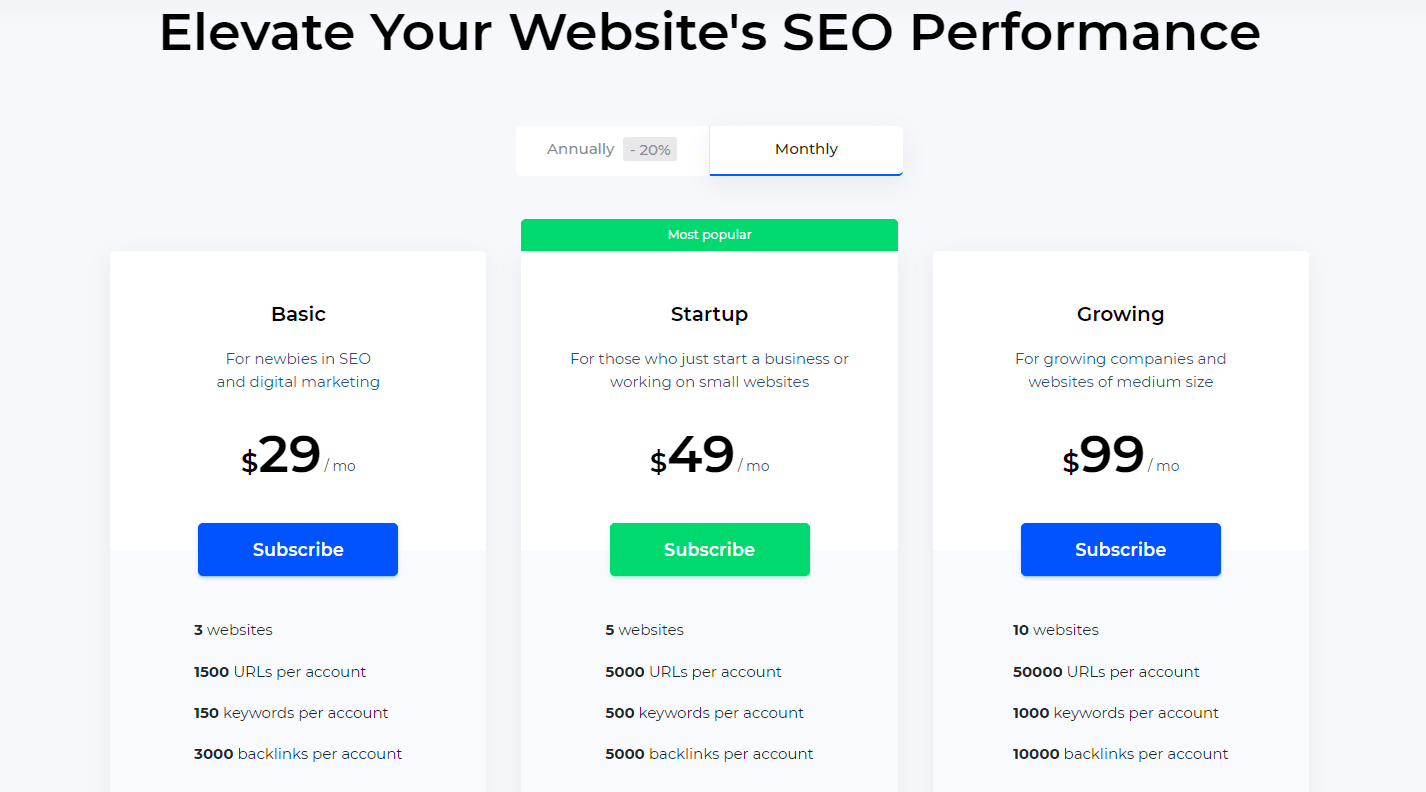 A free 7-day trial is available, and switching to an annual plan will save you 20%.
To Contents ↑
7. Whitespark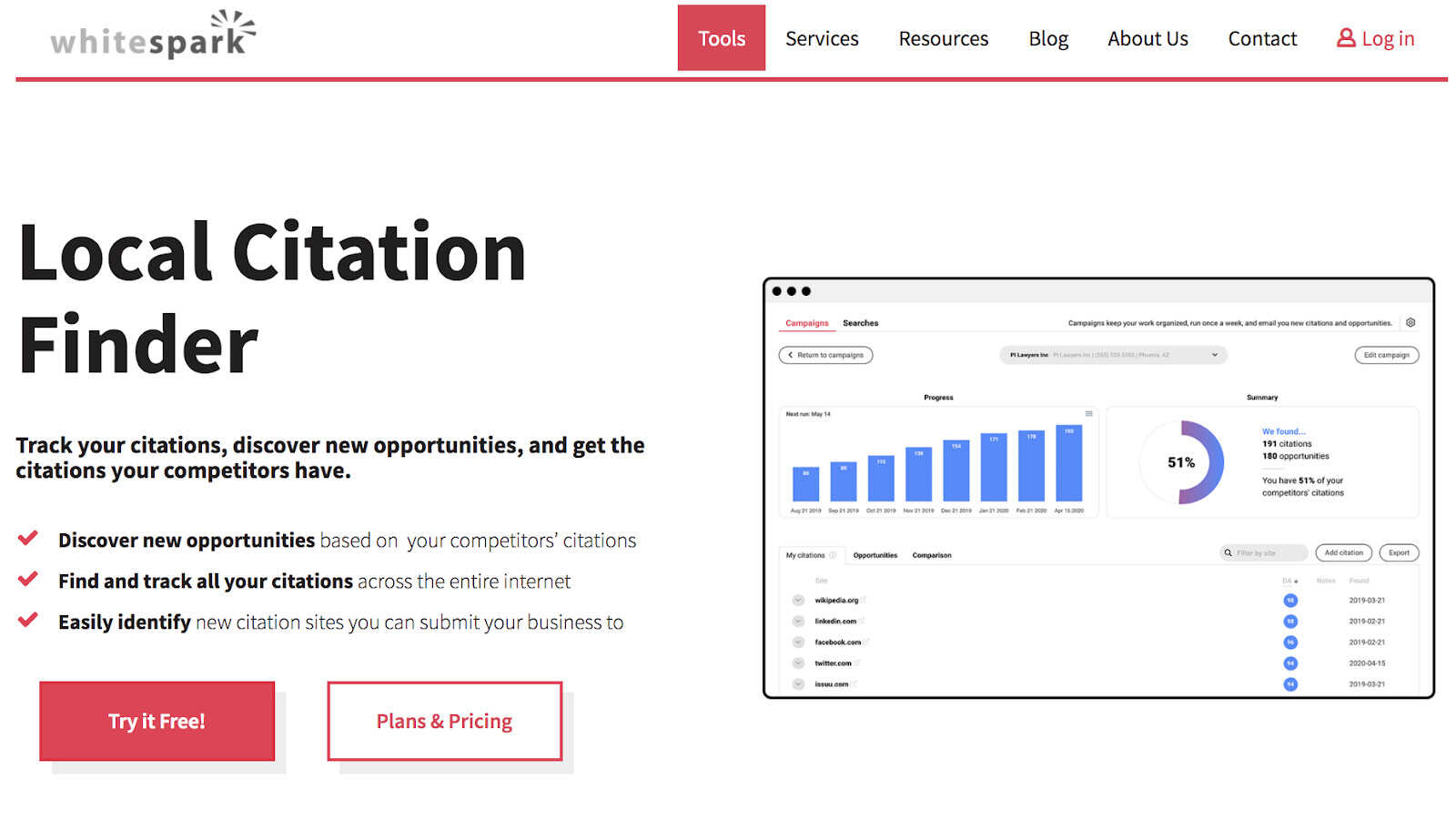 Whitespark is a free link-building tool that helps you find local citations. It provides a local citation finder that you can use to keep track of your online citations and find new places to submit your site.
How does it work?
To rank for local search queries, you must build citations. A web citation of your name, address, and phone number is known as a local citation. An example is your website's profile on a business directory such as Yelp or Foursquare.
You can find new local directories on the web to submit your site to using Whitespark's local citation finder. To use the tool, you must first create an account.
Create a new campaign and fill in the blanks with information about your company. The tool will generate a list of citation sources based on what you entered. Make sure your NAP (name, address, and phone number) is consistent across all sources.
To Contents ↑
Whitespark pricing
The free version has a few drawbacks, including the option to create one campaign only and a limit of three daily searches. Many of the citation sources it collects are also unavailable.
Depending on your needs, Whitespark offers a variety of premium plans. These provide you with additional features such as tracking citations and unlimited search results.
Switching to a yearly subscription will also save you money on your plan.
To Contents ↑
8. Ubersuggest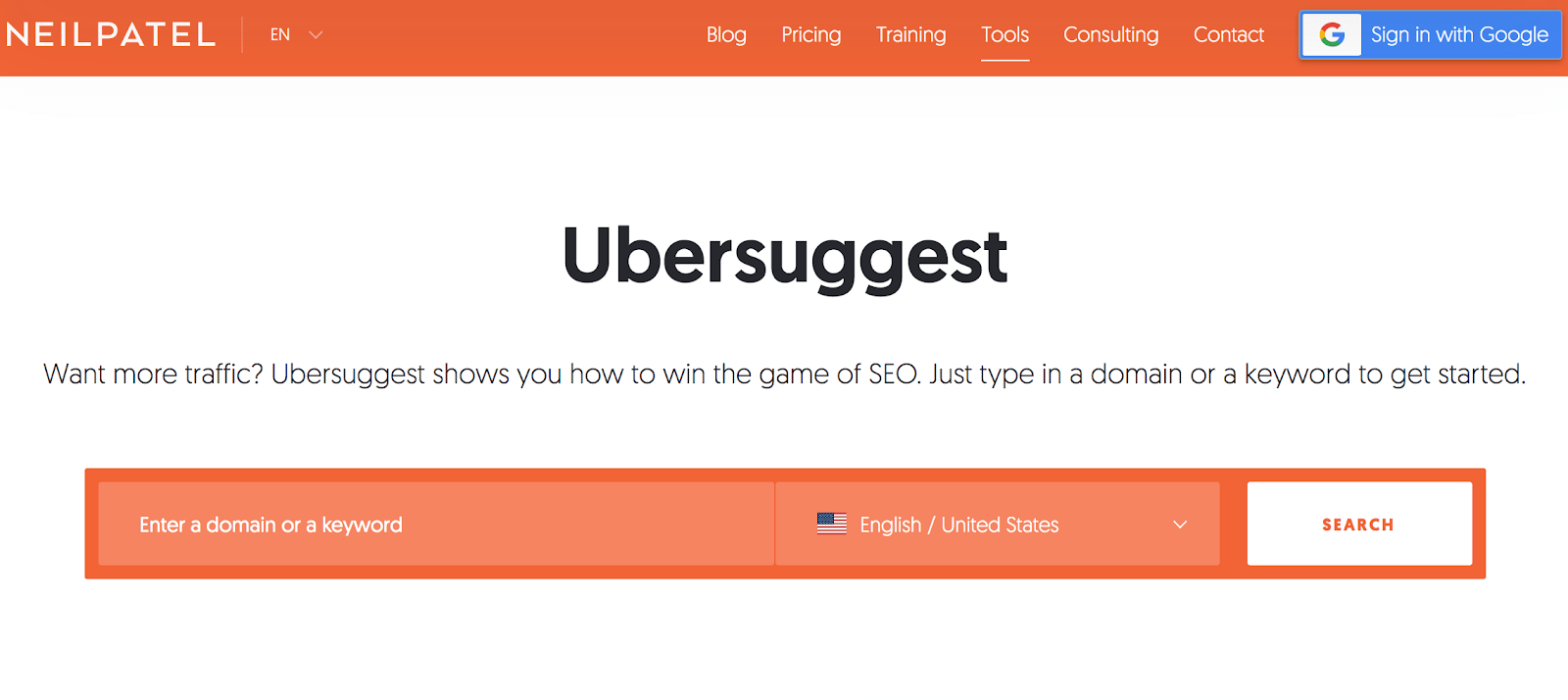 Ubersuggest is a free link analysis and keyword research tool that provides a lot of keyword suggestions and SEO metrics such as search volume, cost per click, and ranking difficulty. Its free backlink checker shows who links to you and your competitors.
How does it work?
Analyzing sites that rank on the first page before you start building links will help you understand what it takes to outrank those pages. The backlink checker on Ubersuggests allows you to analyze competitor sites' backlinks and see where they're getting their links from.
Simply look up a keyword you'd like to rank for. Take note of the sites that appear on the first page of search results and enter their URLs into the backroom tool. You can contact those sites and request a link using this information.
Here's a quick link analysis of a site that ranks for the term "order pizza online":

To Contents ↑
Ubersuggest pricing
In comparison to other link-building tools, Ubersuggest is reasonably priced. When you upgrade to a paid plan, you gain access to SEO training materials and additional tools such as keyword discovery, daily rank tracking, site audits, and more.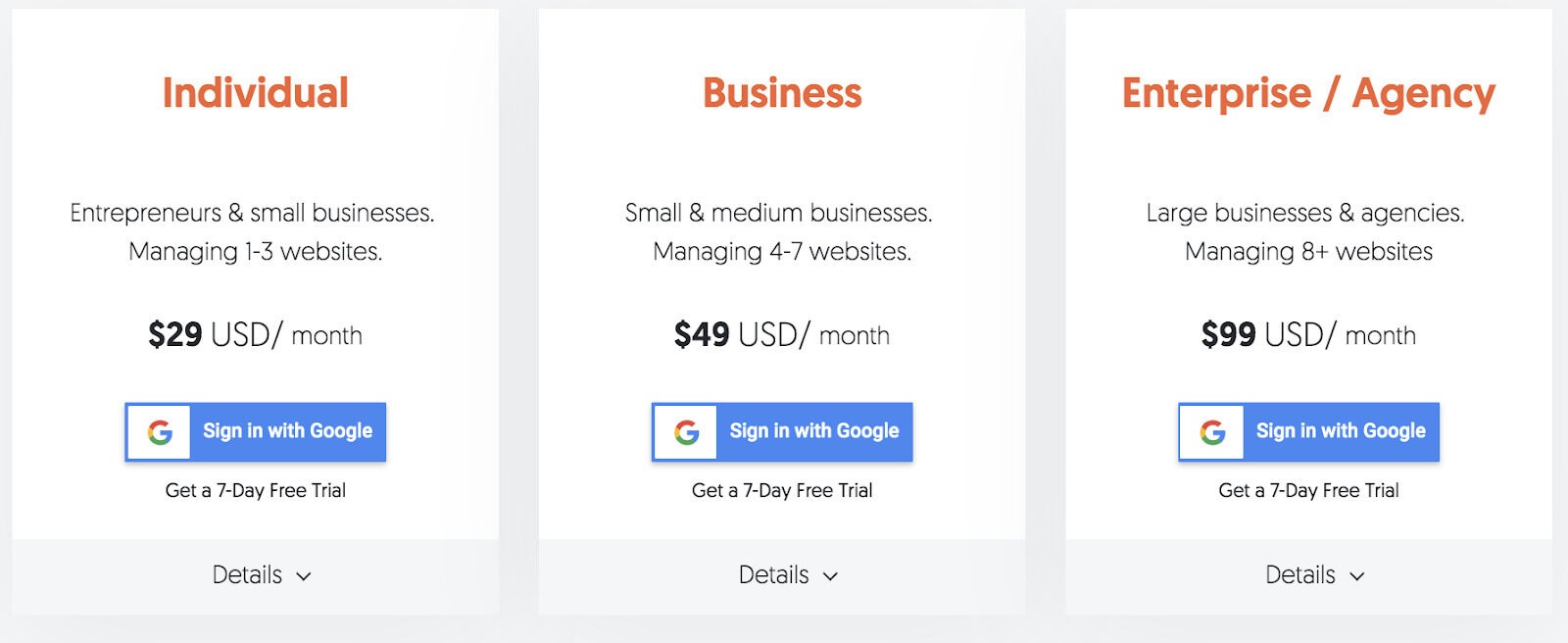 You can also start with a 7-day free trial to try out the paid features of the tool.
To Contents ↑
9. Google Alerts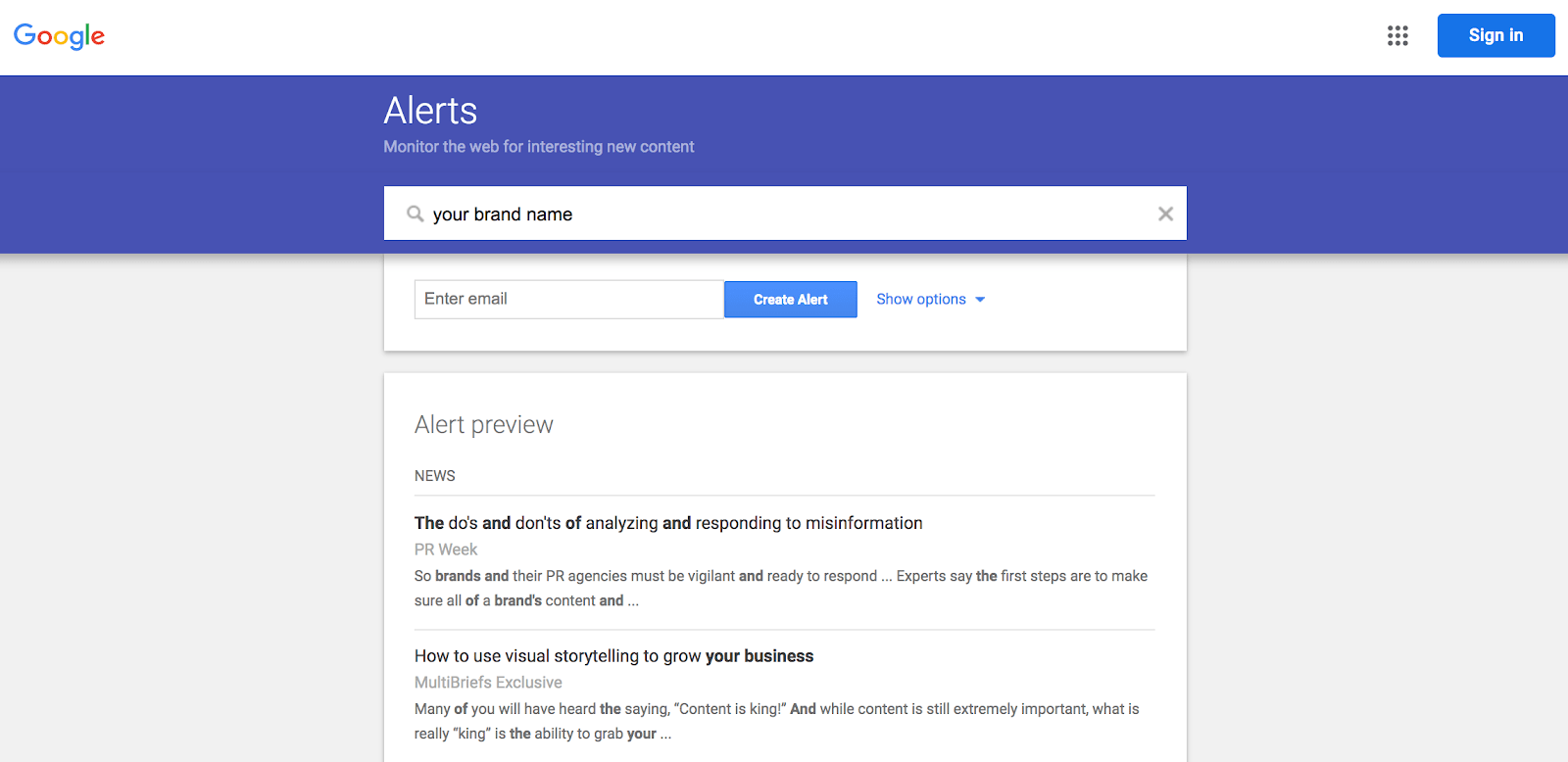 Google Alerts is a great way to track what's going on in your industry. It's a free link-building tool that allows you to set up notifications for any topic. You can also use this tool to build links.
How does it work?
You can set up Google Alerts to notify you whenever your brand or products are mentioned on the web. Then you can look at the content that mentions your brand by clicking through the notifications. In case the content is well written and reputable, send an outreach email to any unlinked brand mentions, requesting to link to your site. As a result, it's much easier to spot link-building opportunities as they arise.
To Contents ↑
Google Alerts pricing
Unlike most of the link-building tools on this page, Google Alerts is entirely free and you just need an email address.
10. SE Ranking
The SEO Backlink Checker from SE Ranking gives you a bird's eye view of a website's backlink profile while also digging down into the details. You can see who is linking to your top competitors and get an idea of where backlinks in your niche are coming from.
How does it work?
You can use SE Ranking to look at domains, subdomains, and specific URLs. Simply paste the URL into the search box and click the 'Find backlink' button.

You'll see a list of the domain's key URL metrics right away, including Domain Trust and Page Trust, the total number of backlinks and referring domains the site has, and the number of referring domains from the.edu and.gov TLDs. You can also see how many of the site's backlinks have the dofollow attribute and the nofollow attribute.
All this information can help you determine the strength of a domain's backlink profile. For instance, you can look for guest posting opportunities on Google by searching for sites that have "Write for Us" pages.
Before contacting these websites, you'll need to look under the hood to assess the potential link's value and determine whether it's worthwhile. So to qualify your prospects, you can use the SE Ranking tool.
To Contents ↑
SERanking pricing
The Backlink Checker is part of a monthly fee-based all-in-one SEO platform. But you can pick the limited option on this landing page.
An annual subscription to their Essential package costs $18.6 per month. You can check up to 20 domains per day with this pricing plan. You'll also have access to a comprehensive SEO toolkit, including ranking tracking tools, keyword, and competitive research, website auditing, backlink monitoring, and more.
Conclusion
Google considers backlinks one of the most important signals for ranking web pages. Link building should be a top priority if you want to outrank your competitors and drive more traffic to your website. While you can manually build links, you'll eventually want to invest in premium link-building tools to help you streamline the process and keep track of your progress.
And one more thing: we believe that SEO and site monetization come hand in hand. While you're growing organic traffic, you can cash in on ad views. With Adsterra, you find the ad format that will fit your web pages best.