Instant Website Monetization | How To Start Making Money With Adsterra
When we say 'instant,' we mean instant. Adsterra has been known for the fastest website approval and moderation. Adsterra's Self-Service Platform for publishers is a powerful control center where you manage your website or blog monetization. 
If you're looking for the AdSense alternative, you should take a look at Adsterra, and not only for the reasons of the approval speed. We make it easy for any publisher or webmaster to grow, setting almost no limits to the website visitors amount. Our two and irreversible rules are traffic quality and traffic genuineness. We also show zero tolerance to bot traffic and spam clicks which we easily identify and ban.
If you are new to website monetization or looking for alternative or supportive ways of growing passive income, read our updated guide to getting started with Adsterra. We will overlook the whole platform and guide to setting up publishers' dashboard step by step.
Register or sign up as a publisher
First step
Your first step to making profits with Adsterra is registration. Please navigate to adsterra.com and choose REGISTRATION → AS A PUBLISHER from the upper menu.
Difference between advertisers and publishers
Publishers place ads on their websites to promote third-party products and gain commission. Third-party here is an advertiser. Please read this guide to learn more.
Registration page
After you hit SIGN UP AS A PUBLISHER, you will be redirected to the registration page. The first step is elementary. You enter your name and email, and then click CONTINUE.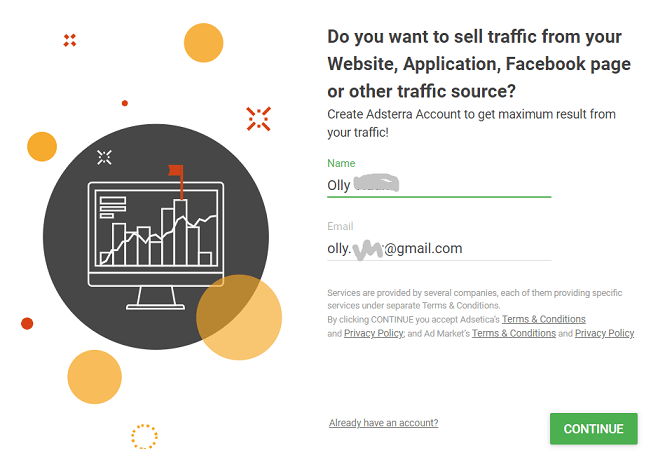 Complete registration
Next, you see the Complete registration page where you need to enter some more details:
make up a login
make up a password
choose the most suitable way to contact you and enter its account name (you can change it later)
choose the preferred payment method and enter the data required (for PayPal it'll be the e-mail your wallet is attached to)
list the websites you want to monetize.
All fields require actual data except the last one, with your websites list.
Click COMPLETE REGISTRATION.
You see our service message where we ask you to check the email and follow the verification link.
Verify your email
Please check the email you entered earlier and find our letter. Open the letter and click CONFIRM EMAIL.
* Check the Promotions and Spam folders if nothing found in the main inbox.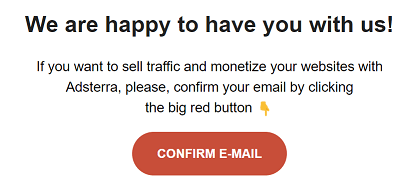 By clicking the CONFIRM EMAIL button, you navigate to the authorization page and automatically sign in to your account. Sometimes you will be asked to re-enter your login and password. Just type them in and enter your account.
What's inside a publisher's account
#1 How to add your website to Adsterra
The first page you see after signing in is the Websites page. It is core for your traffic monetization and business growth. Now you don't see any items added. Let's add your first website. Click the green ADD NEW WEBSITE button.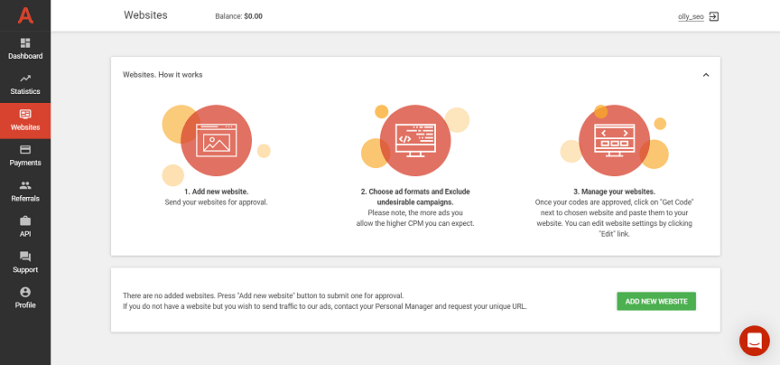 In a new pop-up window, you choose what ad codes (ad formats) to put and on which website. That's the initial step to making money with Adsterra. Although pretty clear, let's examine the main fields one by one.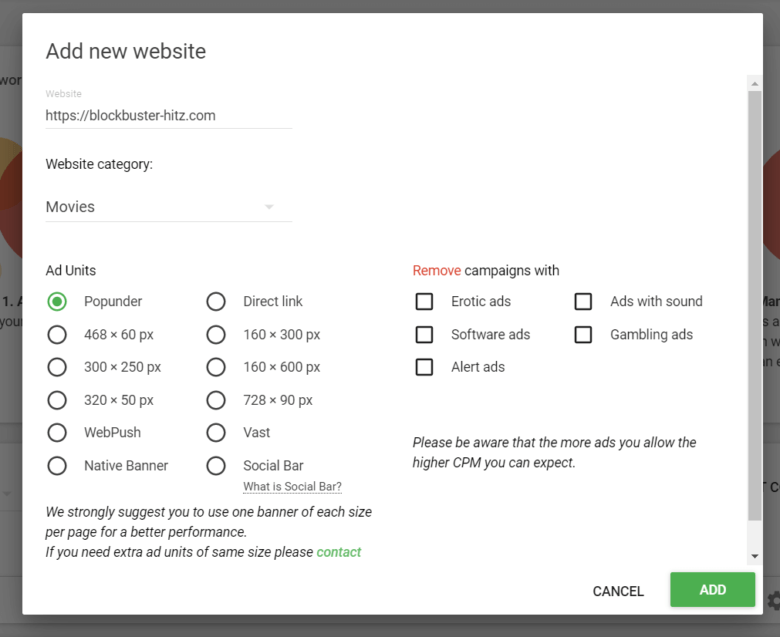 On the Add website window, you need to fill out several fields.
Your website URL. Please enter the full URL, including HTTPS.
* You can also monetize your APK. But this option is available on demand. Please hit the chat icon and contact our managers to find out all details.
Your website category. Use the drop-down list to select the most fitting category or pick Other.
Ad units. These are ad formats that are going to be displayed on your website. Let's assume you choose the native banner format. This means that your website users will see ads designed for this format. Advertisers that prefer to promote their products via this format will display their ads on your web pages.
Campaign type filter. Here you mark what advertising types are unsuitable for your users. E.g., these might be ads with sound.
Having filled it out, please click the ADD button. Your domain has been sent for approval, and you will meet this service message (below). 
Getting your website verified
Usually, the website approval is amazingly fast. While on verification, the status of the domain will be Pending. You can check the status on the Websites page. You will get the email when the website is approved, as well.


Getting Adsterra ad codes after the website has been verified
1. You can copy the code from the service email
We successfully passed the verification and got an email with the code script. You can copy this script right from the email by clicking the button View Code Scripts.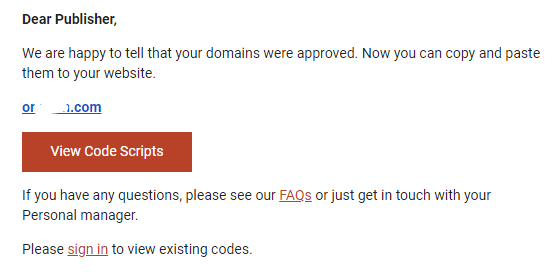 2. You can copy the code from your account
Another way of getting the code script is to take it from your publisher's account. By this time, your website status will change to Approved.
From the Websites page, click All codes → Get code. On the drop-down window, you see the script. You need to copy and paste it on the website. On the left, there is a short instruction on where to place the code. Please read it carefully as the instructions vary depending on the ad format.

What ad formats are available in Adsterra
Although this is not a part of our guide, it'll be helpful to give you a short overview of all Adsterra ad formats. This will help you make the best choice. For more advanced ad formats' overview, navigate to our knowledge base article.
Managing your websites and ad codes
You sometimes want to combine ad formats on one website, add new codes and disable that you don't need. Let's see how to manage this easily.
On the Websites page, find the domain you want to edit. To the right of the domain, you see a toolbar.
Let's examine the icons on the toolbar.
You can get the code as we did it earlier by clicking All codes → Get code.
You can choose Add code and generate a new script for another ad format.
* You'll need to wait for another email with approval.
You can check this website's performance by clicking the Statistics button.
Or, you can edit the types of filters you put when first added a website.
* But these changes will be applied to the new ad codes.
The toggle ON state will hide this website from your statistics.
Monitoring your revenues | Statistics reports
As we said earlier, Adsterra Self-Service Platform for publishers is a control center. Once you add a website, you can track its performance and manage all ad placements with regard to metrics. That's when you need the Statistics reports.
From the control panel on the left, hit the Statistics tab. Since you haven't started monetizing yet, you will see the empty cells waiting for the future great numbers to appear.
What key website monetization metrics you can check:
IMPRESSIONS (how many times your ads were shown),
CLICKS (how many times users clicked on ads),
CTR (click-through-rate, or the number of clicks on an ad divided by the number of ad impressions)
CPM (how much advertisers has paid for 1000 impressions of their ads on your website). CPM rate is calculated automatically for each website and depends on traffic quality. It is based on many parameters: website visitors' country, device, browser, OS, ad formats you use on your website and many others. See what factors affect the CPM rate and how to omprove it.
REVENUE (how much you have earned).
On your Statistics page, you can change the start and finish date to compare the reports by various timeframes.
Group websites' stats by date, domains, placement, country, device format, or operating system.
The hit on the export icon will start downloading your .CSV report.
#3 Publisher's profile | How to change payment methods and personal data
On your Profile page (hit the Profile tab from the left), you see all your credentials you typed in on the registration stage, as well as the preferred payout method. If needed, you may enter another name, change the payment system, and the messenger account name.
* From your Profile page you can't change the email to which your account is attached, and your login.
* On payment days, we temporarily block the fields with payment systems details. We do it to prevent the payout delay or turn-down.
#4 Transparent payment reporting
Open your Payments tab. The first part of the page is about payment rules. All hints on minimum payouts, transfer fees, payout dates are here. Please, read it carefully to proceed your website monetization smoothly.
Next comes the payment history table with filters. Once you start getting passive income, you check all your scheduled and released payouts here.
What do these fields mean?
DATE — here you can check when the next payout date is, and when previous payments were released. Along with recurrent payouts, you find here all balance adjustments with the reasons mentioned in the COMMENT field.
SUM — the number of your earnings with Adsterra within a period.
FEE — the commission taken by the payment system for money transfer. TYPE – the type of financial operation (e.g., 'next' for the next payment).
ACCOUNT — your account details.
COMMENT — a detailed description of the financial operation.
DOCUMENTS — files that confirm payout.

#5 How to get an extra +5% lifelong income: Adsterra referral link
That's, probably, the easiest way of getting passive income. On the Referrals page, click the GENERATE INVITE button and share the unique link when recommending Adsterra to your readers and partners. Once somebody signs up to Adsterra via your link and starts monetizing, you'll be getting a payout equal to 5% of their income. Forever!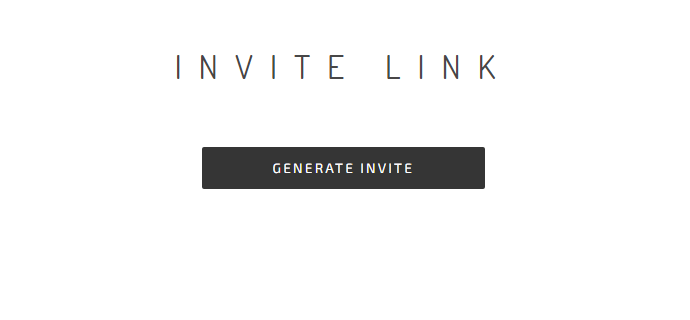 #6 Adsterra live chat support and knowledge base
We tend to automate everything, except the warmth of our communication with partners. You may connect with us via the chat icon in the lower right corner.
To some questions, the best answer will be a tutorial from our blog, so you will get the link to read it out. Sometimes the top choice is to look through our FAQ base with guides and tips, and you'll immediately be offered the most suitable article. But sometimes only live support works, and we are proud to be the best-in-class here.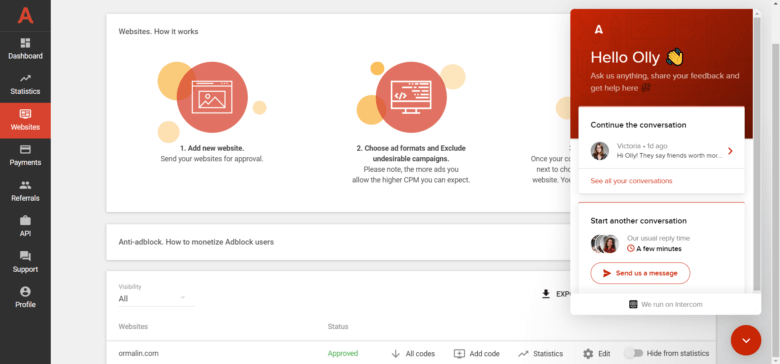 #7 Advanced stats tracking with Adsterra API
With Adsterra Publishers API, you can easily pull the statistics on your websites' core metrics. This will help a lot when you use third-party tracking services or dashboards. No need to export yet another one .CSV, all data fetch automatically: CPM, CR, clicks, and revenues metrics.
On the API tab, you generate a unique API token that will allow for sending your Adsterra statistics to other applications, systems, and dashboards (without sharing your credentials or any extra data.
Need more hints? Dive into the long read on how to use Adsterra Publishers API.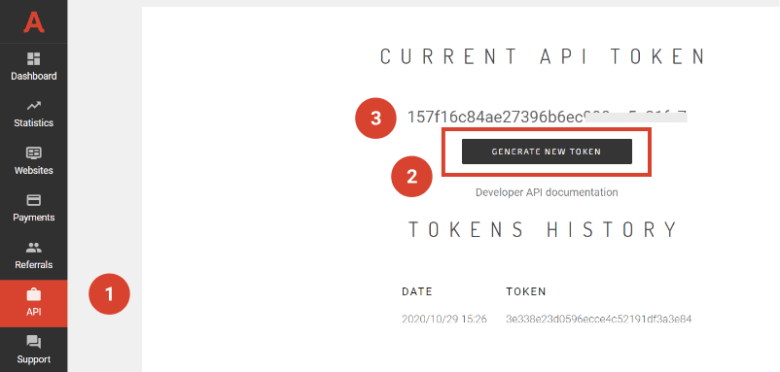 Why choose Adsterra for website monetization
Choosing a partner for website or blog monetization is a leap of trust. You need a bit more than a good welcome guide. Here is the list of points that might convince you to consider Adsterra as the AdSense alternative and your business partner.
Conclusion
Quite a long ride, right? Only when you read the guide without taking any action
With Adsterra, you natively start getting profit from your website or blog in a few minutes. The biggest thing here is that there will be many challenges on your way to making a solid income whatever means you choose. Adsterra will stand by your side when you've just started planting these seeds of website monetization and when you've grown your business to six-figure profits. You're half-step from your next great leap to profit.
In case you're looking for instructions on how to monetize websites based on the most popular blogging platforms, please enjoy these guides to WordPress and Blogspot (Blogger) websites monetization.