Lead generation and affiliate marketing are vital activities for every company. They are related but not interchangeable.
Lead generation involves identifying and drumming up customer interest in your product or service. Affiliate marketing involves partnering with expert affiliates to promote your product and paying them commissions.
Affiliate marketing is a subset of lead generation. This article will explain the differences in an easily understandable way.
What is a lead?
A lead is any individual or business that can potentially become your customer. It's a prospective client that has indicated interest in your brand. When people talk about collecting leads, they're talking about collecting contact information from prospective customers.
The idea is to engage with your leads about the value of your brand and entice them to become customers.
What is lead generation?
Lead generation is the process of attracting prospective customers to your brand. It deals with collecting contact information of potential customers to further discuss with and entice them to buy your product.
You can generate leads via different methods, e.g., forms embedded on your website or social media page. The idea of every lead generation campaign is to capture as many contact details as possible from prospective clients.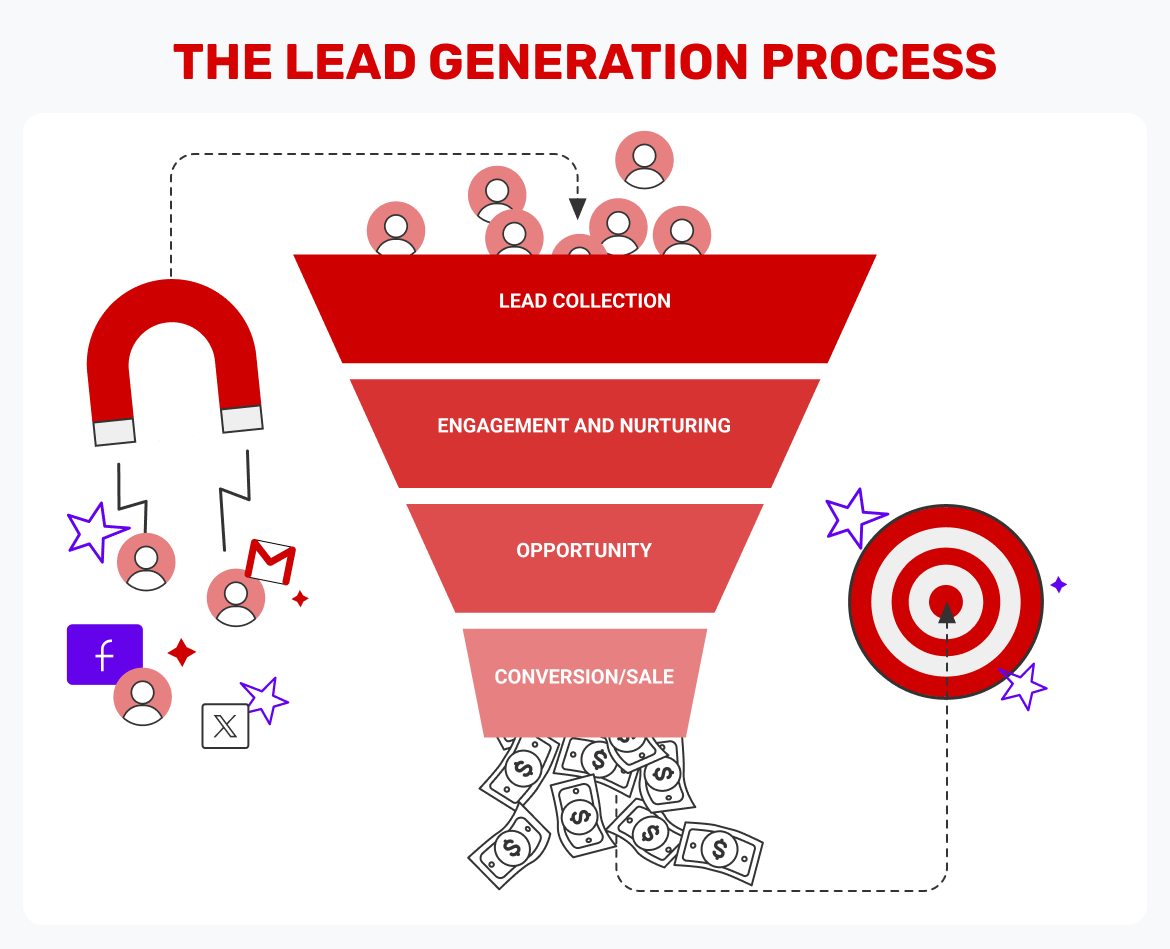 To Contents ↑
What is affiliate marketing?
Affiliate marketing is when a brand partners with a marketer or publisher and pays them for each action they drive for the business. The company looks for a skilled marketer (called an affiliate) and agrees to pay them a commission or a fixed amount for every action they generate. It is a partnership with aligned incentives for both parties.
The action is usually a sale, but it can also be a lead submitting their contact information. For example, you sell high-end telecommunications equipment. You can enlist an affiliate marketer or publisher to drum up interest in your business and collect contact information from potential customers. You'll pay the publisher for each lead they collect for your brand.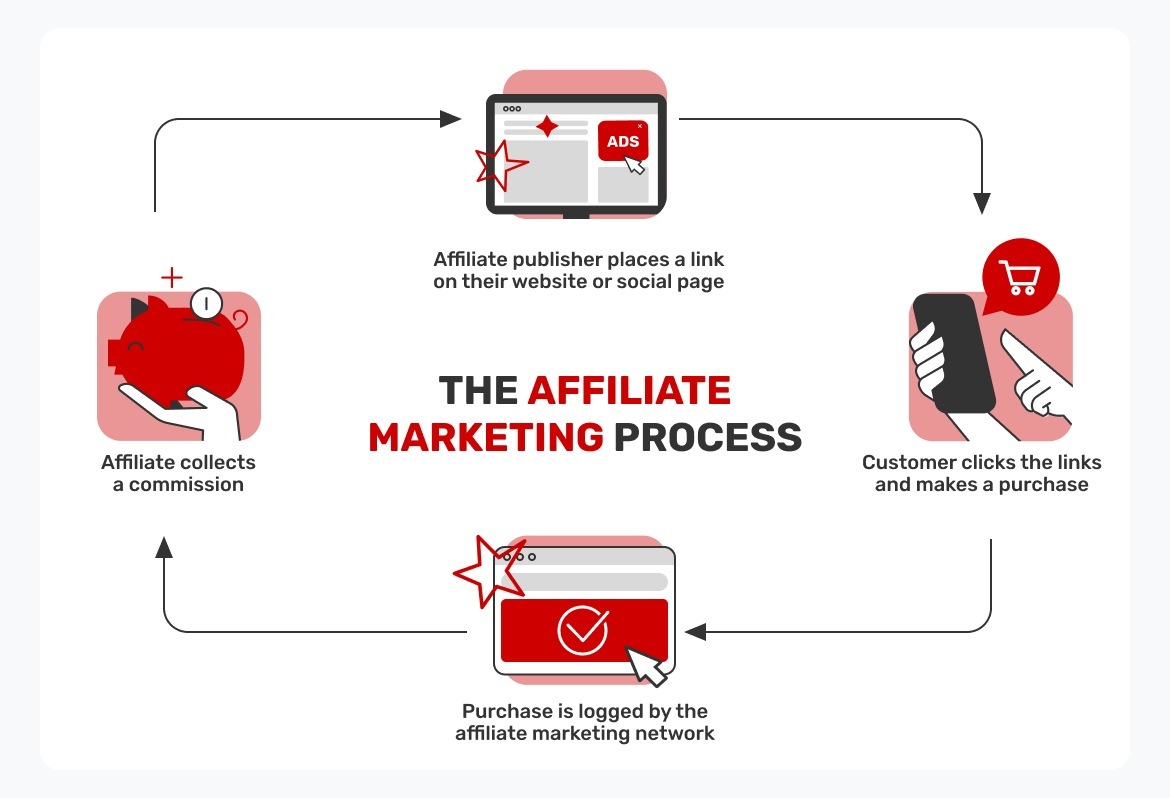 To Contents ↑
Affiliate marketing vs. lead generation
Affiliate marketing is a method of lead generation. Companies often hire experienced marketers to generate affiliate marketing leads, as illustrated in the above section's example.
Businesses combine affiliate marketing and lead generation to get sales. They pay marketers to promote their brand to a relevant audience and collect affiliate leads in exchange for commissions.
Lead generation involves marketers placing a call-to-action button on a website or landing page, encouraging visitors to drop their contact information, like an email address or phone number. They get paid for each lead they generate, and the brand benefits by engaging with the leads to try their product.
To Contents ↑
Lead generation: pros and cons
Let's look at the advantages and disadvantages of lead generation for both sides of the coin: advertisers and marketers.
Pros for businesses
Improved brand awareness
Lead generation campaigns help improve brand awareness for businesses. People are more likely to think of a brand to which they gave their contact information. When a prospect wants to buy the kind of product you sell, they'll likely think of your brand because they have interacted with it before.
Cost-effectiveness
Lead generation is a cost-effective form of brand marketing. You can generate high-quality leads for relatively little campaign costs. It has a high return on investment if you play your cards right.
Time-saving
Lead generation saves businesses the time they otherwise would spend on cold calling and emailing. It takes less time and effort to convince leads who willingly provided their contact information than to convince people you contact out of the blue.
Easy to manage
It's easy to manage leads, thanks to software automation. Many customer relationship management (CRM) tools allow you to automate lead collection and easily keep track of communication between leads and your brand.
Pros for marketers
Lucrative
Lead generation can be lucrative for marketers and publishers. Businesses pay top dollar for leads, especially in valuable niches like insurance, financial services, auto repairs, legal services, medical services, etc.
Scalability
It's easy for marketers to scale their affiliate marketing lead generation efforts. You can start small and scale your lead generation efforts as your clients grow. Clients will be willing to pay more money if they observe your effectiveness.
Easier to earn money
It's easier to make money with lead generation than affiliate marketing. In the latter, customers usually must purchase something before the publisher earns money. However, in the lead generation model, a prospect only needs to provide their contact information for marketers to make money.
Adsterra CPA Network is an excellent platform for affiliates to find lucrative offers. You can scour through offers from dozens of reputable advertisers and enjoy risk-free, superfast payouts.
To Contents ↑
Cons for businesses
Difficult to get quality leads
It's one thing to get a large number of leads and another to ensure the leads are of high quality. Getting high-quality leads that can boost your conversion rate is usually difficult, which is why many businesses outsource their affiliate marketing lead generation to external parties.
Cons for marketers
Qualification
Companies just don't pay for any affiliate leads. The affiliate leads must be qualified for the marketer to get paid. For example, a pet store in the U.S. does not need a contact based in Sweden. Finding qualified leads can be difficult, especially in some niche markets.
Hard to make a profit in some niches
It can be tricky because it's a bit more complex and online shops often watch their budgets closely. However, with the right tactics and a smart focus, there's still money to be made. It's all about figuring out the best approach to gain leads.
Affiliate marketing: pros and cons
Let's examine the pros and cons of affiliate marketing for both businesses and marketers.
Pros for businesses
To Contents ↑
Lower risk
In the affiliate marketing model, the company only pays the marketer after they generate a sale. If there's no sale, they won't pay, eliminating the risk of wasting their advertising budget. The company and publisher's interest is closely aligned in this model.
Low cost of starting
It doesn't take much money to start affiliate marketing. You can start with small amounts and scale your commissions as your brand grows.
High ROI
Affiliate marketing has a higher return on investment than most other types of marketing. Your company can earn significant revenue for relatively little advertising spending.
Pros for marketers
To Contents ↑
Flexibility
Affiliate marketers have a lot of leeway in setting up their ads. They can choose the exact methods of displaying ads and choose the products they want to promote. Businesses are primarily interested in sales, not how the publisher generates the sales.
Low-risk
Affiliate marketing is low-risk for publishers, the same way it is for advertisers. A publisher can easily place a link on their website and write content relevant to their audience. You don't risk much by running an affiliate marketing campaign as a publisher.
Cons for businesses
To Contents ↑
Little control over advertising strategy
Businesses have little control over the strategy an affiliate partner chooses to promote their products. Unfortunately, not every partner is reliable. A publisher might engage in questionable campaign tactics, and the business has little control over what they do and might find out too late before switching to another partner.
Cons for marketers
To Contents ↑
High competition
Competition is intense in some niches, especially high-paying ones like financial services, real estate, legal services, etc. Promoting products in these niches is difficult because many other affiliates do the same and compete for relatively little eyeballs.
Needs patience and effort
Affiliate marketing needs patience and effort to succeed, unlike what many people think. It's not something to make quick money. You need significant time to test and hone your strategies and see what works best for you.
What is affiliate lead generation?
It is a marketing strategy that unites affiliate marketing and lead generation. In this model, a business finds an affiliate partner to promote its products to a relevant audience and collect high-quality leads. The partner gets paid for each lead or collects a commission on each sale a lead generates.
Affiliate lead generation involves the affiliate marketer placing call-to-action buttons on their website or landing page, encouraging visitors to drop their contact information. They then pass the contact information to the business, which builds a relationship with the leads.
How to generate leads in affiliate marketing?
The best methods of lead gen affiliate marketing include:
Content marketing
You can create high-quality content for your website or blog. The content should be detailed and informative, giving readers exactly what they need. It can be a blog post, video, social media post, etc.
You can include a clear call-to-action at the end of a post or video, nudging users to sign up for your mailing list. If your content is valuable to readers, they'll be willing to add their contact address to get more relevant information.
Paid advertising
You can drive traffic to your landing page via ad networks like Adsterra. You'll include a call-to-action on the landing page encouraging visitors to sign up for your list. You can get a lot of high-quality leads if you play your cards right.
Adsterra is an excellent ad network for generating high-quality leads. You can create highly targeted ads with over 20 configurations and show them to a relevant audience, generating promising leads for your company.
To Contents ↑
Online communities
You can participate in popular online forums and communities like Reddit and Quora to generate leads. Many people ask questions on these platforms, and you can provide relevant answers while recommending your product.
For example, someone is looking for a good web hosting service, and you've been enlisted by a web hosting company to promote their services. You can recommend the company to the user posting on the online forum. But, ensure you provide relevant answers first before recommending any product.
Conclusion
We have explained the clear difference between lead generation and affiliate marketing and how businesses combine it to form lead gen affiliate marketing strategy. We explained the pros and cons of each one and how to get leads for affiliate marketing.
Above all, the primary advice for affiliate marketers is to choose a suitable ad network where they can find high-quality offers to promote. The same also applies to advertisers; they must choose a suitable network to find expert affiliate marketers. Fortunately, Adsterra offers just that.
To Contents ↑
FAQs about affiliate marketing lead generation
Are lead generation and affiliate marketing the same?
No, they aren't the same thing. Lead generation implies capturing contact information from prospective clients. Affiliate marketing involves promoting products in exchange for commissions.

Affiliate marketing is a method companies can employ to generate leads. They are related but not the same thing.

Can affiliate marketing be used for lead generation?
Yes, you can use affiliate marketing for lead generation. A company can enlist an experienced marketer to generate leads for them and pay them commissions for each lead or sale generated by a lead. 

Affiliate marketing is indeed one of the most effective ways for a company to generate leads.

What are the advantages of generating leads through affiliate marketing?
Lead generation allows businesses to dive into new markets and build credibility with prospective clients. It's a cost-effective way for a company to promote their products and get long-term customers. It's easy to manage and foster relationships with leads, thanks to many software tools that automate the process.
How can a company get more affiliate leads?
Companies can get more affiliate leads by partnering with experienced, professional marketers within their niche. These marketers know the ins and outs of the niche and how to capture the contact information of prospective clients for your company.