Do you want to get the most out of your affiliate website? Are you having trouble making money from your blog? Not everyone can afford to pour money into their website until they start seeing profits. You may employ all tools in the world, but your investment will never be efficient without proper guidance. Fortunately, you can enroll in good affiliate marketing courses that'll help you better understand how the business works, learn important tactics, and get advice from industry experts.
We've compiled a list of the best affiliate marketing courses to help you grow as a professional.
What is affiliate marketing?
Affiliate marketing is the practice of promoting another company's products/services for a commission. The affiliate simply finds a product they like, markets it, and earns commissions on every sale.
Who is involved in affiliate marketing?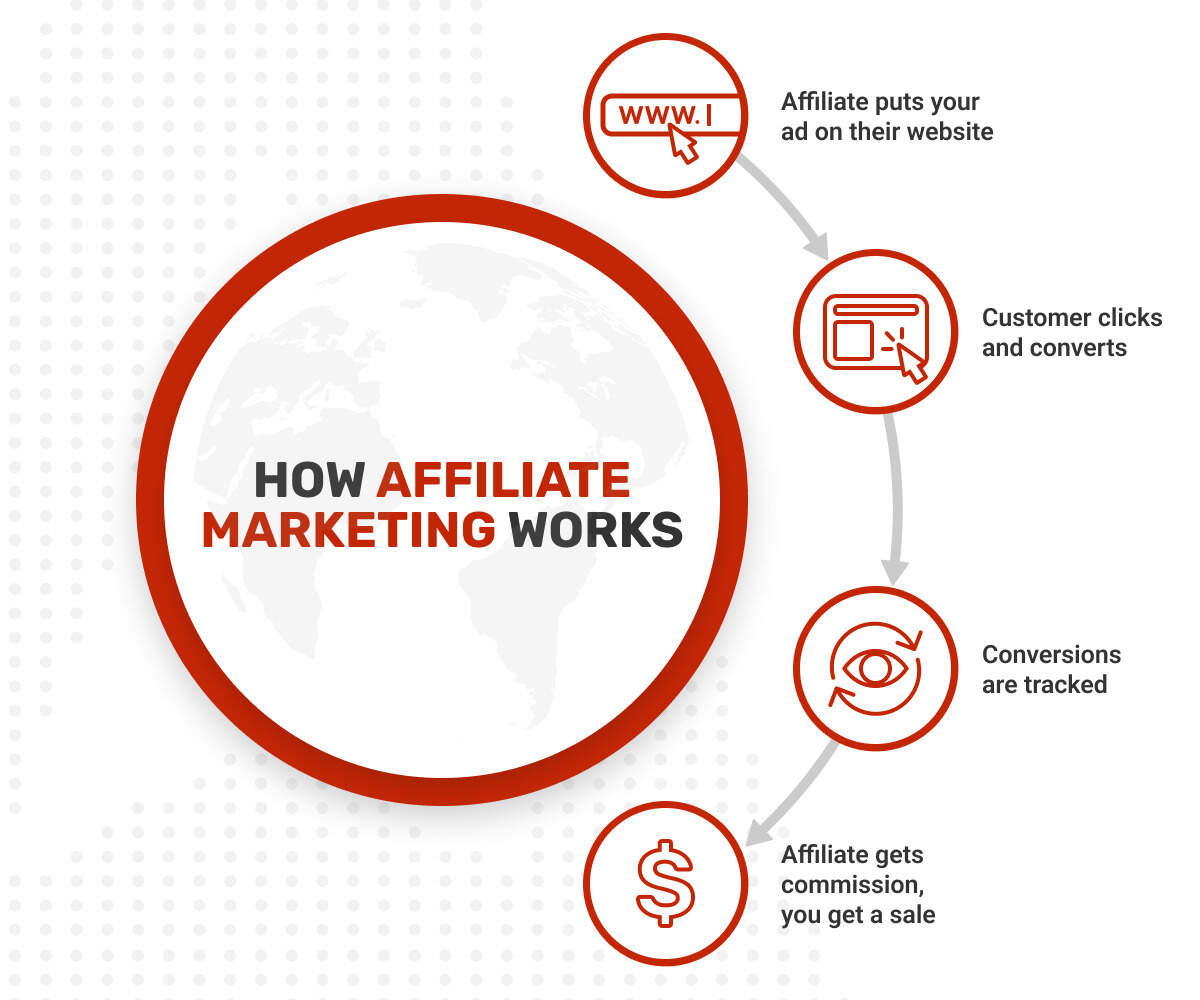 Affiliate marketing involves three parties:
To Contents ↑
Sellers and brands
A seller is a merchant with a product to sell — services like e-commerce store extensions or physical products. The seller or the brand does not have to actively participate in marketing but can be the advertiser and receive revenue-sharing commissions.
For example, an e-commerce vendor may want to expand their business by paying affiliate sites to promote their products. Or the seller is a Saas company that uses affiliates to sell marketing software.
Affiliate or publisher
An affiliate or publisher promotes a seller's product to potential customers. If a customer buys the item, the affiliate gets a percentage of the sale.
Affiliates often promote to a specific audience while addressing their concerns. This creates a niche or personal brand that helps the affiliate attract customers who are likely to buy.
Besides classic affiliate marketing, affiliates often participate in Cost Per Action marketing. CPA marketing is a model where an affiliate earns a commission when a user takes a specific action. These actions include registrations, downloads, filling out questionnaires, email verification, making a first/second deposit. The size of the commission greatly depends on the complexity of the target action. For example, an affiliate will earn less money for app installations, and more money for deposit conversions.
We've discussed CPA marketing extensively in the article: What is Affiliate Marketing and How Does It Work: Beginners Guide
To Contents ↑
The customer
In some cases, the affiliate informs customers that they are compensated for whatever sales they generate. Sometimes, the customer is totally unaware of the affiliate marketing infrastructure behind the product they're buying. However, the customer completes the purchase and receives the product, unaffected by the affiliate marketing system. Products purchased through an affiliate link are priced similarly to a non-affiliated product.
While this guide is about WHERE and HOW to boost your affiliate marketing skills, you will get a set of legit and comprehensive courses right now.
Studying theory alone has never led anyone to large earnings. So you can start practicing traffic monetization while learning the tricks of the trade: earn as you learn, isn't it great?
Join Adsterra CPA Network to unlock premium CPA offers for your ad campaigns
Or register as an advertiser to buy quality traffic for your affiliate marketing activities
To Contents ↑
Top affiliate marketing courses in 2022
We've discovered credible and well-tested affiliate marketing courses online, saving you time and money. These suggestions are based on over 900 hours of buying, researching, and testing affiliate marketing courses, plus lots of student feedback.
You can also read about affiliate marketing forums in our article if you want to know more.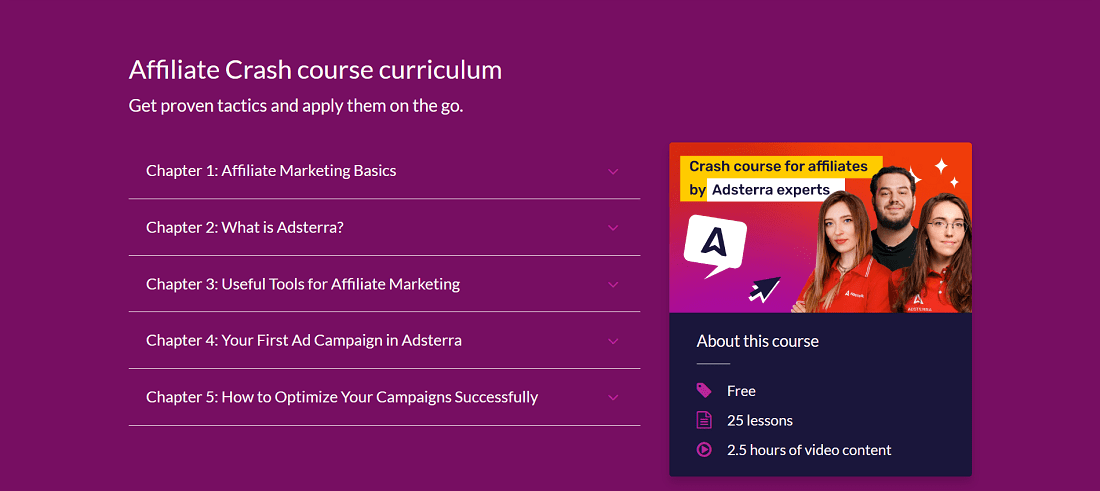 Embrace Affiliate Marketing with 21 video lessons (+ 4 quizzes) by Adsterra top experts.

If you have ever wondered how to make money with affiliate marketing without a website, you've found a perfect place for the start. You will walk through the basics of selecting hot traffic slices, targeting, and scaling your campaigns. Expert practitioners have digested statistics, tracking, and optimization fundamentals.

The Crash Course is packed with video lectures and practice lessons that you can access right now. If you're a beginner, you will have a clear path to your full-time or side career as an affiliate marketer. If you're a skilled marketer, you will get familiar with the best traffic and offer sources.

Get a full-stack starter kit and embrace affiliate marketing faster.
Take advantage of the new traffic sources, verticals, and offer types.
Make a clear plan for growing your internet business.
Enhance your affiliate marketing skills with practical knowledge
Apply actionable tips for growing traffic and scaling your campaigns
Learn what's under the hood of the most robust platform, Adsterra and Adsterra CPA
To Contents ↑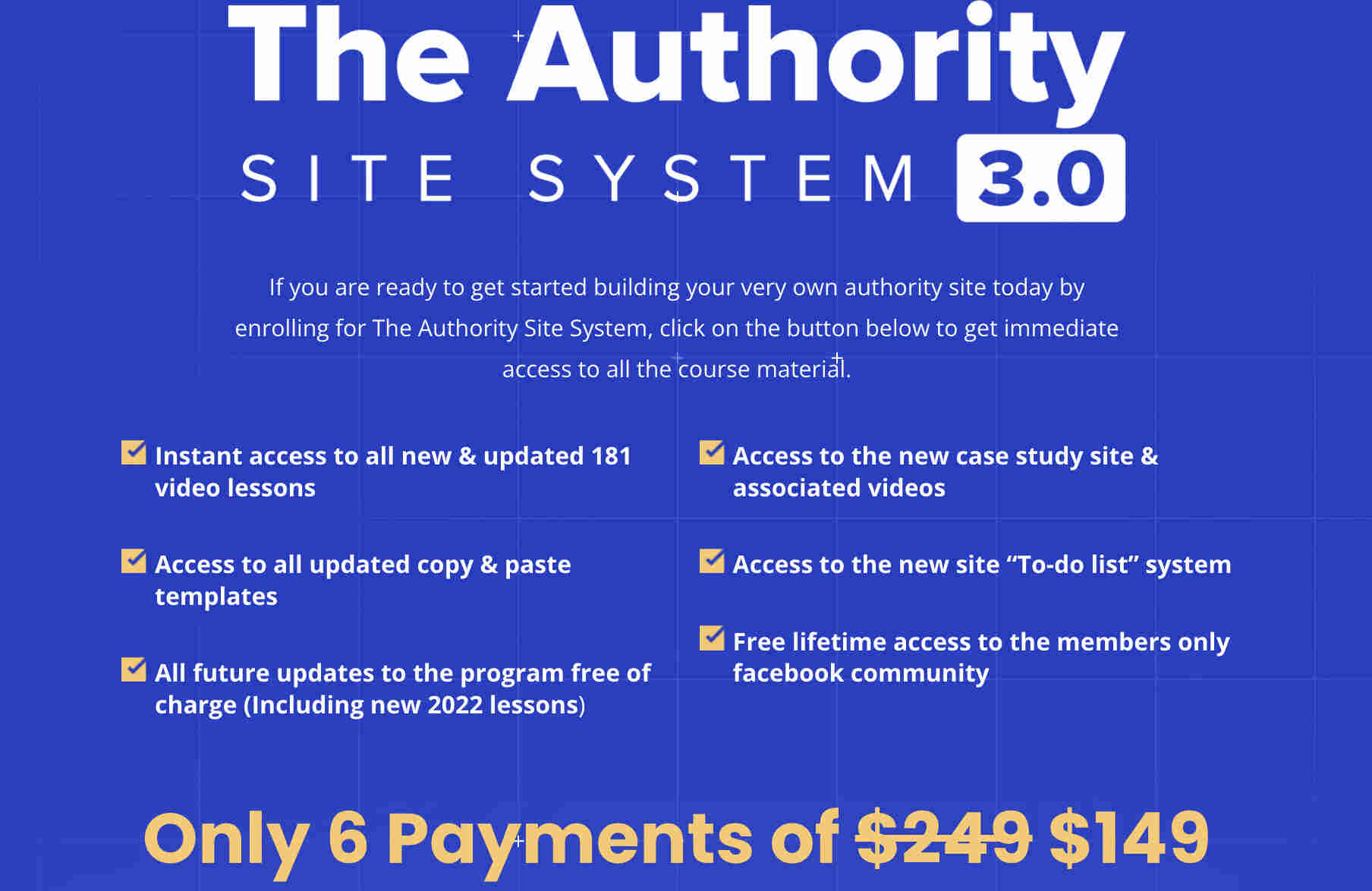 TASS is an excellent affiliate marketing course that teaches you how to create authority websites and generate passive income.
Price: $997 (regular price), $599 (discounted price)
Pros:
Expertly crafted with a track record of success.
There have been a lot of recent student success stories.
They explain why each action is recommended, then show you how to do it step-by-step.
It is updated regularly.
There will be no pushy sales tactics.
Completely whitehat.
A vibrant and supportive private community.
Lessons that combine text and video, making it simple to learn and refer back to.
The course includes a lot of useful templates.
A 30-day money-back guarantee (no strings attached).
There is a one-time entry fee (no recurring payment).
Updated regularly.
Cons
Overwhelming for newcomers.
The Authority Site System (TASS) isn't just one of the best affiliate marketing trainings available; it's also one of the best online courses ever seen on any topic. It was created by a team of popular affiliate marketers who are constantly building their successful websites (i.e., they practice what they preach). That's not to say the Authority Hacker course is flawless, but it's about as good as an online course gets.
To Contents ↑
Matt Diggity's affiliate marketing course, The Affiliate Lab, was launched in 2017. It's a comprehensive course appropriate for both novice and experienced affiliate marketers.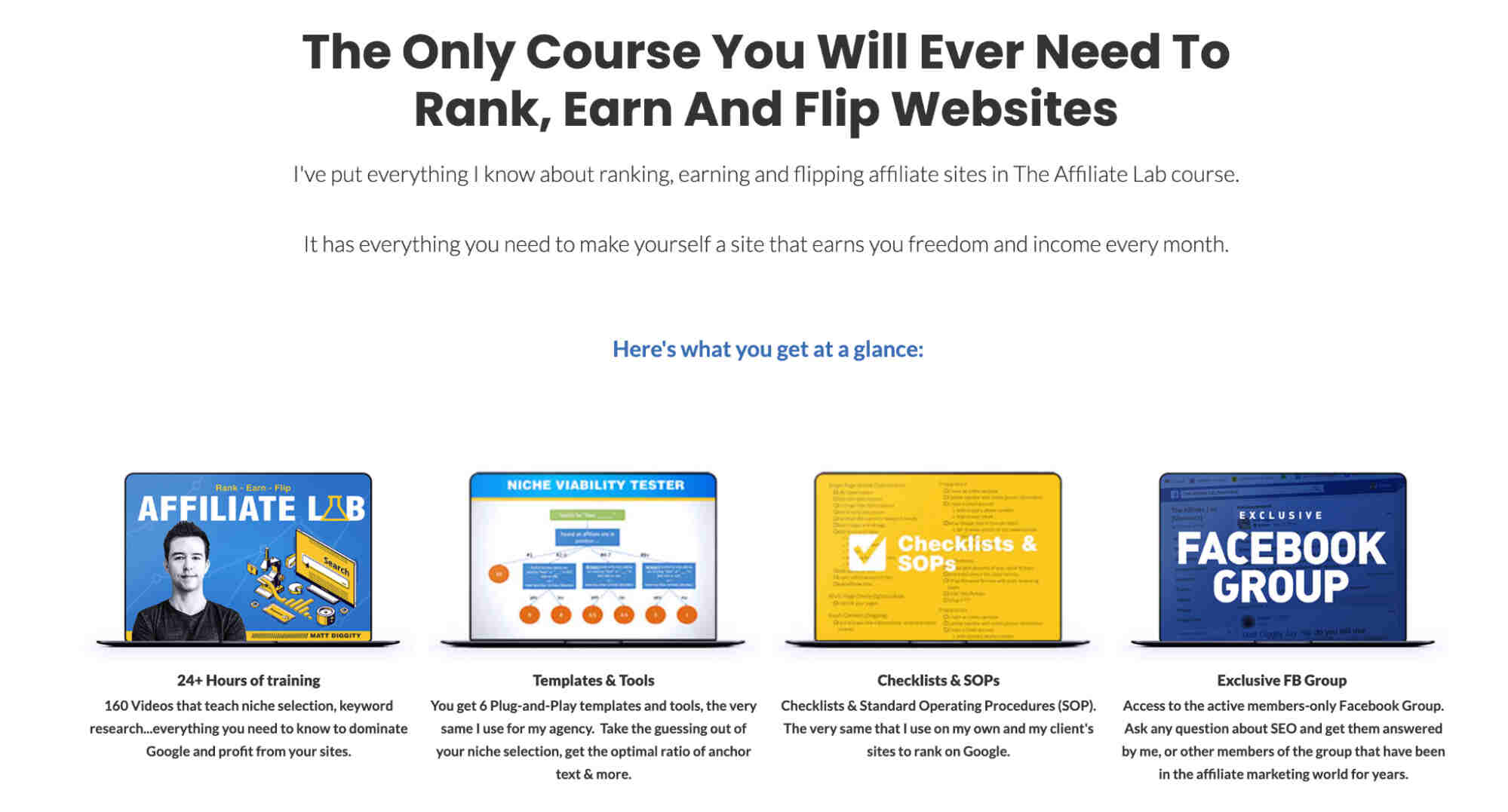 The training covers almost every aspect of building a successful affiliate marketing business, from setting up your first WordPress website to advanced SEO strategies and tactics. More than 24 hours of training are available, and almost every lesson is in video format, with a brief text summary at the end. The two primary trainers are Matt Diggity and Jay Yap.
Pros:
The price is reasonable.
The course appears to be well-liked by most students.
It's easy to find real student success stories.
The training is both practical and thorough.
Students have access to an active and supportive private community.
The training is updated regularly.
You pay once and get access for the rest of your life, as well as free updates.
There are no exaggerated claims or shady marketing tactics.
There are no upsells.
Cons
There are no refunds.
Outsourcing is the main focus of the content creation module.
Some (optional) grey hat SEO techniques are covered in this course.
You'll need a budget to put what you learn from the course into practice, as stated on the sales page.
If you plan to do everything yourself, your monthly budget could be as low as $10-20 or as high as $1000 if you invest in SEO tools and outsource.
To Contents ↑
Project 24 is an excellent course for anyone interested in starting a successful blog or YouTube channel.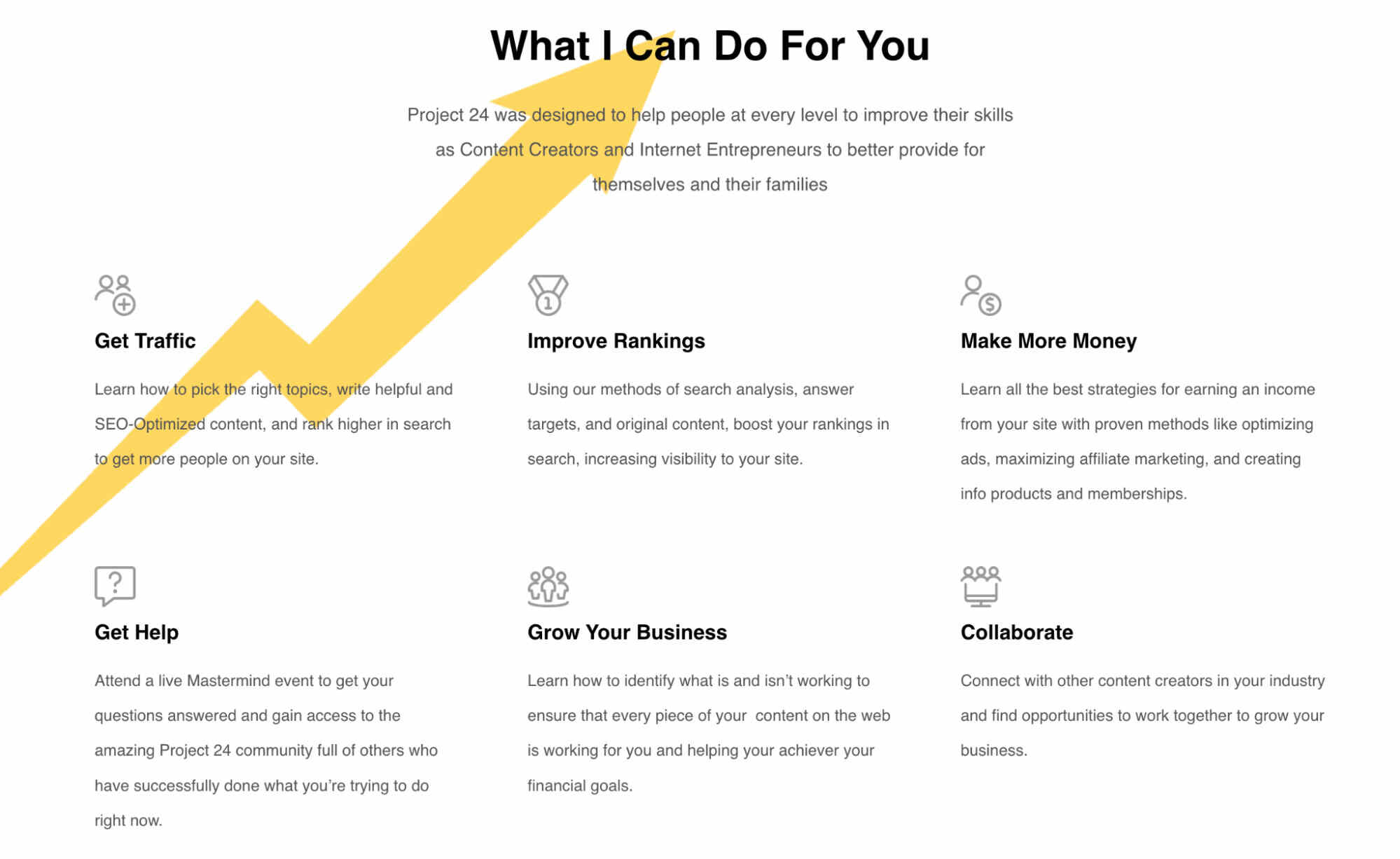 Price: $449 for one year, then $249 per year after that
Advantages
Most students succeed with this course.
Simple, systematic instructions that are easy to follow.
Several courses in one, covering a wide range of topics.
There are no gimmicks or sleazy sales tactics.
Many students enjoy being part of the community.
Additional costs are minimal.
Cons
There are no refunds.
The workload can be difficult to manage.
It is missing some advanced information (e.g., off-page SEO).
There is no mention of expenses other than the training fee on the sales page.
There is no search function, making it difficult to locate specific lessons.
Project 24 teaches a more straightforward approach to creating successful affiliate sites, which doesn't require expensive keyword tools or active link building.
Income School's creators have a proven track record of creating successful niche sites (and YouTube channels), so their strategy clearly works for them.
More importantly, many of their students appear to benefit from the same approach.
To Contents ↑
Digital Worth Academy is aimed at people who are new to online business, but it appears that the training is also appropriate for those with some experience.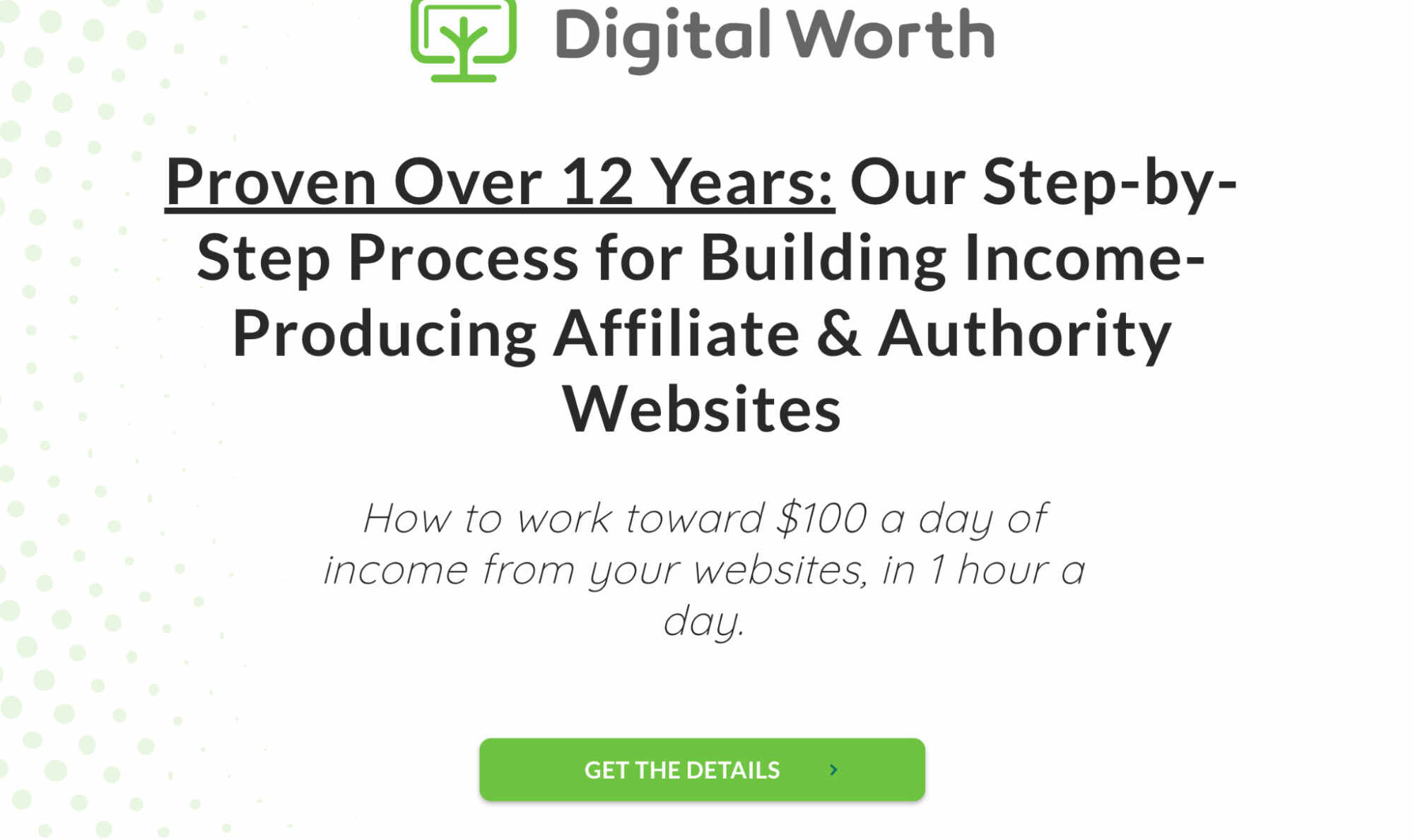 Price: $797 for lifetime access (plus additional costs and information on discounts)
Pros
A dependable business model, with a 30-day refund policy and minimal additional costs.
There's no deceptive marketing.
The training is quite in-depth and covers all of the important aspects of creating a successful authority website.
Cons
It's unclear whether training is still being updated, and there haven't been any notable student success stories in recent years.
Although this is one of the better affiliate marketing courses available, it isn't quite up to par.
One good thing about DWA is how straightforward and realistic they are when marketing the training. They don't promise instant results with minimal effort.
To Contents ↑
Stefan's AMM course is a good place to start if you want a broad introduction to digital marketing. It's worth noting that we used the term "digital marketing" rather than "affiliate marketing." That's because the course covers a wide range of topics, many of which aren't typical of an affiliate marketing course.
Price: $997
Materials for the course include video lectures, documents, and complementary resources.
Overall, we get the impression that AMM training is more broad than deep. As a student, you're likely to learn the fundamentals of various topics related to digital marketing.
Given this, Digital Marketing Competency might be a better name for the program. Affiliate Marketing Mastery has a 30-day refund policy, and we haven't heard of any students who haven't been able to get their money back.
Although a few AMM students appear to be making a lot of money with affiliate marketing, the vast majority of testimonials for the course give little reason to believe that the training is effective.
You can earn five figures or even six figures per month from CPA networks if you become a highly skilled and experienced CPA marketer. So, let's look at some of the top CPA marketing courses.
To Contents ↑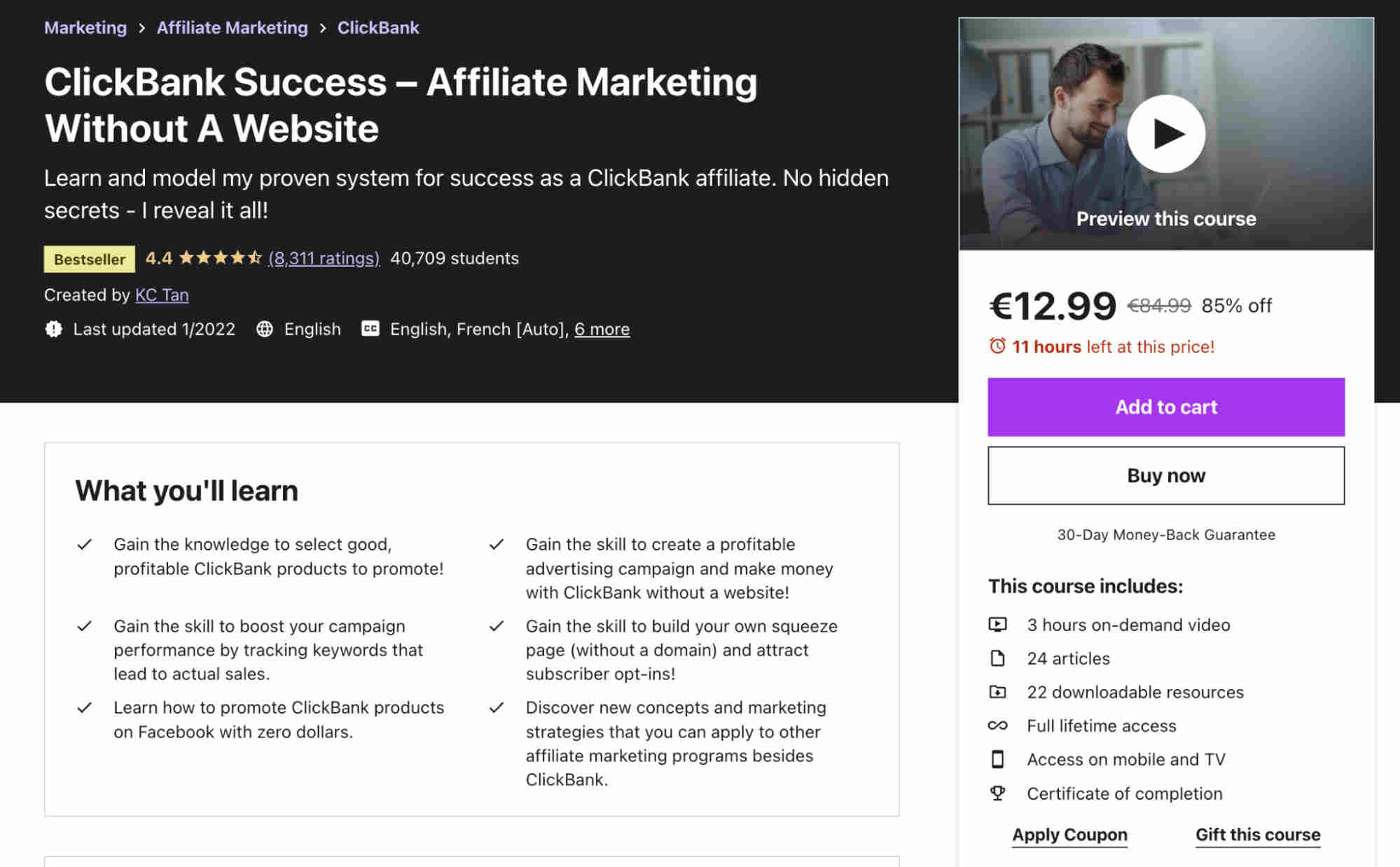 The course includes 3 hours of video on demand, 23 articles, and 22 downloadable resources.
You'll learn how to create a profitable ad campaign and make money with ClickBank without building a website. This course also teaches you new marketing concepts and strategies for other affiliate marketing programs besides ClickBank.
Price: $93
Pros
It covers keyword tracking that lead to actual sales.
Unlike most courses, you'll learn how to create a squeeze page (without a domain) and how to get subscribers to opt-in to your email list.
Cons
Some students believe that the courses has not been updated since 2014.
You'll need to invest $1-$5 per day for "online marketing purposes".
Supplementary tools are available in the course, but they are not free.
To Contents ↑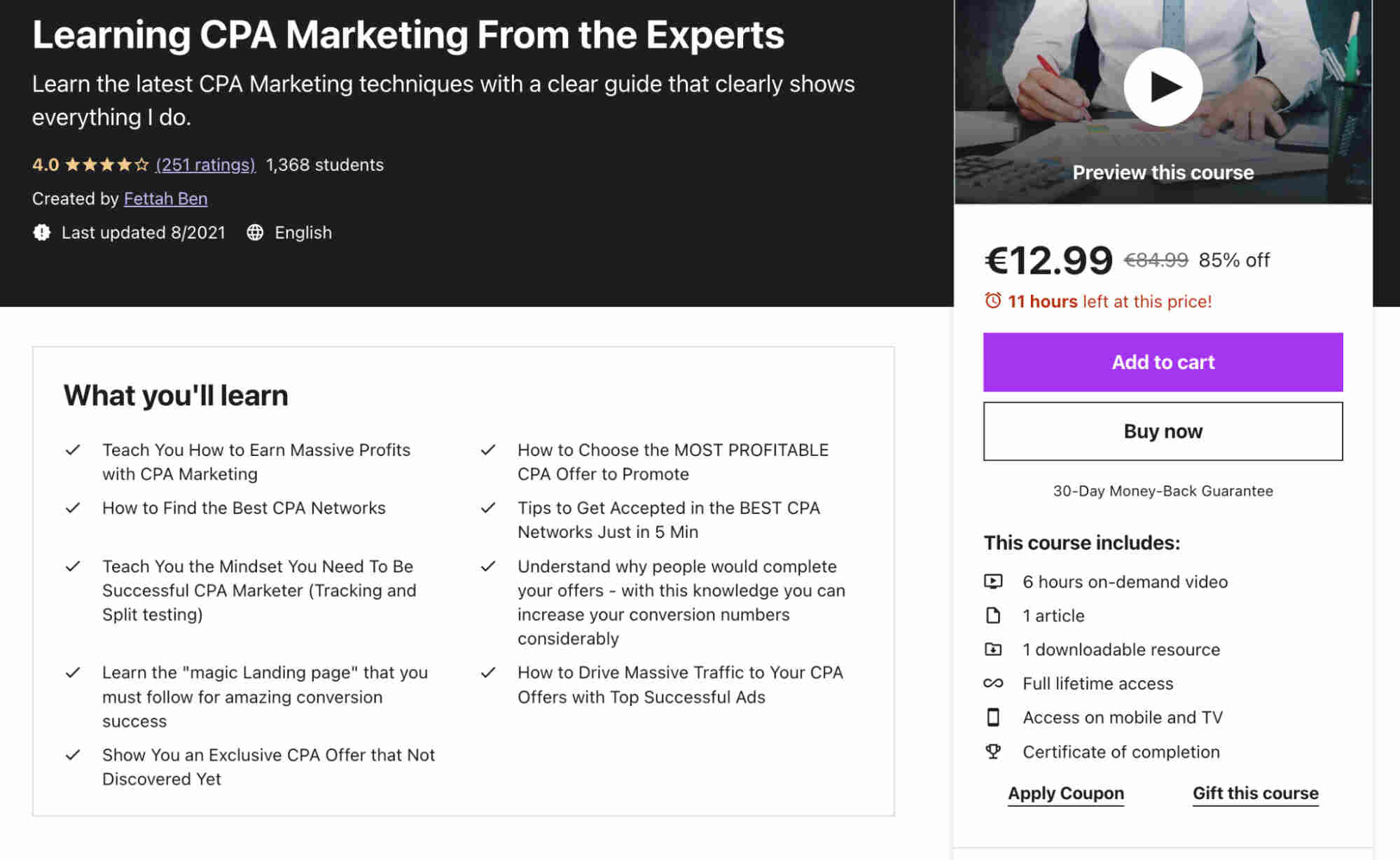 One of the most recent CPA marketing courses is from Fettah Ben, a Microsoft Active Directory Federation Services expert. This course will teach you the latest CPA marketing techniques with a step-by-step guide. It includes a 6-hour on-demand video, an article, a downloadable resource.
The course covers how to get hidden offers from CPA networks. You'll also learn 5-minute tips to get accepted into the top CPA networks and how to choose the most profitable CPA offers to promote.
Over 1300 people have taken the course, with an excellent rating of 4.3/5 from almost 250 reviews.
Price: $93
Pros
Most students succeed at CPA marketing with this course.
Instructions are easy to follow.
Covers a wide range of relevant CPA marketing topics.
Cons
Some students feel $93 is too expensive for what the course offers.
To Contents ↑
Five warning signs of affiliate marketing course scams
Is it shocking to say that the internet is full of scams? If you're looking to invest in an affiliate marketing course, you'll undoubtedly be inundated with choices and even more fake, overly enthusiastic reviews. They employ a team of affiliate partners promoting their course online, as with most affiliate marketing courses (and making commissions on your membership fees).
Here's a quick rundown of what to look for (and avoid) when choosing an affiliate marketing course:
Achieving real affiliate success
There isn't any proof that the instructor is a successful affiliate. Someone who has put together and teaches an hour-long course should obviously be good at what they preach. Genuine numbers/earnings stats, screenshots of their (recent!) profits, if they list actual sites they've built, use a tool like Ahrefs to see if those affiliate websites actually get traffic.
Fake testimonials
Nothing is perfect, so don't listen to the super-amazing, years-of-experienced affiliate marketer on YouTube who has already made thousands of dollars. To promote a fake course and make money, many people online will pretend to be far more successful than they are in reality. Be cautious when reading feedback on specific courses. It's good to look at reviews from several sources, not just Google.
Outdated content
Avoid courses with outdated content. Sure, any given course might have been a fantastic resource ten, five, or even two years ago. However, if that course hasn't been updated, going through it will be a nightmare. The advice could simply be incorrect or invalid at this time. Second, the screenshot, image, and video tutorials will not resemble the platforms you're currently using. Third, if only a portion of the course is updated, it will be a confusing mix of old, new, and in-between content.
Success stories from students
Look for testimonials from current or former students who have had genuine success. How do you know if the feedback you're getting is from a student who actually got something out of the course? Keep an eye out for measurable statistics such as how much more money they made that month/year, how their campaigns improved, or how much traffic they received. Furthermore, it's even better if they have (dated!) screenshots to back it up. Overly generic reviews don't reveal a course's true worth.
Tools & upsells
There are far too many upsells and costly tools required for the course. Of course, you must consider your budget when making this decision. I'm not saying that extra tools aren't useful; however, if you've already paid a lot for a course and still have traffic and campaigns to test, you probably don't want to spend hundreds more on tools.
How to become an affiliate marketer
Pick a niche
Every affiliate marketer has a target audience they try to influence. But being greedy and trying to speak to too many niches can lead to ineffectiveness. Identifying your target audience is the first step in affiliate marketing. Succeeding in the wrong niche can be pretty tricky.
So how do you find the best niche for you?
To begin, take a quick self-test. As an affiliate marketer, you must be a reliable advocate for a product or brand.
Start by asking:
What do I care about?
Do people look for my niche?
Will my niche's demand be stable?
Is my niche highly competitive?
Are there affiliate programs in my niche?
These are the questions that will determine the success of your affiliate marketing campaign.
To Contents ↑
Evaluate market demand
It's also vital to assess your affiliate niche's market demand. This will help you identify products/services that consumers are willing to pay for.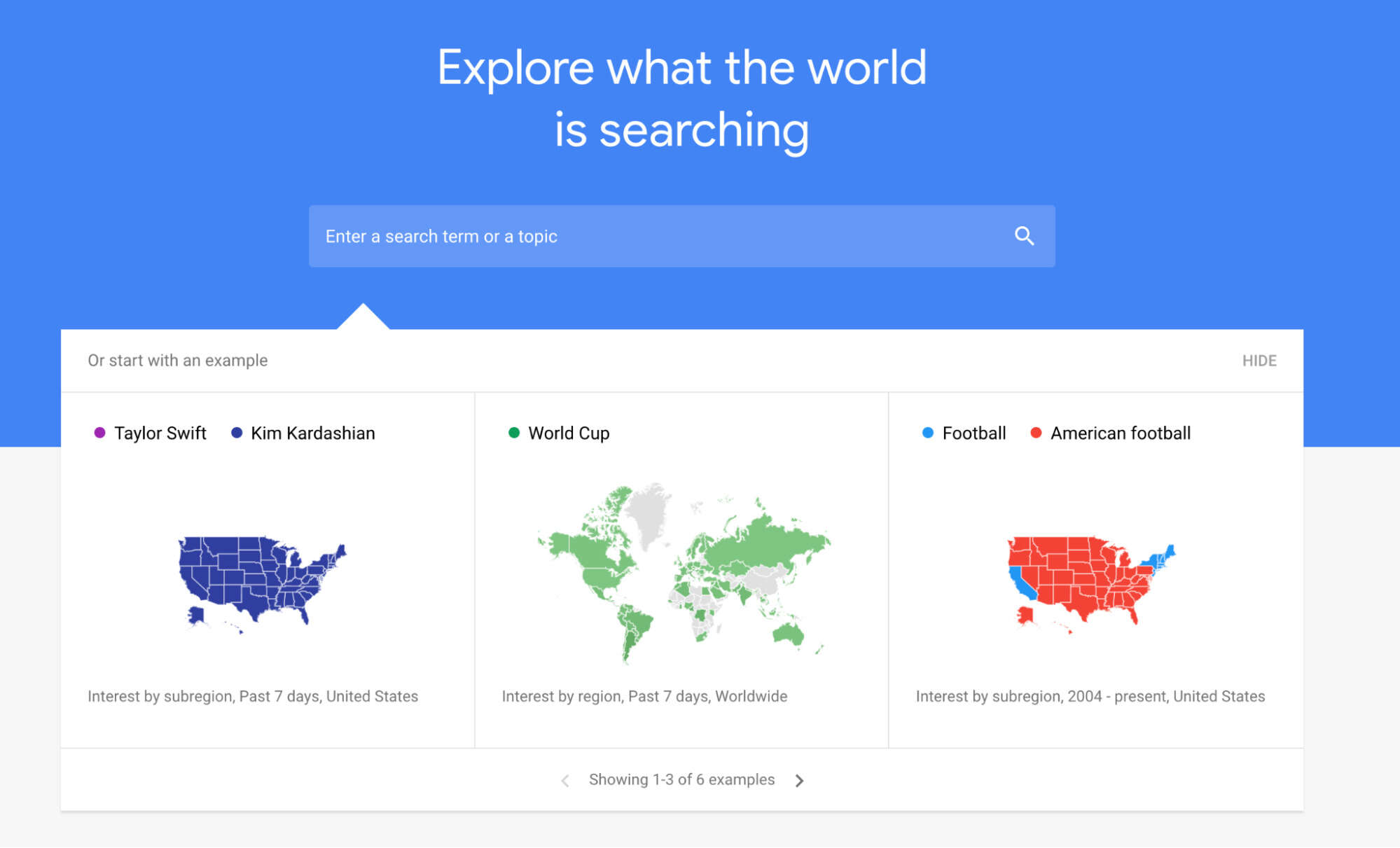 Google Trends is usually the best tool for assessing product/service demand. Test the demand for your proposed niche by plugging it in. Many affiliate marketing niches have moderate consistency, with seasonal spikes in demand.
To Contents ↑
Analyze your competition
The next step is to assess the competition in your chosen niche. For example, you can use Ubersuggest to see how competitive certain Google searches are.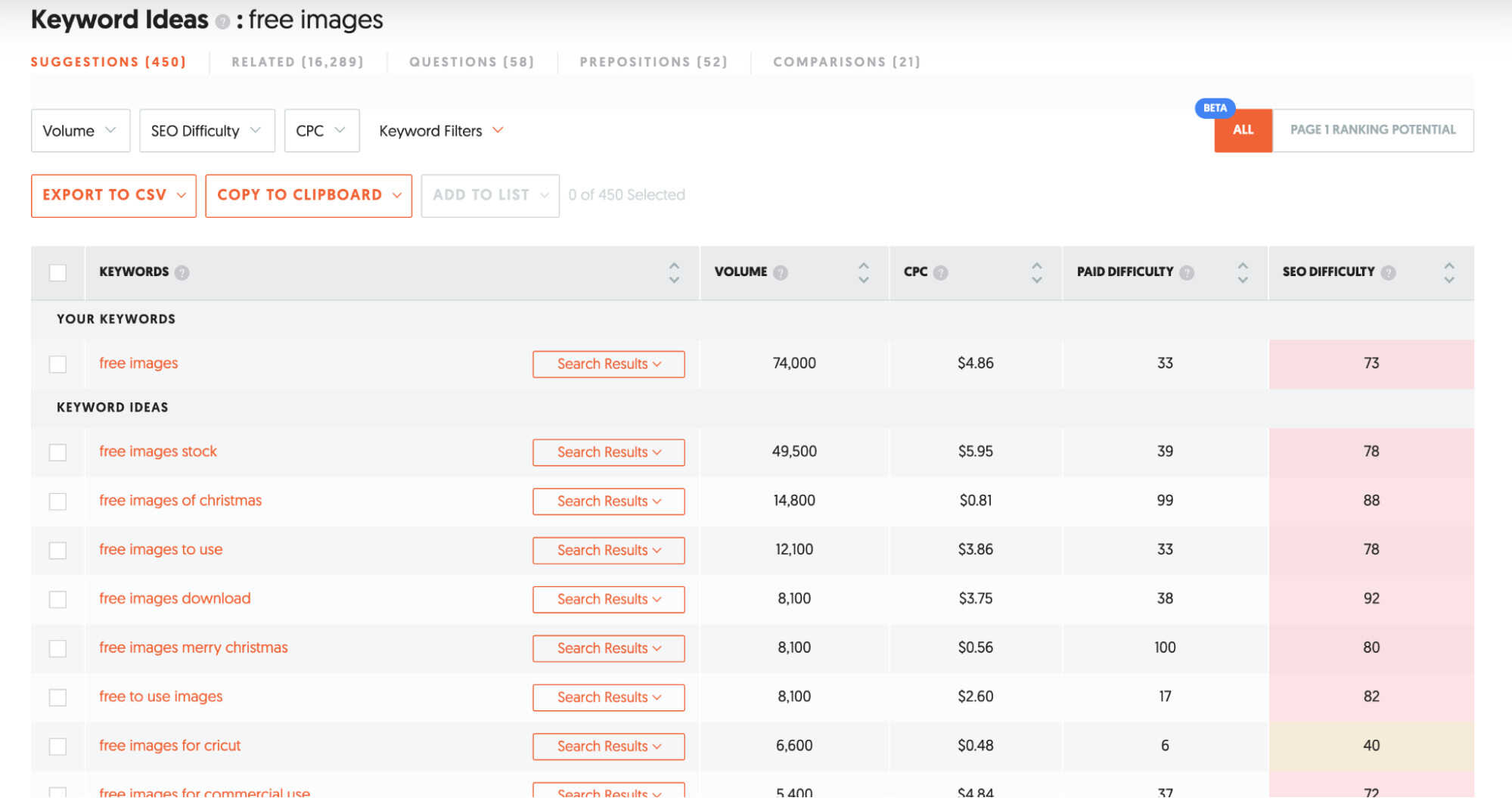 With a few clicks, you can see who your competitors are and a list of related searches and their competitiveness.
The second option is using a service like ClickBank. Select the Affiliate Marketplace option and then enter a search term on the home screen. In the example above, we highlighted a section called Gravity in the search results.

On ClickBank, Gravity is a 100-point scale that measures how high demand is for a product. The lower the Gravity, the more difficult it is to sell that product.
Combining these methods should give you a good idea of how well your chosen niche will perform. Too much competition and not enough demand can lead to disaster, so be cautious.
To Contents ↑
Research affiliate programs
After deciding on a niche, research which programs can help you promote products in that niche. This is where you go in-depth on becoming an affiliate marketer. Affiliate marketing programs help advertisers and affiliates connect because finding each other can be difficult.
Here's an essential checklist that you should consider before proceeding with any program.
Which brands use the affiliate program?
How much commission will your program generate?
How does the program offer support to affiliates?
Remember that this is another crucial step in your affiliate marketing career. In other words, your program helps you form profitable partnerships.
To Contents ↑
Pick your affiliate marketing method
Two popular affiliate marketing strategies are:
Making websites like blogs or marketplaces.
While there are debates over whether or not affiliates need a website, there are so many benefits that it is almost pointless not to create one.
Websites can help you succeed with low or high-commission affiliate programs. Plus, having your own affiliate site is a great resume builder for future affiliate marketing jobs.
There are many competing opinions about which option is best when searching for ways to build a website. Is it better to use a free service like Wix or WordPress.com or create your own using a hosting service?
However, you must look for a host that provides reliable service and a positive overall experience.
To Contents ↑
Create and publish content
The phrase 'content is king' is often used in marketing, and for a good reason. As this blog post shows, valuable content can be simple to deliver. But how can you create content that will help you stand out as a reliable affiliate marketer? Even if you have a great niche and a great website, you need to build an audience.
You have many options when it comes to content creation. While this is primarily a matter of personal preference, affiliate marketers are familiar with at least three good starting points. We'll look at each one in turn.
Reviewing products and services in their niche is an effective content strategy. This is a good place for brands to start looking for customer-converting product reviews. It can be a great way to earn money and transition into affiliate marketing when done correctly.
Like product reviews, blog posts are a great way to build trust and establish yourself in your niche. More importantly, as you learn to become an affiliate marketer, blog posts can help you increase sales. Addressing common questions or issues in your target market will prepare you to make recommendations later. Consistency is key when writing blog posts. You must post regularly and maintain a consistent tone that offers valuable advice to your readers.
Finally, you can create an informational product to use as a hook to entice people to read more of what you have to say. Like the previous two content types, helpful guides can increase sales and put more money in your pocket. Any type of comprehensive, in-depth look at a topic is acceptable. If it's accurate and useful, you'll gain trust in your niche. Eventually, you can use this technique to build interest in the affiliate product you sell.
To Contents ↑
Conclusion
The best affiliate marketing course for you entirely depends on your level of experience, comfort with initiating the process, and available resources all factor into the decision.
Choose the program that is most appropriate for your circumstances. Most of the options carry little risk because they are all backed by money-back guarantees.
Whichever one you choose, immediately put the lessons into practice. Additionally, many of the programs include mastermind groups and office hours. Receiving customized feedback can mean the difference between success and failure.