There has never been such a pivotal moment on the market. AI is about to disrupt the basics of affiliate realms, making it almost impossible to keep the leadership without dramatic changes. We at Adsterra believe that changes bring tons of opportunities, and it's a matter of choice whether to give up or rule this raging hurricane. This March, we're going to showcase our best hacks at Affiliate World Dubai 2023, the leading insight-booster event in the industry. Are you coming?
---
Dates: March 1–2, 2023
Venue: Dubai World Trade Center
Location: Dubai, United Arab Emirates
Booth: D24
---
What to expect from Affiliate World Dubai 2023?
It won't be an exaggeration to call Affiliate World Dubai 2023 a lighthouse in a stormy sea of trends. One of the most influential affiliate gatherings, it will bring together visionaries, adtech evangelists, and marketing pros from all over the world. They come here with progressive, mastermind content and data-driven strategies that will fast forward your business to higher profits. If you feel this wind — if not a hurricane — of changes coming, you need to be here and absorb every single insight.
Adsterra experts at Affiliate World Dubai 2023
Our crew will land in Dubai to rock at the expo and on stage. Whether you have queries about advertising techniques, RTB tactics, CPA offers, or cross-promo, you will find the right expert to have a chat. We'll be happy to meet you at our booth D24.
Arthur Galiev, Head of Sales
Julia Ogrodnichaya, Business Development Team Lead (Advertisers)
Alexandra Kalinovskaya,CPM Advertising Manager (Advertisers)
Amalia Kulidzhanian, CPA Advertising Manager (Advertisers)
Inga Yurchenko, Team Lead at Adsterra CPA Network
Sofia Popovidou, Event Manager
Daria Babiak, Head of RTB
Catherine Tarasova, Head of PR (keynote speaker)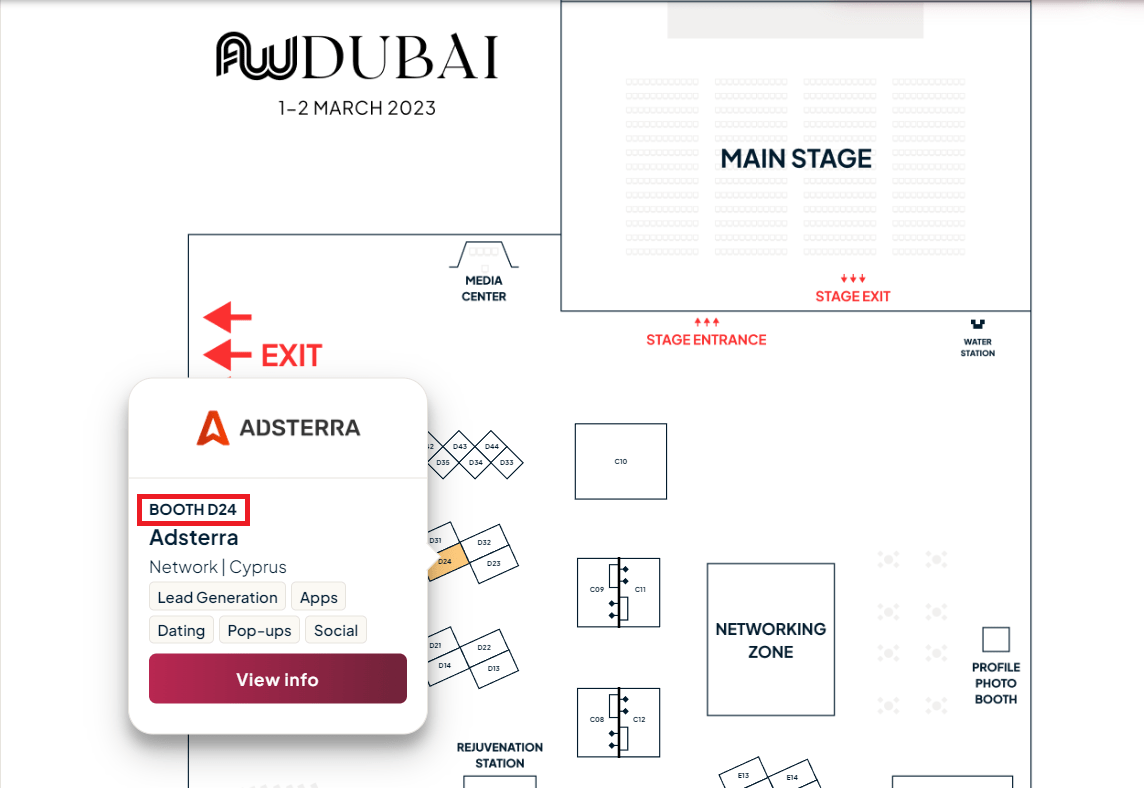 Embrace new strategies at Affiliate World Conference
Networking has become a buzzword these days, but not at AW Dubai. You will experience eight high-class niche-specific Mixers and connect with fellow thinkers at several networking events and parties.

The business part will be saturated with first-hand advice and takeaways you can try right after returning to the office. All forms of professional content to amp your achievements in 2023 and further on: keynote speeches, panels, expert talks, and case studies. The whole event is centered around several tracks so that you can pick the most vital for your job.
Affiliate Marketing in the Middle East Track
Future of Affiliate Marketing Track
Facebook Ads Track
Native Ads Track
Ecommerce Track
TikTok Ads Track
Plus, Affiliate Marketing's Hottest Topics
5,000+ attendees from 110+ countries have made their choice. We're not urging you to be among them. We encourage you to become an irreplaceable part of this impressive gathering.

Take advantage of 20+ hours of expert-level content delivered by keynote speakers and thought leaders in affiliate marketing.
Reserve your seat at top speeches recommended by Adsterra
How to Get Quality Traffic From an Ad Network in 2023
---
Catherine Tarasova,
Head of PR at Adsterra
March 1st, 2023
Breakout Stage
2:40 PM
---
To begin with, here is our special recommendation — a deep dive into the best tactics for buying traffic from a global ad network. Our star speaker, Catherine Tarasova, will walk you through critical, workable, yet very genuine ways of acquiring massive traffic.

Catherine's expertise embraces PR, influencer marketing, and affiliate marketing practices. She often says affiliate marketing is like love: you won't share your time with someone you don't care about. So if you're into affiliate marketing, you should give all your love to conversion tracking, bidding, and traffic testing.
Catherine's key topics
Why choose a non-mainstream ad network?
CPA Goal: Rules-based campaign optimization
Smart CPM: Automated bidding with spending control
Custom Bid: Interception of the best-converting placements
Social Bar: Display ads turbocharged with 10–30% CTR
How to Leverage ChatGPT and Generative AI to Launch Campaigns 10X Faster & Rank #1 For All Keywords
---
Iman Bashir | Nicole Lytle
Founder & CEO | Co-Founder
Craftly.AI
---
Google SEO or generative dialog models? What if you could profit from both? We're expecting this speech to be hugely insightful. Iman Bashir and Nicole Lytle will reveal her authentic strategy to make your keywords rank at #1 in weeks.
The Unfair Advantage: Learn How to Leverage Narrative Ads to Drive 582% YoY Growth With Ecom Offers
---
Jordan Menard
Founder & CEO,
Motif Digital
---
The next must-see presentation is about narrative ads on Google and Facebook. Storytelling is something affiliates should be gurus in. We hope Jordan Menard will share his best hacks for creating truly engaging content that keeps converting users and maintaining great ROAS.
The Unfair Advantage: Learn How to Leverage Narrative Ads to Drive 582% YoY Growth With Ecom Offers
---
Phoenix Ha
Director of Paid Social,
National Positions
---
The cookieless future is around the corner. With more and more regulations to be implemented in 2023 and 2024, affiliates and ad networks develop in-house solutions for collecting data. That's why we expect this speech by Phoenix Ha to become a revelation. She has developed a perfect team structure and achieved 141% revenue growth by utilizing first-party data.
If you still hesitate…
2023 is going to be the year of decision-makers, not slow-thinkers. With workflows and tactics underpinned by artificial intelligence and new customer behavior patterns, you need to have actionable techniques at your disposal to stay afloat. No, you need them to ramp up your profits and break into new marketing niches! Adsterra can lift you to a higher level with both evergreen and innovative methods.