Gone are the times when you had to wait days till admins approved your CPA network account. Both newbies and pros need a high-paying CPA platform that is easy to join, manage, and get payouts from. Well, you've got one! Adsterra CPA Network prioritizes your success and can help boost your profits by sharing preselected offers from reputable advertisers who pay well.

Today, you will get a grasp of how to turn a profit with our platform while taking a short tour of some revenue-boosting features inside.
Why add Adsterra CPA Network to your affiliate arsenal
Discover up to 200 trending CPA offers with a proven conversion track record.
Enjoy high conversion rates of up to 10% and great payout rates.
Get superfast and risk-free payouts with a minimum starting amount of just $5.
Rely on 24/7 expert live support available to every affiliate.
Traffic accepted by the CPA platform
Affiliates can monetize almost every type of traffic. Our advertisers accept:
Organic or SEO traffic from Google and Bing
ASO traffic
Ad networks (Popunder, Push, Native, Banners)
Social (Facebook, TikTok, Instagrem, and other social media)
PPC
In-app
Let's jump on board now. In the next part, we will go through the main steps of registration, offer selection, and tracking settings.
To Contents ↑
How to join Adsterra CPA Network
As you might have guessed, it all starts with registration on our CPA platform.

You can find the signup form on the official website, or by following this link https://beta.affiliates.adsterra.com/signup/

Here you need to fill out all the fields. Don't worry about the payment system — you will be able to choose another one after the registration. When finished, click the SIGN UP button.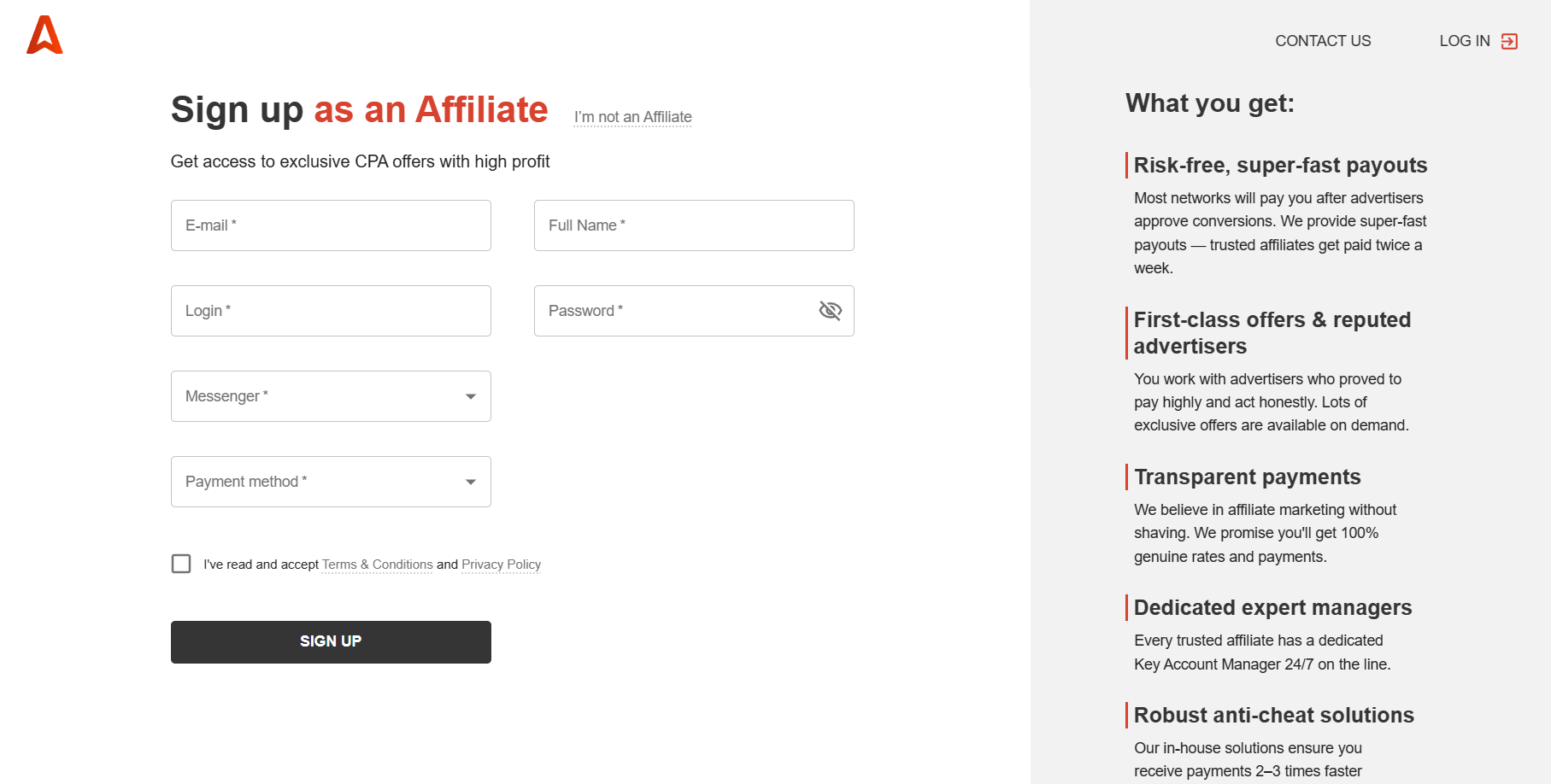 The email confirmation page appears, asking you to check your inbox and verify your email to proceed with the registration.
Please check your inbox and find the "Complete registration" letter. You might need to check the Trash or Spam folders if you can't find the email. You can also use the RESEND button (see the screenshot above.)

Find the "Complete your registration" email and click the CONFIRM EMAIL button.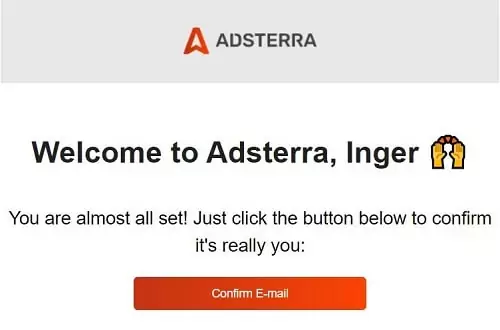 In the final step, you need to wait until the Sign-in page downloads. Please enter your login and password, and … that's it! You're in!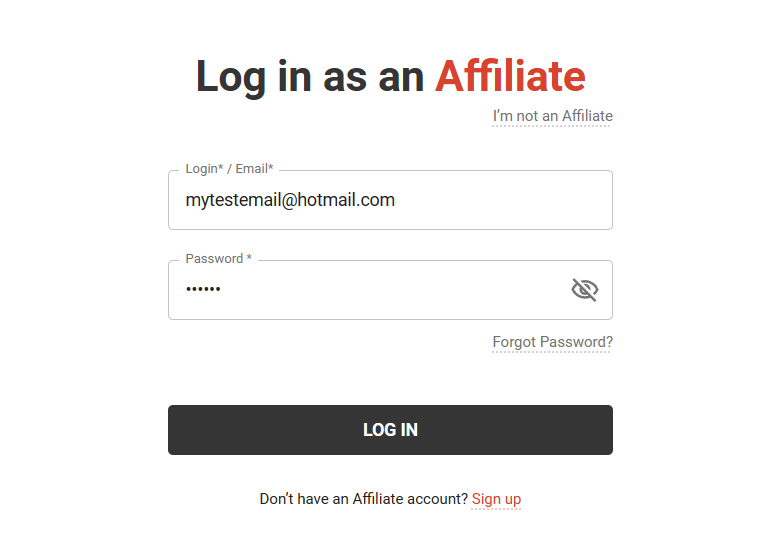 As you can see, that's one of the easiest-to-join CPA networks that you can register to right now. Now let's take a look at some vital and time-saving tools and settings inside the platform.
To Contents ↑
Where to find highly-rewarding affiliate offers?
After you sign in, the Network redirects you to the main page of your account. It's the Offers page where you can look through all public offers, filter, save them, and get links to use in your advertising campaign.

First, check the filters available. They allow for the fastest offer search. You can select offers by:
Vertical
GEO
Offer tags (exclusive, private*, new, top)
Conversion type (CPL, CPI, CPA, Revshare)
Offer ID
Select multiple items from each filter list, but make sure you remove the unnecessary ones when you don't need them. Click RESET FILTERS to return to the default offers' set.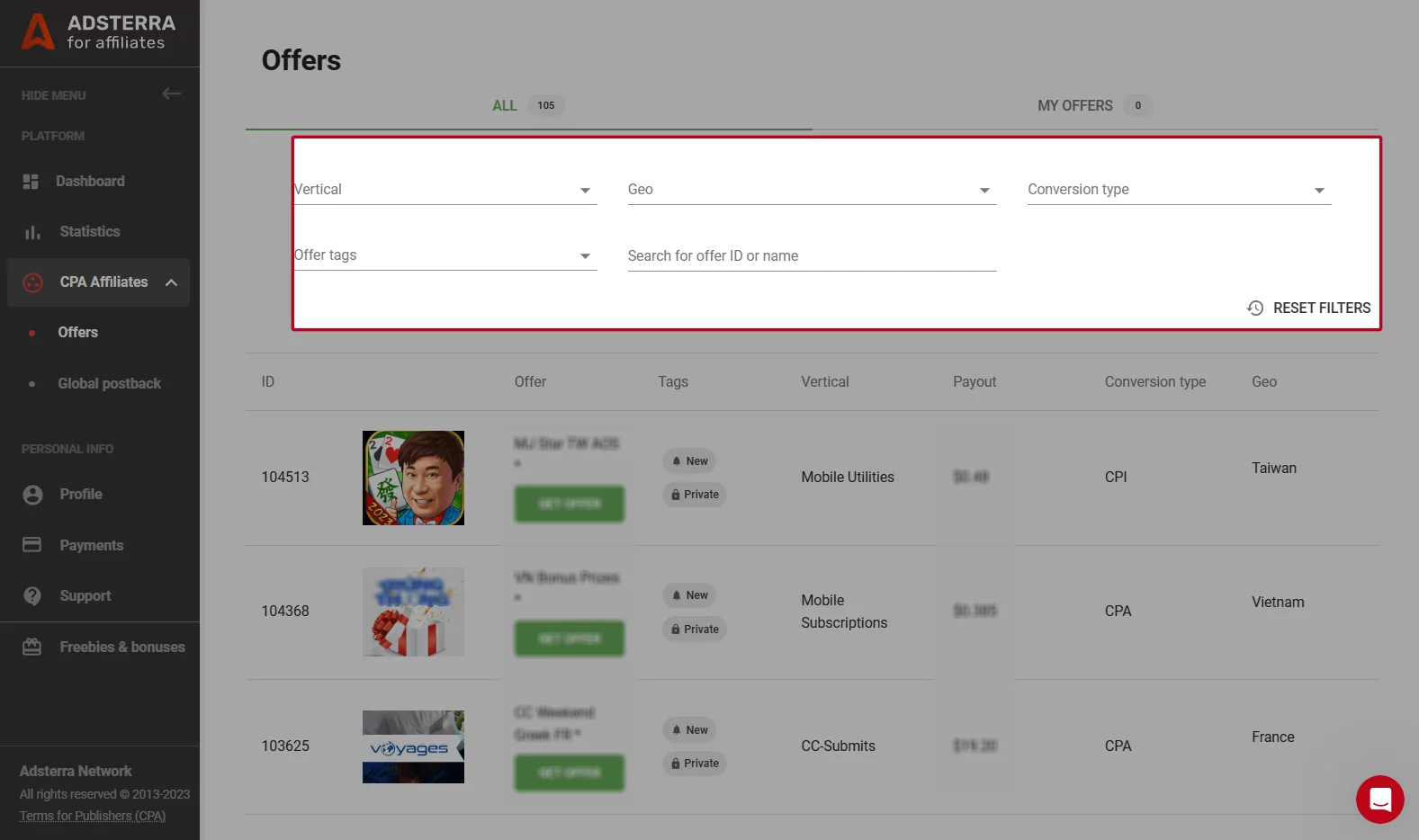 * While public offers are available instantly, private offers require some additional confirmation. Apply for a private offers by clicking the Request for a Link button. Usually, applications are reviewed within an hour, but sometimes you will need to wait a bit longer. Our managers will ask you to provide:
1. Creatives

2. Traffic sources

3. Ad unit

4. GEO

5. Device format

6. The image that will be used itself

IMPORTANT: To receive a faster approval, please paste this information in our online chat after requesting a private offer link.
To Contents ↑
How to get offers from the CPA Network
Read through the descriptions and select the offer you think you will succeed with. With public offers, you get the link to advertise immediately. Let's dive a bit deeper.

Click the GET OFFER button on any public offer and look through the requirements. 

First, check the general information and read through the restrictions. Here you can also look at the offer's preview, find whether it comes with a pre-lander or not if you're allowed to add creatives or not. Vital is the conversion flow you will need to comply with to get paid. It may be pretty simple as an app install or "1-click", or rather complex like a deposit.

On the vertical Geos and Goals tab, you see how much the advertiser is ready to pay for conversions and what type of conversion you are going to deal with.

You also see the list of GEOs whose traffic is accepted. With multiple GEOs allowed, you can see the payouts differ from country to country.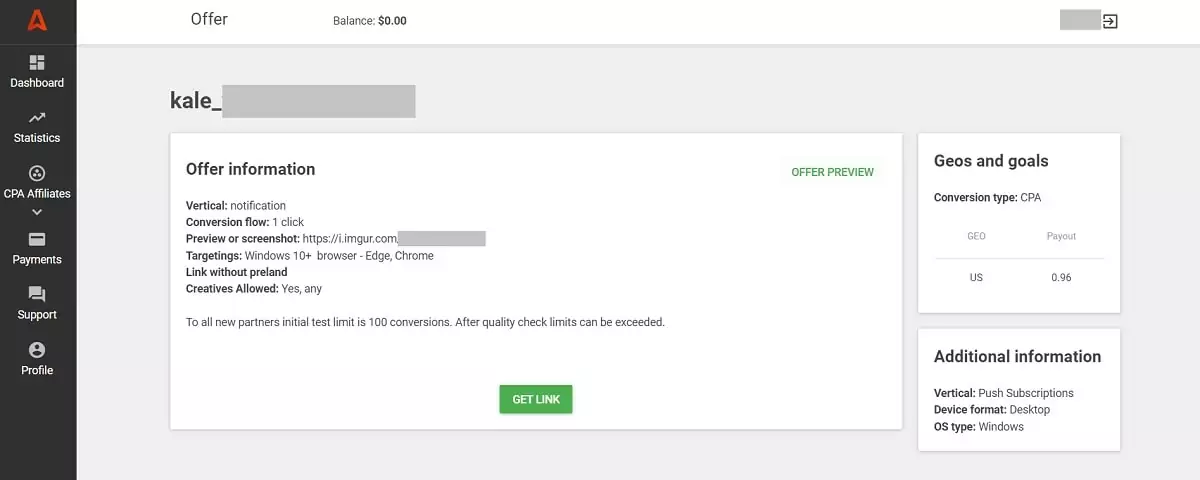 After clicking on the GET LINK button, you can copy the offer's link to start advertising on your traffic source. But generally, affiliate marketers use tracking systems to manage all conversions and control spending. Thus, they operate with Postback URLs and tracking tokens. Affiliates also profit from backlinks that protect them from budget losses. Let's take a look at those parameters a bit closer.
To Contents ↑
URL parameters, Postback and Backlink URLs
URL parameters
Right under the direct link, you see four empty fields. Although one can copy the offer's URL without adding any parameters, those who use trackers will definitely need them.

You should take the 'click_id' parameter from your tracker and paste it to the first field. This one is a must for conversion tracking as it sends information about users' clicks.

Trackers have unique names for "click_id" parameters; you will encounter "sid," "subID," "click_id," "cid," and all sorts of variations. So first off, find out how your tracker defines the "click_id" and then paste the parameter into the first field.

Once done, you will need to copy and paste your offer's link with the "click id" added to your tracking system.

Now let's scroll down till the Postback URL settings.
To Contents ↑
Postback URLs

Postback URLs allow for informing your tracker about each new conversion. When the conversion fires, postbacks send this data to your tracking system. This is vital for keeping your spending and revenues under control.

To work with the Adsterra CPA offers, you will first need to generate the Postback URL on your tracker and paste it, adding "=##S2S##" token after the "click_id." You already have the "click_id" value copied from your tracker by this time. Now just paste it as is adding "=##S2S##"

Here is an example. This could be a Postback URL taken from your tracking system.
https://tracker.com/832/postback?subid=clickid&payout=payout

You will need to manually replace "clickid" with "##S2S##", just like that:
https://tracker.com/832/postback?subid=##S2S##
If you want to track payouts, add "##PAYOUT##" to the Postback URL.
https://tracker.com/832/postback?subid=##S2S##&payout=##PAYOUT##

* Each tracking system provides you with its unique documentation and workflow, so please read all instructions carefully as the sequence of events may change.
** Trackers empower you to set up conversions limit, which is more than helpful when you're on the test period. On Adsterra CPA Network, advertisers usually limit the initial number of conversions. On your tracker, you can set up this limit to protect yourself from overspending if you surpass the conversion number.
To Contents ↑
Backlinks
Imagine that you started sending traffic that does not match the initial offer requirements. Instead of losing money, you can monetize this traffic by redirecting this traffic to another page. That's what the backlink is for.

Backlinks are fallback URLs that will help you earn on traffic that don't match the initial offer targeting. You can find the field for pasting your Backlink URL rignt after the Postback section.

To Contents ↑
Global postback and backlink URLs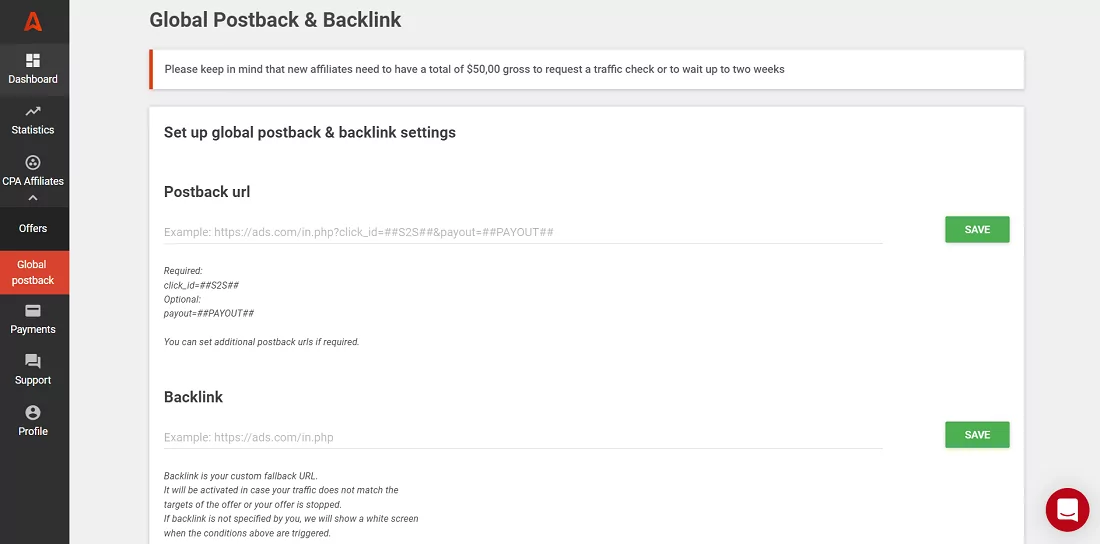 The CPA platformmust be easy to join and operate, but you won't go far if you don't have tools that would reduce manual work and save your money. Here's why Adsterra CPA Network provides you with a Global postback and backlink setup feature.
To open the page, click CPA Affiliates → Global postback tab on the vertical menu.

It's pretty harsh entering the Postback and Backlink URLs each time you request the offer's link. You can set up the default one for all the offers you run: precious minutes save precious dollars 🙂

The Adsterra team has also rolled out multiple postbacks, a truly time-saving feature for versatile campaign tracking. Now you can simply add all postback URLs on the offer's page.
To Contents ↑
Statistics
The easy-to join and easy-to-analyze CPA Network provides you with a Statistics dashboard. This is a fast and easy way to check whether the traffic you stream generates enough conversions and revenues or not.

Filter stats by offers, countries, sub-parameters you added to the offer's link, and dates. Grouping allows for more detailed analysis: you can group data by:
country;
device;
OS;
browser;
offer name;
sub-parameters.
Download a CSV report will all filters set or reset the filter to leave the default view.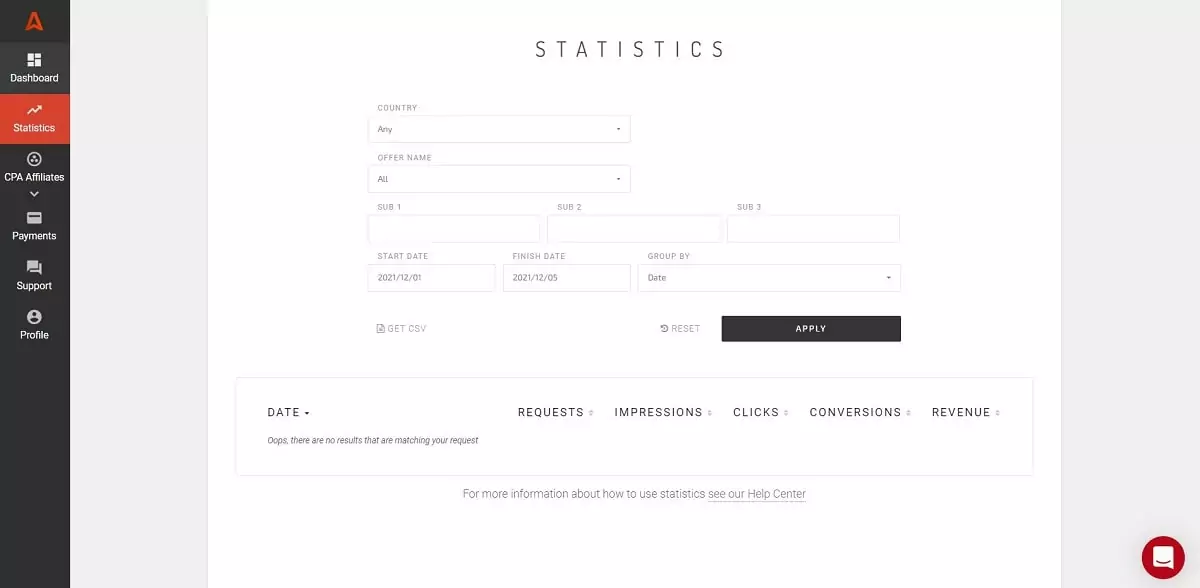 To Contents ↑
Payouts | High-Paying CPA platform that pays weekly and twice a week
Trends demand speed, and it refers to payouts, too. Adsterra CPA Network automatically pays its partners.
You get your payouts bi-weekly after your traffic is verified, and with earnings under $50.
If you make over $50 and have your traffic verified, you get paid automatically. All further payouts you receive on demand.
Trusted affiliates sending massive, quality traffic get paid twice a week (your personal manager will break down all details).
All affiliate marketers can control their balance and payouts on their accounts.

Adsterra CPA Network offers you several options to withdraw money: PayPal, Wire Transfer, Paxum, and, of course, all top cyber-money payment methods. All of them are instant except for the wire transfer that requires 3 to 4 days to complete.

The payment history is also here: you can control dates, payouts, fees, and documents.

Your default method of payment will be the one you entered during registration. If you need to change it, navigate to the Profile page. Make sure you filled out all mandatory fields correctly.
To Contents ↑
Profile settings
On your Profile page, you can change personal information and the payment method you chose when registered on your Profile page. This option will be blocked only on payment days to avoid payout delays.

Just in case, your balance is available at any page of the account 😉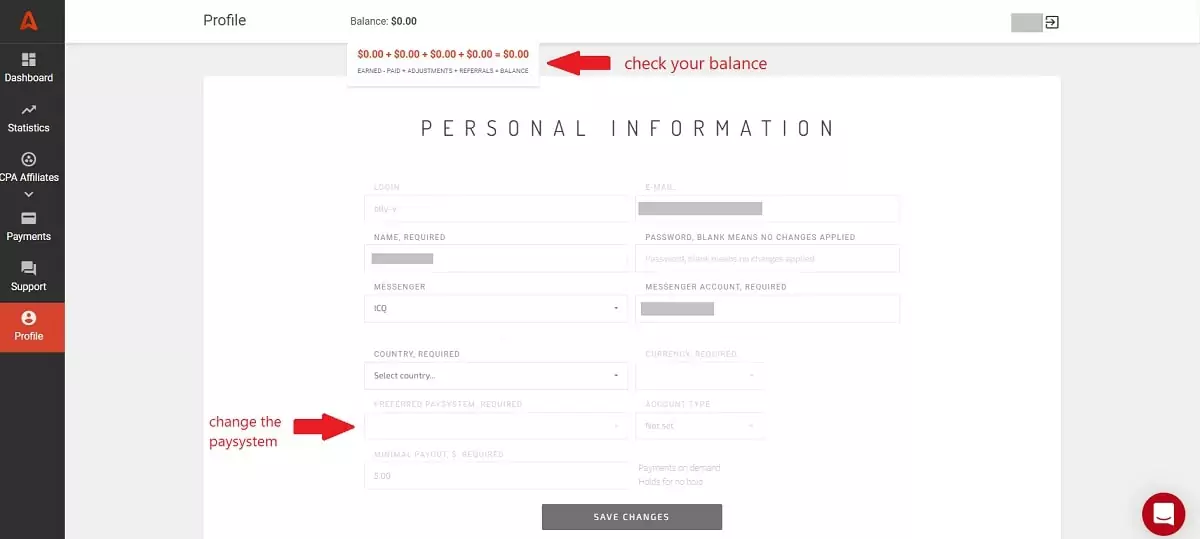 To Contents ↑
CPA network with fast support
You're probably used to the ticketing system when you submit your request and wait till the problem is solved. Adsterra CPA Network has almost replaced this method with fast and friendly online chat support.

Hit the red chat head in the lower right corner and select Send us a message to start a new conversation. Or, use the links below to find the answer in the knowledge base or blog.

To Contents ↑
BONUS PART: tips for choosing an offer on Adsterra CPA Network
Adsterra CPA is an easy-to-join CPA network, indeed, but not every offer is easy to monetize on. So what should a wise affiliate marketer check?
Conversion flow
The conversion flow states what you should do to get your conversion approved and paid. With a CPA flow of "$350 minimum deposit," it will be more complicated to drive lots of conversions compared to "1-click" or "install."
Traffic requirements and limits
Apart from the countries listed, you can find the requirements for OS or device type. Read carefully, as advertisers won't pay for a high-quality conversion made by an iOS user if they mentioned Android only in the offer. The most common traffic restrictions are "no incentive or motivated traffic," "no misleading," "no fraud," "no bot," "no proxy," etc.
Prelanders
Before you start running ads, you need to make sure if you will have to add any prelanders or not.
Creatives
Please always read the advertiser's notes that concern creatives; your strategy may depend on what you are allowed or not. Here are some typical use cases.
Your advertiser attached some obligatory creatives and did jot allow using your own.
The advertiser provided non-obligatory creatives and allowed using your own.
You need to make creatives but don't have to get the advertiser's approval.
You have to get the advertiser's approval before using your creatives; in this case you will contact the advertiser via our Support team.
You will also meet some vital restrictions on visuals and messages you use. E.g., the "no mislead" warning means you should not alarm users or promise something they won't actually get.
Additional limits and comments
When you run Finance or iGaming offers with a deposit conversion flow, you normally have to sync up with the call center's working hours. See if there are any clues in the Additional comment field.

Example: "Call Center working hours – Monday – Friday – 10:00am – 7:00pm GMT+2"
Conversion limits
To all new partners, the initial test limit is 100 conversions. After the quality checking, limits can be exceeded. You may also see additional limitations like "only $500 per publisher" or "50 leads," so read the description till the end.
Conclusion
That was a reasonably short guide to the high-paying CPA platform that welcomes pros and supports newbies in affiliate marketing. Adsterra CPA broke into the market in the midst of a pandemic bursting with selected and battle-tested offers. It puts quality offers first, making it easier to pick, run, and track offers with proven results. It is your additional powerful source of income, anyway. So why not join?