Look What You Did in 2020 | Highlights You Made Possible
We could have said these below are our achievements. We could have listed our targets hit by the end of 2020. But what is Adsterra without our thirty thousand partners? It's you who keeps this planet turning. It's you who landed here to grow business entrusting us with your time and ideas. This decision you made proved to be right!
We celebrate every publisher who kept on searching for unobvious income sources. We praise our advertisers and affiliate marketers who discovered new geos and aced the targeting making fabulous creatives and launching winning campaigns.
Today we want you to see how you rocked with Adsterra in 2020. With the all-around uncertainty, you stayed undefeated and managed to reach the impossible. So let's lean back and remember how great this dream team was.
2020 highlights.
Amazing results of the amazing partnership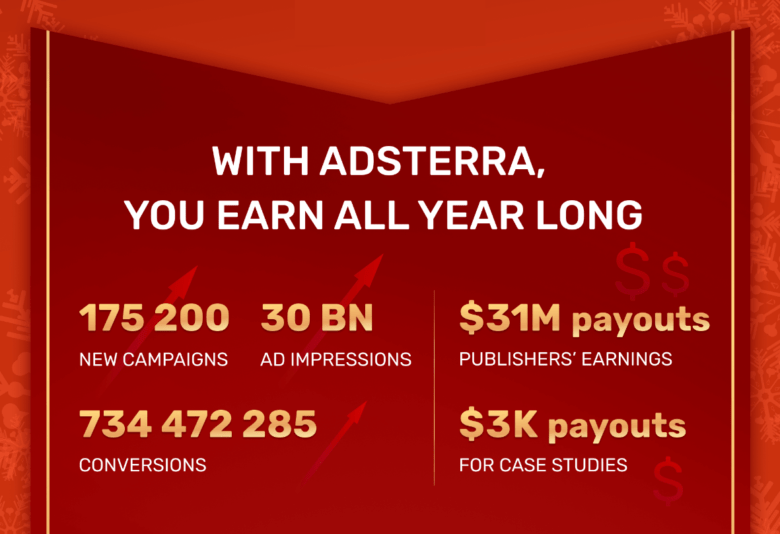 Who took the most of 2020? See the full infographics!
Despite all negative trends, many verticals and publishers' web platforms boosted in 2020. Social media traffic providers skyrocketed in money-making along with mobile-first campaigns and offers.
Adsterra's partners rushed for innovations and didn't miss. The 2020 novelty, Social Bar brought excellent CTRs of 15-20%.
Those who stayed in touch didn't lose the grip of profitability. Our managers handled almost 460K dialogs helping advertisers and publishers earn more.
Stunning was the activity of the affiliate community. We took the highest awards from YNOT and AFFBANK and awarded 18 winners of our own contests. Adsterra's community of passionate pros has grown 3.5X gaining over 26K new followers.
See all facts about 2020 and find out some secret facts about Adsterra (zodiacally, at 90% we are your perfect match)

Thank you for sharing your trust and staying with Adsterra
We can't be more thankful than today. Our hearts beat as one to wish you a joyful new year. May it be kind to you and your projects, may all the challenges turn into profit, may all your goals be achieved!
Adsterra's team will fight for every impression to become rewarding, along with providing you with robust tools and algorithms. By the way, one of the top-demanded features is about to be rolled out in January. See you in 2021!
2021 will go ten times more easily and a hundred times more productively when met in the Adsterra family. Join to take the lead!