Native ad traffic is the most powerful tool for both advertisers and publishers. And equally beneficial since it appeals to users and returns millions of clicks. Adsterra Native Banners run on thousands of websites sending over 1M impressions weekly. It's a fantastic option to augment your online marketing efforts. How exactly?

We'll go through what native traffic is and how to use it to your advantage. A brief campaign setup guide will be waiting for you at the end of the article.
What are Adsterra Native Banners?
Adsterra Native Banners are commercials that look and feel like the content type they are placed within. Unlike traditional flashy banners, they usually appear in the most viewed part of the web page but don't annoy users.
Every native ad consists of:
– a headline (up to 64 symbols);
– an image (320×240 px, JPG or PNG, up to 350 Kb)
Your advertiser's account provides a neat and friendly campaign setup page with all clues given.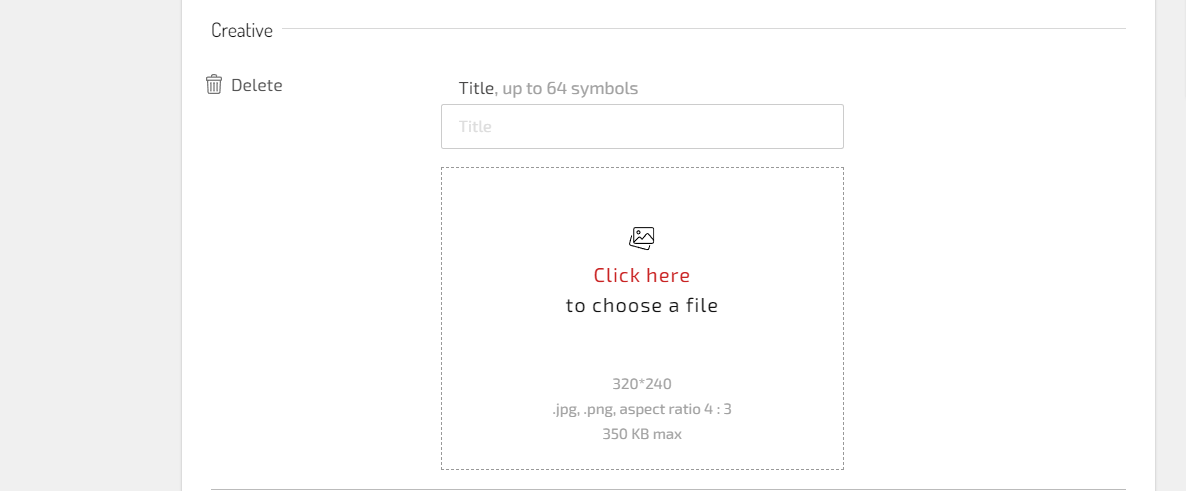 To Contents ↑
What do Adsterra Native Banners look like?
In essence, the answer will be "absolutely native." But one look costs a thousand words. Native banners appear as a block of catchy images with kickstarting headlines.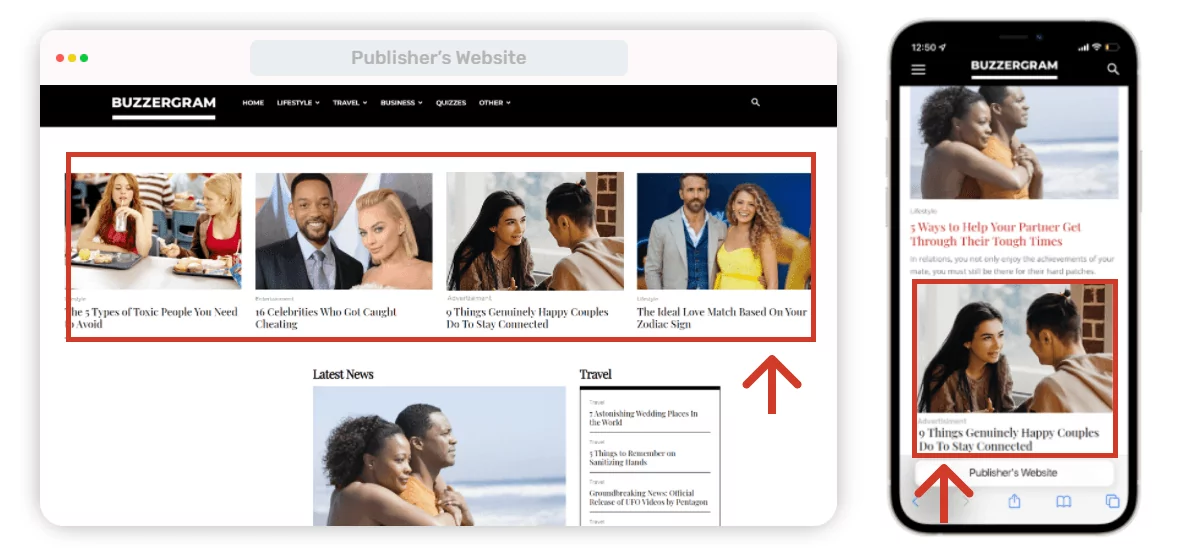 Best-fit ads: Customization and AI algorithms
What's especially nice about this type of advertising is that publishers can customize the look of commercials: colors, fonts, and quantity of ads. Those who monetize with Adsterra Native Banners know how important it is to make paid media fit the initial content. Users react much better: they click on headlines, engage with offers, and drive conversions.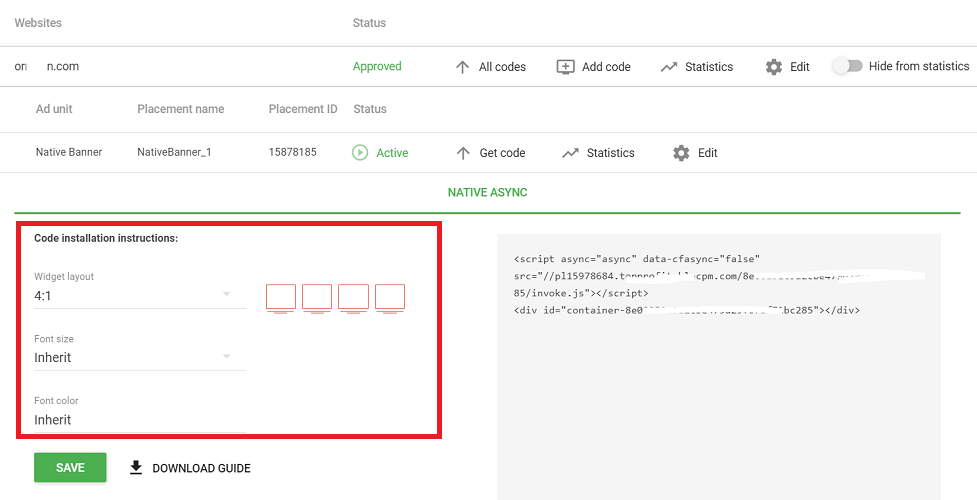 Advertisers are also in the black here: clicks come from pre-warmed users willing to get familiar with offers. Adsterra AI algorithms send offers to those users who will most likely engage with them.
To Contents ↑
Key points about Adsterra Native Banners you should know
Users enjoy ads on any device. Cross-device performance is a huge plus. Adsterra Native Banners fit desktop and mobile screens, remaining ultra-friendly.

Advertisers enjoy a higher engagement. Teasing is what native banners are truly good at. It is proven that this format engages users up to 52% more by blending in the original content.

Fraud clicks prevention saves money. Adsterra applies several robust in-house solutions to prevent and combat bot clicks and traffic.

Anti-malware protection and anti-fraud solutions are a part of the Adsterra Partner Care program.

Advertisers don't pay for "overlooked" ads. When buying CPM native ad traffic, you pay for ad impressions, but what if a user can't see the whole ad? It can happen when the block with banners is placed at the bottom of the page. Adsterra protects your budgets! We don't count ad impressions if a user saw less than 50% of the banner.

Anti-AdBlock solution powers larger revenues. Nativity is the key to friendship with ad-blocking filters. However, no one can guarantee that yet another filter won't block all ads and popups on a website. Here is why Adsterra publishers can request an Anti-AdBlock script that will allow for bypassing the majority of blockers. Publishers save their traffic, while advertisers get higher coverage.
To Contents ↑
Top verticals for Native Banners
Native traffic can multiply conversions with almost any type of offer, and that's another reason you should try it in action. A pivotal role is played by images and ad copy you create. The picture you use makes up to 70% of the campaign's success. Some verticals, however, use native ads more often:
iGaming
VPN
Video Services & Streaming
Anime
Dating
Finance
Entertainment
How to buy native ad traffic
Whether you promote a brand or an affiliate offer, you can choose between two payment strategies: CPM and CPC pricing.
CPC native ad traffic:
Сost-per-click is a pricing model where you only pay for clicks on your ad. CPC model is considered the most transparent – motivated users click on banners; you save money on those who only viewed but didn't click.
In most cases, this pricing model pays off best. But only when you're familiar with the ad network's traffic or you are paid for clicks as with affiliate marketing campaigns.

With the Cost-Per-Click model, it is better to test creatives. With Adsterra Native Banners, you are free to test up to 15 creatives before picking the most profitable.
CPM native ad traffic:
CPM (or cost-per-mille) pricing is when you're charged only for 1,000 ad impressions. You can get a higher exposure at an affordable rate. Buying CPM native ad traffic is reasonable when you need to reach as many users as possible and also when you're scaling an existing campaign looking for some big new piece of traffic.
Current rates for CPM Native Banners
One can barely take their bids out of nowhere. With intelligent tools, it is much easier to form a balanced strategy without overbidding. Advertisers and affiliates turn to Adsterra Traffic Chart each time they need to update the rates and find GEOs with massive traffic.

To Contents ↑
Briefly: setting up a campaign with Adsterra Native Banners
When you set up a campaign, you top up your account first. But today, we'll go without putting any funds, outlining the main stages of creating a campaign and sending it to verification. As for budgeting, you can apply to our managers in the live chat to determine which starting amount is ok for CPM or CPC tests. In general, $100 is more than enough, but it depends on the vertical, GEO, and the competition.

Advertisers and affiliates can easily set up a campaign with Adsterra Native Banners. Let's briefly set out the basic steps required. To begin with, please register or log in as an advertiser. If you're willing to put Native Banners on your website, please register as a publisher
1. General campaign settings
After you register, please click the hamburger menu and pick Campaign → Create. You're in the first and the essential step — General Settings.

Here you type in the unique name for your campaign. Choose the connection type your audience uses: all traffic, Wi-Fi, or 3G/4G. The latter is a must if you're running a Carrier Billing campaign and will have to target a specific mobile carrier (e.g., Vodafone.)

Pick the pricing type: for Adsterra Native Banners, you either start with CPM or CPC pricing.
First, type in the unique name for your campaign.

Choose the connection type your audience uses: all traffic, Wi-Fi, or 3G/4G. The latter is a must if you're running a Carrier Billing campaign and will have to target a specific mobile carrier (e.g., Vodafone.)

Pick the pricing type: for Adsterra Native Banners, you either start with CPM or CPC pricing.
Choose Native Banners from the AdUnit category.

Next is the Traffic type field. Mainstream traffic is for general campaigns like software, shops, and services. Non-mainstream traffic is more about niche campaigns with age limitations or content specifics.

Enter your landing page URL. It's best to set up a conversion tracker first. Then, you will be able to track traffic performance. Use Adsterra tokens to pull any essential data about users and traffic sources: payouts, placements, devices, browsers, etc.

Pick the Device type to expose your offer. If it's a mobile app, you can exclude desktop devices. But when scaling, adding desktop users for a mobile campaign may return some fresh new leads.

Country and Price come as your next choice. Please take a look at recommended bids taken from our smart Traffic Estimator. These clues are vital for tests as they won't let you overspend.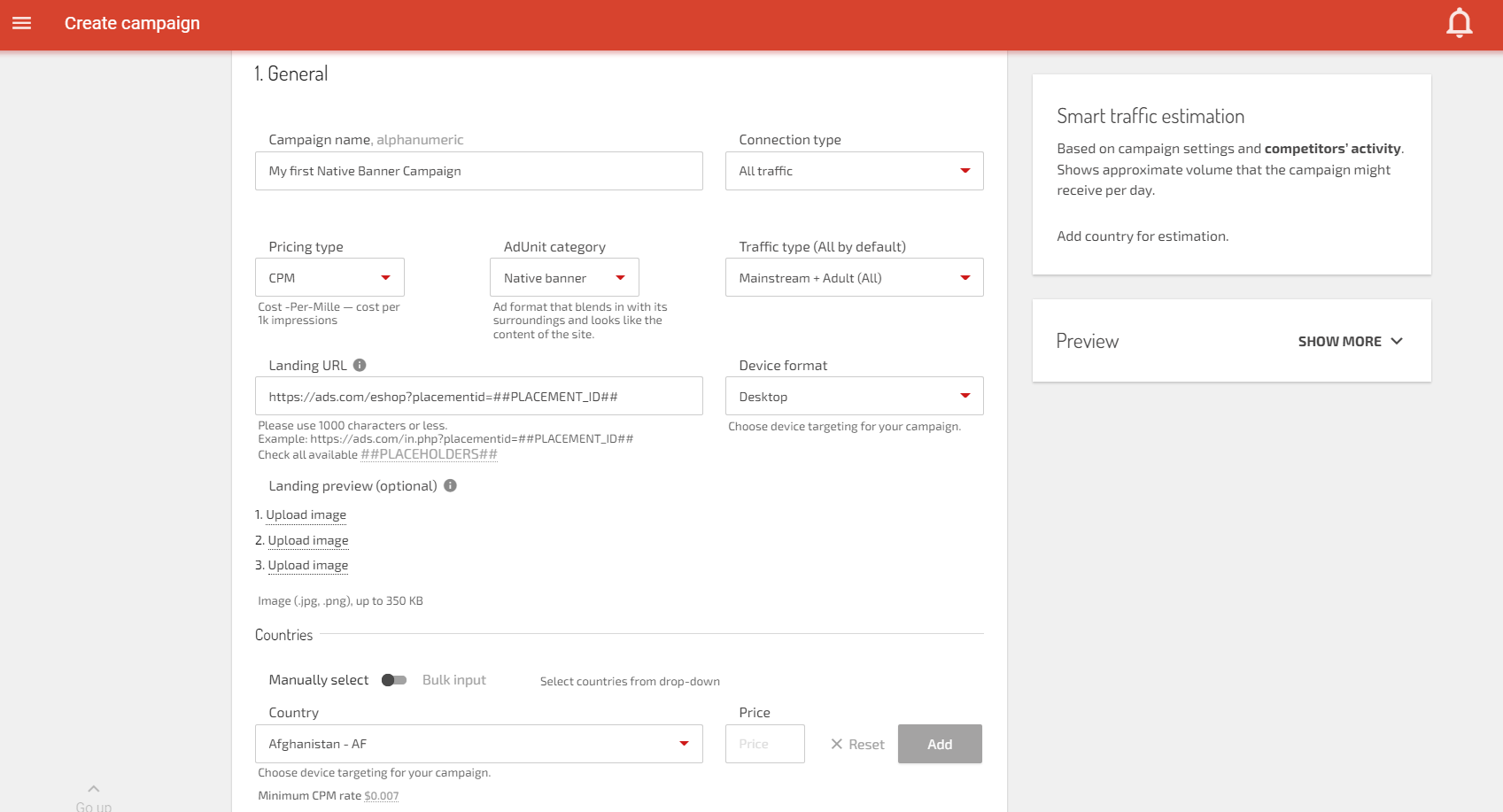 2. Creatives
Creatives are either CTR and conversion boosters or killers. And you know it better than us 🙂 One vital tip we can share is always to keep the balance between teasing and profits. If you're paid only for clicks, lucky you! But if you need some conversions later, avoid boosting clicks with misleading ads.
With Adsterra, you can add up to 15 creatives for a test campaign. Don't underestimate this option, and download as many visuals and copies as possible.


Requirements for creatives
Title: up to 64 symbols.
Image: 320×240 jpg, png, aspect ratio 16:9, up to 350 KB.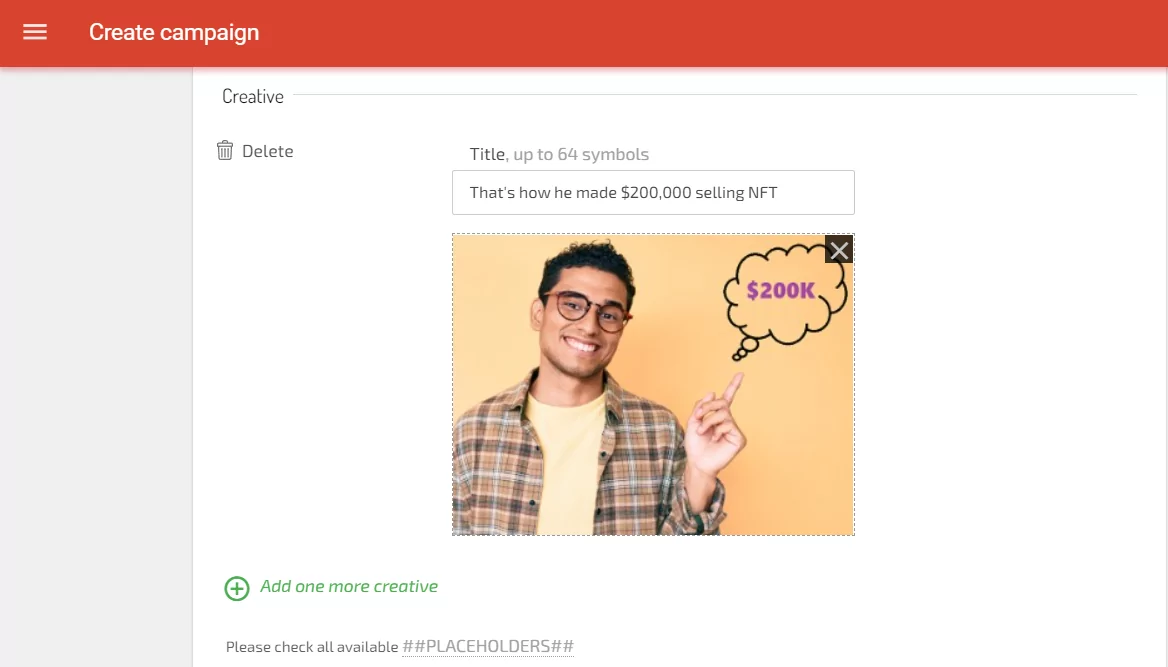 A couple more hints to spice up your Adsterra Native Banners
Use images with people.
Be specific and offer values, not product features.
Share secret knowledge.
Use numbers and facts in headlines.
Avoid visual clutter, prefer large objects on a contrasting background.
Appeal to users' fears, passions, emotions.
Play with vanity and offer exclusives.
3. Additional targeting, Cappings & Limits, Advanced settings
Basically, you're all set up after step 1 is done. Tests will return correct results and massive traffic with broad targeting. But afterward, you will need to optimize settings weeding out unsuitable traffic slices. That's when additional targeting, cappings, and advanced settings run into force.

Additional targeting allows for selecting OS, language, browser, carrier, day of the week, and time range.

With cappings and limits, you manage how often users can watch your ads and at which time. Budget limits help keep control over your spending.

Advanced settings are for those who have carried out tests and are in the optimization stage. Here you add placements IDs to black- and whitelists, apply IP range targeting, and use a super-handy Custom bid tool.
To Contents ↑
To wrap up
Adsterra Native Banners are powerful media formats for advertisers and publishers. With mobile interfaces becoming No1 in usage and user expectations growing every day, native ads are irreplaceable in promotion brands and affiliate offers.

Remember that visuals are 70% of your campaign success. Be specific in your ad copy—spare time for testing creatives, and don't set up too narrow targets when at the start. And one more thing: keep in touch with Adsterra managers. They share hundreds of insights about trending geos, creatives, and offers every day.