With Adsterra Traffic Chart, you will never miss massive traffic or let your potential leads fly away. In a few clicks, you can check the average daily volume of impressions for any geo and target. Traffic Chart is a universal tool for those who care about the campaign's launch speed and strives to optimize reach and spending.

Whether you target specific GEOs, test new targets, or look for an opportunity to add more impressions to active campaigns, you dive into Traffic Chart data and pick GEOs, ad formats, traffic types in seconds.
How about a test drive?
Why do you need Adsterra Traffic Chart?
Your top Traffic Chart saves hours of research. Earlier, you would create a new campaign, picking GEOs one by one and getting precious data on the amount of traffic you can gain here. No more guesswork or legwork!

There is no need to create a blank campaign just to pick a country, get the recommended bid, and then check whether your offer will get enough traffic.

The whole picture of Adsterra capacities is in front of you:
impressions,
ad units,
traffic type (mainstream and non-mainstream),
device,
OS type,
recommended bid.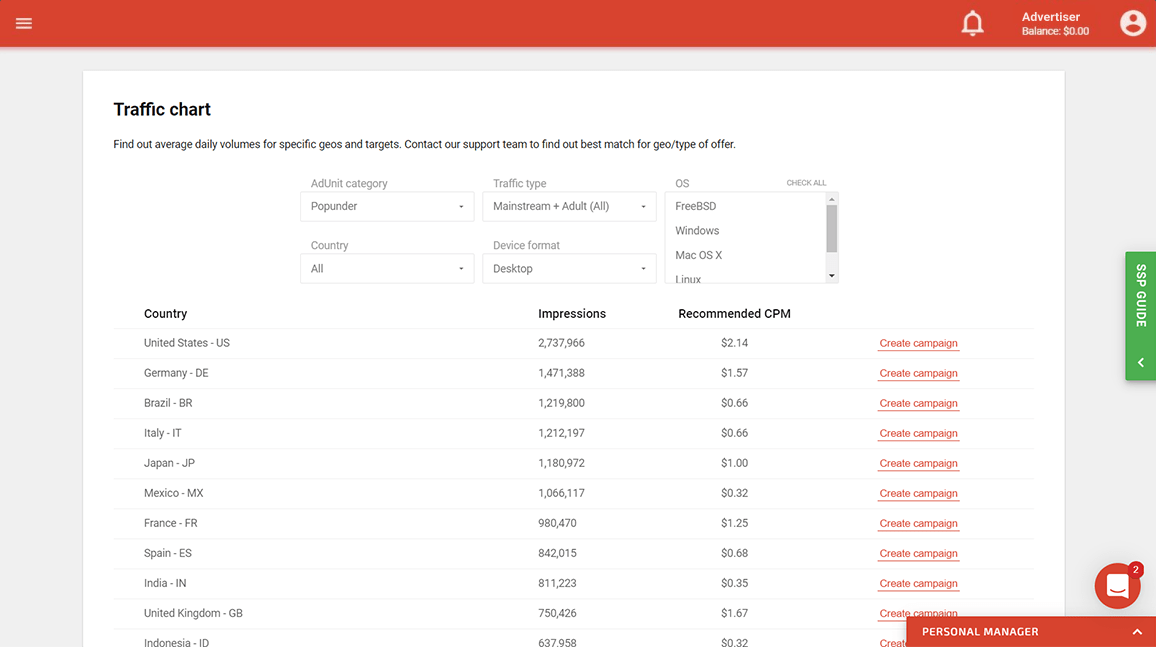 Core benefits
Launch vast-reach campaigns with a clean-cut targeting
Enhance your CPM campaigns' performance
Make a speed-of-light decision whether to run a campaign on a particular GEO
Never miss lucrative, new GEO sources
Outcompete with the latest updates on CPM bids
To Contents ↑
How to use Traffic Chart
Click on the Traffic Chart tab from the vertical menu of your Advertiser's account. Countries with the most affluent traffic will listed in the first rows of the table.


Pick any country to get a forecast of how many impressions you will have with a recommended CPM bid. If needed, add filters by country, device, OS, ad unit, and traffic type.

You can evaluate how bright the outlook is for the top ad formats (ad units):
Popunder
Native Ads
Web Push Ads
Social Bar (or In-Page Push Ads)
Once done, you can create a campaign with the given settings straight from the Traffic Chart page.
To Contents ↑
Make use of top traffic sources: Traffic Chart use cases
Diversify budgets to win more impressions
While you run ads on Popunder traffic or within 1‒2 GEOs, you can miss lucrative prospects. Traffic Chart will show you in seconds which GEOs you can add to your campaign and how many impressions you can add if you pick a second ad format. For instance, Social Bar ads are the second leading unit within Adsterra; they send over 1.7BN impressions weekly. Just check how many views you can obtain on your GEO.
Launch vast-reach, low-cost campaigns
Open your top Traffic Chart whenever you're launching a global ad campaign, embracing multiple GEOs. You can handpick all gems from the list of Countries and create campaigns for each GEO.

This way, you can launch multi-target campaigns for your clients if you're an agency, or shift from one traffic source to another when running an affiliate marketing campaign.
Get a forecast of traffic volume & CPM for your offer
Like in the previous use case, affiliate marketers will save hours on research. Instead of digging through the list of countries, they find the country allowed by the advertiser and see actual traffic volumes. Once found, they set up the campaign and start getting ad views, impressions, and conversions.
Test traffic when you're first at Adsterra
An excellent start is an effortless start. If you haven't launched ad campaigns with Adsterra before, it is better to choose Tier 3 GEOs with massive traffic and lower CPM rates. That's when your Traffic Chart becomes an irreplaceable tool.
Change your bid right in time to win more traffic
Today you're on top, but tomorrow impressions can start fading. That's because the competition never sleeps. Competitive campaigns may increase payouts or decrease, and the speed of your reaction means a lot when it comes to gaining more impressions. So how do you check optimal current bids? Right, with the help of Adsterra Traffic Chart.
Add tons of impressions by embracing alternative traffic type
As we stated in the Guide to Getting More Traffic Without Increasing Bids, you can increase the number of impressions in seconds.

Adsterra sends you two traffic types, mainstream and non-mainstream. The first one suits classic offers like Ecommerce, Mobile Utilities, and Apps. The second one is slightly different as you find many niche traffic sources here with streaming, casual dating, niche anime, and similar websites. Both traffic types send quality impressions. And it's very often that you can find your target users in both realms. For instance, mobile gamers are frequent visitors to some niche video streaming platforms, while gamers use VPN services and will be interested in ads related to them.
To Contents ↑
More Adsterra tools for laser-focused targeting and bidding
Traffic Chart allows for fast and concrete decision-making when it comes to choosing GEOs and Ad Units. But setting up a campaign, it's not only the amount of traffic that is critical to find out. As the market is changing steadily, advertisers need a professional estimation of the competitive activities around, especially bids.

So let's take a glance at even more advanced tools.
When the bid recommended by the Traffic Chart is not enough, it's Adsterra Smart Traffic Estimation that comes into play. It assesses how many impressions your offer will get, considering all campaigns with similar settings. Thus, before submitting your campaign, check the recommended bid; it's always on the right.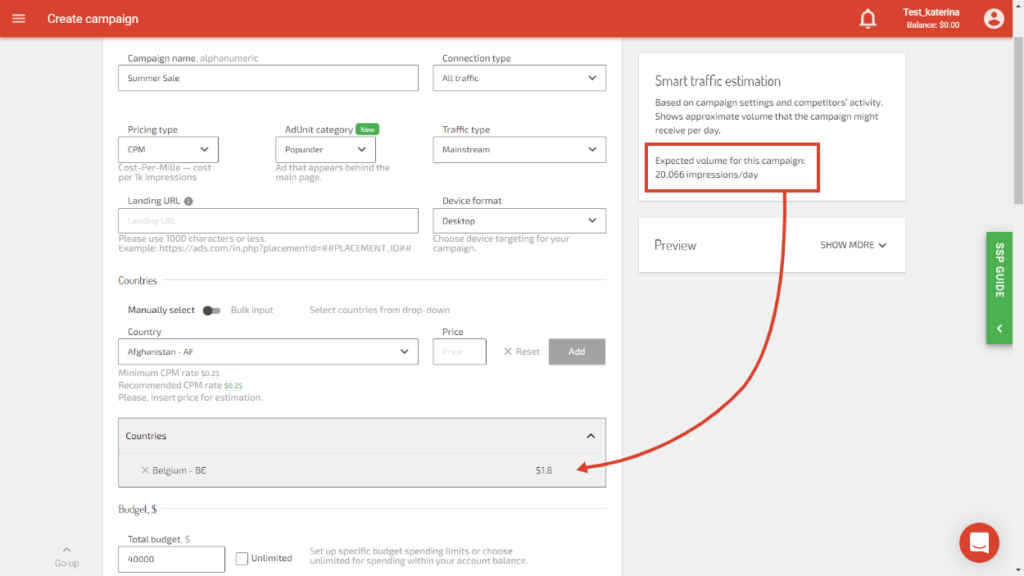 Pricing tokens make your conversion tracking more informative and fluent. Adsterra will send data about the payouts to your tracker, and you will easily monitor spending. You only need to add a CPM, CPC, or CPA token to your landing page or offer's URL.
Custom Bid is a genuine advertiser's helper as it allows for selectively bidding higher or lower for ad placement. You can diversify spending and boost those placements that bring the most delicious traffic while the poor-performing will get minimal payouts.
To Contents ↑
Make more conversions with rich traffic
Be the first to spot profitable GEOs and launch successful campaigns even when the competition is pretty stiff. Traffic Chart is your magic wand to speed up research and enrich campaigns with fresh traffic.

Though the tool is native, you might have some questions about the settings. If so, chat with our support team right on your account page – we'll be happy to help you out.