A Guide To Advertising With Adsterra Social Bar Format [February'21 Updates]
Why do people fall for TikTok and Clubhouse? They're a perfect alternative to social connection. They're engaging, fun, and personalized! Consumers ver.2021 expect every piece of information they get to be that fascinating and convenient. After the pandemic struck has reshaped the way we communicate and work, we should overlook all advertising formats from the angle of great engagement and connection. At Adsterra have moved much further than merely developing a display analog of web push ads. We created a glorious successor that has already overcome web push in CTR, CR, and UX. The next-gen format is Adsterra Social Bar. Today we are going to unveil all its secrets.
One look is worth a thousand words, so you can test the format right now on your Create campaign page.
What is Social Bar by Adsterra?
Social Bar is a rich push format that interacts with users driving unprecedented ROI. Ultimately, it can be any format, shape, or scenario that you can imagine. Social Bar by Adsterra can chat with users, take surveys, play video trailers, or simply captivate with an unusual design.
Full customization and personalization leave no borders in getting as many conversions as possible. Only when you are in need of this full customization. In February 2021, we rolled out the new pre-customized layouts that you can adapt to your campaign in two clicks. Literally, the easiest way to stand out with your ads without extra effort.
2021 layout updates: social widgets and battle-tested utility widgets
In 2016-2019 web push ads were on top due to their nativity and novelty. Only by 2021, this format started folding up. The format became too mainstream, ads too "pushy," and Google Chrome updates too strict. In contrast, the Adsterra Social Bar meets all three needs of advertisers:
Viewability — creatives and layouts beat ad blindness;
Full Google-compliance and iOS-friendliness;
Clickability — proper designs that engage users and fit their communication patterns.
Meet all three sets of widgets that you can tweak and adapt to your vertical.
Social widgets
Social widgets are best for Dating, Streaming platforms, Surveys. They look like native messages and outperform classic web push notifications.
Add a teasing ad copy and enjoy multiple clicks and conversions. If you need some inspiration, check the guide where Adsterra's Head of CPA shares a set of brilliant tips on how to make creatives bring conversions.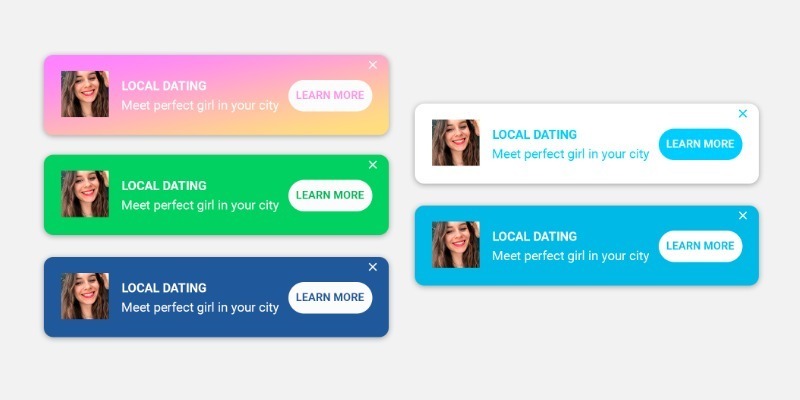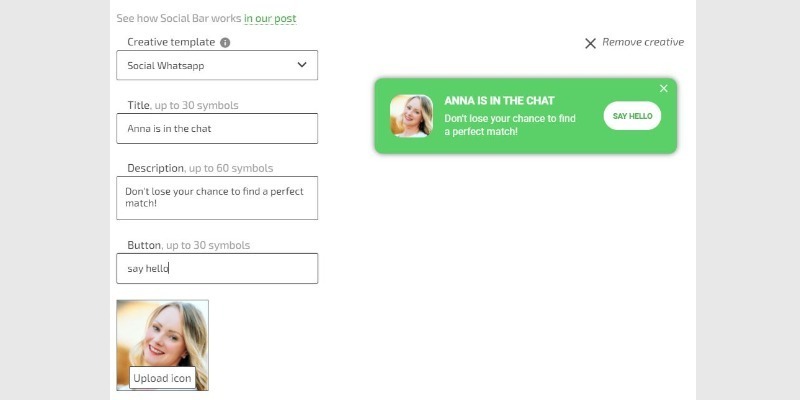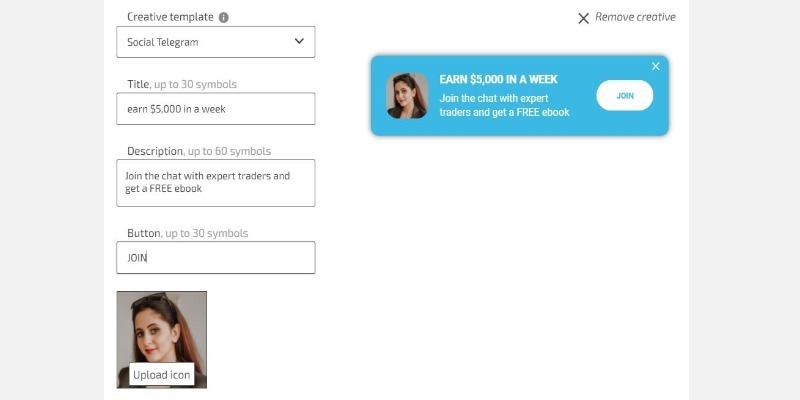 Button widgets and Custom widgets
Button widgets are perfectly adjusted to all OS. But unlike classic push ads, they boast of having a vibrant CTA button that you can empower with excellent ad copy. These ad formats perfectly match campaigns with software and utility ads: VPNs, Antiviruses, Battery Boosters, Phone cleaners.
Custom widgets are the neatest Android- and iOS-styled ad units. Use dark or light themes to create the impact you need.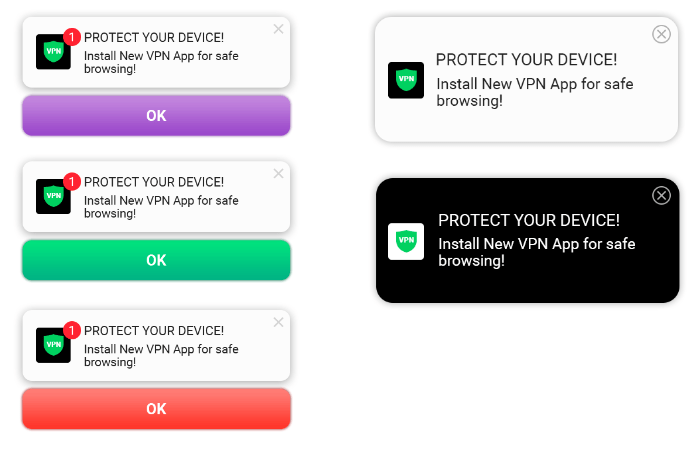 Ready-to-use in-page push creatives
A true hit of 2020, this format is fully customizable. You can tune its size, color palette, and CTAs to reach the peak results. In-page push ads are placed directly on the publisher's website and don't require any browser subscriptions. The layouts fit any OS.
Icon notifications 
Accurate and neat, they grab users' attention with a snappy picture and one 'unread' message. Place a vivid isometric icon or a photo to collect more clicks just like one of our partners who gained ROI 130% running an Antivirus offer.
Top choice for: Dating, eCommerce, Utility, PIN Submits.
Layouts for classic in-page push notifications
Push notification made more eye-catching with the 'unread' message sign and a larger call-to-action button. These ones will make your ads stand out. Find them in the Social Bar's creatives list as Red Circle and Blue Button Notifications.
Top choice for Utilities, Add-Ons, VPNs, Games, Subscriptions.
Try and tweak all of them your Create campaign page (log in or sign up first).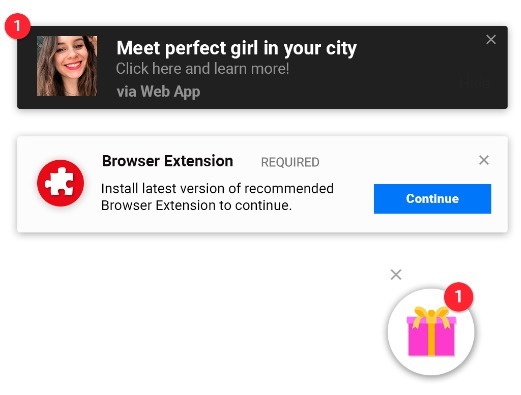 How do advertisers and affiliates use Social Bar by Adsterra?
Proper UX and ultimate engagement – that'a what our advertisers noticed first. They use the Social Bar's versatility to create a perfect impact. What can it be? Let's see some of the most usable examples.
What Social Bar campaigns to launch first on Adsterra
The best advertising strategy would be getting in touch with your manager or support team in a live chat on your dashboard and check up with the latest updates. Our managers are always ready to bring a fresh spin to your advertising strategy and make it more profitable. To catch more insights on how to make your Social Bar campaigns stream leads, see our previous guide with recommendations on creatives and top GEOs + OS + Verticals slices.
How to launch a Social Bar campaign
"Create campaign" walkthrough
There are two ways to launch a Social Bar campaign on Adsterra. One is for clients with fully managed services. The other is for our Self-Service Platform users.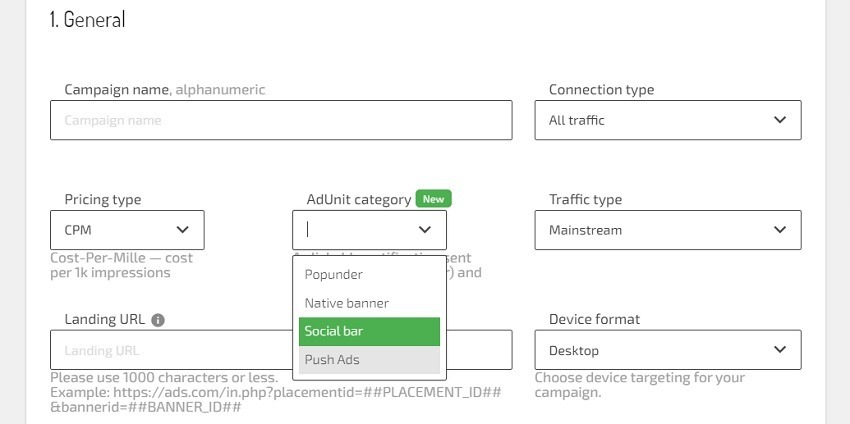 1. After the registration, choose Create Campaign. Then find the AdUnit category and pick Social Bar. You'll be offered to add creatives, headings, and descriptions for the ads. You can pick any layout.
If you need to try enriched ad formats like Video Bar or Custom Banner, get in touch with our managers in the live chat.
2. If your campaigns at Adsterra are fully managed, then contact your dedicated manager to get the full access to Social Bar ads.
Let's summarize the benefits of Social Bar ad format
Ultra-native ads lead up to

 

20-30x CTR growth

 

compared to web push.

All devices, browsers, OS,

iOS traffic included

as opposed to web push.

20+ advanced targeting options

, including OS version, browser version, mobile carrier, IP range.

A/B testing

 

for up to 15 creatives

at a time.

Great reach and 100% traffic volume;

AdBlock won't hide Social Bar formats.

Full customization:

eye-catching creatives, animation, and interactive elements.

AI algorithms 

assure that users see the most relevant ads.

No user subscription

 

required, ads run on banner logic.
Final thoughts
Now that you've explored Social Bar's capacities, you might want to test it. Our only advice here is, "go ahead and let your imagination fly!" Want more facts? Then dive into the case study for the Utility vertical where Social Bar's in-page push subformat won 190% ROI. 
We also treasure your time and know that each try must be productive. And nothing helps as much as a couple of pro hints. Our managers are here for you in the live chat. They keep up with the agenda and market trends, so they are always ready to share a couple of tricks how to make your ads stand out.
Let your campaigns skyrocket just as your profits!