According to Reddit, they're a network of communities where people can dive into their interests, hobbies, and passions. According to Statista, an average of 1.6 billion users visit Reddit per month especially from Europe and the US. Although these numbers pale in comparison to Facebook and Instagram, you should devise a strategy to target "Redditors" and direct them to your website.
In this article, we'll explore the numbers behind Reddit, how websites like yours can use Reddit for marketing, and our best practices for doing so. Happy reading!
What is Reddit?
Formerly known as "the front page of the internet", Reddit is an online forum platform with over 130,000 sub-forums and communities where registered users (Redditors) can post content on the platform.
Reddit is also home to over a million communities called subreddits, including
r/AskReddit: a place to ask and answer thought-provoking questions);
r/funny: Reddit's largest repository for jokes and funny memes);
/r/gaming: a subreddit dedicated to (almost) anything related to games – video games, card games, board games, etc., but sports games);
r/Wordpress, and more.
To Contents ↑
Reddit stats
Reddit has 52 million daily active users, up 44% since last year. In 2020, Reddit only had around 36 million daily active users;
Reddit is worth $10 billion;
Reddit has over 430 million monthly active users;
25% of US adults use Reddit;
Reddit is the 9th most popular social media app in the US;
48% of Reddit visitors are in the US.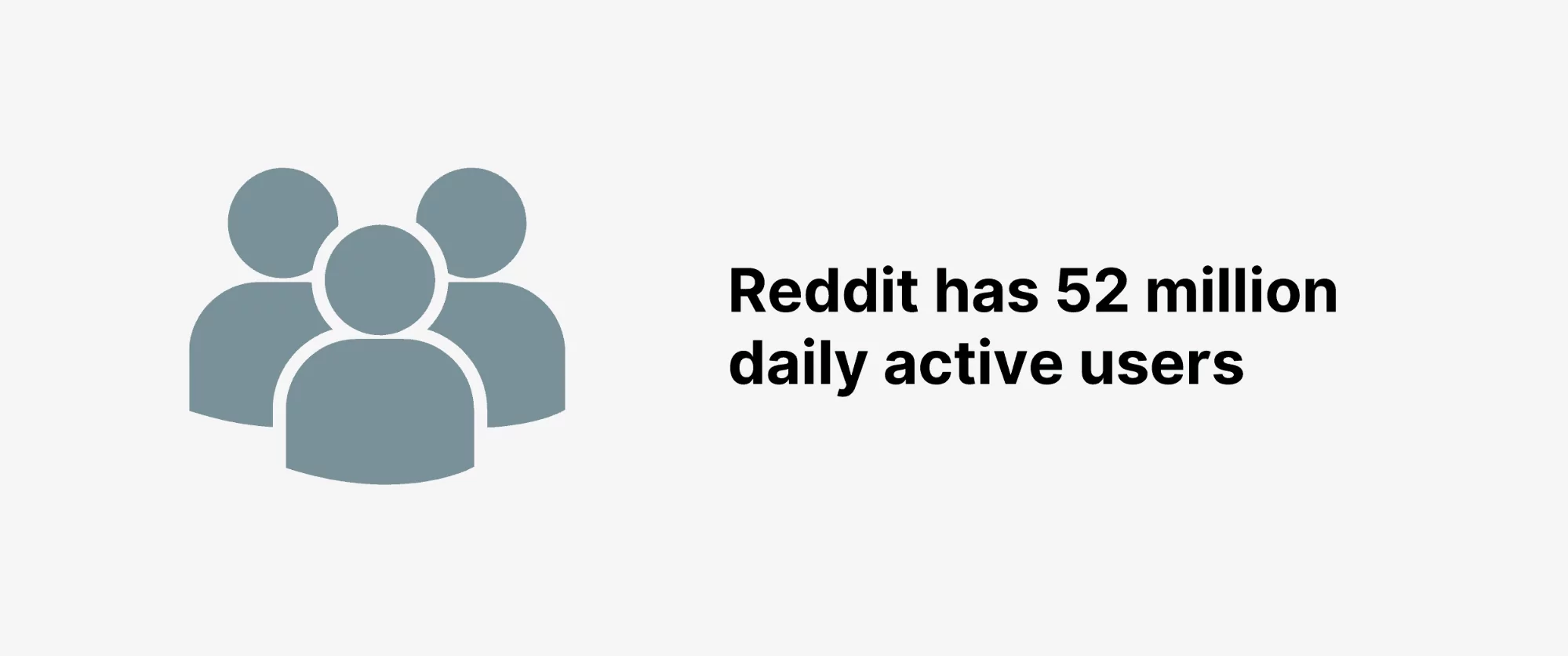 Sources: Reddit, Statista, WSJ
To Contents ↑
Reddit users by country
As of December 2021, 48% of Reddit users are in the US, the UK, Canada, Australia, and Germany.
Here is a breakdown of the top Reddit countries:
| | |
| --- | --- |
| Country | Distribution of Reddit users |
| United States | 47.82% |
| UK | 7.6% |
| Canada | 7.45% |
| Australia | 3.89% |
| Germany | 3.37% |
Source: SimilarWeb
To Contents ↑
Subreddits
A subreddit (or sub) is kind of a niche forum that covers several topics and interests. Each user can create an unlimited number of subreddits, governed by its own set of moderators, rules, and aesthetics. Subreddits can be tricky, so it's in your best interest to learn "Reddiquette" and adhere to its specific rules.
Reddiquette means the proper protocol for Reddit users. For example, if you start proactively advertising your product or service on a sub, its admins will certainly kick you out with negative comments and downvotes.
Karma
Karma is a rating system that rewards users for posting and commenting on Reddit. Some subreddits prohibit users from posting materials and commenting until they reach a certain karma level.
Reddit's popularity among a paying audience makes it an irresistible marketing opportunity for businesses looking to expand their brand and get more traffic. Google Trends shows interest in Reddit continues to grow year after year, especially after the Wall Street debacle with Gamestop and AMC stocks.
Anyway, there are several reasons why you should use it if you are not already:
1. Popular content can send a lot of traffic
Going viral on the internet today is not easy, but the chances of your content becoming popular is high. You can expect huge traffic to your profile and subsequently your website if a lot of people upvotes and comment on your post. But what type of posts go viral on Reddit? Redditors are fast to engage with content that is neither self-promotional nor self-serving, so think about funny or relatable posts that you would like to comment on if you were just a user.
2. It is a great way to demonstrate your expertise
Nowadays, many brands are focused on growing a community of loyal fans, and Reddit is the ideal place to do so. You can establish yourself as a leader in your industry by demonstrating your expertise and sharing your perspectives on the platform. You can also add genuine value to your niche community, which will translate into brand awareness and association.

To Contents ↑
3. Text posts often rank high on Google
Reddit posts that get a lot of engagement often rank well on Google's search engine result page. Like killing two birds with one stone, you can get exposure to Redditors and also general internet users looking for answers to their questions: more potential for growing organic traffic.
4. You can engage with those who mention your business
Redditors always complain or share their experiences with businesses on subs. This provides a unique opportunity to manage risks to your reputation, engage customers, and fix whatever issues they might have.
How to market your business on Reddit
1. Find subreddits related to your niche
You must first find your niche subreddit i.e., identifying communities where your content can add value. Enter a keyword in the search bar and use filter options to see recommended subreddits even before running a full search. For example, let's find the advertising sub.

When you conduct a full search (not only r/advertising), you'll get a much more comprehensive list of potential subreddits to join. For Adsterra, r/Advertising is too broad for our services: it includes discussions on all ad types, TV ads, billboards, social media ads, and display ads.
Let's try something more niche like r/PPC

As you can see, this subreddit is dedicated to Pay-per-Click & other digital ads such as Google Ads, Facebook Ads, Microsoft Advertising & other digital advertising platforms. You should try out several keywords related to your business or brand and join any relevant subreddits.
To Contents ↑
2. Analyze top content and plan your own ideas
You don't want to jump right into posting your own content in your chosen subreddits without first understanding how top-performing content looks like.
Never forget that successful marketing on Reddit requires adding value to the community. However, you must first understand what works and what generates the most engagement and upvotes. The best way to do so is to examine the Top tab. Let's check out what's top in the PPC sub this year.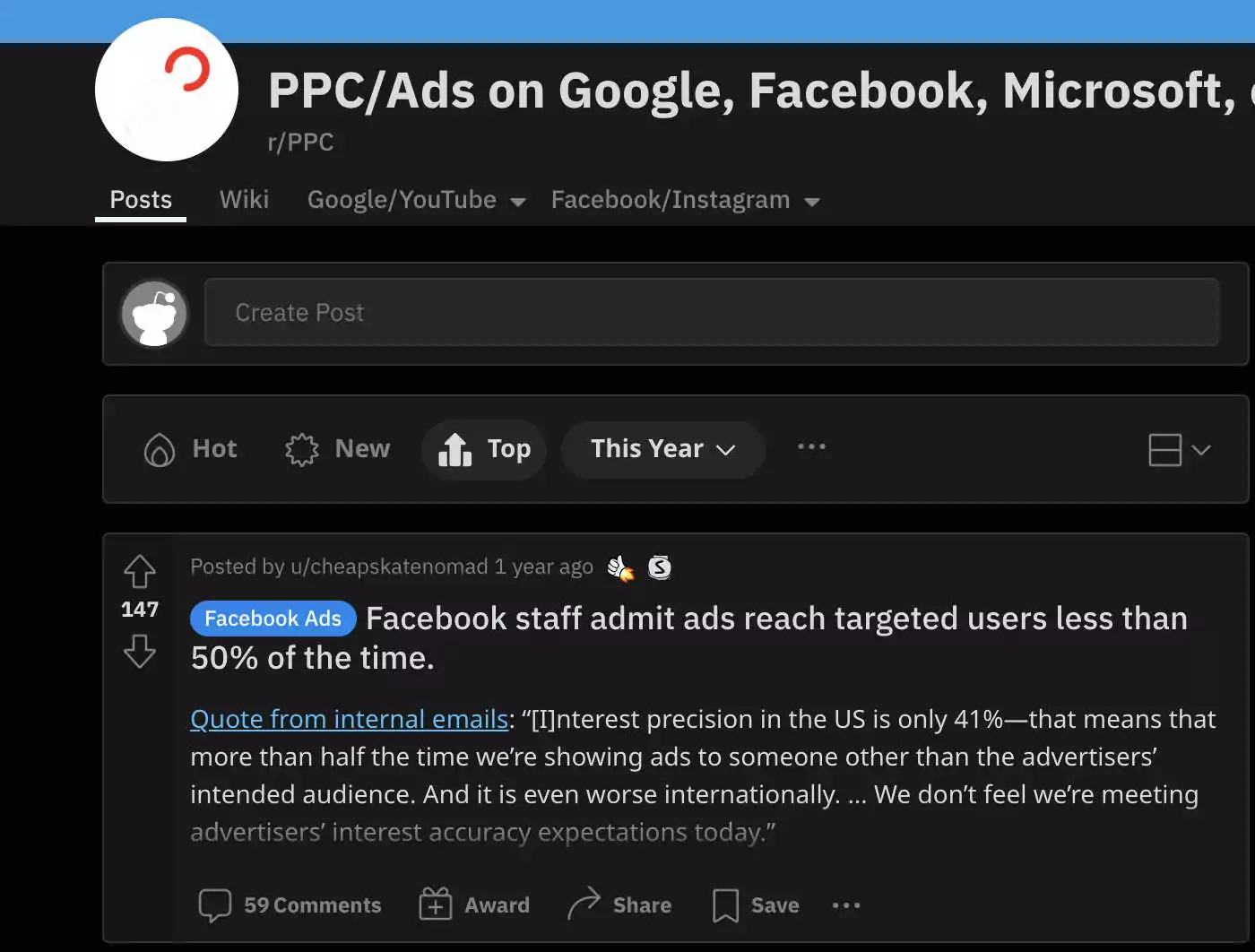 As we expected, Redditors in this sub engaged a lot with a post about how Facebook ads are performing badly. The top comment on this post further proves our point of paying audiences to let out their grievances on relevant subs.

Keep an eye out for trends in content formats or topics to assist you in planning what works well. However, keep in mind that the objective is not simply to generate Reddit upvotes. You want to attract visitors to your website.
Perhaps the most effective way to leverage insights from relevant subreddits is to use them as a springboard for creating content hosted on your website's blog or content hub and then share it on Reddit as new posts, or as links with a short explanation. Essentially, you should look for posts that ask a question and then convert them into blog content that provides an answer.
To Contents ↑
3. Start sharing your content to advertise your business
We've already discussed how you can use subreddits and searches to generate content ideas from top posts and comments. Now it's time to share how to create your own content.
​​To advertise your business without paying Reddit, you first must ask the subreddit admins for permission. Why? Reddit is often considered an escape from ad-filled social media so neither the admins nor users will tolerate aggressive ads.
To win them over, present your link in the best possible way. For example, describe a problem people face and explain how your product or service can solve it or share a case study. Your message should bring value and engage users in a (preferably heated) discussion.
To Contents ↑
Other ways to use Reddit in your marketing and SEO strategy
There are more ways to create and share content to incorporate Reddit into your digital marketing strategy.
Reddit ads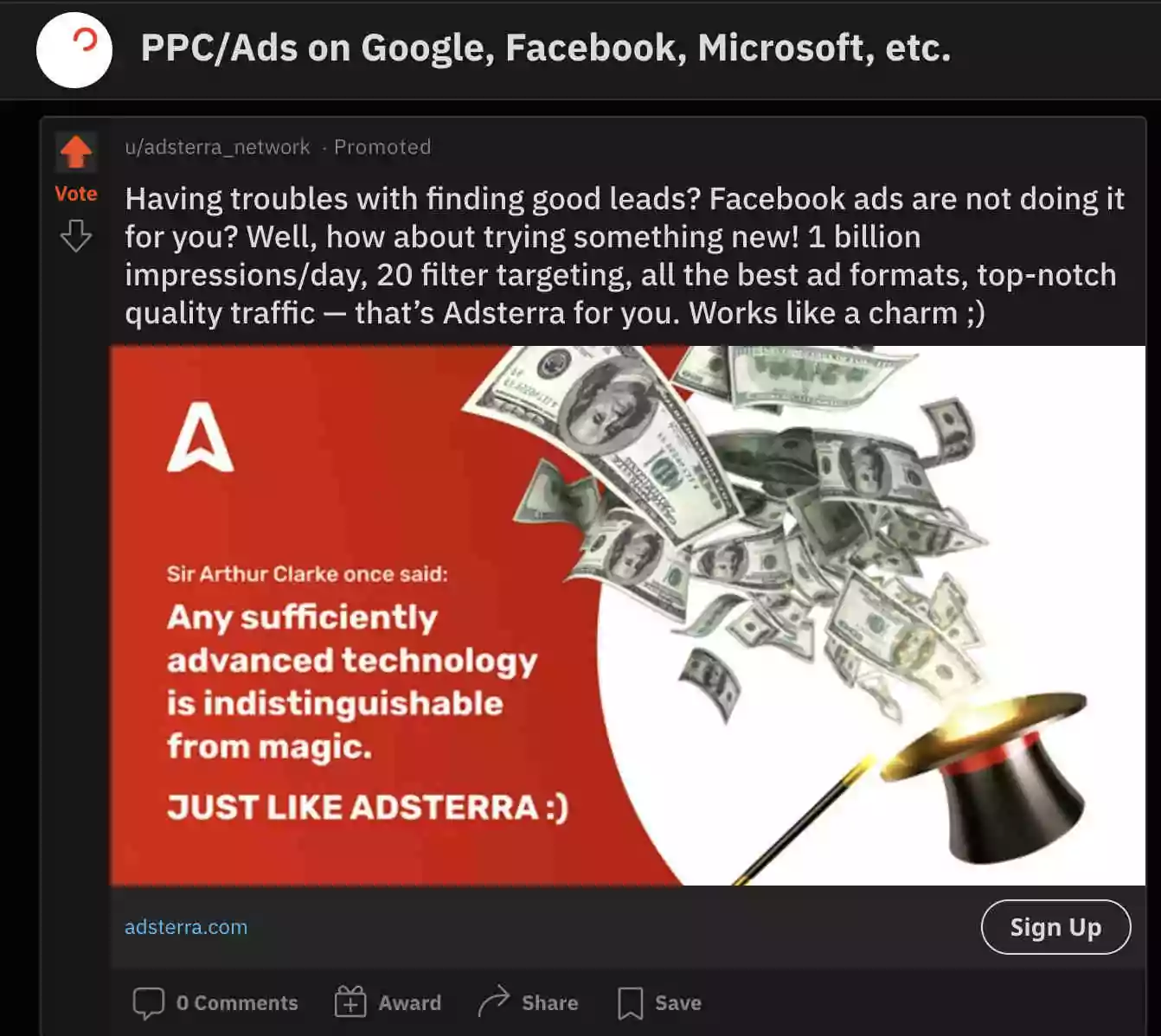 Reddit ads can be a perfect way to reach redditors directly. Its main advantage is that ads on Reddit appear alongside organic content, increasing visibility and engagement.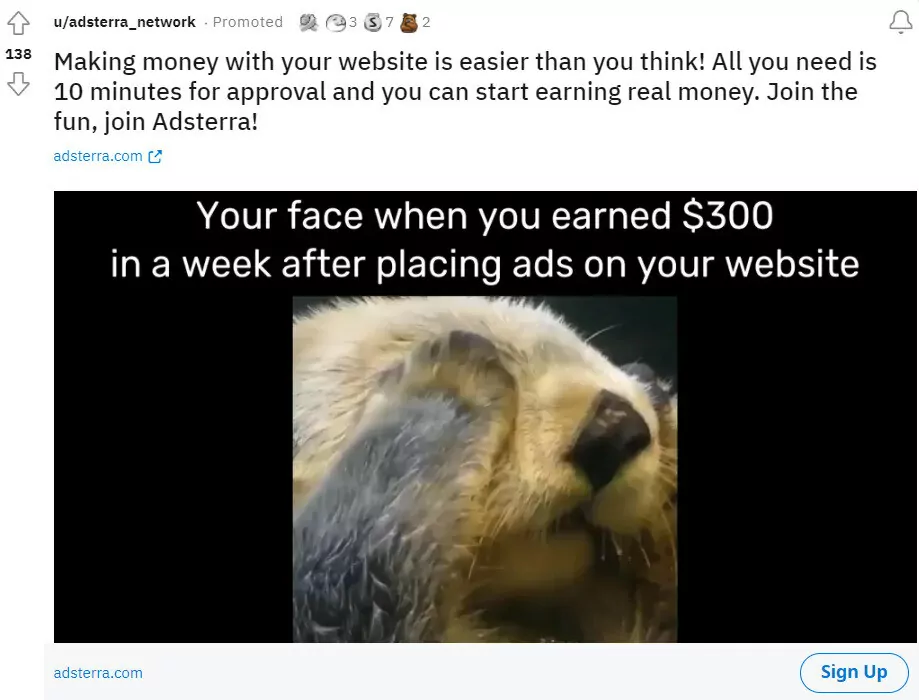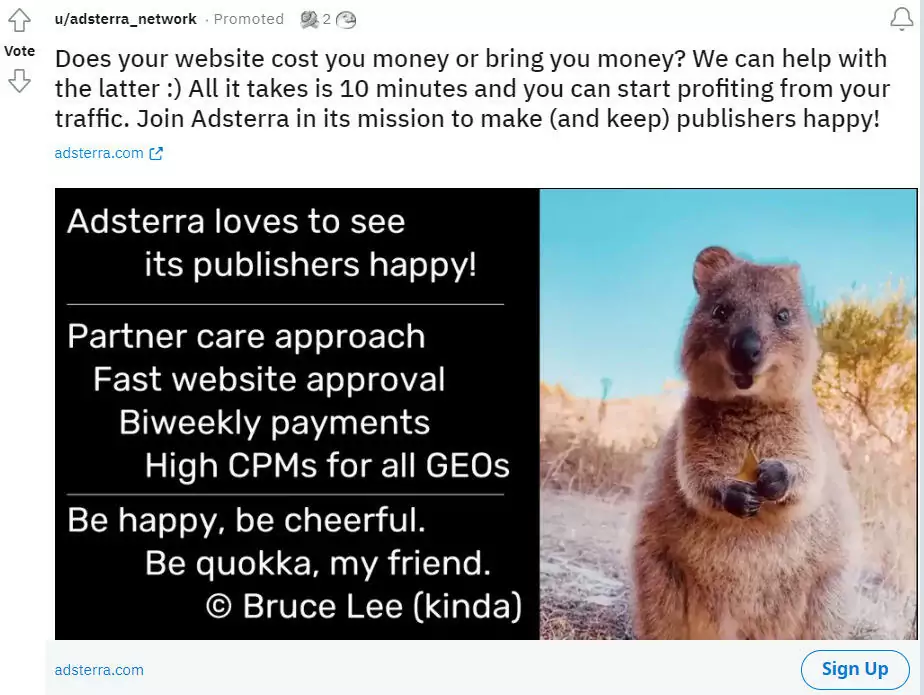 What you shouldn't do on Reddit
When using Reddit as a marketer, one critical point is that you should never use the platform to spam. Your primary objective on Reddit should be to create practical, entertaining, or engaging content for others.
To Contents ↑
1. Don't try to upvote your post from different accounts
Reddit is pretty strict with promotional tactics. If administrators discover your fraud, both accounts may be blocked (especially if they have low karma). So your priority should be getting upvotes from real people and spending time responding to their comments under your posts.
2. Don't add hyperlinks to your text
Rarely link your blog's name to the domain. This may sound counterintuitive, but you should avoid putting links in your comments if you have low karma or still starting out on a subreddit. You can always put a link in your bio and ask users to visit it for more information.
Create the impression that you're mentioning the brand for the convenience of other users rather than to promote it. Interested Redditors will discover your brand anyway, and you'll avoid breaking the rules.
3. Don't capitalize titles
You should not use capital letters in post titles, the post itself, or the comments. This is against Reddit's etiquette and makes it seem the post was written by a bot. We recommend using sentence cases in all places.
Conclusion
Redditors are emotional and often dish out harsh criticism of brands and promoted posts.
Most advertisers are reluctant to invest time and effort to conquer Reddit: they often quit after they fail. While Reddit is not the place to force-feed anyone your content, it is a valuable source of new traffic for your site. Did you know that with Adsterra, you can start monetizing social traffic, too? Ok, whether you have a website or not, ad codes will work full force. You only need to register and try.