The best DSP platforms can boast of buying the ripest traffic from millions of publishers. They carry out real-time bidding auctions and help three actors at a time: 
advertisers get broader ad coverage,
publishers improve their inventory monetization,
SSP platforms profit from the traffic they resell to DSPs.
You can profit from selling your ad impressions to a DSP platform if it's reliable, safe, and high-paying. How to choose exactly this kind of platform? If you represent an ad network that needs to monetize loads of CPM traffic, this guide is for you!
Two primary purposes of DSP platforms
If not digging into technical specifications, we can name two main purposes of demand-side platforms dividing them by functionality.

The first purpose is to provide advertisers and affiliates with tools for purchasing ad placements in bulk. This will also be followed by targeting, ad management, and tracking options — just like with any advanced ad network.

The second purpose is to obtain relevant and numerous ad placements from Supply-Side Platforms. In our selection below, we will consider these two aspects as primary ones. A DSP should be flexible enough to support a multi-target campaign setup. In the meantime, the platform must be a top-notch traffic buying system that accepts only pure traffic.

How to make sure you can trust your demand-side partner? Let's form a checklist you can turn to when needed.
To Contents ↑
How to choose the best DSP platforms to sell traffic?
Ten main criteria come to the rescue when you can't make a choice. It doesn't mean you should stick to all of them — it all depends on your goals and needs. But some of them will surely help you choose more wisely.
1. A DSP platform partners with direct advertisers
Many digital demand-side platforms can boast of hosting myriads of advertisers. Do they partner with them for a long time? Or are they one-dayers? You won't know. Our advice is to check if the brand you plan to sell traffic to mentions direct advertisers. Take a look at their media kits or sales slides, or gallop through some public reviews, if there is a number of their core advertising clientele.
2. The platform is owned or managed by a credible provider
Like Adsterra DSP, Exoclick or Zeropark, your platform should be owned or headed by a renowned brand. Look for long-livers on the market, those who exhibit at landmark events, or those who contribute to professional media. Reputation is something you can score in favor of this or that platform. None of the brands — just like celebs — remain unstained. And our advice is not to investigate like Sherlock but take a general snapshot of the company's image and reputation.
3. It's not an out-of-the-box solution
A powerful platform relies on its own technologies. That's optional, but you surely should prefer in-house solutions to template ones.

The in-house tech department ensures the brand can adapt to your needs, provide safe and flawless integration, and deliver stats reports.

Template solutions are usually sold in packages, and you can jump from one license type to another only by paying for a whole new set of services. Will you need them all or not? That won't bother the developers.
4. You're provided with a personal manager
Imagine you started sending traffic about a month ago. And this week you check the stats and see you've sent 10M impressions while getting paid for 8M. Ad discrepancy won't be a drama if you can reach out to your manager and get proof that everything is ok.

Another case is you want to verify the new endpoint. This time, your manager will quickly connect you with the tech department or even carry out the new integration.

Fast support is another point for choosing a DSP platform. The ticketing system is a pretty outdated way of communication. So, when reading through another bunch of sales presentations, ensure your DSP mentions the "fast support" option.
To Contents ↑
5. Anti-fraud solutions and remnant traffic filters
Isn't it great when a DSP platform accepts any traffic? No, it's rather a signal to stay away from such a shady partnership. That's because they don't value their advertisers or care about long-term partnerships.

Along with your pruned, quality traffic, such platforms accept bots and fake impressions. To add more, DSP platforms of that kind will underpay for genuine traffic as they focus only on second-hand reselling. Market leaders typically don't resell traffic as is but use a complex of intelligent solutions to block proxy, bot, and iframe impressions.
To Contents ↑
6. Your account's "outfit"
What we mean by "outfit" is a complete package of tools and functions to send traffic and get regular payouts. Sure, it's a no-brainer, but if your DSP can offer you a personal account with payment methods, API setup page, stats reports, profile editing, live support option, etc.
7. Smart traffic selection based on multiple targeting options
One primary factor determining your profits is how well ads coming from the DSP will fit the traffic you send. Ad placements quality is one side of the story. Another one is the ability of a DSP platform to match traffic and ads by multiple parameters.

Users who are forced to see irrelevant ads will churn without conversions, so your payouts will drop. If users interact with ads — watch, click, convert, buy — your earnings will grow exponentially.

To sum it up, make sure your new demand-side platform supports traffic-to-offer matching by tens of parameters.
To Contents ↑
8. Happy publishers
All of those "robust, innovative, fully fledged, AI-driven" adjectives used by platforms mean nothing but fluff if their core customers — publishers — keep arguing about poor support and earnings. Indeed, the end users' satisfaction is not your point of interest. But we recommend looking at publishers' reviews and ratings like Trustpilot to find proof that you're choosing a reliable demand-side platform.
9. Payment transparency
Even the most robust technologies fade If your partner can't deliver you payouts in time and via a suitable payment system.

Not like an equivalent, but like an example, Adsterra SSP partners get payouts weekly. Transactions are fully automated, while payment methods vary from wire transfers to USDT. Partners can set up and change the preferable withdrawal system from their accounts.
Top-6 best DSP platforms to partner with
Before we list these best DSP platforms in 2023, we advise you to consider the brand itself. Look through public reviews and listicles and read both publishers' and advertisers' testimonials.
Adsterra DSP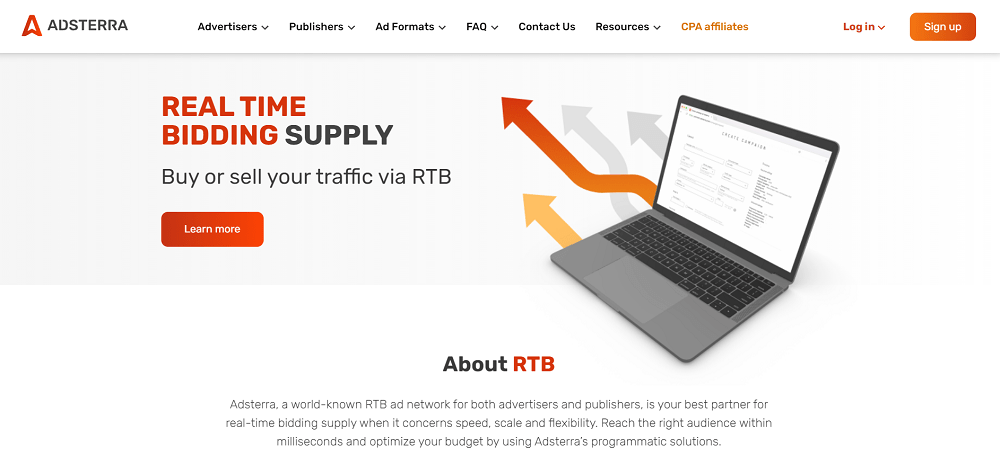 The number one DSP platform for Popunder traffic providers belongs to a reputable global ad network, Adsterra. The platform is proud of having over 12K core advertisers. About 150K new campaigns are added to the current ones each year. The primary demand comes from advertisers in iGaming, Streaming, Software, Sports, VPN/Utility, and Entertainment verticals.

Adsterra provides its SSP partners with 100% top-class demand from CPM, CPC, and CPA deals. AI algorithms guarantee you get the highest bid possible while the traffic you send meets the most relevant ads.
Top reasons to sell your Pop traffic via Adsterra
You maximize traffic monetization while publishers stay satisfied with ad quality and payouts. Say hi to higher retention rates and LTV!
Anti-fraud solutions allow for automated filtering of bot impressions along with preventing fraudulent ads (the malware combatting algorithms).
Adsterra provides you with a personal manager and stays in touch in the live chat in case you need support.
Adsterra serves you high eCPM rates for any Tier traffic from 1M impressions daily. It ensures solid demand for impressions and clicks coming from South Africa, Asia, Latin America, India, and Tier-1 countries.
To Contents ↑
Commerce Max by Criteo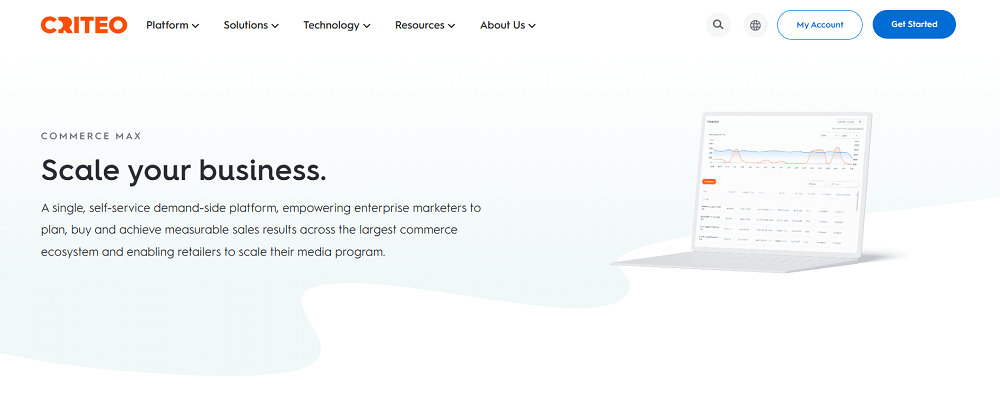 Commerce Max DPS is a truly versatile platform owned by a reputable brand Criteo. It focuses mainly on retail. However, its 15K advertisers enjoy high-quality traffic related to Education, Science, Arts, Consumer Electronics, and other verticals.

Criteo cooperates with premium publishers from the top market segments mentioned above. Publishers can apply for selling traffic through a Direct Bidder service.

Commerce Max offers powerful targeting by over 8+ parameters, including GEO, Browser, OS, ID, and more. The main geos are typically Tier-1 countries: North America and Europe.
To Contents ↑
TrafficStars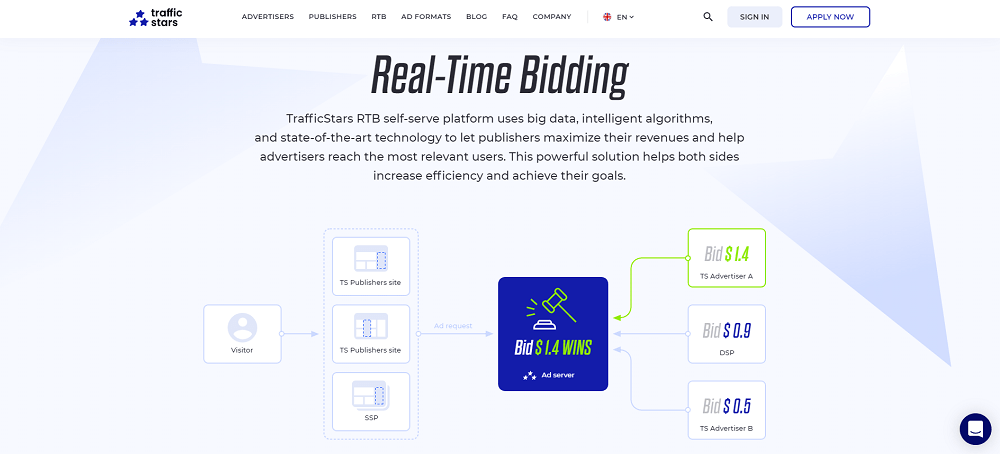 The TrafficStars RTB self-serve platform applies big data, smart algorithms, and cutting-edge technology to help SSP partners optimize income and advertisers target the most relevant customers. This strong solution assists both parties in increasing efficiency and achieving their objectives.

Top verticals: iGaming, Slots, VPN, Nutra, Crypto, Sweeps. With a highly competitive bidding procedure and a large number of demand sources, publishers may get a greater value for their inventory.

Publishers can make advertising more user-friendly by presenting users with suitable offers. Access to broadly targeted campaigns allows for additional inventory monetization.
To Contents ↑
Exoclick by Exogroup
ExoClick is a worldwide ad network and programmatic ad exchange. Their DSP platform allows for integration with both direct publishers and SSP providers. Publishers can access the +10 billion daily geo-targeted advertisements supplied by ExoClick and other ad networks.

Traffic types the platform accepts: Popunders, Banners, Push Notifications, Native, Video, and Email Clicks.

Top verticals: Niche Video, Dating, Nutra / Health, Games, Ecommerce.

SSP partners can integrate via openRTB or ExoclickRTB (XML). Exoclick will empower them to manage their own direct transactions and connect their chosen networksс and DSPs programmatically. This way, publishers will be able to utilize 100% of ExoClick advertisers' demand.
To Contents ↑
Zeropark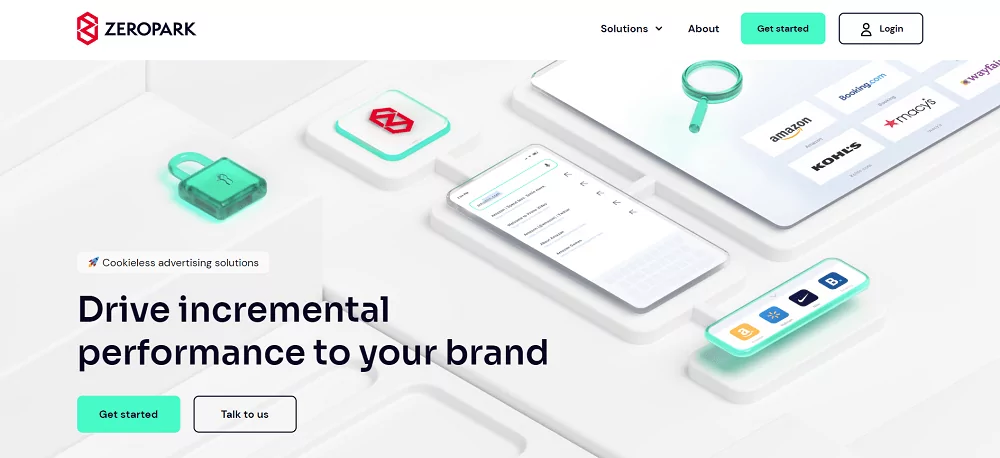 Zeropark is our following top-choice advertising network and DSP platform, allowing multiple traffic monetization options. Zeropark's flagship traffic types are Pop, Push, and Domain.

The Programmatic RTB interface accepts a variety of feed formats (XML, JSON, and OpentRTB). It allows SSPs to participate in Zeropark's real-time bidding auctions by sending their traffic to thousands of advertising offers.

What's special about Zeropark's services is that it allows for matching lots of parameters (via the Zeroclick feed). And publishers can add even more parameters they want to send. When Zeropark receives a visit request from a publisher, it responds with a bid calculated from an RTB auction.

Top verticals and traffic specifics: Nutra, iGaming, Utilities, Betting.
To Contents ↑
SmartyAds DSP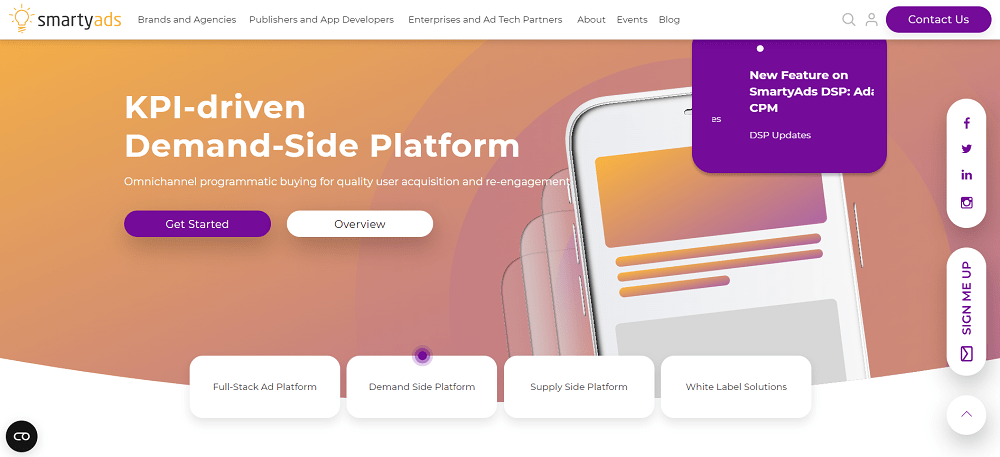 SmartyAds heads complex data-driven media buying solutions for demand-side partners. It cooperates with significant media buyers, brands, and agencies.

The platform supports launching of omnichannel campaigns across devices.

SmartyAds is proud of providing a neat, user-friendly interface, easy access to statistics, and the broadest set of targeting options available in the self-serve account.

Top markets: Employment, Finance, Business, Sports and Travel, Lifestyle, and others.
To Contents ↑
The takeaway
Checklists make life easier, but they can hardly monetize the efforts you apply to get traffic. DSP platforms that accept quality traffic are the only sensible solution here.

If you're an ad network executive looking for a reliable RTB partner to sell traffic, start your research with Adsterra. We are ready to pay highly for Popunder traffic from any Tier and device. We deliver honest, lucrative CPM rates and can assist in monetizing 100% of your ad impressions. Both mainstream and niche ad views are valuable.

We can't say if it's easy or hard to become an SSP partner of all of these best DSP platforms listed above, but you definitely can start with Adsterra 😉