Selecting the right ad format can be challenging for affiliate marketers and advertisers (business owners), regardless of their experience. Popunders are one of the most traditional and well-liked ad formats available at every top ad network. Affiliates and advertisers can use it effectively for almost any vertical.
In this article, we discuss how to work with Popunders and how they bring you traffic and revenue.
What is a Popunder ad?
A Popunder ad, or just Popunder, is an ad that appears behind the user's current tab in a new window. After completing their task, the user can close the tab and only then see the ad. This way, users are not interrupted while they're navigating through the website or reading the article.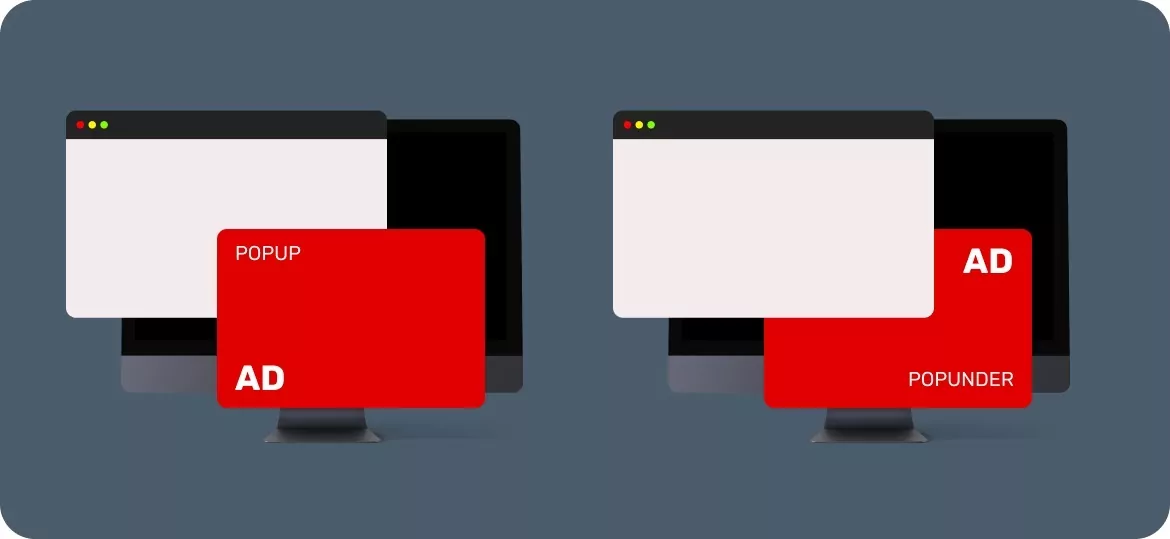 To Contents ↑
Advantages of Popunder ads for advertisers
Popunder tabs are difficult to miss, especially on computers, and are effective because most people hate interruptions.
Popunder ads can work on all platforms and devices. You reach the widest possible audience for the offer by using computers, laptops, tablets, and mobile phones.
They have high conversion rates. These ads won't go unnoticed because people always check their browser tabs before shutting down their computers.
Our genuine Popunder traffic of over 2.2B impressions weekly makes it simple to direct your ads to your niche audience.
To Contents ↑
Advantages of Popunder ads for publishers
Using Popunders could help you monetize all the incoming traffic. For example, Adsterra's ad technology helps online publishers benefit from Popunder's exclusive advantages. Publishers who send massive quality traffic that converts enjoy higher earnings from placing Pop ad codes.
The CPM rates vary depending on GEO, season, and advertisers' bids. One can earn about $800 daily, while the other will start with $10.
Let's go over other advantages that Popunder ads offer you as a publisher:
To Contents ↑
Flexible CPM rates
The rates are completely variable and unique for each website and are based on the type of traffic, location, traffic conversion rate, and a few other factors. For instance, Adsterra has the broadest international traffic coverage, allowing you to make as much money as possible. Our system calculates eCPM individually for each website choosing the highest bid among those competing for this traffic.
Transparent payments
Popunder ads don't use any creatives on your website. Users are transported to an advertising page without any extra clicks. So, publishers get paid for how many users viewed the target landing page, and many of them converted into customers. There's a direct connection between traffic quality (quantity and user engagement) and the payout amount.
Expanded ad spaces
Your current inventory of Banner Ads and website layout won't be unaffected by Popunders because no ad space is necessary. You can also use an additional Popunder ad in your own banner, image, or text and experiment with Adsterra's Direct Link if you want to boost your profits.
Simple to integrate
Popunders don't require deep programming knowledge or the need to understand complex interfaces. For example, you can simply request a basic ad script, go to your website's HTML view, and paste the code before the closing </head> tag. Popunders are the only ads that must be placed between the two "<head>" tags.
100% fill rates
Pops are the most demanded ads, so your website will always be filled with different offers from paying advertisers. That's what we call a 100% fill rate.
Popunders are an excellent marketing tool that won't drive visitors away in frustration or annoyance. Become a part of the world's largest Popunder ad network, delivering billions of Pop Ad impressions every month.
To Contents ↑
Disadvantages of Popunder ads
There are some potential drawbacks to using Popunders that you should consider. Like any other ad format, they are not an all-rounded solution to your campaign's issues.
Popunders are affected by AdBlockers and rely on browser updates
Browser restrictions intended to keep users safe from intrusive advertising target this type of advertising more than any other. You can still make money with Popunders by requesting an anti-AdBlock code. Some ad networks (e.g., Adsterra) offer such an option.
There might be a large number of bots in the Popunder traffic
Bot traffic is the most vexing issue for any affiliate marketer, especially if they're buying traffic from a shady ad network. There is a perception that Popunders receive more bot traffic than other types of ads. All leading ad networks are combating bot traffic with their own anti-fraud solutions. So if you buy traffic from a credible source, your budgets are safe. If not sure, ask your ad network which solutions they use. Nobody wants to spend money on subpar traffic, and nobody wants to lose business as a result.
To Contents ↑
What is Popunder traffic?
Popunder traffic is simply any traffic that comes from Popunder advertisements. This traffic is often more effective.
It makes sense because once a user has finished his business on the desired page, they see the Popunder ad without distractions. In this case, they are more likely to be interested in the offer. In contrast, Popups are frequently closed without even examining the advertisement's content.
In the article "How Every Publisher Can Profit from Popunders," we condensed all supplementary information to get right to the point. To ensure that this guide is beneficial, we asked Victoria, Head of Publishers Support, to address the most common queries and issues.
To Contents ↑
What is the difference between Popunder and Popup?
Both kinds of pops are great ad formats, but each has its own strong points. Popunders are less direct than Popups, which has the potential to be both a benefit and a drawback. It provides a better user experience for visitors to landing pages by opening a new browser window without breaking the user's flow.
Having to stop reading content or browsing a website to close a Popup ad might be the most irritating thing to some users. Yet, it might take them some time to find that hidden Popunder ad.
In reality, mixing the two types of pop often leads to the best results. Therefore we recommend testing the same campaign with various ad types frequently. But how can you use the advantages of Popups with a lower risk of repelling users? Try Interstitials instead; it's the most engaging ad that also pops up above the main content, and is pretty easy to close.
To Contents ↑
Verticals and GEOs with the highest Popunder traffic
As you might expect, pop traffic is so widespread that it is effective across almost all verticals and countries. Marketing and advertising generally follow trends, despite different traffic sources and inventories. Here's what verticals to go with if you're just new to Popunder ads:
Sweepstakes
Sweepstakes are another excellent vertical for popunder campaigns because people constantly look for opportunities to try their luck by entering contests, raffles, and sweepstakes.

There are various reasons why this is one of the top verticals for earning money from popunder ads. First, everyone wants to try their luck at winning something and is probably thinking, "test it now, and if I don't like it, I can always unsubscribe later."

Second, sweepstakes have a high conversion rate because of the low entry barrier. Most people are eager to participate in a contest if they believe they have a strong chance of winning. Many people consider entering to be a part of their daily lives! "Will I be lucky today or not?

To persuade more users to convert, play on their fear of losing out. Instead of suggesting they have a chance to win, say, "Don't miss out!" The fear of missing out (or FOMO) is a psychological method to increase impulsiveness and willingness to act. So, if you tap into FOMO, your conversion rates will skyrocket.

Third, because of the simple conversion choices with sweepstakes offerings, this category has a high conversion rates. While a Popup ad with a spinning wheel is a wonderful and unexpected surprise, a Popunder might be like discovering $100 in the pocket of that pair of jeans you've had for a while.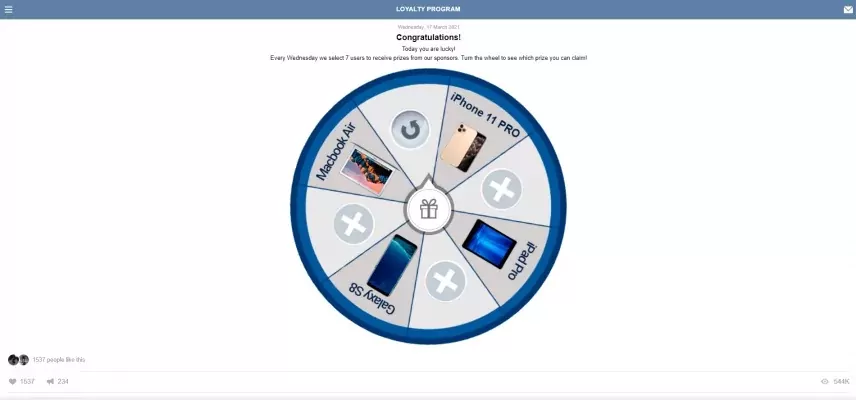 Further reading: Case Study: 120$ on a Sweepstakes Offer With Mobile Popunder Traffic
Online Gaming (iGaming)
If you have a seamless conversion funnel that converts cold traffic to warm the iGaming vertical is ideal for your Popunder ads.
This is one of the most profitable and high-paying verticals in affiliate marketing and you can partake if you're ready to invest in a decent landing page and conversion funnel, capped off with appealing free money upon First Time Deposit.
You should also test which landing pages, professional or simple, perform best. It mainly relies on the offer and the demographics of the audience. While adept prelanders do an excellent job, they can all seem the same sometimes. You must set yourself out from your competitors.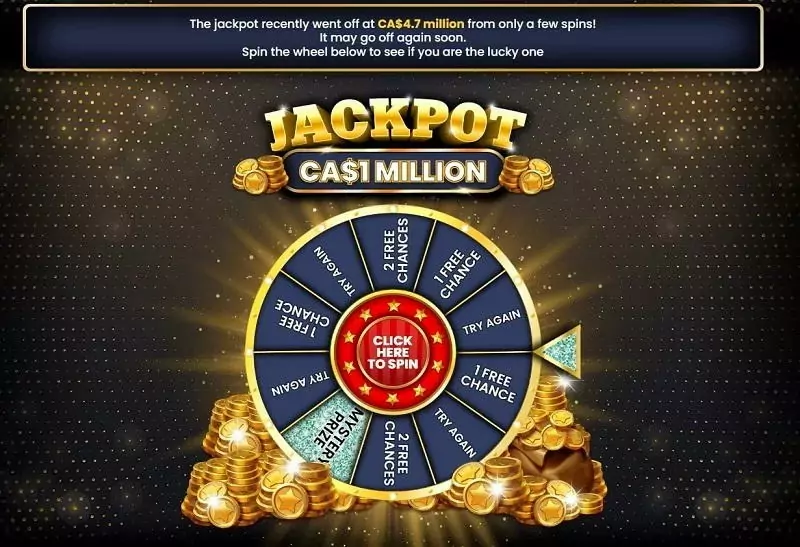 Further reading: 8 Powerful Techniques of Using Popunder Ads for Lead Generation
VPN, Antivirus, and Utilities
Antivirus and utilities like desktop/phone cleansers are two of the most successful verticals for popunder ads.
Several factors contribute to the popularity of this category. Consumers are always concerned about the security of their devices and personal data. They want to ensure that their computer and phone are virus-free and that their privacy is safeguarded. After all, there are several internet hazards nowadays.
Most people prioritize device security, and they'll be seeking innovative ways to assist them in doing so. Furthermore, users are not required to make an immediate purchase for the app to work. People can purchase it after the evaluation period or when they are ready (whichever comes first). So, if you offer an antivirus product, you'll attract a lot of attention, and most people will want to learn more.
Second, antivirus and desktop/phone cleaners are evergreen goods that deal with online security. And, because many individuals regard these offerings as solutions to their biggest problems, they're continuously looking for methods to upgrade or add new things. More leads will be converted into sales if you can provide an advantage over your competitors.
Third, this category has a high conversion rate because of the simple conversion possibilities that desktop/phone cleaner provides. Among the conversion flows are the following:
Download and install,
Scan your PC for viruses.
Download for free and get a free trial.
Here's an example of an antivirus popunder ad: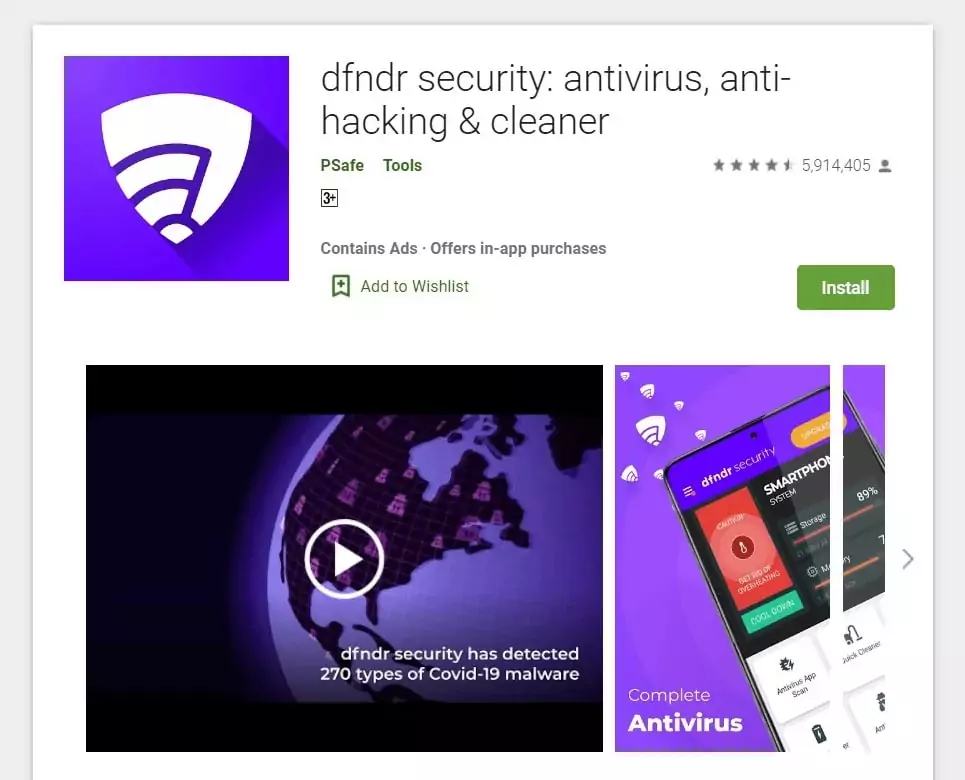 Further reading: Case Study: 144% ROI on a Utility (Antivirus) Offer with Popunder Traffic
Dating
People need some entertainment just as much as they need games. Even though dating ads are only allowed on websites with age-restricted content, it still provides publishers and affiliate marketers with a lucrative source of income.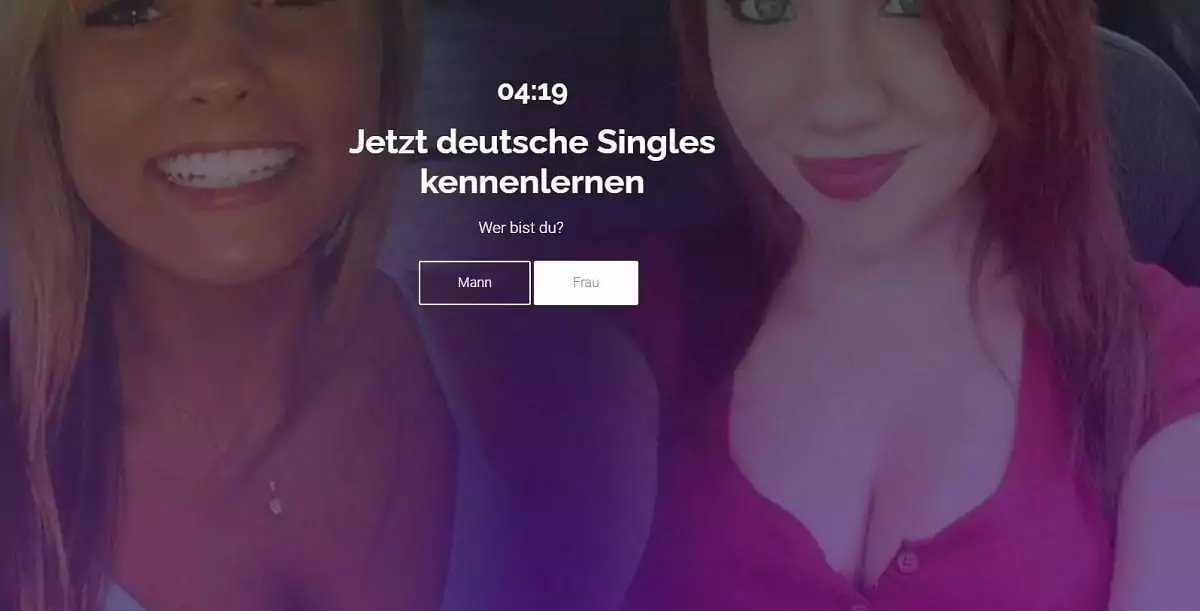 Popunders are widely used in these verticals. Here advertisers can choose GEO targeting without much thought.
To Contents ↑
GEOs where Popunder ads convert the best
It's wise to consider the types of offers you're running when deciding which nations to target with your Popunder campaigns. Any tier can perfectly convert if you choose the right offer and the type of conversion.
It is clear that the most highly paid offers are from Tier 1 (UK, US, AU), but the traffic here is the most expensive. So, if you are a novice marketer, try Tier 3 countries (IN, PK, NG). There is a very lively demand for mobile subscriptions, sweepstakes and lotteries, and VPN services. Tier 2 (FR, CN, BR ) will provide good traffic to iGaming, Betting, Nutra, and Ecommerce.
And in Tier 1, there is already less trust in Sweepstakes unless it is an offer from the largest video content service or a Walmart draw. E-commerce, iGaming (where allowed), Software and Utilities, and Finance work perfectly.
To Contents ↑
How to choose the right Pop ad networks
Most ad campaign success depends on your chosen platform because you could be doing everything right. Still, your competitors' ads on a different platform bring more positive results. This is why choosing the right ad network to launch your pop ads campaigns is a significant step.
To help you make this crucial decision, we recently published an article on the top pop ad networks available. There we exhaustively explained each factor you should consider before choosing an ad network.
How to advertise with Popunders?
Here are a few tips on launching a Popunder ad campaign.
1. Define your landing page strategy
Sometimes affiliates have only one landing page, whichever one LP the advertiser provided. So it's not profitable to promote bad landing pages, especially if they're not optimized for mobile devices, there is too much text, and there is no clear call to action.
If you own a product or advertise as an agency, you can create multiple landing pages and run an A/B test. Then you will create several campaigns to test and see which one converts better.
Testing the pre-landing + landing page option might be the best course of action. In most cases, you will need prelanding to help warm up users' interest and cut off inappropriate traffic.Here's an example of a pre-lander for a Dating offer.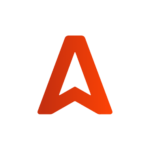 To Contents ↑
2. Decompose traffic
Our next tip is to decompose traffic. When you decompose, you create several large slices of your traffic by creating a separate campaign for each. This gives you a pretty good idea of how to bid and optimize in the future.
Here's an example. You can categorize traffic as mainstream or non-mainstream (or niche). As you may know, affiliates frequently include non-mainstream traffic campaigns such as VPN, iGaming, and Finance. It is conducive to be able to monitor each of the large traffic slices separately.
Your mobile ad campaign can be split into two parts based on iOS and Android traffic. Since these two slices differ in user behavior and cost, having two separate campaigns rather than one will provide you with more transparent data.
Make sure to segment all traffic slices based on GEOs; the same website can return different results based on GEO. Traffic decomposition is essential for subsequent steps such as campaign scaling and optimization.
To Contents ↑
3. Use Whitelists in a proper time
Many people believe you can come from one advertising network to another with your whitelist. Or that you can use your whitelist from a company from a year ago. Unfortunately, this is not the case as it can harm your results. When you start testing traffic, try to set broad targets.
Test your campaign with RON (run of network) parameters and a recommended minimum bid. When you test correctly, you'll reach as much ad inventory as possible to select the best converting ad placements. This is the basis for identifying potential traffic sources that can be optimized later. RON settings also help you cut expenses.
Avoid using ready Whitelists and Blacklists while you're just getting started with your campaign. Even if you identify a White- or Blacklist, it might not match a new traffic source (ad network.) So, only after passing the RON testing step should you apply White- and Blacklists or design them yourself. And now, on to the next piece of advice related to this one.
To Contents ↑
4. Use a tracker
You may appear familiar with your traffic sources, but you must not overlook competitors and market trends. In any case, you can only diversify funds wisely if you control each of your campaign's KPIs.
We recommend adding a placement token to track the performance of your traffic sources. Tracking conversions is a good move, but to properly range all placements and adjust your bids/payouts accordingly, add the ##PLACEMENT_ID## token to the offer's URL. Also, copy and paste it into your tracker.
Advanced trackers will save you money while also providing you with hundreds of new ideas for future steps. You can enable S2S cookieless tracking from your Adsterra account. Adsterra also has built-in integration with RedTrack and Voluum. So take advantage of this opportunity to begin tracking conversions.
To Contents ↑
How can you improve your Popunder traffic conversion rates?
Before your campaigns take off, there is a lot that you need to research and test. A successful marketer must know essential pointers and techniques for boosting Popunder traffic conversions.
Spy on your competitors
You need to know what other advertisers are doing to outperform them. Buying a spy tool is the fastest and most efficient way. Spy software provides information about the enormous ad market. You can see what's running, where, how long it's running, and how successfully.Here's our guide to the top spy tools.
Build your landing pages
After you've completed the spying, use your imagination. Even though conducting an A/B split test using a ripped lander and a modified lander is a great idea, copying other people's work and hoping for the best is not. The landing pages recommended by spy tools are proven, but they are also significantly popular. That means that so many advertisers already use them.
Watch your targeting options
Starting your campaigns with broad targeting is a good idea. Beginners frequently decide to start with a suggested Whitelist because they are concerned about overspending. That's a decent choice, but it's not the best. Whitelists, based on your prior results, are always the most precise.
Additionally, device targeting is crucial when maximizing your offers. Despite being distinct from their desktop counterparts, mobile Popunder ads are a great option for beginners.
Improve your bidding tactics
Whatever ad format you select for your affiliate marketing campaigns—Push Ads, Banner Ads, or Pop Ads—you need to consider a bidding strategy.
Any self-service platform has the appeal of letting you choose how much money you want to spend. Nothing will stop you from making a high bid and going all out. However, this might lead to budget exhaustion. A high bid does not imply the most traffic or conversions. To select the best bid, choose the bid suggested by AI algorithms for the test. Even better, ask the manager what bids are currently in this segment: country, offer type, and targeting.
Conclusion
Although different traffic sources have different policies for classifying their inventory, Popunder ads are widely used and unquestionably effective. And your marketing can be as non-intrusive as possible, thanks to Popunder traffic.
Additionally, pops don't require much to function. You just need to pick an ad platform with a high-quality inventory and an affiliate network. After that, you launch your campaigns and make some eye-catching pre-landers. But don't forget to optimize. Your campaigns won't become profitable on their own.