In the perfect world, publishers should be able to profit from every activity they undertake. The reality doesn't seem to be that bloomy, and getting passive income turns into multiple challenges. Not today! Every Adsterra publisher can (and should) earn more by inviting other webmasters to join our ad network and start monetizing their websites. That's what our Referral Program with a 5% commission is all about.
The principle is pretty simple: you recommend your peers and other entrepreneurs to join Adsterra by sharing a unique referral link. Adsterra 'ticks' all those who registered via your link, and regularly pays you out a sum equal to 5% of those referrals' revenue.
But how can you encourage prospective publishers to use your link? How to attract multiple referrals? Are there any proven means of convincing people to register? We will answer these questions in this post.
How to start getting a commission with the Adsterra Referral Program for publishers
1. Generate your unique Referral link / Invite link
All publishers who join Adsterra to monetize websites or social traffic can add a solid commission fee to their payouts. Your first step here is to generate a unique invite/referral link on your Publisher's account.
Sign up or log in and open the Referrals page. Click on the GENERATE INVITE button. You will get a unique URL that you can share with your peers. Those who click on it will be redirected to a the sign-up form for publishers.

You have copied a unique invite/referral link. To monetize significantly, you need to place this link, so that many people could see it and click on it.
Each time when someone uses the Link to sign up as a Publisher, Adsterra will get an alert that this referral came from you. These are your referral users. Adsterra will add to your regular payout a 5% surplus equal to your referrals' earnings. And that's a regular commission.
How to make more people register? Or, how to make the right people register? With the following set of tips, you will act for sure and succeed in promoting your referral link.
You can draw attention to your referral link in several ways. Don't hesitate to promote Adsterra, as your recommendations come along with those made by the leading monetization pros, affiliate marketers, and bloggers. 
Reputable digital experts, who have been using Adsterra, write reviews on the Platform: Ravi Ahuja from EarningGuys, Servando Silva from Stream SEO, Jitendra Vaswani from BloggersIdeas, Anil Agarwal from BloggersPassion, and many inspiring experts.
Here are some tips on where and how to share your referral links
Text links
Text links are great for blogs and personal websites that have content related to passive income and marketing. Include a link into your blogposts about top ways of making money online, the best digital platforms, or affiliate marketing tools.
Word of mouth
While taking part in online events (webinars, workshops), share the link with the participants if the event's topic concerns making money with ads.
YouTube
Moneymakers are widely using this channel as they usually teach the audience how to earn step by step. If you're one of those advanced digital marketers, add your Referral link to the lesson description.
Adsterra referral banners
Eye-catching designs by Adsterra and various sizes make referral banners fit any web or mobile page. Make use of them when text links are blurred in the content.
After you become the Adsterra publisher and get the INVITE LINK for referrals, you can ask our managers to share banners with you. Simply leave a message in the live chat. You will need to download a banner, place it on your website and add your referral link with a typical "<a href>" tag.
Choose your best banner from tiny 80×30 px to wide 600×250 px. Standard formats are also here: 720×90 px and 468×60 px. Banners come as static PNGs or animated GIFs.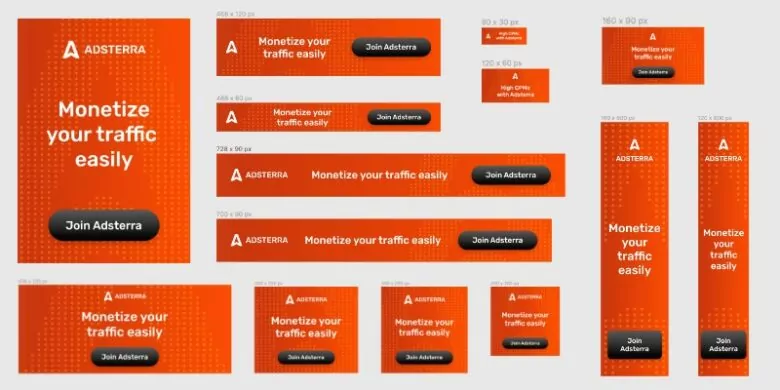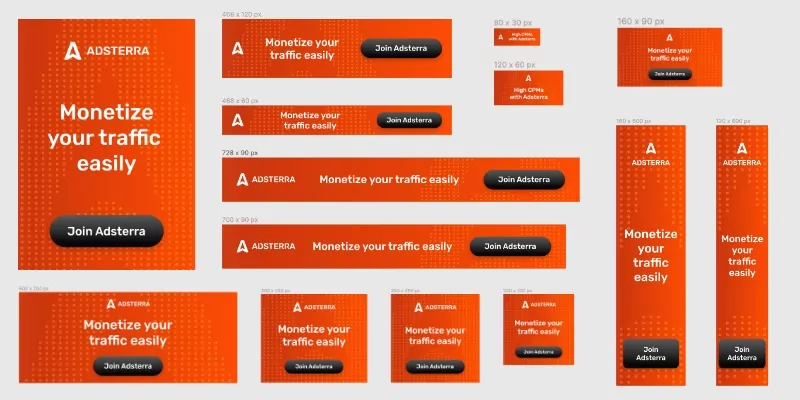 Social networks
When posting valuable content and sharing your monetization achievements, you can advise Adsterra to your followers. On Facebook, the Link can be added to a simple post. If you're using Taplink, then it is possible to share your referral link via Instagram.
Search ads, contextual ads
Google Ads and its sibling tools are for product advertising and massive reach. Please don't create Contextual Ads on behalf of Adsterra, and don't use your Referral link in these ads. Google can ban you for brand name usage. Use a more effective and safe way instead!
HOW TO SAFELY GET REFERRALS WITH CONTEXTUAL ADS
You can lead traffic to your website page, where you will showcase Adsterra Ad Network as a trustworthy partner and share a Referral link with all those who want to make money.
Pre-warmed target users will come to your page, read about benefits, and use your Link to register. You will turn a higher profit this way!
Forums and professional community channels
If you're a member of a professional community, you can invite other pros to join Adsterra in discussions. Live communication is pretty sensitive to blank advertising, so being too pushy will count against you. Convenience and value are your best friends here.
The first thought that crosses one's mind is to attract as many referrals as possible. Well, that could be a nice move. But will these multiple users succeed and bring you money? We at Adsterra recommend not only the extensive way but also a more targeted approach.
1. Write a review
In-depth reviews of digital tools and platforms always collect many views and provoke discussions. This should be a credible article where you describe all the nuances of website monetization with Adsterra.
What the review may include:
facts and figures about Adsterra (number of advertisers, payouts proofs, ad formats);
the "how-to" part: a short onboarding for publishers on how to register and add a website;
a brief overview of advertising formats and your recommendations;
your story: how you started partnering with Adsterra and what you have achieved;
your tips and hacks on how to earn with Adsterra;
main pros and cons of using ad networks;
key benefits for publishers in terms of monetization.
2. Share your expertise with aspiring publishers

While you are growing your online business, many beginner publishers will turn to you seeking advice on how to avoid website monetization mistakes. Try to spare time for those who need your professional assistance. Answer questions, publish tutorials, share tips and lifehacks where you can include the referral link. This content usually attracts only a relevant audience who is ready to learn. So, it's a sort of investment in your future earnings 😊
You found a win-win means of making money. You recommend a powerful platform to your peers, Adsterra Referral Program rewards you with a regular commission fee that accounts for 5% of the referrals' revenues. Profit for all those involved in the process.
6 facts about getting a commision with the Adsterra Referral Program 
Adsterra Referral Program for publishers offers a regular commission. You will get extra income equal to 5% of your referrals' revenues regularly.
If your referrals are powerful moneymakers, these 5 percent of their earnings can be truly impressive hundreds (if not thousands) of dollars.
We don't limit you by the number of referrals. But place quality over quantity. If referrals don't earn, you also won't.
You can enhance the impact of your promo by using Referral banners. Static or GIF, they encourage publishers to join the reputable ad network.
Our referral program is for publishers only. Unfortunately, you can't invite advertisers.
You control your referral earnings. You can monitor all your referrals and the amount of commission you get from your account.