The WordPress Repository is currently one of the most popular places to find trustworthy themes and plugins to enhance your website's design and functionality. It has over 7,400 WP themes. So how to choose the one that will help you grow traffic and, maybe, capitalize your content? It's not only about picking a responsive theme (though it matters). We'll talk about which factors to take into account, how to install a WP theme correctly, and how to update one?
How to choose the right WordPress theme:
Decide between a free or premium WordPress theme
There has been a debate about using a free or premium WordPress theme for a long time. Should you save money and go with a free theme or invest a small amount in a premium theme and get the benefits? If you find a WordPress website that you like, you can use a theme detector tool to figure out what theme it's using.
It all comes down to your budget, but there are a few things to think about before making a final decision:
Pros of using free WP themes:

They're free to use, so you won't have to spend any money if you don't like it and want to change it.
After a thorough review, the free themes in the WordPress Repository are officially approved.
All of the free themes available on WordPress.org are compatible with all of the free plugins available in the same place.

However, there are some cons to using free themes.
They typically have a limited feature set.
They're widely used (making it challenging to create a unique website).
They receive little to no prompt support if problems arise.
Free themes outside the WordPress Repository may be poorly coded, leaving your site vulnerable to attacks.
Pros of using premium WP themes:
​​
They come with support to help you with bugs, technical issues, and customization (suggested reading: How to Customize Your WordPress Theme).
You'll get frequent updates with improved security and functionality.
The features allow you to create a site that looks and functions exactly how you want it to.
They're often compatible with the most recent versions of WordPress, HTML, CSS, and PHP.
Premium themes, on the other hand, are not free. Some paid themes have a yearly fee, while others have a one-time fee.
To Contents ↑
Know your niche
WordPress themes should also cater to a wide range of websites. Knowing your niche will help you find WordPress themes with the design and functionality you require.
For example, if you want to start a WordPress food blog, you should look for a food-specific WordPress theme. Better yet, if you want to sell products and services to other foodies, you should look into eCommerce themes that allow you to run both an online business and a blog.
If you own a video streaming site, image storage, or a free tool site, look for specific themes that have the necessary features.
Use only credible sources
If you want a free WordPress theme, check out the WordPress Repository. A premium theme or one from a third-party theme company should have the following:
Reputable authors
Frequent updates
Positive customer ratings
A good number of sales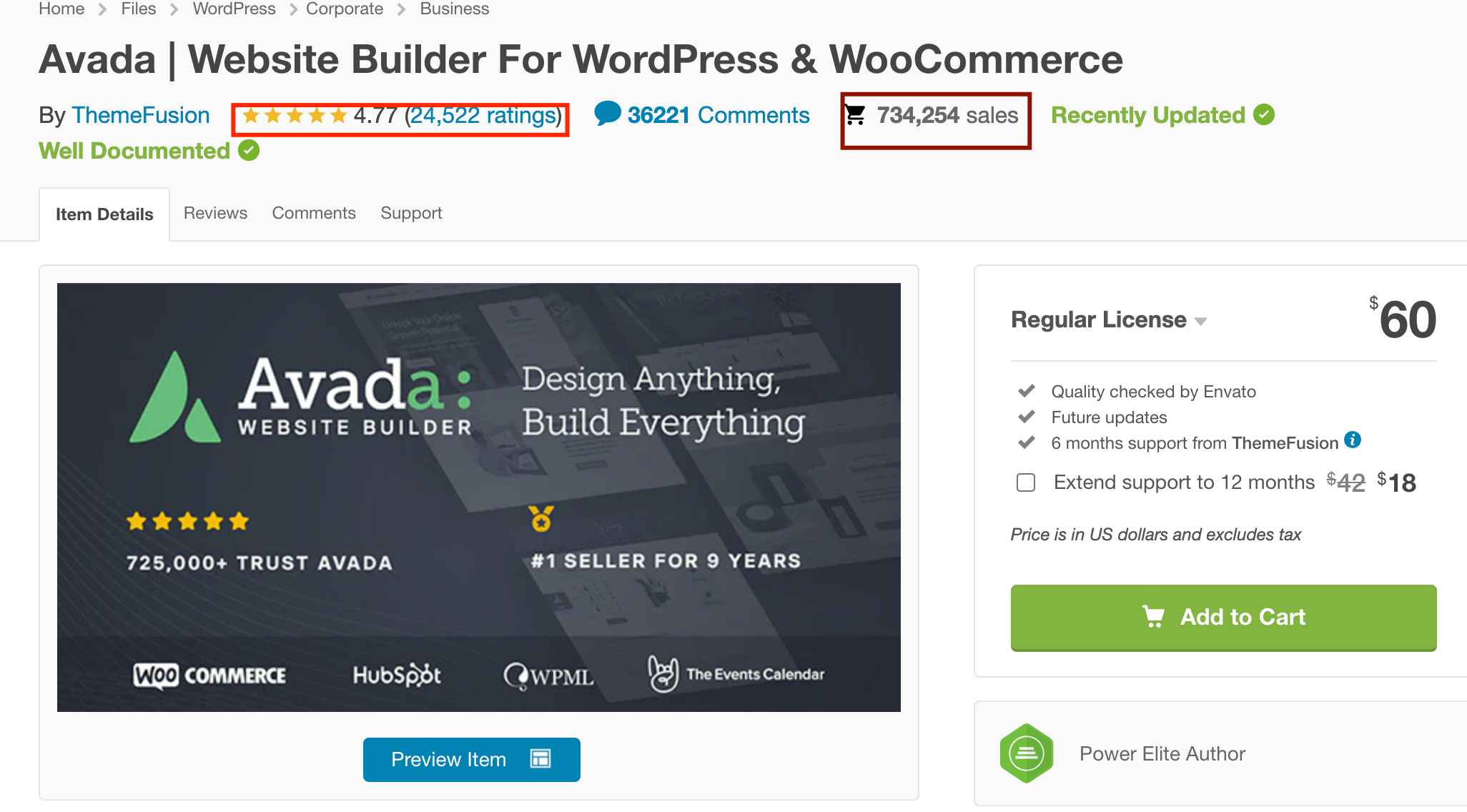 Whatever WordPress theme you need, it doesn't matter. It's vital to avoid using nulled WordPress themes to prevent future issues with site security, downtime, and lost visitors.
To Contents ↑
Go for simple WP themes
It's easy to fall for popular multipurpose WordPress themes like Avada or X. Aside from the features and design, sometimes simple is better. This is especially true for newbies. Multipurpose themes can have too many features, a steep learning curve, and slow down your website. It's best to use a theme that only has what you need.
Look for themes with a responsive design
Responsive design provides an exceptional mobile user experience. Having a responsive WordPress theme means that when visitors click on your site using a mobile device, your site will adjust to the screen size. All content is visible, and visitors can easily navigate and click the CTA buttons.

This online tool allows you to test your website on various devices, including laptops, tablets, and smartphones. You can also navigate the site as if you were using a mobile device to ensure that it looks and functions properly for mobile visitors.
Evaluate the theme support
You may need help while using your WordPress theme at some point. It's vital that you're able to contact the theme developer or their support team in such situations.
Before you choose a WordPress theme, find out what kind of support is available. But remember that most free WordPress themes come with limited or no support.
Consider the features
Finally, you should think about the features that come with your WordPress theme. Here are some of the most important and general features to look for in any theme, whether it's free or paid:
Built-in SEO optimization
Multilingual and translation ready
Cross-browser compatibility
Popular WordPress plugin compatibility
Social media sharing
Of course, each person's website requires unique features. However, the factors listed above will guide you in the right direction and assist you in making a decision.
To Contents ↑
How to install a WordPress theme
1. Through the WP theme directory
You can search for and install a free WordPress theme using the WordPress theme directory.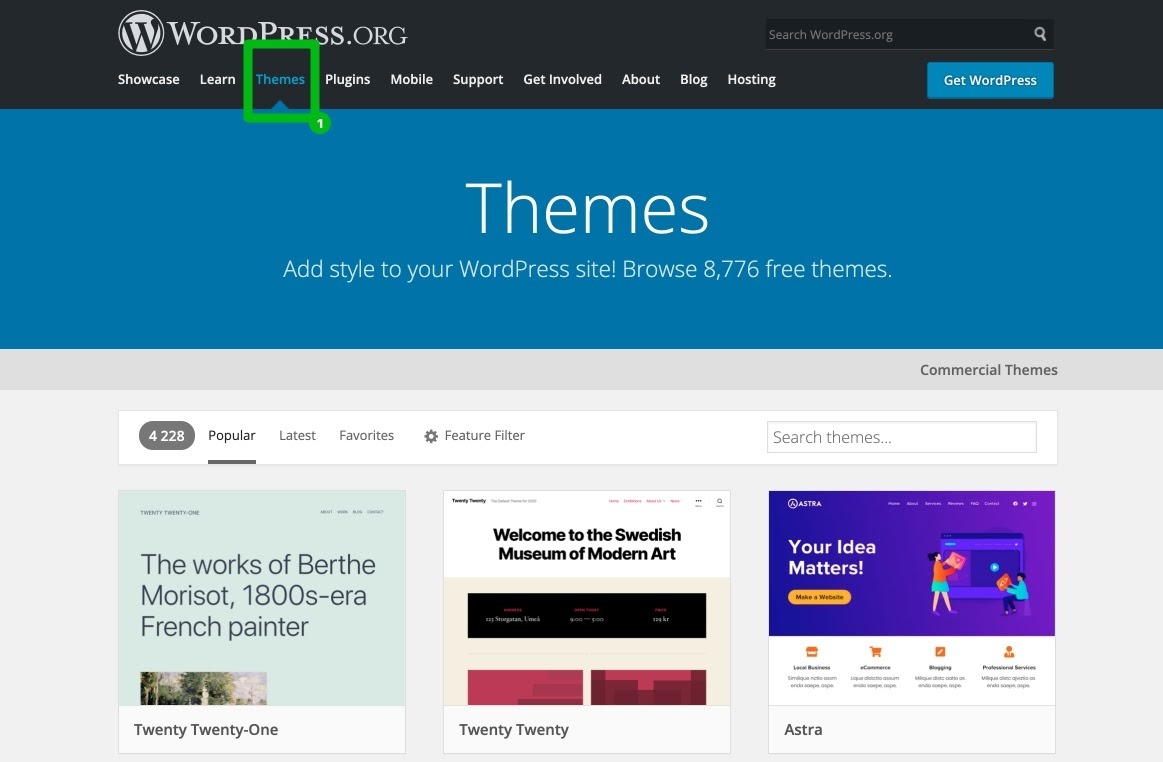 Log in to your WordPress account.
Go to Themes.
Select a theme on the Themes page.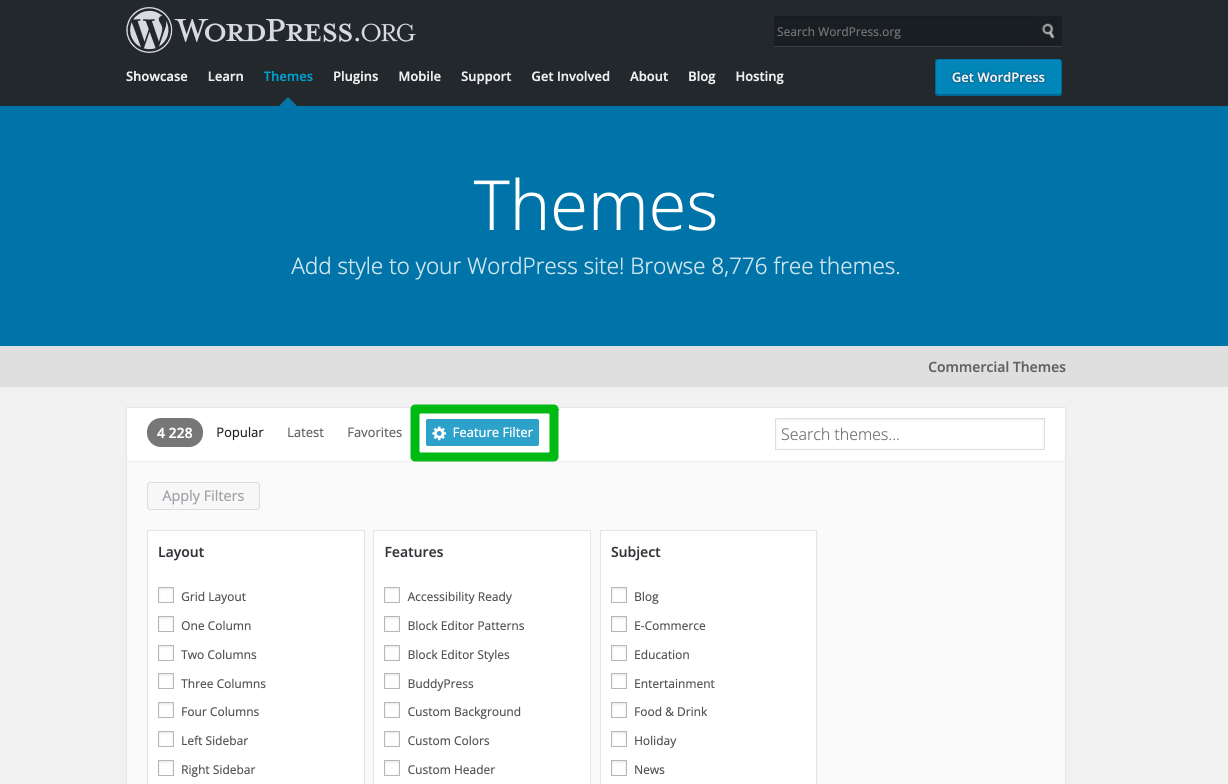 You can select from popular themes, latest themes, or favorites themes, and you can also search for themes with specific features, like sticky posts or full-width templates.
Click Download to begin the installation process.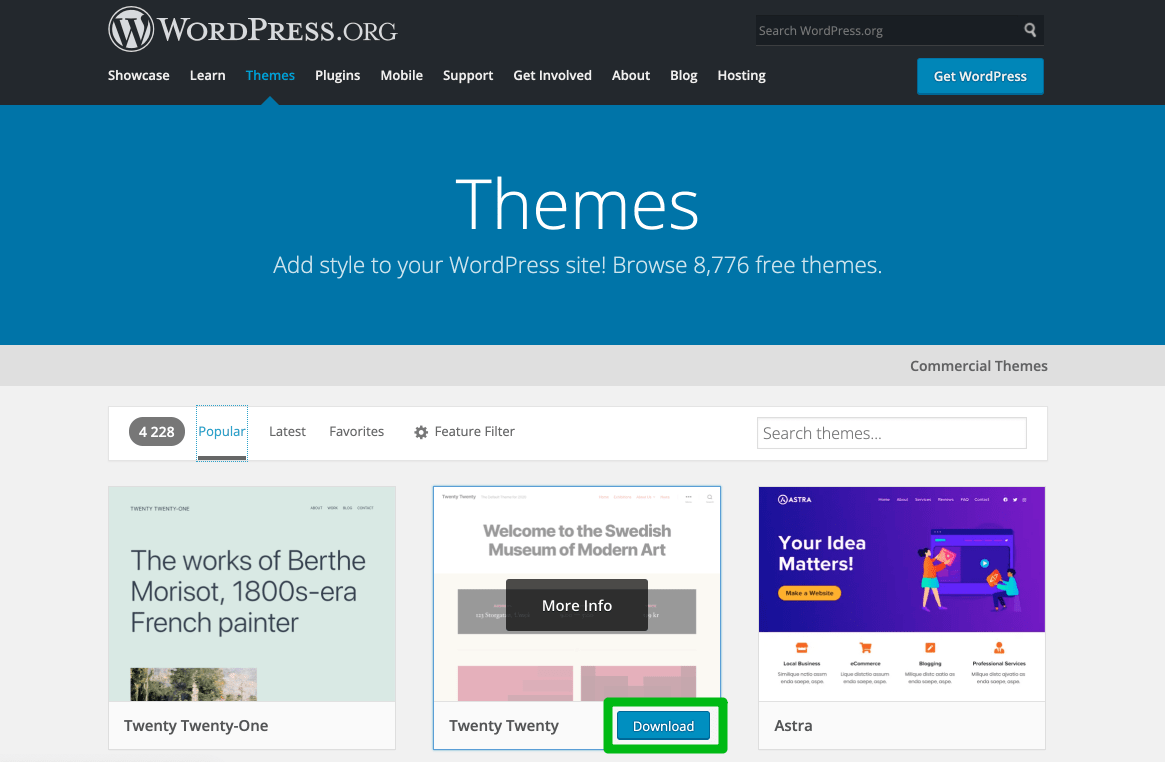 When you've chosen a theme, hover your mouse over the preview image. You can either click More Info to learn more about the theme's features and see a preview of the theme.
It will only take a few minutes to install the theme. You'll get a message stating that the installation was successful after it's completed. However, the theme isn't yet live on your website. Click Activate once complete to make sure the theme appears on your website.
To Contents ↑
2. The upload method
If you've found a premium or custom theme somewhere else, you can easily upload it using the WordPress dashboard by following these steps:
Download the .zip file you purchased from a theme marketplace or commercial provider.
Then go to the Themes menu in your WordPress account.
Click Submit your theme under the Add Your Theme section.
Click Upload Your Theme at the bottom of the page.
Choose the .zip file you downloaded and click Install Now.
A message indicating that the theme installation was successful appears.
Click Activate once the installation is complete.
3. Installing theme with File-Transfer Protocol (FTP)
A complex, robust theme with large files may be too large to upload manually. In this case, you'll need to upload the theme via FTP. Using FTP, you can install your WordPress theme in six steps.
Download an FTP Client to your computer
To get started, you'll need to install an FTP client like FileZilla on your computer. This software tool allows you to access your website server and add or delete files.
Create an FTP account through your hosting provider
You'll need to create your own FTP user account through your hosting dashboard. The process varies by hosting provider. When you create a new account with your hosting provider, you'll usually be given a username and password, which you'll need to create your FTP Client account.
Download your theme and unzip the file
You'll need to unzip your file once you've downloaded it — right-click the.zip file and select Extract from the menu that appears.
Upload the theme folder to WordPress
Find the root of your WordPress installation in the FTP Client. Then, select Themes from the wp-content folder. Here is where you should upload the entire unzipped folder.
Activate the theme from your WordPress dashboard
Return to the WordPress themes section of your dashboard after you've uploaded the theme folder using the FTP Client. Your new theme should appear as an option in your downloaded themes. To make the new theme live on your website, select it and click Activate.
To Contents ↑
Add plugins to your WordPress site
After you've activated your theme, don't forget to add some plugins to give your site even more functionality. Thousands of plugins are available that can help you with everything from improving SEO to collecting visitor contact information. The Yoast plugin is an excellent place to start.
Keep your WP themes updated
Last but not least, keep your themes updated. It only takes a few minutes to update the core WordPress themes. Updating them is beneficial because each new update introduces new features and enhancements, such as improved security and SEO.
FAQs about installing WordPress themes
How to uninstall a WordPress theme?
Go to themes.
Select the one you want to get rid of, and click delete in the popup box.
To confirm, click OK, and WordPress will delete the selected theme.
You can't uninstall an active theme, so make sure you've already switched to another theme.
What is a child theme in WordPress?
A WP theme that inherits functionality and styling from a parent theme is known as a child theme. Child themes are frequently used to change an existing theme while keeping the code and design intact. Using a child theme to modify a WordPress theme without affecting the parent theme's files is the safest way to do so.
What is the fastest WordPress theme?
A slow-loading theme will cause your website to load slowly and negatively affect your page rank. There are many fasts themes to choose from, but the two fastest for blogs are GeneratePress (1.1 seconds) and Astra (0.9 seconds).
What is a WordPress theme framework?
Theme frameworks are extremely well-optimized WordPress themes that are intended to be used as a parent theme. They're designed for advanced users and developers, and they include code and speed optimizations that allow other developers to build upon them quickly.