Owning a website is a big deal and monetizing it to generate revenue is an even bigger deal. That's why you have to get everything right from the start. Every step has to be done right from choosing and registering the perfect domain to getting a suitable WordPress theme.
Working with WordPress helps you to turn any vision into an engaging website. And it all depends on their themes. Learn more about WordPress websites monetization.
We'll review some of the best WordPress themes for different types of websites. We've double-checked that they meet all of the requirements for a good WordPress theme.
Content
Multi-purpose WordPress themes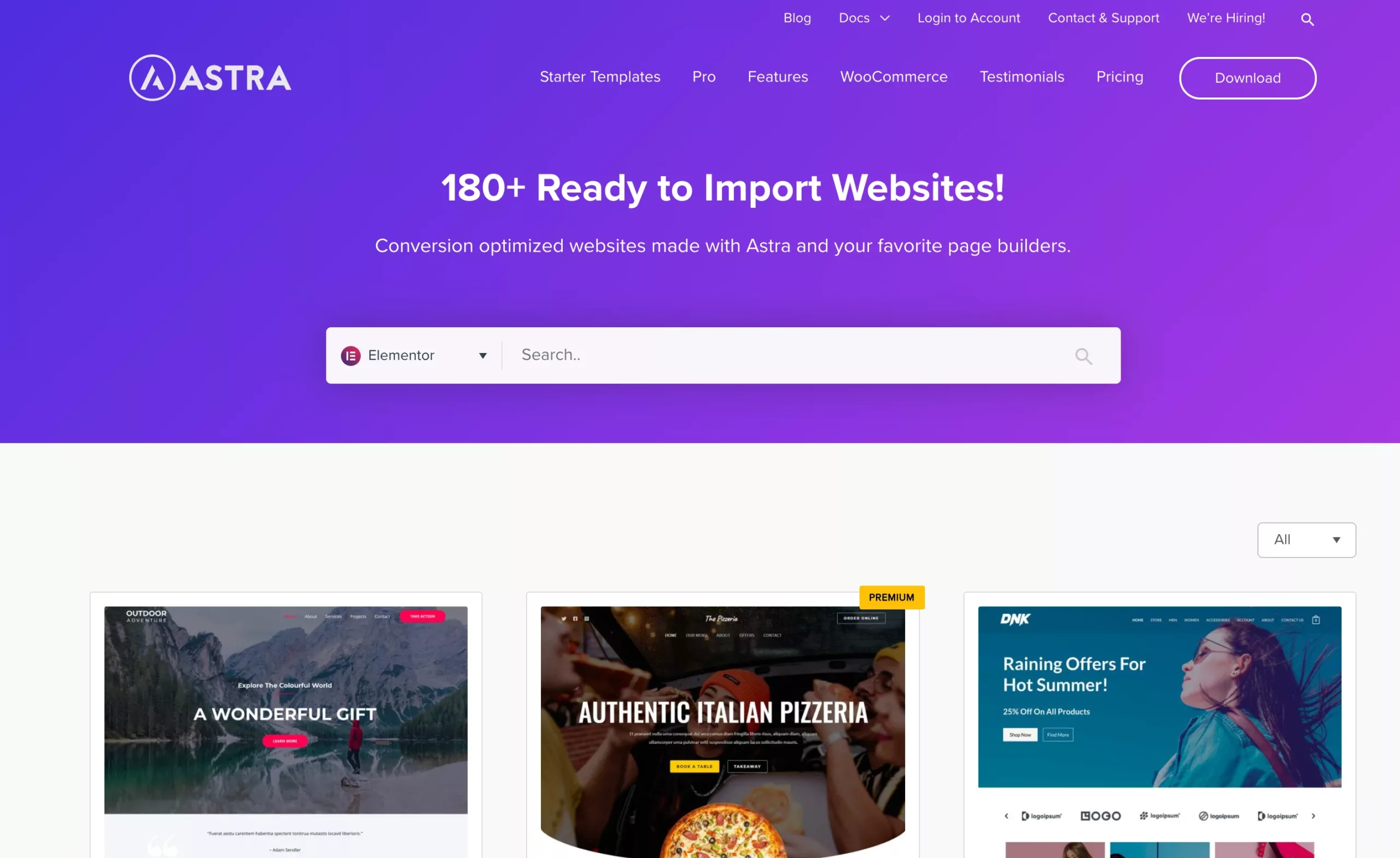 The Astra theme from Brainstorm Force is a free WordPress theme and it's one of the few themes in WP to reach 1 million users while maintaining a 5-star rating.
Its popularity can be attributed to three main factors:
It's light: It loads in under half a second and maintains that speed as your site grows.
It's extremely adaptable: Astra is still highly customizable, unlike most other fast themes.
Create a website in hours: Astra is popular among agency owners because of its website setup speed. With Astra's pre-fabricated or "Astra sites," you can have a custom website up and running in a matter of hours or less, with no headaches.
Cons:
No comment layout and styling options.
Poor Header layout and styling options.
Poor support for WooCommerce.
Pricing:
Astra's free version builds a beautiful custom website. You can get the premium modules by purchasing the Astra Pro plugin.
Divi is a multipurpose WordPress theme that combines great looks with a lot of impressive features. It has a large selection of page templates and an intuitive page builder that appeals to those seeking an out-of-the-box solution without coding.
Pros:
A proper multipurpose theme for any project.
Editable high-quality templates.
Powerful page builder.
Lots of useful documentation.
Cons:
It takes time to master the page builder completely.
Pricing:
If you want to buy Divi, you have two options: $89 for a year's access and $249 for Lifetime Access.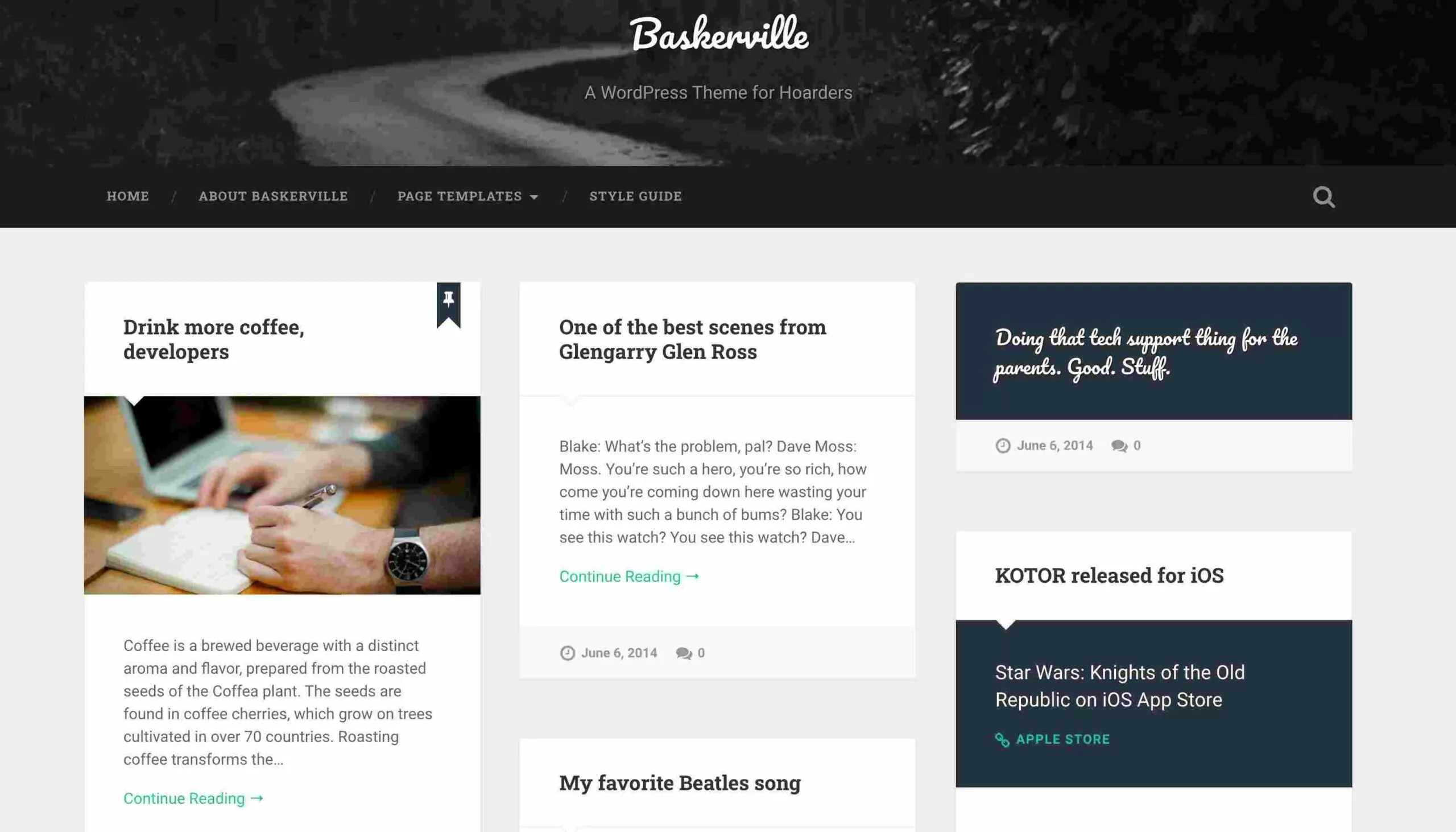 Baskerville is a WP theme with a beautiful layout and some pretty neat features. It features a full-width header image and masonry layout for the homepage.
Pros:
Good for Hoarders.
Contributors Template.
Post Format Support.
Customization Options.
Responsive & Retina Ready.
Cons:
The design has become a little dated since its release in 2014.
You'll need a lot of content to pack it in.
Pricing:
Baskerville is free to download.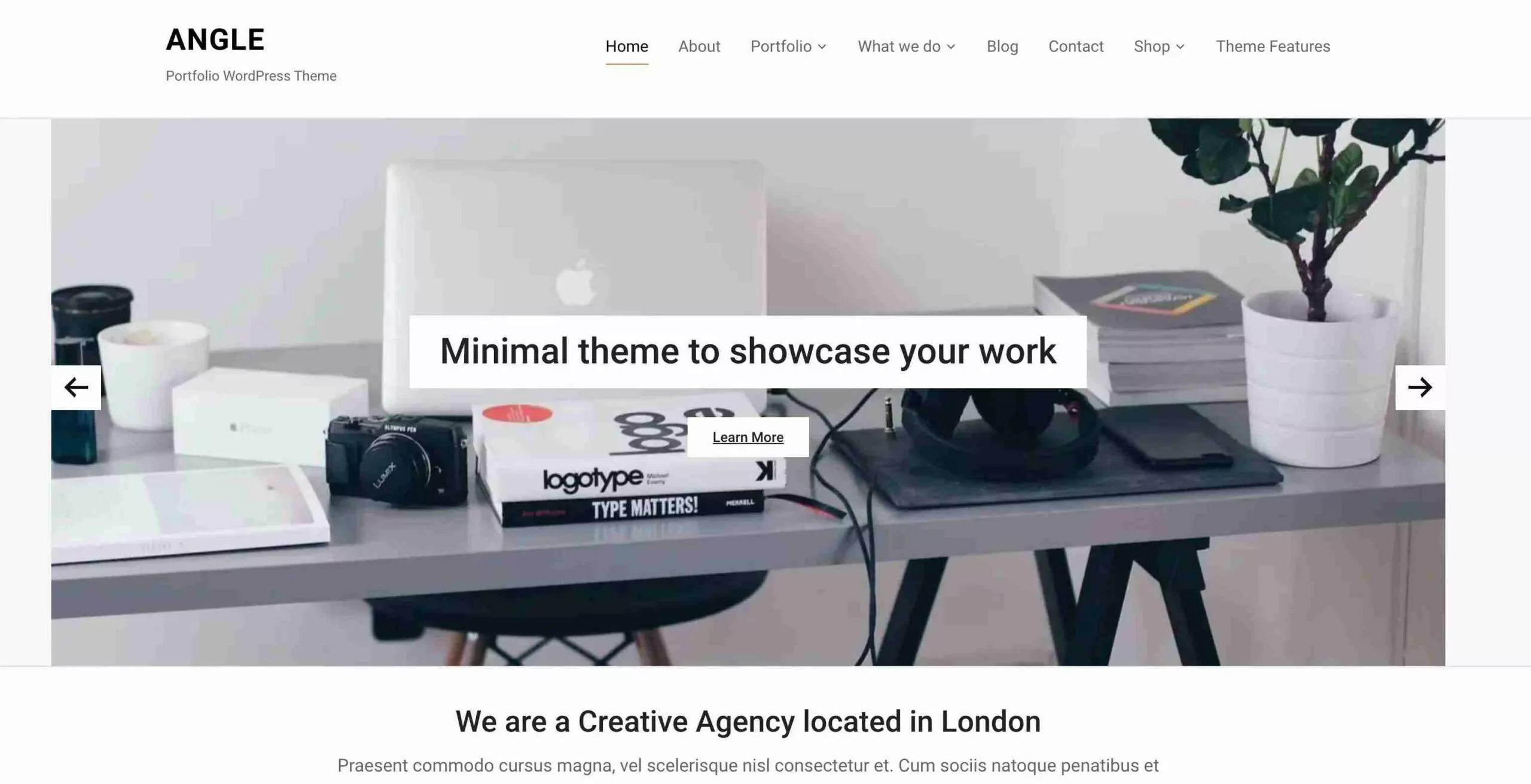 It's best for creating clean, simple websites that aren't overwhelming to newcomers while still looking professional and businesslike.

Angle is a multi-purpose, ultra-flexible, fully responsive WordPress theme that is simple to use regardless of your skill level. Use Angle's interactive homepages, widgets, and tools to enhance user experience without detracting from the overall simplified feel of your website without typing a single line of code.
Pros:
Flexible design options.
Typography and color scheme.
Excellent use of images and layout.
Built-in portfolio and online store templates.
Cons:
It relies on high-quality images to stand out.
Pricing:
Angle costs $69 per year.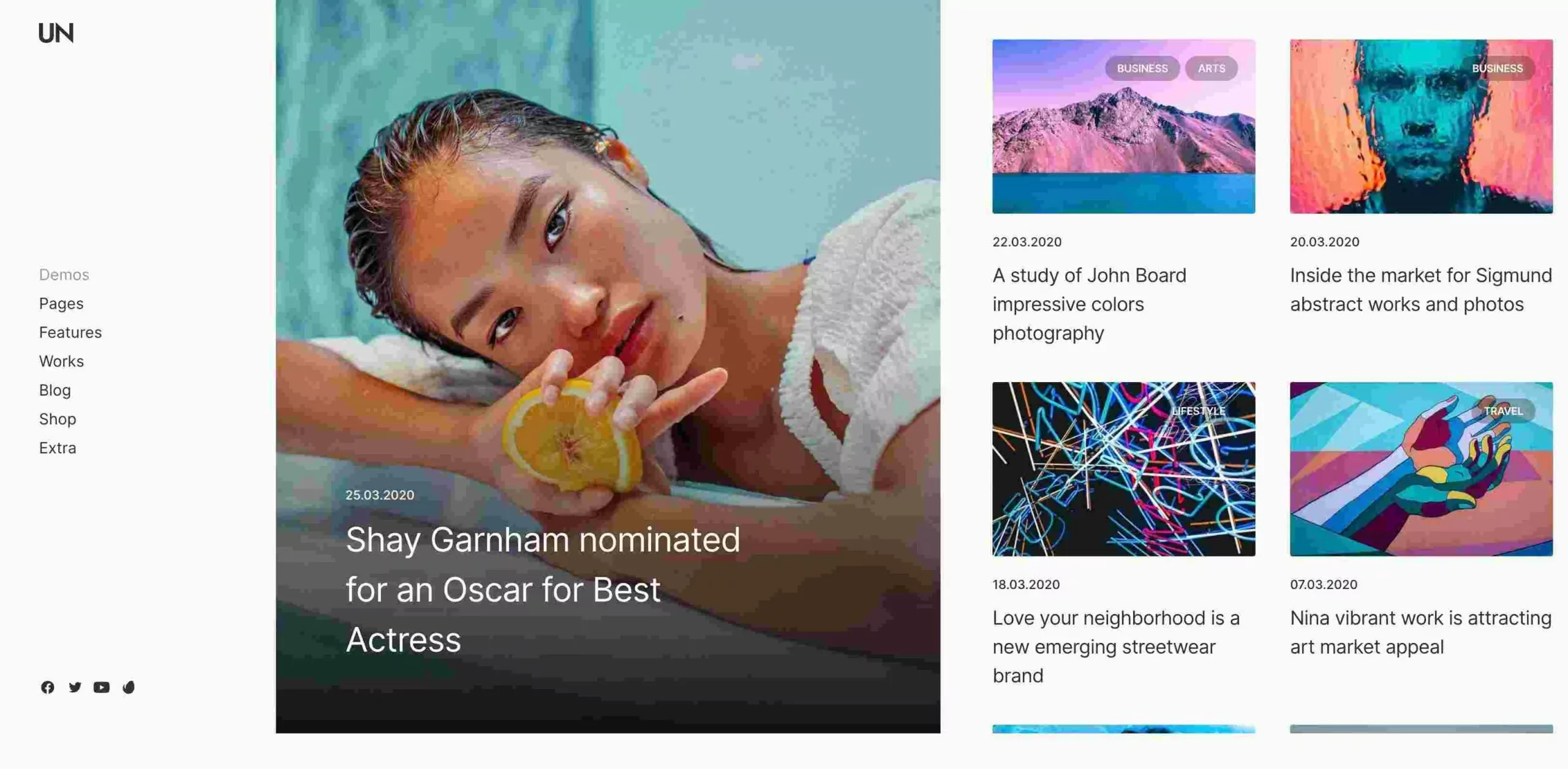 Uncode is a multi-purpose WordPress theme with tons of demos and homepages to try out! It supports multiple sliders and CSS3 animations. It's responsive, high-resolution, and supports multiple uploading.
Pros:
Huge demo data allows reusing predefined layouts, saving you time.
The menu, header, footer, and content sections can all be customized to create a unique layout for your site.
It is fully integrated with Visual Composer to create highly customizable layouts.
Responsive and retina-ready.
Cons:
The theme requires Visual Composer as a plugin to function correctly.
Pricing:
Uncode costs $59 for a six months access.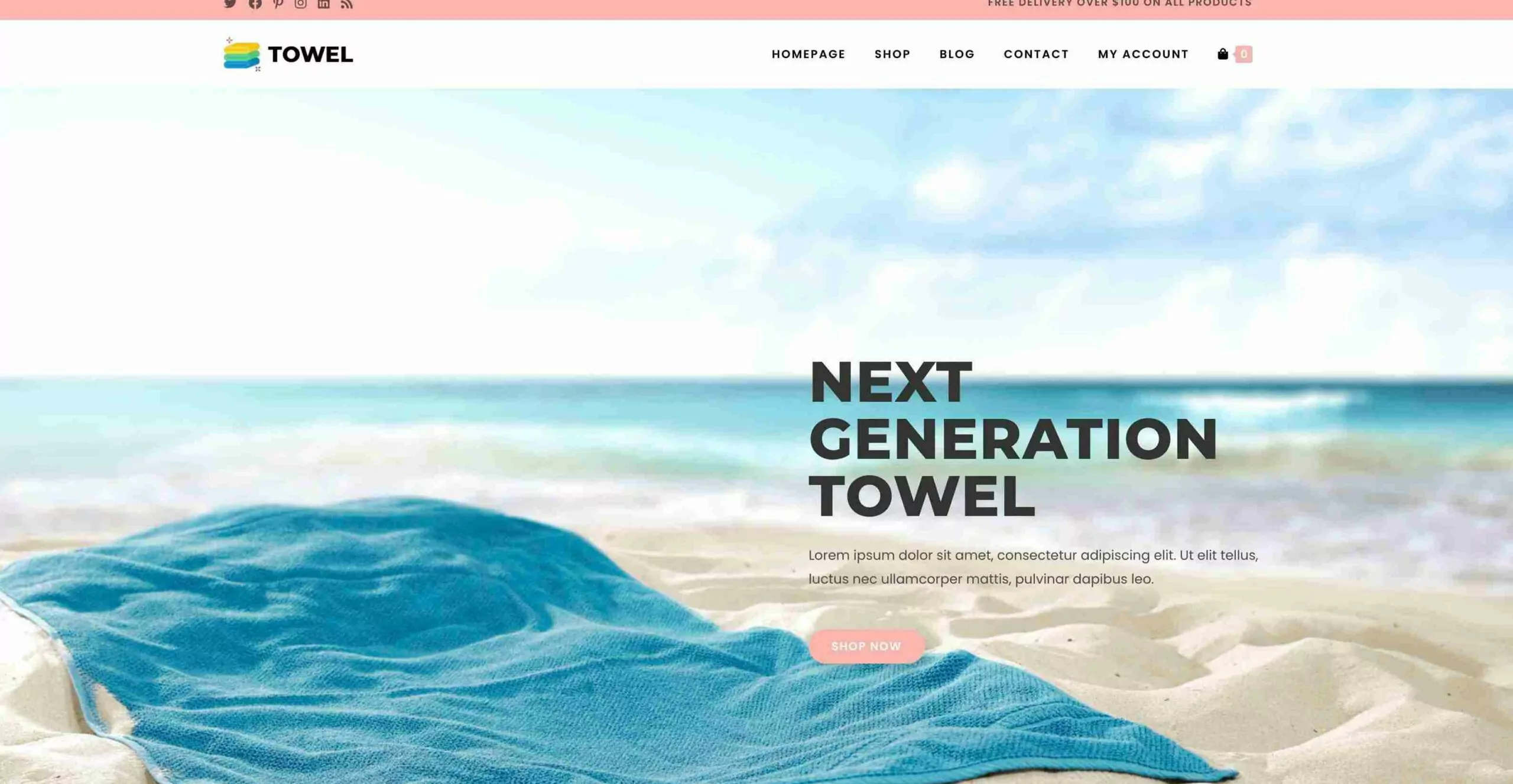 OceanWP is a beautiful and straightforward WordPress theme for blogs, magazines, restaurants, online shops, and fitness websites.
Pros:
WooCommerce-friendly.
The pages load quickly.
Cons:
The Pro version requires multiple extensions and plugins.
Pricing:
OceanWP starts from $29.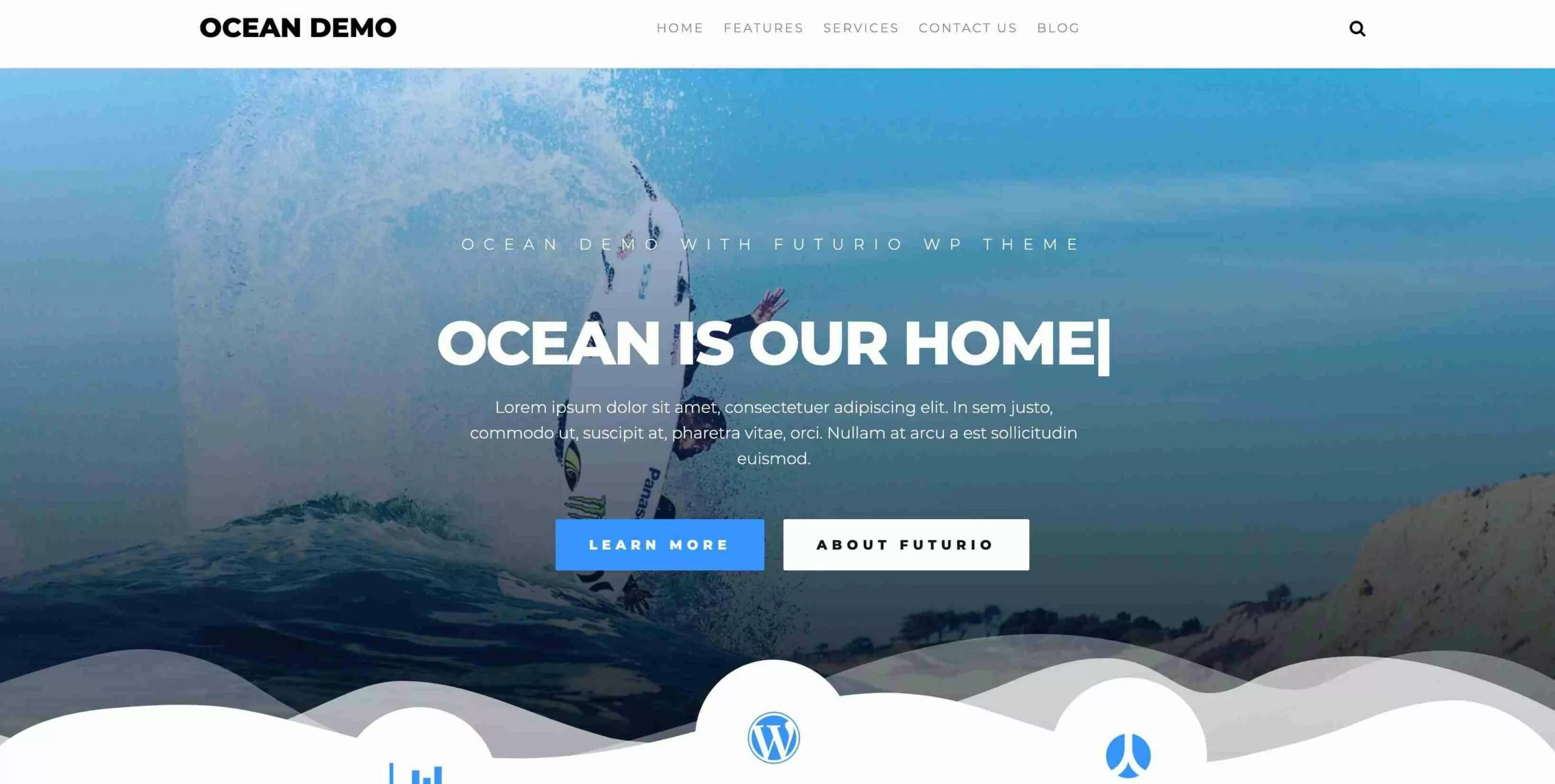 Futurio is a simple design that can be used as an online store, a blog, or a company website. It's a crisp, clean design with modern fonts, large borderless image blocks, and a soothing blue contrast color throughout.
Futurio is a versatile design with demos that cover its target markets. Each has a good balance of content and white space, nice color options, and just enough content on the page to keep people interested.
Pros:
Well-balanced designs.
The pages load very quickly.
Pricing:
$39 for a year's access and $89 for Lifetime Access.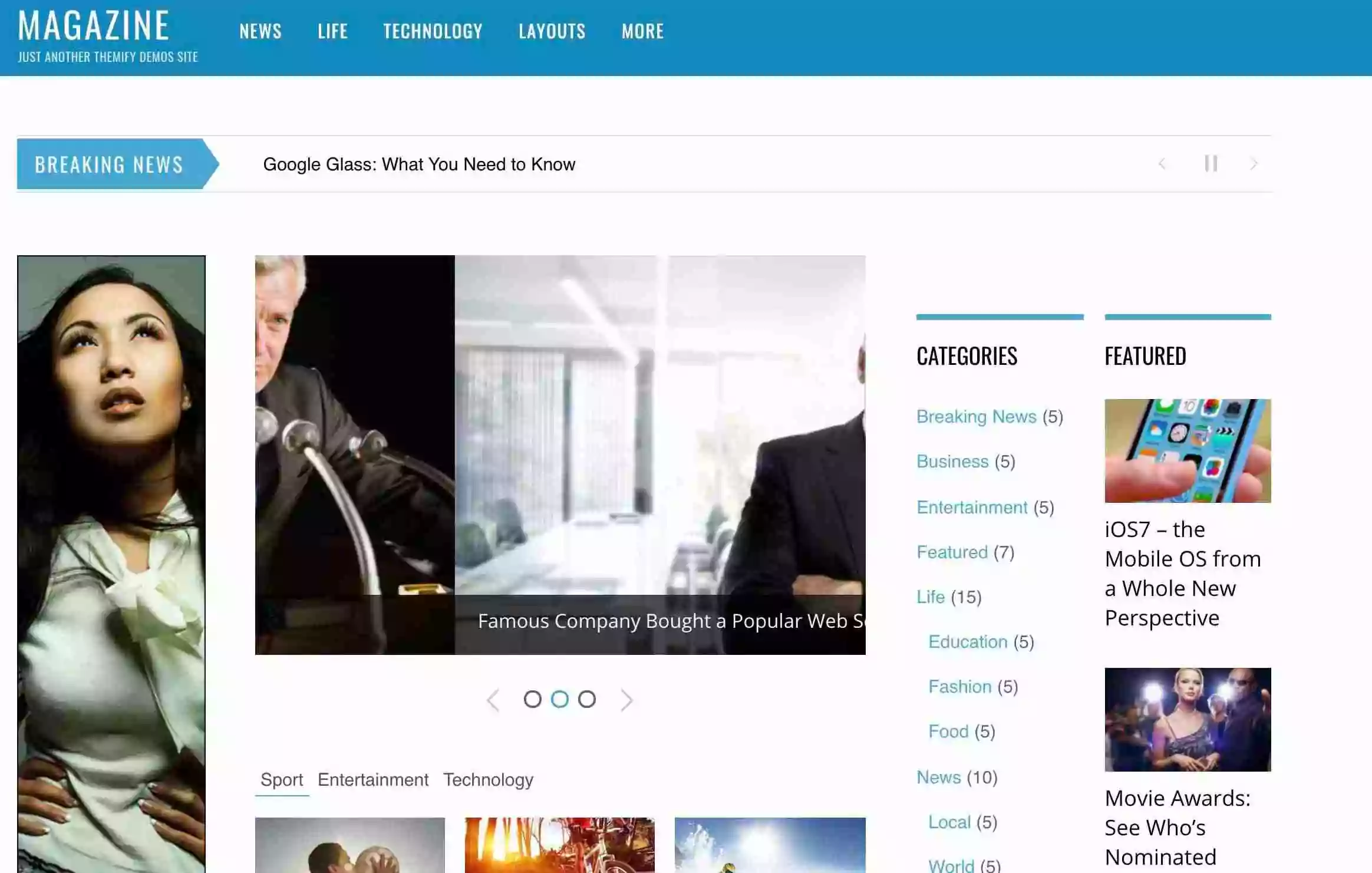 Magazine is a simple WordPress theme heavily reliant on images, but the subtle color scheme and typography helps. A simple menu and optional news ticker round out the professional appearance.
Pros:
Nicely designed page flow.
Complementary colors complement the fonts.
Pricing:
Magazine starts from $59.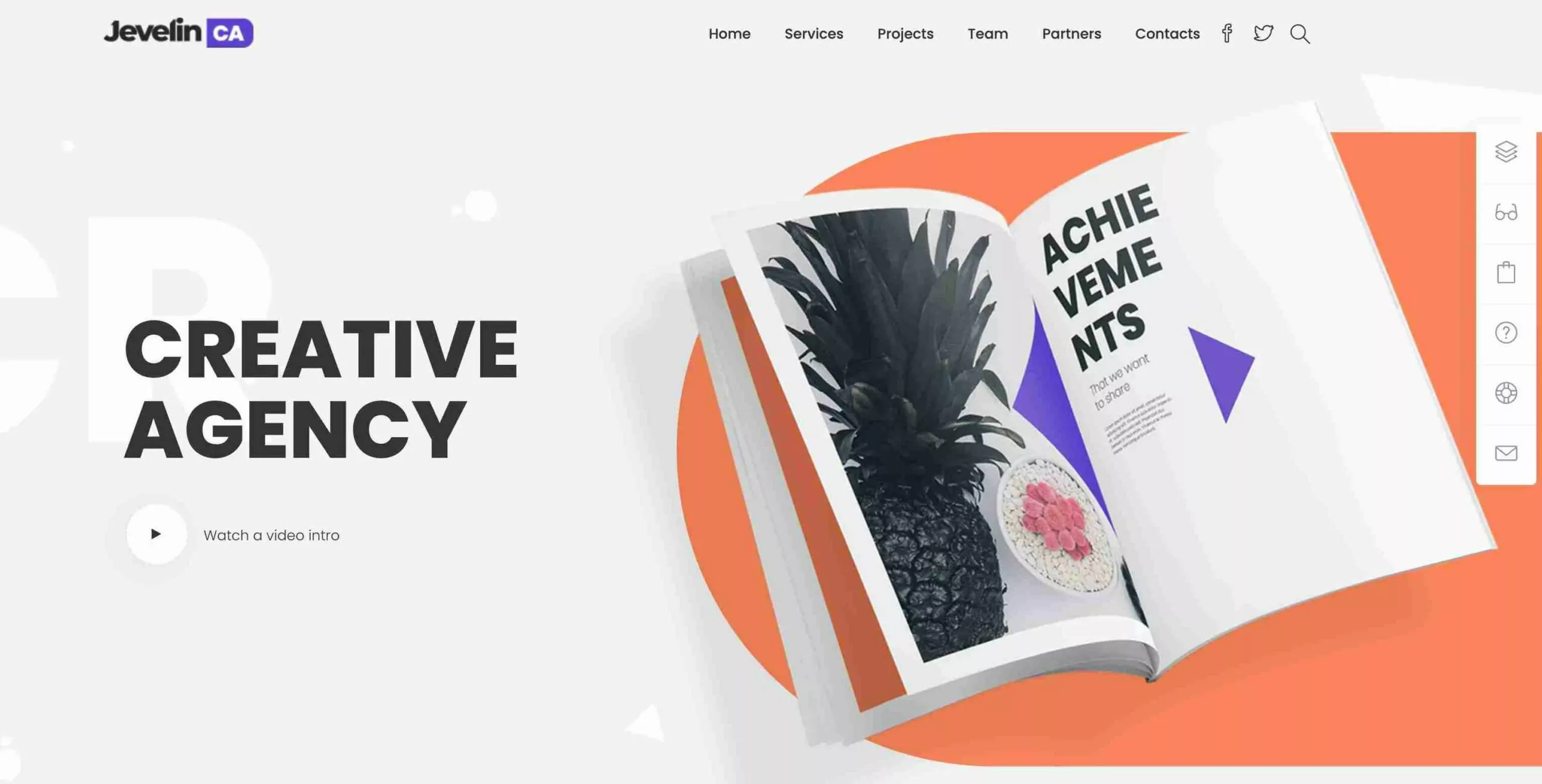 Jevelin is a modern and responsive WP multi-purpose theme for webmasters who want to create highly sophisticated websites quickly without writing a single line of code.
Pros:
Mobile-friendly.
SEO-ready.
WooCommerce-ready.
WPML-ready.
Pricing:
Jevelin starts from $59.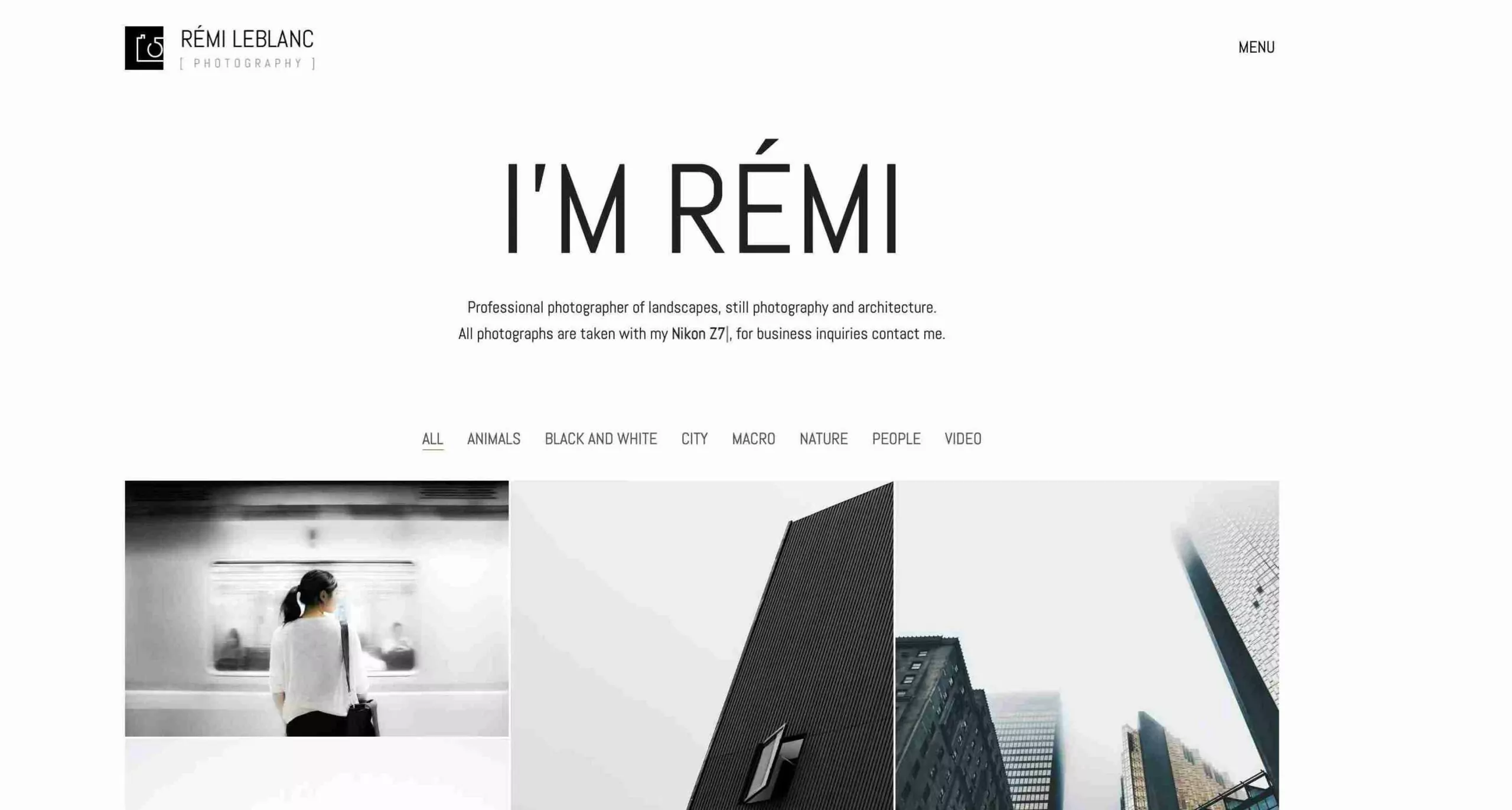 Kalium is a popular WordPress grid theme that is both creative and flexible. Breadcrumbs, Elementor portfolio, fullscreen portfolio, animated like and love icons, font file preloading, premade full demo concepts, scroll box content, custom page heading, plenty of options on the sticky menu, adaptive images, shop layouts, blog sidebar, and many more.
Pros:
Excellent customer service.
It is updated regularly.
SEO-friendly.
Changeable top menu.
WPML and RTL support is available.
Cons:
WP updates can sometimes cause problems.
Pricing:
Kalium starts from $59.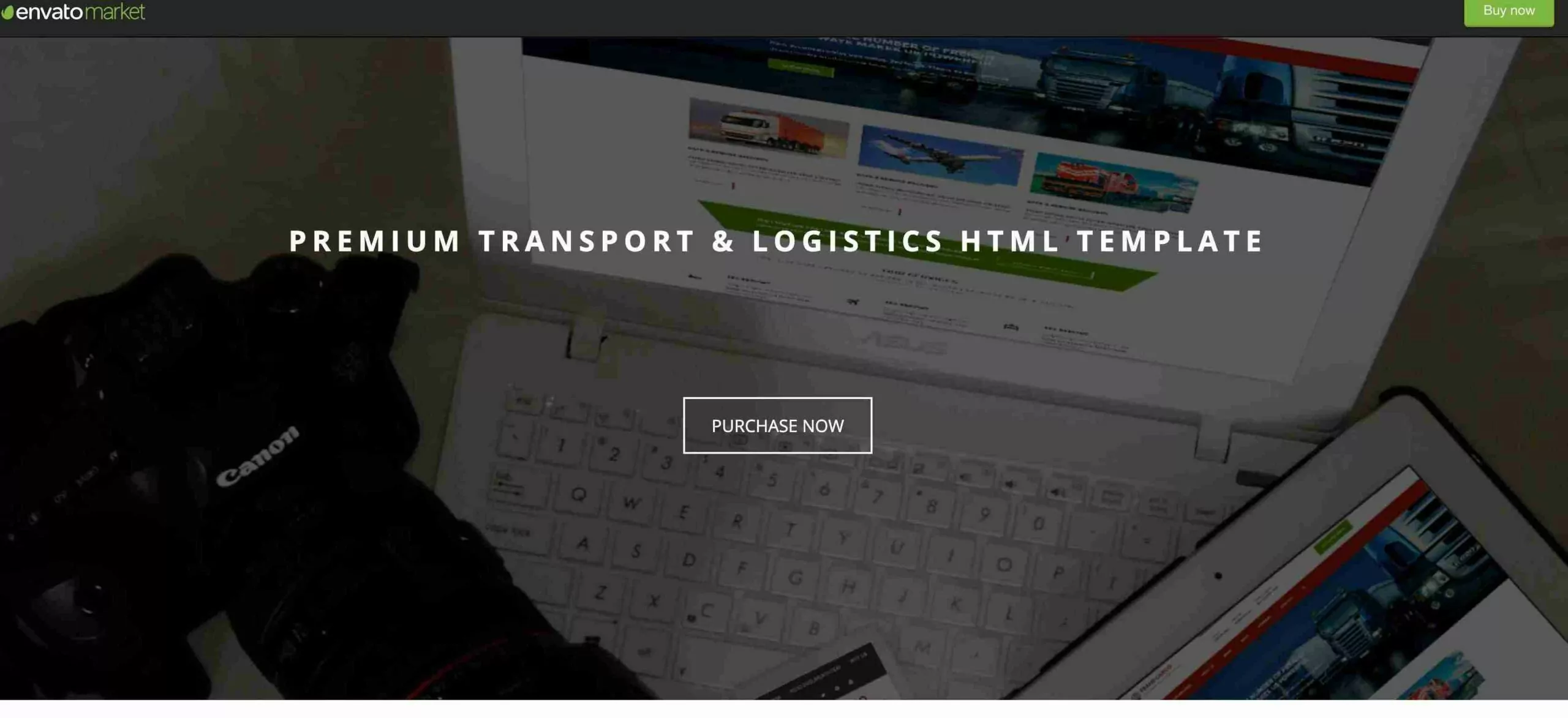 Transcargo is a simple transportation and logistics theme that allows you to create a website for various businesses, including air freight services, trucking services, different logistic solutions, air transportation solutions, logistic tasks, and much more.
Pros:
Multi-location on Google Maps.
WP Customizer Real-Time Theme Options.
24/7 Professional Support.
Documentation included.
Pricing:
Transcargo starts from $59.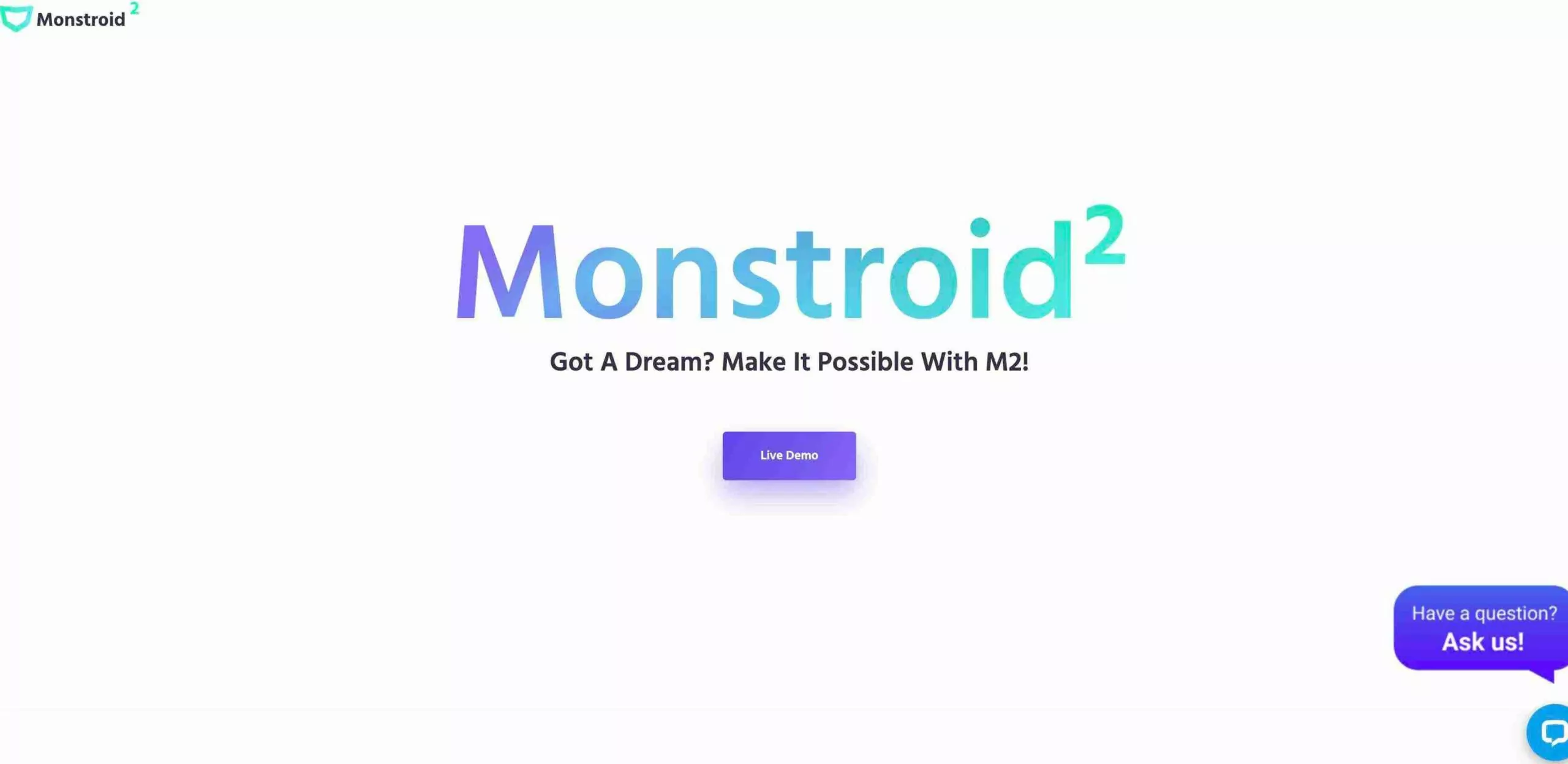 You can quickly build up your website from scratch with this multi-purpose modular WordPress Elementor theme.
Pros:
Price includes a premium JetPlugins selection.
The fantastic Elementor page builder is included.
The simple dashboard allows you to add or remove plugins, change themes, and perform other tasks.
Cons:
Some of the documentation is incomplete or lacking in quality.
Some of the templates are old.
Pricing:
Monstroid2 starts at $75.
Soledad is a powerfully tech-savvy and multi-concept blog and magazine website WP theme that is extremely simple and easy to use, well designed and professionally constructed, solid and reliable, safe and secure, intuitive and fast-loading, search engine optimized, and incredibly malleable and flexible. It's a powerful theme with an ambitious and expansive set of over 250 Home Demo pages, 250 Live Customizer options, and over 100 Slider and Blog combinations to choose from.
Pros:
Elementor Page Builder is supported.
1500+ options for live WordPress customization.
Look fantastic on any device.
Cons:
Only 6 months of support
Pricing:
Soledad starts from $41.
Specular is a WordPress theme that is incredibly intuitive and simple to use. It is a multi-purpose and responsive theme built on our super-flexible Framework that allows you to quickly and easily create your website.
Cons:
Although it includes several custom post types such as Portfolio, FAQ, and Slides, it does not allow you to create your own.
Visual composer is hidden away in the Settings menu, making it difficult to find.
Pricing:
$59 per year.
15. The Voux
The Voux is a professional magazine theme that is modern, clean, and lightweight. The theme is ideal for anyone looking for a magazine-style layout.
With all of the design elements and blocks, it is completely customizable. The theme comes with Visual Composer, one of the best drag-and-drop website builders for WordPress. As a result, you'll be able to create a great-looking custom design for your website without having to know how to code.
Pros:
Visual Composer can extend the clean layout.
There are five pre-made layouts included.
Cons:
Uses Visual Composer, which is difficult to learn.
Pricing:
The Voux starts from $29.
Themex is a multi-purpose WordPress theme for business, IT solutions, sports, etc. It comes with an Elementor page builder, which allows you to create unique web pages using drag-and-drop.
The theme looks fantastic on smartphones. It also has retina graphics support. Thanks to the lifetime updates, the theme will always be up-to-date, and your website will always meet the latest web requirements.
Pros:
Drag-and-drop Page Builder.
SEO-friendly.
Excellent Elementor Page Builder.
Create a fantastic website without touching code.
Fully Customizable.
WooСomerce Capability.
Cons:
Only 6 months of support
Pricing:
Themex starts from $29.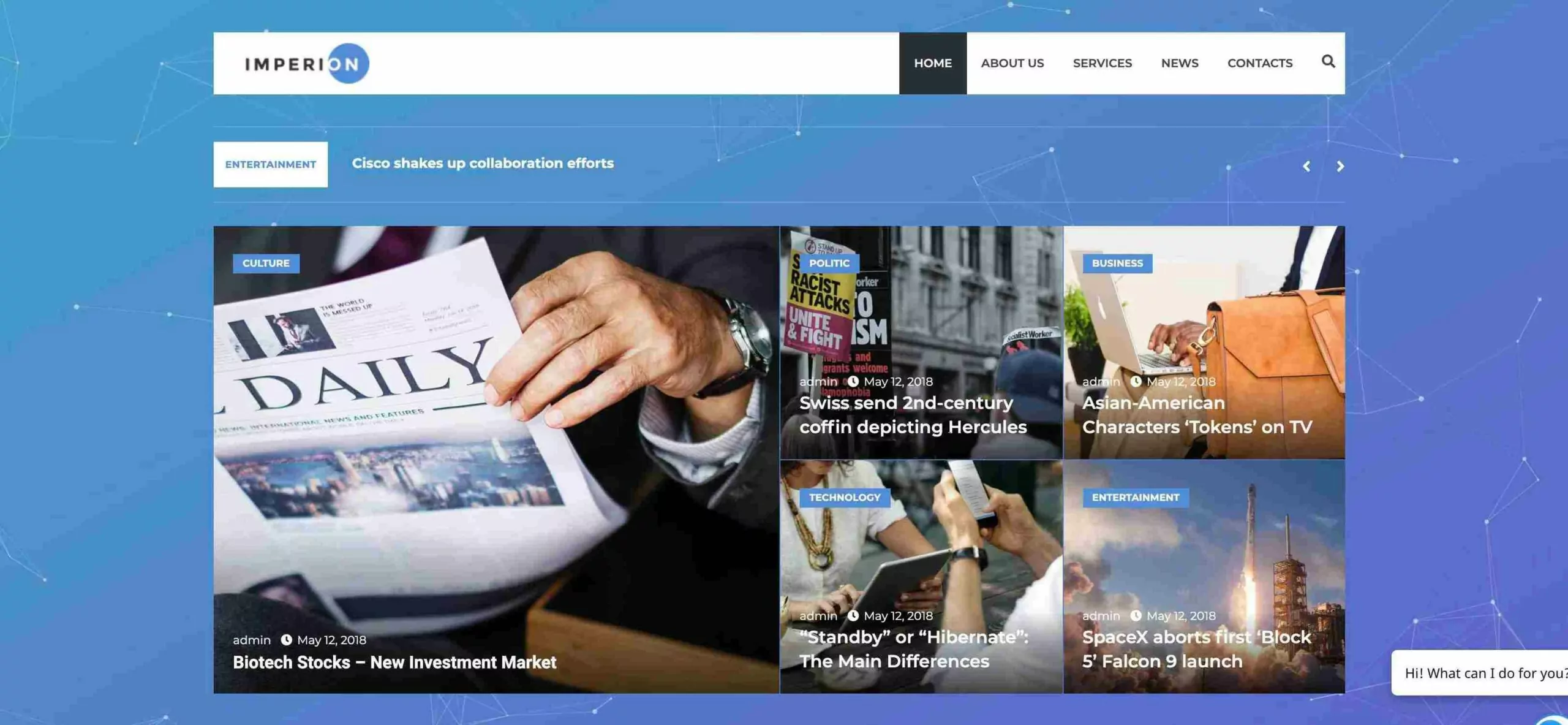 A multi-purpose WP theme that is ideal for corporate and business websites.
The theme has a simple and elegant design that works well on all screens and devices with ten pre-made templates. You can easily import any of them to your website with a single click and begin editing the ready-made layouts without knowing any code.
Imperion comes with the Elementor page builder and the theme's package, which includes various pages and sections and a set of elegant backgrounds.
Pros:
Responsive
Admin Panel
Search Engine Friendly
Retina Ready
Google map
Cons:
Only 6 months of support.
Pricing:
$75 per year
WordPress themes for news sites and news aggregators
ForumPress is a minimalist WordPress theme for creating forums, created by a team of developers who have been making themes since 2011. It comes with everything you'll need to create a powerful WP forum, including the ability to create multiple forums with a user-friendly back-end. If you want to create a community forum, a customer service forum, or a branded community. Or you want to provide a user experience that allows people to create user profiles easily, search topics quickly, and discuss and reply to threads. This theme is for you.
Pros:
Customize the design and personalize the theme to fit your brand.
It has a responsive design that works well on various devices and platforms.
Compatible with all popular WordPress plugins and can be updated automatically with just one click.
Pricing:
For $99, you can get ForumPress.
WordPress themes for product catalogs, collections, file storages
CloudMe is a multipurpose Cloud Storage & File-Sharing Services WordPress theme with a contemporary business design. It's a modern theme that's suitable for a wide range of applications, web hosting businesses, and technology websites. It includes custom post types for attracting clients, displaying your service offerings, team members, subscription plans and pricing, and much more.
CloudMe is fully responsive and 100% Retina Ready which makes the theme look splendid on any device.
Pros:
4 beautiful premade homepages.
Ready to use pages: About, Benefits, Resources, Pricing, Team, Services.
Advanced Contact Forms.
Outstanding shortcodes.
Cons:
Only 6 months of support
Pricing: $59.
Suprema is a shopping cart theme. It works flawlessly on a variety of devices, including smartphones, tablets, and computers. Because of the nature of the item, this theme is aimed solely at web designers and business owners who deal directly with clients while also assisting them in managing their sites in a more growth and layout-driven manner. Due to its clean codebase, this theme is one of the fastest-loading WooCommerce themes available today.
Pros:
Customizable to the max.
There is no need to know how to code.
A large number of pages and layouts are available.
Integration with WooCommerce.
Optimized for search engines.
Cons:
Only 6 months of support
Pricing:
Suprema starts from $69.
WordPress themes for one-page sites
21. PILE (creative)
PILE is a bold, refined, and universal Portfolio WordPress theme that is ideal for showcasing any creative work. It comes with a unique Project Builder and a drag-and-drop interface that makes creating a portfolio intuitive and straightforward.
PILE is all about simplicity, substance, minimalism, coherence, and structure.
Pros:
The price is reasonable when compared to others.
One of the best One-Page WordPress Themes.
Cons:
In comparison to other themes in this category, it lacks features.
Pricing:
If you want to buy PILE, you have two options: $79.88 for a year's access and $225 for Lifetime Access.
True North is yet another high-quality option that demonstrates that free does not equal old, outdated, or low-quality. The layout is fantastic, the typography is superb, and the overall look and feel are identical to a premium template.
Pros:
A high-quality template is available for free.
Although the template is older, it is still up to date.
The portfolio theme is nice and simple.
Cons:
It has fewer optional page features here than on some other themes.

Uniq is a simple WordPress theme for anyone working in the creative field. Uniq's versatility knows no bounds. When you combine the GoodLayers page builder with pre-written content and your own creativity, you'll be sure to grab everyone's attention right away.
Pros:
With the super-powerful demo importer, you can quickly add demo content to your site.
Admin Panel That Is Both Powerful and Customizable.
100% Fluid Layout – You can set the width of the site's content to 100% to fit your screen size.
Theme options, widgets, and custom page templates can all be easily imported and exported.
Cons:
Only 6 months of support.
Pricing:
Uniq starts from $64.
WordPress themes for personal blogs
Brixton is a WP theme that makes your blog page look better. Its design is simple, with a mobile-friendly layout that works on any device. The simple interface of this theme ensures quick loading times. Only a few themes can provide such a high-quality browsing experience.
Pros:
It has social share icons in the sidebar.
Improved SEO.
Integration with Soundcloud.
Improved mobile responsive design.
Cons:
Only 6 months of support.
Pricing:
If you want to buy Brixton, you have two options: $39 for a six months access.
Michel is a beautiful blogger-friendly WordPress theme with a clean design and excellent user experience. With a focus on readability.
Lots of white space.
You'd like some variety in your layout options.
Pre-made post templates so that creating custom post types isn't too time-consuming.
An excellent customer support.
Michel is available for $39.
Neve includes a few basic WordPress effective themes. Flat design with modern fonts, bold contrasts, and simple layouts are hallmarks of Neve. All of this adds up to a stylish look. You can also add or remove any element you want.
Neve tells a story that flows down the page by combining great typography with minimal page elements.
Pros:
It's a simple WordPress theme with a variety of styles.
There are many optional page elements.
The pages load very quickly.
Cons:
The designs are all very similar.
Pricing:
Neve starts from £59 up to £129 for a year.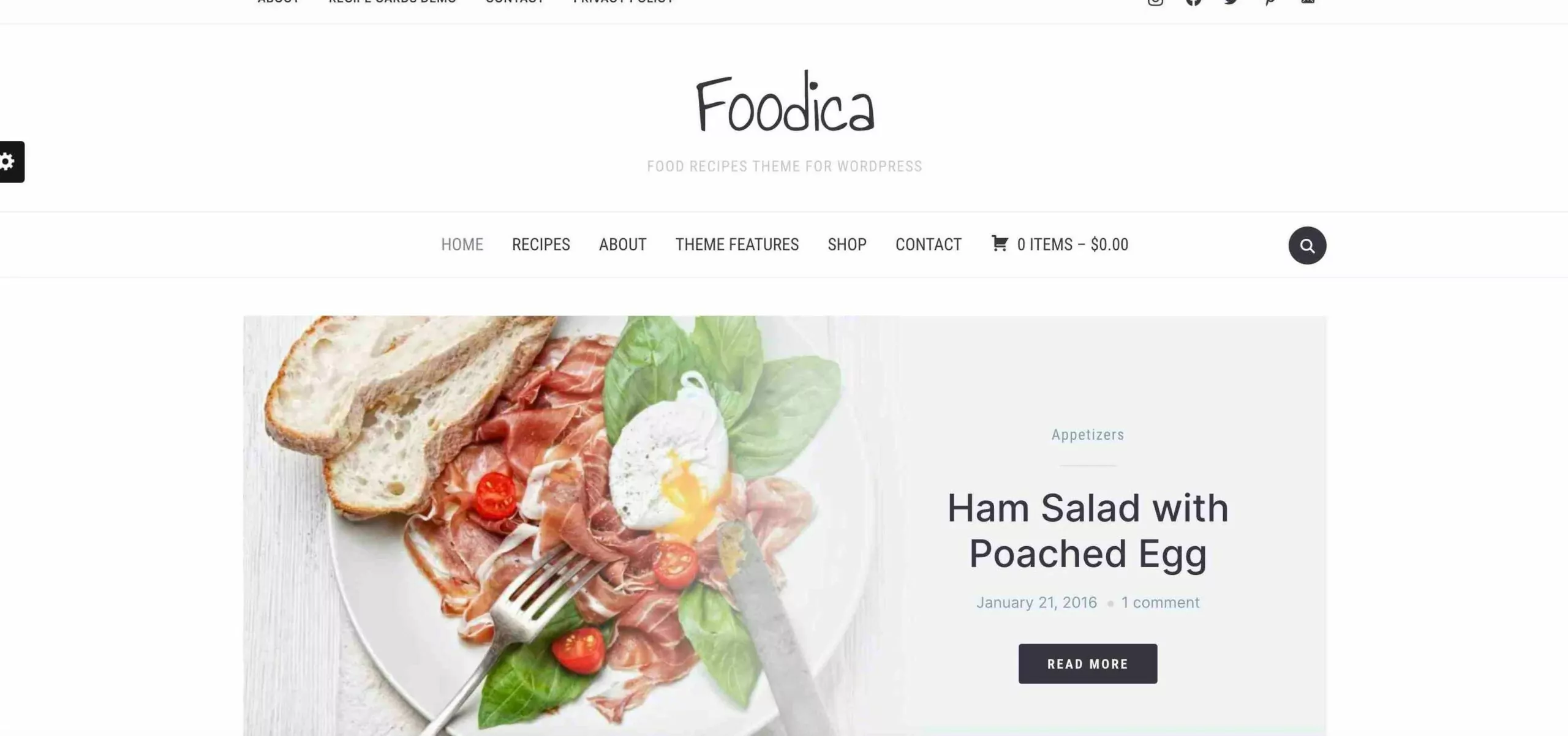 One of the best simple WordPress blog themes is Foodica. It's another food blog theme that can be tailored to fit various topics by simply changing the imagery.
The page is well-designed, with plenty of white space, appealing typography, optional page elements, and a straightforward but effective sidebar. This design works well because the content blocks are frameless, allowing the images to shine.
Pros:
Simple WordPress theme with great functionality.
Recipe cards and an index are ideal for food blogs.
Smooth scrolling and a nice page flow.
Cons:
Lack of features compared to other solutions in this category.
Pricing:
Uncode costs $69 for 12 months of access.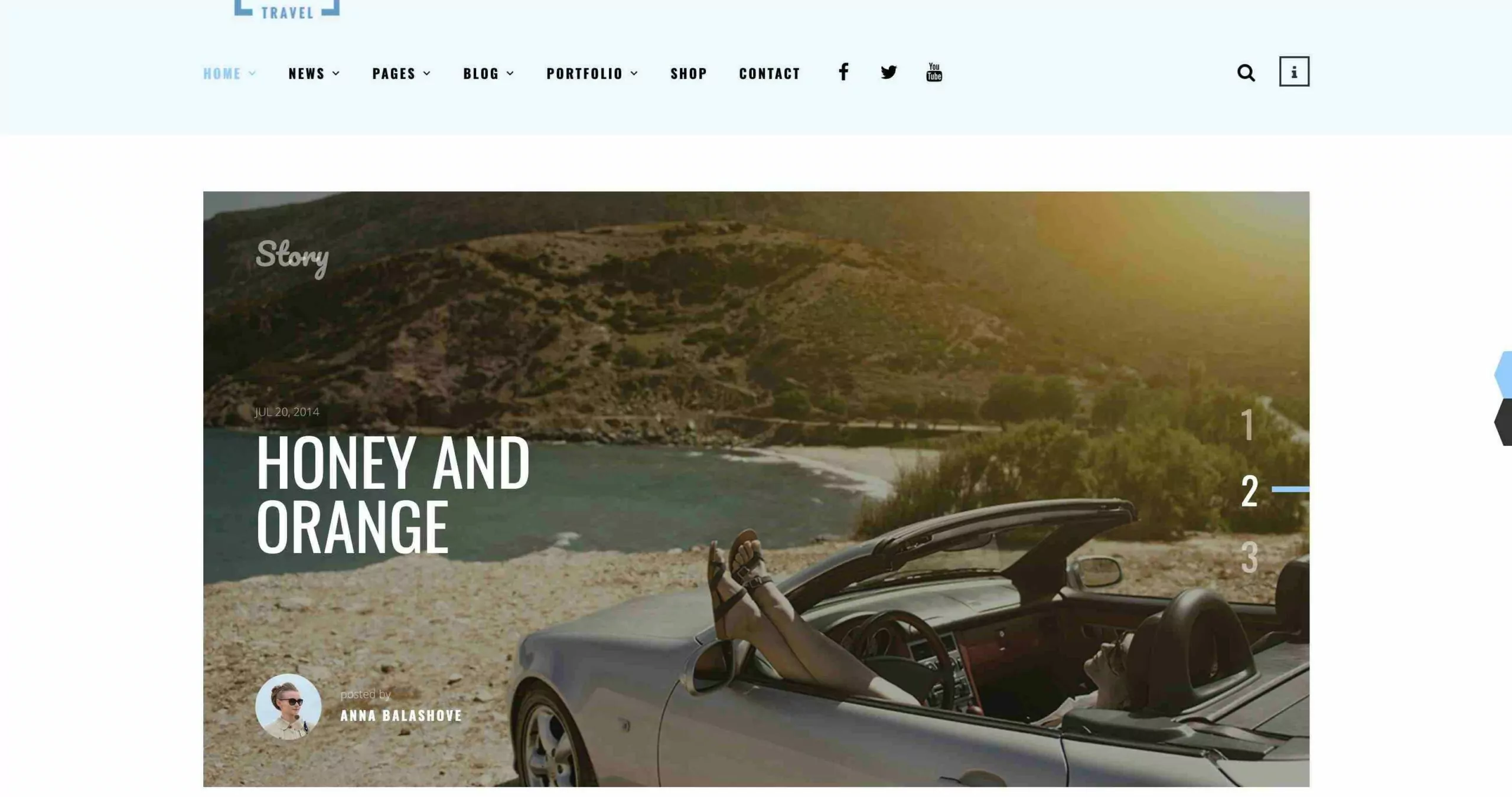 Voyager is a WP theme focused on the travel industry. You can use it to create a fantastic travel blog for your adventures. It integrates with Google Maps to create a visually appealing and interactive website.
It has a page builder to customize your page and a Trip Creator to plan incredible journeys. Another useful feature is that it's compatible with Woocommerce, the go-to solution for any reputable online store. Furthermore, it allows you to sell your product or service in a secure, controlled environment.
Pros:
Automatically adapts the text color to the page background.
Import demos with a single click.
Category-based Mega Menu.
Mobile-Responsive & Retina Ready.
Cons:
Only 6 months of support.
Pricing:
Voyager costs $59 yearly.
WordPress themes for image-heavy websites
Responsive is a simple WP portfolio theme that does an excellent job of setting the stage for your photos or videos. The patterned navigation bar and divider are a nice touch, and the imagery has a real impact.
The design is simple, with perfect white space, excellent font selection, and a good balance of black body content and colored headers. The images are the main attraction, and the page includes animations and effects to help you make the desired impression.
Pros:
Design with strong content elements in a minimalist style.
Nice image effects boost the appeal.
A modern design calls for sans serif fonts.
It loads quickly, even with a lot of images on a page.
Pricing:
Responsive starts from $39.
Infinite is one of many simple WordPress themes for fashion. The design isn't quite minimalist, but it makes good use of white space, has great images and typography, and gradually unfolds to reveal the rest of the page's contents.
Pros:
Nice scrolling layout.
Minimalist navigation and layout.
Cons:
You will need some exceptional images to pull this theme off.
Pricing:
Infinite starts from $59.
Bonus WordPress Themes
Hestia
Hestia is a versatile WordPress theme that is clean, modern, and friendly. It includes header and footer options, a starter site library, social links, and a post format.
Hestia works with the most popular free page builder plugins. It also works with WooCommerce to help you set up an online store. With Hestia, your site will look great on even the latest mobile devices.
Why are simple WP themes the best for your website?
The goal of creating a WordPress website is to provide visitors with an engaging and memorable experience. However, sometimes the most basic experience is all that is required to complete the task.
Why take the chance of overwhelming your visitors with anything else?
Simple WordPress themes aren't just simple in design. There are several ways to assess a WordPress theme's simplicity, so keep these considerations in mind as you select a theme:
Minimalistic
When a WordPress theme is considered simple, it's usually because of its minimalistic design and functionality. But why would you choose to work with a WordPress theme that is so basic?
First, you can always add more functionality later if necessary. (It's easier to add new elements than it is to remove them and resize your website)
Second: WordPress themes with simple designs allow for clearer conversion paths. There are no questions about where to go or what to do when there are no distractions.
Third, the lack of clutter makes it much easier to ensure that the mobile website is truly responsive.
Using a responsive WordPress theme won't make your site successful on its own, but failing to do so will attract penalties from Google and other search engines. A simple WordPress theme will help you achieve this because it is unlikely to contain complex structures, oddly sized content, or typography.
Management
It's great to have a lot of options, but it can be overwhelming for beginners who just want to get their website online.
You may also find a theme developer who has reduced the design to one or two options. In this case, the surplus comes from the dozen or so WordPress plugins included. So, in addition to managing the WordPress theme, you must also choose which plugins to use and manually update them because they are not available from the source.
There's also the issue of end-user usability to consider. You should ideally pick a theme that you can use and maintain easily.
Performance
Of course, don't forget to think about how your WordPress theme affects the site's overall performance. These types of themes can negatively impact the speed of a WordPress website:
Themes with unused templates, files, and plugin bundles.
Bloated page builder plugins.
Installing ad codes on any WP theme
Themes are a good choice for managing ad placement on your site. We recommend using WordPress themes with predefined spaces to place ad codes on your WordPress site's web pages or post elements.
Remember that using themes with predefined spaces and locations may limit your ability to place ad units where you want them. Furthermore, these themes may not support the layout that is most appropriate for your content.
Some themes come with an "ads section," but if yours doesn't, Custom HTML or Text Widgets are the most convenient way to add your ad units.
Installing our ads to every page of your WordPress website usually requires editing the theme. There are two ways to do that:
Editing the Source Code
It works best for Social Bar and Popunder. To access the theme:
Click Appearance and select Theme Editor from the left-hand menu.
Find the theme element you'd like to add the code snippet to under the 'Theme Files' on the right.
Click on the element name (for example, Theme Header or Theme Footer) to see its source code.
To add a Popunder, paste the code snippet right before the closing </head> tag (usually in the 'Theme Header' file).
Social Bar code at the very end of the file.
Display banners and native ads can be placed anywhere in the page body, but make sure it fits in well.
Click Update File to save the changes.
Placing the Code Snippet via Widgets
Widgets are better for native ads and display banners. If your WordPress version is below 4.8.1 and does not support 'Custom HTML,' you can use the 'Text' widget instead.
Click Appearance and select Widgets.
Select the Custom HTML widget.
Check the theme element and click Add Widget.
The widget will open in the element section.
Paste the code snippet into the widget and click Save.
Remember that you may need to double-check if the code snippets you added are still available whenever you switch your WordPress theme.
Learn more here: Installing the Ads to WordPress
Conclusion
One advantage of simple WordPress themes is that you can count on their basic design and features. It also means you won't have to blindly go into a new theme, only to be surprised later by a complex backend that's certainly not user-friendly.
However, before buying, spend some time experimenting with the simple WordPress themes we've recommended above. Before committing to a new theme, we strongly advise you to try out the demos.