Can you imagine a publisher or affiliate who has no website? "Hardly" – might be your answer. But what if even with neither website nor a blog you can monetize traffic with affiliate SmartLink? You can try a new way of growing ad reveues, Adsterra Smart Link.
What is Adsterra SmartLink [Direct Link] and how does It work?
Affiliate SmartLink is another name of Direct Link. In your Adsterra publisher's account, you will find the second name of the feature.
So what this ad format is about? It's nothing but a URL that you can place almost anywhere, which implies you can place it behind any creative made by yourself. You may have encountered direct links before, by clicking on such buttons as "Skip to content" or "Download video."

As soon as a user clicks the link, the system starts the automatic selection of the most proper advertising campaign and leads a user to the landing page. Taking into account the vast base of Adsterra advertisers and smoothly running optimization process that means you get 100% fill rate. This method is fairly known as one of the most flexible solutions to monetize any kind of traffic. Surely it's widely used by website owners, but we are about to share a few tips on how to monetize traffic even having no website.
Where to place Adsterra SmartLink to monetize traffic
Facebook page! To anticipate your question – YES, you can use Facebook traffic to earn online. But you are NOT allowed putting ad links directly on a FB page (you'll be flagged.) There is a smarter way: you will need to create a one-page wesbite with a Direct Link code. Then, you can paste the web page's URL to any Facebook post (paid or organic) or even add it to your comments and sharings. You can do the same with any social network you choose. Easy as a pie, isn't it? Actually, it'll be even more easy if you read this guide to making money with Facebook 💡
Also, you might use it in a mobile app. Insert the Direct Link into any text, picture, or button – monetize almost any element.
Forums. We have a hunch that most of you enjoy spending time on forums either for work or a hobby. Why not make it profitable? Share it or add a direct link to your signature. Write comments. Gain money from the leads. Enjoy.
Not to mention ways to use direct links on a website, in case you have one: it can be inserted inside an article body, it can be linked to any call-to-action button, and it can find a place next to any other ad units, etc.
How to monetize web and social traffic with Direct Link:
Ready to start? Then sign up with Adsterra as a publisher. Once you're in, go to the Direct Links page and click the ADD NEW DIRECT LINK button.
Choose your traffic type (or link category), check ads you want to remove from your feed (if needed).
Click ADD and give us a couple of minutes to check if everything is OK.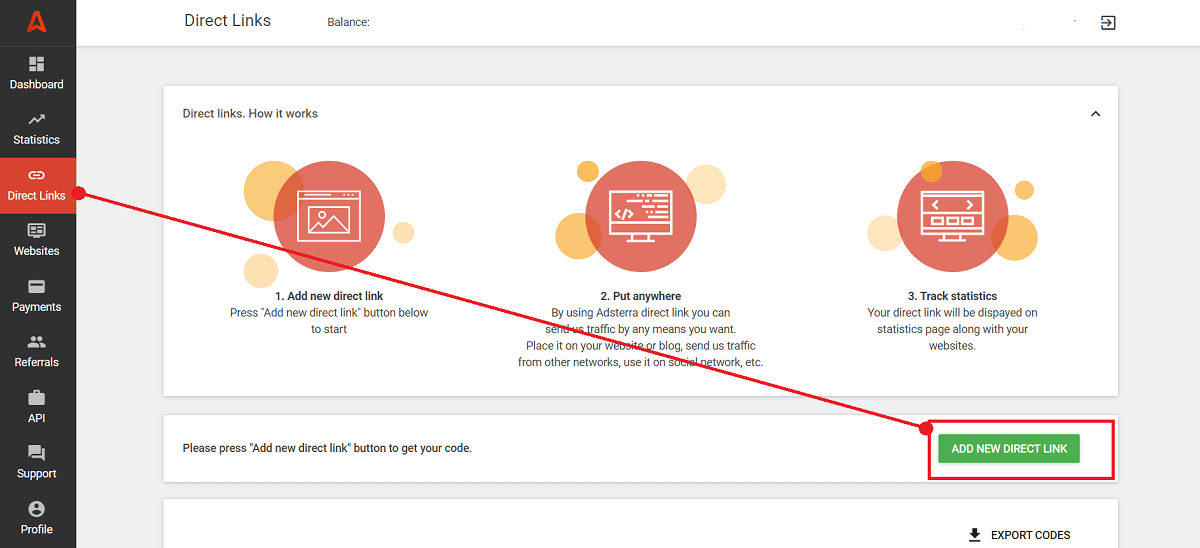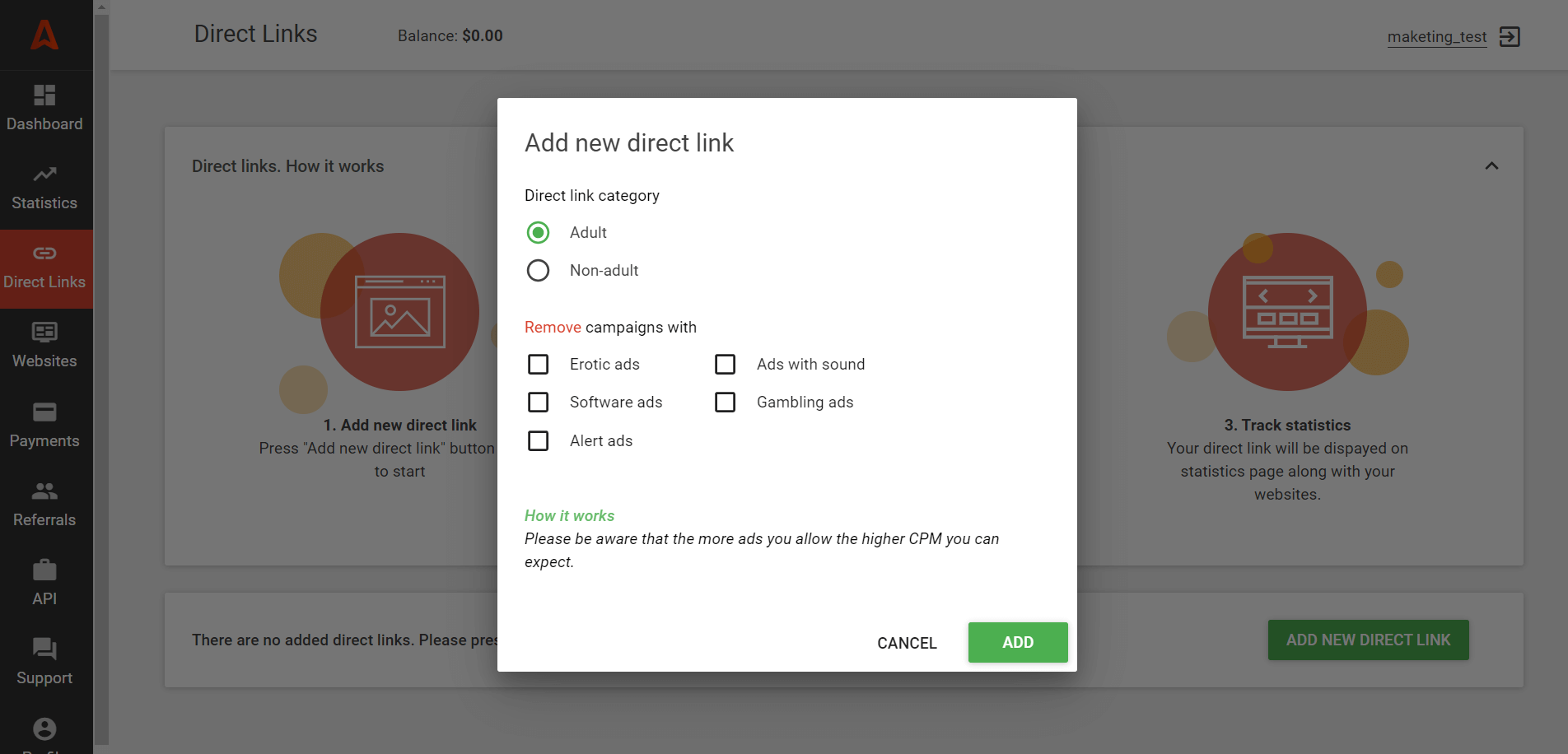 After a very short verification, you can get your code from the Direct Links page or copy it fromm the email Adsterra will send you.

Well, that's it. Now it's your call to choose where to add the direct link to monetize traffic. Good luck! And if you need any further advice, feel free to ask Adsterra team!