Online meeting and networking is a highly competitive niche. With a new site being launched almost every day, it isn't easy to stay on top. So how do you make sure that you stay ahead of the rival platforms? You need to work out a robust marketing strategy for your meetup, networking or dating website.
The trick to earning money is by applying the right strategies to draw people to sign up for your dating site. Understanding what your audience wants and effectively marketing your dating site leads you a step closer towards becoming a highly competitive service provider in the sector. Keep on reading as we will guide you on the best marketing strategies for dating websites.
Why is website promotion important?
Before we dive into marketing strategies for an online dating website, let's discuss the importance of such a promotion. Even though your main focus is to increase revenue, marketing a dating website offers much more.
The number of online dating users is forecasted to reach 280 million by 2024. As online dating becomes more and more widespread, the number of users looking for love or casual connections is rising.
Marketing your online dating site is a necessity — an owner won't get many users just waiting for them to come. It is an unending process where you have to continuously attract new members and maintain old ones.
Additionally, the biggest challenge in this niche today is the saturation of dating sites. Competition means you have to prove yourself to the online audience continually. Users are not afraid to move to the next big dating site.
So promoting your dating site is as crucial as making money from it. In this article we are going to cover 10 steps that every website owner should pay attention to while building the marketing strategy.
To Contents ↑
10 steps to the best marketing strategy for your website
Marketing for a dating website increases your visibility and prompts the online audience to sign up for your dating service. Achieving this requires careful planning, creativity, and detailed insight into your target audience. Marketing can influence your budget. Luckily, we can assist you with our top 10 marketing strategies for dating sites.
#1 Define your niche
Dating and marketing have a common thing for them to be successful — they both require you to know what you are looking for. So before you dive in, research to understand your niche. The idea is to try to get as much info about your target audience.
You might think that Dating is already a niche, which won't be wrong though too opaque. Famous brands and bloggers never target all customers; you also need to meet those you can help and whose preferences match your product best. Don't think of setting up another Tinder or OkCupid. Think of the platform that can fulfill the demand of specific segments.
For example, you may want to create a dating service for only older adults, vegan couples, or a diverse site. To fully achieve success, you need to figure out what your audience will respond to and implement it into your marketing strategy.
To Contents ↑
#2 Apply search engine optimization
SEO is a smart way of making sure people find your dating site online. Thanks to SEO, the websites with the most relevant content appear at the top of search engines. Make sure you optimize content — searching for keywords can boost your SEO ranking. Useful content combined with the right keywords for your niche work wonders for your marketing strategy.
Competitive intelligence should be your middle name. Use SEO tools to discover what keywords your nearest competitors use (organic and paid search), what websites refer to them (referral domains and backlinks).
Intellectual services like SEMrush will help you outline your competitors' SEO strategy and even export the keywords. Although, the first insights you can start getting right now by visiting a couple of rival websites. Check the source code of the pages (right-button click or Ctrl+U for Windows). Examine what words were typed in those tags: title, description, H1, H2, keywords, content.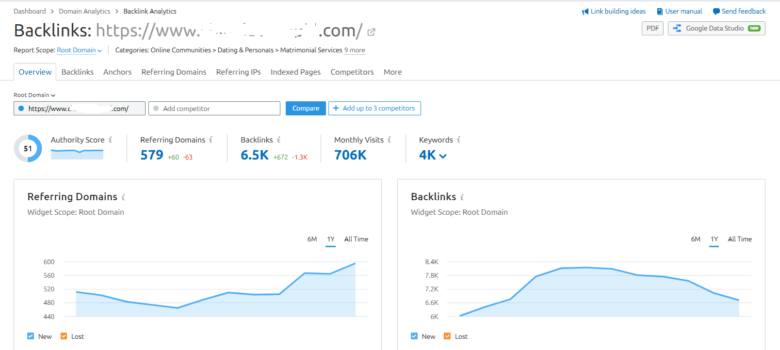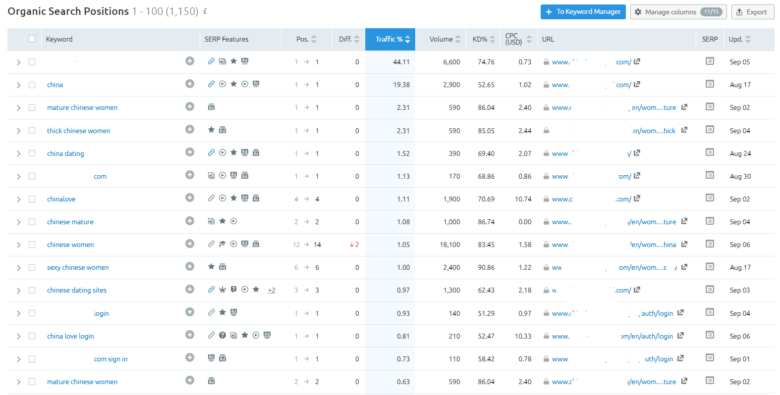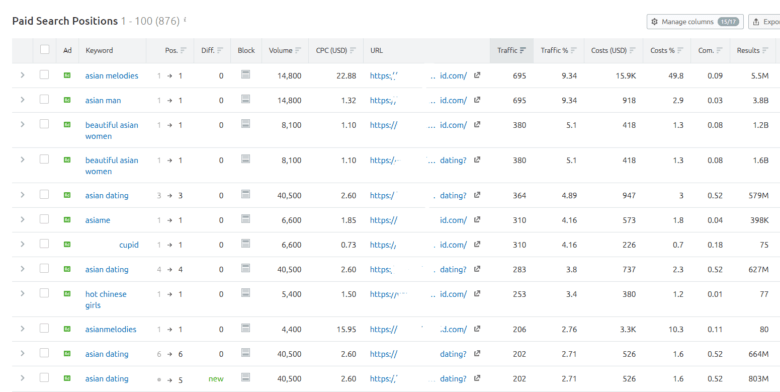 To Contents ↑
#3 Use ad networks to advertise your dating website
With the digital age comes ad networks. An ad network is an intermediary platform that links a publisher to an advertiser. Ad networks support various formats of adverts, including videos and banners.
To start getting money from your website you first need to build your audience, in other words, to attract traffic. In this case, you pay ad networks for showing your ads to millions of users. You act like an advertiser.
How you can use ad networks as an advertiser (not as a publisher):
increase awareness of your website;
refresh your audience and attract new visitors;
fine-tune your targeting reaching some more well-off segments;
return those subscribers that have left.
Here we refer you to the Adsterra Dating Ad Network, where you can buy ads to display them on tens of thousands of websites. As your goals are both reach and subscriptions, you can choose the comfortable pricing, or, what exactly you are going to pay for: your ad views (CPM), clicks on your ads (CPC), or specific actions (CPA like opt-ins and double opt-ins).
Afterward, when your dating website will have grown, you might want to have extra income from it. Then you will be selling your traffic to other advertisers and show third parties' ads on your web pages. From that moment, you'll become a publisher (and that's a different account in an ad network). Earlier we published an article about the core difference between Advertisers and Publishers.
To Contents ↑
#4 Incorporate social media
Social media can be a great dating site marketing strategy. The majority of marketing strategies just can't work as well without social media platforms. Create a Facebook or Instagram account, think of some snappy ideas that you are going to stream in your social feed. Posting original content, videos, and dating tips and tricks can keep your audience engaged. And once you win the hearts, you'll be able to drive traffic from Facebook (or any other social platform) to your website.
With a well managed social media strategy, watch as the number of users on your site shoots through the roof.you have a decent following, you can now leverage your account to make more money. Below are the tried and tested ways of monetizing Snapchat.
To Contents ↑
#5 Look for low-budget tools like link directories and forums
Despite the opinion that link directories are old hat, they still can drive you some additional traffic. That way, anyone searching for a reliable online dating site can easily find you. A great part about most of these directories is that they don't charge you at all or take a minimal recurrent fee. Some of them, like Dating-List.com, ProLinkDirectory.com, OnlineDatingDirectory.net ($35 yearly fee) have been on the market for quite a while.
You may also find your audience on Quora and topic-related forums if you're ready to become an expert advisor on the top questions within your niche. This way is also low-budget though time-sapping.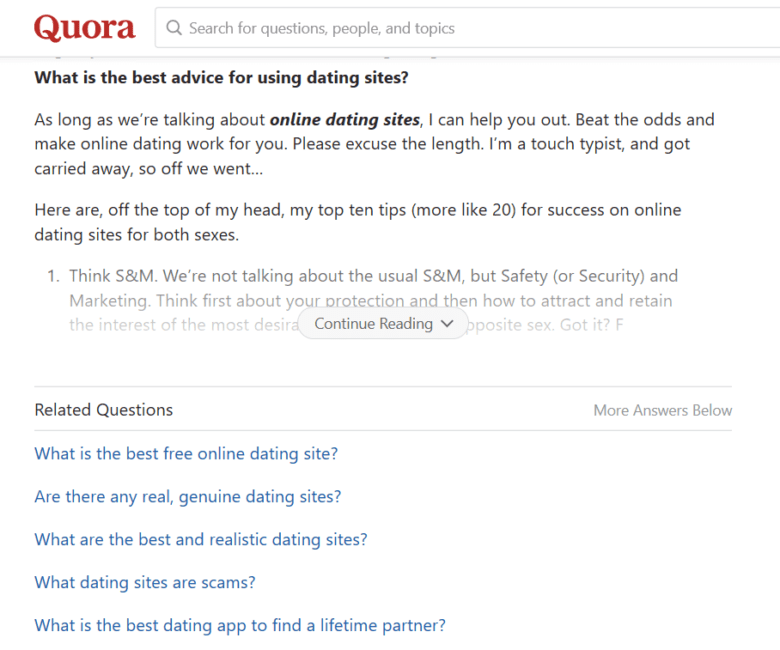 To Contents ↑
#6 Think outside the box when promoting your website
Success in the online dating business hugely relies on the size of your wallet. However, if you do not have as many resources as large corporations, concentrate on being creative. Creativity allows you to achieve both short term and long term goals.
A creative idea for marketing a dating site is working with influencers. These are personalities who already have a large follower base on social media. Partner with them so that they can market your site. People are more likely to respond to an influencer than a website, so you'll get an increase in users.
Another out-of-the-box idea is advertising on a blog or news feeds online — promote success stories from your website to get their interest and trust.
Dating is a sensitive subject, yet it needs more fresh spins than any other industry. So you might need to go the extra mile to make your product stand out. Look for some brand new advertising formats that could spotlight your website. For example, Social Bar ads interact with users even before they come to your website. You can engage users into dialogue instead of bluntly showing them a banner.
Here are some web advertising examples that evoked huge interest and lots of clicks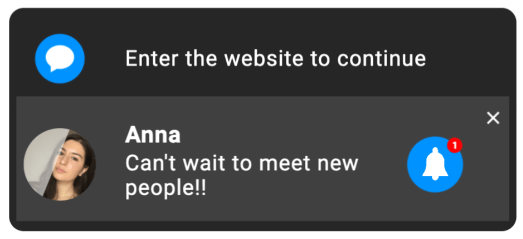 To Contents ↑
#7 Collect user feedback
Despite the huge competition in the online dating scene, there's still room for even the smallest service providers to earn revenue. A great way to ensure growth is by talking to your users. This will help you make effective changes to keep current users and encourage the new ones to join your dating site.
Another advantage of collecting feedback is that you show your users that you value their opinion. When you communicate with users, it helps you to build a long-lasting relationship. Collect user feedback through:
Live chats,
Email surveys,
Social media,
Online polls,
Facebook reactions.
After that, you can post positive feedback on your website. This will only attract more visitors to sign up.
To Contents ↑
#8 Sign up for affiliate programs
Affiliate marketing is one of the major methods in lead generation for many industries.
Here is how it works – you pay the affiliate company a commission whenever a new customer joins your website. The affiliate uses a unique trackable link to promote your website. The commission from each new member depends on your agreement. The advantage of this marketing strategy is that you only pay for each new member. It also helps you to boost your SEO while reducing marketing costs.
#9 Take advantage of email marketing
Make sure your website collects the email addresses of customers right from the start. With more than 3.9 billion users, communicating through emails, it is an effective way of staying in contact with users and amplifying your dating website marketing strategy.
Sending relevant emails regularly about new features of your website or app keeps members active. You can also ask members for referrals through emails. Besides, you can send match notifications to the new members.
To Contents ↑
#10 Apply several marketing strategies
Solely relying on one marketing strategy for a dating website may not work out for you. Effective marketing for a dating website involves applying at least three or more methods. Be flexible and try different approaches until you find the one that works for you.
For instance, you can combine SEO, social media marketing, ad networks, and link directories. This increases your chances of attracting more users from every corner of the world. You can even divide your staff into teams so that each can work towards a specific strategy. Combining strategies will definitely make your dating site more visible.
To Contents ↑
Bonus: How to monetize your dating website
As discussed in Step 3, you can use ad networks both for promoting (aka advertising) your website and monetizing it (getting extra money). Let's make this issue a bit clearer.
When you register as a publisher, you offer your dating website as a platform for displaying ads. Depending on your design and web pages' structure, paired with the audience's preferences, you can choose what types of ads to demonstrate.
At Adsterra you can pick the most native and non-disturbing formats, get their codes, and place them on your web pages. You'll be paid each time your next user sees an ad or clicks on it. Taking into account that dating platforms are all about communication, we don't recommend using too many ad formats that can interrupt user search or dialogue but prefer those that engage and can be displayed as native content: In-Page Push, Native banners, Popunders, and Social Bar.
To Contents ↑
Final thoughts
Applying several strategies to gain more members involves careful planning. While it may not be straightforward, it is possible to attract more users with the right marketing tools. One of the most crucial steps is to identify your niche and the target audience's needs.
From there, you can apply several marketing ideas, including ad networks, social media, and email marketing. Making use of affiliate programs, online directories for dating sites, and collecting customer feedback will only make you a tougher competitor in the online dating world.
Your dating website marketing will always be looped into a complex of activities.
First, you'll be advertising to get more new users and make them subscribe.
Afterward, you'll need to retain your clientele by offering them top-quality services.
And finally, the monetization stage, when you'll be earning from affiliate marketing or/and from placing ads on your web pages.
Adsterra is going to be your reliable partner whatever marketing strategy you decide to implement to your dating website.
Own a dating website? Monetize it with Adsterra!