Monetize Any Traffic: A Guide To Working With Smart Direct Link
Tens of landing pages, multiple URLs, and exhaustive A/B tests to match your precious traffic with offers? A time-consuming routine that is so familiar to affiliates. Or, maybe, a brand new website with no organic traffic? The rough reality of a publisher in 2020. After the pandemic has messed up plans and prospects, it has become critical to recover revenues and maximize the payback from online activities in a shorter time. Adsterra's Smart Direct Link allows for instant traffic monetization and substantial revenue growth within weeks.
A Smart Direct Link is a tool that automatically and intellectually selects the most relevant offer for each user from the traffic you drive.
Whether you are a sophisticated affiliate marketer or a beginner publisher paving the road to traffic monetization, we'll give you a strong impulse to maximize the results of your activities. In this guide you'll find out how the Link works and how you can amplify your earnings with its help.
What is Smart Direct Link and how does it work?
A Direct Link is an ad unit. But unlike banners, it doesn't require any specific place on the web page. Literally, it is just a link that you can apply to any area on the page. That is to say, you leap over the stage of cutting out the space to place ads. And furthermore, you don't need to run a fully featured website to monetize with the Link.
Inside the Link there is a URL where your traffic will be sent after users click. Remarkable are the AI algorithms behind the link that select the best landing page from the campaigns that run at Adsterra.
AI algorithms filter and combine tens of traffic parameters, and then match them to advertisers' offers:
Region, country, state, city
Language
Device type
Browser
OS + its versions
Carrier
Connection Type
Keywords
Preferences and Behavior
Advantages for publishers who are using Smart Direct Link
With those traffic-2-offer matching capabilities listed above, publishers and affiliates can monetize any type of traffic they drive to the link: paid search (e.g, AdWords), apps, FB, email, etc. They simply focus on attracting rich and diverse traffic instead of fine-tuning dozens of landing pages.
Here are some essential reasons to try Smart Direct Link
Where to put Smart Direct Link to boost your eCPM and earnings
When working with Adsterra's Direct Link, your revenue comes from eCPM (or effective CPM). That is to say, we take in account the number of ad impressions and their further conversions. Hardly any advertiser will rely only on impressions. All offers need target actions. Therefore, the more conversions your users make, the higher your eCPM is. It means you should choose the top spots that bring maximum clicks.
Obviously, call-to-action buttons are the winners here, because they bring the majority of clicks.
Some hot spots to apply Direct Link:
Call-to-action buttons (Download, Play, Subscribe, Get Bonus, etc)
Texts (it's better if they contain a call to action)
Full-size images previews
Return buttons
Images and GIFs
JavaScript pop-up forms
Subscription buttons
How to start monetizing with Adsterra's Direct Link?
STEP#1
To start getting money with your Smart Direct Link, sign up as a publisher.  Choose Websites from the left panel, then click the green Add new website button. Enter your website URL, pick Direct link from the Ad Units field. Your website will be sent to approval. Usually it takes several seconds or up to 5 minutes to verify the URL.
STEP #2
On the Websites tab find the website you added and check if the status is Approved. If so, click All codes → Get code and copy your direct link URL. Place it wherever you've planned to and enjoy the numbers.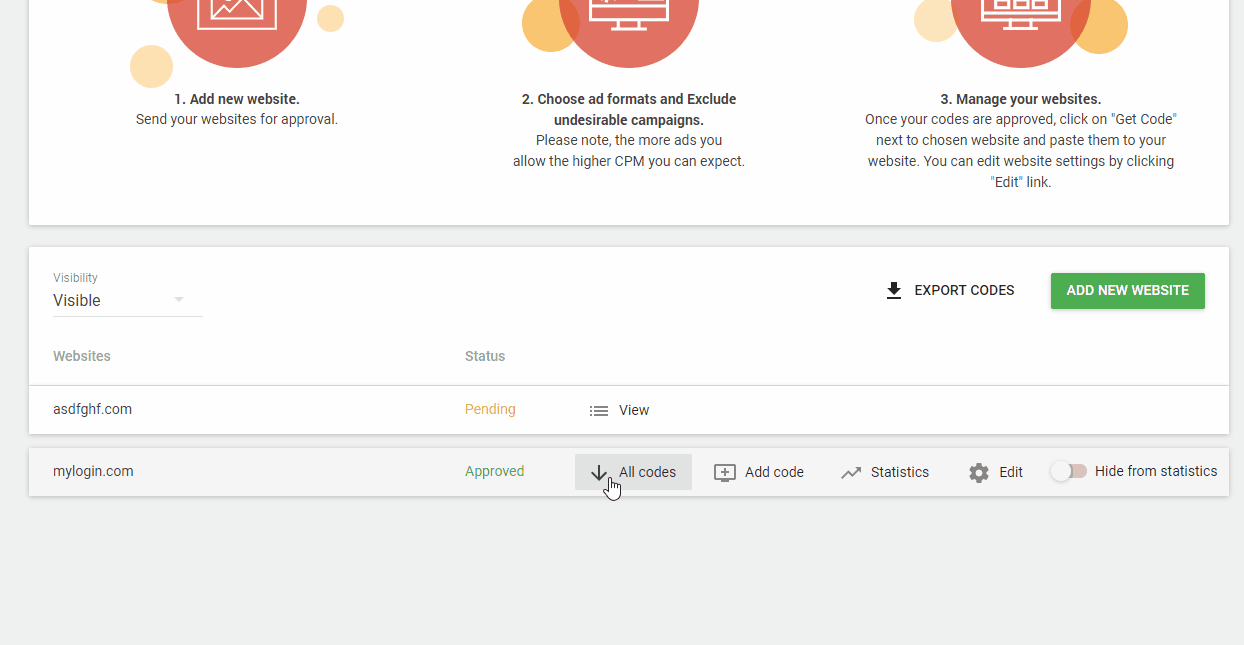 How to check the numbers
Onece you start monetizing, you instantly get the access to Adsterra's Statistics. Here you can monitor all your activities with Smart Direct Links and track the earnings.  Simply set the date, select either website (if you have one) or your login ( if you don't) in the field Domain.  
Here you have two vital metrics:
CPM (cost for one thousand impressions) that determines how high advertisers bid for your traffic. There are several factors that affect CPM. We wrote about it earlier in this post.
Revenue — the amount of your earnings.
Tips and insights to take the extreme of the Smart Direct Link
Pros and cons about Smart Direct Link
Well, now you are fully armed to start monetizing with Smart Direct Link. Time to put it on your web page!