You're probably familiar with the business of flipping products for a profit. Purchase a low-cost item, improve it, and resell it at a higher price. And that's what website flipping is all about.
Flipping opportunities have moved to the internet in this digital age. Instead of selling physical items, you can learn how to make money by flipping websites.
People encounter many problems, such as scamming during sales or purchasing a website, a friendly platform for website flipping, and fair negotiation between the buyers and sellers.
We'll give you a quick lesson on website flipping in this article.
Content
What is website flipping?
Website flipping is the process of selling an existing website at a higher price than the cost of purchasing the website. It can mean investing in websites that are already profitable, improving them by increasing the number of monthly visitors to the website and selling the website for a profit.
How much can you make flipping websites?
If you decide to start a website flipping business, you can make a decent living, but calculating a set income can be challenging. The amount of money you make depends on several variables, including:
The nature of the website: Some sites perform well, while others do not. Websites that sell Amazon products, for example, are in high demand. News websites, on the other hand, rarely succeed unless they are well-established.
The website's history: The more established and older a website is, the more money it will bring in because more senior websites have a distinct brand and identity. They're also less susceptible to algorithm changes.
Statistics: Statistics are vital in every aspect of buying and selling. To make an offer, buyers will want to know how much they can earn from your website and how many visitors you have per month. These figures play a massive role in determining your website's value.
Marketing techniques: In the end, it's about where and how you position your website on the internet.
Remember you can always try getting passive income by showing ads on your website. That's a great alternative to website flipping. If your inventory generates quality views, clicks, and conversions, your CPM will be the highest. It'll take some 10 minutes to register and get your first ad code.
How to approach website flipping strategically
Most entrepreneurs do not begin website flipping to make a profit quickly. Understanding how the market works, what's trending, how to attract buyers, and what can make you a decent profit takes time in the website flipping business. But we'll lay out the process for you to succeed at flipping smarter and faster.
1. Find a website to buy
Start with a preliminary analysis of site performance through Similarweb, Semrush, or Serpstat. If you think everything is fine, then request access to the website's Google Analytics account. Then break down the website's traffic so you can get a better idea of its potential.
Here are some characteristics to look for:
There is a lot of traffic from high-value countries (United States, Canada, UK)
The traffic is coming from reputable and verifiable sources (Organic, Social)
The overall bounce rate is low (a bounce rate in the range of 26% – 40% is excellent. 41% to 55% is average. 56% to 70% is higher than average. Anything over 78% is disappointing for everything outside of blogs, news, events, etc.)
When flipping a website, focus on the website's existing audience by seizing an existing market.
Here are large umbrella niches to consider:
Travel
Business
Food/cooking
Personal development
Personal finance
These niches will always remain relevant, even though the competition is high.
3. Go for solo web owners
Buying websites that are already on the first page of Google can be complex. These websites are frequently well-managed by professional teams. Look for one-person websites that are regularly updated but could use some help. These sites are often available for purchase at a significantly reduced price, allowing you to increase your profit margins and bottom line.
4. Go through website brokers
Website Broker is a domain marketplace where you can sell and buy domains online. There are auctions for domains and websites, and if you decide to sell your website there, you will receive many bidders.
A website broker does the following:
Research websites based on your criteria
Screens potential sellers
Gather information in a folder (this details the website's statistics)
Value denomination
Assist the parties involved in the transaction in completing the transaction and transferring ownership.
5. Negotiate with the website owner
After finding a website, you'd like to purchase. It's now time to contact the website owner via the website marketplace or a broker to discuss the sale. The negotiation process can take a long time, depending on dealing with an individual or a company.
As more potential buyers make counter-offers, the negotiation process drags on. Remember that it's not mandatory to buy if you cannot agree on a price.
The general rule is to exercise patience while remaining realistic. People aren't always ready to sell, and negotiating can be a waste of time on your part.
6. Assess the website
Congratulations on your successful purchase of the website! You now own another website. It's time to work on improving the site so you can sell it for a profit.
An SEO audit will reveal the website's flaws and suggest ways to improve them.
Customizing your color scheme to reflect your brand and the ability to navigate a website is also essential. The font on your website should be simple to read. Understand how visitors interact with your website and where they click by using website heatmaps. This data can assist you in redirecting traffic to powerful articles and sales funnels.
7. Improve traffic
Search engine optimization (SEO) improves the chances of your website ranking higher on search engines. The higher your website ranks, the more likely visitors will click on it.
Improving ranking involves a lot, including publishing helpful content and optimizing for specific keywords. You can gradually grow your audience and authority as your website climbs the search engine rankings page by page. Guest blogging on bigger websites is another way to improve your SEO because including a backlink to your website increases your domain authority.
8. Choose mobile-friendly themes
A website theme that looks great on a laptop is no longer enough. While compact and portable, mobile phones can do nearly everything a laptop can, including reading articles, watching videos, and shopping. Mobile traffic has overtaken other forms, and Google uses mobile-first indexing. So switch to a mobile responsive theme or a certified mobile-friendly theme.
Selling the website
The final step is to put this website up for sale. Here are some guidelines to keep in mind when creating your website's listing:
Be responsive
Each interaction with a potential buyer allows you to pitch your website, provide additional information, and address any concerns they may have. Be considerate, communicative, and responsive to every potential buyer. If they've taken the time to contact you with questions, be courteous and address any concerns they may have thoroughly and politely.
Description sells
Be descriptive in your listing if you want to position your website for the best chance of closing a sale at a reasonable price. You want your customer to feel at ease and have all the information they need to decide. Consider how interested buyers might react if important information is missing from your listing. They may believe you are hiding something and attempting to defraud them.
Where can I buy and sell websites?
Finding the right platform to start with is one of the most challenging aspects of website flipping.
However, there are several resources available to assist you in finding a website to purchase and resell. Here are few places online where you can list and sell your websites for a profit:
Flippa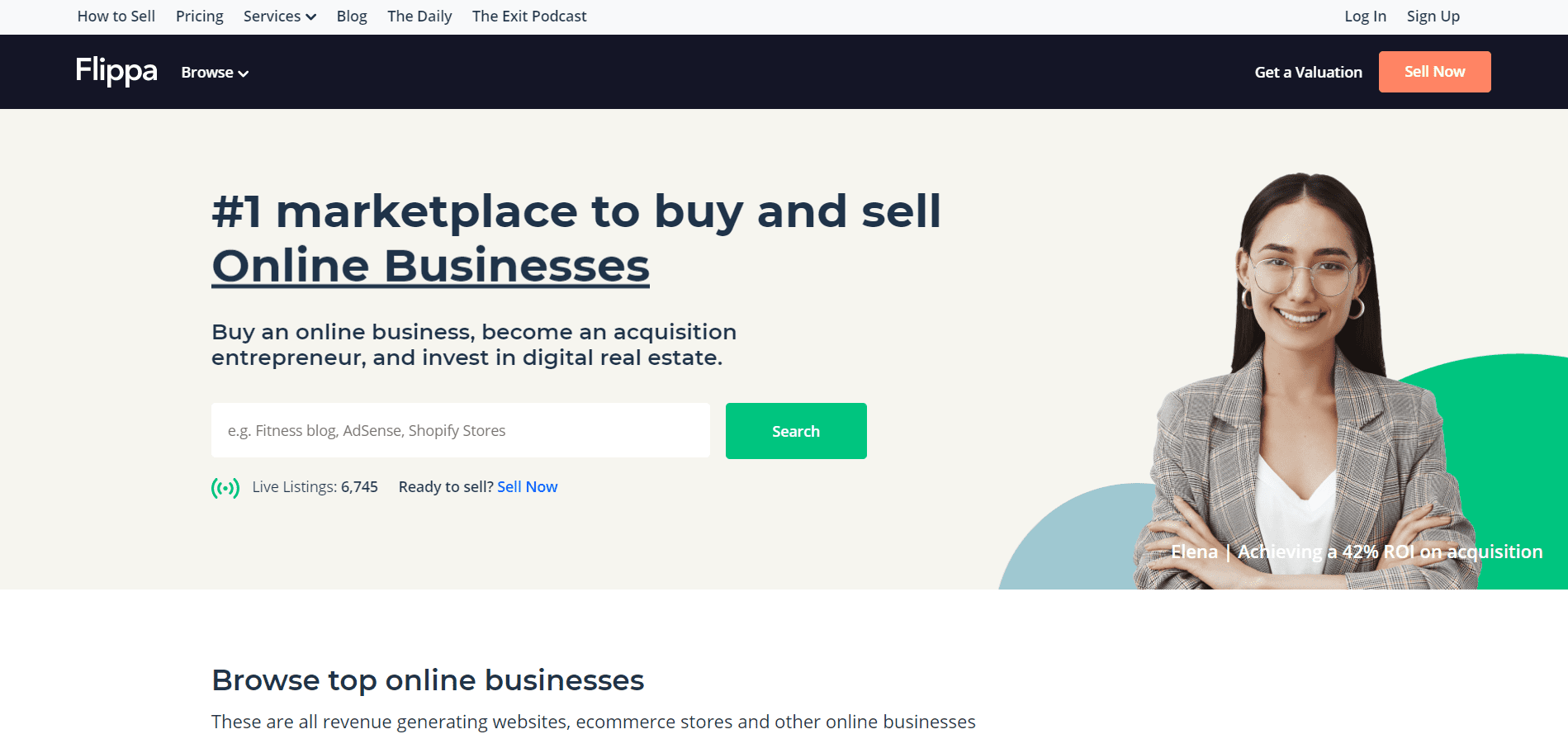 Flippa's user-friendly interface makes it simple to flip websites. You can also buy and sell websites at any price. Flippa offers a wide range of websites at various prices, allowing access to the marketplace for people of all financial backgrounds.
Each website listing on Flippa will include information about the company, such as time of registration, how much money it makes each month, how much it costs to run the website, and how much traffic it receives. They also charge a commission at the following rate:
10% commission for $499,000
7.5% commission if the amount is $500K to $1M
5% commission for sales that start from $1M – $5M
Trademysite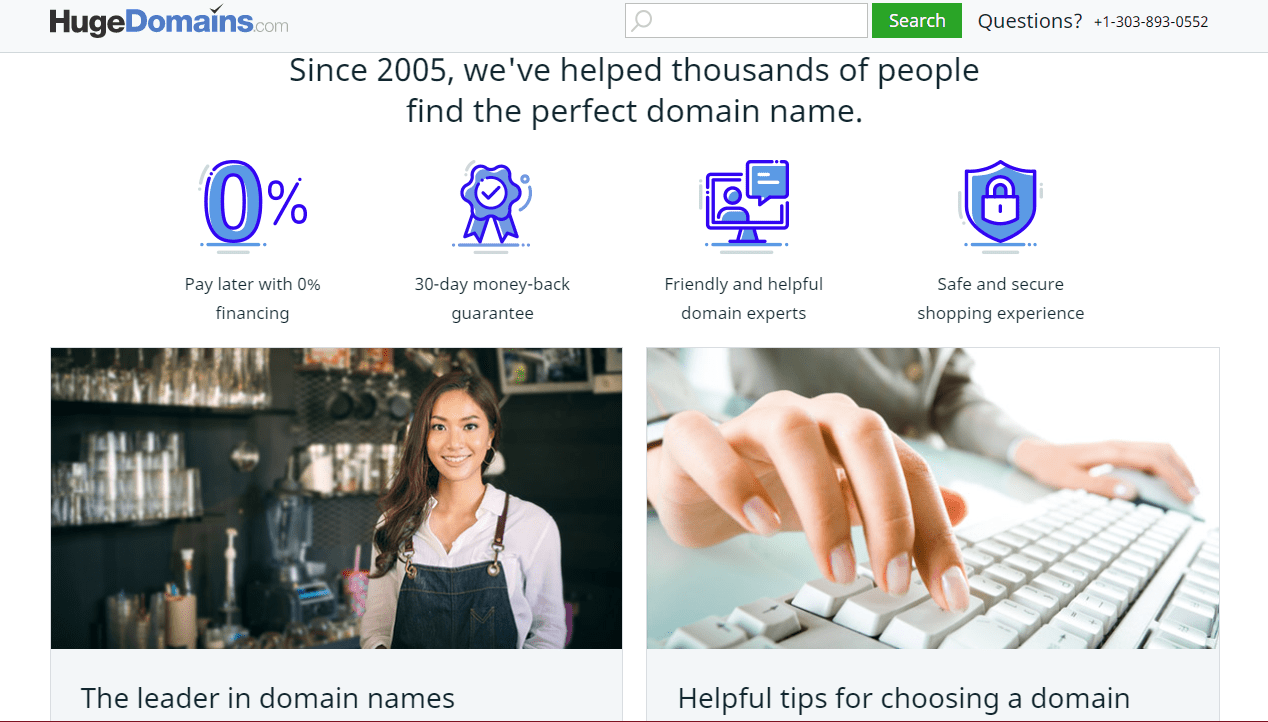 Another platform for business owners to sell their websites is Trademysite (also known as hugedomains.com). They have over 350,000 domains for sale and a resource center to assist with domain valuations on their website. Customers and contracts come from worldwide, including the United States, Australia, Ireland, and Malaysia.
Afternic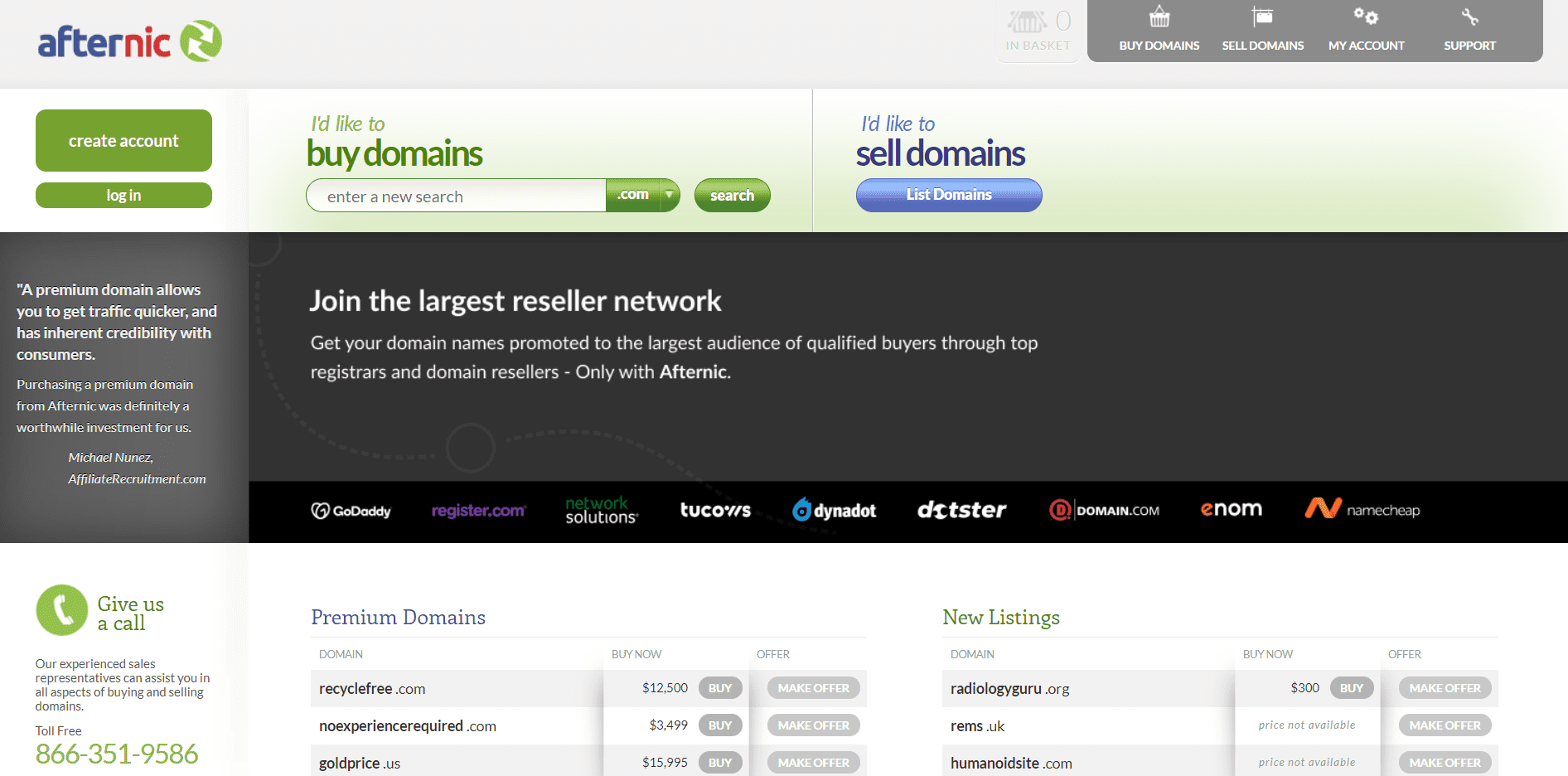 When you list your website with Afternic, it will be immediately visible to other buy-sell website platforms partnering with them.
They collaborate with GoDaddy, a domain registrar and web hosting company, making the transfer of ownership easy.
The following is a list of Afternic's commission fees:
20% commission fee for sales up to $5k
15% commission plus $1k for sales from $5,001 to $25K
10% commission plus $4k for any amount over $25K
Web hosting talk
Web Hosting Talk is an online forum, similar to Digital Point Forum, where you can sell domains and websites and ask questions and participate in discussions. There are many ongoing discussions and debates between web admins and domain sellers on there. You can find a customer for your domain in no time when you use it correctly.
Imagine an online platform that allows you to sell and buy domains, similar to a marketplace. Website Broker does not charge any commission: you don't need to pay anything after selling your website. Instead, they profit by charging a $9.95 standard listing fee. For $14.95, you can upgrade to a premier listing, which gives your listing more exposure.
Final thoughts on website flipping
For the right entrepreneur, website flipping can be a high-paying side hustle or full-time income source.
Prospective Pros:
Low barrier to entry: Knowledge is now easily accessible and free. You can teach yourself everything you need to know about creating, optimizing, and monetizing a website. You can start flipping websites whenever you're ready if you're willing to put in the time, effort, and money.
Low capital investment: The initial capital investment in website flipping is lower. You can often buy a domain name or an existing website for a few hundred dollars. Although website flipping isn't cheap, it does have lower startup costs than a traditional brick-and-mortar business.
Market demand: The internet is still young. Many businesses are still lacking websites to expand their online presence. If you know how to build a profitable website, you can take advantage of this lucrative market. Businesses will pay you for websites that can increase their traffic and profits.
Cons:
Significant time investment: It may take some time before your website is ready for auction, depending on how much work it requires. That means your SEO efforts could take anywhere from two months to a year to pay off. If you decide to start website flipping, consider a long-term investment that requires patience.
Need for Outsourcing: If you don't have experience with web design, copywriting, or other aspects of website development, you'll probably need to outsource these tasks. While this may improve efficiency, you will have to pay these professionals, which will reduce your profits.
No guarantee of success: Even if you buy a website and optimize it for maximum performance, there's no guarantee that it will sell at the price point you set—or that it will sell at all. Several factors can influence the profitability of marketing your website.
Detailed research at the start will improve your chances of a successful sale. Confirm that there is a market for your website in a profitable industry that would be interested in buying it. And if you decide to continue making money on advertising on the newly acquired site, which is registered in Adsterra – create an account and write to us! We will help you boost your revenue.
FAQ
Now I own a website that belonged to another Adsterra publisher. How to prove I'm the owner?
Assuming you bought a good site with ad codes installed on it, and this site itself is already registered with Adsterra but under a different owner. If you want to make money on advertising, as before, then you need to contact the Adsterra support service and take your random code. You put this code on the site to access the admin panel, and voila! Adsterra support transfers the website to you.
If you become an owner of a website already registered at Adsterra, we will need to verify that it belongs to you. Here is what to do:
First, you need to have full access to the website you want to verify (to edit the HTML code).

Please log in to Adsterra and inform our support team that you own the website (provide the URL). Ask us to give you the unique verification code.

Then, you copy this code and enter the HTML editor of your website. Simply place the code to any web page so that any visitor could see it. Save changes.

Provide us with the link to the page where you placed the verification code. We will open it and make sure that you have full access to the website's HTML.
* Please send us the link to the web page, not a screenshot or a screencast.