One day you win, the next you fail. Generating income online cannot always be a super-rewarding activity. Unless you possess an actionable how-to guide made by a practitioner. Adsterra is here to provide you with another fantastic manual. Ruben Colón has been making money for nine years. He's on the air today to share a surefire way to earn from Snapchat and Direct Link. Don't miss a single beat, cause it's time to become a Snapchat rockstar in no time!
---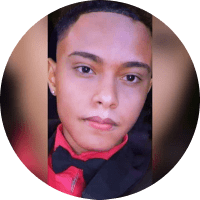 ---
Cheers! I'm Ruben Colón, I live in the Dominican Republic but earn mainly with the US traffic. For me it is a pleasure to share my experience as a publisher. My story began a long time ago, in 2013. Like many other beginner publishers, I watched a lot of YouTube videos on how to do remote business and generate revenues online.

I kept trying for a couple of years by using several online services, but all of them required much effort while earnings were very insignificant. Until my efforts led me to a stable source of income. I'm about to tell you which means I tried and which of them rocked and kept working. Stay tuned!
Methods of generating income I used before
When I was much younger, I used to register on several platforms who paid for answering surveys and watching advertising videos. It seemed very reasonable by then. But they all paid very little and required much effort. To be honest, it took me 2 months to complete the goal of withdrawal of $6. I decided to quit this work, as it didn't leave me time for self-development and growth. That was a wise decision.

It was only in 2016 that I returned to testing other ways of getting a profit. My friend told me that he was hired by a traffic arbitrage guy. That guy required a crew to send traffic to CPA pages. I was totally unaware of the subject. After scanning several reviews, I created an account on a reliable CPA page. And guess what? My first $100 came in about 7 days. All I was doing was just sharing CPA links on Facebook. It's a pity that now, in 2022, Facebook bans such activities as they are not connected with the FB ad system. So after Facebook changed its policy I was unable to earn from CPA links there.
Editor's note
While Facebook remains inflexible regarding any ad links placed inside posts, you still can capitalize on social traffic. All you need is an engaging landing page or a blog with ad codes. It's a legit and safe way of getting extra income, on condition you communicate valuable content.
CPM ads to earn from Snapchat
In 2018, I started working with Snapchat traffic. My Snapchat method was practically to upload viral stories with CPA links in descriptions. Luckily, it returned nice profits of $200 in a week. But very soon people stopped registering after clicking the CPA links, so my efforts returned me nothing. No matter how many clicks I gave, I earned zero if users did not do a conversion. And here we go again! I began to look for a new way of earning money.

My new way was to use CPM links to earn from Snapchat. You know that with CPM you get paid for the cumulative amount of views, clicks, and conversions. Adsterra became my loyal partner in this deal paying me from $800 to over $1,000 weekly.

Now I will tell you how I grow earnings with Snapchat and Direct Link.
Direct Link: my direct way to earn online
As I said earlier, CPA links stopped being profitable and I found a better way of making money.

Adsterra offers a Direct Link, which is a CPM ad link with thousands of offers behind. Not one CPA link, but multiple. Another big difference is that you can't put Direct Link in a Snapchat story. You have to drag users to a website with the Link on it.

With many social media accounts, you can pull several Direct Links and use them all for getting income.

To get a Direct Link, you first need to sign up for Adsterra. Don't forget to verify your email while registering.

In your account, you need to go to the Direct Links page (on the left). Click GENERATE NEW DIRECT LINK.

Now you see some parameters to tune up. As for me, I don't filter traffic, just leave my Direct Links as is.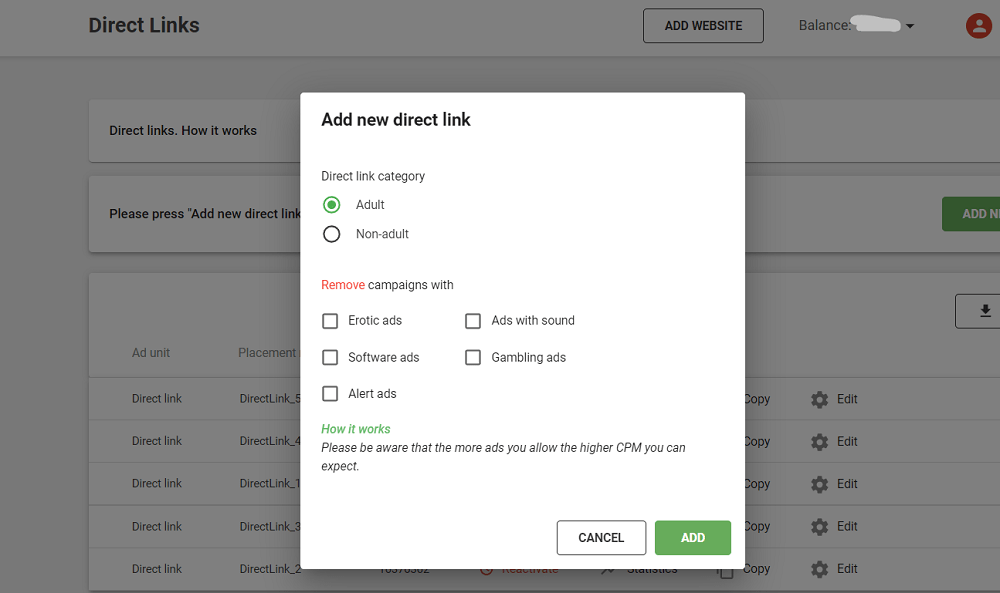 You have generated a CPM link to start getting income from Snapchat. Now comes the most interesting part. I will tell you how to create a Snapchat account and begin making revenues.
The formula of how to earn from Snapchat
Ok, I will firstly describe a sequence of steps. And then, we will take a look at each step a bit closer. What you need to start earning with Snapchat:
Create a Snapchat account.
Create a profile and make it public.
Start generating organic traffic
Upload and publish videos linking them to a website.
Place a Direct Link on your website to earn from traffic that comes from Snapchat.
1. Create and verify a Snapchat account
Remember that we're here to do business. So my recommendation to you is NOT to use your own Snapchat account for generating earnings.
I highly recommend creating a new account. You will probably ask why. Well, running business activities is risky. You will have to be very active and test a lot of methods of generating organic traffic. Snapchat can consider some of them suspicious and block your account. If not willing to waste time on your acc's recovery, simply start with a new test one.
Anyway, today I'll show you how to use temporary emails and phone numbers to create and test new Snapchat accounts. You may want to drive traffic from several accounts with totally different content. Temporary emails and phone numbers are just perfect for faster tests. 

Download the app from the AppStore or Google PlayMarket and open it on your mobile device.

Click Sign up.

Next, you enter your name and last name and click Sign up and Accept cause you will have to accept the official terms.

To continue, you will need to enter your birthday date. Click Continue and jump to the next stage.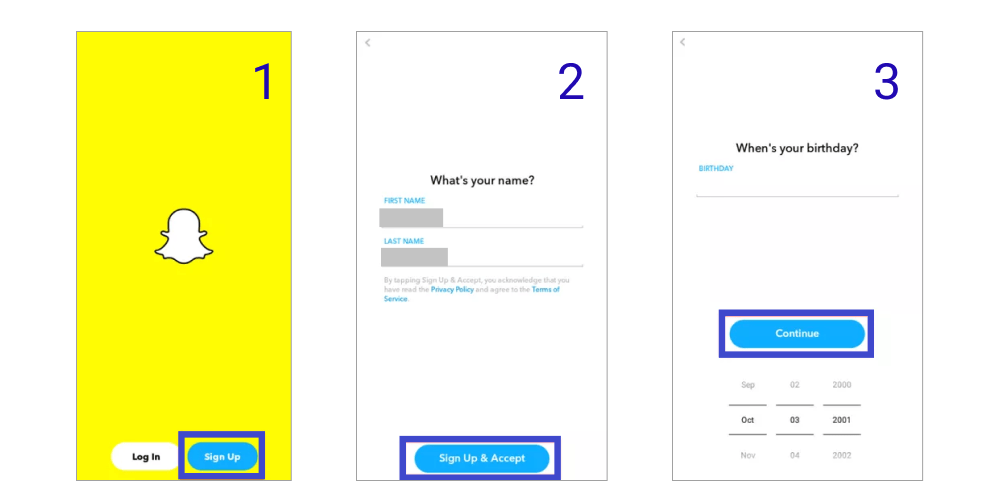 Pick a username. Mix a real name with numbers if the name is taken. Don't try to be too original. The best accounts look natural. So no SuperBizInternational, ok? Usernames like paola98me or 100angelaxxx look natural, but it can take a couple of minutes to create a unique username.
Set a password. Snapchat requires not fewer than 8 characters.

It's time to verify the account. In this step, Snapchat can offer you to enter your email or a phone number.
sign up with an email
sign up with a phone number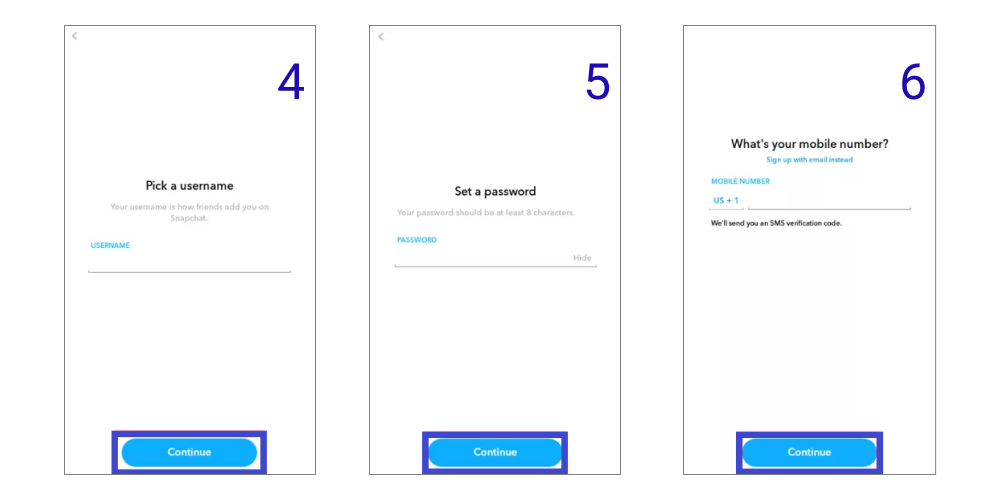 My Snapchat app offered to enter an email first. But in the next step, I had to add the phone number, all the same. Now a few seconds about my life hacks for emails and phone numbers.
Where to get temporary emails and phone numbers
You don't need an imitation of an email/phone because Snapchat will make you enter the confirmation codes. I found two web resources that offer quality temporary emails and phones. I'm from the Dominican Republic, so I'll be using one of the local services. You can look for alternative pages, of course.

Correotemporal.org generates email addresses which you can use for getting verification codes as well.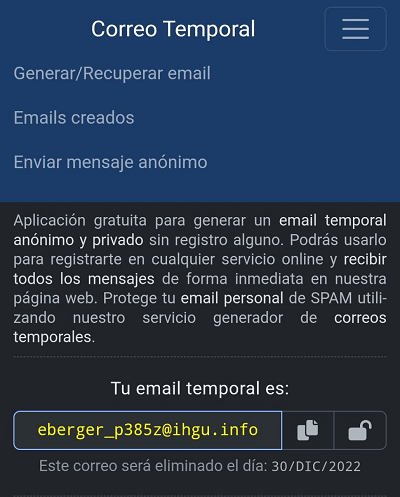 Another service is TextNow, I'm using it for generating virtual phone numbers. Remember that this hack is good for tests. TexNow can be helpful for receiving SMS and verification codes. You can have multiple phone numbers, which is nice for splitting your business accounts. Now we will create a US number.

Download TexNow and follow the signup process. When you reach the Select Your Phone number screen, start with the Area code for a random US city, then click Continue. For example, the area codes for Philadelphia are 215 or 267, and 773 is for Chicago.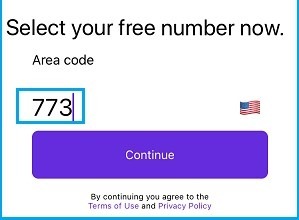 On the next screen, enter the Area code for any US city and tap on Continue. Choose your Phone Number from those listed and tap Continue.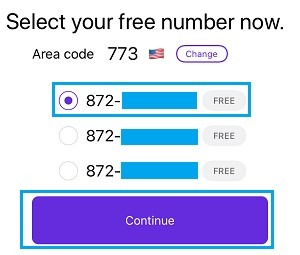 When the registration is finished, you will be able to find the new virtual phone number in your account by clicking the hamburger menu on the left.
Note: If TextNow is unavailable in your country, you can try its analog, the TextFree app.
2. Create a public Snapchat profile
It's better to have a public profile because you need as much traffic as possible. With such a profile, all your stories can be discoverable by any user, not only your friends.

So let's go public right now.

From your account tap your avatar. It is also called a "profile icon". Then, scroll down to the Public Profiles section and tap the Create Public Profile option. This will lead you to a new page.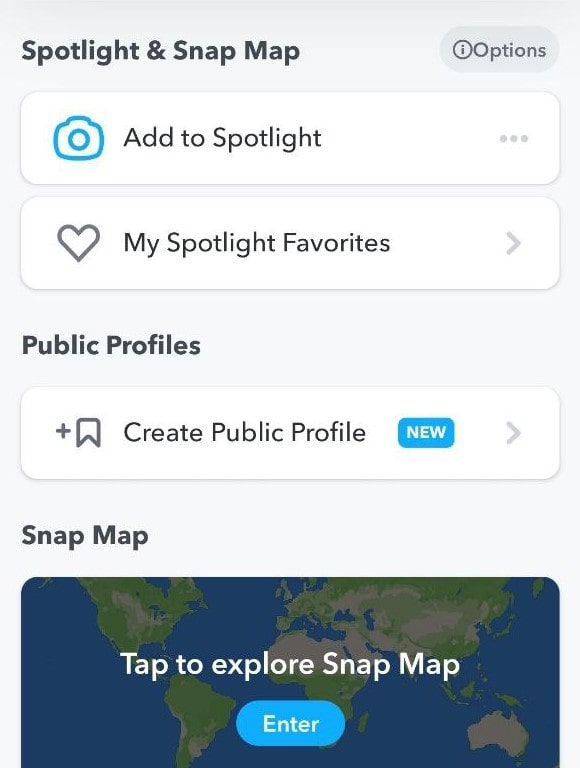 I recommend you to look for tutorials on how to create a public Snapchat profile if you can't find the options I mentioned. It's true that the sequence of steps is not the same for every country and device.

What else can you do to reach as many users as possible? You should make all your content visible.

Again, hit the avatar on the top left part. Then tap the settings icon on the top right and scroll down till the Privacy control section. Allow users to see your stories and contact you by choosing Everyone.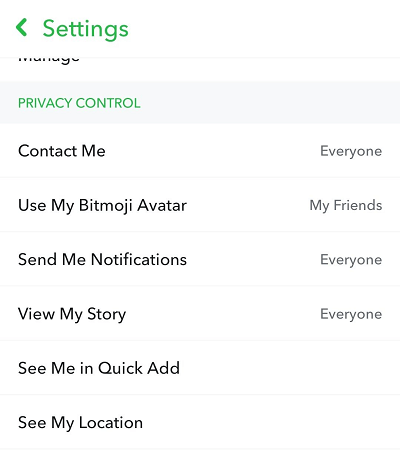 We are moving to the final part now. I will tell you how to start generating free Snapchat traffic.
3. Prepare a website to lead users
First off, you are dragging users from a Snapchat story to a website with ads. This means, you must have a website. The method won't work without a web page.
You can build any website, of course. But you will need to connect Snapchat stories with the website content, or users will leave as soon as they land.

My concept is very clear: I put effort into creating an interesting website with most liked videos. People enjoy trending videos from all popular social apps. Not every person has all of these apps installed, but my website is a cozy place to check with the latest hits.

If you don't have enough time for developing a site, try creating a landing page. It's a one-page website with content.

Now when you have a website, you can place a Direct Link into the content. As for me, I put Direct Links to video preview images and to some descriptions. People come to watch videos, and as they click descriptions and images, they see advertising pages. I do upload videos, so people can watch them as I promised them in Snapchat stories.
4. Upload and publish videos linking them to a website
This part is the most exciting because you have to create good content regularly. There is no recipe for the best Snapchat story. But I will share my best advice with you.

I search for the craziest and funniest viral videos and upload them as Snapchat stories. These are short previews with a description where I tease followers to watch more.


My advice for your videos is the following: drag attention from the first second, add a large text element for the headline and make it very teasing. Use words like "watch till the end," "wait for his/her reaction" or else.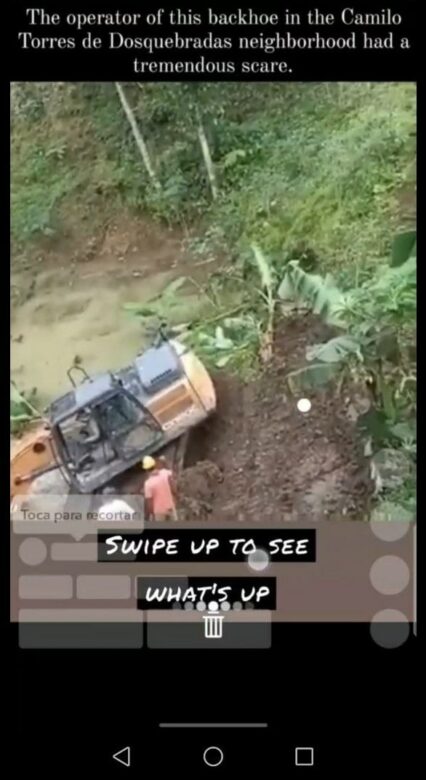 5. Start generating organic traffic
You don't have any followers in the beginning. So where do you get traffic? I will now explain a couple of tricks. They're legit, and many beginner bloggers use them as a way of growing the following.
Invite new friends (adding more Tier 1 traffic)
You will learn now how to get traffic from Tier 1 countries because this traffic is the most payable. For our test, let's choose US traffic.

The formula is simple: you find people with typical names for this or that country, and then you add them as your Snapchat friends. You don't sell anything, just invite them to watch the content.

Go to Google and enter a search phrase "common names in the united states." in most cases, you will get a full table of names in the first 1-2 lines of the search results.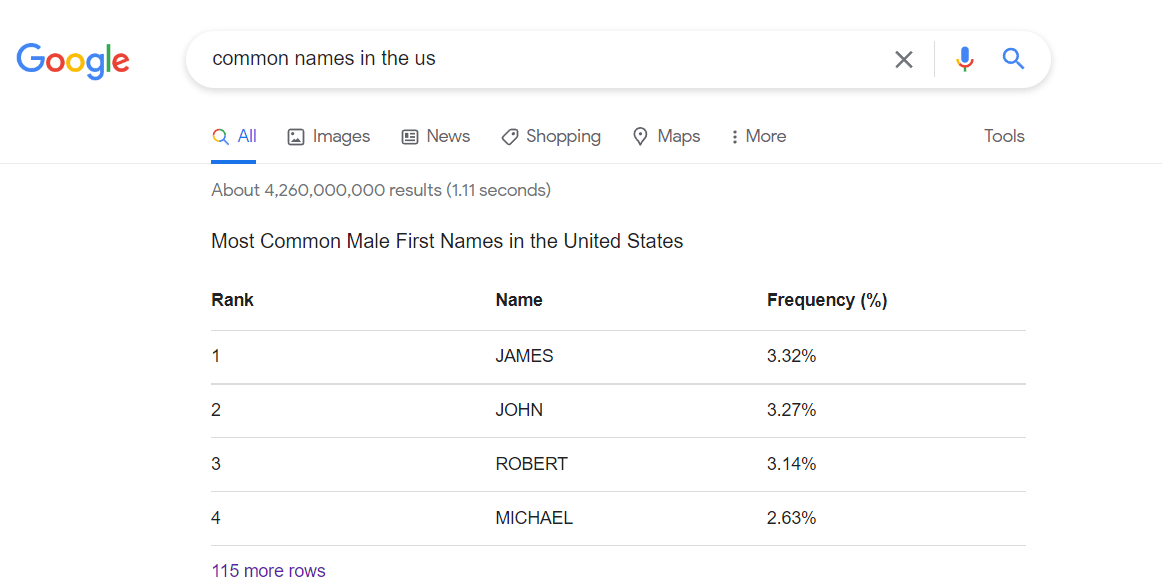 Next, go to your Snapchat profile and tap the search icon near the avatar. In turns, type in the most popular names you found. Click Add near the person's avatar.

Don't add too many people at once. Take breaks of 1-2 days.
SFS
Another way to grow your following is SFS, which means "mention for mention." Basically is when you upload the stories of others, and they upload your videos to their stories. This makes your stories visible to a lot of new followers.

To start SFS, you will need to look for some not very popular bloggers who are potentially interested in promotion. First, you add them as your friends, then you drop a message like "can we do SFS if it's ok with your strategy". If they say yes, you send them a promo photo of your profile with your username and all links.

If you're a pro marketer, you can try buying traffic. But I would not advise this for beginners.

Once many people add you and accept your request, then start uploading stories with the link to your website. Remember to publish interesting content on the website beforehand along with putting Direct Links!
So how much can you earn from Snapchat and Direct Link?
Well, speaking of my business, I'm more than happy. Just by placing a CPM Direct Link to my Blogger website with sensational videos I now can even make about $180 daily. It doesn't always come as $180 per day, you know. One day you may earn very little. It's all because of the traffic you manage to direct to the website. When it matches what advertisers are looking for, you generate a lot. In addition, users should be live (not bots) and active.

Many advertisers expect people to click on their ads and, maybe, shop, order, leave some personal data. When users are active, you earn from Snapchat traffic a lot more. My weekly earnings with the US traffic only, for example, were $800 and $1,350. Not bad 😉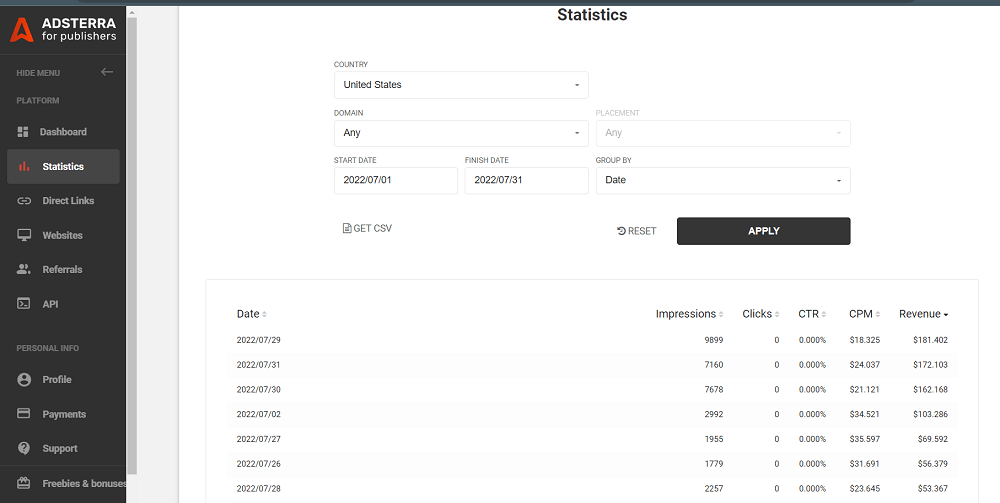 Let me be honest: you will have to craft a website with fantastic content. In other cases, users will leave it immediately. That's not what we need, ah?

Spend some time on cross-linking the pages of your website. The so-called "related posts" or "more similar news". This can increase the average time users spend on your website.

Compared to my previous experiences, earning with Snapchat and Direct Link is the most profitable method. I have lots of prospects here. I can develop as a blogger, a webmaster, an SEO guru without spending 24 hours just to get $.02 for completing surveys. Adsterra guys are very friendly, they take every query seriously no matter if your business is big or small.

I wish you good luck!
Ruben has come a long way to become a true pro of moneymaking. Thanks to his expert guide, you can now avoid typical mistakes and move right to the successful path.

Adsterra is proud of partnering with publishers whose inspiring stories about achieving extra revenues with Facebook or YouTube traffic paved the road to success for many bloggers. If you, too, want to become an online entrepreneur, join this cozy community and grow with us!