How can one earn from YouTube traffic? You will likely come across tens of guides telling you how to make cash on YouTube. But we're here today with another one—a practical guide spelling out ways of getting extra money driving your vlog traffic to a website. That's not a textbook, don't worry. It's a lively and inspiring story told by one of the most creative Adsterra publishers.

"First, you learn, then you earn with patience—that's my motto," Tayyab Mehmood says. This gaming blogger from Pakistan has already earned $7,000 from YouTube traffic and Adsterra banners. And here is his story!
---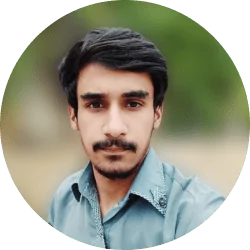 ---
Hey there! It's Tayyab Mehmood here. I'm a YouTuber from Pakistan. I've always been fond of computing and gaming. And that is what led me to finish a BSCS degree lately. This degree comprises all the basic mathematical and theoretical foundations of computing and related fields.

I created my educational and gaming channel back in 2019 and have been very serious about becoming a successful blogger. Since then, my top videos have attracted some 200–300K views total, and my following now is 54K+ gamers.

I do my best to help users with my videos as well as to make a living from blogging. About 5–6 months ago, I also started making profits from posting banners on my website.

So here I am, sharing my journey with you. I will tell you my story of obtaining additional revenue with YouTube traffic and Adsterra Banners that return me good cash.
How I founded my YouTube channel
As I said, my story began in 2019 when I set up a video blog eagerly aiming to help users deal with gaming issues. My videos mostly cover all the process and aspects regarding OPTIMIZATION and editing of current renowned games on PC specifically. Well, for example, PUBG, FORTNITE, VALORANT, GTA V.

In the beginning, I started from scratch, having low and poor-quality voiceover, graphics, and audio/video quality as well. But since then, I have modified my skills and software such as OPTIMIZATION QUALITIES, GAMING SOFTWARES, HIGH-QUALITY PROCESSOR, and other related accessories as well to boost up my channel effectively.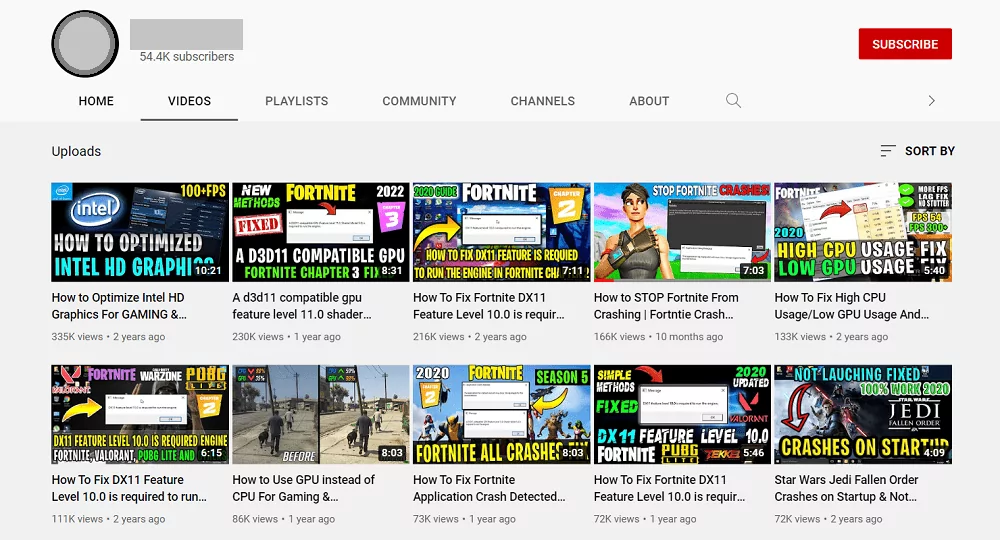 I mainly use organic traffic without any involvement of third parties respectively. YouTube videos—if optimized—are ranking greatly in Google search. So I have a constant flow of fresh traffic. It took approximately 1,5 years to boost up my channel, and it was a mind-boggling job, especially when there's too much competition out there.

To optimize my video content for Google search, I add keywords to descriptions and headings using popular search phrases. You can easily catch the most asked questions if you're familiar with gaming forums. Hashtags are essential equally.

My ways to earn from YouTube
I belong to a middle-class family where my father was the only breadwinner while all of my siblings were studying. At the university, I sometimes didn't have money to pay a transportation fare. That's when I decided to initiate this online earning via the YouTube channel.

I first monetized my efforts back in 2020. By that time, I used only referral links from YouTube videos' descriptions. Soon I discovered that hosting a blog with posts related to YouTube videos can also contribute hugely to my earnings if I put the right banners in the right places.

Here I'm sharing several methods of boosting online income:
Update my top-viewed content timely;
Keep up with trending stuff and create new videos for the most-asked topics;
Upgrade the quality of my tutorials: video graphics, voice recording, background music and so on;
Host several platforms with my content and earn from each of them.
Thanks to diversifying my content between YouTube and my website, as well as to my patience, I continued my BSCS from my online income. Moreover, I could upgrade my tech-based accessories related to PCs and also invest in my family's household expenses.
How I earn from YouTube traffic and my blog
My web blog is a channel for profit-making as well. It embraces the same subjects as the YouTube channel but provides some additional value. What I did to make the blog profitable is genuinely simple and brilliant.

I have created plenty of posts that my YouTube followers find helpful and informative. All of them can reach my blog by jumping from YouTube. Most of my videos are linked to related blog posts with extended or additional valuable information.

On my blog, I now run Adsterra banners. The two major money streamers are a leaderboard of 728×90 pixels and a rectangle format of 300×250 pixels.

I have recently added Pop ads, too. I'm testing them at the moment. My manager advised me to try Social Bar as well, as it will fit my blog page layout. Was hoping to give it a try shortly.

Well, here you can take a look at Adsterra banners. The screenshot captured a World of Tanks ad, such a nice match!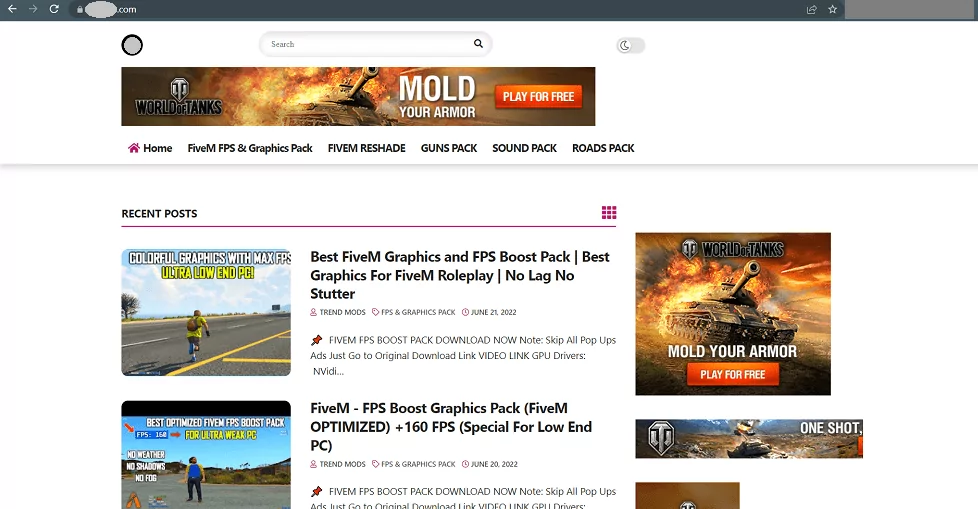 To summarize, now I can earn from YouTube traffic with my blog, too. What's required here is to have well-paid ads on all web pages and a significant amount of quality traffic from YouTube or other sources.
My earnings with YouTube traffic and Adsterra
My story of partnership with Adsterra is relatively fresh. I started gaining revenues in January. However, it is already clear that ads pay off much.

In the screenshot below, I captured the highest CPM rates within 6 days of June. As you can see, my daily revenues varied from $37 to $55.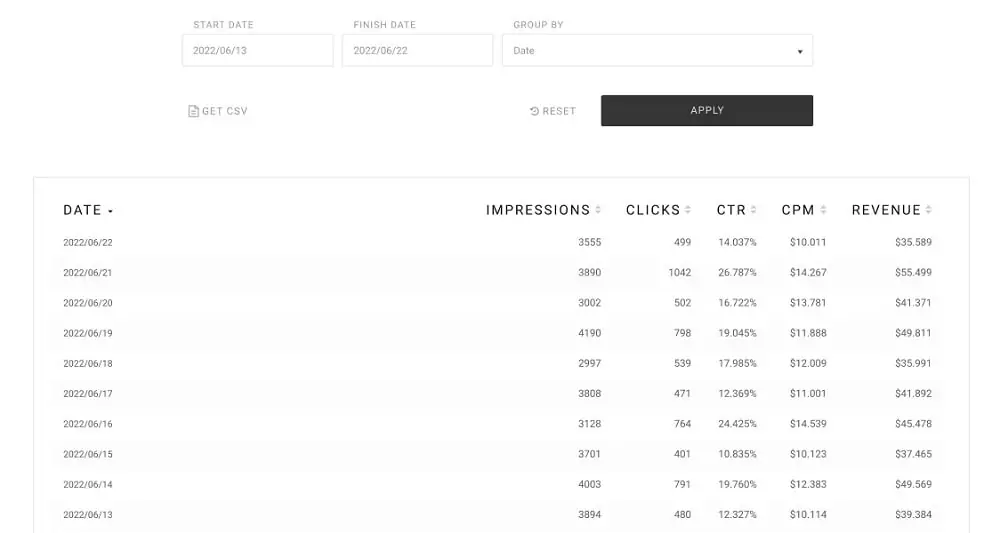 With these or similar earnings, I obtained about $7,000 totally. That's a maximum for now, but nothing stops me from earning more. It's cool that you can check your current balance and all transactions made from any page of your Adsterra account.

How to become a successful YouTuber and businessman?
As you may have guessed, I'm enthusiastic, curious, and zealous about video games and related stuff; this is my passion as well. Almost all video games are on my favorite list, but the most beloved ones are VALORANT and FORTNITE, as I find them more thrilling, entertaining, and captivating in many aspects.

So, to all my fresh mates out there, I will suggest that they should be passionate, enthusiastic, and curious to absorb as much knowledge as possible. You must get in touch with some mentor or expert in the relevant field to polish their ideas, creativity, and prior knowledge.

Shortcuts would never be a good option to earn money or fame as well. It took me 1,5 years to build my YouTube channel before I started earning. But when I grew such a huge following, I could start making a profit from my blog much faster.

I consider that your passion makes you strive to learn more and more about the subject. You must be captivated by something to invest lots of time and effort in it, and eventually, your hobby or side business will get many fans at your doors. And revenues, as well.

There is a famous phrase, "Practice makes a man perfect." The same phrase I relate to. "First you learn, then you earn with patience," that's my motto 🙂
Summary: What you need to start earning from YouTube traffic
I can now drive additional revenue by using a bundle of YouTube traffic & Blog & Adsterra banners. You, too, can try this way. Above all, you will need a source of organic traffic. Second comes the registration with Adsterra. The sign-up process is more than simple. After the registration, you add your website to Adsterra selecting banners or other codes in turns.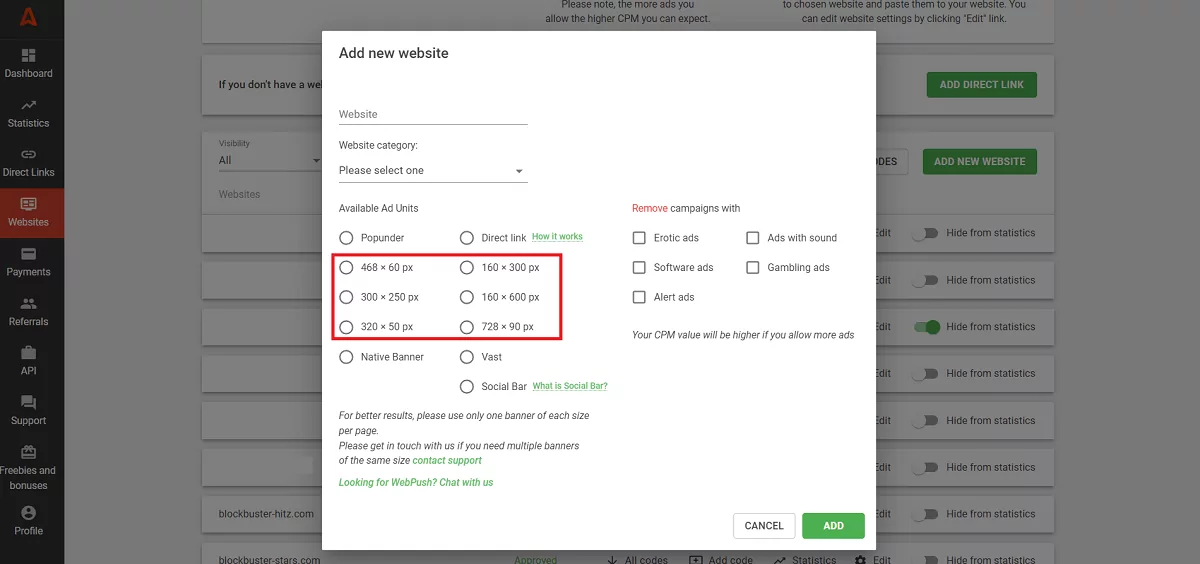 As far as I'm concerned, a higher effect comes when you mix different ad sizes instead of putting similar ones.

This was my story, from the first steps in blogging to my first earnings. Hope all of you, my new peer bloggers, will get inspired by my story and reach all of your ambitious goals. Remember about patience and work hard on advancing your skills.
Thanks to Tayyab Mehmood, we now can assure any aspiring beginner blogger that their monetization goals are feasible. You have so many roads out there!

If you're an unrivaled streamer, you will find your source of inspiration and income from putting affiliate links to your videos along with driving your social traffic to a blog with display ads. If you're a devoted writer, you will also increase your earnings by placing Adsterra codes on your pages.

The only thing limiting your chances is the unwillingness to take a step forward. So let your business grow with new opportunities.