Most people make the mistake of creating content that no one is searching for. You could be making that mistake too. Without an effective SEO strategy, all other efforts to boost traffic to your website may be in vain.
Having an optimization strategy means planning and implementing tactics that'll improve your website's search engine ranking. Your goal here is to increase organic traffic to your website from search engine result pages (SERPs).
Contents
An SEO strategy is also vital to website monetization. If organic traffic to your website triples in a matter of months, the number of users who click ads on your web pages will also triple. More than often, websites with thousands of unique daily visitors receive lots of requests for affiliate posts.
Before we create a proper SEO strategy, let's briefly discuss the three pillars of SEO.
The three key areas of SEO that you should consider are:
Technical SEO: Involves how well search engines can crawl, index, and display your website to both desktop and mobile users.
On-site SEO: Involves optimizing a webpage's content by improving its tags, monitoring target keyword density, and optimizing images.
Off-site SEO: Involves building domain authority by practicing link building, claiming your Google my business page, and more.
Keep them in mind when creating an SEO strategy because no one area is more important than the rest. Understanding your SEO strengths and weaknesses will help you know where you need to apply more effort.
SEO content strategy
Creating an SEO content strategy involves the several steps listed below:
Create a list of topics.
Create a list of long-tail keywords based on your topics.
Create web pages for each topic.
Set up a blog.
Create a consistent blogging schedule.
Create a link-building plan.
Perform On-Page SEO.
Stay updated on SEO reports and best practices.
Measure and monitor your content's success.
Create a list of topics
Our first step is creating a list of topics that are relevant to our niche:
Here's an example.
Let's say a new Tesla car dealership in the United States is trying to rank for "electric cars" with a monthly search volume of 110000. Electric cars as a short-tail keyword is their niche. But they'll need to curate a list of related keywords to improve their content's reach. For example, the car dealership can also use "best electric cars 2022" or "cheap electric cars" to rank for the general electric car keyword.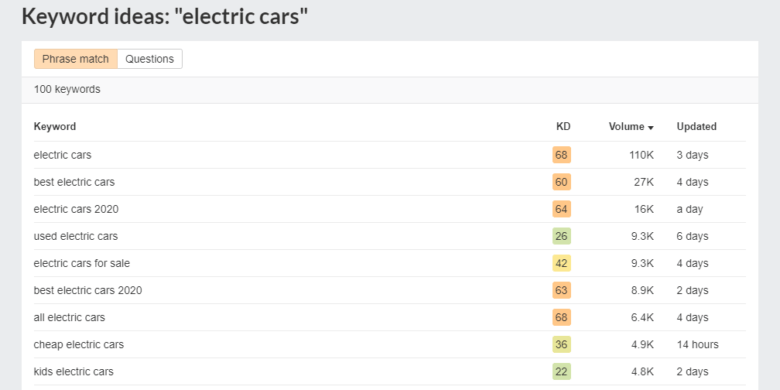 Create a list of 10-15 short-tail keywords and rank them by keyword difficulty (KD) or competition. Keyword Difficulty refers to how difficult it is to rank in the top 10 organic search results for a specific keyword.
Your list of short-tail keywords will serve as the foundation for a larger cluster of long-tail keywords you'll need. Let's call them seed words or seed phrases.
Create a list of long-tail keywords based on your topics
This step involves more in-depth keyword research. For each short-tail keyword you curated in the previous step; you should discover several long-tail keywords.
Long-tail keywords are phrases with longer word counts, making them more specific than short-tail keywords. "Best used electric cars" (5 words) is an example of a long-tail keyword, whereas "Electric cars" is a short-tail keyword.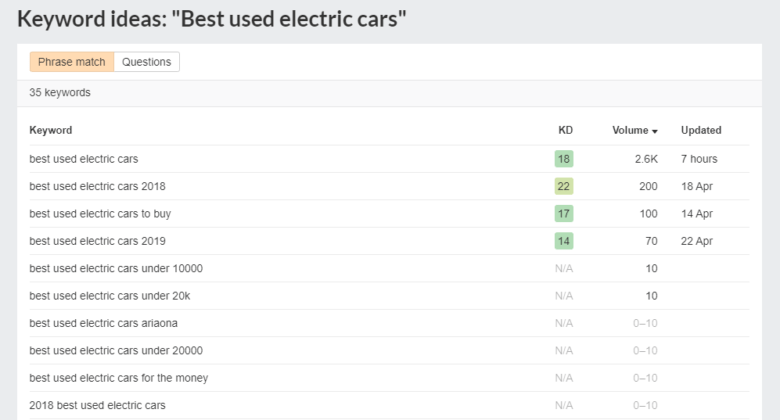 Using long-tail keywords helps improve your ranking on SERPs because of their low keyword difficulty. Targeting a different long-tail keyword ensures that you don't end up creating repetitive content. This practice also mitigates the risk of competing with your content on the search engine results page.

Long-tail keywords also help you attract potential customers who may have varying interests and concerns. For example, targeting the keyword " Best used electric cars" exposes car dealerships to customers interested in getting used electric cars. On the other hand, a business that consistently uses "best electric cars" might miss out on this crop of customers, traffic, and business.
How to find long-tail keywords
Here are some suggestions to help your long-tail keyword research process:
Use Google Suggest: Enter your seed keyword in google's search bar to see a suggested list. These suggestions show what other people have been searching for on Google.
Use Google's Related Searches: Google's related searches appear at the bottom of the SERP, below the first page of organic results.
Use Different Keyword Tools: Using one keyword tool repeatedly can limit your scope. You might be missing out on tons of long-tail keyword variations from other sources.
Create a list of article topics from your long-tail keywords. Ideally, your long-tail keywords should create a cluster around each short-tail seed word.
Search engine algorithms depend on the connection between short-tail keywords and their long-tail clusters to point users towards more detailed information on a topic.
Let's put it this way: specific content satisfies specified search queries while converting traffic into business leads. This is a fundamental principle of the search algorithm. Websites that provide detailed information on a topic are recognized as the best results for a user's query.
Set up a blog
Blogs are behemoths of information and make up a quarter of all websites on the internet. Blogging is probably the best way to rank for keywords and engage visitors. Every blog post is a new web page and a new opportunity to move up in search rankings.
When writing a blog post, here's two things you should remember:
Avoid using your long-tail keyword more than three or four times throughout the content. You can be penalized for stuffing your blog post with long-tail keywords.
Always place a link to your blog's main page. You can use tags in your content management system (CMS) or an anchor text in the blog post.
Create a link-building plan
Link-building is the principal aspect of your website's prosperity. Link building involves attracting backlinks to your website from other websites.
When websites with higher domain authority link back to your content, they share their domain authority (through link equity) with your website, making it more attractive to search engines. Link equity, or link juice, is a search engine ranking factor based on the notion that dofollow backlinks transfer value and authority from one web page to another.
Why? Search engines see do-follow backlinks as votes from other websites indicating that your content is valuable and worth ranking higher on SERPs.
Here are some ideas for getting backlinks to your website:
Share your blog posts on different social media platforms to boost its reach. A separate website may link to your content when they create a post on the same topic.
Write to other blogs for guest blogging opportunities.
Identify broken links on other websites that point to 404 pages and present your link better than the original link.
Conduct a link gap analysis to find websites that link to your competitors but do not link to you.
Measure and track your content's success
SEO is time and resource-dependent, so you check if your SEO strategy is working as intended.
Use several web analytic tools to track your SEO metrics, overall progress and identify your weaknesses for further improvement.
Monitor the flow of organic traffic using SEMRush, Ahrefs, Google Analytics, or Google Search Console. Tracking web page performance, conversions, ROI, and SERP rankings on SERPs can give you insights into what users are looking for on your competitor's website.
Once your SEO strategy is ready, you'll want to revisit old blog posts and other web pages to optimize them for search engines and users.
Updating old blog posts
Make time every month to update old blog posts with new information to keep your place or improve your rank in search results. For example, suppose you wrote the article "Best electric cars to buy " in January. In that case, you'd want to update the post to include recent electric cars.
Rewrite outdated blog posts with new research. Ensure that you are putting out correct information and adding new subtopics for more value and depth.
Optimize images on your old blog posts by adding alt-texts and resizing them. Compressing and resizing images is an SEO technique that ensures that images don't slow down your website speed.
As we've mentioned in previous blog posts, website speed or page speed is an important factor in SERP ranking because it impacts user experience.
A slow webpage leads to a bad user experience which results in a higher bounce rate.
Use target keywords in the title, headings, and subheadings on a blog post. Placing target keywords all over your content is not enough if there's none in the heading tags (H1, H2, H3). However, it would be best if you always avoid keyword stuffing. Check your content's keyword density using a keyword density checker tool before publishing it.
Always use bullet points, lists, line spaces, and clear fonts to make your blog post skimmable. An article with loads of information is useless if it is not readable.
Use images to split article sections.
Use bold to highlight important information.
Use bullets to outline procedures or steps.
Use contrasting fonts, i.e., black text on a white background and vice versa.
Thousands of competing blog posts are published every day, so you want to retain as many users and, eventually, subscribers.
Discover new search intents and changing keywords
After some weeks, you should track your blog post's performance and note which search phrases they're ranking for. This can help you rewrite your subheadings and text to take advantage of new keyword meanings that your audience is searching for.
Create a monthly content plan
A comprehensive content plan can help you keep up with your search engine optimization strategy. When creating a monthly content plan, here's what you should consider:
Make time for regular keyword research.
List blog post ideas that are not directly related to your products/ services.
Identify blog posts that should be regularly updated.
Look for seasonal trends and other SEO opportunities like holidays.
Split your content team or create a schedule for writing and creating different forms of content.
Track your SEO progress at the end of each month.
Mobile SEO strategy
Mobile SEO is very important to your overall SEO strategy. Proper mobile SEO ensures your website and its contents are available and accessible to users on mobile devices.
Mobile optimization because Google uses mobile-first indexing. This means that search algorithms crawl your website's mobile version for indexing and ranking on SERPs.
In addition, 61% of Google search queries in the United States occur on mobile devices. Your SEO strategy would be incomplete without prioritizing mobile optimization. There are distinct aspects of mobile SEO like monitoring your core web vitals. We will discuss more details about mobile optimization in future articles.
Conclusion
Having a proper SEO strategy will help you rise up the SERP ranks and boost organic traffic to your website. Then you can also grow your revenue from ads shown on your web pages, publish affiliate posts, and become a more accomplished marketer.