When working with advertising, you need to measure your performance and control each dollar invested in paid campaigns, as well as the returns it brings. It's made possible by using ad tracking & conversion attribution software. If Adsterra is your advertising network of choice, one of the best matching ad trackers is RedTrack. In this blog post, you will find out the ins and outs of Adsterra and RedTrack integration and discover the benefits of advanced tracking of all your advertising activities.
Benefits of Adsterra and RedTrack integration
If you choose RedTrack as your ad tracking solution for Adsterra, you will find a template for easy out-of-the-box setup.

As a marketer, you already know about approaching cookieless advertising being a real threat, so you need to take care of privacy-friendly tracking that will also ensure the accuracy of your performance. With RedTrack, you will be able to use the S2S (server-to-server) tracking method that enables accurate tracking in the times of cookieless updates.

Control your CTR, CR, LP clicks and all the other important metrics with multi-touch reporting.

Besides, you will be able to control the performance of all the advertising campaigns from one single place with the ability to create advanced breakdowns (GEO, device type, OS type, click time, etc.)
Theory is cool, but why not start with practice?
Sign up to Adsterra and apply all the instructions!
To Contents ↑
How to set up Adsterra and RedTrack integration
1. Add Adsterra from a template
Let's look at how to integrate Adsterra and RedTrack to enable advanced tracking for your campaigns. You will need to create a RedTrack account (the subscription starts with a 14-day free trial).

After that, head to Traffic Sources and add Adsterra source from a template.

You don't need to change anything in the template, as all the parameters and postback are automatically set, so just click the Save button.
To Contents ↑
2. Create a campaign in RedTrack with Adsterra as a traffic source
The next step is campaign creation. Use this tutorial on how to create a campaign, if you have never done that before. When finishing setting up the campaign, you will be able to use the tracking link.

To Contents ↑
3. Set the tracking on Adsterra's side by adding a click URL
First, create a campaign at Adsterra. Fill in all the details and choose the traffic targeting. Put your RedTrack campaign Click URL into the Landing URL field: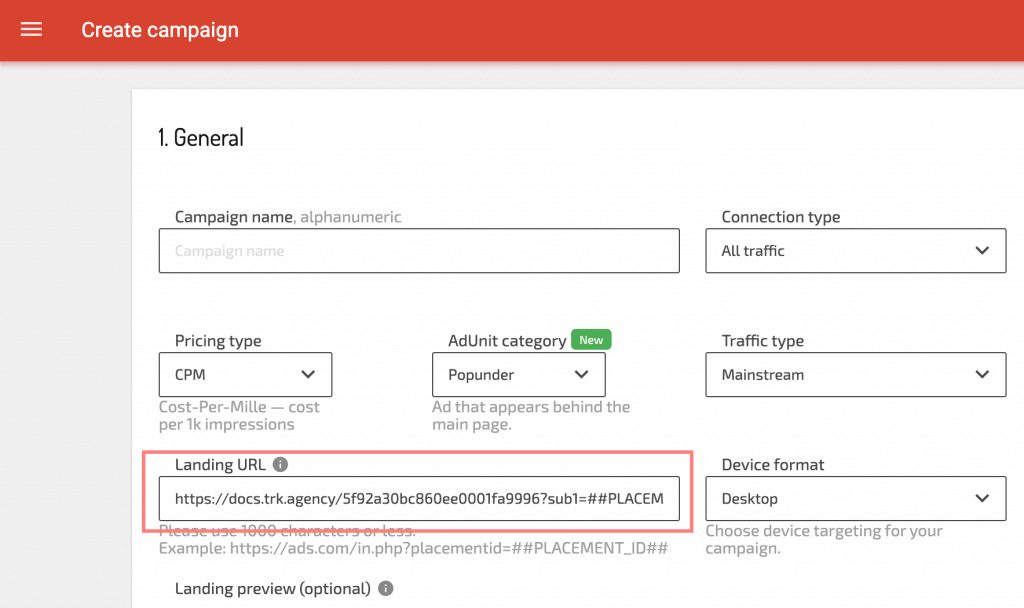 To Contents ↑
4. Set the postback conversion tracking at Adsterra
On your Adsterra account, go to Tracking, then Conversion tracking. Choose the postback type depending on your needs (with RedTrack, you can work with any of them), set Tracking system to Custom and click GENERATE POSTBACK.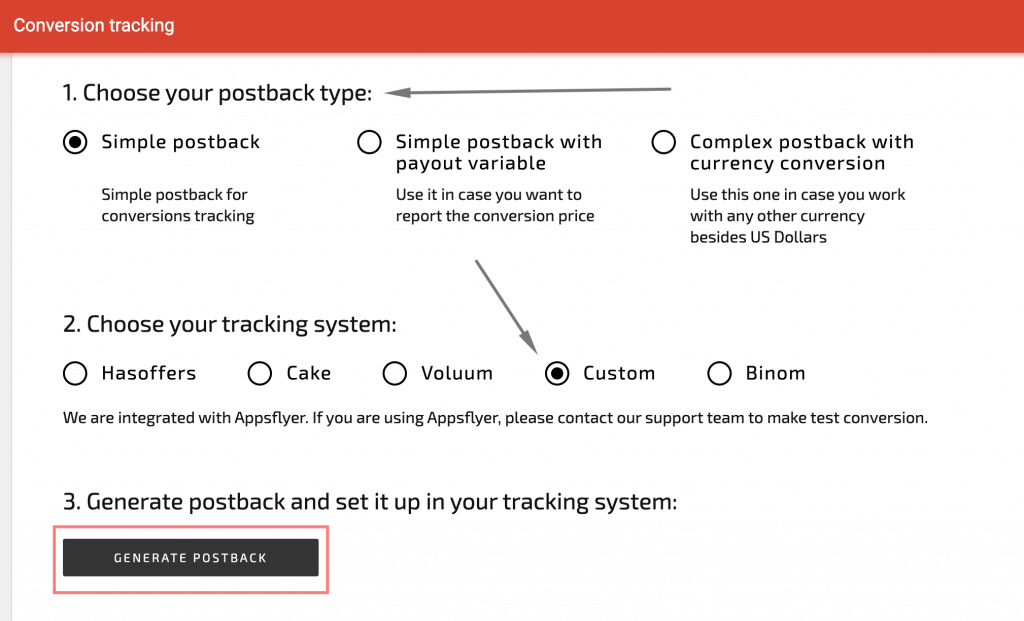 Copy this part and go to your RedTrack campaign settings.

To Contents ↑
5. Complete the setup of postback tracking in RedTrack
Once you create a campaign in RedTrack, S2S postback URL for passing conversion info to Adsterra will be automatically added to your settings.

This is a crucial step as it allows seamless Adsterra and RedTrack integration. Transferring the conversion data from the ad tracker to the advertising network is crucial to ensure accurate payout calculations.

Replace the NAMEOFADVERTISER with the real value you have copied from your Adsterra account on step 4.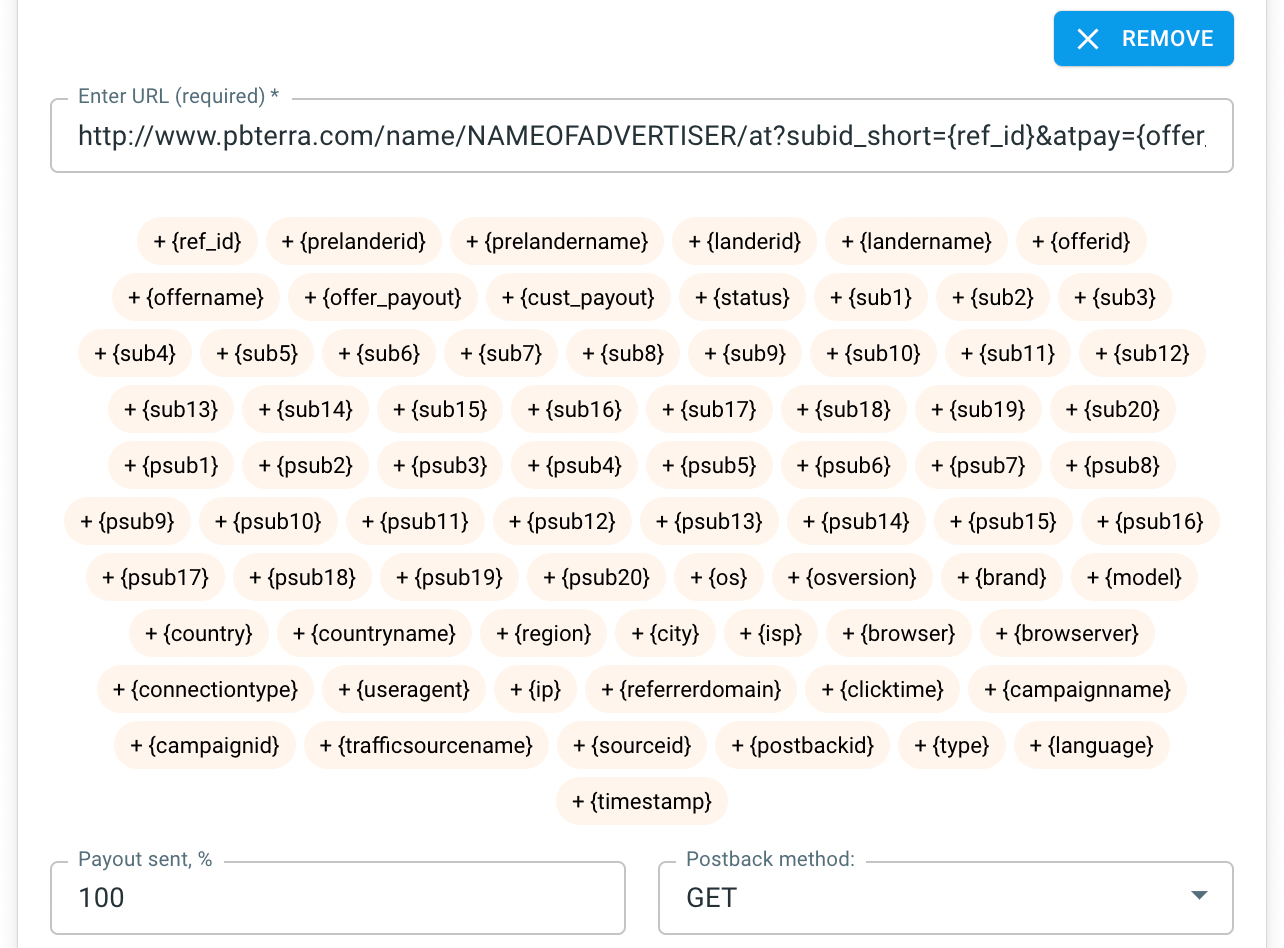 To Contents ↑
Measure your performance while advertising with Adsterra
When you finish setting up tracking with RedTrack for your Adsterra offers, you will get multi-touch reporting on your advertising campaigns to help you understand the real performance of your marketing activities and optimize for better results. 

RedTrack also offers an API integration with major advertising channels (like Facebook Ads,TikTok ads, Google Ads, Bing Ads, etc.), so you can control all of your advertising campaigns in one place and make them even more profitable.

If you haven't tried RedTrack before, consider giving it a try and start with a 14-day free trial.