Affiliate marketing is one of the most popular ways of supplementing your income by promoting a company's products/services online. And link tracking is a vital part of successful affiliate marketing. It can be tricky to determine where your traffic is coming from, especially if you've placed links all over the internet. What's more, where does that convertible traffic come from? Which of your content is attracting them?
You'll need an affiliate tracking platform or a link tracker to answer these questions. Continue reading to learn about some of the best link trackers available today.

Did you know that Adsterra has already simplified integrations with popular trackers for affiliate marketers? You can integrate Voluum, Binom, Appsflyer, and even your own custom tracking solution.
To Contents ↑
How to choose the best Affiliate Tracking Software
Any good affiliate software should help you track results from affiliate Networks and easily monitor results in your dashboards. It should be able to create custom audiences from your Google Analytics and Facebook conversion data. A user-friendly dashboard is also essential if you're new to affiliate marketing.
If the learning curve for using software is difficult, you'll waste time learning the software properly, and wasting time means wasting money.
Your affiliate tracking software should integrate seamlessly with various on-site bots, affiliate networks, and email marketing apps.
A postback feature is also necessary and beneficial because it helps you track conversions. And most importantly, the software must be affordable.
To Contents ↑
Top tracking software for affiliate marketers
Your software choice depends on the number of affiliate links you have. If you're in an affiliate program and you don't have many referrals, then you don't have a lot of variable data. As a result, there's no need to keep a close eye on CPC updates in paid traffic sources because you can use your organic traffic. However, if you buy traffic from different sources and your goal is not to lose money, then you need more advanced click trackers.
Affiliate tracking tools for CPA marketers
In this chapter, we look at tracking solutions for affiliate marketers looking for feature-rich multi-channel trackers to track multiple conversion parameters. These tools are suitable for those with a lot of affiliate links and those who buy a lot of traffic from different channels, including ad networks like Adsterra. You can use them to track the performance of specific traffic sources (publisher sites), create black and whitelists.
1. Voluum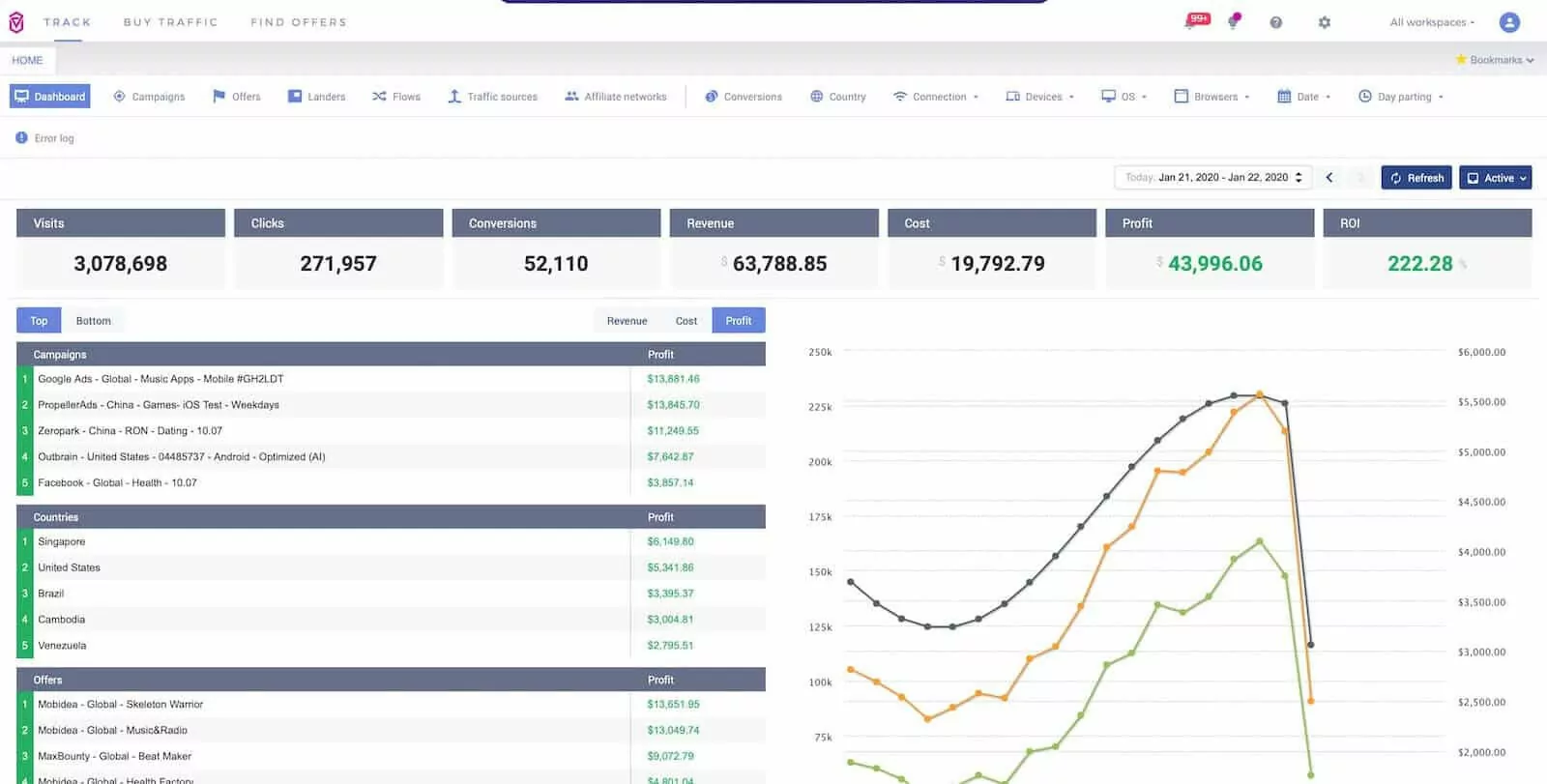 Voluum helps affiliates manage, track, evaluate, and optimize their marketing campaigns. You can purchase the highest-converting traffic separate and control your traffic by devices, OS types, and GEOs. Voluum also allows you to create quick black and white lists in your CPA dashboard.
Pricing
Voluum offers four payment options to suit your budget. The Discover plan is $69 per month, and the Profit plan is $149 per month. The Grow plan usually costs $449. The Agency package costs $999 per month. You can pick a plan that fits your budget and your marketing needs.
To Contents ↑
2. RedTrack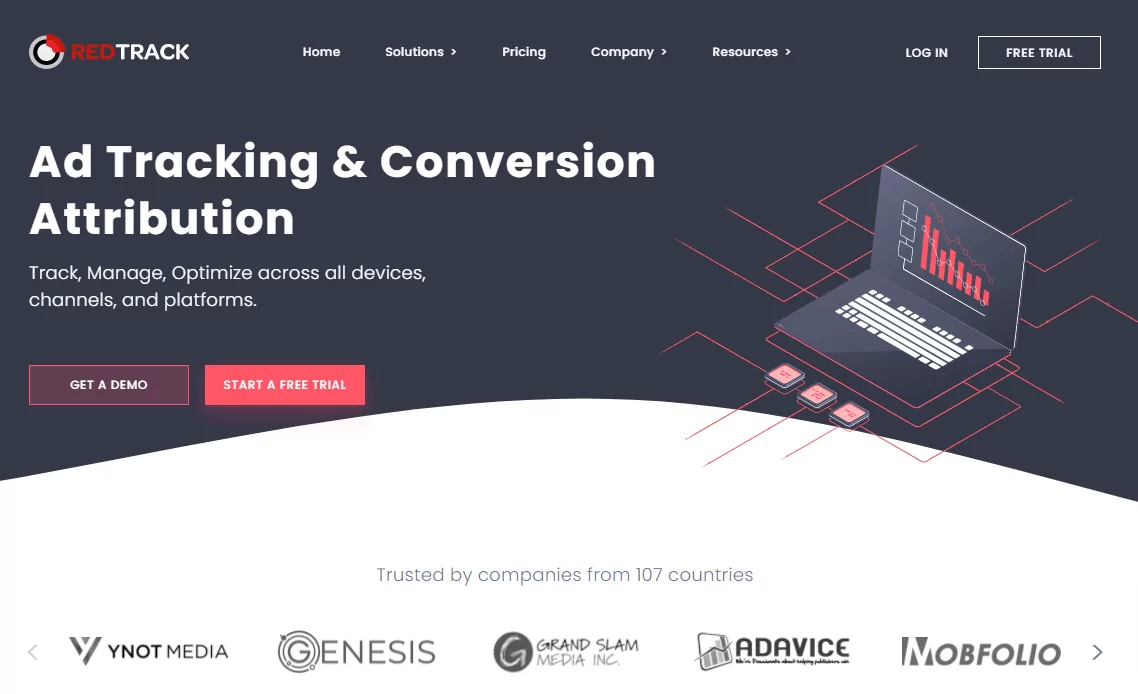 Media buyers and affiliate marketers rely on Redtrack's industry-leading ad tracking and conversion attribution solution to improve efficiency and revenue. You can get accurate data for each impression, click, and conversion in real-time. With campaign automation rules and alerts, track clicks across all channels, including display, mobile, app, native, push, e-mail, and organic. RedTrack is the most effective and cost-effective link tracking software available.
Pricing: starts at $49 monthly. RedTrack offers a 14-day free trial. It is costly, but it has a lot of features.
To Contents ↑
3. BeMob

Track all your ad campaigns in one place, manage traffic data via advanced rules or automatically, and analyze reports data with BeMob. You can also launch and stop your campaigns directly without logging into your traffic source accounts. BeMob helps you detect fraud, block bots to get high-quality human traffic only.
Pricing
BeMob's basic plan is free: you can track 100,000 events per month and connect 5 custom domains with SSL. Paid plans start at $49 per month.
To Contents ↑
4. Binom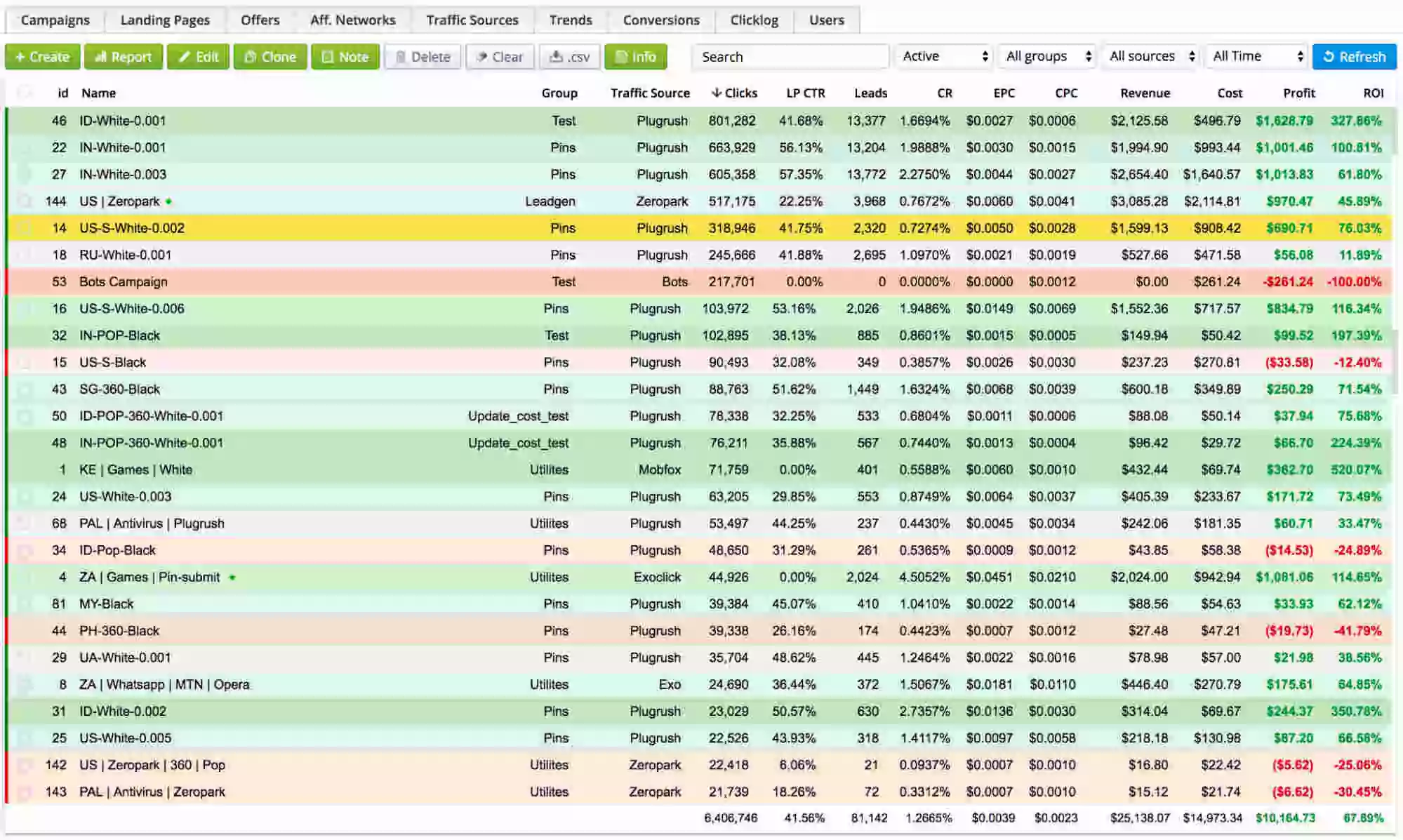 Binom is a self-hosted tracking platform. It is the fastest in terms of click processing and report creation. Binom eliminates tracking errors: slow redirects cost money, and an inconvenient interface wastes time. You can track 20+ click metrics with the most recent ISP and device databases.
There is also an option to monitor user behavior on landing pages, exit points, browser settings, HTTP headers, etc. Binom can identify devices and carriers with the highest accuracy thanks to their combined databases. You can send traffic straight to the landing page with LP Pixel, eliminating the need for unnecessary redirects.
Pricing
Binom's monthly subscription price is $99. There is no free version available, but they offer a 14-day free trial.
To Contents ↑
5. WeCanTrack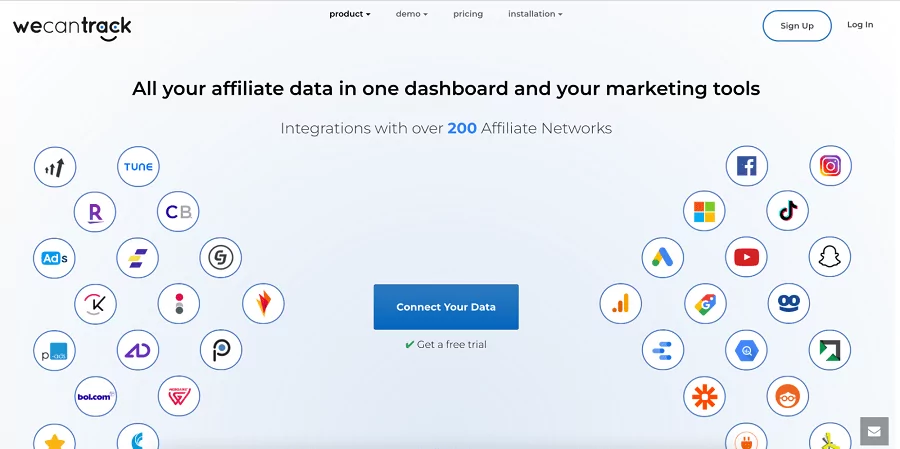 WeCanTrack tracks, collects, and processes conversion data from all your affiliate sources, making it easy to see where your website traffic is coming from. You can literally find all the data and analytics you need to track your affiliate sources in one place.

WeCanTrack is the ultimate tool for simplicity when it comes to website automation, marketing funnel optimization, marketing campaign automation and retargeting, custom data attribution and affiliate tracking (of course).
Not to mention, their affiliate integration network is over 200 strong.
Pricing
Not only does WeCanTrack offer a completely free version, but they also offer a 30-day free trial period on any of their paid pricing plans. This means you can see the magic of this tool for yourself, without worrying about wasting money.
Their paid pricing plans start at $60 per month and end at $240 per month. The more you pay the more features and functionality you can look forward to. There is even the option to set up a custom plan that meets all your affiliate marketing needs.
To Contents ↑
6. Cake

Cake is the most user-friendly, customizable, and dependable tracking system available. The user interface is simple. Cake's affiliate marketing software is trusted by more than 500 advertisers, networks, and publishers in more than 50 countries, ensuring accurate measurement, data security, and unrivaled support to attract new partners and build profitable relationships. It allows you to add an impression pixel to any HTML email or banner creative to improve campaign measurement or take it to the next level with ad server integrations.
Pricing
Contact the cake team to get a quote.
To Contents ↑
7. CPV Lab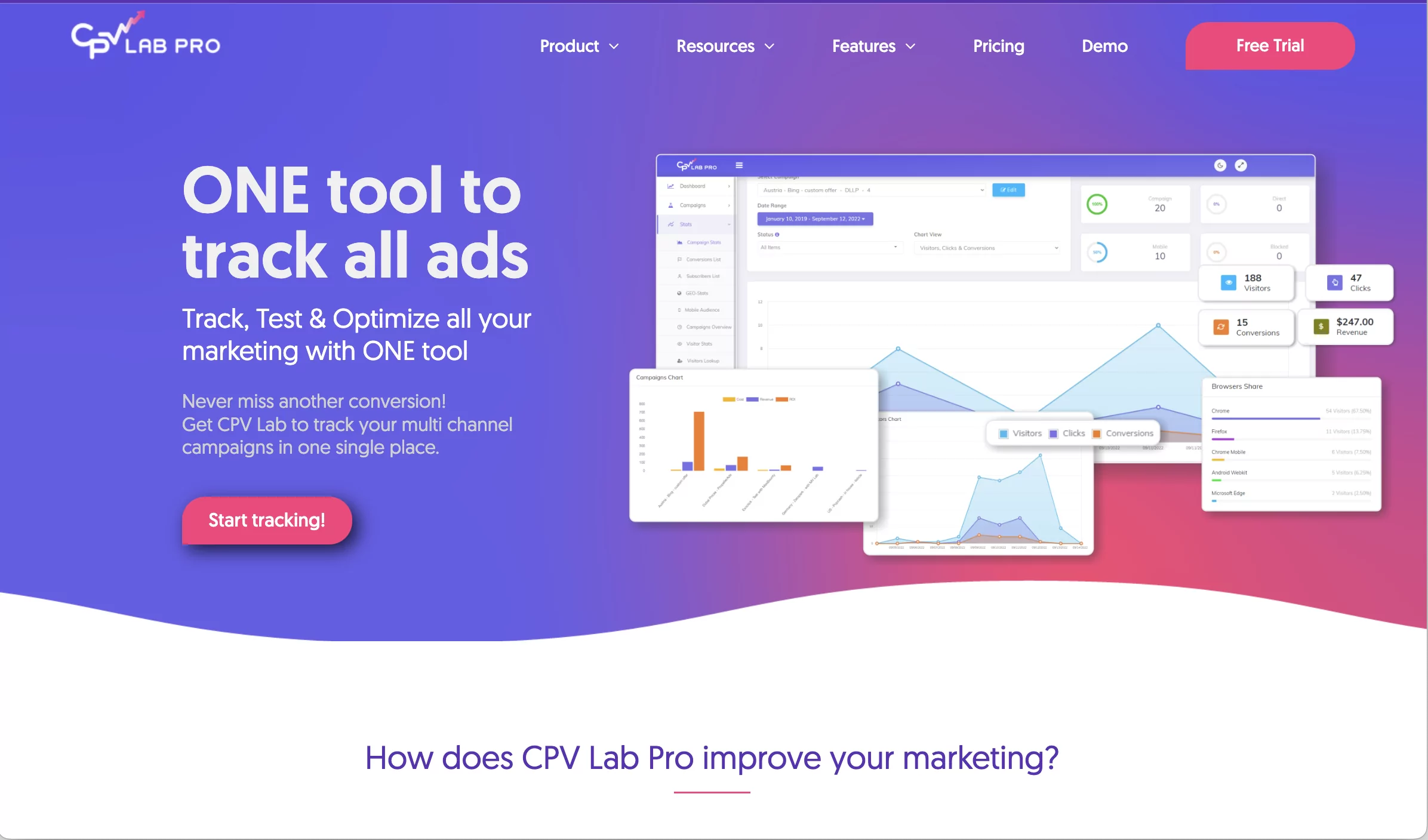 CPV Lab is an industry-leading ad-tracking software that helps affiliate marketers to take their campaigns to new heights.
With over a decade of experience in the affiliate marketing industry, CPV Lab has consistently evolved, providing affiliate marketers with the tools they need to track, test, and optimize their campaigns. This tracker has direct integrations with 200+ traffic sources & affiliate networks.
You can easily split test your landing pages and offers, integrated multivariate testing, bot and proxy filtering, advanced funnels tracking, multi-channel tracking, cookieless tracking and mobile tracking with over 20+ accurate data points.
You have the choice between the self-hosted version, CPV Lab, or the cloud-based tracker, CPV One. Both options provide exceptional functionality and reliability.
Pricing: Monthly subscription starts at $47 per month with a period of 14 days free trial. Plus, you also have the option of a lifetime plan that starts at $957 . Additionally, they provide a 30-day money-back guarantee, ensuring your satisfaction and peace of mind.
To Contents ↑
8. Everflow.io

This platform is one of the best affiliate tracking software available, with a great UI and an extensive feature set. Everflow offers sophisticated campaign management and reporting tools. Its features include advanced media buying, graphs, live data reports, private traffic partitioning, etc.
Pricing: $200 per month.
To Contents ↑
9. AffTrack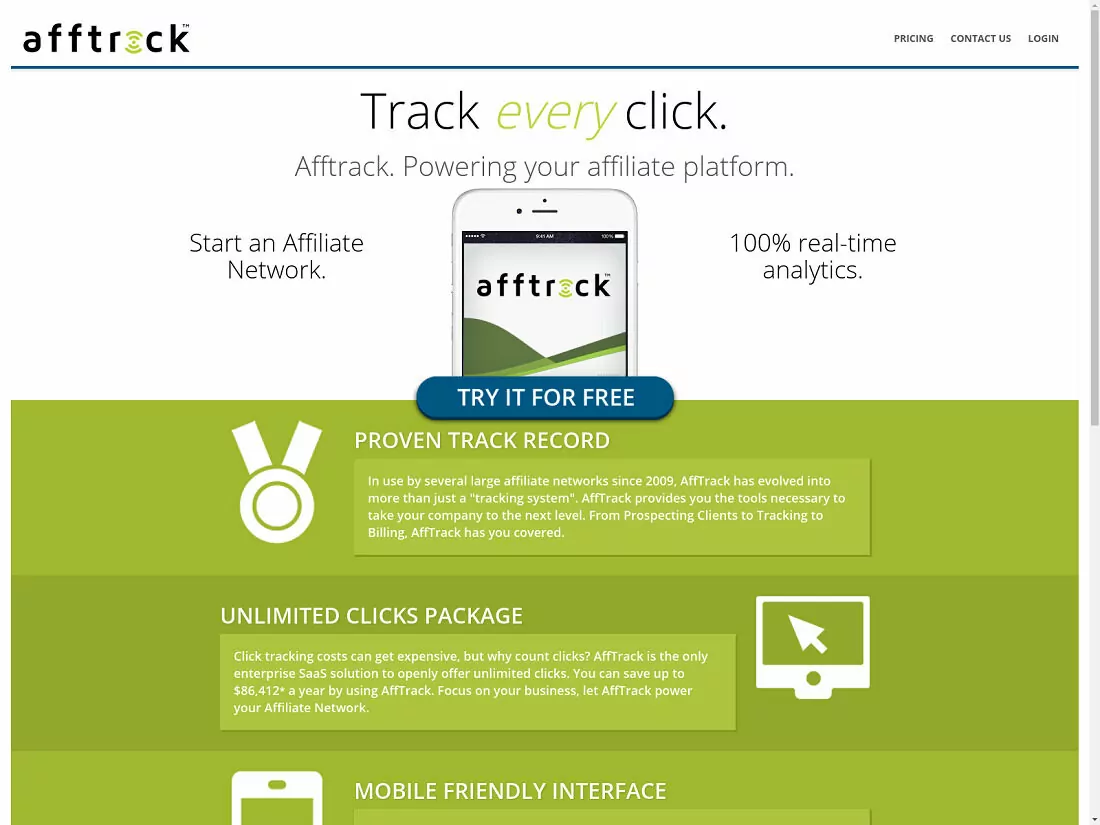 AffTrack allows for an unlimited number of clicks. It is more than just another affiliate tracking system, as several large affiliate networks have used it since 2009. Thanks to its mobile-friendly interface, this program makes it simple to track on the go. Its core features include a free proxy detection service, real-time analytics, and brandable interfaces.
Pricing
The subscription starts at $199 per month.
To Contents ↑
10. LinkTrackr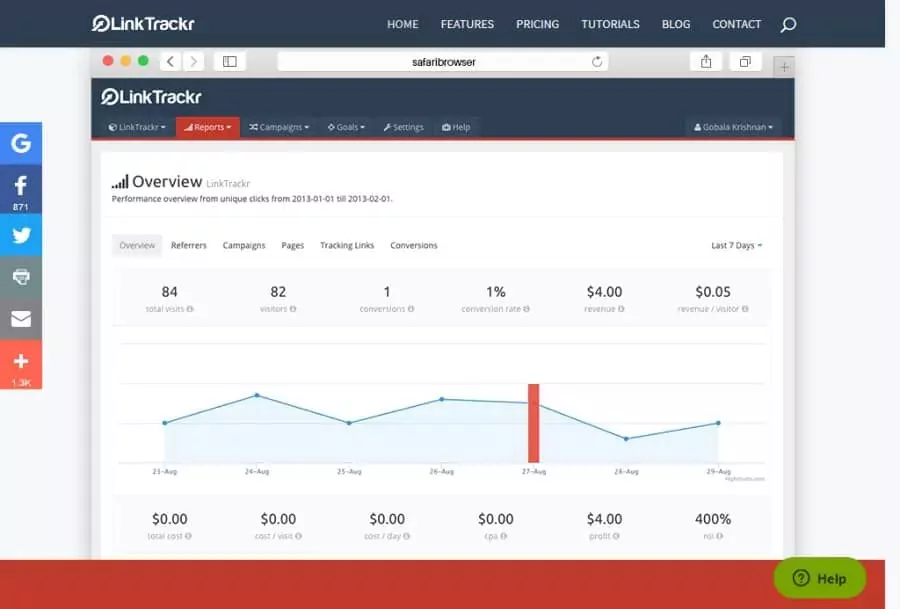 LinkTrackr is a fantastic platform that will help you stay ahead of the competition with various useful tools and features. The platform provides access to critical real-time data, including clicks, time spent on your website, latency, and daily, weekly, and monthly reports that you can export to Excel. LinkTrackr, like many other industry tools, allows you to track almost any variable you can think of, including IP, city, mobile detection, browser, conversion, fake clicks, and a slew of other metrics.
Pricing
LinkTrackr offers a 30-day free trial, after which you can upgrade to any of the paid plans (Basic, Pro, Hyper, and Extreme). They cost $7, $17, $27, and $47 per month.
To Contents ↑
11. ClickMagick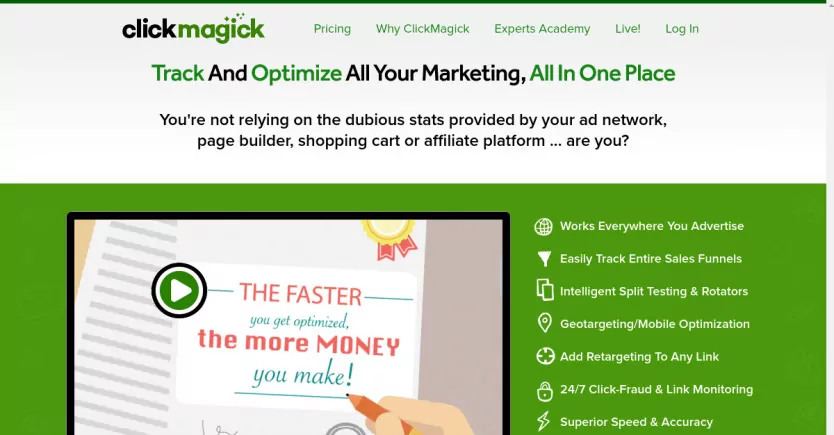 ClickMagick is still one of the best link tracking tools for marketers today. Its web-based tracking software allows marketers to access data anywhere and on any device. The software tracks and optimizes your site, ads, and sales funnels. Upgraded features show you your advertising campaign's conversion rate. Marketers often claim that the only way to succeed is to make every click profitable. Fortunately, ClickMagick can increase click profit.
A unique feature of ClickMagick allows marketers to assign a traffic quality score to all tracking links. With this feature, you can easily track the traffic to your links. The software also alerts you to low and suspicious clicks on your link.
Pricing
The starter plan costs $27 per month. There is also a $67 monthly standard package.
Choosing high-end packages has its benefits. For example, most software packages include a few marketing courses to help you improve your marketing strategies.
To Contents ↑
12. ClickMeter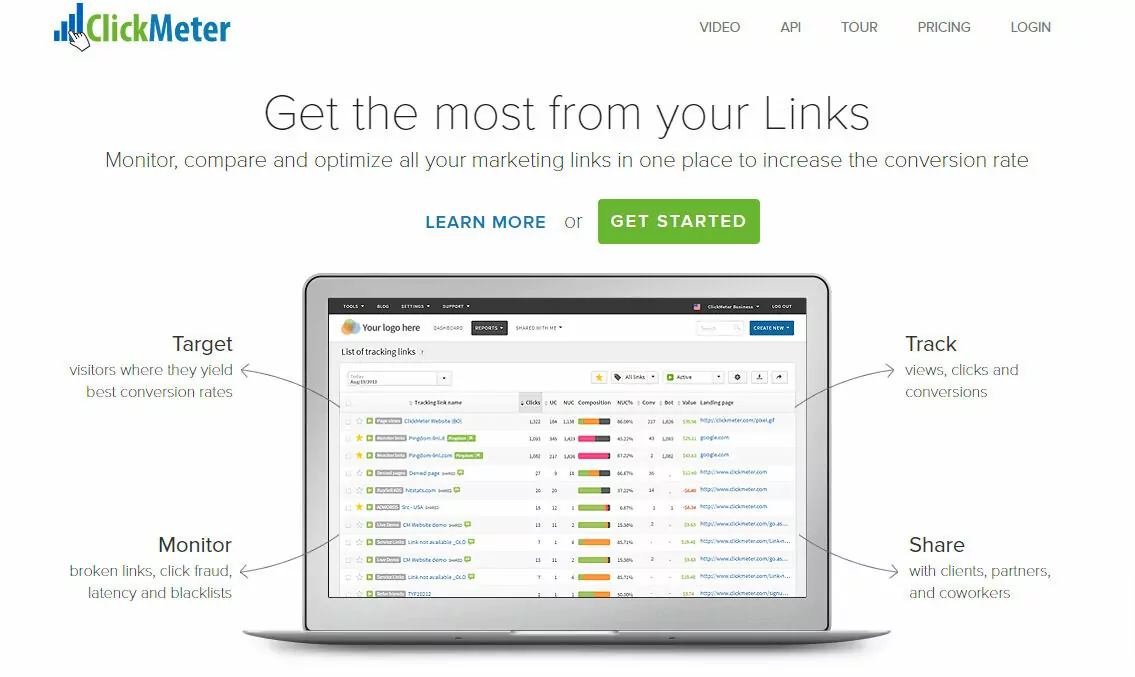 ClickMeter tracking software allows users to track, compare, and optimize marketing links in one place, increasing conversion rates. This makes it ideal for affiliates, agencies, advertisers, and publishers. They can also track sales and conversions to see which campaigns are working. The software also allows you to shorten links to create quality links for SMS marketing.
Pricing
ClickMeter offers three pricing options. The first is the $19/month Medium plan. Second, the Large plan is $99 per month, and the X-Large plan is $349 per month.
If you are a beginner on a budget, you can opt for the cheapest packages to get a feel. This plan has a 30-day money-back guarantee. You can always opt out.
To Contents ↑
Affiliate tracking software for classic affiliate marketers
This second software category includes additional useful platforms for affiliates, particularly those who drive organic traffic to their websites and landing pages containing referral links. They're also for partner teams and agencies that create landing pages for e-commerce brands and buy traffic for them.
13. Snapt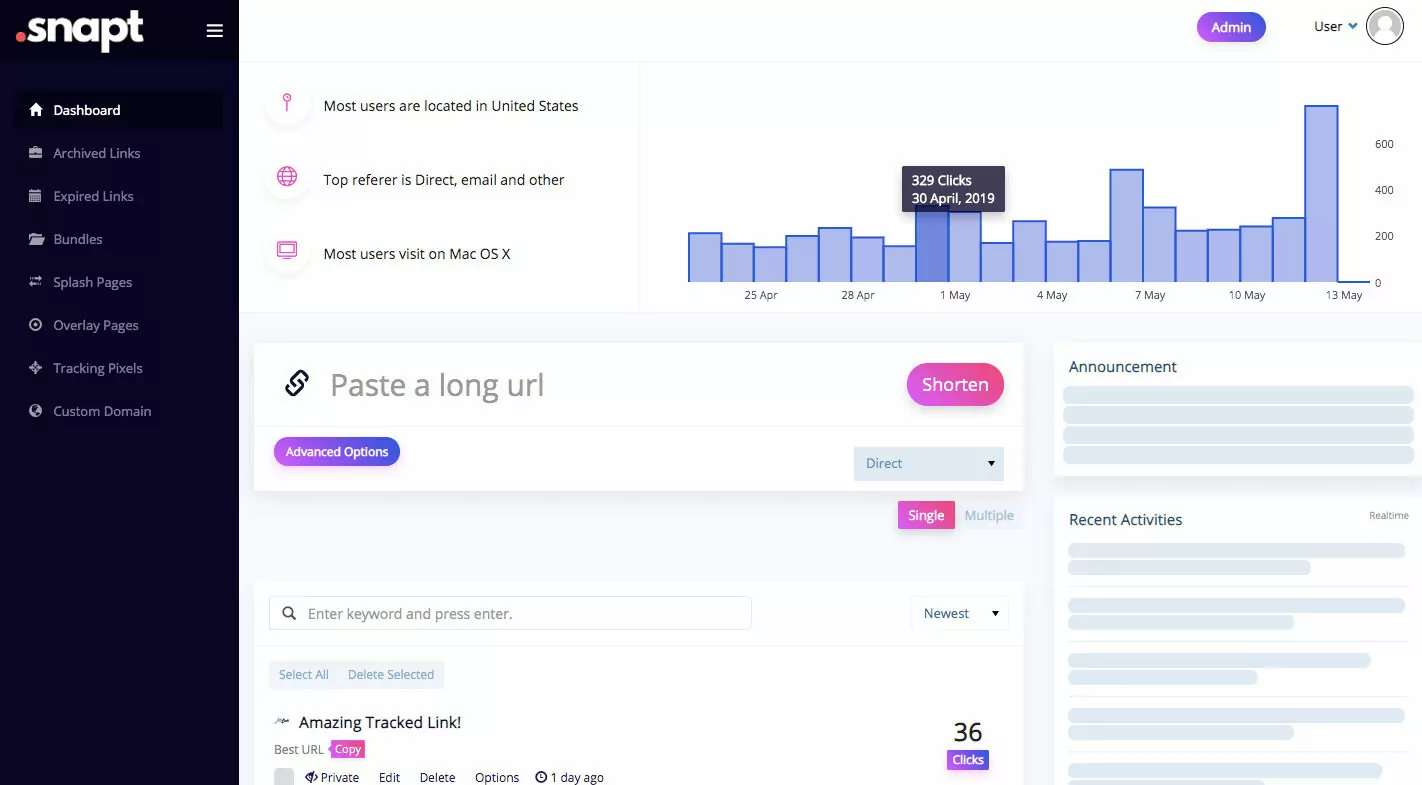 Snapt is a link tracking software often referred to as a Bitly alternative (which will be considered further in the article). The software allows multiple affiliate campaigns under one link, which is useful for split testing. Using free link trackers has drawbacks, such as the inability to edit short URL destinations. Snapt, unlike most platforms, allows you to change the destination of your short URLs at any time. The software will enable you to collect data from every link you share to segment and retarget your audience, even when sharing other people's content.
Pricing
Although Snapt is famous for its free plan. The Solo plan costs $14 per month and is the cheapest option. Then there's the $49/month Freelancer package. If none of the three options suits you, you can opt for the unlimited plan for $149 per month. Each package has its features. So, when selecting a plan, make sure it meets your marketing needs.
To Contents ↑
14. Bitly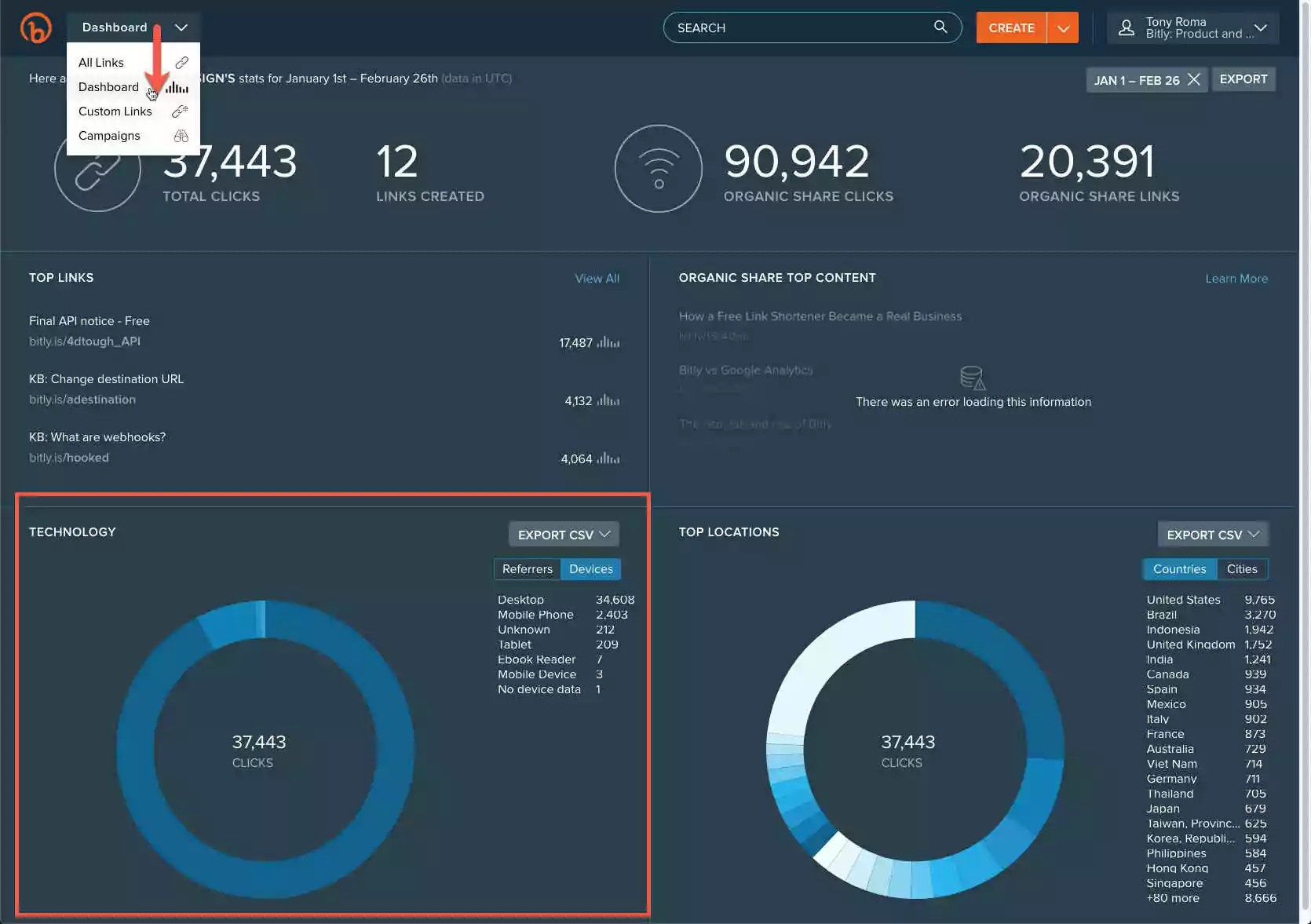 Bitly is a tool for managing links and tracking clicks. Its link-shortening capabilities may be useful in digital marketing campaigns. Furthermore, it provides information on how many clicks you receive. Bitly also offers real-time data for research and branding purposes. Some of the world's most well-known brands, ESPN, Disney, and Amazon, use Bitly. It's free to use, but the premium version adds many features.
Pricing
Monthly payments for the basic pack start at $29 and $348 per year.
To Contents ↑
15. Lnnkin

Lnnkin is a URL shortening service that is available for free. It also comes with free click tracking software. You can shorten as many links as you want and obtain real-time click track data. There's also a short link analytics feature that can help with research. Lnnkin also optimizes ad campaigns through precise targeting.
Pricing
Lnnkin's pricing is very reasonable, and they offer a free trial. The paid version of the app starts at $4.99 per month.
To Contents ↑
16. Google Analytics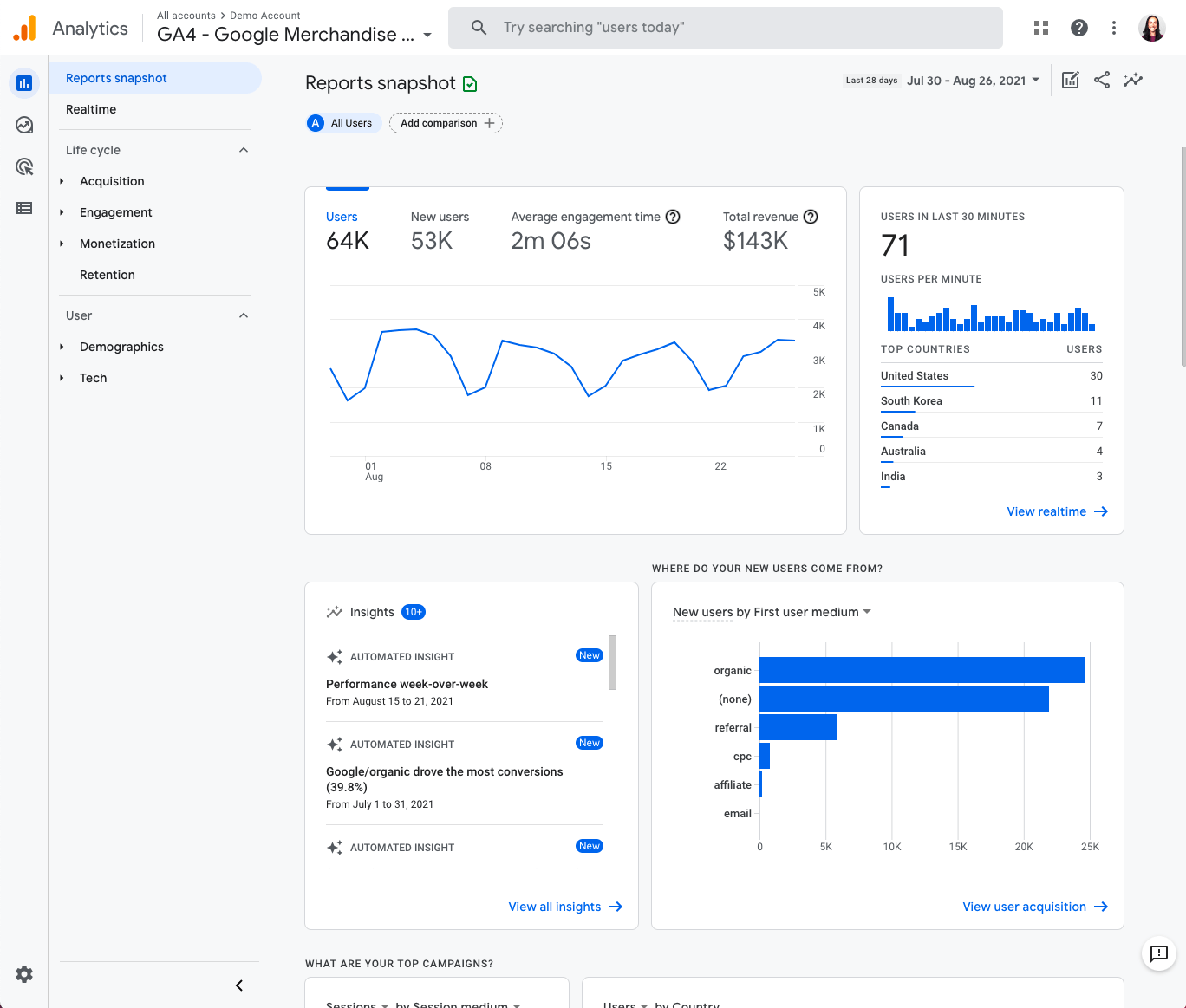 Google Analytics is a must-have tool for any affiliate marketer. It helps you delve deeper into information about your website visitors. You can track how well your web pages perform and how users find you and use that information to improve your ads and content. We discovered that 90% of affiliate marketers use Google Analytics as their primary marketing measurement tool.
Users frequently go through a lengthy customer journey from the first click on your site to the final sale. And link tracking shows where these users come from and how they converted. This gives you insight into which content is performing well. You can look at the overall performance of a piece of content in Google Analytics. You can even break it down by source, such as seeing a blog's page performance based solely on organic referrals.
In Google Analytics, you can track links and link activity in two ways: Parameters & UTM tagging and tracking events with Google Tag Manager. Choosing the best one for you will enable you to set up a system that will allow you to track the performance of even specific CTAs better.
Pricing: Google Analytics is free.
To Contents ↑
17. KissMetrics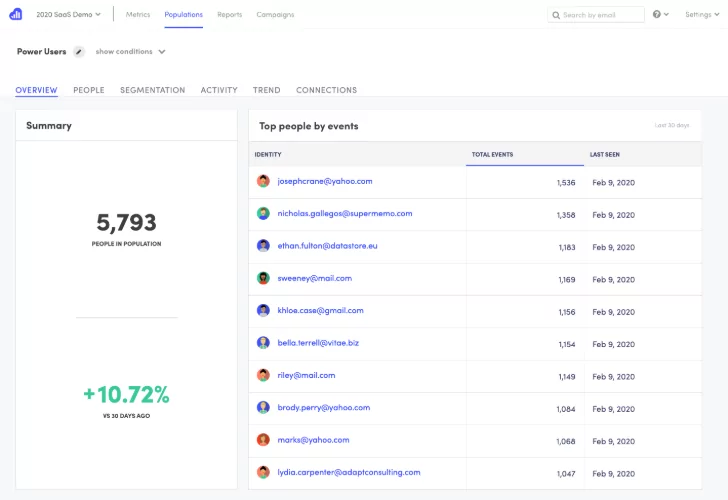 Kissmetrics is a click-tracking and marketing analytics tool. It's also an effective business intelligence tool designed specifically for SaaS, e-commerce, and agency. Kissmetrics functions similarly to Google Analytics. You can also monitor campaign performance, return on investment, and website analytics. It is high-end software at a high price.
Pricing: subscriptions cost $500-$1000 per month.
To Contents ↑
18. GoSquared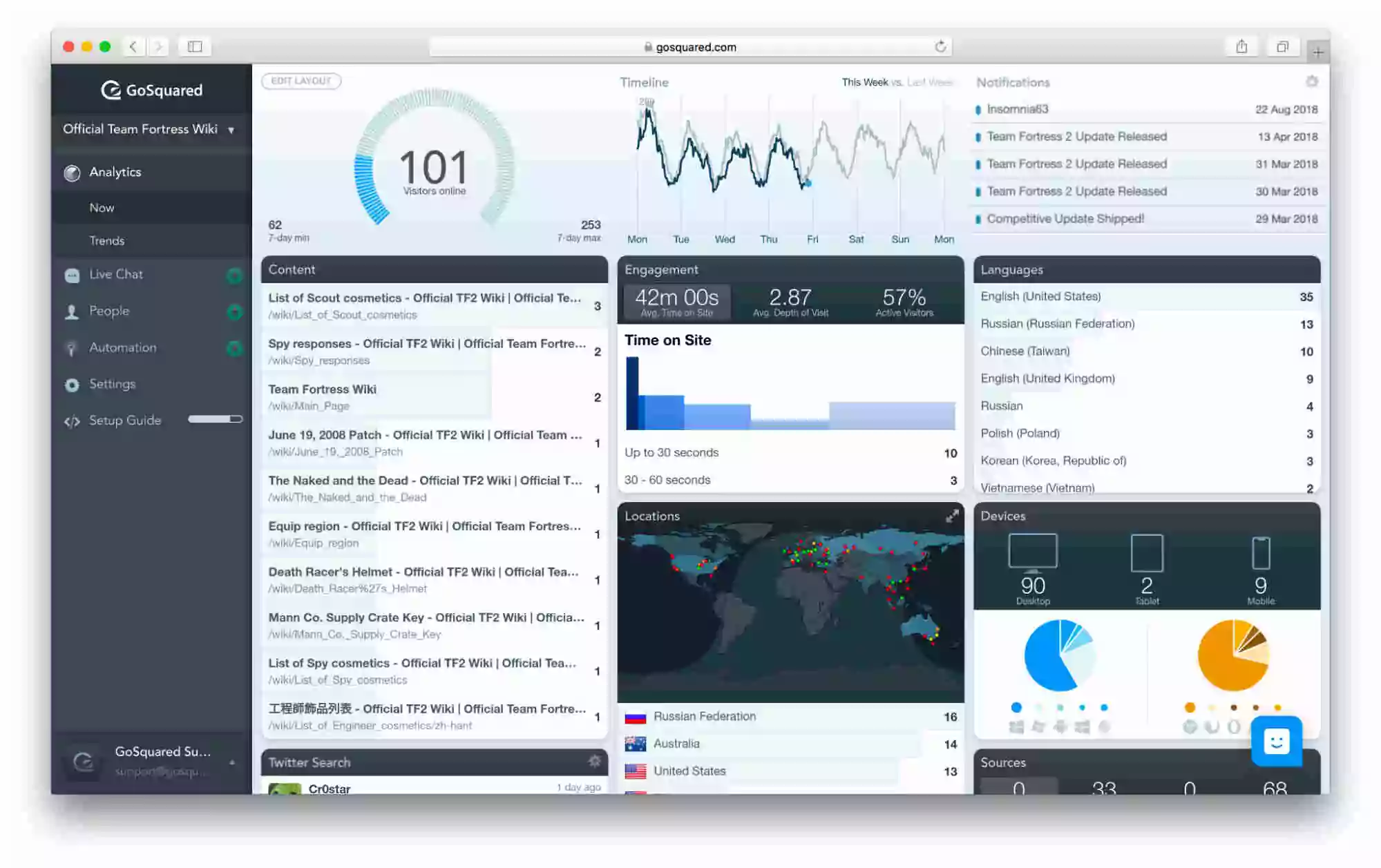 GoSquared allows users to capture and manage leads by combining marketing automation, CRM, live chat, and analytics. Visitor journey data, traffic sources, real-time website metrics, team sharing, email reports, map views, downtime alerts, language detection, and timeline annotations are some of GoSquared's most valuable features. A real-time analytics API is also included in the solution, allowing users to take advantage of projects and tools in real-time.
Users can also make internal notes and set reminders through the platform.
Pricing
You automatically get the free tier when you sign up for GoSquared. Your price depends on the features you want and your usage volume.
To Contents ↑
19. Trck.Me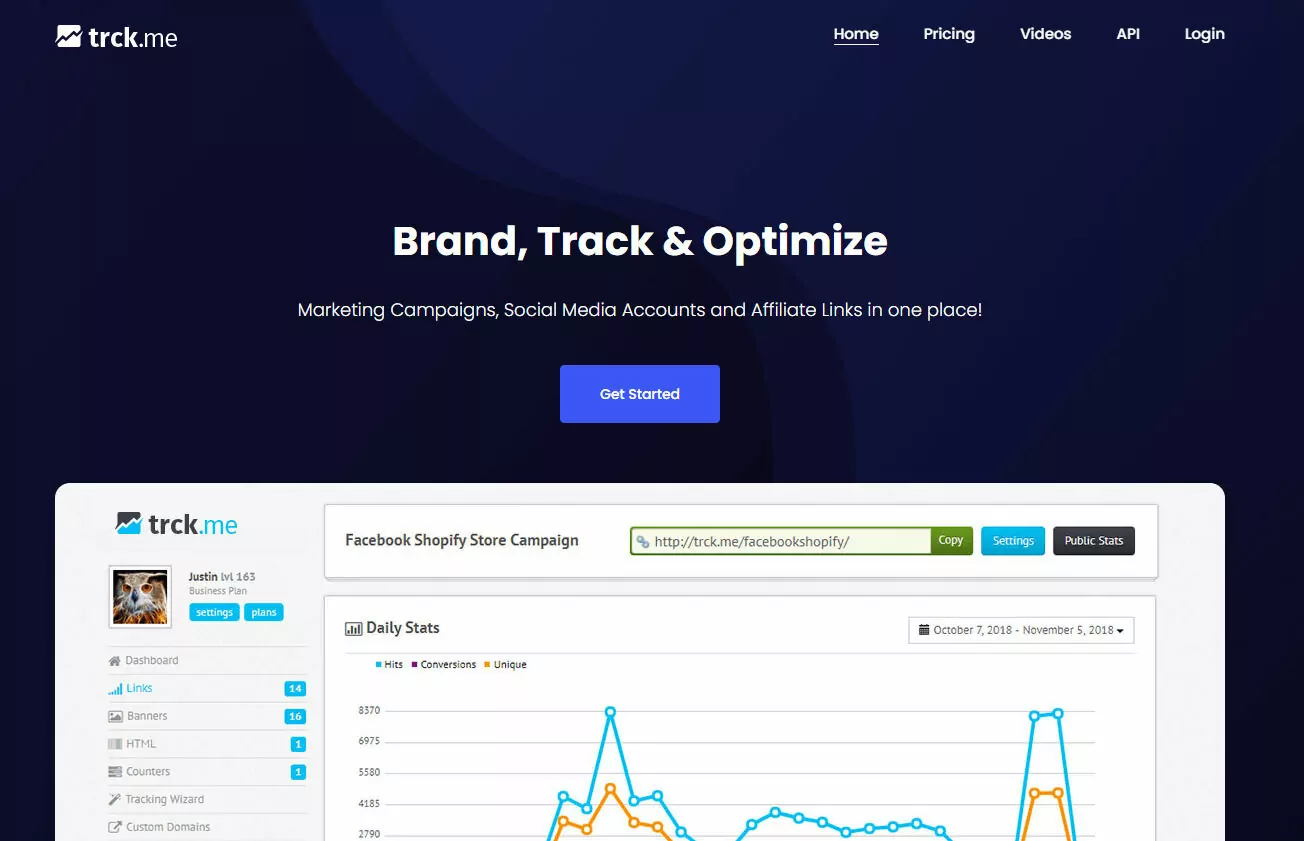 You can study your marketing metrics, monitor your customers' journey on every campaign link, and optimize your URLs in real-time with Trck.Me's web-based link tracking solution.
Trck.Me features link auto-tagging to classify your traffic source and custom branding for your brand URLs using link cloaking.
For multiple social media platforms and ads, advanced tracking filters are available.
Pricing
One branded domain in the Standard plan costs $39 per month.
To Contents ↑
Commercial break 😉
Classic affiliate marketing is almost the best way to make money on the internet… almost! Setting everything up on your own can be very stressful, though it might be worth it. But what if we told you that there's a better variant of affiliate marketing that you're more likely to succeed at? That's right! CPA marketing can help you get easy, well-paying offers that you could only dream of. We've published a thorough guide on CPA affiliate marketing to answer any questions you might have.
To Contents ↑
20. LinkTrust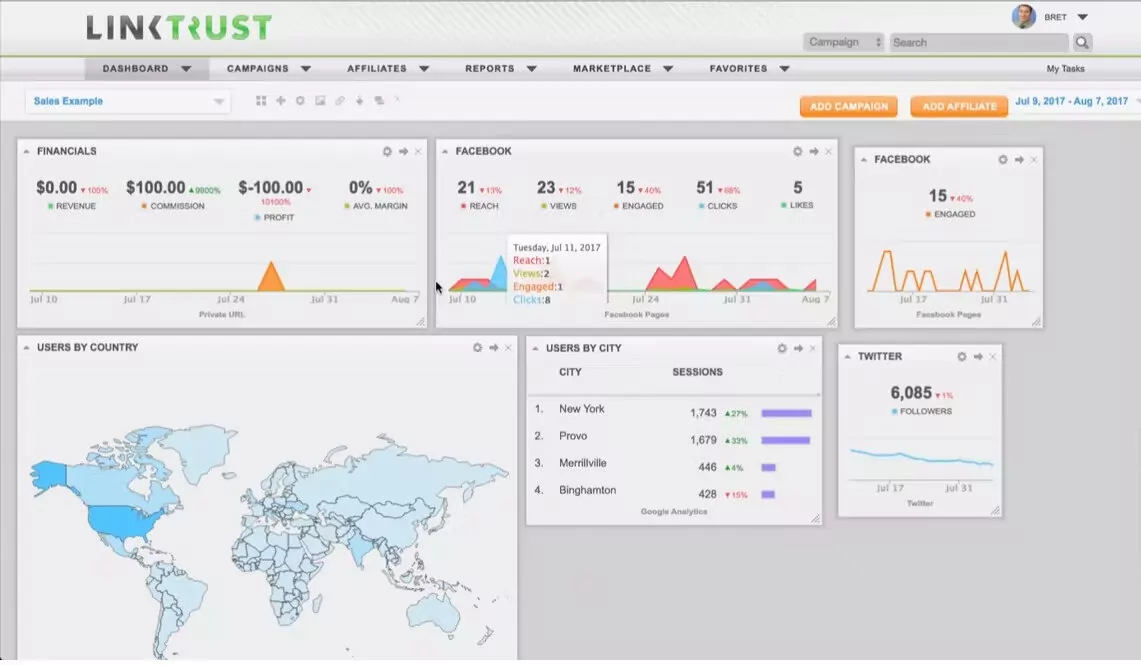 This affiliate marketing tracking platform can track leads, calls, sales conversions, and networks. LinkTrust provides a customizable interface to track offline and online ads through pixels, server posts, cookies, CPA, CC, mobile traffic. Other features include fraud detection and lead management, customizable lead validation, and real-time reporting.
Pricing
LinkTrust doesn't have a free version but offers a free trial period. The paid version starts at $299 monthly.
To Contents ↑
21. Click Inc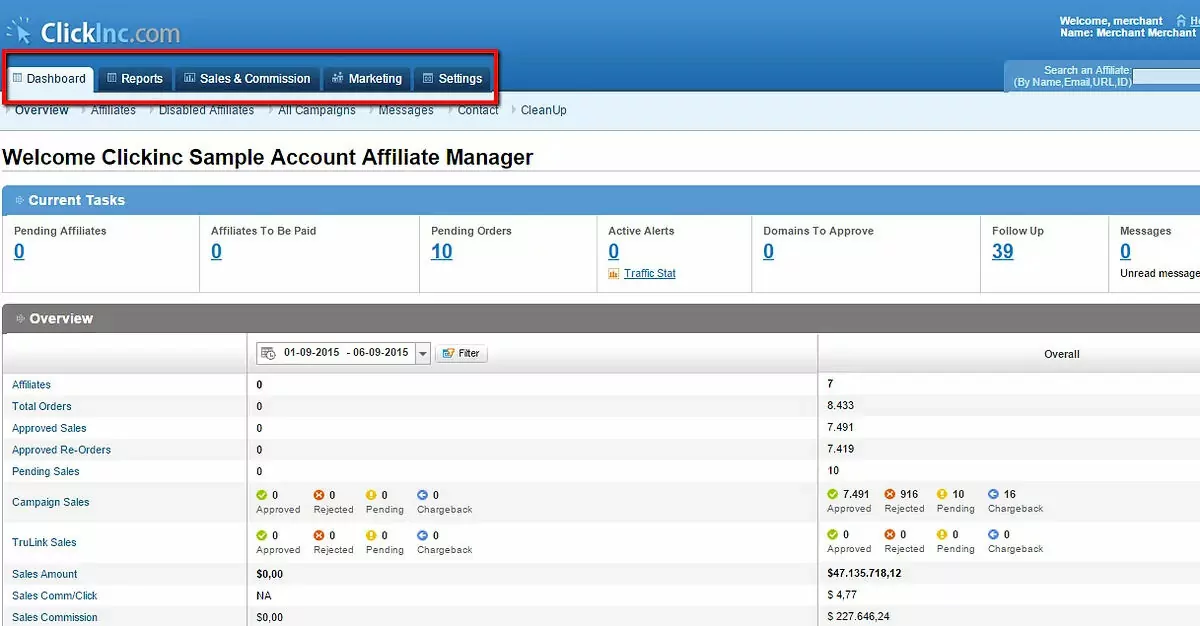 Click Inc's intuitive interface is excellent for those who aren't entirely comfortable with HTML. It provides insightful reports with traffic status, commissions, graphs, and sales. Click Inc also includes popular management tools that allow you to create coupons and track down vendors.
Pricing
The starter plan costs $25 per month, and the $69 and $149 monthly plans are also available.
Click Inc offers a 30-day free trial on all plans.
To Contents ↑
22. Improvely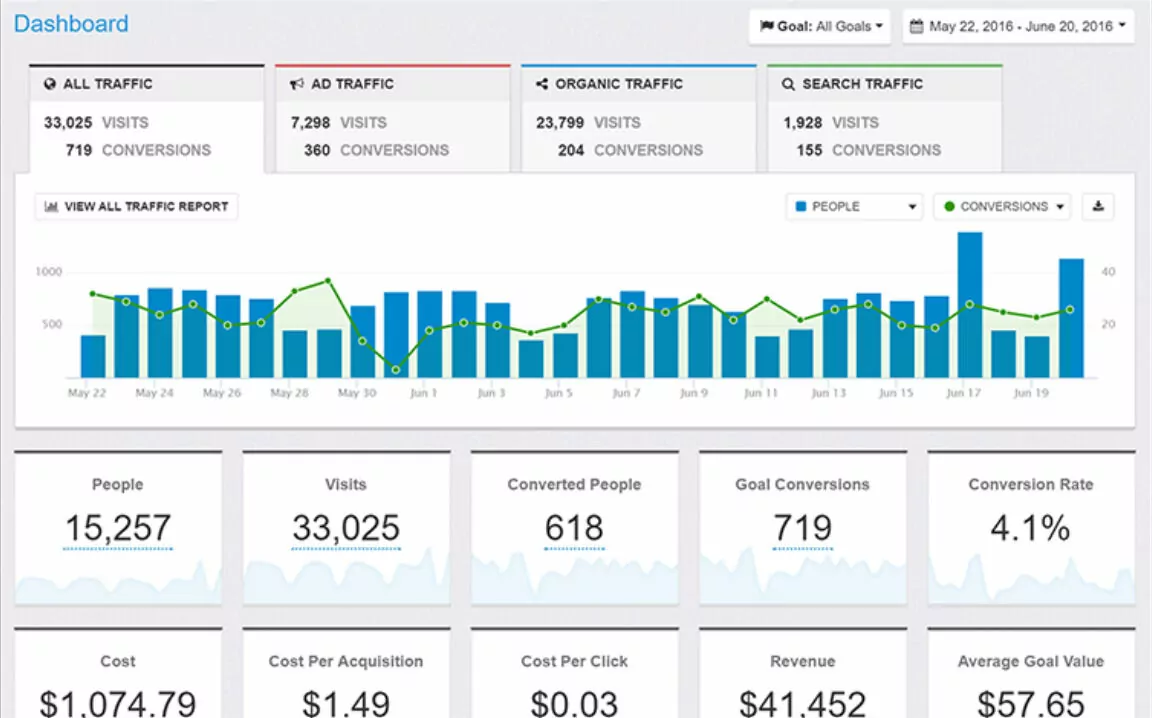 Improvely, like most tracking software, lets marketers track, test, and optimize online marketing. It simplifies the process of tracking results and detecting fraud.
This tracking software can identify the source of every signup and sale. So you can tell if it's from a marketing campaign or another source. With these features, you can optimize your marketing and get better results.
You can protect your ad budget by using the built-in Click Fraud monitoring systems. The ability to see real people using your site means you get to know your most valuable customers, which means effective results.
Pricing
Notably, Improvely's payment options include a 14-day trial. This means you can test the service for the plan you choose. The Freelancer plan, which costs $29 per month, is the cheapest. The Startup package costs $79 per month.
To Contents ↑
23. Clixtrac

Clixtrac link tracking software is a powerful tool you should add to your list despite its outdated appearance. This software includes free banner and link tracking properties that track how often your marketing campaign links are viewed and clicked by visitors.
Clixtrac is best suited for those on a budget. Because it is free, and the paid plans are reasonably priced. The software also provides basic URL tracking. So you can easily track the clicks on your marketing URLs.
Pricing
Clixtrac's free plan includes most link tracking services. For example, it includes unlimited banners and links for your campaigns. There is also live tracking and 100 clicks per link.
You can pay $4.95 per month for the premium plan and get 20,000 daily impressions and unlimited clicks. You also get daily, weekly, or monthly reports, essential for planning a working strategy. The professional plan costs $9.95 per month. This option is known for unlimited impressions and clicks, and downloadable reports.
To Contents ↑
24. ClickPerfect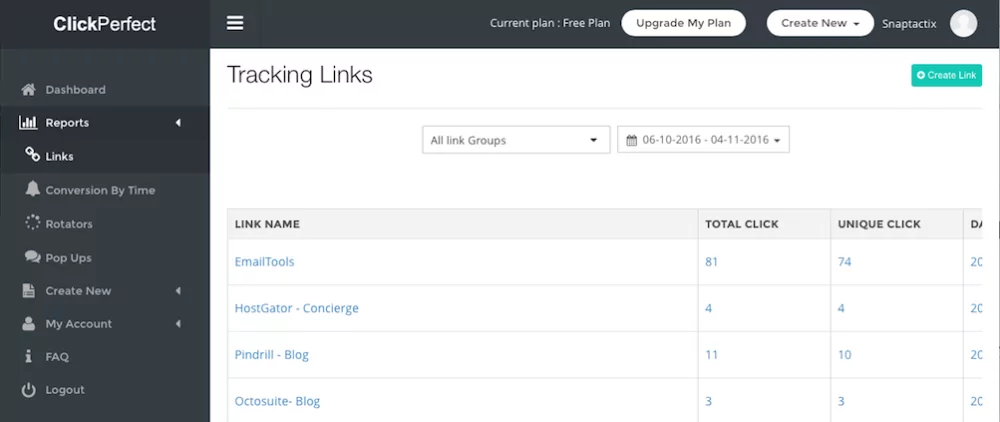 This powerful link tracking software allows you to make the most of every click. ClickPerfect helps you monitor, track, and optimize your link from a single dashboard. It provides instant data on views, clicks, and impressions.
Pricing
There is no free version, and subscriptions start at $19 monthly. However, you can take advantage of a 14-day free trial.
To Contents ↑
25. Clickgum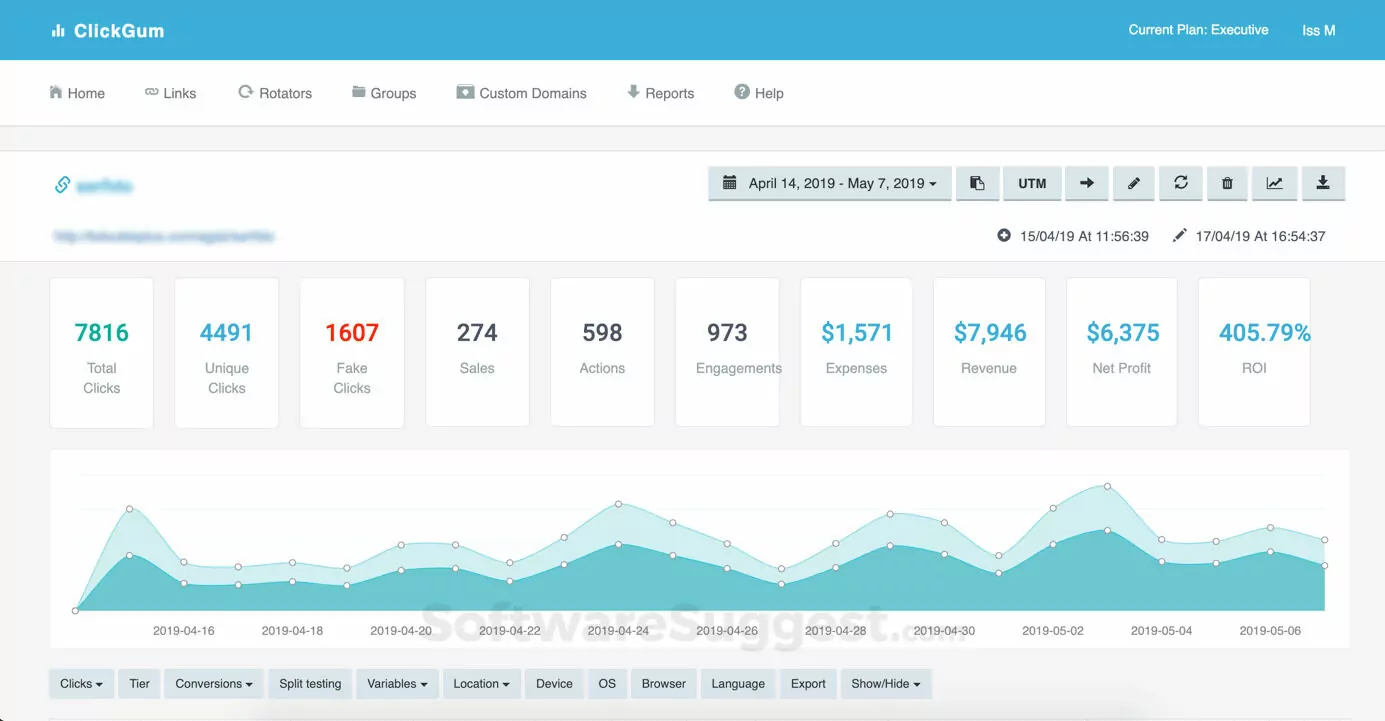 Clickgum lets you track clicks, conversions, and ROI for all of your online marketing campaigns. You can use the platform to track, compare, and organize your marketing links.
Clickgum makes it simple to cloak and track all of your affiliate links. You won't need to rely on affiliate networks to keep track of your links. Reporting tools are also available on the platform to help you keep track of all of your PPC ads and campaigns. With each click, you'd get detailed reports. Timestamp, IP, ISP, Browser, OS, Device Type, Destination URL, Referrer, Location, and Language are all included in these reports.
Pricing
ClickGum's pricing starts at $9 monthly as a flat rate. There is a free version.
To Contents ↑
FAQ
What is affiliate marketing tracking software?
First of all, tracking software helps to track traffic according to the given parameters: country, connection type, browser, IP, device type, and others. In addition, this tool allows you to gather information on all your advertising campaigns in one place such as:
conversion rate,
number of clicks,
working creatives,
transitions from pre-landing to landing,
and so on.
With the help of trackers, you can efficiently optimize your advertising campaigns, weed out ineffective traffic sources, manage your budget wisely, and replace creatives that do not produce the desired result.
Such tools are especially relevant for those who work with a large number of diverse offers. They help to keep focus on all campaigns at once and analyze them correctly and in time. Also, they allow to make changes to promotion strategies.
It often happens that some traffic sources give a negative result, but we can't immediately notice this, especially if you gave dozens of campaigns and several affiliate programs. So it's easy to get confused and at some point go into the red. Trackers help solve this problem.
To Contents ↑
What to look for in an affiliate marketing tracker?
When choosing tracker you should pay attention to these features:
Self-hosted or cloud-based;
Monthly limits;
Custom tracking codes;
Commision management features;
Fraud detection;
Support and documentation;
Interface;
Data retention time.
Why do you need affiliate marketing tracking software?
Tracking software can be useful for every affiliate marketer because it allows them to control traffic platforms (landing pages, websites, and others), count conversions, eliminate bots, and optimize the process.
1.1 Link efficiency analysis
You will be able to compare the effectiveness of different resources, creatives, and even the conversion of the same offer in different sources of traffic. It is very convenient to have all the analytics in one interface. Thus, you will not need to switch between several browser tabs and bring all the data into one table for further comparison.
1.2 Take advantage of traffic
With the help of a tracker, you can sort traffic and direct it to different offers for maximum conversion. For example, you launch an ad campaign for an iOS or Android app and then drive traffic to the app's page on the App Store or Google Play. You can also sort traffic by its geolocation, language, source, and more. Some advertisers pay more for traffic from a certain country.
1.3 Forward traffic in a couple of clicks
You will not need to stop the advertising campaign and change the link to redirect traffic to another offer or go to another affiliate network. You can do it in a couple of minutes in your tracker interface.
1.4 Automatically switch to another network if the lead limit is reached
The tracker allows you to select a limit for each lead on your offer within the network. When the limit is reached, the tracker will redirect traffic to the same offer in another network.
How does link tracking software work?
When someone clicks on a campaign link, they are redirected to one of the tracking domains before arriving at the final URL. Each visit is logged in with information about the user's origin site or location.
Adsterra S2S tracking is the most up-to-date solution for reporting conversions while your CPA campaign is running. Sign up with Adsterra to connect your campaigns to the tracking system and generate a postback URL.
Which free affiliate marketing tracking tools can I use?
Here are some free tools for tracking referral URL clicks:
Peerclick
Afftrack
Bitly
Linktrack
Google Analytics
How do I know who clicked my link?
Enable Google's analytics tools and use their measurements to examine all of your clicked links that lead to the website. This is an excellent place to start if you primarily use marketing channels to drive traffic to your site.
Final thoughts: what is the best link tracker?
Remember that your affiliate tracking software must easily monitor reports from your preferred reporting dashboard. The best affiliate marketing software should be user-friendly, integrate with other vital marketing platforms, offer features like click fraud detection and postbacks while being fast and affordable.
If you buy traffic from Adsterra, you can quickly integrate with the world's leading trackers and get all the necessary conversion data: cost, sources, browsers, devices, and more.