While for everyone Q4 is about seasonal sales and holidays, affiliate marketers are striving to unveil the hottest trends for 2023. The bravest ones come to DMIEXPO 2022 this November. So does the Adsterra team! Book a meeting with our Partner Acquisition Team Lead (Advertisers) Mikhail D., or come to discuss trends and cross-promo campaigns with our marketing squad 😊
---
Dates: November 13‒14, 2022
Venue: 6 HaMea VeEsrim St., Rishon LeTsiyon
Location: Israel
---
---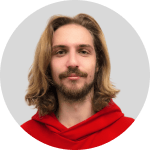 ---
What to expect from DMIEXPO 2022?
DMIEXPO is the ever-emerging digital & affiliate marketing conference and exhibition bringing together the world's top affiliate marketers and digital marketing specialists in one incredible event!
Who attends DMIEXPO?
Digital marketing experts and affiliate marketers from Israel and across the world, both experienced and new.
International and local businesses considering or currently engaged in the affiliate industry.
Vendors interested in expanding their reach and collaborating with digital marketing professionals and affiliates.
Professionals from all market segments:
Affiliate marketing masterminds
Advertisers, brands, product owners
SEM, SMM, Digital Marketing Experts
Media Buyers
Influencers and Bloggers
Traffic Sources
CEOs, Investors
Why attend?
The Digital Marketing International Expo is curated by experts ready to guide you through the volatile market and assist in professional growth.

Speakers and panelists are chosen based on their topic's importance and ability to provide an engaging presentation. Making sure to include the audience's pain points by getting the most popular questions together is a vital component of every session preparation.

DMIEXPO 2022 participants will expose secret forecasts for 2023, plan marvelous collaborations, and share promo codes with new partners. Adsterra has prepared some specialties, too, to surprise our partners.

We hope, these are sufficient arguments in favor of attending the event this November. We'll be waiting to see you there!