Now our advertisers can launch CPA campaigns via Self-Service Platform. We also added new unique features – check it out!
As our clients may notice, Adsterra team is focused on updating our Self-Service Platform: we're adding new ad formats and new pricing models.
We want our SSP to be a really universal and handy tool capable to help you reach your advertising goals. With Adsterra Self-Service Platform's functional you can
     
 
 
 
Launch campaigns


much faster


as fewer steps are needed to launch a campaign and thanks to the fast approval
Be fully 

in charge




of your revenue,


as you set all the settings, monitor the performance, optimize, scale, etс.
Set the most


precise targeting


and fill general settings, targeting, capping, blacklist, on one page
As we worked on adding CPA component to the platform, the team processed client's feedback and executed multiple tests to reach perfection at CPA SSP popunder сampaign optimization.
What's so good about CPA SSP?
First of all, it's the time needed for the campaign launch. With clear interface and all settings visible on one page, you save your time while creating campaign in a few minutes.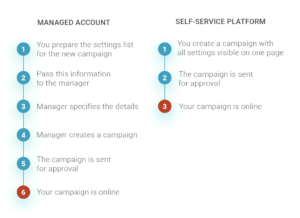 Except for such regular Adsterra SSP features, as the blacklist to exclude placements and avoid unwanted traffic and the ability to manage your SSP campaigns via API, our updated Self-Service Platform has few more advantages with which you can
| | |
| --- | --- |
| |  Do real-time editing |
After your campaign was approved and it is online, you can do the editing. After you submit the editing you've done, most of the campaign settings change automatically so you don't need to wait for the extra approve!
| | |
| --- | --- |
| | Profit from easy campaign launch |
Our platform has clear user-friendly interface and is easy to use. There're small tips right on your dashboard, plus there's a step-by-step guide available for download. You can also download our CPA SSP Guide from your account.
You complete all the settings on one page and get fast approval, so you can launch as many campaigns per day as you wish. Go ahead and take a control in your hands!
| | |
| --- | --- |
| | Target professionally |
To get more conversions you need to target your ad campaign in the most accurate way: our SSP has loads of targeting options that help you deliver your offer to the relevant audience.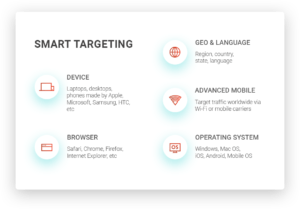 What's the difference between CPA and CPM campaigns?
СPM pricing model is Cost-Per-Mile, meaning that you pay for each mile impressions.
CPA pricing model is Cost-Per-Action, where you pay only for the specific user's action as registration, download, leaving contact information, etc. So if your CPA SSP campaign doesn't convert after test  – you won't spend anything.
Note, that after an approval all CPA campaigns are run on a test period when it's funded from the test budget. Test budget is calculated according to the volume of traffic received during the campaign test.
Each model is good for different purposes, and it depends on business goals you have in front of you. At any doubts, feel free to contact our team for advice or simply test what pricing format performs best for you: you can always copy the CPA SSP campaign and change its settings to CPM.
So, with Adsterra CPA SSP you pay only for user's actions, you control the performance, you get 3,5 times faster approval and you can edit online campaigns in real time. Wait no more! Take the power and start a CPA SSP campaign right now!