Lately crowned the Best CPA Network at the world-renowned SIGMA Conference, Adsterra is now ready to take a marvelous trip to the majestic Affiliate World Asia 2022. We're so excited to meet our peers and partners there! Let's show our affiliate superpowers laying the foundation for increased profits in 2023!
---
Dates: November 30 — December 1
Venue: Centara Grand and Bangkok Convention Center
Location: Bangkok, Thailand
Booth: A52
---
What to expect from Affiliate World Asia 2022?
AWA is an offline meeting point for leading affiliate marketers and e-commerce brands. The event will connect the best minds in the industry seeking new growth opportunities and harnessing trends. If you're in, you have all chances to lay the foundation for a prosperous 2023.

Adsterra ad network and Adsterra CPA network will exhibit at booth A52. We'll be happy to see you and demonstrate our best solutions for traffic monetization.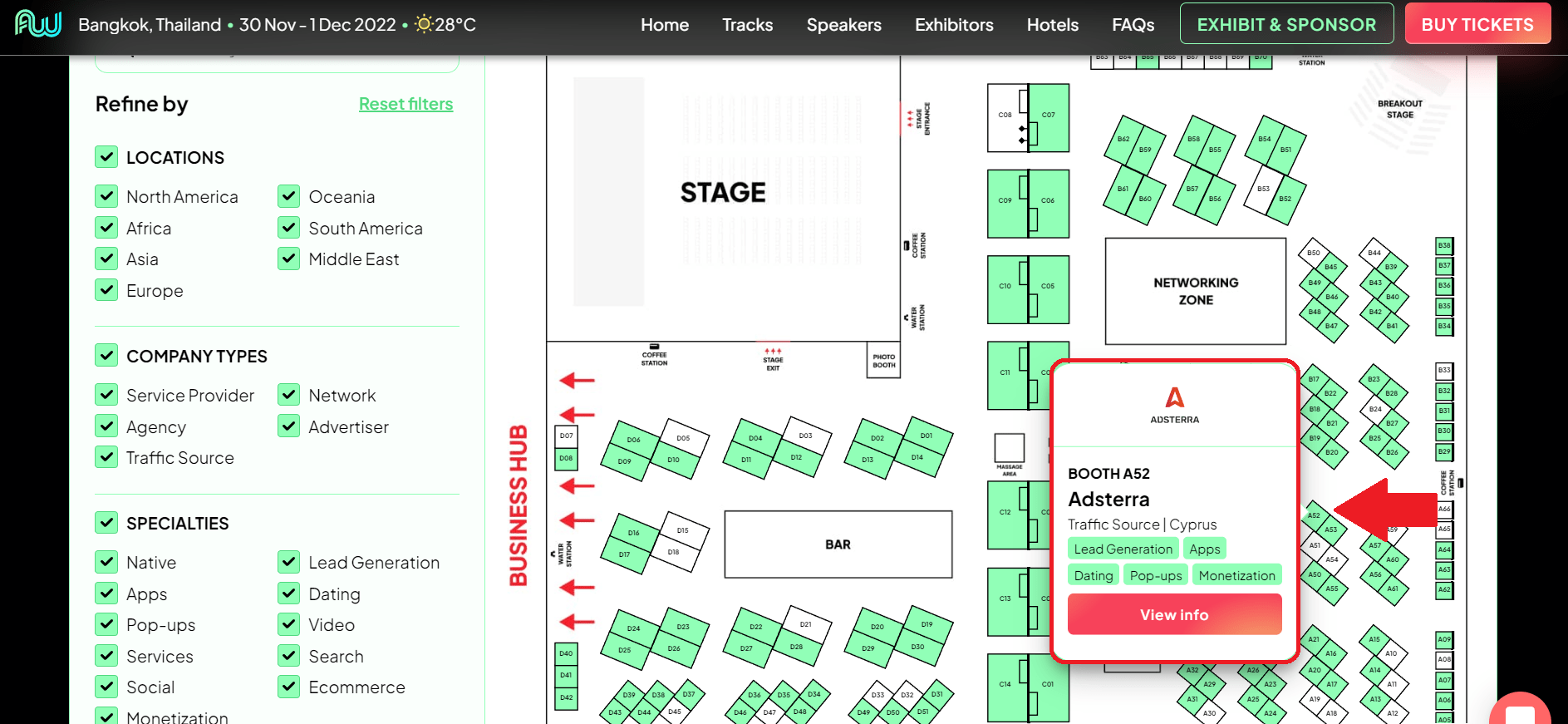 Who attends Affiliate World Asia?
AWA will bring together solopreneurs, enterprises, experts, and traffic sources from all continents. The event is expected to welcome:
4,500+ attendees
30+ speakers
120+ advertisers
40+ traffic sources
170+ affiliate networks
You will get an overview of the fastest-growing social networks, meet marketers who generate over $100k per month, and learn new lead gen techniques.
Save time for a saturated business program
Nothing will help you form your winning strategy for 2023 like a pro rundown to emerging affiliate marketing sources of monetization. The AWA's agenda seems to be the right way of getting these insights. We believe, there will be a burst of insights to social media traffic monetization. However, if you're still looking for Facebook ad alternatives, please visit the A52 booth. The same is fair for native advertising. Adsterra was named the best native ad network in 2022, and we will be happy to share our best-quality 1B weekly ad views with you.
Here we're spotlighting only a few speakers who we expect to rock onstage. For more topics, please check the full schedule.
Facebook track
Combating Rising CPAs: How to Create Offers and Funnels That Drive High Conversion With New Audiences — Nik Sharma (HOOX)
Maximizing Ad Creatives & The Future of Meta Ads — Robert Todeila (Adsvertising)
TikTok track
How to Create, Test, Iterate, and Scale High-Converting Ads For Any Vertical Globally — Mirella Crespi (Creative Milkshake)
Native ads track
CPM-Bidding Strategy to Crack the Native Ads Auction to Get Millions of Cheap Clicks With High-CTR Ads — Dynh Nguyen (m3tric)
Ecommerce track
Leverage the Latest Trends in Asia to Maximize Affiliate Earnings on Ecommerce Campaigns Worldwide — Dayu Yang (EcommOps)
Let's meet at the most anticipated event of the fourth quarter and collaborate in the name of significant profits!