How do news websites make money? Some news website owners make over $5 000 per month using only affiliate marketing as their source of income revenue. Others using more than one revenue stream for monetization are earning even more than that.
Are you wondering what methods such websites use to succeed? Fortunately, all that is possible if you put in the effort. Our guide will tell you how to start and monetize a news website.
Let's get into the details.
Make money with a news website. Is it possible at all?
When thinking of a news website, you probably think of projects like CNN, Sky Sports, BBC, and CNBC. Most likely, you are thinking of the vast investment you must make to end up with such a site.
However, monetizing a news website is neither rocket science nor easy. It will take time before you start making money from the website. You need to put it in the work to see results. The success of news websites depends on both technical and non-technical aspects.
Ensure everything from the design and layout makes sense. The next step is to find the correct niche to drive traffic and get you to read. Maintain high-quality factual content. You don't want to spread rumors which may harm your site.
People are making money from their news websites with Adsterra. Here are some great examples:
Adsterra offers everyone an equal chance to earn money from their website. Sign up as a publisher to start earning and be part of these successful bloggers.
To Contents ↑
How to start a news website and make money
How do websites make money? Starting a successful news website requires you to follow the right process. You need to understand the tiny bits that make your news website stand out from others.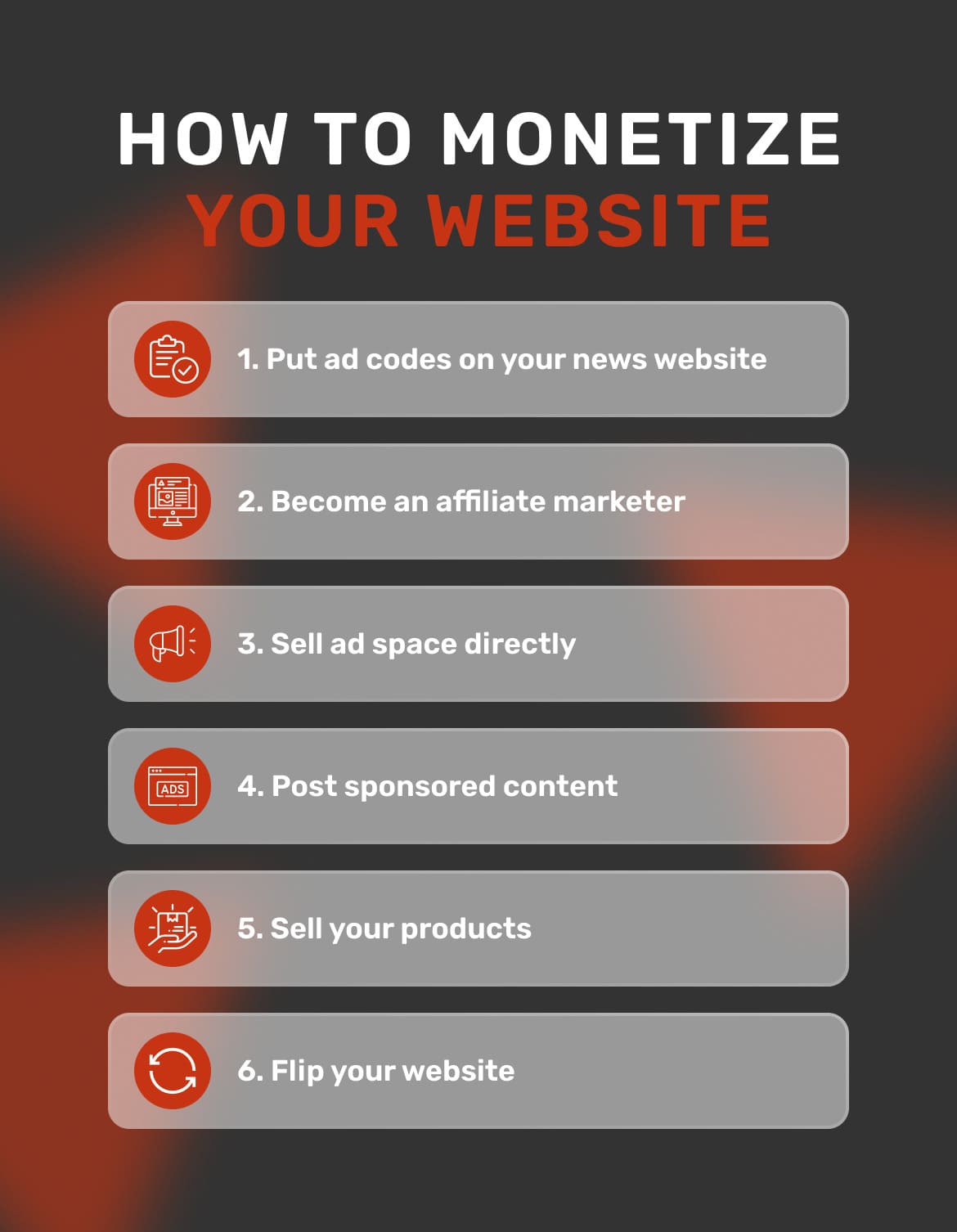 Think of unique features like pleasurable design, quality content and excellent traffic. You want something that captures the attention of your audience.
Here are tips to help you craft a website that will help you create a news website.
To Contents ↑
1. Niche and target audience
First, decide on the topic you would love to cover and how to start a news website and make money. The content needs to target a specific audience. Websites vary in layout styles, and readers have distinct tastes in fashion, sports, beauty, environment, etc.
The site should be based on your interest and the potential income it brings. Selecting a target audience and niche makes it easier for you to deliver content that converts. Alternatively, you can have a website with categories like local news, music, art, events, politics, science, and technology.
"You will have to catch trends and create hot stories based on them. You become a detective who looks for more details and evidence. It's very exciting."
To Contents ↑
2. Business models of the news platform
Understanding the business model helps launch and grow your site. The most common business model includes advertising, paywall, merchandise, membership and subscriptions, and donations.
While settling for one model is convenient, you can easily set yourself up for doom. Combining two or more models is crucial to increase your chances of higher revenue.
You might excel when using some media models and exceed in others. Try the different models until you find a combination that caters to your needs.
3. Brand name and domain purchase
A domain name is a website's unique address. When settling for one, come up with something memorable. You can purchase the domain name from sites like Bluehost, Hostinger, GoDaddy, GreenGeeks and Dream Host.
A brand name tells your audience what your articles are about. Go for a unique and catchy one. Your name and domain need to be identical to make making money from a news website easier. Before you register the name of your news site, ensure that the right domain is available.
To Contents ↑
4. CMS platform and UX/UI
Your website needs to appeal to your audience. However, that's far from making the readers loyal or making money from the news website. You need to go the extra mile and research about their User experience. Here are some questions that help to provide better UI and UX:

What is your first impression of the website?
What is the best color code to use on the website?
How easy is it to navigate through your website?
Do you have different categories of news like sports, politics, technology etc.
To provide the best UI and UX you can hire a professional web designer or use a CMS platform like Wordpress, Wix, SquareSpace, etc.
A content management system makes creating your website and managing different content easy. The best CMS should allow ease of use, data portability, add-ons and extensions and design options. You should also get one that fits your budget.
To Contents ↑
5. Sources of quality content
Consistently create high-quality content to make money with your website. Try tracking the latest news worldwide. If you do so, craft it in different ways. Include different media content like audio, video and images.
Use enticing titles to increase the number of clicks on your posts in Google ads and Google news, and Google searches. Add internal links and external links from reputable sources. Your content should always include proven information. Lastly, be compliant with SEO.
6. Content borrowing rules
To monetize your website, you may have to incorporate copyright material to report current events. Examples include short textual extracts or clips from a particular video or audio.
Although some news is important, it might not be seen as newsworthy.
For your stories, to breed interest in the readers and rank in search engines, you need to make them unique and fresh. You can rephrase and tell the bulletin in your own words.
Here are some of the things to keep in mind when borrowing content:
Give credit to the original source of the story;
Verify the authenticity of the content;
Avoid plagiarism.
To Contents ↑
7. Marketing Strategy
Marketing is crucial in letting people know you exist. You need to promote the site and keep the readers updated. Here are some marketing strategies you can apply:
Email marketing
Use email marketing to promote different campaigns. Newsletters are an effective part of email marketing. You are likely to get new subscriptions and increase traffic to your website and fan base. Always ensure that your email marketing content is engaging.
Social media marketing
Social media helps you reach a wider audience and build brand awareness. Create social media accounts like Facebook, YouTube, Twitter, Instagram and LinkedIn. 79% of consumers' buying decisions are influenced through social media content.
Through these accounts, you can engage your audience and know what they expect from you.
Post compelling content and try being consistent. Add social bars on your websites to allow clients to find your social pages easily.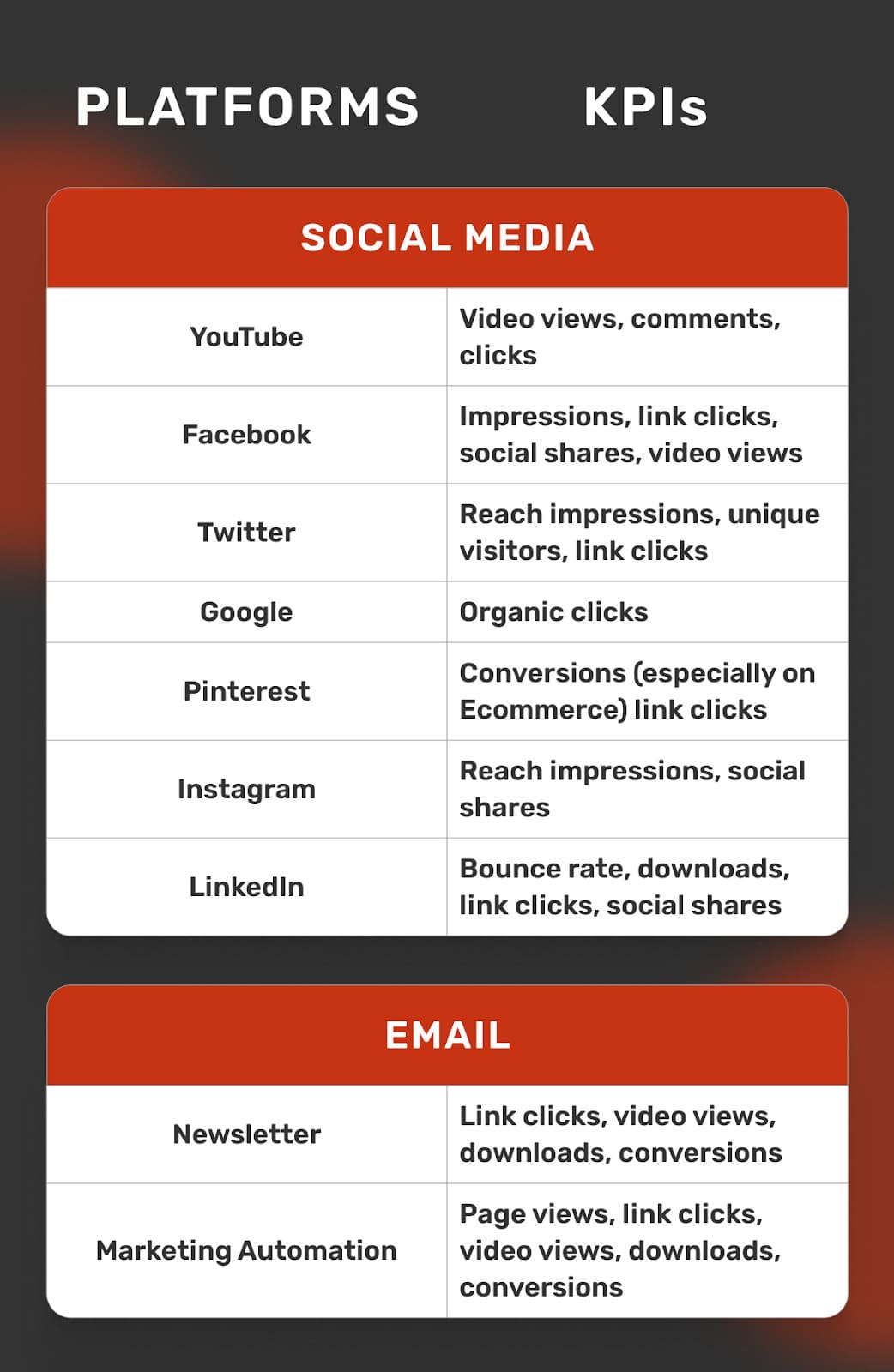 To Contents ↑
Other ways to make your website noticeable
You can also use Google news opportunities, prominent branding, press releases, paid subscriptions and advertising.
How to monetize a news website
As already mentioned, there are different ways to make money with a news website — paid subscriptions, affiliate marketing and ads (if you want to know more about monetization with ads, read our article about how to get paid posting ads).
Here is an in-depth view of monetizing a website.
1. Monetize with ads and get paid for ad views, clicks or conversions
Partner with trustworthy advertisement companies to make money from a website. Start by participating in an ad network like Adsterra. Here are some ad formats you can use to monetize your website. 
Popunder Ads
Popunder Ads offer a great way to monetize your website by delivering targeted, highly relevant ads to your visitors. The ads are designed to be unobtrusive and show up as an additional tab or window behind the visitor's main browser window.
Additionally, Popunder Ads often provide higher payouts than other ad formats, making them an attractive option for website owners looking to cash in on their traffic.
To Contents ↑
In-Page Push Ads
In-Page Push Ads can help you monetize your website in a few key ways. They are designed to capture the attention of your visitors, which can result in increased engagement and more clicks on your ads. Additionally, because of their size, they won't take up too much space on your page and won't negatively affect the user experience.
To Contents ↑
Banner Ads
Many publishers believe Banner Ads are outdated. It's not difficult to sympathize with their points. Some users are really tired of banners and use AdBlockers.
However, publishers should be aware that not considering Banner Ads could mean missing out on extra income from their news website. This is especially true for peak sales periods such as Black Friday, Christmas, and Summer Sales when companies tend to significantly increase their advertising budgets.
To Contents ↑
2. Publish sponsored links and paid articles
Paid articles are among the most popular ways news makes money. Additionally, it's an integral part of link building and general SEO.
Broadcast publishers do this by crafting articles on a topic and linking to other websites related to the content. You need to hire experienced copywriters to craft persuasive copy optimized for search engines. They need to promote certain kinds of products without them looking too promotional.
You don't want to harm your website's reputation. Journalistic stories need to be unbiased. Before publishing ensure that you fact check. Remember to apply Google's Expertise, Authority and Trustworthiness (EAT) and categorize content with different tags like advertisements, sponsored content or bulletins.
To Contents ↑
3. Offer a membership or paid subscription
Have a system where people pay or subscribe to have full access to Premium content. Some reputable online newspapers like The New York Times, Washington Post, and some others use this as one of their monetization methods.
It could be exclusive or part of it. Of course, you need to produce high-quality content from industry leaders and trusted experts with a reputable reputation. Only then will users be willing to pay for access to content.
4. Use affiliate marketing
Affiliate marketing is commission based. It involves earning a commission when promoting a company's product or service, often incorporated as a referral link somewhere in the link portal.
When a customer clicks on the link and makes a purchase, the affiliate marketer makes a commission.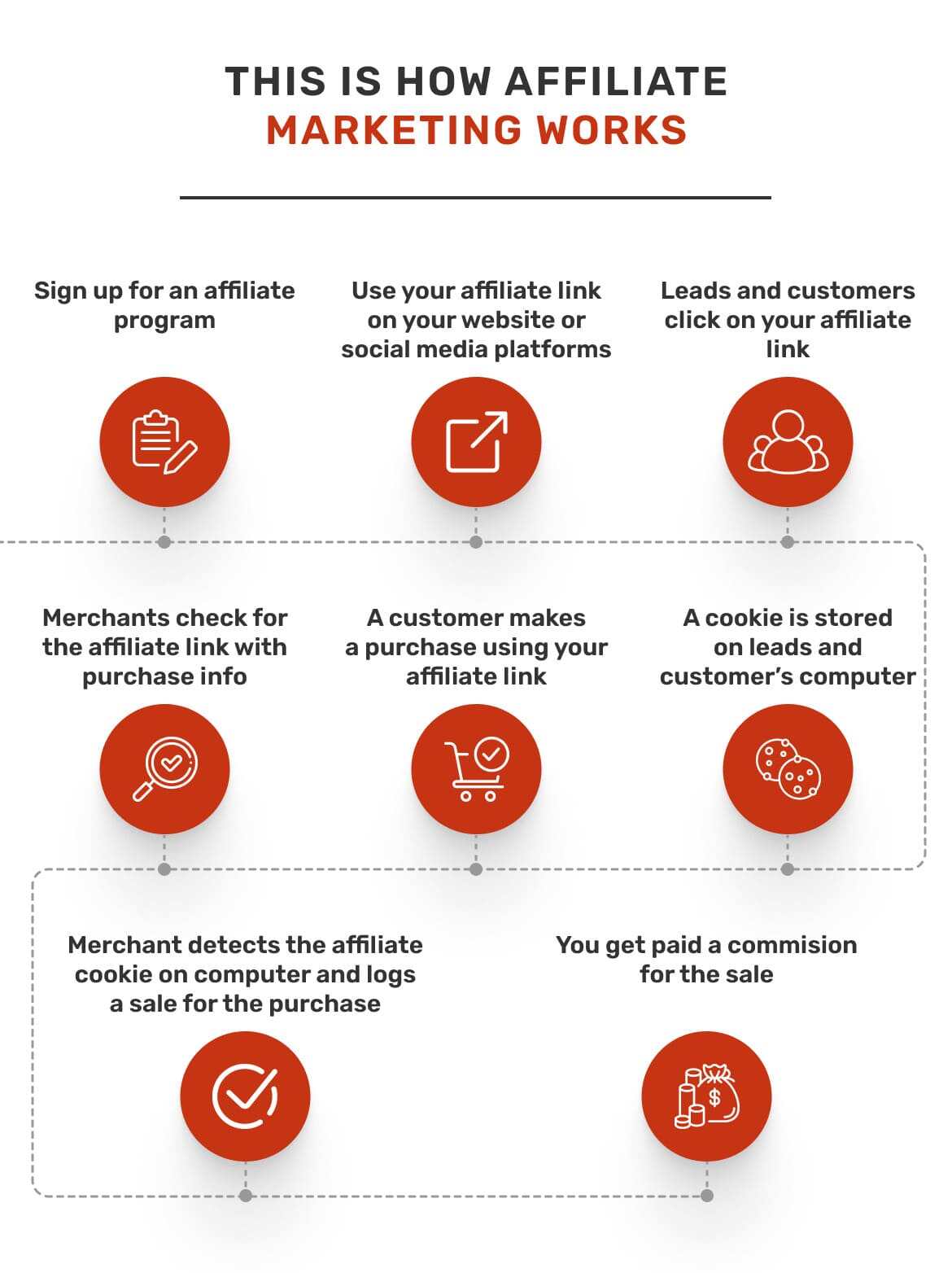 Affiliate marketing takes a lot of items to pick up and can take a lot of work to begin. You need to sell products or services that are relevant to your audience and should make you a decent revenue.
To Contents ↑
How to make money from news website FAQ
Here are some useful tips on earning cash via a news website in a nutshell.
1. Can anyone make a news website?
Yes, anyone can easily create websites using free and paid methods. Some of the free tools are Weebly and WordPress. The paid tools include Katra and Click funnel. First, pick a niche, then purchase a domain.
Once your site is up, you can collect data from top websites and write on your site. Always tweak the story for freshness. Website promotion is vital for you to make money.
2. How do news websites make money?
There are a number of ways websites can make money. Here are some of the ways websites make money:
Paid subscription or membership;
Use of traditional Popunder or Banner Ads and pay-per-click networks;
Publishing sponsored links and paid articles;
Affiliate marketing.
To Contents ↑
3. Which news niches should I choose?
The niches you settle for should depend on your interests and the ability of these to bring you money. There are a variety of niches to choose from:
Entertainment;
Fashion;
Beauty;
Sports;
Technology;
Science;
Breaking news;
Travel and Tourism;
Finance;
Fitness;
Photography.
4. How can I create news quickly?
A bulletin story can be short or long, depending on its newsworthiness. It can be hard and contain essential items and facts. News can also be soft and focus on a particular situation.
One way of quickly creating content is through free blog articles and website content. Always fact-check the information. Quote the source if allowed, and don't forget to incorporate SEO content. While at it, you can use Banner Ads to grab attention and drive traffic to your website.
To Contents ↑
5. How can I track trends?
To connect with your users, you must keep up with the trends. Of course, only some things you craft should be related to current events. However, incorporating strategically trending content allows you to meet the demands of internet users and increases traffic to your website..
Here are some tools to track trending news:
To Contents ↑
Conclusion
There are several avenues for making money from a news website and no particular method is cast in stone. However, the fastest way is to put ads on your web pages and start getting paid. Signing up for the Adsterra ad network eases the process and helps you get started.