RTB, or real-time bidding, has an unavowed reputation when it comes to assessing the quality of traffic sold. It's mainly because multiple ad networks deal with remnant traffic, which converts poorly. Not this time! Today's guide is about how Adsterra RTB Platform uses this algorithm to serve quality ads to quality traffic.

This guide will immerse you into the specifics of Adsterra premium traffic reselling. If you're representing a popunder ad network looking for a reliable media buying partner, or want to sell massive amounts of impressions, make sure you read this.
Asterra RTB Platform (DSP side). Our principles
The initial real-time bidding algorithm is pretty straightforward. It connects targeted traffic with the best-paid ads programmatically. Website owners finally monetize 100% of their traffic, while advertisers can reach billions of users cost-effectively.

Adsterra runs a Real-Time Bidding Platform, which is an in-house solution fine-tuned to:
distill traffic by multiple parameters, leaving the best-quality impressions and clicks;
match ad campaigns with targeted users with over 20 targeting settings;
provide global ad coverage with direct offers from 248 GEOs;
deliver high payouts for any Tier traffic from 1M impressions daily.
One core principle behind all this is that we cut off remnant traffic and combat proxy/bot users with our AI algorithms and manual checking.

We make advertising a highly-personalized activity while helping partners monetize 100% of traffic.
To Contents ↑
Who benefits from the Adsterra RTB Platform?
Known for its competitive CPM rates, Adsterra is ready to pay for unique traffic. Our platform serves thousands of top-class ad campaigns with solid payouts. If you need help finding enough offers to supply your publishers, it's about to think of a premium reselling partnership.
We meet any tech specifics to ensure you a flawless integration via XML/JSON feed or OpenRTB endpoints;
A dedicated pro manager will assist you at any stage of the partnership;
Full transparency: you see all stats, balance, and transactions in your account;
Automated weekly withdrawals via several payment systems: you get paid the way you want to:
You enjoy the broadest demand from CPM, CPC, and CPA campaigns.
You will increase your publishers' retention by sending them quality ads.
To Contents ↑
SSP partners who monetize traffic with us:
Ad networks sending high-volume Popunder traffic from direct publishers.
Niche-traffic networks in search of high-quality ads in Streaming, Video, iGaming, Software, and Entertainment verticals.
SSP Platforms looking for higher payouts for Tier traffic they're sending.
Networks with millions of undemanded impressions from direct publishers willing to monetize via RTB.
Are you sending over 1M ad views daily? Have desktop or mobile Popunder traffic? Become our SSP partner and enjoy high-paying ad offers.
To Contents ↑
How Adsterra RTB Platform works (DSP side)
Adsterra RTB Platform supports automated buying of ad impressions in real-time auctions. We act as a fully-fledged DSP (demand side platform) accepting traffic from SSPs (supply side platforms) through endpoints. 

SSPs take the endpoint and put it on their servers. We either provide you with API for integration or carry out the integration manually. Usually, the longest time it takes is one working day.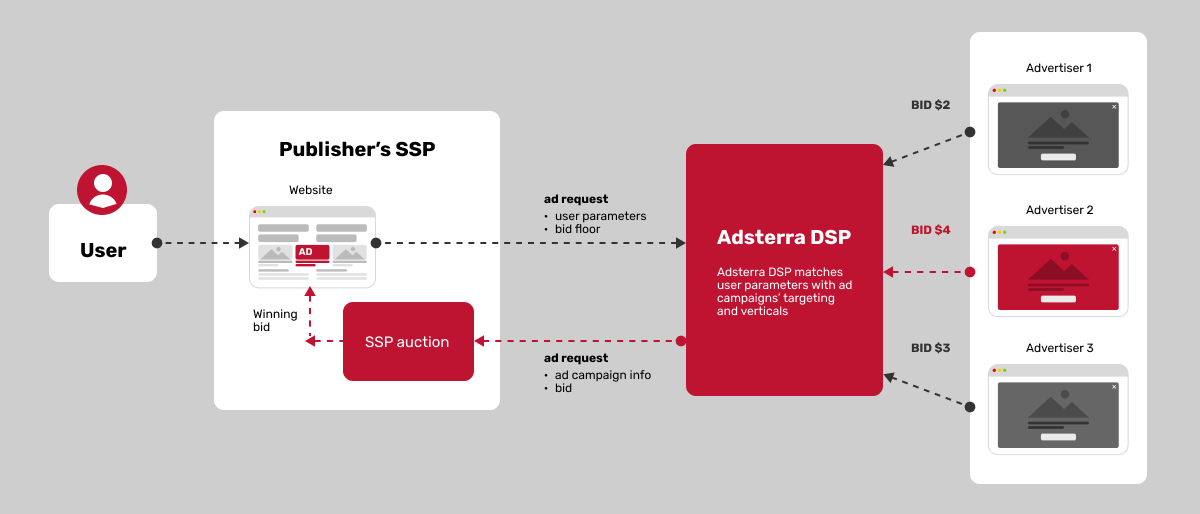 To Contents ↑
How Adsterra RTB Platform works (DSP side)
A user comes to the website of your publisher. The web page has yet to load, but the website has already sent the user's data to your ad network.
Your SSP platform gets the user's data and sends the bid request to our DSP. The bid request may or may not contain the bid floor, a minimum payout threshold set by a publisher.
Adsterra DSP receives the bid request with the user's parameters and puts all this info together with the most relevant ads. It matches targeting settings, ad content, the bid, and other parameters. When ad campaigns are chosen, it's time to initiate an auction for this user's ad view.
The auction is held on the SSP's side. At Adsterra, we support the first-price auctions. The highest bid takes the lead, and the winning ad is now sent to the initial user.
The whole process — sending users' data, matching ads with traffic, bidding, and ad displaying — happens in real-time. While the web page is loading, the winning ad is already here waiting to display 🙂
To Contents ↑
Summary
Adsterra is looking for reliable new partners to become our SSP traffic providers. You can now access over 20K ad campaigns that will compete for your traffic simultaneously. Here is a brief checklist to make sure we can collaborate right now:
Your SSP supports OpenRTB protocol or sends an XML/JSON feed.
Unique traffic is your priority.
You have loads of Popunder traffic to offer, from 1M impressions daily.
You're in search of an intelligent DSP solution to deliver you solid payouts.
Publishers' LTV is your core value, and you aim at making your publishers happy with relevant ads and nice revenues.
Drop us a line if you have some questions left. This form will connect you with our media-buying experts directly.
To Contents ↑
FAQ about Adsterra RTB
How do you choose RTB traffic?
Adsterra deals only with unique and clean traffic, no matter which geo or device it comes from. We're using a set of in-house solutions that filter iframe, proxy, and bot traffic automatically. Poor-quality impressions are also filtered automatically. Our Policy Team has worked out an algorithm for additional manual traffic checks we carry out regularly.
Do you sell traffic via RTB?
At Adsterra, we have both DSP and SSP platforms. We do sell traffic via RTB and can help you with acquiring tons of relevant ad impressions.
Is OpenRTB a reliable protocol?
Indeed. It's an absolutely genuine protocol of buy-sell RTB traffic. Like any other protocol or algorithm, you can use it for good or bad. Some networks will send cheap RON traffic via openRTB, but Adsterra sticks to its quality-first principles.
How good are Adsterra ads? Can I profit from them?
Sure, Adsterra partners with over 12K loyal direct advertisers running over 150K ad campaigns at a time. That's our core advertising asset, and we constantly get seasonal influxes of new ad campaigns, including those from affiliate marketers.

CPM rates are among the highest on the market, social traffic for niche ads can reach up to $55 per 1,000 impressions.
Are you accepting only Popunder traffic?
For the time being, yes. Our DSP platform works with Pop traffic of any volume starting with 1M impressions daily. Any geo, any type, any device.

How do you match ads with my traffic?
The in-house intelligent algorithms will check if ads are relevant to the end users and if the traffic can convert with these ads. As we support only the first-price auctions, we serve the highest bid offered for the traffic parameters you send. We compare over 20 parameters at a time. So, in the end, both advertisers and publishers get a balanced solution – a maximum possible payout for this traffic slice on a particular geo.