Digital marketing channels refer to different tools and platforms you use to communicate with your target audience. While the decision to use specific channels should come from your audience insights, it's essential to understand what each channel has to offer.
In this article, we'll discuss different marketing channels to consider using that will amplify your reach and revenue while prioritizing what matters most: your customers.
Which marketing channels should you concentrate on?
Of course, you want to get the most ROI when advertising. So, which marketing channels are worth your time?
In terms of effectiveness, many websites fall short when unifying the customer experience across channels. When the website's "Contact Us" doesn't provide the customer with the results they need, does reaching out to the company's social media help?
As people connect with you through various channels, have a unified brand and plan to interact with customers. Even if your website or social media presence is flawless, one bad experience (on mobile, for example) can spoil your customer's future interactions.
To Contents ↑
Execution vs. Effectiveness
Just because a marketing channel is more effective doesn't mean it's simple to implement. Here's how marketers rate channels in terms of difficulty to implement:
The goal here is to start with channels with moderate difficulty and high effectiveness. Let's take a closer look at how they compare and approach the ones that appear to be the most promising.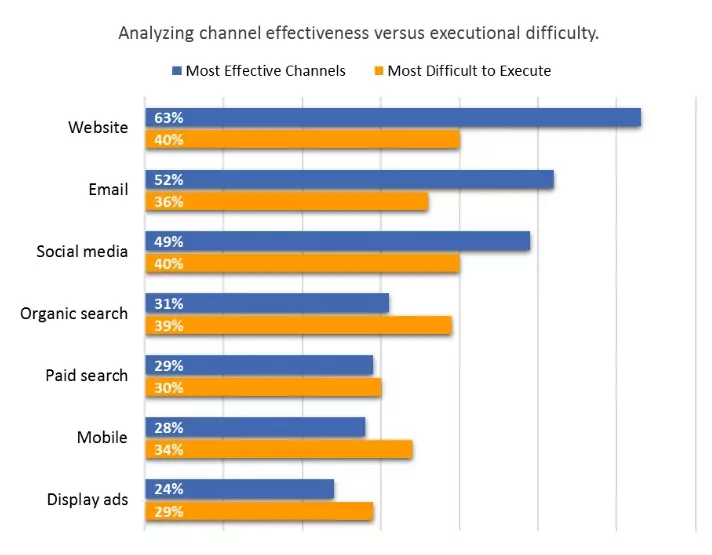 This chart does not mean that you should completely disregard organic search, paid search, or mobile. It provides some insight into how these channels help generate quality leads and at what cost.
It's best to start making use of the resources you already have.
To Contents ↑
Enhancing your website's usability
You've probably tried making sure your website converts leads into customers as effectively as possible. If you haven't performed an SEO website audit yet, now is the time to do so.
Look for areas where leads are slipping through the cracks. What's causing a rift between them and preventing them from acting? What makes them hesitant to take the first step? The more barriers you can eliminate, the smoother their interaction will be.
Word-of-Mouth marketing
70% of consumers believe that brand trust is more important today than it has ever been. And in cases where paid are unreliable, what should you do? You can rely on your customers' recommendations to encourage other customers to patronize you, a practice we call word-of-mouth marketing.
We trust fellow consumers better than brands, so we always read reviews and ratings before using a service or buying anything. Fortunately, if whatever you're offering satisfies customers, they will rave about it. Consider the following research results:
Consumers believe a fellow person (another consumer) is 14% more trustworthy than a brand employee.
Peer-to-peer conversations generate 39% more trust in a brand than paid advertising.
9 out of 10 people check reviews before making purchasing decisions.
Word-of-mouth marketing does not have to be limited to face-to-face interactions. Customers who are happy with your service will rave about it online, leaving positive reviews on your pages.
Best practices:
Create a convenient review platform via plugins or apps.
Always ask customers to leave honest reviews (with proof if possible)
Do not pay for reviews or ratings.
Always respond kindly to negative reviews: an important aspect of online reputation management.
Provide a customer experience that meets your audience's needs and excellent customer service to encourage this type of marketing.
Promote or Affiliate Programs. Give customers a discount or purchase credit when they refer a friend to you. Make it worthwhile.
To Contents ↑
Display ad networks
Display ads have a lower cost-per-click than search ads, and you don't have to target keywords. Your success here is determined by how well you can match your ad to the audience of the host website.
Display ads give you the ability to track users for retargeting. If a user visits your website but does not convert, you can use a cookie to track them and retarget them with a relevant display ad later. At this level of contextual relevance, you'll be able to get a lot more conversions for a lot less money (CPC).
How Can Display Ads Help You Increase Brand Awareness?
Your ads are distributed through an ad network so that you can reach millions of websites, each with its own audience. If done correctly, your ads can compel visitors to take an action you want: to buy your product or download an app.
To Contents ↑
Affiliate marketing
Affiliate marketing is the collaboration of companies and affiliate marketers to promote a product or service via referrals.
As a marketing channel, it can be effective in generating leads and driving sales.
It provides increased market penetration. Affiliate marketers work to promote your products or services to many people through websites, social media platforms, blogs, and newsletters.
Best Practices
Find the right affiliates to work with. Your affiliate partner should be popular in their field with a proven track record of referring valuable customers.
CPA partner marketing
CPA marketing may be the most scalable and ROI-positive marketing channel;
Unlike other channels that need you to advertise with no sales guarantee, CPA marketing lets you only when a user converts.
Cost per action marketing, or CPA marketing, is an affiliate marketing model where affiliates receive a commission for completing a specific action: making a purchase, getting a quote, watching a video, or filling out a form.
CPA Network: A platform that connects affiliates who want to make money by promoting products with companies who want to promote their products.
You need a website and a CPA network to get started. When you work with a reputable CPA affiliate network, you won't have to guess how to get started.
You can start getting traffic from affiliate sites almost immediately if you use your website and choose a CPA offer. You don't have to pay for non-converting traffic.
Best practices
Place your offer in Adsterra's CPA network, and experienced arbitrage specialists will buy traffic for it. They'll only receive payment for the targeted action ( purchase, free trial, install, registration, filling out a questionnaire).
But you need a good landing page, so this traffic converts better!
You can place your offer in the affiliate program. Then everyone who brings buyers to your website will be able to get paid for the conversion.
To Contents ↑
Podcast marketing
55% of Americans aged 12 and up listened to podcasts in the last month, with 37% listening for an average of six hours per week. The demand for audio content has skyrocketed, and podcasts are a good way to meet your audience where they are.
Podcasts can help you develop a unique relationship with your audience because episodes are conversational and show a more human side of your brand.
Customers listen to episodes in their car on their morning commute while walking their dog or cleaning their house. This makes podcasts a very good and somewhat modern means of interaction. Just like the radio, but much more convenient.
Best practices:
Choose podcasts with the right demographic for your business.
Choose podcasts where the host enjoys or uses your product and is eager to tell their audience about it.
Allow the host to create their authentic ad-read by providing clear talking points.
Your call-to-action must be compelling and unique.
Track the results and keep testing them until you've figured out which types of podcasts produce the best results.
According to researchers, storytelling is one of the most effective ways to capture attention and elicit emotional responses from customers. The human brain is designed to crave, seek out, and respond to a well-crafted story.
To Contents ↑
Email marketing
In 2019, 91% of American internet netizens used email. According to Statista, global email usage will reach 4.48 billion users in 2024, up 580 million from 2018.
Subscribing to your online publications is a great way to keep users informed about your latest news and stories. Encourage people to subscribe to your emails because it takes an average of six to eight touchpoints to generate a qualified sales lead.
While most people associate email marketing with newsletters, you can use it to send personalized messages to your audience, promote product launches, sales, and nurture leads.
Email is also a privately owned digital channel, which means no one is dictating when, how, or why you should contact your users. But keep in mind that customers will unsubscribe from oversaturation.
To Contents ↑
Social Media Marketing
In 2020, 3.6 billion people use social media globally, and Statista predicts that number will rise to 4.41 billion by 2025. So your customers are already on social media, making it an essential channel for your marketing efforts.
People use social media to get away from their daily lives, entertain themselves, connect with friends, and interact with the brands they like. Business owners use social media to raise brand awareness, build relationships with customers, and promote their websites.
One advantage of social media is that each platform caters to a different, distinct audience willing to engage with your content.
As previously stated, these people use social media for various purposes, many of which are likely to align with your marketing objectives, such as researching brands and products of interest.
Advertisements on Instagram have the potential to reach 928.5 million people.
During live events, Twitter ads are 11 percent more effective than live-TV ads.
TikTok has a higher average engagement rate than Instagram and Twitter across all follower levels.
Overall, take the time to tailor a social media strategy to each of the platforms you use. You'll have a lot of success on the channel and will be able to meet your audience where they are.
To Contents ↑
Search Engine Optimization (SEO)
Search engines are the most effective digital marketing channel for small websites. They're the most common way for internet users to learn about new products and services. This impacts businesses that use the channel for advertising, especially since people search on Google at a rate of 89,144 times per second.
People use Google to look for answers to their questions and solutions to their problems. So if you can provide that, they're likely to download your offer or sign up for a free trial.
This means that optimizing all of your company's current channels will almost certainly increase traffic and conversions. You should also consider optimizing your YouTube channel, Google My Business.
We've published a lot about SEO and how it can help take your website to the next level.
To Contents ↑
Pay-Per-Click (SEM)
On the surface, paid search (also known as SEM) may appear to have no chance of delivering a return on investment. After all, unlike SEO, where people find you organically, you're paying for each click you get (and technically for free).
Paid search places your ads above organic search results, making them more visible to users. Although you have to pay every time a user clicks on your ad, paid search can still provide a lot of value. Appearing above organic results means you're still capturing that engaged searcher before they can look at their other options (your competitors).
You can earn an average of $2 for every $1 you spend on Google Ads. That's a 100% return on investment right there. PPC visitors convert 150% more than organic visitors too. Paid search has the potential to be a win-win situation for your marketing campaigns.
When your ads appear at the top of the SERPs, users are immediately exposed to your website and are more likely to recognize you.
Without the hassle of on-page or off-page SEO, you can make your ads appear in front of motivated buyers based on their demographics with SEM.
Best practices
Make sure that users who click on your ads are directed to the appropriate landing pages. Such landing pages can be a product catalog or a special page a contact form. You can then collect their information from your visitors and use it to engage them in your Facebook and email marketing campaigns.
To Contents ↑
Influencer Marketing
You've probably seen companies partnering with a well-known creator in their industry to advertise or sponsor content; this is influencer marketing. It's a new valuable digital marketing channel, with 71% of marketers claiming that the quality of traffic generated by influencer marketing is higher than other ad formats.
Using influencers to achieve your marketing goals can help you raise brand awareness and increase social proof.
Your competitors may be already using this channel, and you should follow suit. The return on investment (ROI) for influencer marketing is also a plus, with a $5.78 ROI for every dollar spent.
Video marketing
Consider video marketing if you haven't already. Video helps increase conversions & ROI and build relationships with your audience. Furthermore, 69% of consumers prefer video when learning about new offers.
Video advertising is also a non-restrictive form of content marketing. Some channels only allow text, while others only allow images, and still, others prioritize audio, but video can be all three. You can also make product promotion videos, how-to demonstration videos, or even live videos to answer frequently asked questions.
You can repurpose videos for various channels, including social media and email. In a sense, you're making video content for one channel and then repurposing it for your other channels' needs.
To Contents ↑
Consider these factors when choosing a digital marketing channels
Objectives & Goals
As a general rule, the channel you choose should be determined by the goals you want to achieve with your marketing campaign, whether it's brand awareness, conversion, thought leadership, lead generation/nurturing, or ROI. It's also critical to link your objectives to your business model.
If you're a traditional business looking to rebrand, social media marketing should be a good place to start. You can use the information in the previous section of this post to narrow down the best channels for your needs.
Begin with a small budget to get things going, then increase as you see consistent positive results.
Target audience
Knowing which channels target specific personas can help you find customers.
Competitors
If your competitor is selling to customers through a specific marketing channel, you have two options: (1) follow in their footsteps and take advantage of that channel's existing market, or (2) look in a different direction where there is less competition—though you must consider whether there is enough opportunity to sell in less popular channels.
Features
You might not need all of the features particular digital marketing channel offers. Please start with the basics and work your way up once you've determined that they're worthwhile.
Integration
Even if you're marketing your business through multiple digital channels, you should be able to give users a seamless experience in which they can easily switch from one channel or device to another.
Conclusion
Consider a Multi-Channel Strategy. Different marketing channels provide different benefits, but most businesses can use a combination of channels in their marketing strategies to achieve their objectives. Your audience is likely to be diverse, so using multiple channels creates multiple points of contact, which nurtures leads and boosts conversions.