The way you incorporate on-page SEO in your website is the measure that can make or break your blogging efforts. If you underestimate it, you will remain low in the search results and be unable to generate any traffic.
On-page SEO is the art of optimizing your pages according to the search engine's requirements. If done correctly, it will make Google and other search engines display your pages at the top of their Search Engine Results Pages (SERPs).
And today, we'll cover everything you need to know about it.
What is on-page SEO?
The ranking of your pages in a search engine results page directly affects how much traffic can be directed to your pages. And it is through on-page SEO that you can achieve success in that.
It is essentially the process of optimizing webpages by adding vivid keywords, title tags, meta descriptions, headings, internal or external links, etc.
Doing this will help rank your page higher on the SERPs.
Technical SEO vs. on-page SEO
Optimizing your websites and pages is a mixture of three strategies. These are technical, on-page (also known as on-site SEO), and off-page SEO.
It includes improving site speed, security, structure, code, mobile friendliness, etc. It prepares your website for the search engine's crawling and indexing processes because search engines rank your pages using these methods.
It focuses on every feature of your pages, including content, titles, meta descriptions, headings, links, image optimization, etc.
This kind of optimization is taking actions away from your website to increase its ranking in SERPs. They include external linking, building trust, popularity, relevance, etc.
As a blogger, you should take advantage of all available opportunities to make money and increase your reach. One of the most powerful tools in your arsenal is Adsterra. It doesn't limit you to the number of monthly visits. You can put ad codes and improve your SEO on the go.
To Contents ↑
Why on-page SEO is important
Search engines like Google, Bing, DuckduckGo, etc., prioritize keywords and multiple other SEO elements when checking whether the content is suitable for what the users are searching for.
On-page SEO becomes crucial as it helps search engines get a better understanding of your website. Using it allows search engines to rank your page higher in search results. On top of that, it also helps search engines evaluate the quality of your content and determine if your website is suitable for mobile phones.
More importantly, Google, despite its constantly developing algorithm, always focuses on user experience. Hence, optimizing the page to enhance the user experience by using the best SEO techniques is vital. Doing this correctly ensures that Google ranks your pages higher in SERPs.
Suppose there need to be more reasons to focus on optimizing your pages. In that case, your website's monetization capability is directly linked to high-quality organic traffic in your niche. The key to driving high-quality traffic is using the best SEO strategies.
To Contents ↑
On-page SEO checklist
There are better ways to improve your articles than simply stuffing your articles with keywords. The process of on-page optimization is complex and involves various aspects. If any of them is ignored, the page ranking may suffer.
Search engines are programmed in a way that they rank higher the pages optimized using specific guidelines. Having quality content is one of many things that search engines look for. They require the best SEO practices to be used.
1. Things to consider before performing on-page SEO
The most important thing before performing SEO is understanding what the users are searching for. The next step is to provide answers, solutions, and information that is beneficial to them. Doing so will help in getting the readers to take a certain desired action through CTA.
Another important thing before you start optimizing your webpages is to get a look at the competitors. There are certain things that they have done correctly to help them get ranked high on the SERPs. Understanding the competition in your niche is a good way to start your SEO journey.
Learning the correct SEO techniques is time-consuming and requires attention to detail. People who want to boost their SEO faster can subscribe to the free online course by Adsterra.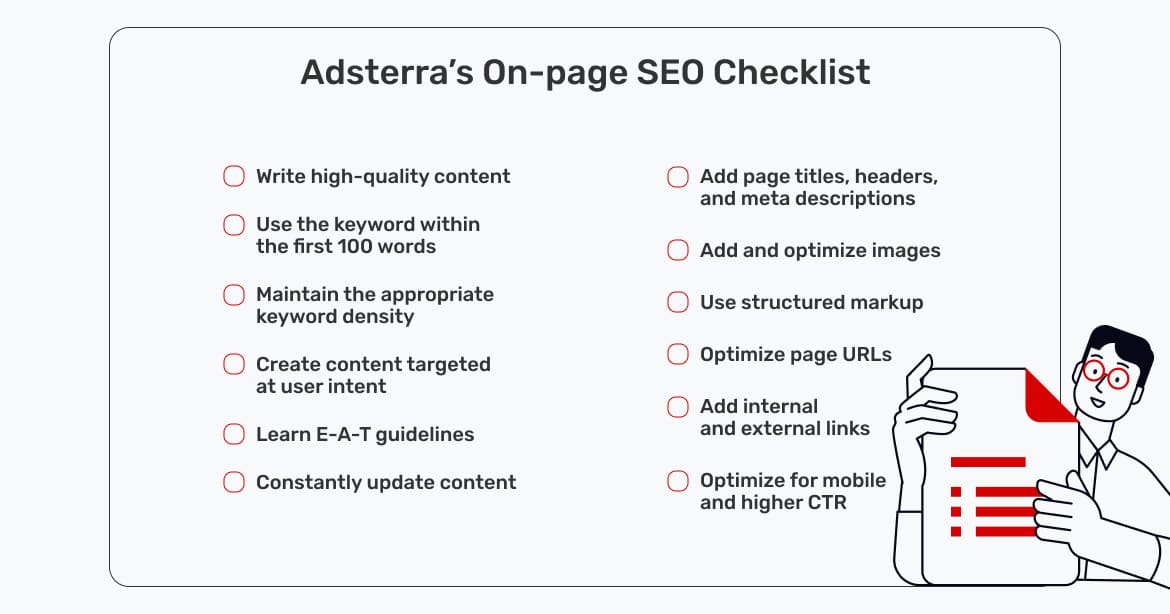 To Contents ↑
2. Create high-quality page content (implement SEO copywriting best practices)
Every writer needs to understand that on-page SEO won't convert users into clients. But it's crucial for attracting your target audience and retain them on a page.
The copywriting rulebook keeps changing as the Google algorithm is updating with time. Still, there are specific guidelines that should always be adhered to. They will help rank your pages higher in the SERPs. Some of the essential SEO writing tips are as follows:
Conduct a proper, detailed keyword search for the topic you are writing on.
Once you've found the keywords, learn the intent of the users searching for them. It can be informational, navigational, transactional, commercial, etc.
Write evergreen content that usually remains in demand.
Write content in a structured and user-friendly manner. Search engines love structure, and including bullet points, numberings, images, tables, etc., is a great way to achieve it.
Use keywords in the title tags and distribute them evenly in the body of the text.
Write enticing meta descriptions for your pages.
Use internal linking to other pages on your website.
Make sure that the page's URL is short and easy to read.
Below you can learn how to write SEO content that will help transform any writing into a top-ranked page on search engines.
To Contents ↑
Make sure that the target keyword is used within the first 100 words
The goal of performing SEO on a page is to ensure that the search engine and the reader find what they are looking for immediately. Failure to achieve it will result in the user clicking away quickly.
Hence, it is important to use the target keyword within the first 100 words. When Google crawls through the article, it will look for the target keyword at the beginning of the text. If it does not find it, chances are, your writing will not be ranked among search results.
3. Maintain an appropriate keyword density
Keyword density is the ratio of target keywords to the overall text in the copy. The ideal density should be 1–2%, meaning the target keywords should appear not more than 2 times per 100 words. But this is not set in stone. The right keyword density in SEO depends on multiple factors, such as the type of content, keyword competition, and elements of your overall SEO strategy.
While a keyword density of 1–2% is optimal, it also depends on the content length. The longer your text is, the higher keyword density is required. You can look at the keyword density for this article in the image below. While it is not in the 1–2% range, it is optimal as it is a long-form description.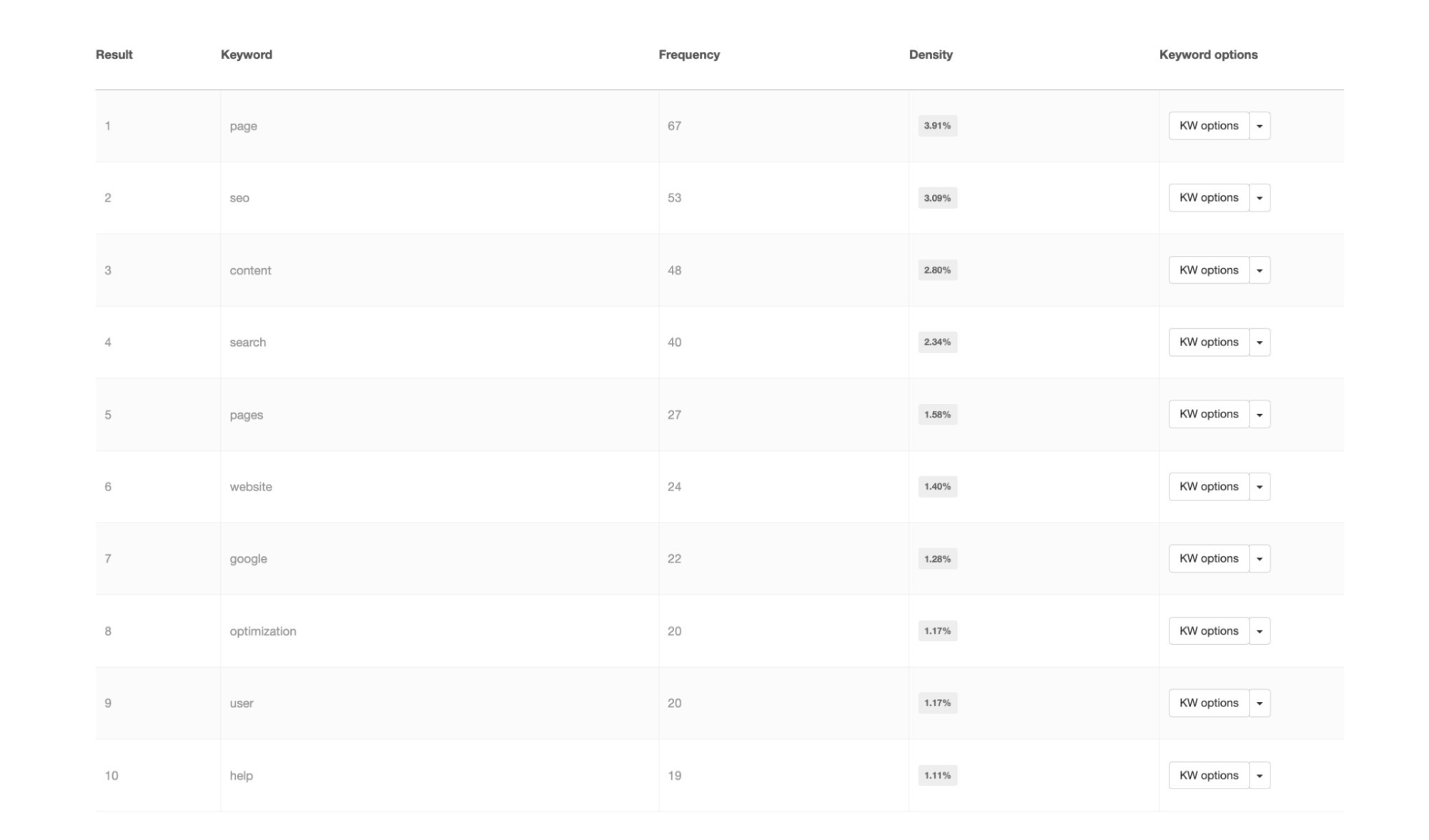 Moreover, it would help if you incorporated keyword phrases and keywords related to your primary keywords in your text. Doing so will increase the visibility of your pages in the search results.
Another rule is that the content should be easy to read and not come off as over-optimized and stuffed with keywords. It is important because not only will the readers be put off, but Google will also penalize your article for over-optimization.
To Contents ↑
4. Create content that satisfies user intent
Copywriters write for a targeted audience and provide them with whatever they seek. If the user doesn't find what they are looking for, they will click away without taking any actions like signing up, clicking on ads, etc. This is called a bounce.
The lower the bounce rate of a website, the more time the user spends there. It increases the chances of them converting from a visitor to a customer. Thus, on-page optimization should guarantee content relevance.
To learn more about the bounce rate, dive into this article:
If it's a blog, the longer the user reads it, the lesser the bounce rate. This will help Google rank the article or blog higher due to a better page experience.
To Contents ↑
5. Show off your expertise
It is important to know exactly what you are writing about. It is one of the vital aspects of performing SEO on a page. Make sure that the content is relevant, informative, concise, unique, and targeted at the readers' needs. Refrain from filling it with too much jargon or technical terms, and write in a friendly, conversational tone.
Doing so will give the reader a good understanding of your website's topic. It will prove your expertise and mastery of the subject, build trust with the readers, and make them return for more.
E-A-T SEO guideline
Following Google's E-A-T SEO guidelines is a good checkmark to achieve it. The abbreviation stands for Expertise, Authority, and Trustworthiness. As anyone can create any content on the internet, Google uses these parameters to check the following:
This one evaluates the creator's knowledge of what they are producing content about.
This is used to check the competence of the main content creator, content, and the entire website.
It is a parameter used to check how relevant and correct the content is, along with the content creator and the website it is on.
Don't forget to earn from your expertise and produce monetizable content. Adsterra allows you to install an ad code in minutes and begin receiving payments for every 1,000 impressions, as well as for clicks and conversions.
To Contents ↑
6. Review and edit content as needed
Content is evolving and changing every day. No matter what your level of expertise may be, new information might pop up at any time and change the whole picture. Hence, constant review and editing of the content should definitely be in the on-page SEO checklist.
Timely updating the old content proves your adaptability as a copywriter. At the same time, it gives the reader the latest information.
To Contents ↑
7. Optimize page titles
As the title is the first thing a user sees when searching for something, it is one of the essential parts of on-page SEO search engine optimization.

The title tag is a significant factor in ranking the article, and therefore its features should be as follows:
The title should be kept within 50–60 characters.
A title containing the keyword shows Google and the users what the content is about.
It should be distinct and clear to make sure the user understands the page's content.
To Contents ↑
8. Write engaging meta descriptions
They are used to describe the webpage's content and are displayed below the page title in SERPs. Meta descriptions are integral to on-page search engine optimization but aren't necessarily used in Google rankings.
They help the search engine figure out what your page is about and hence increase its chances of being shown in search results. These descriptions also give the user a good idea of the page's contents, increasing click-through rates. Some of the characteristics of a good description are as follows:
It should relate to the content of the page correctly.
The length should be 150-160 characters and not longer.
It should contain the keywords.
It should be unique for each page on your site and relevant to the content on that page.
The description should be written in an active voice and contain a call to action for the readers.

A catchy and informative description with a call to action can be a deciding factor for a user to become your client.
To Contents ↑
9. Optimize headings
Headings and subheadings help structure the article and form an integral part of on-page optimization. A page with proper headings is easier to skim through and helps Google evaluate the page's relevancy to the user.
Use H1 as your primary title or heading (one h1 per page) and H2 for subheadings, followed by H3 and H4 if you need to elaborate further.
10. Add and optimize images
Image search is widely used on Google, so including images in your articles will drive traffic to your site. But merely adding them is not a part of the on-page SEO strategy.
Instead, they should enhance the reader's experience and help them understand the content better. Hence, the images must be related to the content.
You have to optimize your images, including writing an alt text describing what they are about. Ensure that your image is compressed and doesn't slow your site. Services like ImageOptim or ReduceImages may help you to customise it.
To Contents ↑
11. Use structured markup
This part of the on-site optimization means the data on a website is structured and tagged using specific text that tells search engines what the information is about and hence gives better search results.
Schema markup is the universally recognized standard that helps search engines evaluate the content and rank it better.

To Contents ↑
12. Optimize the page URLs
One of the often overlooked aspects of SEO on-page optimization is the URL. According to Google, a trivial and confusing URL is undesirable. Rather, it is a good practice to include the target keywords in the URL so that the search engine and the user know what your site is about.
Good URL: https://adsterra.com/blog/on-page-seo/
Bad URL: https://adsterra.com/blog/8hs10cvW4/
13. Use internal linking
Hyperlinking, also known as internal linking to pages on the same site, is integral to performing on-page SEO. This helps Google understand the site's structure and the connection between the pages.
It allows Google to crawl through the website better and discover new pages. These links attract users and thus are inclined to spend more time on your website.
14. Use external links
Google doesn't see adding external links to pages with authoritative and valuable information as beneficial for the ranking. But it is one of the best on-page SEO practices.
These links help increase the page's relevance and authority in search engines. They also provide an opportunity to get referral traffic from the sources you are linking to.
Linking to another website lets them learn you mentioned them, and they will likely return the favor. It also increases your site's credibility and visibility and drives organic traffic.
To Contents ↑
15. Ensure mobile responsiveness
Websites these days are primarily accessed through mobile phones. That's why optimizing the website and pages for mobiles is paramount.
Various aspects, such as speed, meta descriptions, titles, script, etc., have to be optimized for mobile phone usage as well.
16. Improve site speed
Google never discloses all the factors it considers for ranking pages. But site speed is definitely one of the factors taken into account.
You can check the insights of the page speed on Google's free tool PageSpeed Insights.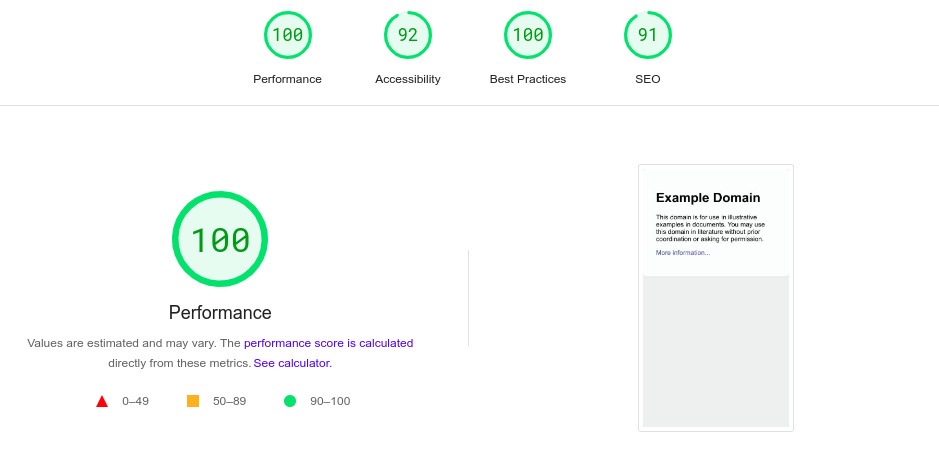 To Contents ↑
17. Optimize to get a higher CTR
Click-through rate — or CTR — is an important metric as it helps you understand whether you are reaching your target audience or not. Only the target audience is likely to take the target actions.
Thus optimizing for CTR is an integral part of the on-page SEO strategy. It can be improved by changing the headline, including CTAs, adding images, etc.
Additionally, optimizing your pages to have high CTRs can help improve your overall website ranking and build user trust.
Advanced on-page SEO techniques
Apart from the techniques of on-page search engine optimization mentioned above, there are some more advanced ways to do it.
Using featured snippets
A featured snippet is a type of search result that appears at the top of the SERP. It displays a summary of the most relevant information from a webpage that is most likely to answer the user's query. This type of search result is often referred to as a "rich result" because it stands out from the other search results and provides more information than a typical organic search result.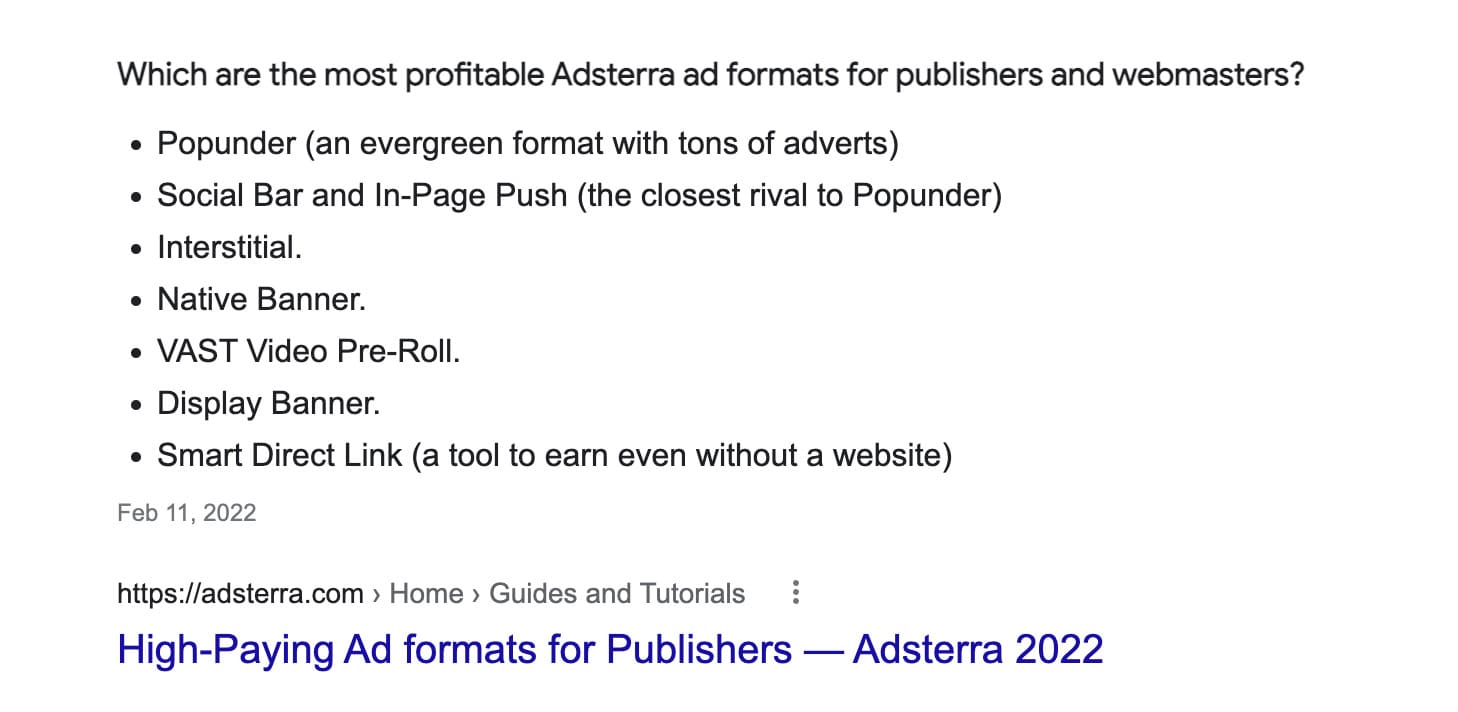 Featured snippets are important for SEO because they draw more traffic to the website. They also help establish credibility and trust with users since the search engine is recommending the content. This can help increase click-through rates and potentially lead to higher rankings in the SERPs.
One way to implement featured snippets is to look at whether a snippet exists for the topic you are writing for. If it does, then structure your content according to it.
To Contents ↑
Use original images
More than merely adding and optimizing images is required; the images must be unique. A good way to make them so is to use either original screenshots or infographics.
Write comprehensive content
Writing for your target audience and providing valuable information is the key to achieving your goals. Thus, it is crucial to write comprehensive content that follows SEO guidelines but contains all that the user might be looking for. A higher ranking won't result in a higher retention rate if the content is not of any value.
Perform voice search SEO
The content has to be optimized for voice search because users nowadays would rather ask Siri or Alexa instead of typing the request themselves.
You can use conversational keywords, restructure the content, optimize for featured snippets, etc. Teaching how to do voice search SEO should be a part of any on-page optimization SEO tutorial.
On-page SEO FAQs
What is on-page SEO and its advantages?
It is a strategy that is followed to provide valuable content to users and, at the same time, rank higher on Google and other SERPs. On-site optimization helps bring more users to the pages and websites and ensures a lower bounce rate.
What are on-page SEO and its types?
On-page SEO is a type of optimization that focuses on optimizing individual webpages within a website to rank higher in search engine results. On-page SEO involves optimizing the content, HTML source code, and other elements on a page to increase its visibility and relevance to target keywords.
What is on-page SEO in WordPress?
Having a WordPress website is a big help in ranking higher, but more is needed. Any site built there has to have WordPress SEO page optimization.
Conclusion
On-page SEO is a complex topic, but mastering how to do on-page optimization can help you drive organic traffic to your website and pages. It is the best strategy to enhance user experience on webpages and increase the chances of achieving a higher retention rate.
Writing content aims to provide users with valuable experience, help users navigate it better, and help decrease bounce rates, thereby converting visitors to customers or regular users who regularly read your posts and click on ads. Profit!
Even with a perfectly-optimized website, you need a proven tool to earn money from your inventory. Adsterra is your loyal partner in this endeavor.