In recent years, we've witnessed a shift in the performance marketing industry towards tech and innovation. Most ad networks implemented robust fraud prevention techniques with improved fraud detection parameters. But there's always room for improvement, which is why tracking and reporting features keep improving.
Technology and data drive digital marketing insights that business owners can act on, and we expect significant changes in this direction. But what does 2023 hold for the digital marketing space?
This article will review new digital marketing trends, the latest news and innovations, and how they'll affect advertising in the coming year.
4 latest online search trends in marketing
1. Alternate search engines
Google is the preferred search engine that many people use for basic searches, product research, and keeping up with the latest news. With a market share of more than 90%, it's difficult to argue that any search engine produces better results than Google.
However, Google keeps a thorough record of your activity across all its services, including the websites you visit, the search terms you enter, and much more. This user monitoring has prompted people to go for more privacy-oriented search engines like DuckDuckGo.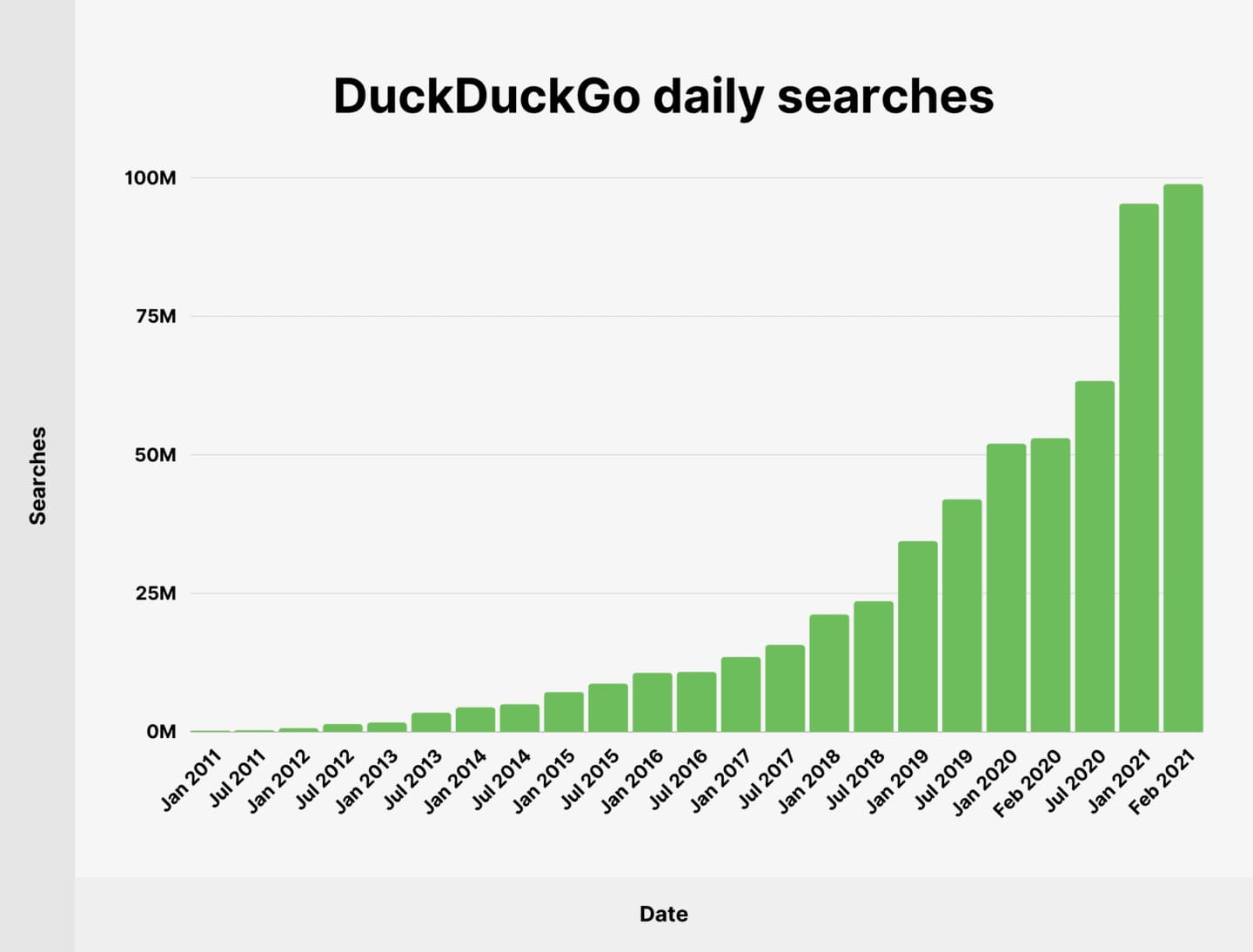 We can see that the average number of daily queries on DuckDuckGo has grown 9.17x since January 2015. However, this search engine claims a 0.63% search engine market share. But that number is rising, and marketers should take note.
To Contents ↑
2. Online reviews
Online reviews can affect your business's ability to get new customers or clients. Any company can talk about how great its products or services are. Still, only other customers can give real, honest reviews. Having a lot of reviews from trusted sources can put your business ahead of your competition and build trust before people even click on your website.
Google Business is the best place for a business to get reviews. These are the most trusted and visible sources; people can call or visit your website from your Google Business listing.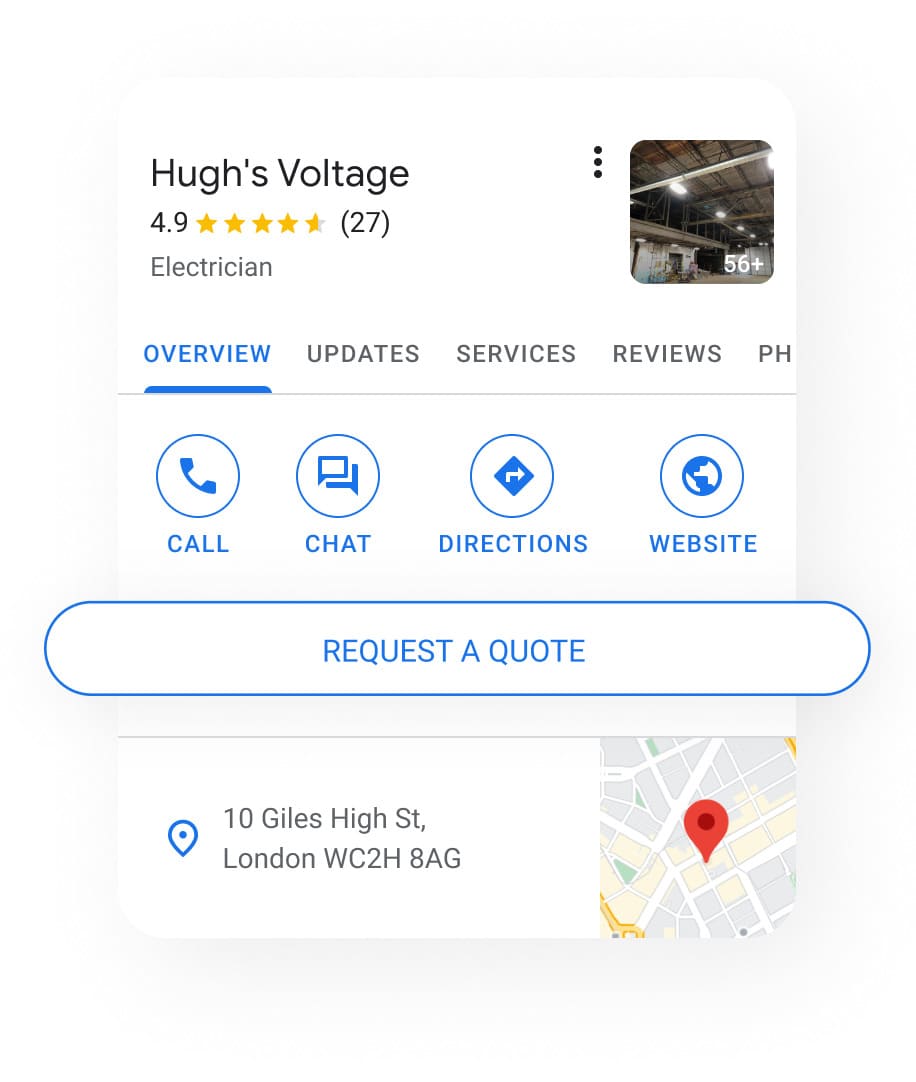 With this service, you can turn people who find you on Google Search and Maps into new customers by adding essential info like your phone number, operating hours, and other measures.
Some review platforms that can be valuable for online brands especially include Trustpilot, TestFreak, ConsumerReports, Capterra, etc.
To Contents ↑
3. Google Analytics 4
Google Analytics 4, or GA4, is a new and better version of the popular universal analytics tool with a few more features.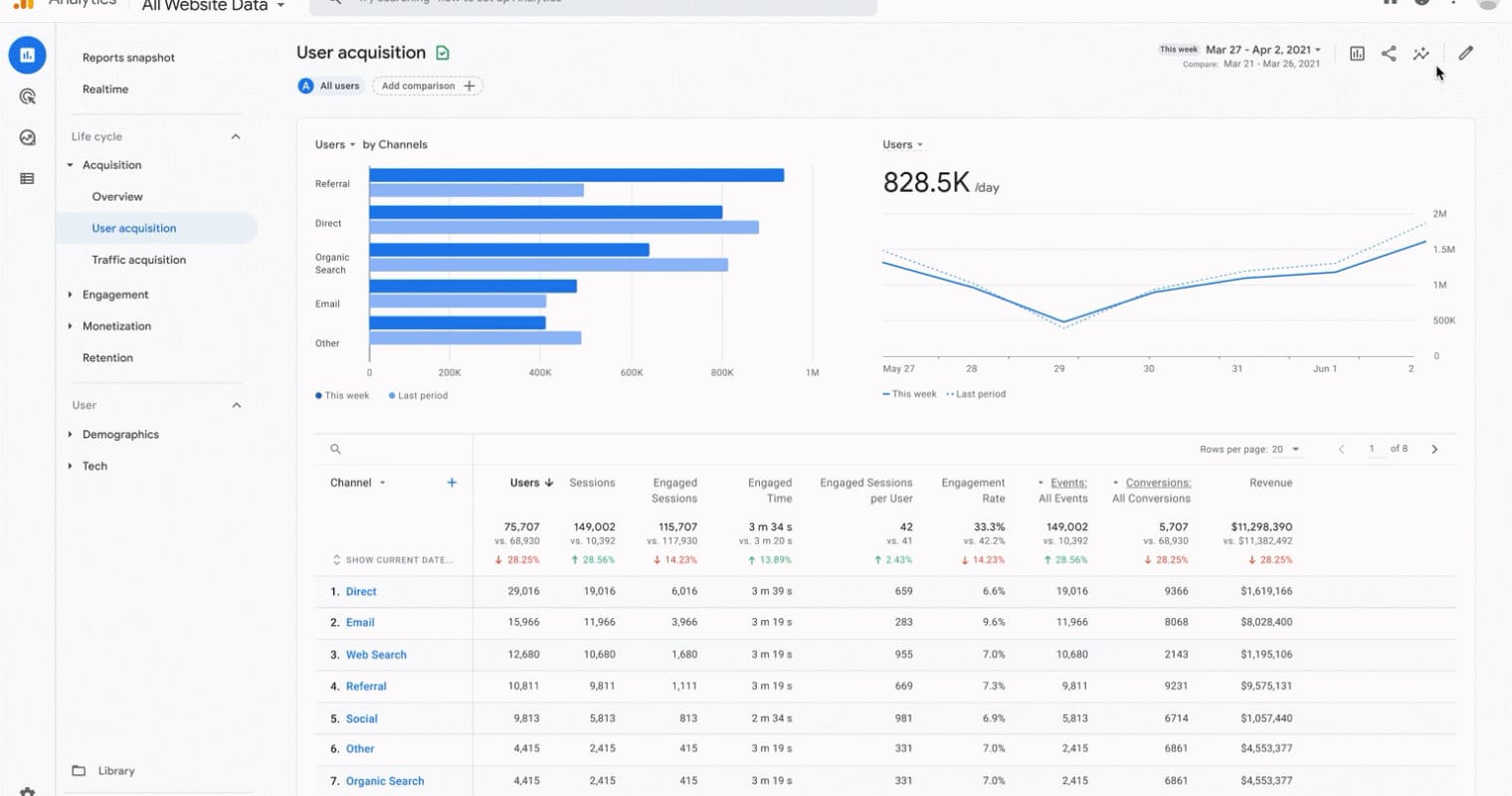 Set up your new GA4 account as soon as you can. On July 1, 2023, data will no longer be processed by standard Universal Analytics properties. After July 1, 2023, you will still be able to see your Universal Analytics reports for a while. But only Google Analytics 4 properties will get new information.
GA4 provides a free connection to BigQuery: an excellent tool for fixing data integration issues and cross-platform data analysis. You can also add your custom reports to the navigation menu to make it easier to get to the same view. You will also access anomaly detection, predictive analytics, and deeper attribution models.
To Contents ↑
4 latest web development trends and predictions
1. Programmatic Advertising
Programmatic advertising is the type of ad-selling and buying process that relies on automation instead of direct negotiations. The use of software in the ad-buying process speeds up ad placement and connects millions of publishers and advertisers without direct interaction. It also allows advertisers to buy multiple ad spots simultaneously.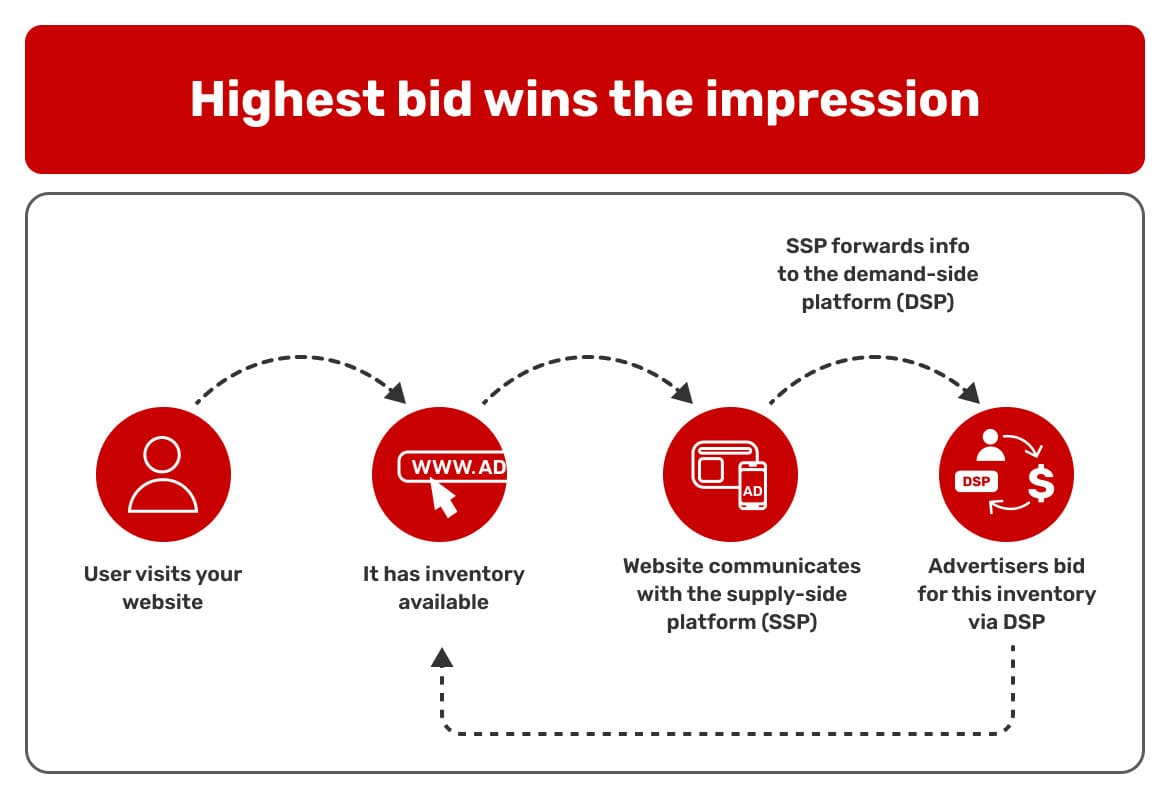 Research shows that the next five years will be very good for the field. By 2025, total spending will have reached $29.8 billion.
The following advertising trends will define programmatic ads in 2023:
Even more personalization. Ad networks use data about demographics and user behavior to serve relevant ads. AI will give advertisers more and better insights, making ad placements more valuable.
Security. Traffic manipulation and apps that make people click are real problems. But advertisers will benefit from new rules that make it harder for publishers to enter the inventory distribution system.
To Contents ↑
2. User-friendly push ads
Innovations on iOS and Dynamic Island have inspired the need for more innovative in-page push designs. Not everyone has an iPhone 14 yet, but they're surely a touchstone for many users and marketers, and people who are used to personalized and gamified communication with push notifications will want display ads that inherit user patterns applied to Apple's new push notification designs.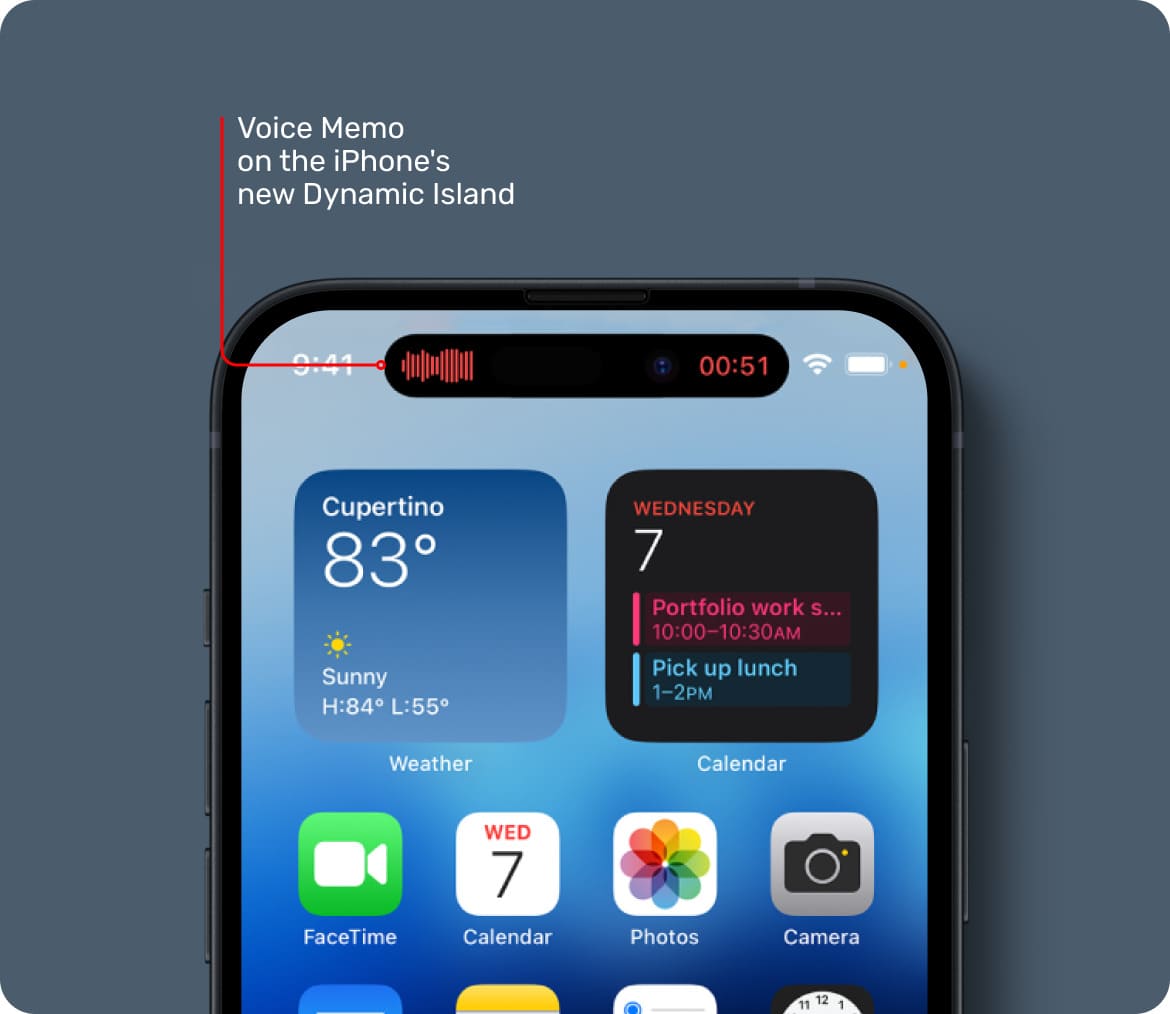 Apple's TrueDepth camera system blends and changes in real-time to show alerts, notifications, and activities. It does this by using the pill-shaped cutout at the top of the iPhone's screen and making it part of the core iPhone experience.
In-Page Push ads have always dealt with the ad blindness problem. They also have dealt with ad blockers on iOS. If you advertise worldwide, you should try this ad type at least for its great CTRs of up to 30%.
To Contents ↑
3. Geofencing
Geofencing is a fascinating technology that enables your store on the street (or in a shopping mall) to interact with potential customers nearby. Mobile technologies have one significant advantage for retail companies: user location-based marketing.
Simply put, this is a specific area (zone) centered on a point on the city map, the entrance or exit of which causes the mobile application to perform particular actions. Instead of putting beacons inside the store, advertisers can put them outside so that people walking by can get personalized messages on their devices. For instance, a restaurant can send a message about the day's specials. Apple iOS (iPhone) and Google Android (version 2.2 and higher) support geofencing.
To Contents ↑
4. IoT advertising
Internet of Things, often shortened to "IoT," refers to physical objects with sensors, software, processing power, and other technologies that allow them to connect and share data with other devices and systems over the internet.
IoT devices tell marketers about the people who use them and let them reach the right person at the right time with the relevant message. This helps users get content that is more relevant to them and improves their customer experience.
5 latest social media trends and predictions
1. Interactive ad formats
Interactive ads are replacing ordinary static banners offering new experiences and engaging users. These ads can gamify the shopping experience, conduct surveys, or help you immerse even video game trailers right on a publisher's website. When users can enjoy a neat OS-friendly widget or tap a vibrating chat icon with a smiling girl, why will they ever look at banner ads afterward?
Adsterra Social Bar, an advanced combo of In-Page Push and display formats, compels users to use TikTok-like or Instagram-like notifications, chat heads, stories, and many other sticky visuals.
To Contents ↑
2. Shoppable posts
It's now common and will be almost mandatory to have a link to your shop in your bio or even advertise a specific product/service in your Instagram stories. Instagram, Pinterest, and Facebook have all introduced shoppable posts, making it easier for retailers to sell via social media. Instagram's Shoppable Posts let users see, love, and buy products without leaving your post.
On the bright side, you can reach new customers, lower purchase barriers, and shorten the sales funnel. To create shoppable posts, you must first create a business account. It must be linked to your Facebook profile and product catalog.
To Contents ↑
3. Messaging apps
1.3 billion people use Facebook Messenger every month, and around 10 billion messages are sent between individuals and businesses. People want the convenience of shopping and service from home and the speed of face-to-face interaction. Social media messaging apps can provide that quick service.
To improve customer service and satisfaction, you should set up more communication channels, including WhatsApp, Facebook Messenger, and Telegram. Make communication convenient and personalized for your customers.
Install FB messenger's widgets or plugins on your site so shoppers can contact you directly. Enable chat only when someone is available. If no one answers, leave an away message telling customers when you'll respond and directing them to another way to contact you.
To Contents ↑
4. Stories
Almost every app has stories now, even food delivery apps. Stories are great for showcasing products, events, and even behind-the-scenes.
You can also add value to your Stories:
Find user-generated content tagged with your brand and repost it to your Stories.
Use polls, Q&As, and quizzes to engage viewers with your content.
Make simple animations and videos of your product in action.
5. Influencer marketing
Nowadays, influencers include YouTubers, TikTokers, and even successful dog trainers; they don't have to be famous or local heroes. You can partner with people with substantial social media followings on new platforms and observe the results. You might benefit more from a small but dedicated audience than a large but disconnected audience.
Your values must also match the influencer's to ensure that your message and mission are properly communicated and that you are working towards the same goal.
11 latest web development trends and predictions
1. Mobile-first websites
With the rapid decline in desktop usage and the dominance of smartphones for internet browsing, more websites are being built with a mobile-first approach.
This means that when a website is designed, it is rendered for the smallest screen to provide the best experience for mobile users, optimizing features that make mobile use easier. These features include small navigation menus, touchscreen-friendly button placements, less text- content, and collapsible menus.
So if your website receives more than 40% of its traffic from smartphones and mobile devices, or if your analytics show a steady increase in mobile traffic, mobile-first design is the right choice.
To Contents ↑
2. Gamifications
Consider the McDonald's Monopoly game from the pre-digital era: buy a Big Mac, collect game pieces, and win prizes. Simple but highly effective marketing strategy. Gamification is still a relevant digital marketing trend. Examples include the wheel of fortune or completing a puzzle to get a discount. A website scavenger hunt also encourages visitors to scan each page and look for hidden items to earn prizes (discounts, free downloads, etc.). You can include games in your ads to increase brand awareness and user engagement.
Adding interactive features to your website is a great way to engage visitors and learn more about them. You can add quizzes and tests, surveys, calculators, etc.
To Contents ↑
3. 5G network & advertising
People have been used to sites and apps taking four to five seconds to load for a long time. Now that new 5G networks have cut latency by 80%, consumers can get ads almost instantly, which sets a high bar for brands.
Since 5G content can be delivered in less than two milliseconds, these realities are starting to feel even more real. For example, when it comes to ads, brands can now use VR to give customers 360-degree views of their products from the comfort of their phones. Consumers can even put a product in the room with them and try it out, all from the comfort of their phones.
To Contents ↑
4. Infomercial chatbots
This involves using a training program to make a chatbot, such as on Facebook or Telegram. Subscribers watch lessons, take tests, do tasks, and get a certificate when they are done. They are also offered the services of the company that started the course, a discount on all popular courses, or a discounted annual subscription. Plus, it is a source of leads who are loyal.
People still want to enjoy online shopping convenience and get personal, accessible customer service. Chatbots use the same AI as voice search and smart assistants to communicate with website visitors. The AI collects additional data to learn more about customers, provide recommendations, answer questions, and create a unique experience.
Chatbots can help small and medium businesses provide better customer service by providing 24-hour service, vital information, and answers to questions. By 2023, chatbots will have saved companies over $11 billion (Juniper Research).
To Contents ↑
5. Challenges
Challenges aren't just something big IT companies do to get their employees together. Hackathons and other mind games give the best and most creative people a chance to show what they can do. Customers and business partners can also show what they can do and get rewarded for it. Last Christmas, Adsterra held a profits marathon. And on Independence Day 2022 in our home country — Cyprus — we held a challenge.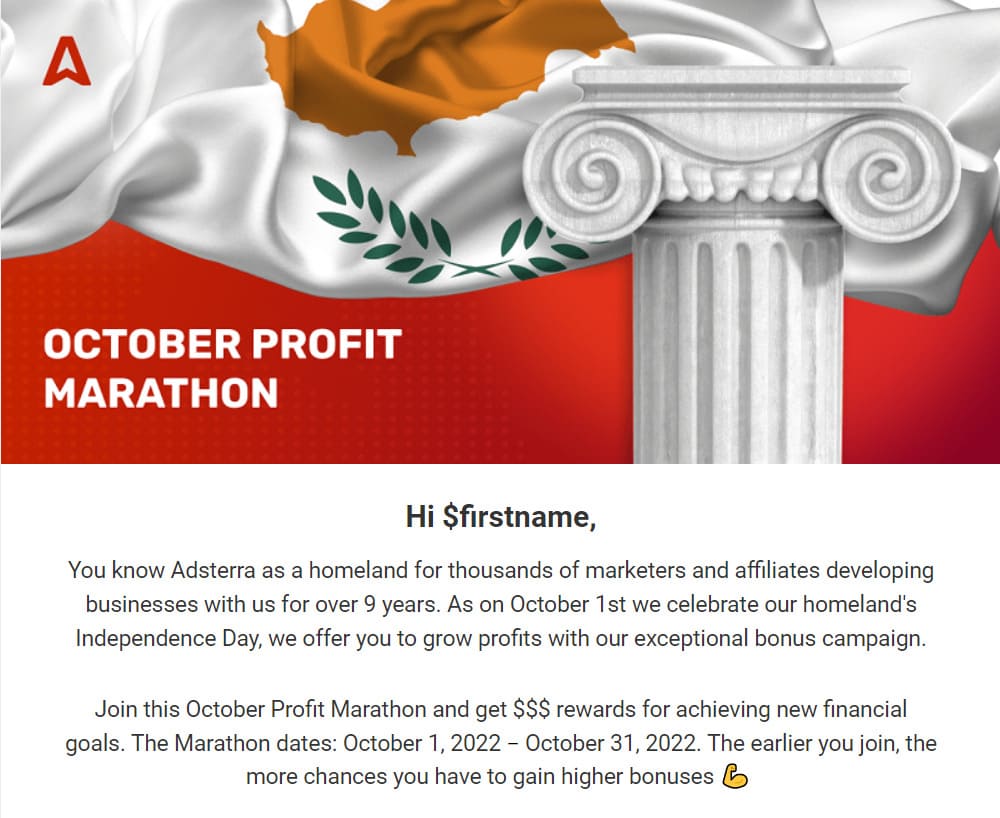 To Contents ↑
6. Artificial intelligence in digital marketing
Artificial intelligence (AI) has led to more intuitive reporting and automating of mundane tasks like site traffic monitoring and CRO. As AI improves, it'll progress from automated tasks and campaigns to predicting what customers want next. AI can analyze customer behavior and purchase history using large data sets to help advertisers recommend a specific item, offer or personalize ads.
This type of targeting will result in high conversion rates and give the impression that you understand your customers' needs without being intrusive or overwhelming them with irrelevant offers.
AI can also help you write copy for ads on any platform. It can automate routine marketing processes such as email scheduling and delivery, as well as campaign performance prediction. It also goes a step further by tailoring experiences for both marketers and customers.
To Contents ↑
7. AR and VR
Brands use VR and AR technology to give tours of facilities, walk users through their creative processes, and show off their products with interactive 3D models. As AR/VR technology becomes more widely available, even small businesses will implement them.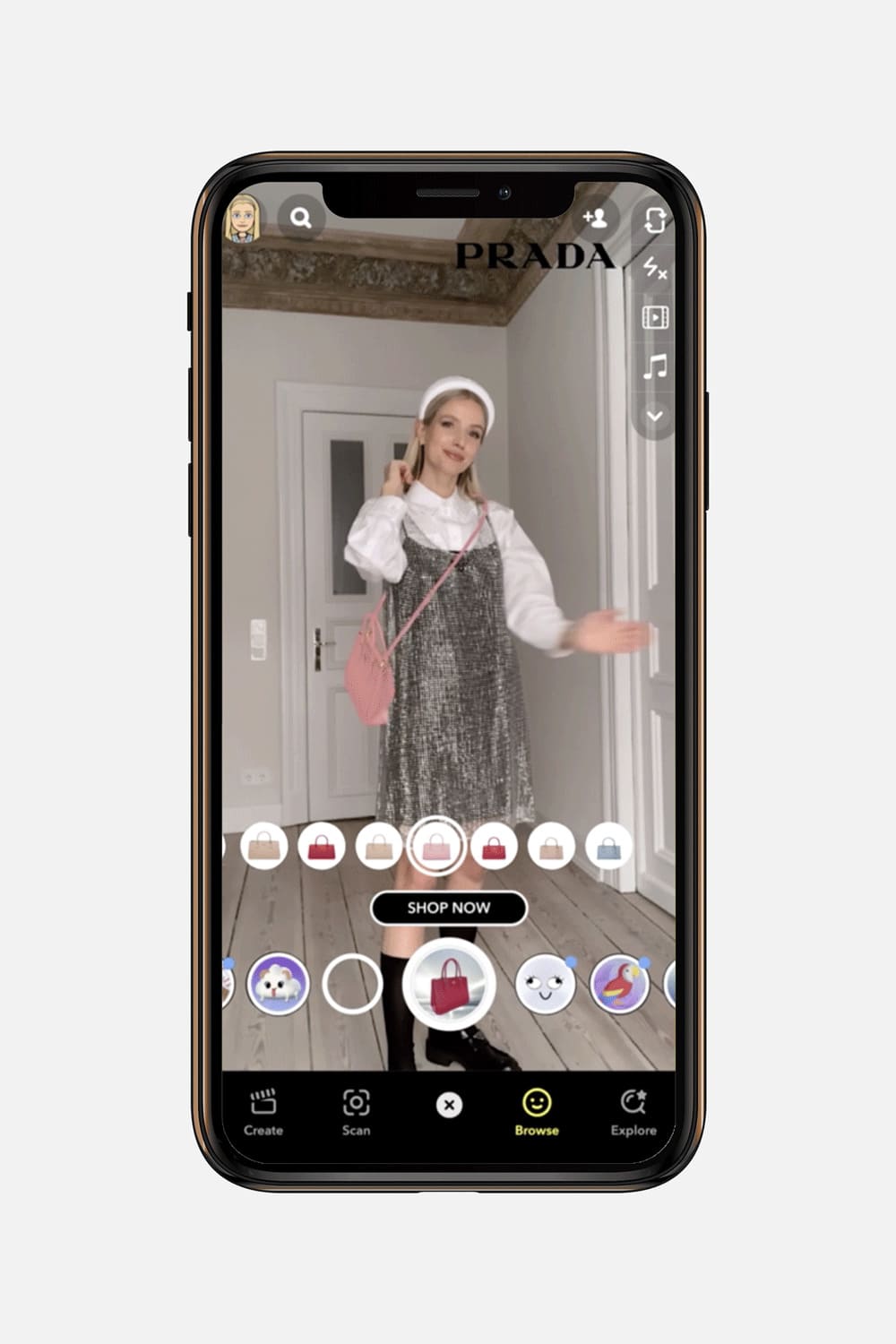 In an effort to entice online fashion and beauty brands away from Instagram and Facebook, Snapchat is expanding its virtual try-on and augmented reality shopping capabilities a year after it first tested the technology with augmented reality shoe fittings.
To Contents ↑
8. RankBrain Algorithm
RankBrain is a component of Google's core algorithm that uses advanced machine learning to process search queries and determine the most relevant result. In addition to high-quality content, RankBrain considers shorter keyword phrases, average time on site, and conversion rates. So to what extent does it affect your SEO strategy? 
Because RankBrain is more concerned with studying and mapping out user queries than with ranking sites, you won't have to make any changes to your current strategy.
Best practices remain best practices, and there are no new ranking variables to learn and use. Ambiguous long-tail terms are the primary targets here, so if your strategy is centered on long-tail keywords, you may notice a minor drop in overall rankings (or a small boost, depending on the queries). But that's nothing to worry about, and it doesn't need any big modifications to your current strategy.
To Contents ↑
9. Personalized content
From calls to action to landing page copy, your content must target the exact customer you're trying to reach. Buyer personas can help you create content that speaks directly to each customer segment, increasing engagement and loyalty while increasing your company's sales and conversions. So, what's the best way to make personalized content?
Integrate your CRM software, like HubSpot, with your CMS or website to start segmenting your customers and leads. Simply using a customer's name in an email or their location to send targeted emails (such as weather, national holidays, or sporting events) can help you build a connection.
88% of marketers in the US saw measurable results after implementing personalization strategies, with more than half reporting an increase of more than 10%.
To Contents ↑
10. Video marketing
Videos have become the most popular content type. They increase engagement, and customers love them. With videos, you can promote new and old products, and it has one of the highest conversion rates.
Videos are being embedded into emails to make them more personalized, share information faster, and avoid text drowning. Videos in emails get 8x more clicks than regular emails.
More than text or pictures can convey, product videos give customers a better sense of scale and specifications. You can advertise with Adsterra's Social Bar video ad format and reap the benefits of video without having to reprogram your website or landing pages.
To Contents ↑
11. Progressive web apps
Progressive web apps (PWAs) strike an excellent balance between an app's streamlined experience and a website's more comprehensive experience. In essence, they're like websites with the functionality of an app. You can use them offline, get fast load times and receive push notifications. Digital marketers can expect PWAs to become more common as the number of smartphone users will reach 7.5 billion by 2027.
To Contents ↑
Conclusion
These digital marketing ideas can help brands and businesses reshape their communication with customers, embrace up-and-coming ad formats, and outperform their competition. It's only a matter of time before these trends become mainstream. Getting quality, targeted traffic will become the most important thing in 2023. But while good organic traffic requires a lot of SEO efforts and time, you can quickly get paid targeted at Adsterra and achieve your business goals faster.