If you're thinking of moving your business online or having an online presence, you need a domain name. The good news is that you don't have to buy one immediately. In this article, we explore how to get a free domain name.
Content
Other methods to get a free website domain
Cheap domain name registrars
Frequently Asked Questions
Conclusion
By definition, a website domain name is an address that people type into their browser's URL bar to visit the website. You can think of a domain name as a physical address if your website was a house or an apartment.
There are several ways of getting a free domain name and we'll walk you through the processes.
Getting a free domain name with Bluehost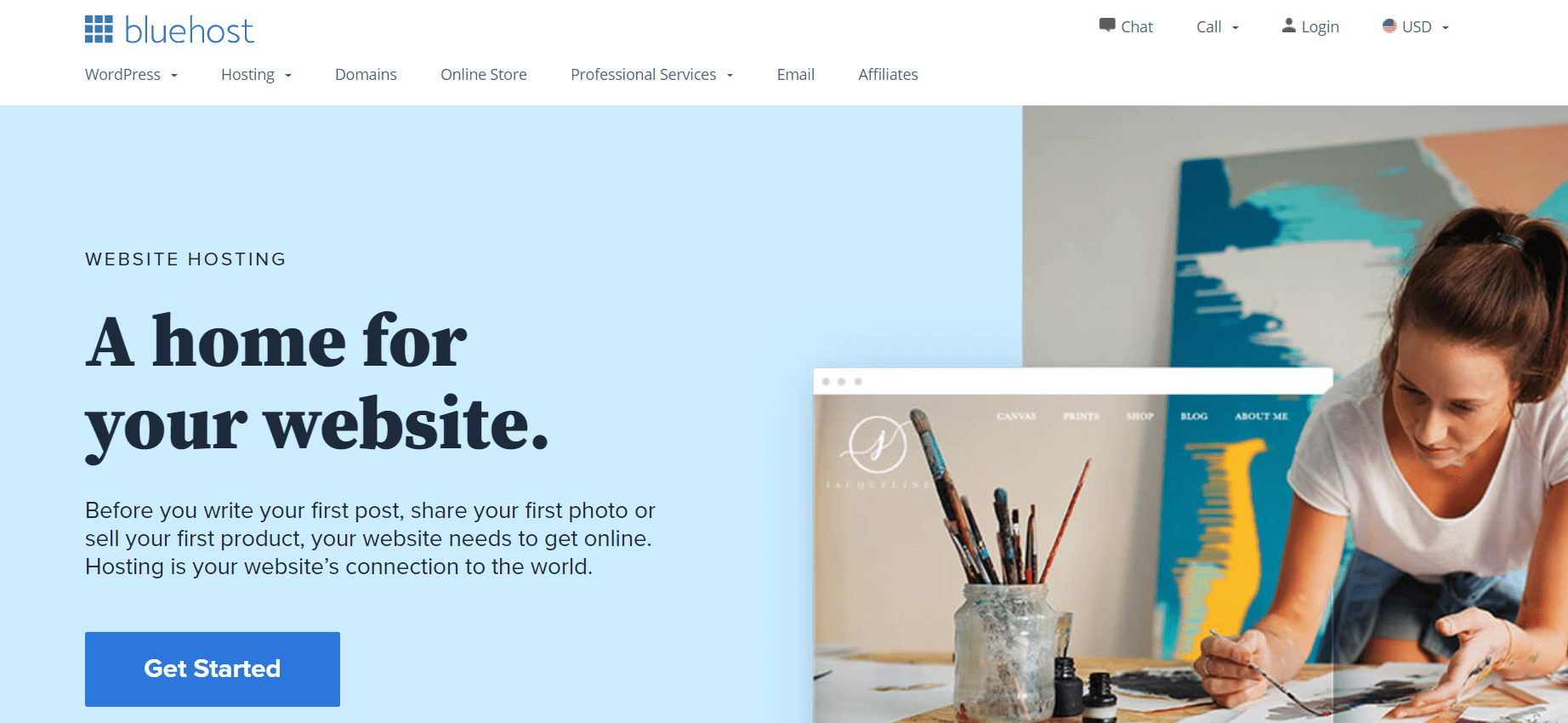 Your first option is hosting your website with services like Bluehost. Some other web hosting services offer a free domain name if you host your website with them. In practice, the domain name cost is deducted from the hosting fee.
Some web hosting platforms or website builders will offer you a free domain name in exchange for displaying ads on your website. And other services will give you a free domain name in exchange for selling your data to advertisers.
Now if you're planning to make money on your website, then you'll probably want to place profitable ad formats like in-page push (Social Bar) or native banners in blog posts. So your first option —hosting with Bluehost — is the most viable.
Here's why.
When you're building a website, you'll almost certainly have to pay for web hosting. Even though some free web hosting companies are out there, you should avoid them at all costs. We previously discussed web hosting services in depth.
In a nutshell, choosing a good hosting will make it easier to expand your website, provide a positive user experience, and prevent problems. So, if you're going to pay $5 per month for Bluehost (or any other hosting company of your choice), you might as well get a free domain name.
What if you want to switch hosting providers?
You must be the sole owner of your domain name. If you don't have complete control over it, you could be in for some problems in the future. With Bluehost, you can transfer your domain name or simply point it elsewhere if you're dissatisfied with their hosting service. This way, you retain sole ownership of your domain until the end of its registration period.
Starting with Bluehost
If you want to learn how to set up your website on Bluehost, we've written a step-by-step guide here. The very first thing you should do is visit Bluehost's website. Then choose Hosting from the top menu bar.
1. Select a web hosting option
Bluehost provides three different hosting options: shared hosting, dedicated hosting, and virtual private server hosting.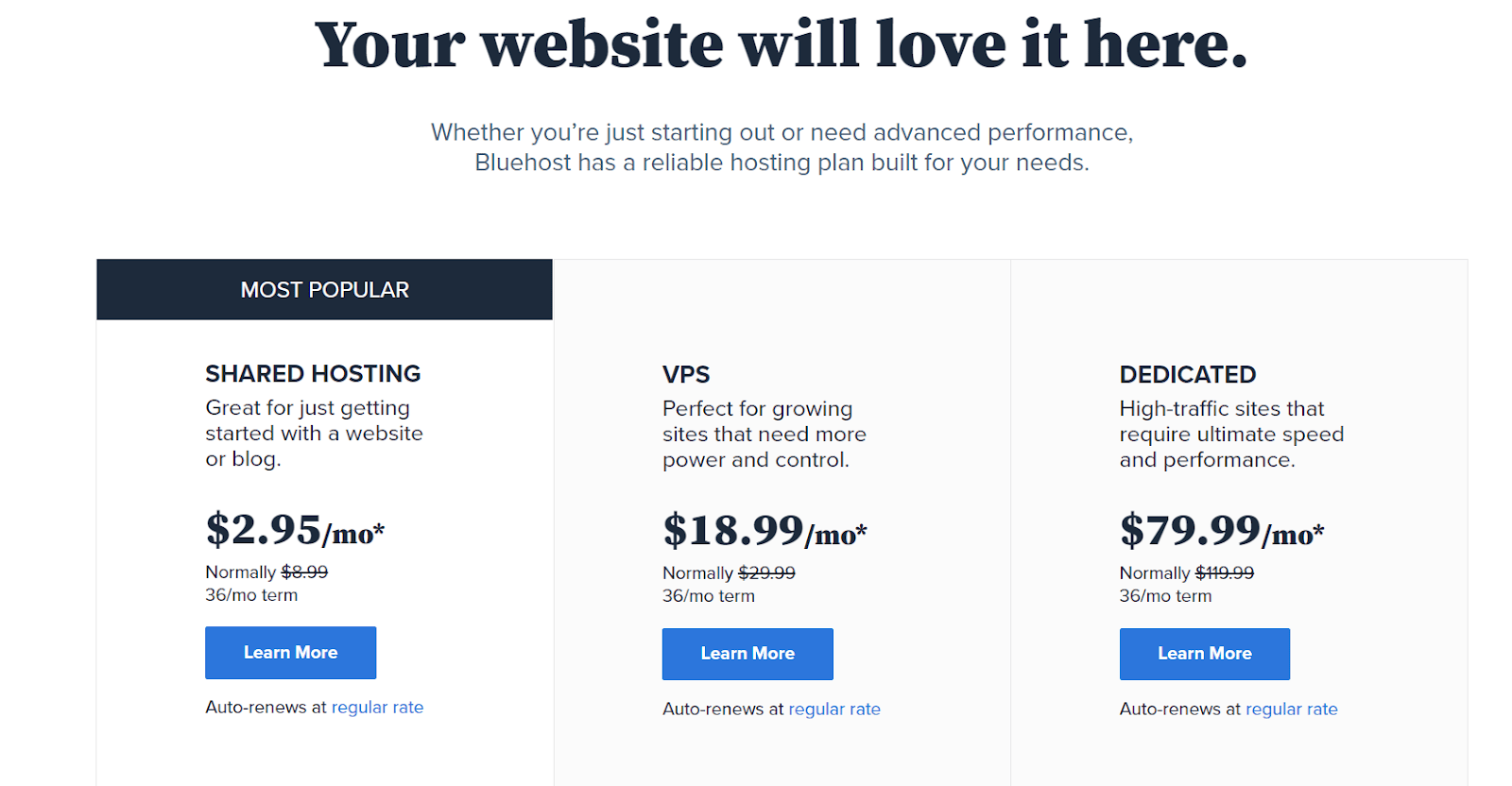 Shared Hosting
If you're a beginner, we recommend starting with shared hosting. Not only are the plans in this category inexpensive, but they can also effectively meet the demands of low-traffic websites.
Shared Hosting makes it possible for multiple websites to share server resources. This is the primary reason for its low cost, but it can also lead to slow loading times and performance issues.
This hosting option is ideal for website owners who do not expect much traffic and have little technical knowledge.
Virtual Private Server (VPS) Hosting
Virtual private service hosting offers plans for website owners that require improved performance and can afford a higher price tag.
The advantage of this hosting option is that it provides exclusive access to valuable resources. Although you share a server with other websites, you have a "virtual" server with dedicated resources.
If you expect spikes in visitor volumes, we recommend choosing this hosting option.
Dedicated Hosting
Dedicated hosting gives you access to an entire server dedicated to your website. This hosting plan provides superior performance at a premium price.
It is ideal for large companies that deal with a lot of traffic on a daily basis. It's also the best option for those who want total control over their hosting environment.
However, you get a free domain with any of the above hosting options.
2. Choose a web hosting subscription plan
You can pick from four paid web hosting plans: Basic, Plus, Choice Plus, and Pro.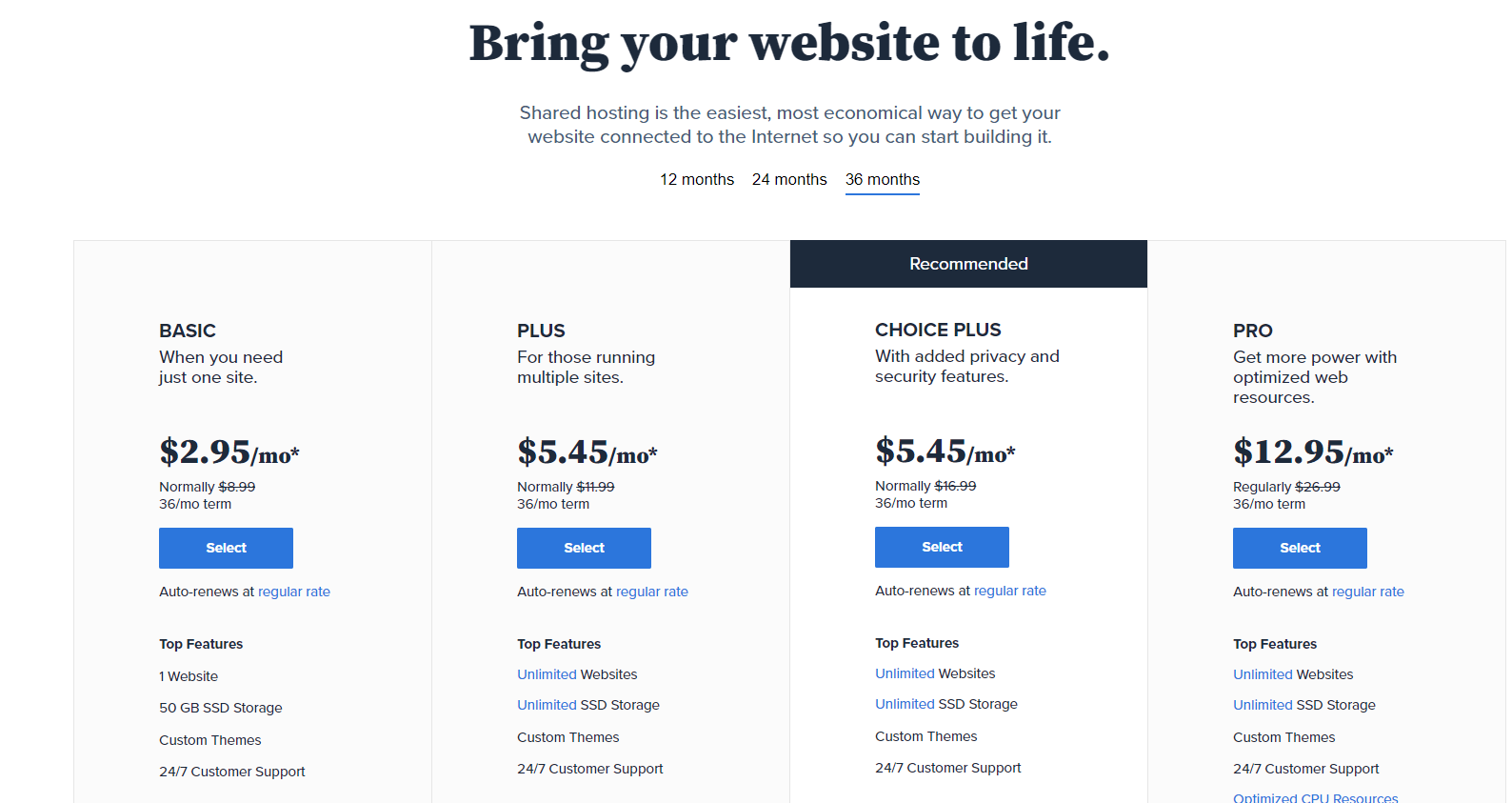 We recommend starting with the Basic entry-level plan because it is less expensive and better suited to beginners. It's very cost-effective, with monthly plans starting at just $2.95. Also, If you're getting this price, you should pay three years in advance to save costs in the long run.
If you intend to launch a larger website for your business, get the Choice Plus plan. The extra features are worth the additional cost. Click Select under the plan you decide to go with.
3. Choose a domain name
Bluehost then asks you to set up your domain after you've chosen a subscription plan. You'll have two choices at this point:
Choose a new domain name.
Enter an existing domain name.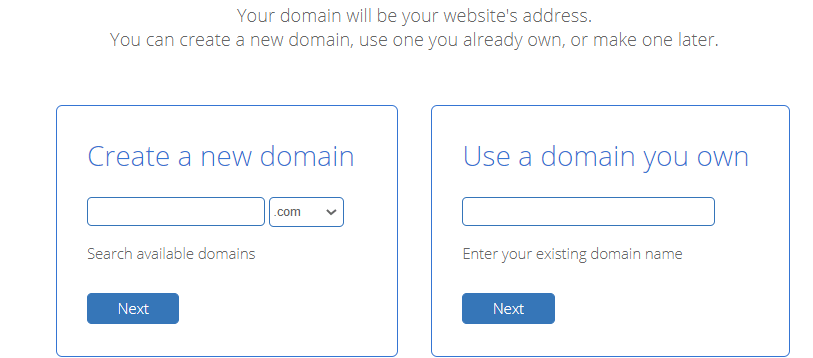 Select the Create a new domain option to search for available domains.
Choose a TLD (top-level domain) extension and enter the domain you want to buy into the search bar. Here are some of your options:
.com
.net
.org
.info
.co
.us
We recommend going with a .com extension because it looks more professional and makes you appear more trustworthy to your visitors.
You can always choose a different extension if the .com extension is already taken and you're firm on your preferred domain name.
Also, alternative domain extensions are often cheaper than their .com counterparts. However, the extra cost of a .com extension is sometimes justified.
4. Create your account
Now you have to create your Bluehost account and finalize your plan terms after choosing a domain name.
Package Extras: Pay close attention to the section on Package Extras. You don't need everything you see, but the Domain Privacy+ Protection option is a must-have.
This option prevents your name, email, phone number, and address from appearing on public databases. We think that the $0.99 monthly fee is well worth it to keep hackers at bay!
And that's it! You now have a great hosting plan and a free domain name.
Other methods to get a free website domain
Get a free subdomain
A subdomain is a domain that exists within an established domain name. Most website builders like Wix, Squarespace, Weebly, and Shopify offer subdomains. They also offer free trials, with the option to purchase their premium plans – which includes everything you need to build, launch, and manage a professional website.
You also get a free domain name as part of the package, including a drag-and-drop site builder, web hosting, templates, and search engine optimization (SEO) tools.
The Downsides of Subdomains
Let's take a look at an example. When using a free website builder such as Wix, with a free subdomain, it will look like this: example.wixsite.com/example
Let's assume our Wix username is "AdsterraRocks" and our desired domain name is Adsterra. Here's what we'll get: https://adsterrarocks.wixsite.com/adsterra
We recommend this method only if you want to try out some of your website builder's free features or new updates. You can go with other options like Hostinger and WordPress — they're less intrusive than Wix. A free WordPress subdomain is formatted as adsterra.wordpress.com.
This is a good option when you can't afford a domain name yet, but it's not a long-term solution. Your domain name must be short and memorable, and this is impossible to achieve with a subdomain.
Pay for a premium site builder plan
You may not have to settle for the free subdomain if you build your website with Wix (or Squarespace, Weebly, or other website builders).
However, you'll have to upgrade to a paid plan, and most website builders offer a free domain name for only one year. Fortunately, Wix's ($14/month) and Squarespace's ($12/month) entry-level paid plans offer free domain names.
It's up to you to calculate your domain renewal cost. You don't want to be stuck with a bad deal that consumes your budget and ends up being more expensive than just buying a domain from the start.
Subscribe to domain registrar ad programs
Some domain registrars offer free domain names in exchange for running ads on your website. Although there is nothing illegal with having ads on your website, you'll not have control over the ads and their placements.
Most times, this practice significantly degrades a website's user experience and its SEO ranking. Even if a million users visit your website, all revenue from the ads will go to the domain registrar. Obviously, this is a terrible deal for any publisher or webmaster.
Cheap domain name registrars
If you're still undecided on BlueHost, you can still buy a domain name for cheap from some good domain registrars. We've listed some ICANN-accredited domain registrars — the Internet Corporation for Assigned Names and Numbers (ICANN) has permitted these companies to register domain names.
Domain.com offers several services, but they focus on domain sales. They're one of the best and oldest domain registrars out there.
Domain.com also provides web hosting services, as well as a custom website builder. But we strongly advise against them; you can find better hosting and website building services elsewhere.
Pricing:
.com – $9.99
.co – $6.99
.net – $12.99
When it comes to price and customer support, Namecheap is one of the best domain registrars. When you buy a .com domain from Namecheap, you'll get a free WhoisGuard privacy protection service.
What is WhoisGuard?
Spammers and hackers collect information about domain owners from publicly available WHOIS to send spam to their emails or find a loophole to hack their websites. WhoisGuard prevents this by hiding your data and putting theirs in place of yours on the WHOIS registry.
Pricing:
.com – $12.98 (on sale at $8.88)
.co – $25.98
.net – $12.98
Hover is a new domain registrar that claims to be the place "where the internet's best ideas get named." That claim is subjective, but Hover's appeal is undeniable: they are a simple company that excels at one thing: selling domains and associated email accounts.
Pricing:
.com – $12.99
.org – $13.99
.net – $15.49
GoDaddy is a well-known ICANN-accredited domain registrar. With GoDaddy, you can purchase domain names in bulk and also bid for already registered domain names. Their .com prices are on the higher end of the spectrum.
Pricing:
.com – $17.99
.co – $34.99
.net – $19.99
Frequently Asked Questions
What is a domain name and how does it work?
A domain name is your website's address on the internet. For example, we are Adsterra, and our domain name is adsterra.com. Domain name extensions are letters after the dot:  .com, .co,.info, .org  and more. These extensions give a hint of what the website is about. Your customers or readers will find you quickly if you choose a domain name that is easy to remember and spell.
How do I search for a domain name?
You can search for a domain name using godaddy.com, Bluehost, or any of the domain name registrars we listed above. Simply enter your domain name idea into their search bars and see if it's available or other similar domain names.
How do I check if a domain is available?
Go to Godaddy.com to check if your domain name is available. If your ideal domain name is taken, GoDaddy gives you the option to get it by contacting the owner and negotiating on your behalf.
Although they provide other alternatives, we do not recommend taking this route. You'll be competing with an already existing website with the same name, which is bad for business.
How do I get a free domain name?
Here are the best ways to get a free domain name:
– Getting a free domain name by hosting with Bluehost.
– Getting a free subdomain from a website builder.
– Paying for a Premium Site Builder Plan.
– Going with Domain Registrar Ad Programs.
How to choose a domain name?
Choose a domain name that contains your brand name. Ideally, you'd choose yourbrand.com, but that's not always possible if the domain name has already been taken.
You could try a different TLD or get creative with your .com domain names. You can also use a Domain Name Generator to get fresh ideas if your business or startup doesn't have a name yet.
Conclusion
A good domain name adds a professional touch to your website and brand. First impressions are important, and you don't want a bad domain name to ruin yours. Your domain name should be short and very easy to remember.
You should go with the .com TLD, no matter the cost. If your ideal domain name is already taken, try using domain name generators to find better options that hint at your brand's services.