Let's face it: webmasters and publishers are challenged every day. A path to increased ad earnings can sometimes be costly (like when you buy quality web hosting). In addition, many monetization activities are time-consuming, like when you have to create a lot of content on a regular basis. We have good news! There are legitimate and proven methods for getting content for free or with little investment.
Make sure you know all of these ways to get free content and use them wisely. Before you dive into reading, let's figure out what "free website content" is and how to use it in your favor.
How to use free website content with maximum profit
You're here to grasp how to save time placing free content on your website, but we still don't recommend a simple "copy-paste" method. Why so? You need original, unique texts that Google will rank highly. The search engine won't score articles that have been used and reused many times.
Pro tips to help you get free website content
Check if the text is original. There are several plagiarism checkers to help you out. For instance, you can copy the text you like to the free Plagiarism Checker by SmallSEOTools or use its analog by Grammarly.com.

Enrich your content with that taken from free sources (if allowed). This strategy is genuinely winning: you save time on writing long-read posts, but your texts remain unique and valuable. Make sure you are allowed to slice the initial content by reading the Terms of Service.

Rewrite the content if it is allowed by its source. Yes, the most frustrating thing to hear. But fear not! You also have free rewriting tools at your service. Moreover, you have an excellent handbook for publishers who want to generate quality content faster.

Ready-made content should not outweigh your unique posts. You can get free content and paste it on your website but make sure your own articles outweigh the taken ones.

Remember to add all SEO-important elements: titles, descriptions, H1, H2, H3…headings. Make sure you include a valuable key phrase. A couple of cross-links will also invest in the overall traffic growth.
Now that we've done with recommendations for the free content usage, let's move further and find out which assets you can place on your website safely.
To Contents ↑
Which content is genuinely free and can be used safely
When dealing with someone else's copy — whether an article or a short story — you need to make sure you have the right to use it.

There are several types of content that you can place on your website. The most common are copyright-free, PLR (private label rights), and royalty-free assets.
PLR content for websites and blogs
One of the most prospective options for publishers is PLR licensing. If you see the article or an ebook marked as PLR, you can treat them as your own content: paste on your website, rewrite, mix with other pieces, and so on.

Working with copyright-free content, you won't need to attribute the authorship. However, digital ethics favor doing that).
MRR licensing
With the MRR (or master resell rights) licensing, you're not the owner of this or that piece of content, and you can't change anything in it. But you can sell and resell the product and even sell rights to other people.
Royalty-free assets
Royalty-free content is also widely used by publishers. This type is pretty tricky. As it comes from the name, you are free of royalties (recurrent payments), but you may be required to credit the author or even make an initial purchase. Some other restrictions may also be included, so read carefully before using royalty-free content.

And now you're fully equipped with the basic knowledge about how to use free content and which types of texts to grab first. So it's about time to check where to pick all those nuggets.
To Contents ↑
Where to get free website content
There are tens of sources where you can take quality articles and multimedia for free; we will name some of them so that you could start your search and discover more.
Remember to attribute authorship when taking articles from or any free content source. FREE content does not always mean copyright-free. Carefully read Terms of Use provided on every PLR website; you will sometimes be required to use the article as is with no changes, so if you want to mix several texts, you will have to rewrite the taken parts.
To Contents ↑
1. Free articles for websites and blogs
EzineArticles is one of the largest free content directories claiming to host articles by over 500K authors. It is easy to use, and you can read the whole article without registration.

What's great about EzineArticles is that you can easily copy and paste any piece of content by simply clicking on the EzinePublisher button below the text.


A quick search for "affiliate marketing" articles showed about 100K results. As said earlier, you still need to read them carefully to make sure the content suits you, and then check its uniqueness with plagiarism checkers. This directory does not allow you to change the initial articles, body, or title.

Next comes the Amazines platform, where you can find numerous articles from over 100 categories. Easily filter topics and find those texts that match your niche.

When placing an article, you will need to credit the author by placing a special Authors RESOURCE BOX after the article, and mention Amazines, too.

Another trick for Amazines: you can republish any materials if you add an article feed to your website. A block of selected posts will appear on your webpage if you place a specific script (you can generate it in seconds).

Another source of free website content is Articles Factory. You will find here about 20 categories and a lot of up-to-date articles. You can copy the whole text as it goes and place it on your blog. Restrictions are still the same: you put the copy unchanged, you mention the author and their signature, you add the article source, etc.
To Contents ↑
2. PLR content directories and websites [free and paid]
You know how and where to get free articles for your blog, so we are moving to some even more content-rich sources, the PLR directories.

PLR products may be articles, research, ebooks, slides, webinars, videos, or even online courses that you can use to boost traffic to your website, build an email subscribers list or generate leads.

IDPLR offers a variety of quality content, sales materials, graphics designs, ebooks for publishers and webmasters. About 12500 content products are available, including over 6,000 ebooks.

The platform sometimes launches a lead generation campaign, sharing files for free; you only need to register. Free membership limits you in the number of assets to download, but it's a friendly platform for a start, anyway.
PLRMines is considered to be one of the richest and refreshable content sources for publishers and webmasters. It gives access to over 4,000 ebooks, over 600 videos, graphics, website templates, and even ready-to-use affiliate websites. You can start with a free membership, but the number of products to download will be significantly fewer.

Another time-saving service is PLR Content Project which is a free-access content directory. Since it welcomes absolutely all publishers, we recommend reviewing each article or ebook you find here or using rewriting tools to make them unique.
You are free to use the content you find here as you wish:
modify texts as you need and add your authorship;
sell this content or share on any other websites;
use texts as a part of your backlink strategy;
mix with other articles, and so on.

An expert team from the U.S., Australia, Canada, and the U.K. research, select, and prepare one of the most well-known PLR platforms. Unstoppable PLR shares hundreds of ebooks on marketing, management, mindfulness, lifestyle, etc.

The platform offers you a free set of 30 PLR articles for registration. To browse all 100+ content products, you will need to buy a membership ($29 monthly). You will get local currency – credits – to download the content you find valuable.
This directory is used by lots of webmasters all over the world. What's truly remarkable is that it offers a free membership that allows you to use 728+ content products, including making money on them.
Now that we've broken down some ways to get free website content let's talk about the never-ending struggle that all publishers face — new headings and topics generation. If you're a content creator, you know that sometimes making up a catchy and SEO-rich heading is torture! You have helpful free tools for that, too! Earlier we gave a comprehensive overview of how to come up with brilliant blog topics. Now let's focus on automated tools for topic creation.
To Contents ↑
3. Free blog title and ideas generators
Neat and fast, this tool will definitely save you hours on generating your next best blog post title. SEO-friendliness is a plus. You simply enter a target keyword, and the platform offers you a list of title ideas. From the dropdown, you can choose the category of the target word:
generic term
event
product/brand
industry
location
skill
person's name
That's a helpful tool that offers you tens of proven blog title formulas and helps kill the writer's block. You simply add your topic and keywords to make up a lovely heading.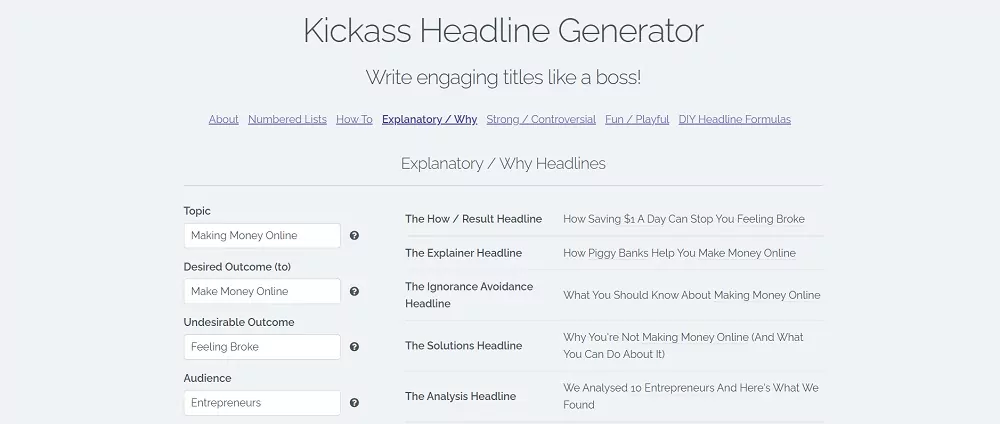 As they call themselves, a "kickass headline generator" is a genuine helper for those who want to create playful and hooking blog titles. You are offered to fill out necessary fields for the topic itself, the result your readers will get, the undesirable outcome, and the target audience. The tool will generate free blog titles using potent formulas:
numbered lists
how-to headline
explanatory/why titles
strong/controversial headlines
playful and fun topics
DIY formulas.
Blog Topic Generator by HubSpot has won the hearts of millions of marketers and publishers. You just type in several key phrases, and the platform generates free blog titles. Five in a row are available right after you press Enter. To get 250+ more, you will need to register.
To Contents ↑
Wrapping up: free website content can pay off well
As an online entrepreneur, you will always need to balance quality, speed, and efficiency. Perfection is good, but only when it returns a profit. So don't let the content creation return you misery, and use all possible legitimate ways to curate and produce valuable articles. You can get free website content and use it as a starting point, or try some PLR ebooks as lead magnets for your email list building.
May organic traffic flow while profits grow. Stay with Adsterra for more insightful posts and remember to make money on your website content with highly paid ads!