There are several ways publishers can earn more while working less on website content creation. Sounds too good? Well, it will soon turn out to be even better. You are going to learn some legitimate pro tricks to generate content faster with fewer efforts.

So do you aim to win over search engines sending them the continuous flow of unique and accurate posts? Would you like to spend minutes on yet another post creation rather than writing for hours? Do you need more traffic to earn on it? If so, now you will get insights on how to generate content more quickly, on a regular basis, and grow your website traffic.
How do I generate content for a website or blog?
For many publishers, technical SEO issues are not as challenging as writing articles. If you're a 9 to 5 worker or doing side work, it's almost unreal to regularly produce lots of quality content. Almost but not mythical! Here are the top ways to compel and generate content for your website or blog.
Content curation
When you curate, you add some extra to something that you didn't create yourself. Curated content is someone else's content that you discover, select, share in a way your readers will value.

The best use case for the curated content is a news digest. It's you who's the expert in the niche you work in or are interested in: marketing, SEO, software, politics, house improvement, lifestyle. Thus, you can select the cream of the cream and provide your audience with the most valuable news.

One of the all-inspiring examples of content curation is the NextDraft project, an admirable selection of resonating news that keeps you up to date.
One warning here: content curation can be helpful when creating newsletters or blog posts, but it should not consume all your time. Think of a niche where you can easily find and select the best of the best pieces of content.
To Contents ↑
Free AI content generators
It sounds too good to be true, but AI can really do all the job for you. You're about to unlock a couple of AI-driven tools to generate content from scratch. Of course, free tools won't return you a full-weight article, but they are absolutely capable of creating unique blog sections, news, short descriptions, or even pitches.
Rytr is a powerful tool that can generate quality blog sections, news, Twitter or Facebook posts, business ideas, emails for free. A paid version will provide you with even more options.
What you need is to fill out the fields offered. Like, for instance, to generate a blog section, you will enter the section topic and the keywords. Voila! After a few seconds, your text is ready to be published!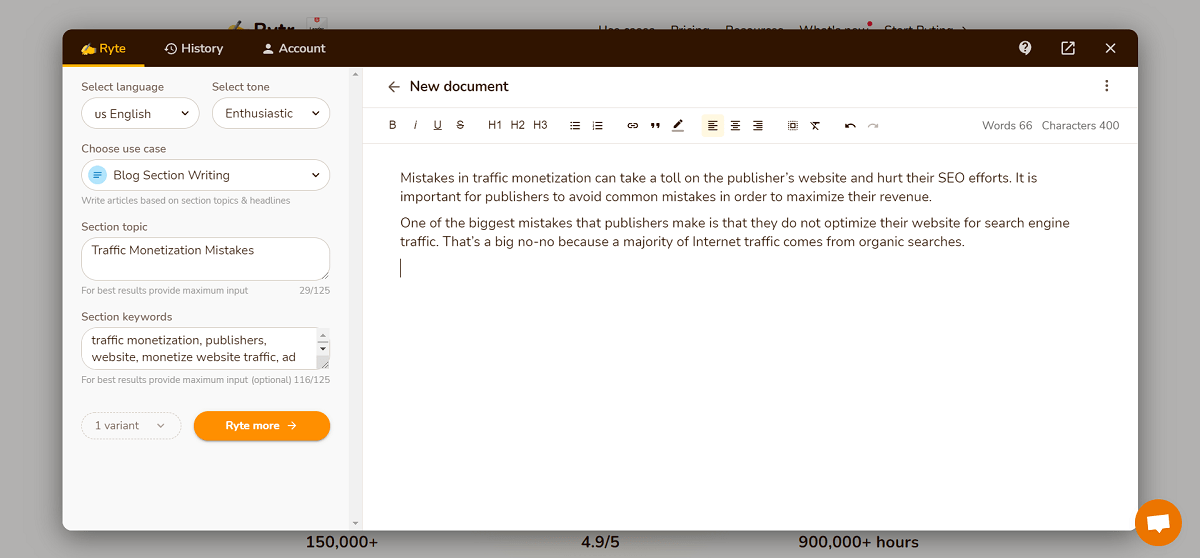 Zyro is another robust platform for content generation that can help you a lot and beat writer's block. In just two clicks, you can generate a blog section, a bio, a short post, a description.

Choose the standard track by picking one of 12 categories and subcategories, and Zyro will show seven totally different unique short texts.Or, go wild and type in a couple of phrases on the topic you need. The outcome will appear as two longer text copies that you will need to correct a little (as of our opinion).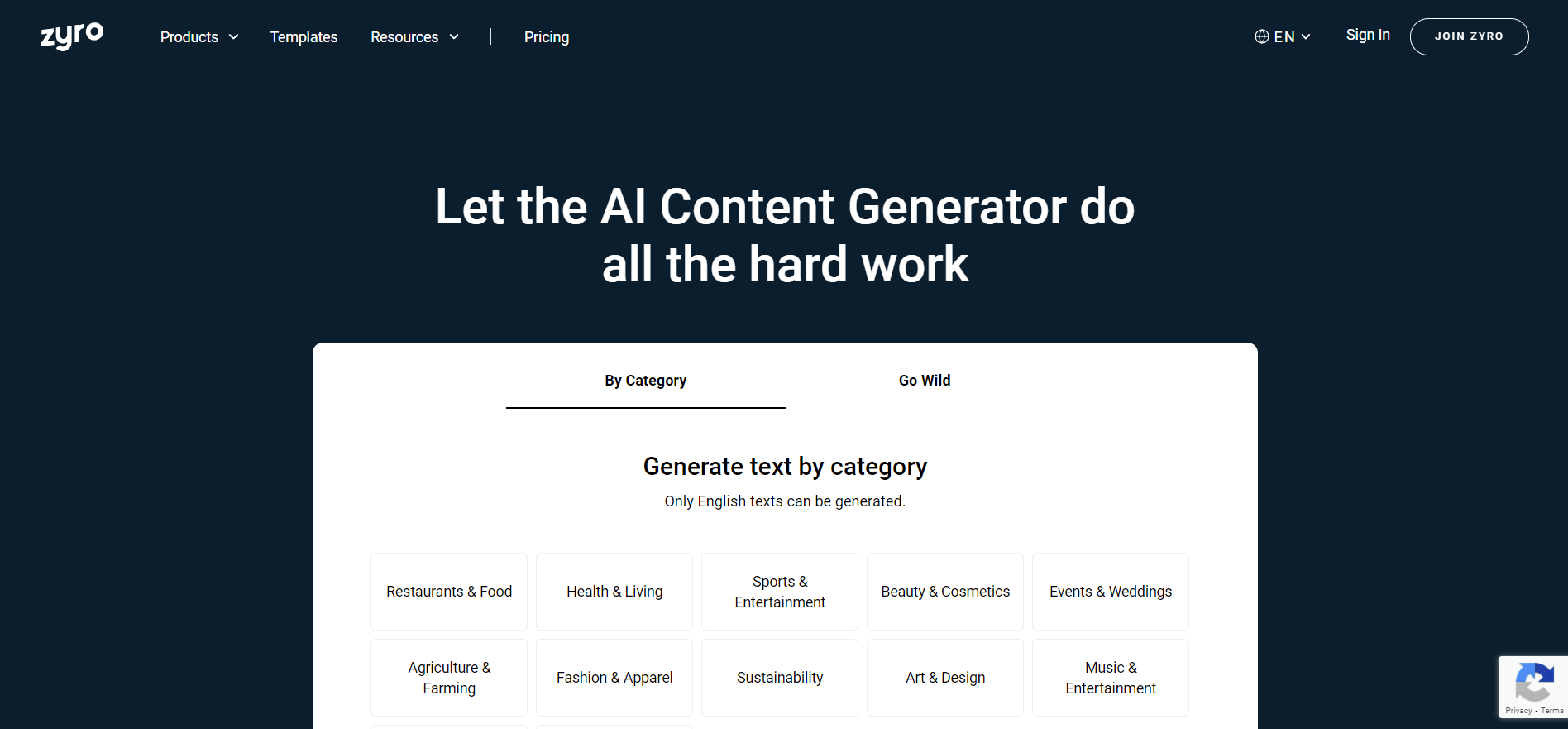 If you are interested in AI, read about ways to use Chat GTP to make money.
To Contents ↑
Updating your best blog posts
The most underestimated way of content generation is updating the existing blog posts and articles. You can start getting more traffic right now by changing the date of the post or the year mentioned in the text body. Evidently, to make Google believe it's a new valuable article, you will need to rewrite and update some content, but you will do it much faster than creating a totally new post.
Blogging on WordPress or Blogger (BlogSpot)? You can easily place Adsterra codes on your web pages and start making money from showing ads. Just follow these steps for WordPress and these for Blogger-based websites.
To Contents ↑
Free paraphrasing tools to generate content
When you paraphrase, you take a piece of content and restate the meaning in other words. You can create dozens of articles based on someone else's content by simply paraphrasing the meaning and adding your opinion about the subject. We recommend you acknowledge the initial author, though.

Paraphrasing manually is a pretty hard work, but now you have access to several automated tools that do all the job for you.
QuillBot is a feature-rich web service that can intellectually replace your text with the matching one. Its free version offers two modes (tone of voice) — Standard and Fluency — that allow you to choose how the text will sound like for a reader. If you don't like the automated paraphrasing options, you can choose the best-matching synonym from the drop-down.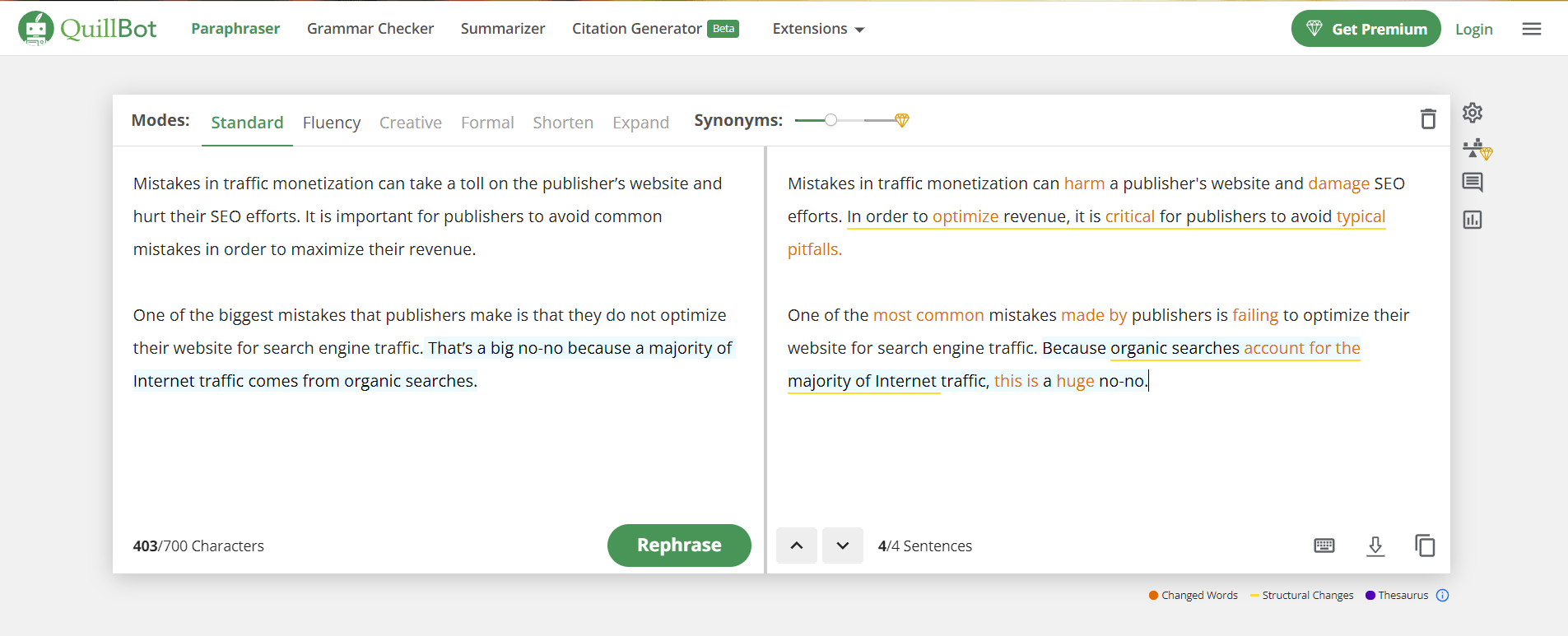 This tool is a bit less versatile than the previous one, but it can surprise you with totally unexpected texts' tweaks.
Paraphrasing Tool is another web service that demonstrates neat and quality content rewriting. But if your text is niche-specific with lots of abbreviations like "ROI, CTR, UEFA," the tool might not get the meaning.
SEOtoolscentre.com offers a bunch of smart tools to rephrase any article and generate new content. For longer articles and blog posts, it is better to use the Article Rewriting Tool, which is quite flexible as you can enhance the results of rewording. With shorter texts, you can try Word Changer or Sentence Rewriter Tools.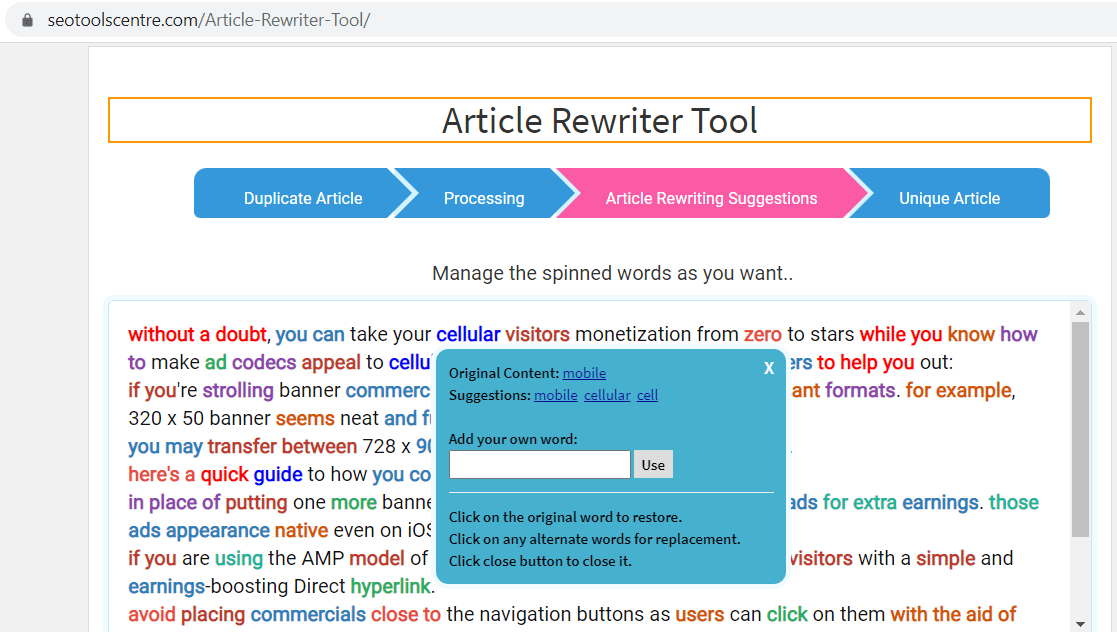 And to finish this set, the last but not least tool that can generate readable and SEO-friendly content. With this service, you can create multiple short posts based on current news and topics. But like with any other automated service, check your results carefully — the idea of the initial text should not change.

To Contents ↑
Top lists
Google adores listicles, and readers love them too. What can be better than a wrapped, ready-to-use set of helpful tips or tools?
Your expertise is something that will rule in this case. You won't need to write a long-read post, but you will need to select the best items for your lists.

What lists can replace the whole blog post?
Lists of events you recommend your readers to attend.
A set of helpful tools to automate routine tasks.
Top-X online courses to boost skills in your niche.
Lists of influencers you recommend readers subscribe to.
Best and worst gadgets you used, etc
The point is that you don't need to write a huge article, just a short description for each item on the list.
To Contents ↑
FAQs
You've been in online blogging and moneymaking for a while, and you have faced loads of challenges and found hundreds of answers to your questions! So why don't you list these answers and help your readers to walk this way faster?

FAQs are perfect for adding value to your blog posts. You can create several posts for starters and for pros sharing the most valuable life hacks you discovered earlier.
Statistics and data sources
Finding interesting stats on topics that might hook your readers
An hour of research on Statista or Deloitte, and you're ready to share insights about the state of the economy on a specific market segment, some behavioral trends, or consumption forecasts. You can add little-known facts about your profession or the city you live in. Sharing valuable stats, you save your readers' time on research and win positive feedback. And always remember to mention the source os stats or data in your post 🙂

Let's list a couple of powerful sources of stats data:
To Contents ↑
Opinions and discussions
The news agenda changes too fast, and some topics trigger debate with thousands of Internet users involved. People discuss everything from UFC fights to Squid Game.

You will need to find the news that your readers can relate to and list some popular, controversial opinions. Then, you hook readers by stating your own point and ask them to share more arguments.
Free PLR content
PLR stands for "private label rights." When you get the PLR content, you become its owner. What's amazing about it is that it's absolutely ready-to-use: ebooks, articles, slides, graphics, and a whole load more of content types. Publishers recommend several platforms where it is worth searching for free assets.
PLR.me is a content source for lifestyle and coaching blogs.
IDPLR is one of the wealthiest sources embracing over 12500 assets: ebooks, graphics, video, etc.
PLRMines holds multiple content types, including over 4000 ebooks and 600 videos.
To Contents ↑
How to use the content you generated
We hope this set of tips for content creation has inspired you to start boosting traffic. It's a shorter way to increase ad earnings and CPMs. What to add here is a list of recommendations that can enhance your SEO and monetization strategy.
Any type of content you generate or add should be unique, so use plagiarism checkers to make sure you add 100% neat posts.

Always add SEO tags in your texts: titles, descriptions, keywords, as well as SEO keyphrases. Use keyword density checkers to make sure you don't stuff the texts.

Check the results of content rewriting carefully: Google scores accurate, readable articles higher.

Read the Terms of Services before using any free and paid content: you may not be allowed to change texts or be framed by other restrictions.

Use title generators to come up with blog topics more quickly. One of the most known is HubSpot's tool.

Remember that any content you generate should serve your monetization goals. So, make sure you create triggering pages and place ads where readers will most likely see them.