There are millions of blogs on the web today, and more appear every day. Most blogs fail in the first year, and others never make it past five years. It all boils down to proper planning, good content mapping, and creating a SMART plan before starting a blog. Sow we've done the WordPress vs Blogger debate and we'll help you decide which blogging platform is better.
The good news is you're on the right path by doing the necessary research before choosing a platform. Both WP and Blogger are popular blogging platforms because they've simplified blogging for everyone. They have similar features and unique disadvantages, so we'll compare them in 11 familiar metrics.
WordPress vs Blogger: Overview
According to BuiltWith's blog technology usage statistics, WordPress is the most popular platform for bloggers. Thanks to its website-building features, many users use WP to launch companies and, of course, blogs. PS! Our website and subdomains run on WordPress. Statistics show that roughly 38% of all websites in the top one million by daily traffic are built on WordPress.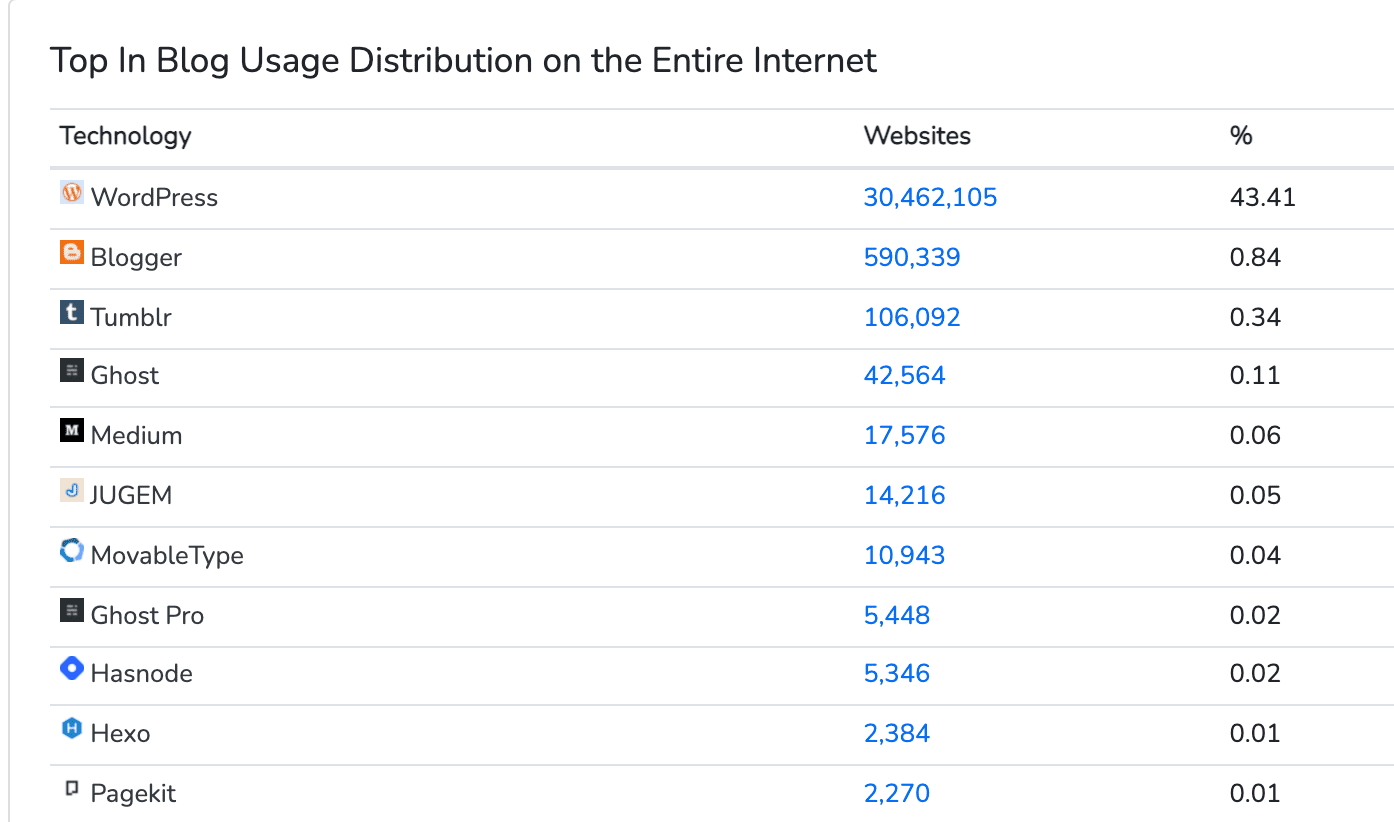 Then there's blogger, the second most used blogging platform. We all remember Neil Armstrong (the first man on the moon) and hardly recall the second guy (Buzz Aldrin). Like all situations in life, it's important to be first amongst your peers. So if you find yourself struggling to monetize your new blog, join Adsterra today, and we'll give you just what you need to boost your income cap.
To Contents ↑
WordPress
WordPress is an open-source website builder for creating any type of blog, online store, depository, casino, streaming website, and much more. You just have to download WordPress from Wordpress.org, install and set it up yourself. Luckily, we've already provided a guide for you here: How to install WordPress.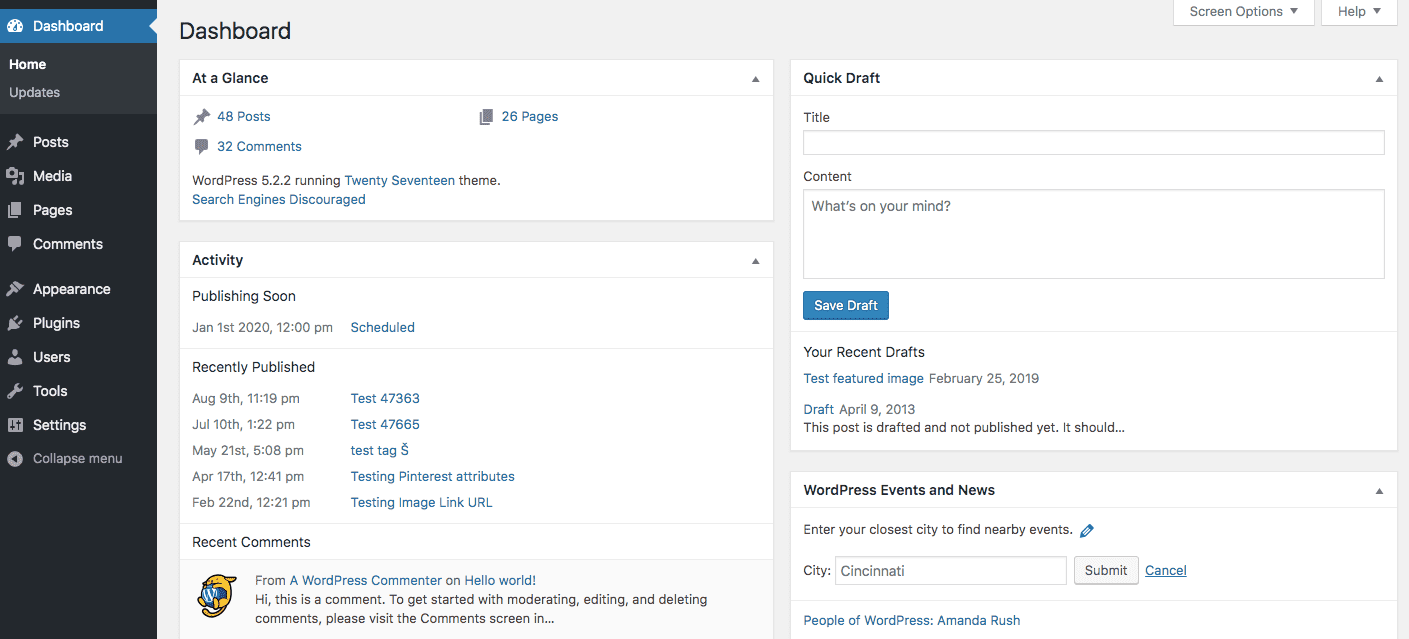 WordPress has always been and will continue to be an open-source platform. Anyone can contribute to its development, and if you know your way around coding, you can add and change things in your blog. Perhaps the most important part of creating your WP blog is selecting the appropriate WP theme. There are over 8,000 themes available on WordPress.org alone, with over 58,000 plugins available in the WordPress plugin repository.
To Contents ↑
Blogger
Blogger was released in 1999 by Pyra Labs and was subsequently purchased by Google in 2003. It's a regular run-of-the-mill blog publishing platform, providing just enough features to create and maintain a blog.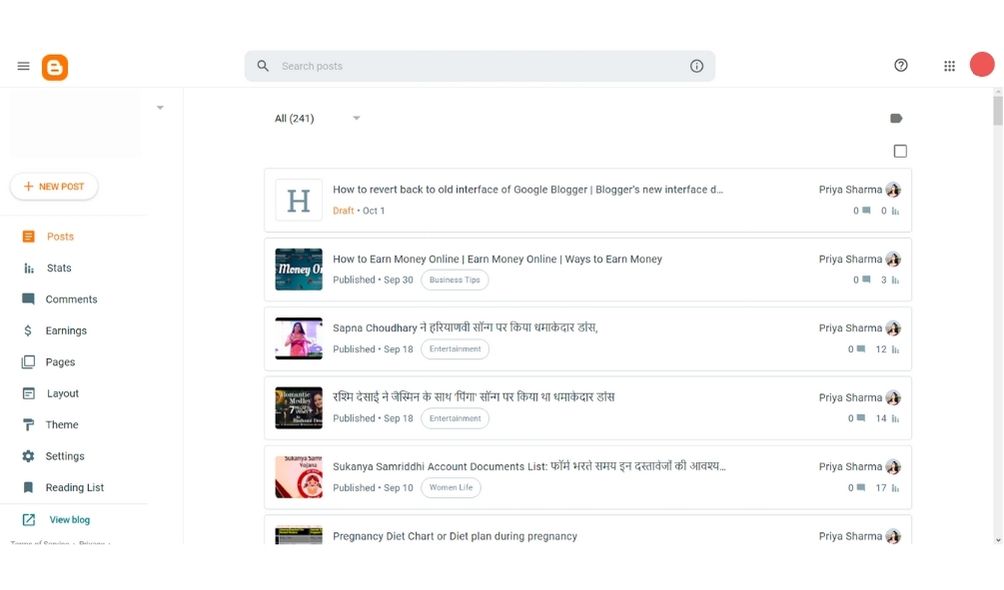 Fortunately, Google updated the platform in 2018 to keep it running, but it still pales in comparison to WordPress in many ways. Nevertheless, it has its audience who prefer the platform over WordPress, and you might be one of them. Let's dive deeper into their differences and similarities.
To Contents ↑
WordPress vs Blogger — the complete comparison
1. Data and market share
WordPress takes the cake –– 40% of all websites on the web use WordPress, and that number practically doubles when you narrow "websites" down to "blogs." Blogger's numbers aren't nearly as impressive, hovering around 1.3% of all websites. However, it doesn't mean WP is the best for you; we'll say Blogger is for the type of publisher who's racing to the market with no plans to grow.
Blogger is also popular in countries with limited internet access and infrastructure. Why? Because it's easy to use and demands little financial resources for upkeep when compared to WP.
2. Ease of use
Most people who want to start a blog aren't expert web designers; if you are, congratulations! They just want to share ideas and belong to a community. Some want to make money and become famous one day. Whatever the reason, they want a platform that's intuitive (easy to use).
WordPress
Creating a blog with WP is simple; once you're done with setting up WP. This includes selecting a WordPress blog theme and installing WordPress plugins to enhance your website's functionality.
WordPress has an intuitive block editor and some drag-and-drop page-building features. We'll say WordPress is simple, but it takes quite a lot of time (3 days) to get everything right.
Blogger
Blogger allows you to set up a blog in just minutes. You just need a Google account to sign up for Blogger. Then create a blog name, a blog address, and select a theme. Later on, you can customize its settings, change the layout, and add new posts. It's just like creating an Instagram or Facebook account: even your Grandma can set up a blog on Blogger.
3. Ownership and control
Is it your blog if you don't own 100% of it? When you own your blog, you ultimately control how you manage it, monetize it, what you post on it, who to restrict access from, and when you shut it down.
WordPress
Using WordPress means that you host your website with a third-party hosting provider. You're also not bound to a single web host: you can change web hosts at any time. The WP software you installed is yours, and no one can take it from you. You pay for your theme, so you have the right to use it as long as it's not expired.
Technically, you own all of your data when you use WordPress for your website, and you have complete control over what information you share with third parties.
Blogger
Blogger belongs to Google: a tech leader. It is free, reliable, and stuffed with just enough features to help you quickly publish your content on the internet. But you do not own it.
Google operates this platform and reserves the right to terminate it or your access to it at any time. It's just the same way Facebook, Twitter, or Instagram can ban or suspend users' accounts with little warning or without none at all. If Google decides to stop supporting Blogger, you stand at risk of losing everything.
To Contents ↑
4. Customization options and functionality
Customizations are there to help you stand out and differ from the next blogger in your niche. For example, Adsterra may offer the same services (we offer even better) as Google Adsense, but our website's feel and appearance are considerably different.
WordPress
No website builder or platform is more customizable than WordPress. It allows you to change everything, including color, font, design, and so much more. WordPress has a built-in theme customizer that allows you to make real-time changes to your site's design.
While every theme supports the default customizer options, some provide additional tabs to the theme customization tool. This helps you effortlessly customize your theme without having to know how to code.
Blogger
Blogger's templates and themes let you arrange and customize your blog. You'll be able to edit the template and add things like a Wikipedia gadget box and an About Me section. Unfortunately, it offers little room for customization, but you'll find options for customizing page appearance, colors, page layouts, and a few other useful features.
To Contents ↑
5. Appearance and design options
A good blog appearance attracts and retains visitors. The design must be simple enough for users to navigate your web pages easily.
WordPress
There are over 2,000 free and premium WordPress themes to choose from; you'll find lots of high-quality themes for any type of website.
Blogger
Blogger has a small number of elementary templates that thousands of other blogs use. You can change the colors and layout of these templates, but you can't create or drastically modify them.
Some non-official Blogger templates are available, but they're often broken and expensive. Blogger lacks design options due to its limited selection of templates, customization options, and layout.
To Contents ↑
6. Support and community
It is always good to have support and a community of people who can help you when you're trying something new. You want to save as much money as possible by fixing issues or making enhancements to your blog on your own. Otherwise, you'll have to pay an expert to help you. So how does the WP and Blogger community compare?
WordPress
WordPress probably has the best online support system and community. You can find and get the answers you need from thousands of tutorials, videos, message boards, and other online communities. A single web search will lead you to any assistance you might require for any aspect of your website.
Blogger
While Blogger has some support (very little), it's not as great as WordPress. It has some necessary documentation and a users' forum for solving fundamental issues. However, no significant or dedicated online communities provide assistance, tutorials, videos, or free support.
To Contents ↑
7. Security
Security and reliability are vital when choosing a blog platform. You could lose months of hard work if your site gets blocked or hacked.
WordPress
WordPress is quite secure, but you're responsible for your site's security and backups. The good news is that there are several WordPress plugins to help safeguard your website. We even wrote a guide to website security for WordPress users (in case you become one). Check it out.
Blogger
When you use Blogger, you get the added benefit of Google's stable and secure platform. You won't have to worry about managing the resources on your server, securing your blog, or creating backups. However, if Blogger goes down, your site and all the other Blogspot-hosted sites will go down with it. And there's nothing you can do to recover your blog.
To Contents ↑
8. Portability and migration
We want to help you select the best platform for your website so that you don't have to move it. But if you decide to for personal reasons, you should know which blog platform offers better migration options.
WordPress
You can move your WordPress to a new host, change the domain name, or switch to another content management system without much trouble.
Blogger
Moving your site from Blogger to another platform is a difficult task. You risk losing your SERP (search engine results page) rankings, subscribers, and followers during the transition. Even after exporting your content, your data will remain on Google's servers for quite a long time.
To Contents ↑
9. Pricing
Your blog shouldn't drain your wallets but instead, put some money in it. In addition, you shouldn't become so fixated on "free" that you take the free and horrible option over a paid and reliable one. This approach applies to all aspects of managing a website: choosing tools, outsourcing tasks, and so on. Let's see which blogging platform demands more financial investments.
WordPress
Although the WordPress software is free, you'll need to purchase a hosting plan and a domain name to start blogging. You'll also have to get paid themes and plugins: they often provide a good return on investment when you monetize your blog.
Blogger
Blogger is free to use. Blogger's gadgets, themes, and other features are free, even though some third-party themes are available for purchase. But while the Blogger platform is entirely free, it lacks many of the features you'll need to make a lot of money from your blog.
Jonathan Zittrain once said when something is free; you are not the customer but the product.
To Contents ↑
10. SEO
We've dedicated many resources and pages to educating our publishers and visitors on Search Engine Optimization. It's no surprise that we'll consider this factor when reviewing the better blogging platform. SEO is directly proportional to a website's success. The better you are at it, the further your blog will go. But it starts with the platform, web host, and your skills.
WordPress
WordPress comes with various built-in SEO tools, but it excels at third-party SEO plugins that help you optimize your website and its content.
Blogger
You can also control some on-page or on-site SEO functions via the Blogger templates. You can also customize your permalinks. If you have a basic understanding of SEO, the Blogger platform has enough tools to help you rank high. After all, it is Google's property. But remember that content is king, or else we'd be seeing every Blogger-powered website at the top of Google's search result.
To Contents ↑
11. Ecommerce
If you're looking to build a simple WordPress or Blogger website, you're probably not interested in doing high-level eCommerce. However, eCommerce might come up later down the road, so let's talk about it.
WordPress
The WooCommerce plugin offers everything you'll need to start selling physical and digital goods online on a WP site.
Blogger
There are no major third-party e-commerce solutions that integrate with Blogger to create an online store. Here's an answer straight from the horse's mouth: Can I use eCommerce on blogger – Blogger Community. Blogger is designed for blogging and lacks many of the features required for a proper and secure e-commerce site.
To Contents ↑
Which is better for monetization: WordPress or Blogger?
Almost every blogger is intrigued by the idea of monetization. Fortunately, monetization is possible on both the WordPress and Blogger platforms. However, It's simply more beneficial and profitable to start a blog on self-hosted WordPress. Not only can you monetize your blog through various advertisements, affiliate links, or direct advertising, but you can also customize and control it as you see fit.
Before putting ad codes on a WordPress site, you should consider a few technical issues.
As we mentioned earlier, WP contains many tools to make publishing easier. But adding an ad code to your page is not entirely straightforward; it involves a little copy and pasting in the theme code and more. Don't worry; we provided a simple step-by-step guide to ensure you don't make mistakes.
See our latest WordPress and Blogspot monetization guides.
To Contents ↑
Conclusion: WordPress vs Blogger
| | | |
| --- | --- | --- |
| | Blogger | WordPress |
| Overall score | ★★★☆☆ | ★★★★☆ |
| Ease of use | ★★★★★ | ★★★★☆ |
| Features | ★★★☆☆ | ★★★★★ |
| Ecommerce | ★★☆☆☆ | ★★★☆☆ |
| SEO | ★★★★★ | ★★★★☆ |
| Pricing | ★★★★★ | ★★★★☆ |
| Help & Support | ★★☆☆☆ | ★★★★☆ |
| Monetization | ★★★★☆ | ★★★★★ |
Both WordPress and Blogger have enough users, but your choice depends on why you want to blog. If you want to create a personal blog of a journalist, writer, SEO guru to share little stories and tutorials, Blogger is a good choice. To create a fully-fledged blog to earn some revenue, you'll need a stable and scalable platform like WordPress.