Link building is like word of mouth: the more credible recommendations you have, the more valuable your business is. Every website or blog owner should think of link building as a part of their moneymaking strategy since Google will send you larger traffic while acknowledging your website as a trusted one. The real challenge is earning quality, trustworthy, and natural links.
So if you stick to our tried-and-true link-building strategies, you'll be well on your way to creating a profitable website that both your users and Google will enjoy. Let's go!
To Contents ↑
1. Filling content gaps
Is there something missing from other websites in your niche? Perhaps, something you could easily create and publish on your own site or send to others as a guest post? Content gaps are topics your target audience is looking for but are not currently covered on your website or others in your niche. There could be hundreds of topics that your target audience is looking for that you can cover. Let's go over the most important types of content gaps.
Topic gaps
This is usually the first thing that comes to mind when discussing content gaps. Ask yourself the following questions when looking for topic gaps on other websites:
Does the website comprehensively cover all topics of interest to readers?
Are the topic outdated, lacking examples and details, or hard to understand?
Is there enough content for readers of all skill levels on the website?
Media gaps
According to recent research, nearly 75% of users would rather watch a video than read a blog post to learn about a product or service. Furthermore, the power of video (and image) marketing has only grown in recent years. You can identify media gaps in their content and fill them by including images, videos, infographics, and other non-text-based media in their posts.
How to find content gaps
Check Google's first page
Most people create content to rank #1 on Google. So the best way to find content with gaps is to check what's already ranking. For example, if you want to create a post about Google AdWords alternatives, you'd search for that keyword and see what's on the first page.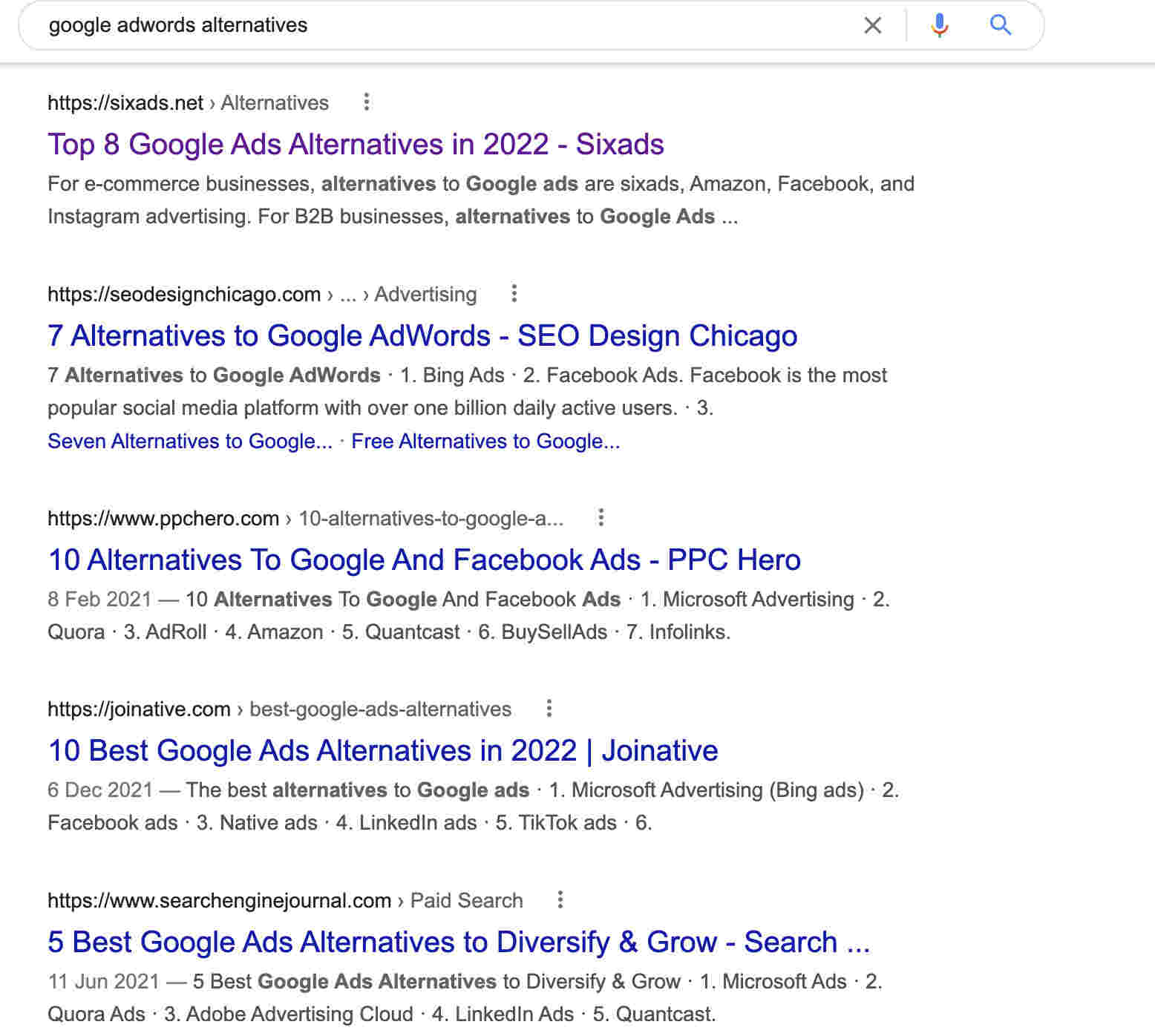 To Contents ↑
Look for any gaps in the content
Then you have to read through the top posts to find what could be missing. Here are examples of things you should look for:
Content freshness: when was the content last updated or published?
Thoroughness: does the content provide you with all of the details?
Can you read and understand what's on the page with ease?
Is this content worth sharing?
You should "fill in" these blanks with your own content. Even if you only close one or two gaps, you'll create a post that outranks your competitors and make others link back to you.
To Contents ↑
Publish your perfect content or offer it to a bigger website
If you give this content to a higher domain authority website, make sure it includes a backlink to your website or a relevant blog post. If you decide to publish it on your website, add some internal links that connect it to your other top articles.
2. Write and send outreach emails
What is outreach? It's the practice of contacting people in your industry and telling them about your content while asking for a backlink. But you don't need any "content" at all. All you need is something worth linking to — it could be your product, service, tool, or website homepage.
Linkable assets are almost always the best option when it comes to outreach. This means reaching out to other websites and informing them about content that they are likely to find useful — big blog posts, infographics, etc.
Don't be afraid to tell your outreach targets where you want your link to go (gently). This isn't being pushy; it's being thoughtful. If you don't, they'll have to figure out where your link should go. Here's an example of a highly targeted outreach email: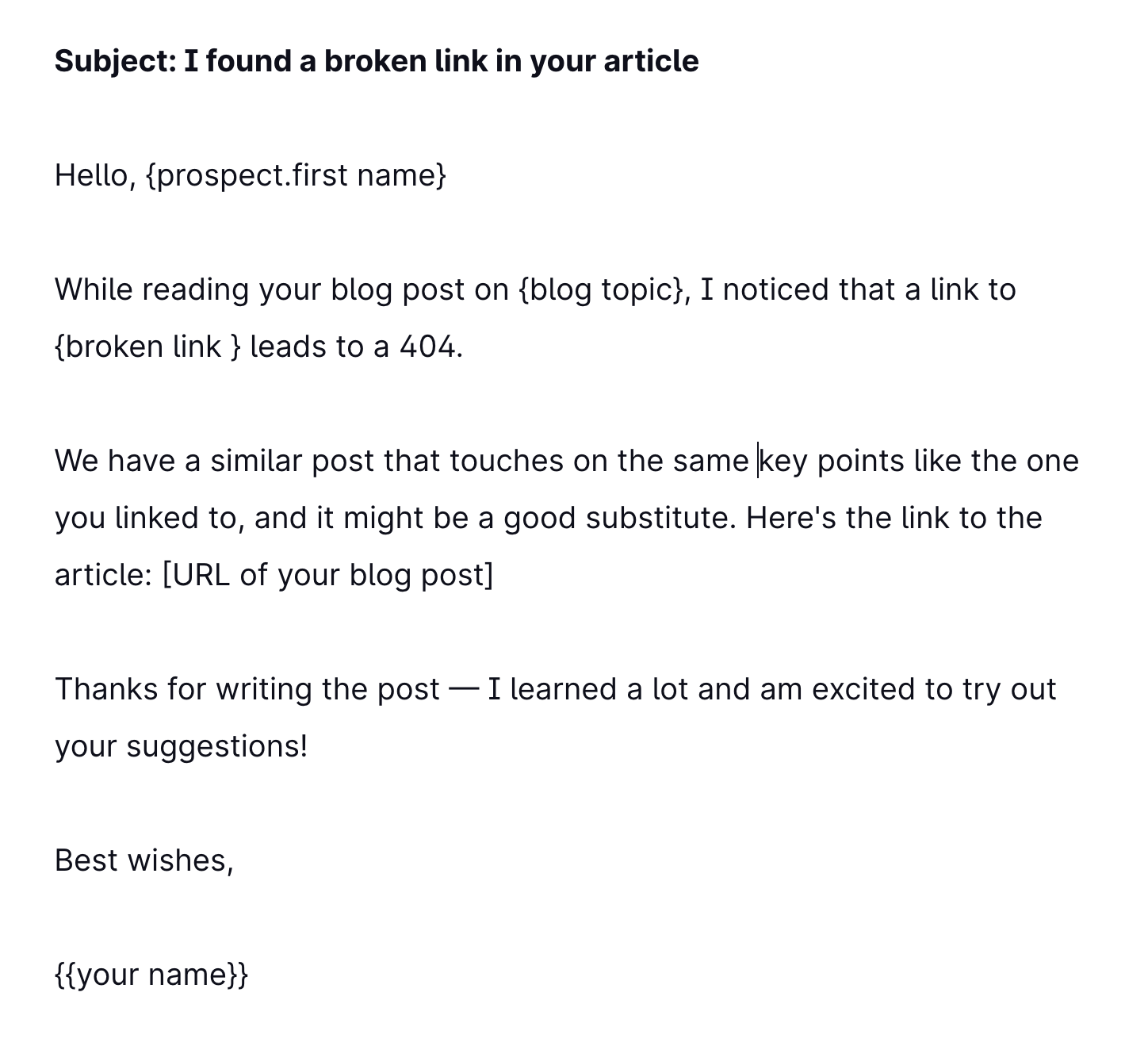 To Contents ↑
3. Copy your competitors' SEO backlinks
It's a huge win if you can figure out who's linking to your competitors. Backlinks from competitors are almost always on sites relevant to your niche, so you know they'll be good for SEO. This could be a time-consuming manual task, but there are tools (both free and paid) that can help you analyze your competitors' backlink profiles.
These tools often perform a domain audit and generate a backlink profile, including the number of backlinks, the percentage of dofollow backlinks, and historical data. Here's an example of what such research could look like.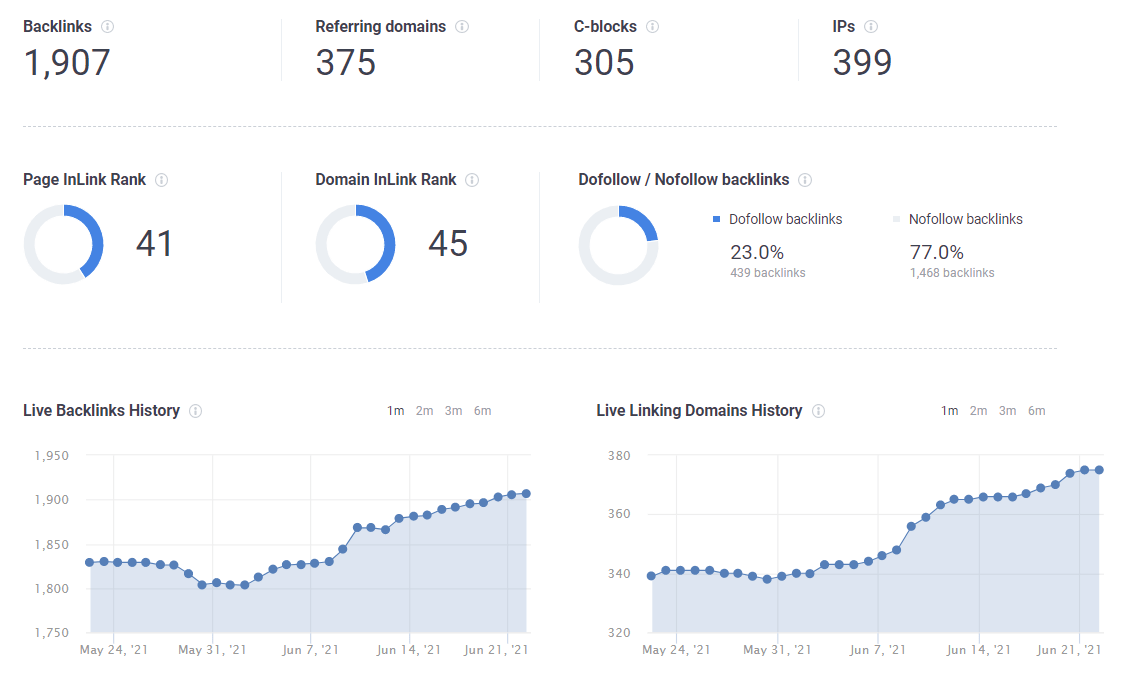 Examine the backlink pages for the most powerful opportunities, and then contact those sites to see if they'd be willing to link to your site. Just one thing: check to see if you already have a backlink from those providers before contacting them.
You definitely don't have to put off your online business until you build enough backlinks. Start getting paid for every 1,000 ad views with Adsterra ad codes on your website.
To Contents ↑
4. Blog commenting
Does leaving a comment on a blog result in a dofollow link? No. However, they're an excellent way to get on a blogger's radar. This COULD lead to links in the future and help you form relationships with bloggers in your field. After a few weeks or months, you'll notice some bloggers linking to you on their own. Others may even ask you to contribute a guest post to their website. Just make sure you leave real, well-written comments that add mote value to the post and shares your opinion.
5. Use images to create links
It's natural for people to click on images, so it's reasonable to create and promote images (infographics, graphics, product photos, comics, and so on) to gain more backlinks.
However, if you use images as backlinks, make sure the link goes to the larger page where the image is located, not to the image directory. Links to image directories (ending in.gif,.png,.jpg, etc.) are dead ends, and all traffic that goes there is wasted.

You can use a SEO tool to see if any of your backlinks lead to image directories. Set up filters to see if any target URLs include image formats. If you find any, contact the site owner and request that the link be replaced with one that leads to the image page. They should be fine linking to the right place if you let them embed your image on their site.
You can even use Google Images to see if your images are being used elsewhere. Ask them to add a link if the website is credible and you're okay with it staying there.
To Contents ↑
6. Be active on social media
Social media has revolutionized marketing, and it can massively help your link-building strategy. Share new posts, images, and updates to become more active. By sharing tips or other useful information in more places on social media, you can make it easier for your fans to find what they want to see.
Even if you're new to social media, you can easily increase engagement by becoming more active. As a result, more people will be exposed to your brand and site, and they will be more likely to share your best posts with their target audience. This will boost your overall visibility and improve your link profile.
To Contents ↑
7. Guest blogging
Guest posting is another preferable strategy as experts believe it to be one of the most effective ways to expand a backlink portfolio. It allows you to boost your website's visibility by placing a link on another blog. If the blog owner permits it, you can include the link in the text body or in the "About the Author" section with a nofollow attribute.
When choosing a blog for your guest post, conduct a research of the website's rating and trust to know if it's a good fit for your resource backlink. Any link-building strategy should observe this advice because it is directly related to your website's visibility on Google.
To Contents ↑
8. Find out if any of your competitors' backlinks are broken
You can discover broken backlinks with a backlink analysis tool like SEO SpyGlass. You'll be able to filter the results to find dofollow backlinks with high authority showing 404 errors.
Visit the page where the broken link originated, and see if you have a relevant page to offer as a replacement. If you have one, reach out the site owners and suggest this replacement. If your link is relevant, they may use it because it allows them to avoid looking for a suitable substitute.
To Contents ↑
9. Analyze the website you want backlinks from
If you have a specific website in mind, you can check it to see if it has any relevant broken links. This information is available in the Site Structure > Site Audit > Links > Broken links module of the WebSite Auditor tool.
If you have a suitable replacement, let the site owner know. You could even create new content to offer them if you think it would be a valuable backlink — but remember that there's no guarantee the effort you put in will be rewarded.
Make it clear that the link you're suggesting is from your website and that you believe it would be a suitable replacement.
To Contents ↑
10. Reclaim any lost backlinks
Besides obtaining new backlinks, it's also beneficial to spend time finding which of your previous backlinks are broken or have vanished. Go to Backlink profile > Backlinks in SEO SpyGlass and update the Backlink Page Info for your website. The tool will re-crawl the pages you've selected and notify you if any links have been lost.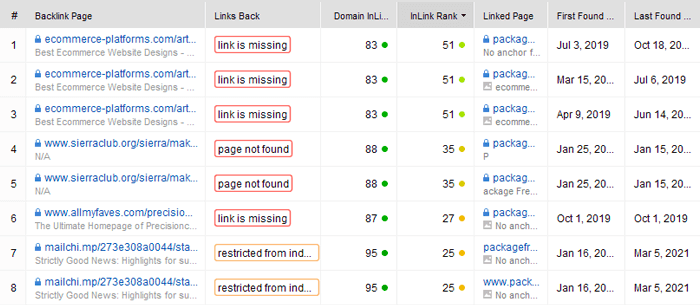 If you're using Ahrefs, you can see the site's lost backlinks by going to Site Explorer > Backlink Profile > Backlinks > Lost Backlinks.
There are several reasons why your links may have disappeared:
The site owner may have replaced the link (the link is missing).
The backlinks page has vanished (page not found).
The website is currently unavailable (the site is down).
Indexing is disabled for this page.
You'll need to contact the site owners and ask for help to restore a broken backlink. You can ask them to place your link on another page if the previous one has been removed, or remove the noindex directives from their pages.
To Contents ↑
11. Create mild controversial content
If your content sparks a discussion in the comments section or on social media, you may notice that people begin commenting on their perspectives about your post. They almost always include a link to the original post. It's an effective technique when dealing with controversial content. However, it doesn't have to be broad. Anything exciting that initiates a conversation can be effective.
12. Video embeds
Promoting an infographic, chart, or other visual content works similarly. Request to send your video to bloggers along with an embed code. They'll usually attach your link when they embed your video even if it's hosted on YouTube.
13. Get your own Wikipedia page
What's the aim of creating a Wikipedia page for you or your business as an SEO magnet? First, it helps develop your E-A-T (Expertise, Authoritativeness, Trustworthiness). It also establishes your company's credibility and legitimacy, which generates more links over time.
14. Monitor brand mentions
There are many uses for mention monitoring in link building (aside unlinked brand mentions). For instance, monitoring website mentions. Create alerts in Google Alerts for your products or products in a specific niche. Consider joining a forum discussion, answering questions, and linking to your product.
Likewise, you can do so with competing products. Look for mentions of your competitors. Additionally, you can contact the authors who wrote about them to provide additional information about yourself.
To Contents ↑
15. Update old content
This technique is known as Broken Link Building for promoting outdated content. First, search for content that needs an update then contact the owners and offer to update it. Most website owners want to keep their content current but are too preoccupied, especially websites with numerous posts. Obviously, this strategy works effectively in a constantly changing industry (like SEO).
Link building strategies FAQ
Is link building still relevant?
Yes, of course. However, the emphasis has shifted from the number of backlinks to the quality of backlinks. It is better to get one backlink from websites like Forbes.com than ten backlinks from 10 small websites.
What is a link-building strategy?
A link-building strategy helps you get links that direct users back to your website in order to boost your domain authority and search engine rankings. Infographics and guest posting are two common link-building strategies.
Do I need permission to link to another website?
No, you don't need anyone's permission to link to another website.
What is the most common method of link building strategies?
One of the most popular link-building strategies is guest blogging. But it all comes down to producing high-quality content that people want to link to.
What's the best way to find the domain authority of a website that gives you a backlink?
To discover the Domain Authority of any website, use a tool like Ubersuggest, Ahrefs, or Semrush.
Why can't I just buy links?
Of course, you can buy links. However, Google has made it clear that this practice is against its policies: It is against Google's Webmaster Guidelines to buy links or participate in link schemes to manipulate PageRank.
As a result, we do not recommend purchasing links. It's risky, and if Google catches you, you could face a penalty.
How much do links cost in the first place?
According to Ahrefs, the average cost of a backlink is $361.44.
Is it true that all links cost the same amount?
No. Some websites will give you a price estimate of $30-$50, while others give figures in the thousands. These were all quotes for paid guest posts or links to be added to existing posts, which are common ways to buy links.
Are PBNs (Private Blog Networks) becoming popular?
These are essentially networks of sites controlled by the same person for building links to a "money" site. PBNs are designed to appear as if the same person does not own them. PBN owners work hard to persuade Google that these are legitimate websites that link to each other, which is a black hat SEO technique.
What's the bottom line? We're sure some black hat SEOs will disagree with us here, but we believe that building links in legitimate ways (e.g., outreach) is more cost-effective than building a PBN or buying links.
Wrapping up
Link building isn't rocket science. All of the strategies we mentioned above will work for any website. All you have to do now is put them into action. Some strategies will be more effective for your website, therefore — focus on them rather than trying to apply all at once. And remember that you can build your website's earning strategy along with building quality links. Just a couple of minutes, and you start getting paid for ad views!