When there is a lot of competition for the main key phrases you want to rank for, a long-tail keyword strategy can help you out. Most businesses or blogs can benefit from this strategy because it helps attract ready-to-buy visitors with very specific search intent.
This post covers what long-tail keywords are and how to use them.
What exactly are long-tail keywords?
They are specific key phrases (search phrases) that visitors are more likely to use when they are close to converting or using voice search. The search volume for most long-tail key phrases is lower than short or "head" keywords. That's why they appear unreasonable at first, but they can be valuable if used correctly.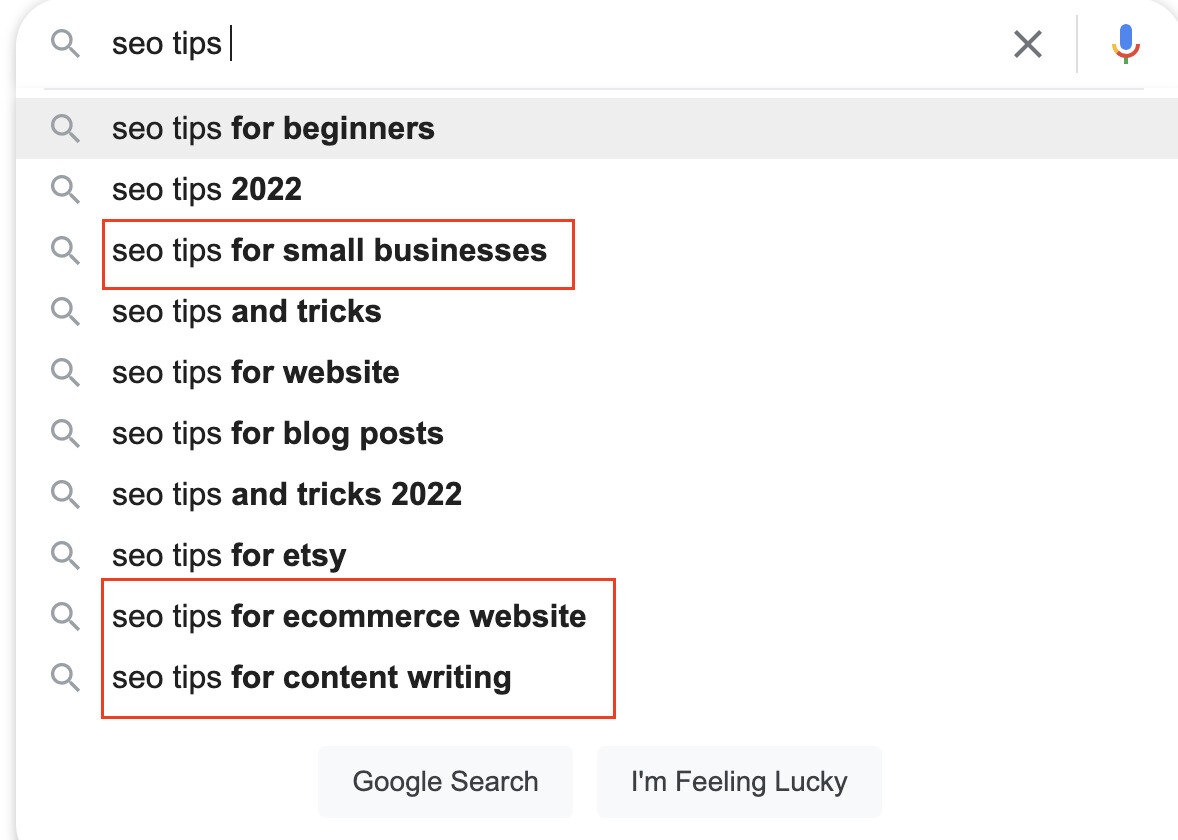 Long-tail keywords often contain 4 or more words, in contrast to short-tail keywords which contain no more than 3 words.
To Contents ↑
How do long-tail keywords work, and why are they so appealing?
Consider this: if you sell classic furniture, your pages will never appear near the top of an organic search for "furniture" because there is too much competition. This is especially true for small businesses or startups.
Moreover, it makes no sense for you to compete for this query because this is an untargeted query for you. It is unlikely that someone looking for "furniture" will want to buy it or that this searcher needs your furniture. This is where query specification comes in handy.
However, if you specialize in contemporary art-deco furniture, key phrases like "contemporary art deco-influenced semi-circle lounge" will consistently bring you customers looking for exactly that product.
They attract qualified searchers
Shorter key phrases can have fierce competition for rankings, but visits can be dispersed, and ROI can be low. Going strictly by numbers, smart long-tail keyword implementation will bring in less traffic, but much better ROI: you'll be attracting exactly the audience you're looking for. This is very important because.
Lower prices and less competition
Long-tail key phrases are useful for businesses that want their content to appear in organic Google searches. Still, they could be even more useful for advertisers running paid search marketing campaigns. Because there is less competition when you bid on long-tail key phrases, the cost per click is inevitably lower.
This approach also provides an advantage for publishers who buys traffic to their websites by attracting additional traffic to their landing pages when earning on affiliate programs. The trick is to find a dependable, sustainable source of long-tail key phrases that are relevant to you and your niche.
It's easier to make content for them
The broader the search query, the more information you'll need to answer it. However, creating content for long-tail key phrases takes less effort. If the query is specific, you can often answer it quickly and still satisfy the searcher. Besides, you can look for groups of long-tail search queries that are similar and answer them with only slightly different pages.
There are plenty of them
Each long-tail keyword will not bring loads of traffic to your website, but if you use more and more of them, search traffic will eventually add up to something significant. And there are so many long-tail keywords in almost every industry, so you're unlikely to run out.
When you put in a lot of effort to increase website traffic, you can't afford to pass up any opportunities to make money.
To Contents ↑
What's the difference between LSI and long tail keywords?
Long-tail keywords are longer variations of popular keyword combinations. In contrast, LSI is terms that are semantically related to one another. Long tails are common search phrases like "top," "how," "what," and "why" that frequently reveal the searcher's intentions. They help an optimized website rank higher for those specific search queries, increasing website visitors. Meanwhile LSI keywords help search engines can better grasp the content of your website.
Learn more about these keywords in our article LSI Keywords: Meaning, Importance and How to Find Them.
To Contents ↑
How to discover long-tail keywords
1. Free and paid search marketing keyword tool
Ubersuggest's free keyword research tool makes it simple to find long-tail key phrases. Simply enter the search phrase you want to look up. The tool will display the most popular key phrases and their long-tail variants.
Using long-tail keyword variations in your marketing campaigns results in higher search rankings, more qualified search traffic, and lower cost per click.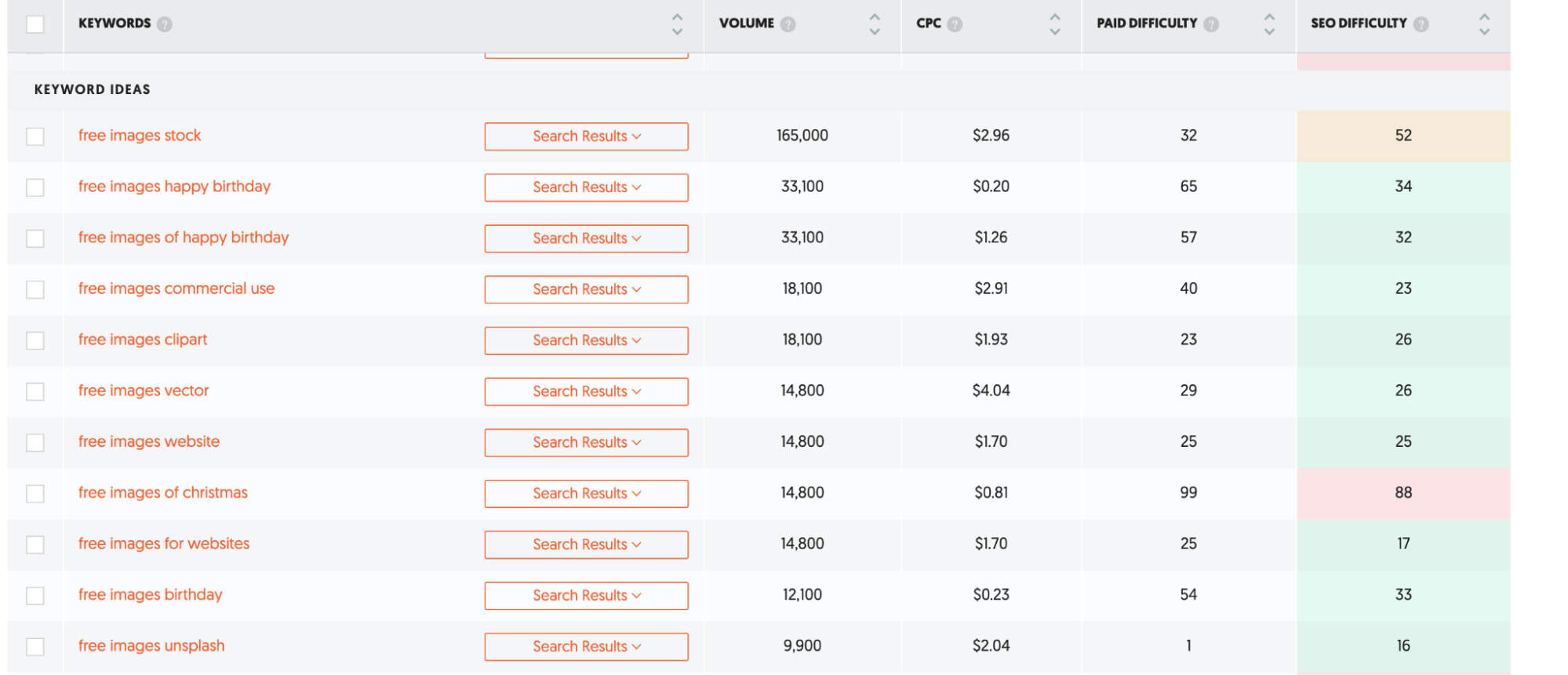 To Contents ↑
2. Check Reddit, Quora, and niche forums
When people visit Google and cannot find a satisfactory answer to their question, they post it on sites such as Quora and Reddit. Another favorite place to find new keyword ideas is on forums. If someone asks a question on a forum, other people are unsuccessfully searching for the same answer on Google.
Go to a forum where your target audience hangs out to conduct keyword research. You may already be familiar with a few of these. If not, use the following search terms to find them:
"forum" + "keyword";
"board" + "keyword".
Once you've located an active forum, look at the titles of the most recent threads. Don't forget to look at the words and phrases used in the thread itself.
To Contents ↑
3. Use Answer The Public

Answer The Public is a useful keyword research tool that generates question-specific keywords. Just enter a broad keyword into the field and click "Get Questions".
The tool will then display questions that people commonly ask about your topic. And because question keywords are typically long, they are almost always long-tail terms. You can even arrange the information alphabetically and save the data as a CSV.
To Contents ↑
4. Google autocomplete
You've most likely seen Google autocomplete feature in action. And it's a great method for locating long-tails. Why? Because the suggestions you receive are directly from Google.
You can use Google autocomplete for keyword research by simply entering a keyword or entering a keyword followed by a letter: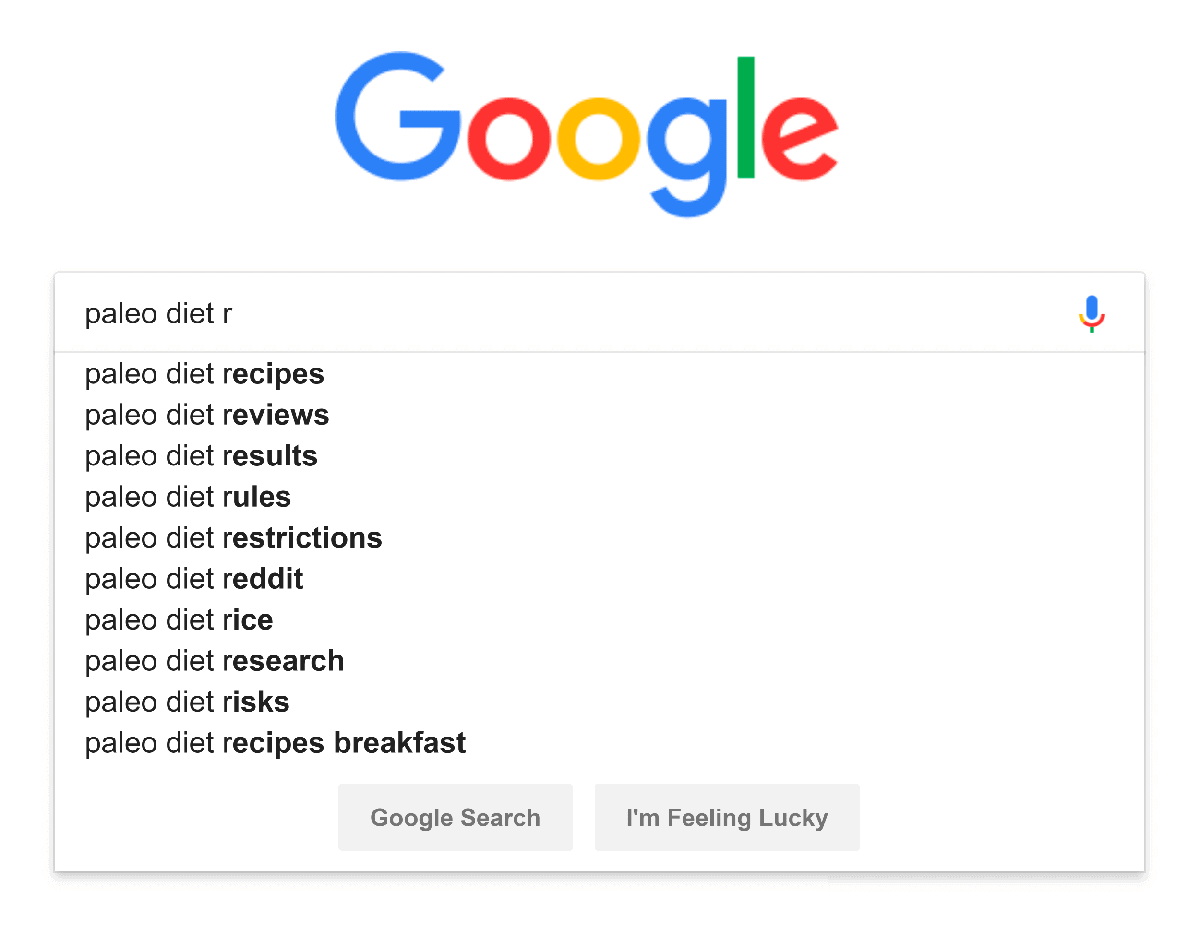 "paleo diet" — Google Autocomplete.
The issue with this method is that typing in "keyword a," "keyword b," and so on is unsustainable. Long-tail keyword generators like Ubersuggest and keywordtool.io scrape Google autocomplete data for you.
To Contents ↑
5. Soovle
Soovle is a free tool that gathers keyword ideas from Amazon, Wikipedia, Ask.com, and YouTube. This means you can discover untapped terms that are extremely difficult to find using any other keyword tool.
Here's how to use it: go to Soovle and type a broad keyword into the search field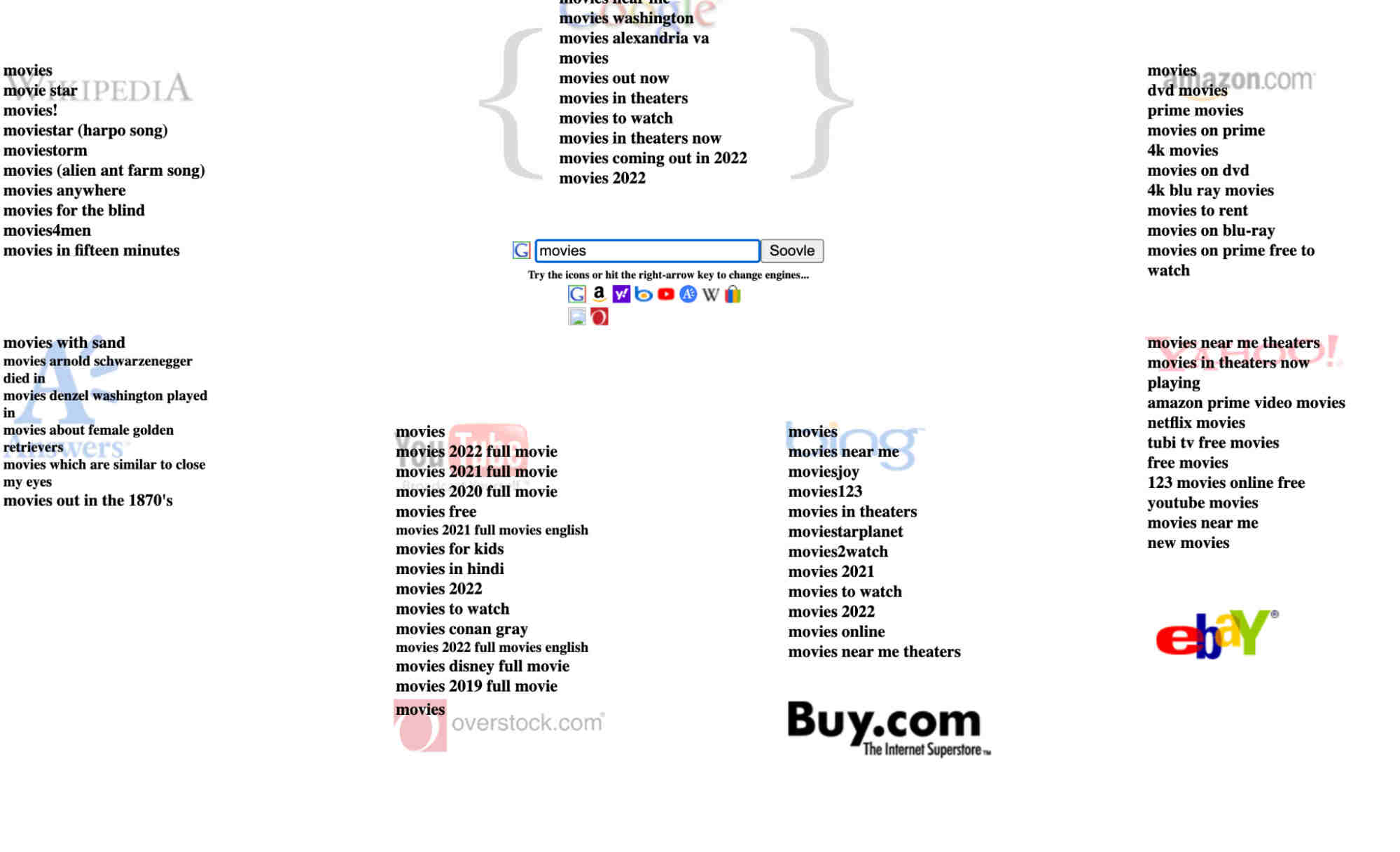 If you were looking for movie-related key phrases, for example, you could use the keyword "movies": Soovle will automatically display results from various websites. You can also download your results in CSV format.
To Contents ↑
6. "People also ask…" boxes
This is yet another simple method for locating question keywords.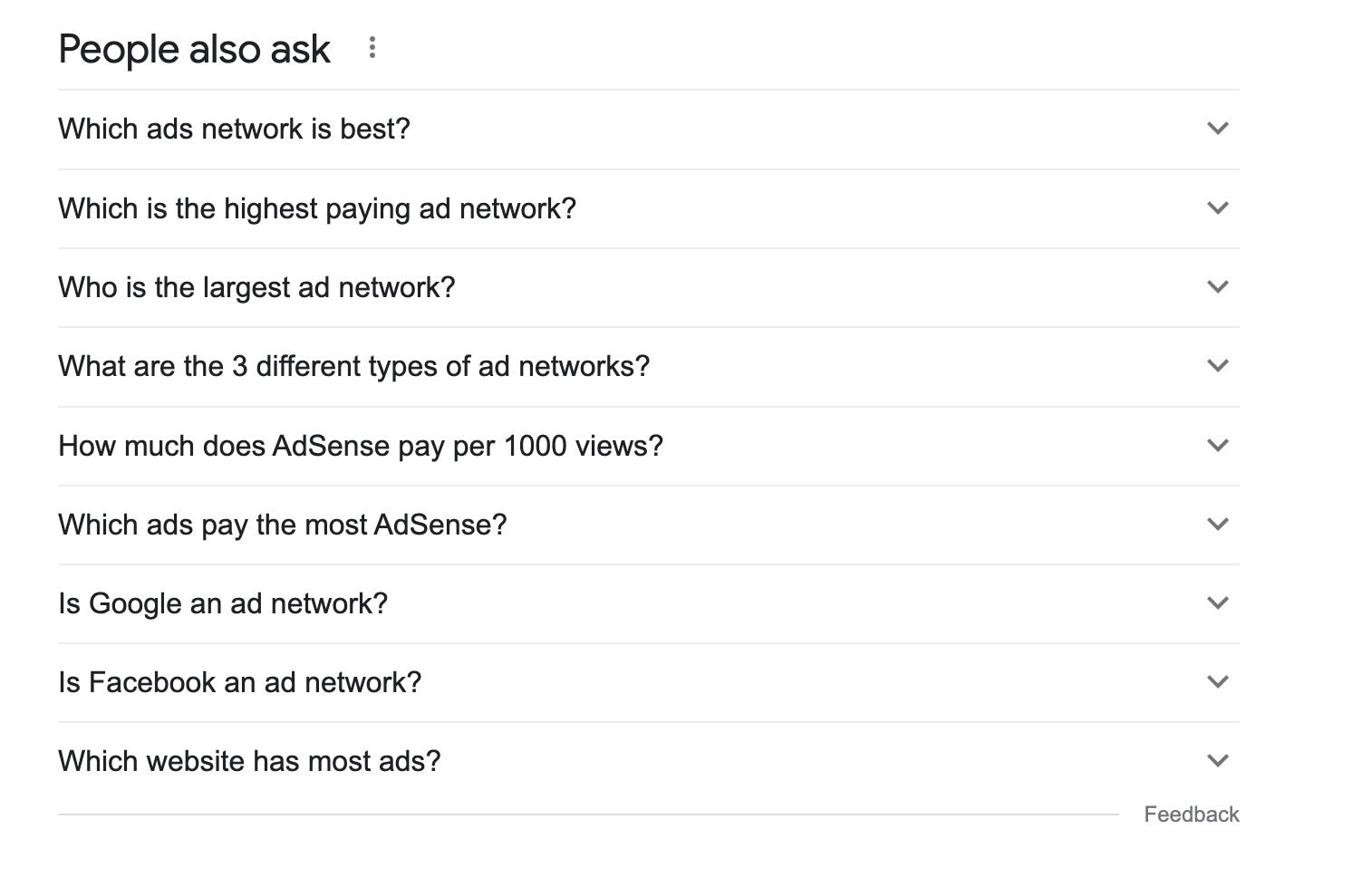 Enter a keyword into Google search and look for a "People also ask…" box in the SERPs. These are questions that people have about the keyword you typed in. And when you expand one of the questions, you'll find an answer. Google will also show you MORE questions.
To Contents ↑
7. Google Search Console report
The best keyword is sometimes one for which you already rank. You probably have a few pages on Google's second, third, or fourth page. And you might discover that you are ranking for long-tail key phrases for which you are not even optimizing. When you give these pages extra SEO attention, they usually appear on the first page within a few days or weeks.
Log in to your GSC account and navigate to the Performance Report. Scroll down to "Queries." These are the keywords for which you rank on Google's first page.
Sort the list by "Position" to find keywords on the second and third pages. Set the number of rows to display to "500." Keep scrolling until you reach positions 10-15. Then review the key phrases that are ranking in those positions: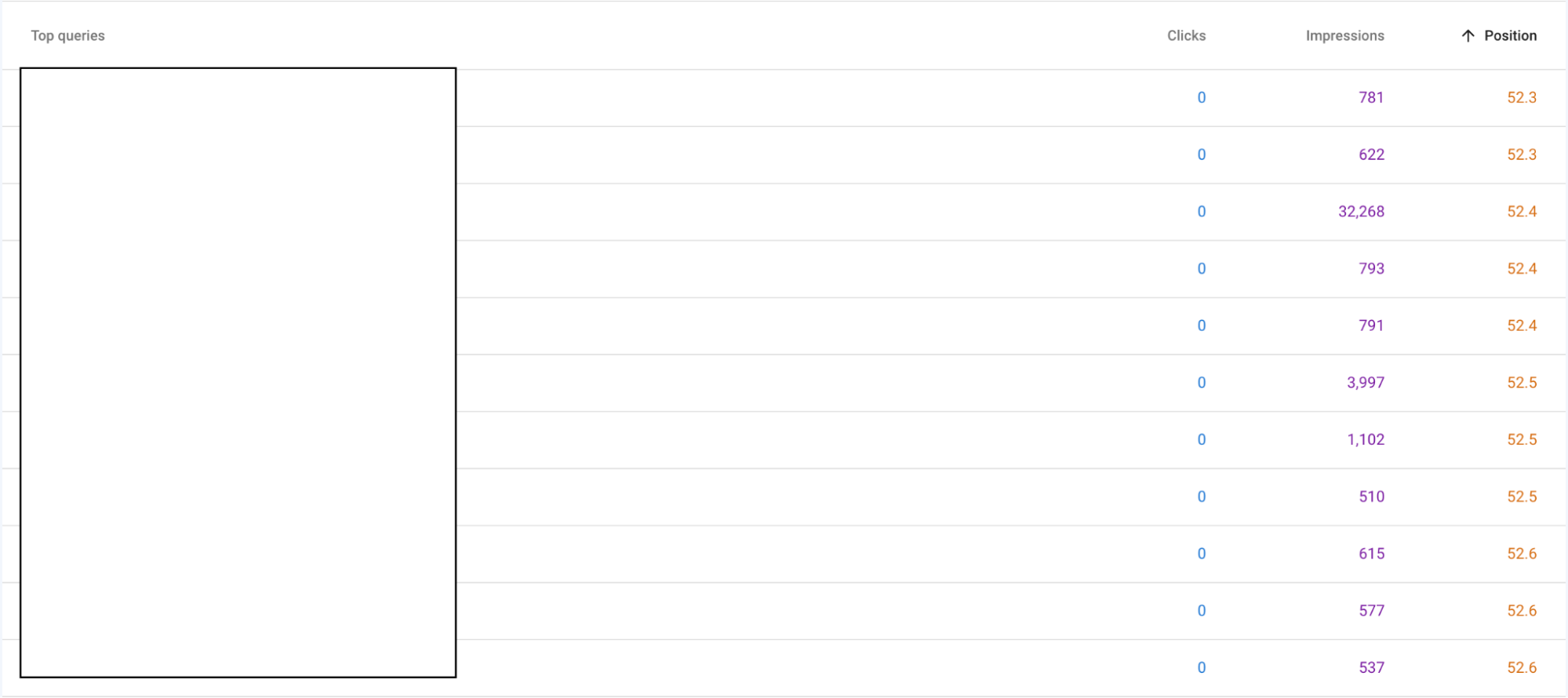 Enter any promising key phrases into Google Keyword Planner to see how many people are searching for them. If you find a keyword that is relevant to your site (and has a high search volume), click on it. And then select the "Pages" tab:
This displays the page on your site that is currently ranking for that keyword.
To Contents ↑
8. Google Trends
If you are about to launch a SEO campaign, you will want to know whether interest in your keywords is rising (or falling). Go to Google Trends and type the keyword you want to rank for into the search field: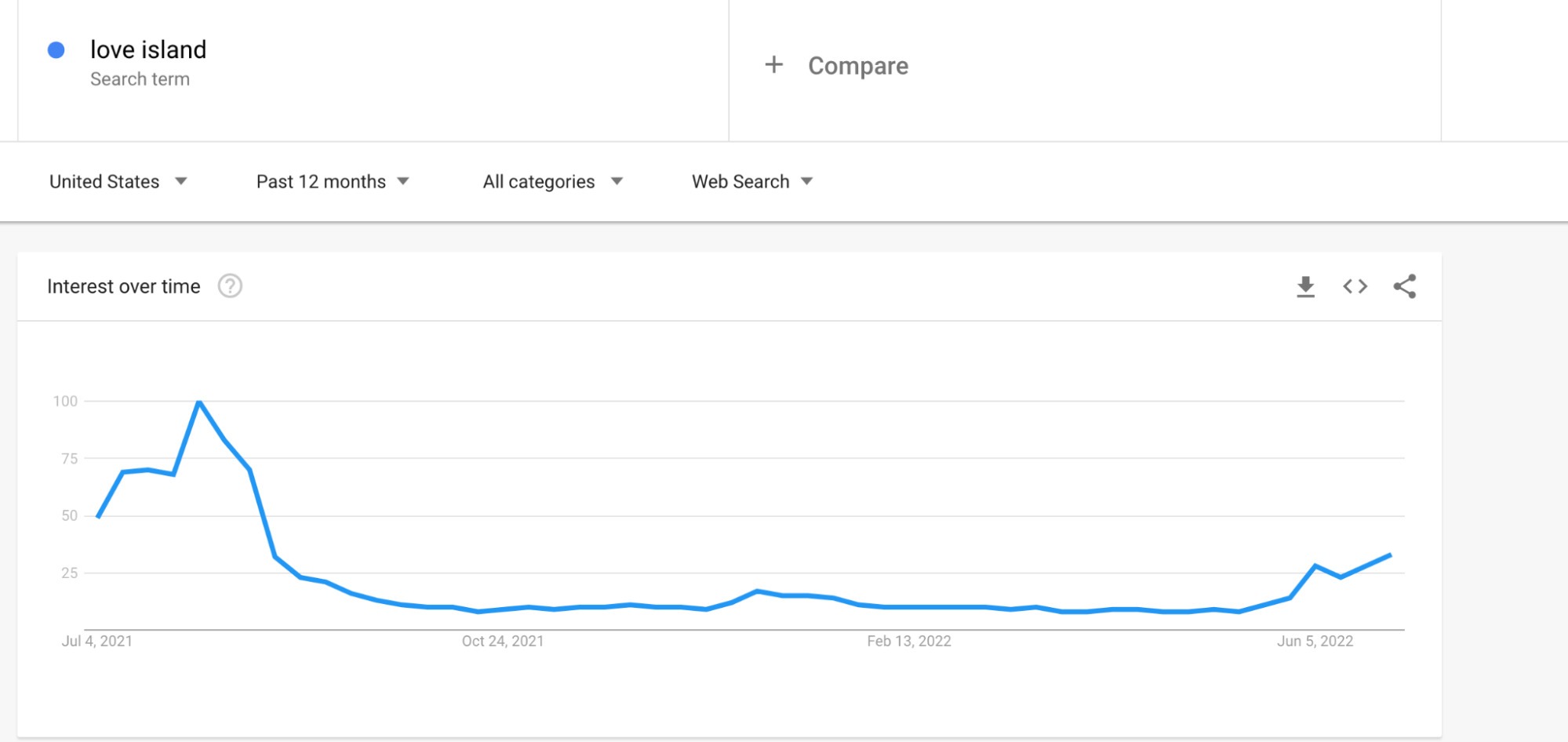 The tool will display "interest over time" based on search volume and news headlines. Most of the keywords listed under "Queries" are uncommon terms that you won't find in most other keyword research tools.
To Contents ↑
How to use long-tail keywords
You have two options when it comes to using long-tail key phrases in your content:
Option #1: create a piece of content that is optimized for that term
Your first option is to write a new blog post that is optimized for the long-tail keyword you've just discovered. For example, we found the long-tail keyword "CPA networks alternatives" some months ago and wrote a post that was tailored to that long-tail term.
Since the keyword was not overly competitive, it quickly made it to Google's first page. The drawback of this approach is that you must produce A LOT of content. And that's when AI tools can help you generate content faster.
To Contents ↑

Option #2: use long-tail keywords throughout your content
You can also optimize your page for a "short tail" or "medium tail" keyword. After that, include long-tail key phrases in your content. Long-tail keywords are more precise and receive less search traffic, but they typically convert users better. They help you steadily increase traffic to your website and draw in more interested visitors.
Keyword cannibalism becomes a risk
One of the most common mistakes publishers make when using long-tail keywords is creating separate pages for similar keyword variations with the same intent. That strategy will force you to compete with yourself for rankings.
Learn to group your key phrases to avoid cannibalizing your rankings and wasting time creating redundant content. Manually grouping key phrases is time-consuming, but we do it anyway. Many SEO tools automate the process, but only a few get it right.
If you're going to spend 5–7 hours writing a page, why not start by grouping long-tail keywords? If two key phrases return very similar URLs on Google's first page, combine them into one piece of content. However, create separate pages if they have different search intents.
To Contents ↑
Conclusion
Long-tail keywords aren't the traffic-driving unicorns that many SEOs claim they are. You can't write hundreds of blog posts or pages for them without negatively impacting your organic search performance. However, they deserve to have a place in your SEO strategy. Through optimization, long-tail key phrases can help improve Google's understanding of your content and drive total traffic. Always prioritize your users.
Don't over-optimize your content with awkwardly-phrased key phrases, and don't use too many similar variations that could degrade user experience. Instead, use keywords to boost search intent, increase relevance, and connect with your target audience.
With Adsterra, you can generate revenue from even tiny volumes of website traffic! While offering competitive moneymaking options, we protect against fraud and are available 24 hours a day, seven days a week!