Adsterra is now testing a new payment method allowing publishers and affiliates to withdraw payouts in local currency. The Local Bank Transfer option is powered by Hyperwallet. It will enable our partners from 42 countries to easily convert currency and receive regular automated payouts without extra effort.

Now, Local Bank Transfer is available to a limited number of beta-testers. But nothing stops us from outlining the main benefits of this new opportunity yet cover the main steps of setting it up. Let's break it all down now!
Payouts in local currency: What's the point?
Publishers and affiliates are using wire transfers for USD and EUR transactions. But in some cases, it's much easier to receive payouts in local currency right away. Thanks to the Local Bank Transfer option by Hyperwallet, Adsterra partners will soon enjoy automated payouts with currency conversion.
Some of the Local Bank Transfer's benefits
You get paid twice a month (NET15) on payment dates; no need to apply manually;
A clear setup flow inside your Adsterra account; you can enter and re-enter payment details if needed;
Switch to any other payout option from your account, or ask your manager to help you out.
Minimum withdrawal is much lower compared to the classic Wire Transfer — $100 vs. $1,000.
Register now, to have access to Local Bank Transfers after the official release.
To Contents ↑
Getting earnings with Adsterra: a list of payment methods
Our publishers and affiliates can withdraw earnings in several user-friendly ways:
PayPal
WebMoney
Paxum
Wire transfer
Bitcoin
Tether
[BETA VERSION] Local Bank Transfer by Hyperwallet
Available paysystems are listed on your Payments page — in a Publisher's or Affiliate's account. So will be the Local bank Transfer after the release.

Some details about Local Bank Transfer (by Hyperwallet):
payout delivery: 1—3 days (open the clue to find out more);
minimum amount to withdraw;
currency — LOCAL;
$7 fee + FX fee (currency conversion);
*required information.
*You will need to provide: country, account type, currency, full name (or legal entity name,) date of birth (for an individual account,) email, full address, bank name, bank account number, VAT number for the EU countries and the UK residents.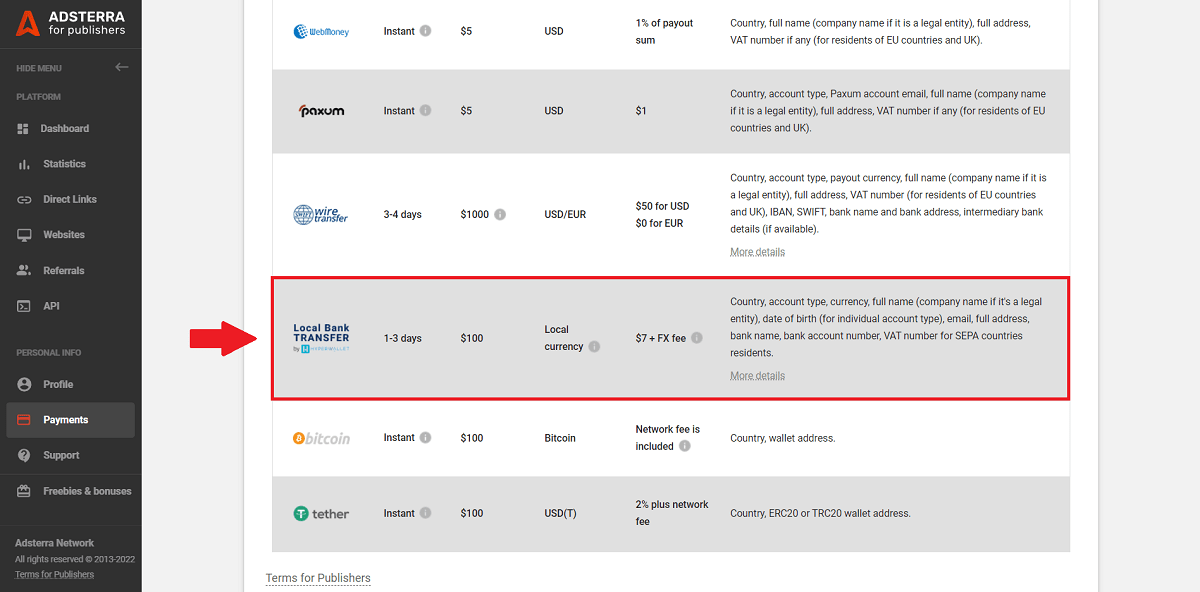 Now we will take a look under the hood and check the setup flow.
To Contents ↑
Payouts in local currency. How is it going to work?
We're about to walk through the process of setting up Local Bank Transfer as your preferred system. But first, let's take a few steps back to the registration.

While you register as a Publisher or as an Affiliate, Adsterra offers you to pick the preferred payment system. If you choose one, you will see it as a PREFERRED PAYSYSTEM on your Profile page. But fear not! You can replace it with another one anytime except for the payment dates. On these dates, you will get a system message NO CHANGES DURING PAYMENT PERIOD. Please wait until the payment period is over.

To Contents ↑
How to pick Local Bank Transfer by Hyperwallet as your preferred payment system
After the new payment option is released, you will be able to leave us a message in the live chat — our support team will add Hyperwallet to your account.

Now let's suppose you already have this paysystem in your account. How to set it up?

Please hit the Profile tab, the last tab on the vertical menu. Scroll down till the Country field.
Pick your Country from the dropdown.
Pick the currency. The currency will depend on the country you selected in step 1.
Click the PREFERRED PAYSYSTEM dropdown. You see all payment systems available for your country and currency. Please pick Local Bank Transfer (Hyperwallet).
What if you don't see the Local Bank Transfer method on the list? It only means that your country does not support this payment method. Please choose among those available or ask for advice in the live chat.
Let's move on to the next part – entering your bank details.
-1- Choose the type of your bank account (Individual or Legal entity).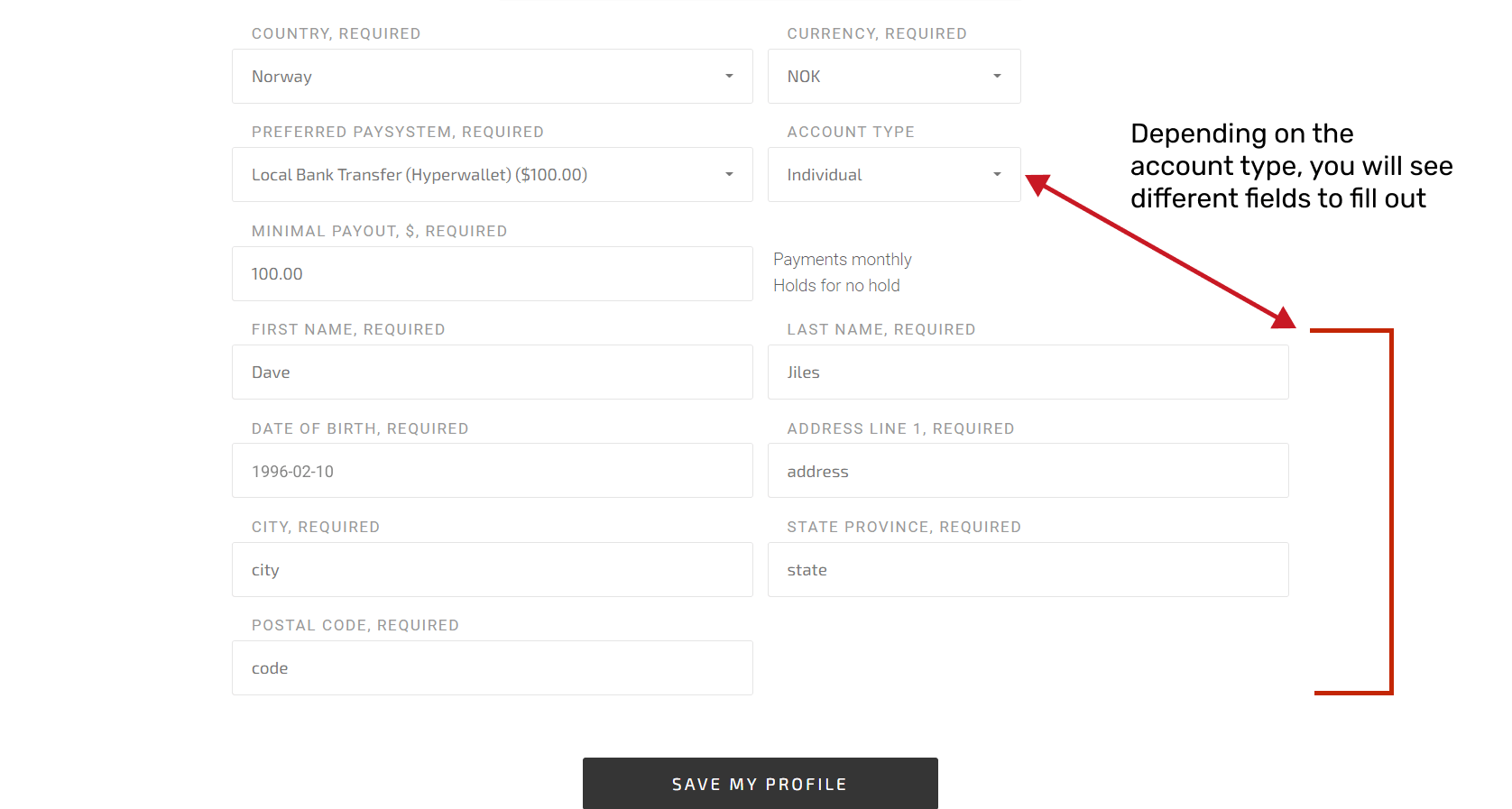 -2- Fill out all the rest required fields. If you picked the Individual account type, these fields will be:
First Name
Last Name
Date of Birth*
Address Line
City
State / Province
Postal (zip) code
* Please pay attention to the date of birth format (for Individual accounts). It should be YYYY-MM-DD.

If you picked the Legal Entity account type, these fields will be:
Company name
Address Line
City
State / Province
Postal (zip) code
-3- Click SAVE MY PROFILE.
-4- To apply changes, you will need to enter a string (a secret code) we email you as soon as you click the SAVE MY PROFILE button. Open the inbox and copy the string as is.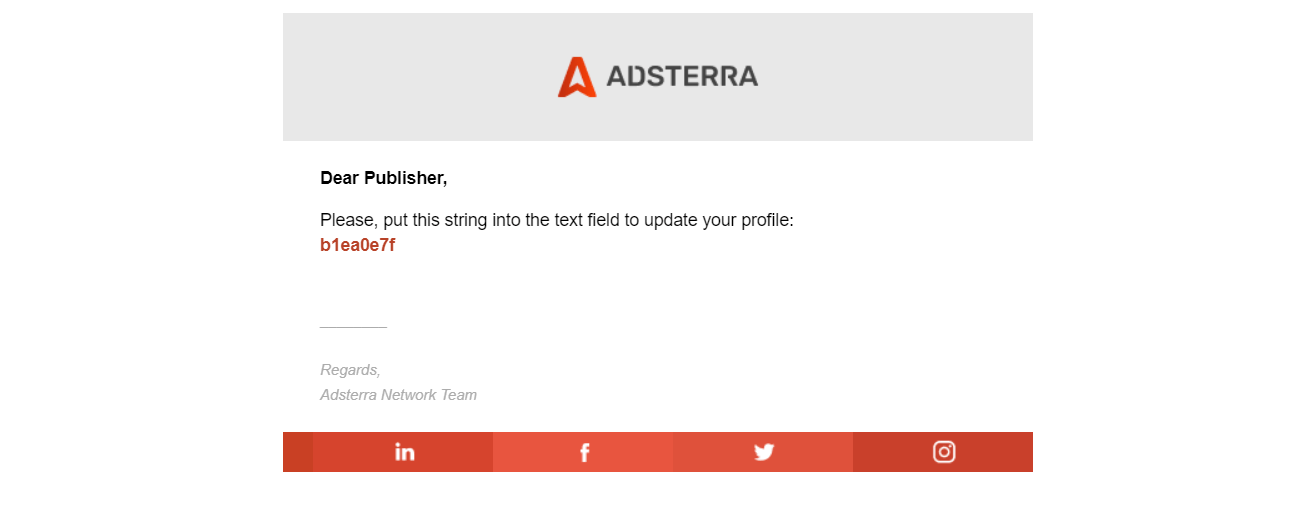 -5- Paste the string in the field at the bottom of your Profile page and click SAVE MY PROFILE again.

We're moving to the final part of the setup! You will now link your bank account to Hyperwallet.
To Contents ↑
How to link your bank account to Hyperwallet
After you've completed the Profile page and clicked SAVE MY PROFILE, a pop-up will appear. Please fill out the form to link your account to Hyperwallet.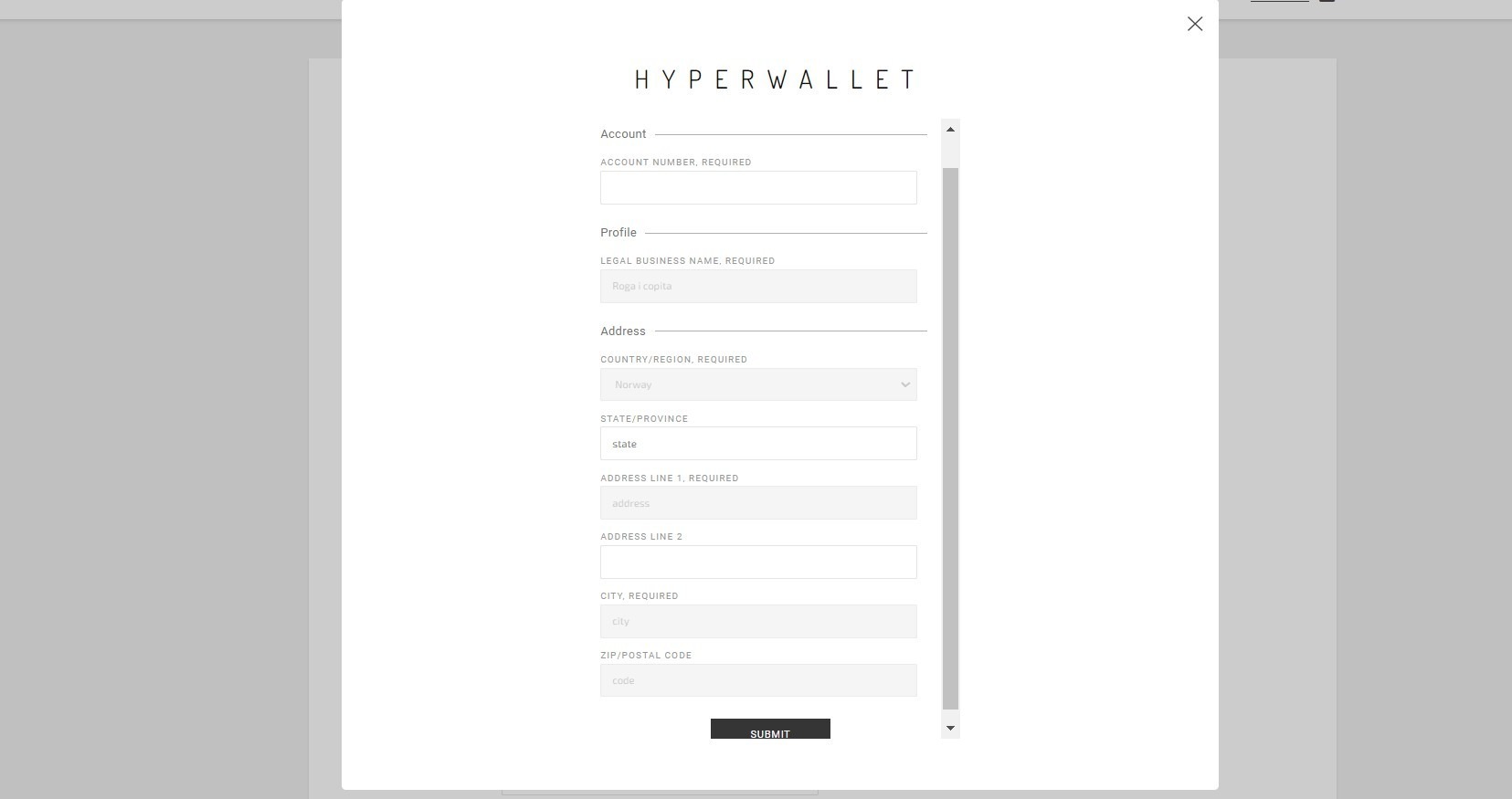 Make sure you have not made a typo and entered the correct bank details. Otherwise, you will have to resubmit the whole form once again. Then click SUBMIT. Generally, Hyperwallet approves your request almost immediately.
To Contents ↑
In case you need to update your bank account details
After you link your bank account to Hyperwallet, you may need to update or change your bank account details.

In this case, move to the Profile page again. Near the Account type field, there's a Resubmit Hyperwallet data link. Use it to re-enter all data you submitted earlier.

This pop-up will inform you that all data you entered before will be deleted if you proceed. If you want to update all data, choose OK. If you clicked by mistake, click Cancel.

Please note:
Your Hyperwallet data updates are limited to 10 times.
To Contents ↑
Сountries that support payouts in local currency
Hyperwallet cooperates with multiple banks allowing publishers and affiliates to withdraw payouts in local currency of over 40 countries. The full list will be available in the Adsterra Help Center soon after the release.
Instead of a conclusion: what's next?
Local Bank Transfer is now in the beta version, and we've rolled out this option to a limited number of accounts. As soon as we finish testing, all Adsterra publishers and affiliates will be able to request this payment system.

We believe that withdrawing payouts in local currency right through your Adsterra account will simplify the path to getting real earnings. We will remove headaches with currency conversion and extra steps that publishers had to pass before.

Register or log in now and see all payment methods available. To learn more about your benefits as a website owner (Publisher), read this guide to Instant Monetization with Adsterra. To dive deeper into the Adsterra CPA's exclusives for affiliates, follow this short guide to becoming our affiliate and getting access to high-paying offers.